Best teppanyaki hot plate | Top 6 tabletop grills reviewed
I love creating free content full of tips for my readers, you. I don't accept paid sponsorships, my opinion is my own, but if you find my recommendations helpful and you end up buying something you like through one of my links, I could earn a commission at no extra cost to you.
Learn more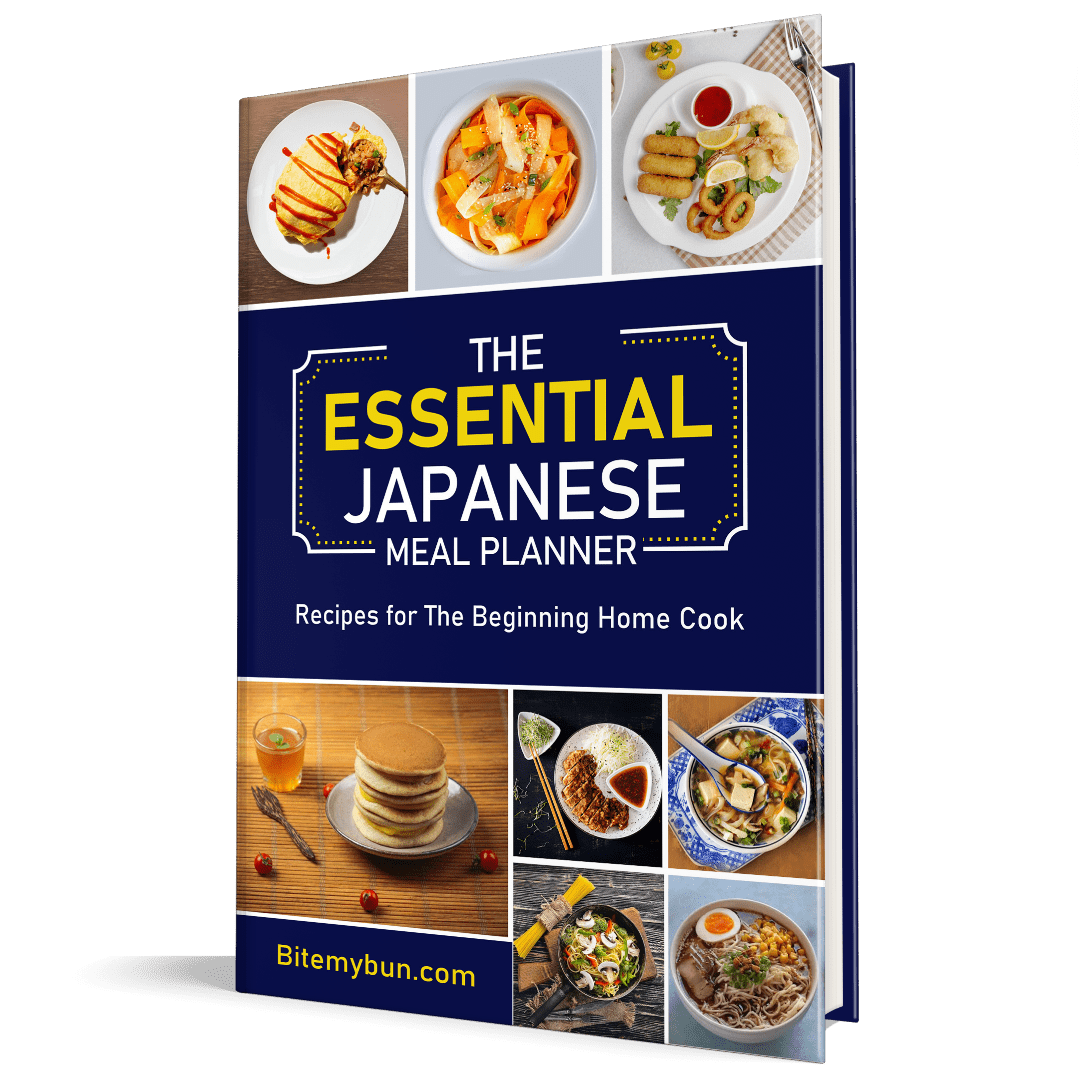 Check out our new cookbook
Bitemybun's family recipes with complete meal planner and recipe guide.
Try it out for free with Kindle Unlimited:
Read for free
People visit Benihana Japanese restaurants for their great food but also for the added entertainment value.
Basically, all Japanese chefs are masters in the ancient art of teppanyaki grilling, and they've perfected it over the centuries.
Japanese hot plate cooking is very popular because it's a very efficient way to cook.
The hot plate itself is made of flat, smooth metal, and it's heated to a very high temperature.
This means that food can be cooked very quickly, and it also means that there's less chance of it sticking to the grill.
Hot plate cooking is called teppanyaki, and it doesn't just involve the grill itself but also the techniques and styles used to cook.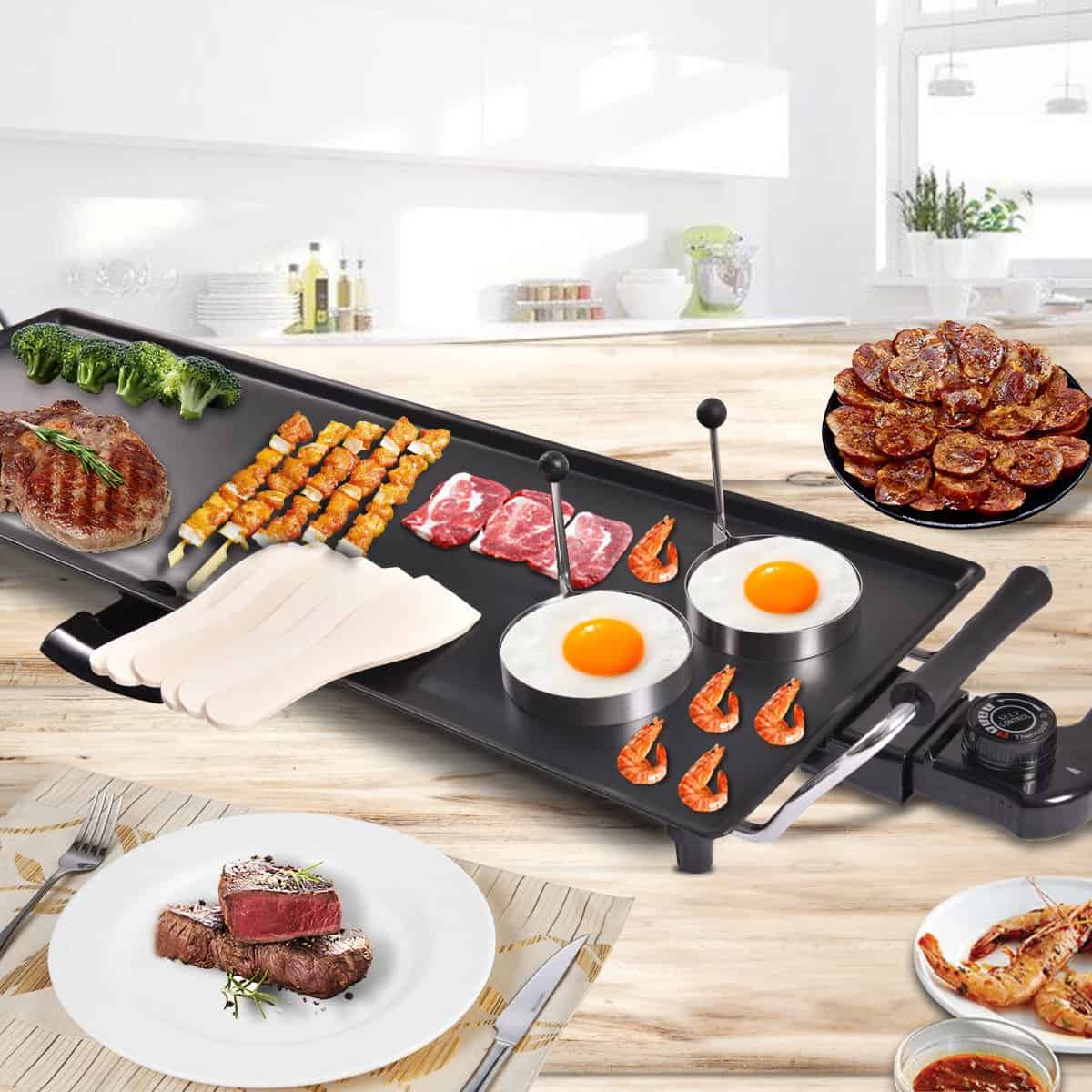 Now imagine being able to have your very own teppanyaki grill at home so you can channel your Benihana in the privacy and comfort of your own home.
It's simple, but not any grill will do.
That's why we took the time to analyze the best teppanyaki grills that you can buy.
My favorite hot plate grill is the Zojirushi Gourmet Sizzler because it's electric, has a non-stick griddle top, and fits on the table so you can conveniently cook for yourself or a group.
Read on to find out if this one is also the one for you or if you'll be better off with one of our other options. Take a look at the table first.
10 Tips to Save a Bundle on Asian Ingredients!
Introducing our brand new FREE PDF guide: "Saving Secrets: Unveiling the Art of Saving Money on Asian Ingredients" It's your first newsletter email, so start saving today! 📚🧧
We'll only use your email address for our newsletter and respect your privacy
Teppanyaki vs Japanese hot plate
These two terms refer to the same grill: a flat, smooth metal grill that's heated to a high temperature.
I want to explain that the grills are essentially the same, which means you can buy anything labeled teppanyaki, electric hot plate grill, or flat top griddle.
The difference lies in the technique. Teppanyaki is a Japanese cooking method that's become popular all over the world, and it involves not just the grill but also the style of cooking.
So, when we talk about the best teppanyaki grill, we're looking for a grill that will allow you to cook in the teppanyaki style.
The words Japanese hot plate simply refers to the flat top grill product. It's not really a cooking style but just refers to the grill.
Buying guide
When shopping for the best teppanyaki grill, you need to consider certain features.
Indoor vs outdoor
An outdoor teppanyaki grill is usually powered by propane or natural gas. They usually have a side burner as well.
An indoor teppanyaki grill is usually electric.
They're lightweight and portable, so you can take them outside to the patio or deck if you want.
Some of the top teppanyaki grills can be used both indoors and outdoors.
But the hot plate you use inside the house on the tabletop is usually known as an electric tabletop teppanyaki hotplate.
Teppanyaki restaurants use special teppanyaki grills that are larger and can accommodate more food, and can be propane powered.
Then you have the restaurant griddle, which is basically a large hot plate used for cooking foods like bacon, eggs, pancakes, and grilled cheese sandwiches.
Material
You're probably wondering: what is a teppanyaki griddle made of?
Most teppanyaki griddles are made of either cast iron or aluminum.
Cast aluminum is a popular choice because it's lightweight and conducts heat well. It's also cheaper, and thus these types of tabletop grills are cheaper.
Restaurants use different materials for their teppanyaki grills. They're usually made of high-quality stainless steel for easy cleaning.
That's because stainless steel is more durable and can handle high heat better in the long run.
Therefore, the best teppanyaki grills or hot plates are made of stainless steel and have a large non-stick surface.
Size & portability
The cooking surface is important when it comes to teppanyaki grills. Look for a grill that has a generous cooking surface so you can cook enough food for your family or guests.
Some teppanyaki grills have one large griddle cooking surface, while others have multiple smaller griddle cooking surfaces.
The size also influences how portable the grill is. A portable Japanese hot plate is usually smaller and lightweight, so you can move it from the table to the countertop or outside to the patio.
You can even take it camping as an alternative to traditional gas grills and charcoal grills.
Heating element
The heating element is another important consideration. Look for a grill with a powerful heating element so you can cook your food quickly and evenly.
An electric teppanyaki grill usually has a heating element that is located under the cooking surface.
The power is calculated in watts, and the higher the wattage, the more powerful the heating element will be.
Some teppanyaki grills also have a side burner. This is a great feature if you want to be able to cook other food items while grilling your main course.
Propane teppanyaki grills usually have a side burner as well.
Industrial hot plates usually have a heating element that is located on the side of the cooking surface.
This allows for more evenly distributed heat and prevents hotspots from forming.
Temperature control
The ability to control the temperature is another important feature to look for in a teppanyaki grill.
Some of the best teppanyaki grills have an adjustable thermostat so you can grill your food at the perfect temperature.
Others have a simple on/off switch.
One of the advantages of a hot plate with temperature control is that you can sear meat at a high temperature and then lower the temperature to cook it all the way through without burning the outside.
Temperature range
This refers to how hot the grill can get.
The temperature range is important because you want to be able to sear meat at a high temperature and then lower the temperature to cook it all the way through without burning the outside.
Most teppanyaki grills can reach temperatures between 200 and 400 degrees Fahrenheit.
Some also have a keep warm function that's below 200 degrees and keeps the food warm so you can enjoy it later.
Drip tray
Having a removable drip tray is important for a teppanyaki grill. A slide-out drip tray is even better.
This feature allows you to clean the grill and keep the cooking area clean easily.
A grease management system is always important if you want smokeless grilling and cooking.
This will help to catch any excess oil or grease that may fall from the food while it's cooking.
You can easily empty and wash the drip tray or drip pan when you're finished cooking.
Some teppanyaki grills even have a built-in grease trap that collects the excess grease and oil.
This way, you don't stink up the house with smoky grease.
Non-stick surface
It's also a good idea to look for a grill that has a non-stick surface.
This will make cleanup much easier.
A non-stick cooking surface ensures your Japanese food, like yakitori, doesn't stick to the grill and burn.
Some teppanyaki grills even have a double-sided grill with a non-stick surface (hot plate) on one side and a traditional grill with grates on the other.
This can be handy when you want to switch from the teppanyaki grill plate to a more traditional electric grill to cook Western-style BBQ in the home.
Price
You can get an affordable griddle that has all the features you need for a Japanese-style barbecue.
You don't need to spend a lot of money to get a quality hot plate grill. Most electric teppanyaki grills are less than $200.
The premium propane teppanyaki hot plate grills are a bit more expensive, but they offer more features and better performance.
You can find a good quality tabletop hot plate for around $500.
Wow, did you know there is such a thing as teppanyaki icecream?
Best Japanese hot plate grills reviewed
Whether you want a large hot plate griddle for your restaurant, a portable teppanyaki grill for camping, or the best tabletop teppanyaki for indoor cooking, I've got you covered with a selection of the best products.
Owning a hot plate will take your Japanese cooking skills to the next level.
Best tabletop Japanese hot plate griddle: Zojirushi EA-BDC10TD Gourmet Sizzler
If you want to make delicious Japanese cuisine in the comfort of your home with no smoke, you need to try the Zojirushi electric teppanyaki grill.
All you have to do is place it on your table or counter and start cooking.
Cooking surface: 14-1/8" x 13-1/8" inches
Material: ceramic
Drip tray: yes, removable
Temperature control: yes
Temperature range: Warm 176 Degree to 400 Degree
Coating: ceramic & titanium nonstick
It has a wide cooking surface so you can cook meat, fish, pancakes, and even make takoyaki.
Unlike most other electric griddles, this one has a lid to keep the smoke inside while you're cooking.
The lid also allows you to steam dumplings or vegetables. It's also ideal for making stir-fried noodles or hot pot recipes with smaller liquid quantities.
This electric Zojirushi hot plate griddle is among the most popular Japanese cooking appliances on the market because of its multifunctionality.
It has a large cooking surface of 14-1/8" x 13-1/8" inches, making it big enough to cook for a family or small group.
The titanium and ceramic nonstick coating is durable and easy to clean. Some people have complained about the nonstick coating not being as durable as they'd like, but it's still a good product.
The plate has a fine diamond pattern which helps you cook fish and other seafood without damaging the flesh.
The temperature control is located on the side of the unit and goes from 176°F to 400°F.
So, the temp can be controlled from 176 degrees Fahrenheit (keep warm) to 400 degrees Fahrenheit.
Since it has heat settings, you can use it to cook a variety of Japanese foods.
What I like is that the heat only turns on when you insert the plate inside correctly, and you hear the "clicking" sound.
This makes the appliance safe to use indoors, and you won't burn yourself.
Users are impressed by how evenly this hot plate heats up and cooks the food.
Therefore, there are no hot spots or cold spots, and you end up with delicious food every time. The powerful heating element also means that food cooks quickly.
There's a pre-heat feature that ensures that the cooking surface is hot before you start cooking. This is a thoughtful touch that not all electric teppanyaki grills have.
The removable drip tray is easy to clean, and the integrated grease management system means there's no smoke in the home while you use this electric griddle.
Easy clean-up is one of the reasons why people love this grill. You simply pop out the plate and drip tray and wash them in the sink.
The hot plate has an extra round mold plate for making takoyaki balls.
This is useful because you probably want a versatile appliance on those days when you're not in the mood for BBQ.
Having interchangeable grill plates is something that many customers look for these days because it means you can use the appliance for multiple purposes.
The Zojirushi Gourmet Sizzler also has a long 6.6 ft power cord, so you can easily plug it in and use it on the countertop or at a picnic table.
Best budget electric teppanyaki grill: Presto 07072 Slimline Griddle
If you don't want to spend money on a pricey teppanyaki grill but still want a nonstick cooker with adjustable temperature settings, you can count on the Presto Slimline – it's one of the bestselling flat top griddles out there.
Cooking surface: 13×22 inches
Material: Aluminum
Drip tray: yes, slide-out
Temperature control: yes
Temperature range: up to 400 degrees
Coating: aluminum nonstick
This model is very easy to operate. Just plug it in and set the temperature according to what you're cooking – the range goes from 200 to 400 degrees Fahrenheit.
It's easy to set the desired temperature settings to ensure you don't overcook the food.
The cooking surface is large enough to accommodate six burgers or four servings of pancakes, eggs, and bacon.
The Presto slimline is a compact grill even though it has a larger cooking surface than the Zojirushi.
It also weighs only 4 pounds, making it very portable. You can take it with you when you go camping or tailgating.
The aluminum nonstick surface is easy to clean, and although aluminum isn't a premium material, the nonstick coating is very durable.
The food doesn't stick to the surface, so you can cook without oil or butter if you want to.
Users are saying the non stick cooking surface is perfect for making pancakes and crepes or Japanese delicacies like okonomiyaki.
Just be sure to use plastic or wooden spatulas because metal will ruin your non stick coating and make the grill useless.
The coating is rather sensitive since this is a cheaper appliance.
The Presto doesn't have a removable grill plate, but that's not a big deal because the whole surface is nonstick.
You can simply wipe it down with a paper towel or damp cloth after cooking.
This model offers good heat distribution and retains heat well.
According to the manufacturer, the surface is practically warp-proof and doesn't smoke a lot. That's because it has a removable slide-out grease tray.
Some customers noted that the electric griddle can have some hot spots when cooking on the highest heat setting.
The sloped sides allow the grease and fat to run into the tray, so your food is healthier, and there's no smoke in the kitchen.
Overall, this under-$100 grill is the perfect accessory for the kitchen if you're a fan of hot plate Japanese cuisine.
Zojirushi vs Presto Slimline
The first difference is the material. The Zojirushi has a ceramic cooking surface, while the Presto has an aluminum one.
The ceramic is more durable and doesn't require as much oil or butter for cooking. It also heats up faster and retains heat better.
A second difference is the length of the power cord. The Zojirushi has a 6.6 ft cord, while the Presto only has a 3-foot cord. This will affect where you can place your tabletop grill.
The third difference is the size. The Presto grill has a larger cooking surface, so it's better for larger families or entertaining. The Zojirushi is more compact and portable.
Next, I want to compare the grill plate. The Presto has one flat top griddle plate, but it's not removable.
The Zojirushi, on the other hand, has a removable grill plate and a bonus takoyaki plate, which usually costs some extra bucks.
The removable grill plate is easier to clean because you can take it out and wash it in the sink. The non-removable Presto plate can only be wiped down.
Finally, the Zojirushi has a greased channel around the perimeter of the grill to catch the grease and fat. The Presto has a removable slide-out tray for the same purpose.
Both are excellent choices, but Zojirushi is an authentic Japanese hot plate, while the Presto is a Western-style electric grill with a flat plate.
Best commercial teppanyaki hot plate: TBVECHI Electric Griddle
A restaurant needs a proper Japanese teppanyaki hot plate to make delicious meals. The TBVECHI is an electric griddle made of commercial-grade stainless steel.
Cooking surface: 21.5×13.7 inches
Material: stainless steel
Drip tray: yes, slide-out
Temperature control: yes
Temperature range: 122 to 572 F
Coating: stainless steel
It has a large cooking surface of 21.5×13.7 inches, so you can cook multiple dishes at the same time.
The temperature can be adjusted from 122 to 572 degrees Fahrenheit, which is a huge range and ideal for searing meat or making delicate dishes.
The TBVECHI also has a slide-out drip tray to catch the grease and fat. This makes it smoke less than traditional stovetop cooking.
What makes this commercial teppanyaki grill stand out is its power. With 3000 W, it heats up quickly and evenly.
Compared to cheaper hot plates intended for home cooks, this is much more powerful and will cook your food fast so you can start serving hungry customers.
The TBVECHI is also easy to operate with its temperature control knob and indicator light.
It's made out of stainless steel, so it's durable and easy to clean. Also, steel is a durable material and much more heavy-duty. It isn't as susceptible to scratches from your cooking utensils as a nonstick surface.
The only downside is that it's more expensive than home-use hot plates.
But if you're running a business, this is a small price to pay for a quality appliance that will make your customers happy.
If you're tight on space, you'll appreciate how compact this appliance is. At 24.8 x 20.87 x 12 inches, it's one of the smaller commercial teppanyaki griddles on the market.
It also has non-slip feet, so it stays in place on your countertop.
The TBVECHI teppanyaki grill is the perfect choice for a busy kitchen, and its even cooking surface makes it the best of its kind.
Best portable & folding griddle: Presto 07073 Electric Tilt-N-fold
One of the advantages of having a portable teppanyaki-style grill is that you can easily set it up and put it away into storage.
It's also easy to take with you when you want to cook outdoors.
Cooking surface: 254 sq inches
Material: aluminum
Drip tray: yes, slide-out
Temperature control: yes
Temperature range: up to 400 F
Coating: nonstick
The Presto 07073 is a 19-inch electric griddle with a 254-square-inch cooking surface. It's made of aluminum and has a nonstick coating.
The temperature can be adjusted up to 400 degrees Fahrenheit, and there's also a built-in grease channel and drip tray.
The Presto 07073 is easy to use and clean, and it folds up for compact storage.
The legs are quite sturdy, although I'd recommend cooking thin slices of meat or light foods, so you don't overfill the plate.
This foldable model is very similar to the Presto Slimline, and the technical features are almost identical, but this model folds up easily and is not as bulky.
You can simply tilt the feet and then fold them. It ends up looking like a tray, so you can store it in a tight space like your cabinets.
It has a similar keep warm feature which is handy if you're cooking breakfast for many people.
The main difference is that this model doesn't have a temperature gauge, but it does have an indicator light.
There's one concern with this Presto griddle – it heats up unevenly compared to brands like Zojirushi or Cuisinart.
Also, the coating isn't as high-quality, and the build is flimsier, but that reflects the low price tag.
But if you're looking for an electric griddle that's easy to store, this Presto is a good choice, and you can use it to make both Western and Japanese foods.
It heats up pretty fast and will cook the food through properly, so it's a good purchase.
TBVECHI commercial teppanyaki grill vs Presto folding grill
These two griddles are used for different purposes: the TBVECHI is a commercial teppanyaki grill, while the Presto is a portable, folding griddle.
However, they're both electric and have nonstick surfaces.
The main difference is that the TBVECHI is more powerful and has a larger cooking surface, while the Presto is more compact and easy to store.
The TBVECHI also has a temperature control knob and can cook at higher temperatures compared to the Presto.
Another difference is the build material: the TBVECHI is made of stainless steel, while the Presto is made of aluminum.
If you own a restaurant, you know that aluminum isn't the best choice when it comes to durability and stainless steel is what you need for a professional hot plate.
When you make hundreds of okonomiyaki every day, you need an appliance that can handle the wear and tear.
The TBVECHI is a great choice for busy kitchens, whereas the Presto is more suitable for home use or picnics and outdoor gatherings with friends and family.
Make delicious teppanyaki fried rice with this easy 11 step recipe
Best gas teppanyaki hot plate & best outdoor: Royal Gourmet PD1301S
If you're looking for the advantages of teppan-style cooking but outdoors on the patio or backyard, you need a gas grill.
Cooking surface: 316 sq inches
Material: stainless steel
Drip tray: yes, slide-out
Temperature control: low to high
Temperature range:
Coating: nonstick porcelain enamel
The Royal Gourmet hot plate has 3 burners that output 25,000 BTUs altogether. This means that you can cook at different temperatures on different parts of the griddle.
So the advantage is that you can make french toast on one side, bacon on the other, and eggs in the middle all at the same time.
The dimensions of the cooking surface is 316 sq inches, which is ideal for cooking multiple dishes at the same time.
The Royal Gourmet also has a slide-out drip tray to collect fat and juices, and it's made of durable stainless steel.
The enamel coating is nonstick, so your food won't stick to the griddle top. Unlike cast iron flat top grills, this one doesn't require seasoning, and it's easy to clean.
What makes this product special compared to electric griddles is that it has a piezo ignition system.
This means that you can light the burners with a push of a button, and there's no need for an external lighter or matches.
The heating power is also amazing because the three burners are powerful heating elements which means faster cooking times.
The only downside is that it's a bit difficult to clean because of the many nooks and crannies, but that's to be expected with any grill.
There's a bit of an issue where the drip hole at the top doesn't line up with the grease tray perfectly, and it can cause a smoky mess. However, users have recommended drilling a bit of a larger hole.
Also, you have to consider that this is an outdoor hot plate only and so you might not be able to use it in the winter.
Overall, this is a great choice for cooking outdoors, and it's also very portable and compact, so it's ideal for tabletop cooking outdoors.
What is teppanyaki & Japanese hot plate?
Literally speaking, teppanyaki stands for "grilling iron plate" in Japanese, but it's actually so much more than just a simple iron plate.
First of all, it's a solid and flat griddle, unlike a hibachi or traditional barbecue grill. It's heated from below, usually by electricity or gas.
This means that it can be used indoors without any fumes or smoke, which is perfect if you want to use it at home.
It also heats up very quickly and evenly, so there are no cold or hot spots on the grill.
And unlike the hibachi or yakitori grill that uses charcoal for heat, teppanyaki grills use a propane flame or electricity.
Guests can sit around the teppan chef, so he or she can wow and amuse everyone with their fantastic grilling and flipping skills.
Common Japanese-style food cooked on a hot plate includes meats like chicken, steak, and seafood.
But you can also cook vegetables, noodles, rice, and even eggs on a teppanyaki griddle.
Starting as a dining style mostly for Japanese families, teppanyaki grilling grabbed the attention of America about 200 years ago, making its way and becoming a fascinating aspect for diners to this day.
Most Japanese steakhouses rely on teppan chefs to attract crowds for both the amazing flavor of their Japanese-style meals and also their showmanship.
The term teppanyaki is mostly used in the West to describe the style of cooking, which is similar to hibachi.
In Japan, teppanyaki generally refers to any dish that is cooked or grilled on an iron plate, whether it be meat, vegetables, rice, noodles, etc.
A lot of Japanese food, such as okonomiyaki, yakisoba, and yakitori are cooked on teppan.
A Japanese hot plate is a great way to make a delicious Japanese-style meal at home. All you need is some fresh ingredients and a little bit of oil.
How to use Japanese teppan hot plate
Teppanyaki grills are a wise choice when having guests over since they are not only made for commercial but also private use.
Invite your friends and family over and have a freshly cooked dish from the grill.
The advantages of an electric Teppanyaki grill are praiseworthy. In as much as they are cheap, they are also easily handled, reliable, and don't stain easily.
This grill is friendly to armatures. There is no hustle as seen on the charcoal and gas grills where you can end up with sooty meat.
This is not the case with electric Teppanyaki grills (which can be some of the less expensive ones).
Safety is given the utmost priority, and some are suitable for indoor use.
No wrong can happen when grilling since almost all electric Teppanyaki grills come fully installed with a thermostat that modulates the temperature to suit your cooking style.
Tongs and spatulas are very useful for placing the meat on the grill, searing, and turning. Increase or turn off the heat on the cooking center at your leisure.
Ensure that the meat that's being cooked has seared properly in the long run.
For starters, you can cut a slice through the meat and observe it as it cooks. If you are a beginner, don't hesitate to ask for help from an expert.
Experienced teppanyaki chefs tend to steal the whole show. What used to be a boring formal dinner can be transformed and resemble Japanese steak houses.
Cook the meal in front of the guests and have the vegetables pre-made. They can then be self-served and eaten right away.
The Teppanyaki cuisine can be integrated into any culture worldwide, as long as the food cooks.
Tips for cleaning electric Teppanyaki grills
Electric Teppanyaki grills are durable and reliable. They don't need a lot of work when it comes to maintenance and cleaning.
The following tips will see you through in ensuring that your grill is clean and working perfectly.
Cleaning the surface of an electric grill is a piece of cake. All you need is to unplug it first, then use a clean damp cloth or sponge to wipe it down.
If there are any stubborn stains, you can use a little bit of soapy water. Wipe it off with a dry towel or cloth and you are good to go.
It is advisable that you clean the surface of your grill after every use. This will prevent the build-up of food residue, which can be hard to remove.
Dispose of the collected grease, and wash it with dishwashing liquid and a wet sponge or cloth.
Soak the spatula (you can wet good ones like these here) for a few minutes, if it is heavily stained with grease or food particles, in warm water and drops of dishwashing liquid. Wipe to remove the dirt with a scrubber sponge.
Rinse all the equipment thoroughly with running water and air them out to dry.
Takeaway
For all your home-cooking hot plate needs, the Japanese Zojirushi teppanyaki grill is the best on the market.
It's extremely well-made, heats up quickly and evenly, and has a nonstick surface.
Since it's easy to clean and smokeless, it is more advantageous to use indoors. It's also portable and compact, making it perfect for outdoor cooking and picnics.
You have to keep in mind that hot plate griddles are for cooking meats, vegetables, noodles, rice, eggs, and even more foods, so you can always experiment with new recipes.
Next, check out this top 5 How-to Teppanyaki Tricks – watch & learn (incl video tutorial)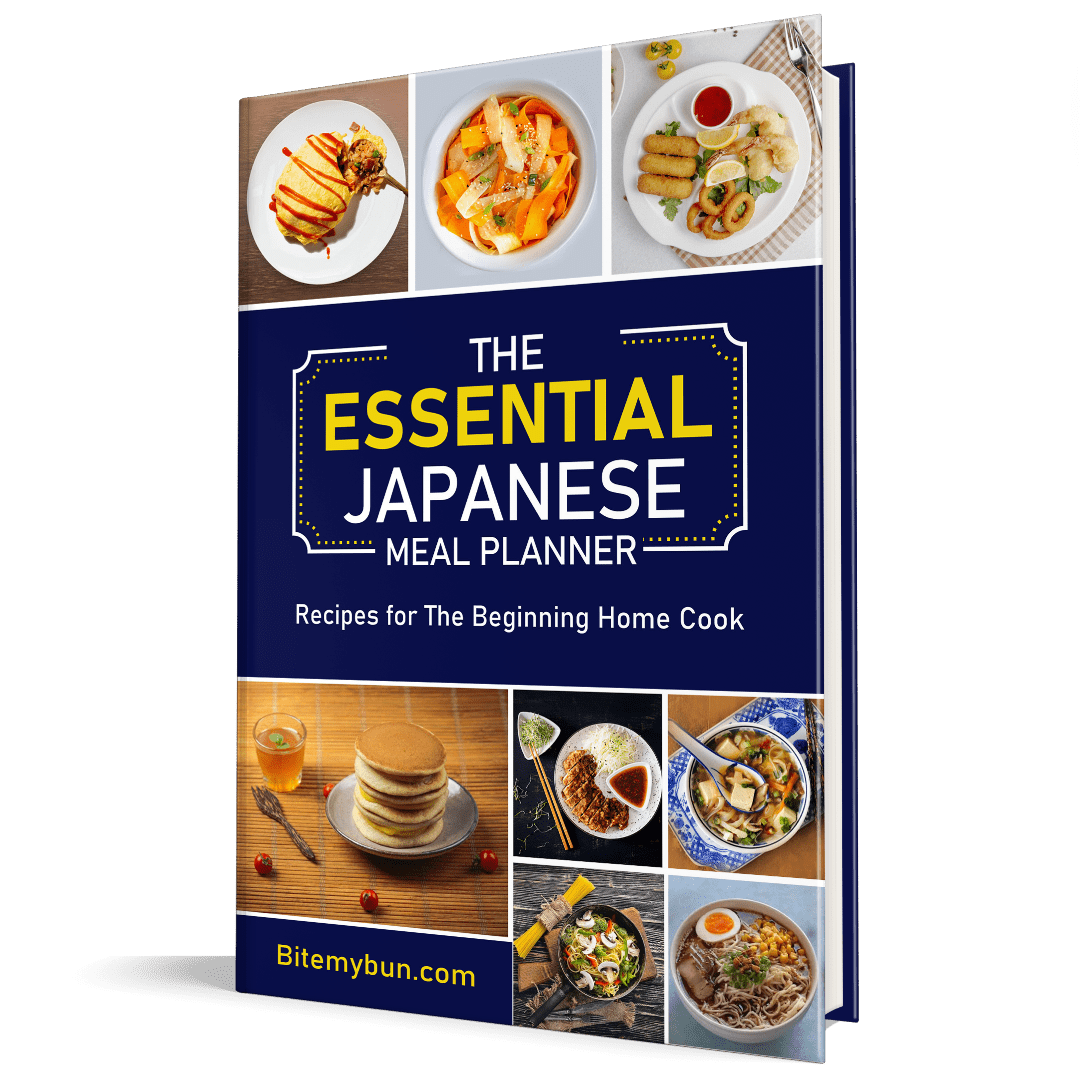 Check out our new cookbook
Bitemybun's family recipes with complete meal planner and recipe guide.
Try it out for free with Kindle Unlimited:
Read for free
Joost Nusselder, the founder of Bite My Bun is a content marketer, dad and loves trying out new food with Japanese food at the heart of his passion, and together with his team he's been creating in-depth blog articles since 2016 to help loyal readers with recipes and cooking tips.