I love creating free content full of tips for my readers, you. I don't accept paid sponsorships, my opinion is my own, but if you find my recommendations helpful and you end up buying something you like through one of my links, I could earn a commission at no extra cost to you.
Learn more
The modern hibachi grilling would not be complete without a pair of spatulas.
Hibachi cooking techniques is now interchangeable with the teppanyaki cooking method. In fact, it's hard to differentiate the two.
It's almost hard to imagine that before hibachi cooking became synonymous to teppanyaki cooking, Japanese chefs used to cooking hibachi dishes in an open flame grill and not the flat top grill that you see in hibachi restaurants now.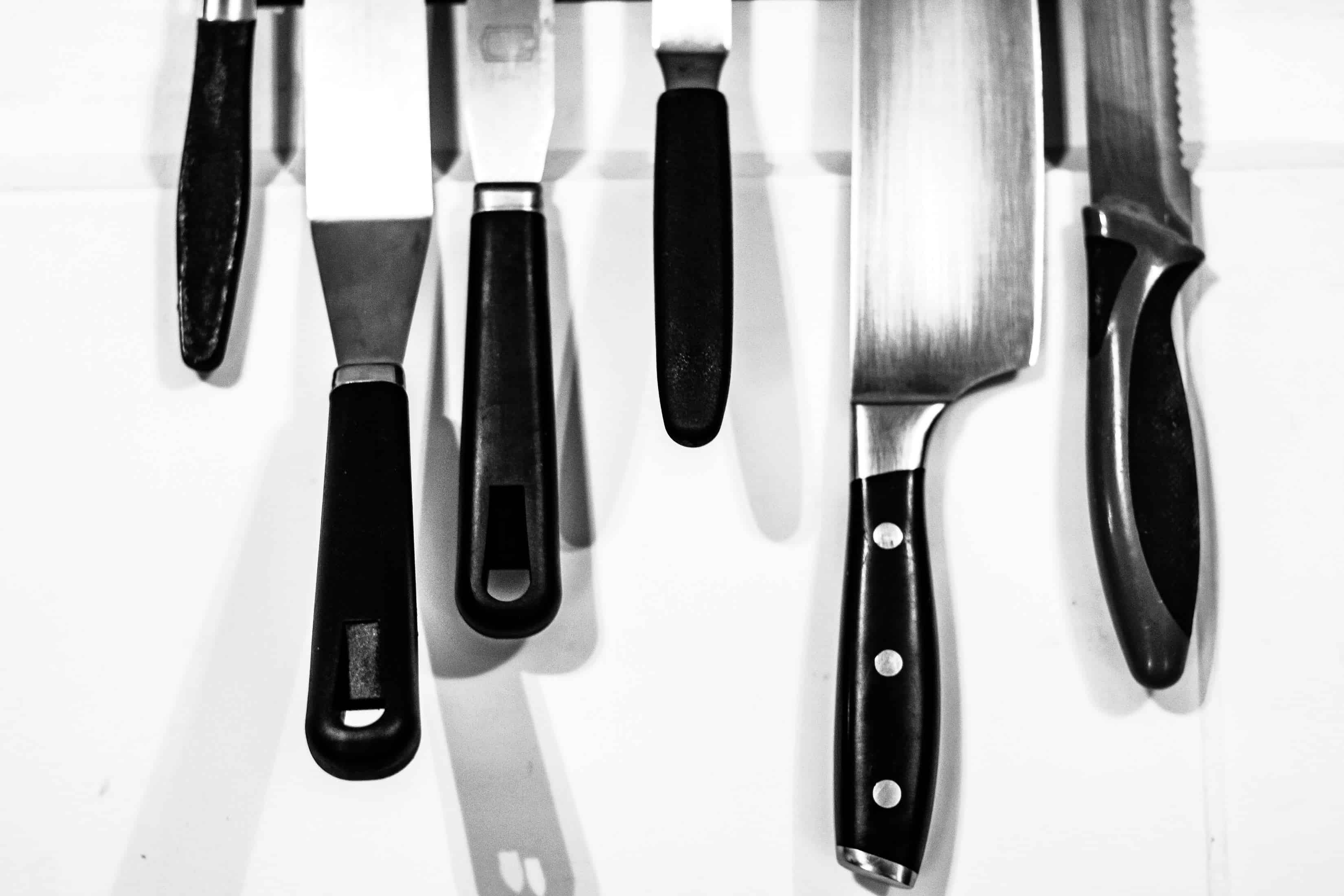 What is Hibachi Cooking?
The hibachi is a small open flame grill that was used as a heating apparatus for ancient Japanese homes. Over centuries it evolved into a cooking and grilling technique that included simple dishes like grilled fish, seafood and vegetables, but was still cooked over an open flame grill. After WWII some people started creating hibachi cooking schools, but most of the cooking techniques were borrowed from the teppanyaki cooking method.
The typical ingredients that are being cooked on a hibachi iron griddle (e.g. aluminum or cast iron flat-top grill) include meats, vegetables, and rice (with delicious sauces like these!)
The goal of hibachi cooking is to enhance the flavors of the foods instead of overriding them. This is why most of the seasonings hibachi chefs uses are usually limited to soy sauce, vinegar, salt, pepper, and sometimes garlic. However, the chef's creativity supersedes hibachi cooking tradition, so in some cases, you may notice some changes to the cooking styles, but it varies from chef to chef.
Also read: check out these knives when planning to prepare sushi and sashimi
Why the Hibachi Spatulas are Important Tools for the Chef?
The hibachi spatulas (chefs always use 2 spatulas) are like the extension of the hands of the chef when he's cooking on the hibachi grill.
Aside from cooking they also use these tools to perform their tricks in order to make hibachi cooking more entertaining.
Among the tricks that the chef may show you include juggle utensils, flip a shrimp tail into his shirt pocket, catch an egg in his hat, toss an egg up in the air and split it with a spatula, flip flattened shrimp pieces into diners' mouths, or arrange onion rings into fire-shooting volcanoes, they also use the spatulas to mix and flip the ingredients over the flat top grill.
The spatulas are made with the best dimensions and ergonomically handy in order for the chef to be able to use it efficiently while preparing meals.
Top Spatula Brands for Hibachi Cooking
SogYupk Special Hibachi Spatula Set
From the Chinese industrial giant, Shenzhen Xin Yi Gou Technology Co., Ltd. Trademarks, acronym for SogYupk (in Chinese) the manufacturer of various household items and electrical parts offers a set of specially made hibachi spatula.
The spatula set is composed of one measuring 37cm (14.6 in) long that has the solid face, while the second one is shorter at only 20.2cm (7.95 in) long and is perforated. They are made of commercial-grade stainless steel and are very durable. The porous design for the smaller spatula is to allow for cooking oil to leak. Allow the oil to leak through the spatula instead of around it causes the oil to be stirred and allows it to spread throughout the ingredients, which makes cooking more efficient.
The wooden handle which are rivet-fixed feels good to the grip and will allow you to perform all those hibachi tricks, so you could entertain guests.
If you're running a hibachi restaurant or you just have a decent hibachi countertop in your kitchen and you love to cook hibachi dishes, then you need to own a set of these special hibachi spatulas.
They are really inexpensive and you should definitely check them out here
Jordigamo Griddle Tools Cooking Set
The Jordigamo Griddle Tools Cooking Set features the hibachi spatula as just part of their 5-piece griddle set, but the spatulas are made from high-quality materials and are great for hibachi cooking!
This amazing griddle cooking set gives you more value for your money's worth, because of the extra handy tools that come with the spatulas. It's a value bundle as you will get 2 spatula turners, 2 sauce squeeze bottles & 1 multi-purpose scraper/chopper for under $11. Both the scraper and spatulas have plastic handles and not riveted wooden ones, which makes them dishwasher safe and easy to clean.
Again this spatula design is made to look identical with 14.5 inches x 8 inches x 3 inches dimensions that weigh approximately 6.3 oz and are very well balanced which is perfect to handle.
Check this complete set out here on Amazon
BonBon 3-Piece Professional Quality Stainless Steel Flat-Top Spatula and Scraper Set
BonBon is simply an Amazon store and it doesn't even specialize in selling grilling tools or kitchen supplies, but rather it sells a variety of merchandise. However, their 3-piece grilling set is of good quality materials and should be highly recommended to purchase for hibachi restaurant chefs and hibachi cooking enthusiasts alike.
The spatulas sport a complimentary design feature where one is larger than the other. This is important as it helps the chef to appropriately chop, mix, cut, flip and do other hibachi grilling tricks he needs to do in order to entertain his guests and customers.
The spatulas and the scraper are all made from non-reactive, hygienic and durable stainless steel, which is perfect for commercial, home kitchen or backyard barbecue use.
The BonBon spatulas and the scraper is a great quality product that you wouldn't normally expect from an online store on Amazon, but it does have amazing features for a spatula. It also comes at a very agreeable price!
Check prices and availability here
Anmarko Professional Griddle Spatula Set
Anmarko is a specialist in hibachi and teppanyaki griddle cooking, in fact, all of their products being sold on Amazon are spatulas and grill scrapers.
By simply looking at the high-resolution photos of this product on Amazon you can tell how much effort was put into making these spatulas and scraper.
In fact, the scraper even has lines and marks of the inch which is a unit of measure in the metric system, thus making it an effective ruler of sorts that you can use to precisely cut meats and vegetables while cooking on the hibachi grill.
The spatulas and >scraper can be used by professional hibachi chefs in restaurants as well as for home barbecuing and as kitchen accessories.
Made from non-reactive, hygienic and durable stainless steel the spatulas and scraper will last for multiple uses, which makes them very dependable. The hardwood handle offers a firm grip for users and its ergonomic and comfortable design makes the spatulas easy to work with.
Check the latest prices here on Amazon
Also read: how to make a delicious hibachi chicken
Amari Bliss BBQ Tool Set Hibachi Grill Accessories Flat Top Metal Stainless Steel Spatulas
You may feel reluctant to buy a hibachi grill set like the Amari Bliss BBQ Tool Set and Hibachi Grill Accessories, but just because they offer 7 pieces of grilling tools for this low pice doesn't mean they've sacrificed its quality.
When you'll purchase this grill set, you will get the stainless steel toolset that includes 2 large restaurant-style spatulas (1 solid long; 1 perforated for hibachi cooking); a grill scraper, a burger flipper, a chopper, and also two 16oz squirt bottles.
The Amari Bliss BBQ Tool Set is ideal for commercial griddles and grills, including hibachi and teppanyaki grills, as well as home indoor and outdoor BBQ and camping. The curved and/or slanted edges on the spatulas, BBQ flipper and scraper were designed for hibachi and teppanyaki chefs, so they could perform all their cooking theatrics without any problems.
The design essentially makes the spatulas, flipper, and scraper easy and comfortable to use. The BBQ flipper, scraper, and spatulas are made of heavy-duty materials, robust and tough able to handle a wide range of cooking styles from Japanese cuisines through Tex-Mex and more! All 7 items are dishwasher safe and easy to clean.
It's available at a very low price here on Amazon
Professional Blackstone Griddle Spatula Kit Accessory Grill Tool Scrapper Frying
Here's another BBQ set that gives you more value for your money's worth. Introducing the Professional Blackstone Griddle Spatula Kit and Accessories! This hibachi cooking tool bundle also comes with 2 16oz squirt bottles and a grill scraper, but special attention is given to the spatulas. That's because while one of them is a solid stainless steel design and the other it technically perforated.
The holes or openings in the second spatula are cut in the shape of the fire logo of Blackstone, which is unique and impressive! Blackstone is a huge Amazon online store that sells iron griddles and BBQ tools, so you can
definitely count on their quality. Each tool from this set is made to a high standard, heavy duty, non-reactive, hygienic and durable materials.
Get your Blackstone Griddle Spatula Kit and Grilling Accessories now for only a very low price here
Every month new cooking tips in your email?
Japanese recipes, cooking tips and more with the first email our FREE mini-recipe guide "Japanese with ease"
Need more tools? Read my review of these top fishbone pliers
Joost Nusselder, the founder of Bite My Bun is a content marketer, dad and loves trying out new food with Japanese food at the heart of his passion, and together with his team he's been creating in-depth blog articles since 2016 to help loyal readers with recipes and cooking tips.