I love creating free content full of tips for my readers, you. I don't accept paid sponsorships, my opinion is my own, but if you find my recommendations helpful and you end up buying something you like through one of my links, I could earn a commission at no extra cost to you.
Learn more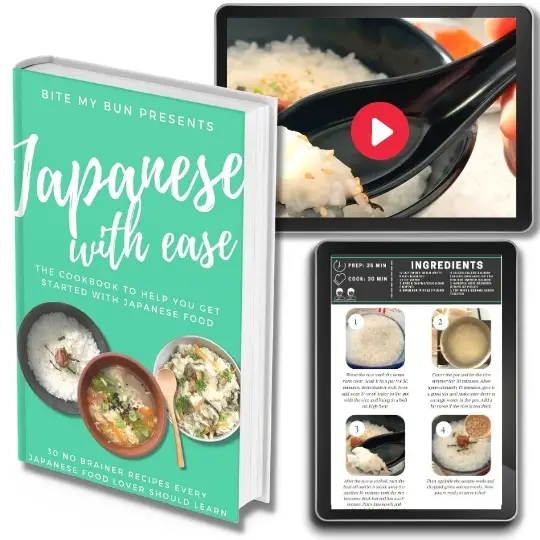 Ever had trouble finding Japanese recipes that were easy to make?
We now have "cooking Japanese with ease", our full recipe book and video course with step-by-step tutorials on your favorite recipes.
First, we need to start by answering this question. What is omakase?
Omakase is a Japanese word which means leaving another to choose what is best. In Japan, omakase is a methodically crafted dinner, which is prepared by a sushi chef. There are numerous reasons why many people have a great dining experience from omakase.
There is one thing that makes omakase completely different. Unlike in other restaurants, you can sit at the sushi bar, and then get an opportunity to interact with the sushi chef. Seeing the sushi chef showcase his or her skills can be an unforgettable experience.
The rice reshaping skills, smooth knife skills, as well as the blowtorch skills, create a majestic cooking presentation. In addition to this, the chefs also share interesting recommendations and stories, which make the dining experience more exciting.
Trust is vital when it comes to omakase
It is important to note that the essential thing when it comes to omakase dinner is trust. However, expressing your trust doesn't mean that you don't care what the sushi chef gives you. Rather, it tells the chef that you trust his or her judgment about the recipes he or she will use, what the chef knows about your taste, and the best courses they would give you at the moment.
Do you like to be more in control yourself? Maybe one of these Yakitori grills is perfect for you to start cooking Japanese food yourself.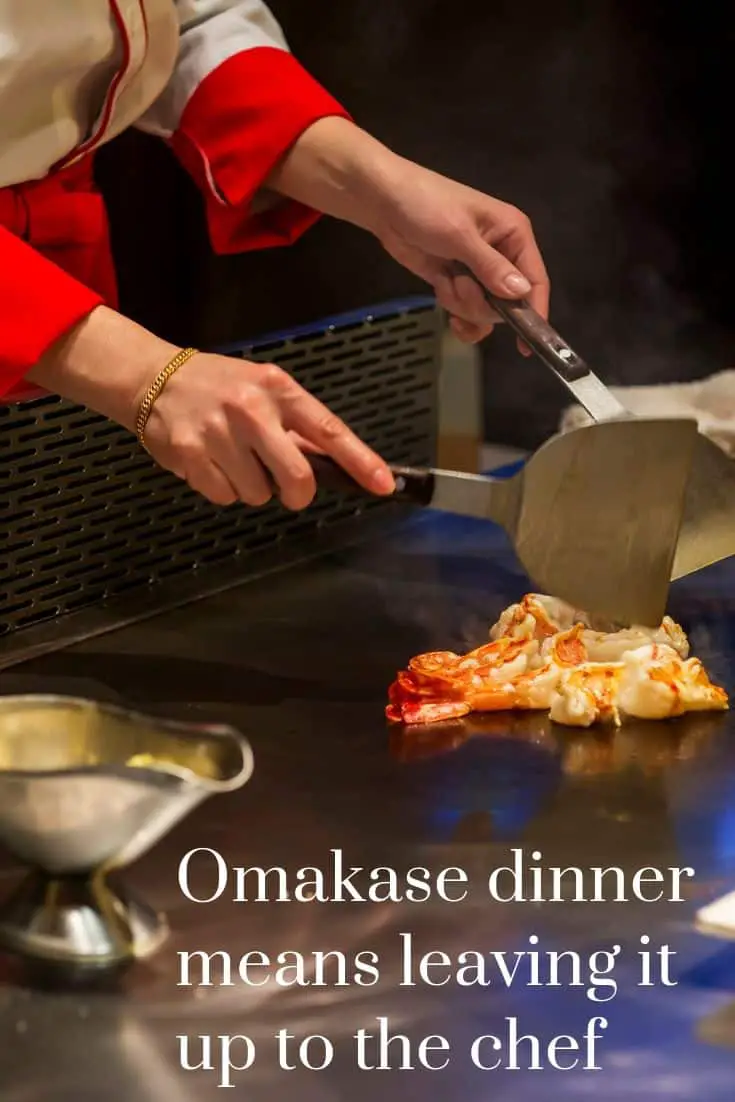 What's main in omakase dinner?
Generally, there is no specific menu when it comes to omakase dinner. Even though the chef might have an idea of the freshest ingredients and what will taste good when combined, you will never get a specific list. Every omakase meal is personalized, to make it special and unforgettable.
If the sushi chef knows you well, then your menu can be a mixture of new dishes and your old favorites. However, your chef must have faith that you will enjoy your meal. If you have just met the chef for the first time, then it's an opportunity for the chef to showcase his or her talent and skills. Besides, this also allows the chef to give you a unique experience of what they have to offer.
Complimenting your chef
Some people love sitting quietly around the table as they wait for the chef to deliver different meals. However, it should never be that way. If you trust your chef, then you should engage your chef in a conversation as he or she prepares your omakase dinner. This gives the chef an opportunity to learn more about you. The more the chef knows you, the better he or she can make your meals more personalized.
When you come into an end of your omakase dinner, don't forget to give your chef a heartfelt and sincere thank you—they will always appreciate it. In addition, you can choose to share a cup of sake with your sushi chef. Your chef will appreciate this more than leaving a tip.
What are the important things that you need to know before trying an omakase dinner?
By now, I know that you are interested in trying out an omakase dinner, and you want to have that experience.
However, there are 6 things that you need to understand before visiting that restaurant. These things include:
It does not work everywhere – not every restaurant will make you enjoy an omakase dinner. It is important to note that omakase will work best in a restaurant with a supply of fresh ingredients every day. Any restaurant with in-season vegetables or fresh fish is likely to offer an excellent omakase dining experience. In addition, your omakase experience can be good, especially if the restaurant practices lots of creativity in its daily menu. Furthermore, you need to note that omakase will never work well in large restaurants, restaurants with a few ingredients, or chain restaurants.
Make sure you sit close to the chef – if you want to have an ultimate omakase dining experience, make sure that you choose a small restaurant, with a viewable kitchen and counter seats. The culture of omakase dining came out of such small and intimate restaurants.
Understanding of the language – you need to have a good social interaction with your chef if you want your omakase dinner to be memorable. Therefore, having the ability to mention some vague Japanese words like omakase will make your chef know that you are into the Japanese culture, which will improve your dining experience.
Always monitor the air – as highlighted earlier, omakase dinner will require you to give more attention to the chef. At times, your chef will explain every omakase dish to you. In such scenarios, it's a good thing to remain friendly and avoid asking personal questions. Always ask (use sumimasen to interrupt) before taking a photo inside the restaurant—however, it's not wrong to take a photo of your food. It's absolutely important to "read the air." Some restaurant owners and chefs will be more than willing to discuss personal matters with their customers, while others will have a challenge in doing so.
Get a ticket and enjoy your dinner – well, omakase is for the adventurous and brave. It might not be ideal for anyone with dietary restrictions, which are likely to crop up. You cannot give your chef restrictions when it comes to the ingredients they want to use. You cannot ask what you will get at the end of the day. Eating the dishes that your chef offers is a gesture of politeness. You should avoid omakase at all costs if you are choosy at what you eat.
You should be ready to pay an unknown price – you will receive a non-itemized bill at the end of your meal. You won't get anything else other than a small piece of paper with the total amount you have spent. In some scenarios, the drinks will not be itemized too. In such scenarios, you should avoid asking for a detailed bill. You should understand that a non-detailed bill cannot be expensed.

Many people consider omakase to be a wonderful meal with memorable experiences. Therefore, if you want to save your money during dinner, then omakase is not the ideal way to go. However, you should understand that you will get good value for your money during dinner. Every omakase chef understands that they are entrusted by their customers, and they will make sure that they give you good value for your money. Omakase is a gamble that will definitely pay off.
What are the rules of omakase dinner?
There is something that you need to understand if it's your first time to try out omakase dinner—in case you mess up, then you are not the first person to do so. However, it is important to make a great effort to "do as the Romans do," or what the Japanese do. However, some things shouldn't happen during an omakase dinner. These things are:
The rice shouldn't come into contact with the soy sauce – in case you need some splash of soy sauce for your sushi, never let it come into contact with your rice. You should note that rice can soak a lot of soy sauce, and some chefs can consider this to be insulting to their dish. If the piece is prepared professionally, it won't need soy sauce at all.
You can use your fingers to eat the sushi, but you should never eat sashimi with your fingers – if your chef serves you some well-diced toro or another serving without rice, it's recommendable to use chopsticks. However, if you are served sushi, you are allowed to use your fingers. Since sushi is a bit delicate, it much easier to use your fingers rather than chopsticks.
Always use ginger to refresh your appetite in between dishes, but never add it to your sushi – you should never add ginger to a meal you've been given to eat; otherwise, you might look like you don't have any appreciation to the flavor your chef has dedicated time in creating.
Don't mix wasabi and soy sauce – professional chefs will put the required amount of wasabi on each piece. Adding some more wasabi would make you look like a clown.
Always ask for permission before taking any pictures – some chefs will be ok with you taking photos (here's how to take the best food photos) of them or their work. However, it's always a good thing to ask for their permission before taking these photos.
Never take more than one bite for any sushi piece – even though you might see other people being serves slightly smaller or larger sushi pieces, just know that yours is designed to be the ideal bit for you.
Also read: these are different noodle types you can use
How much does an omakase dinner cost?
The cost of a high-quality omakase dinner in Japan starts at around 10,000 Japanese yen. This can be converted to around $90. Omakase is not a cheap meal, and this price doesn't include sake, wine, or any other drink, which can make the price to go a bit higher. It's not a surprise to spend up to 30,000 Japanese yen or $270 per person in an omakase dinner. Therefore, if you are planning for the ultimate omakase experience, you should be ready to spend.
Bottom Line
An omakase dinner gives you the opportunity to enjoy sushi and also try out new things, some of which you have probably overlooked in your life. However, you should note that this might not be your meal of choice if you don't like trying out new things. But, it can brighten your experience, especially if you love sushi and other satisfying meals that can be served during the dinner.
Also read: the best Teppanyaki restaurants in America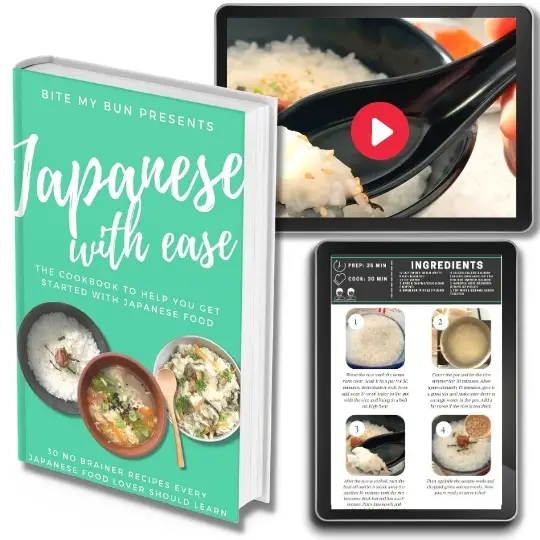 Ever had trouble finding Japanese recipes that were easy to make?
We now have "cooking Japanese with ease", our full recipe book and video course with step-by-step tutorials on your favorite recipes.
Joost Nusselder, the founder of Bite My Bun is a content marketer, dad and loves trying out new food with Japanese food at the heart of his passion, and together with his team he's been creating in-depth blog articles since 2016 to help loyal readers with recipes and cooking tips.