8 best yakitori grills: from electric indoor to charcoal for home & outdoor
I love creating free content full of tips for my readers, you. I don't accept paid sponsorships, my opinion is my own, but if you find my recommendations helpful and you end up buying something you like through one of my links, I could earn a commission at no extra cost to you.
Learn more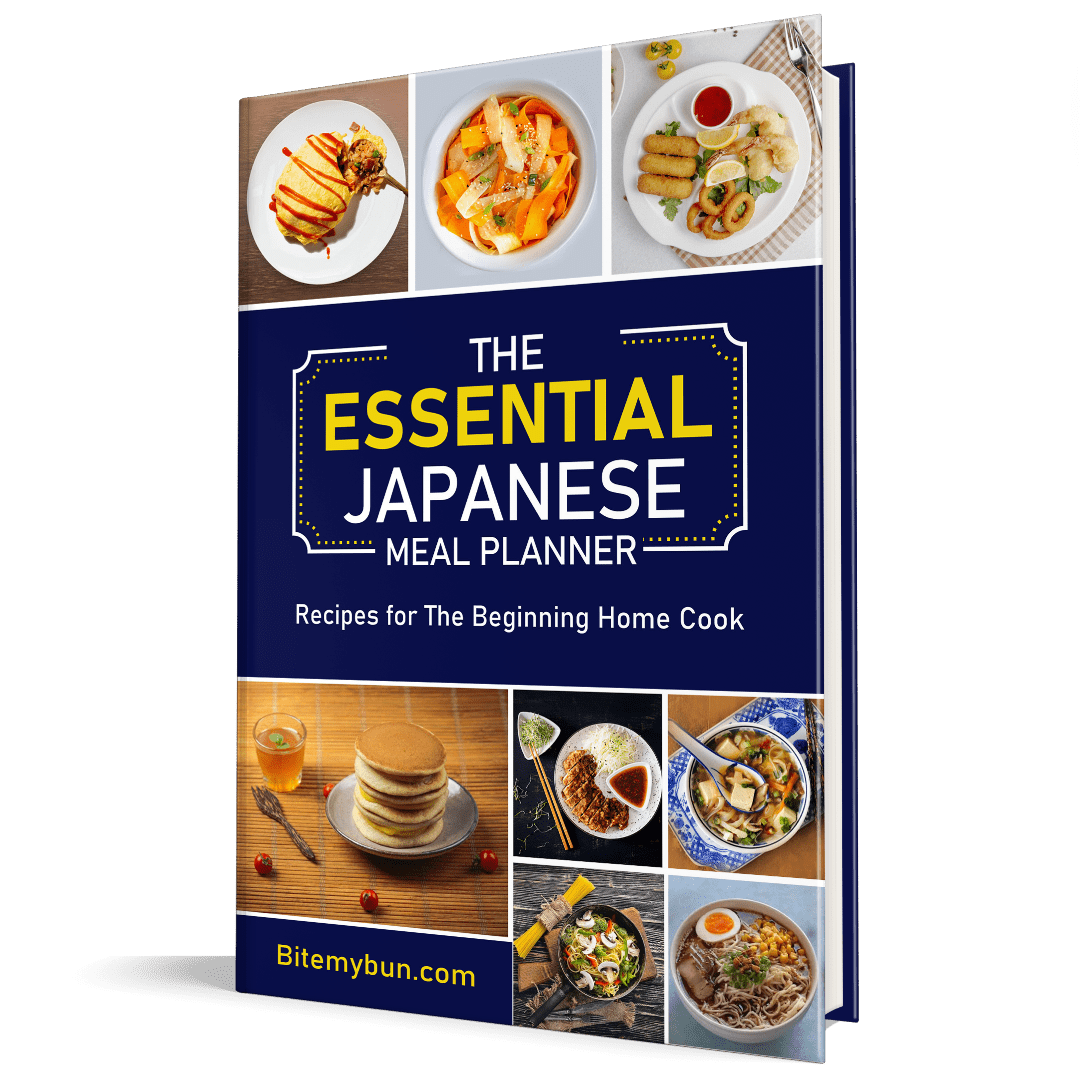 Check out our new cookbook
Bitemybun's family recipes with complete meal planner and recipe guide.
Try it out for free with Kindle Unlimited:
Read for free
Yakitori is a delicious Japanese skewered dish that isn't just popular in its country of origin, but also in other parts of the world.
In Japan, yakitori is served at restaurants commonly known as yakitori-ya, but you can also find it at other establishments.
The dish is usually made to order, and most restaurants typically use the yakitori charcoal grill.
If you're hearing about yakitori for the first time, and you're asking yourself what kind of a dish it is, here's a simple definition:
Yakitori is chicken skewers that are usually made from pieces of chicken meat. In some parts of the world, a similar dish is called kebab.
The bite-sized pieces of meat are generally cut from different parts, such as the thighs, liver, breasts among others, and are usually grilled over charcoal.
Making and eating yakitori is a fantastic culinary experience. But did you know you can make your own yakitori at home? 
What's the overall best yakitori grill?
The best yakitori grill I've found you can buy over here is this Fire Sense grill for yakitori, which has the perfect mix between traditional grills and modern features. Plus, it can withstand the high heats of binchotan charcoal.
Grilling traditional Japanese yakitori is not only fun, but it's also very very tasty. Just look at this video on how to make some delicious foods:
However, the art of recreating the yakitori experience at home is not an easy one, and it requires both skills and the right equipment.
I've reviewed a few different grills for you that are best suited in different situations.
Let's look at each of these in a table. I also have an in-depth review of each of these further down below:
Model yakitori grill
Images
Best tabletop ceramic yakitori grill box: Fire Sense
(view more images)
Best tabletop gas yakitori grill: Cuisinart CGG-750

(view more images) 
Best portable yakitori grill for camping: Uten Barbecue Charcoal Grill
(view more images)
Best large portable yakitori grill: Fanousy Stainless Steel Foldable Barbecue Grill
 
(view more images)
Best large yakitori charcoal grill: IRONWALLS Portable Charcoal BBQ Grills

 


(view more images)
Best mini grill for one person: StyleMbro Japanese Yakiniku Grill
(view more images)
Best cast iron yakitori grill: Lovt Cast iron grill

Best electric indoor yakitori grill: Zojirushi EB-CC15

(view more images)
Best electric plate yakitori grill:

Yatai Yokotyo Electric 


(view more images)
10 Tips to Save a Bundle on Asian Ingredients!
Introducing our brand new FREE PDF guide: "Saving Secrets: Unveiling the Art of Saving Money on Asian Ingredients" It's your first newsletter email, so start saving today! 📚🧧
We'll only use your email address for our newsletter and respect your privacy
What to look for in a yakitori grill
First up, let's check out some extra information about what to look for in a yakitori grill before making a purchase.
You'll probably need a grill that's made of durable material and one that doesn't rust easily. The most common materials are aluminum and stainless steel.
When it comes to yakitori grills, there are several things you should consider, the top among them being the size.
Best tabletop ceramic yakitori grill box: Fire Sense
This traditional Japanese grill is made of clay mold, and its interior is made of ceramic.
The ceramic interior helps distribute the heat evenly when you grill. It can withstand high cooking temps of over 450 degrees F.
This Fire Sense grill comes with two ventilation doors that allow you to control the heat. Since these are adjustable vents, you can be sure that you won't burn the meat. 
The grill is large, and it has a whole 157 inches of cooking space, which is excellently tailored at the top for easier cooking.
The large cooking surface fits right into yakitori cooking needs, and it gives users a chance to cook many chicken skewers in 1 go.
Because of the mesh wire grates, your meat gets those beautiful char marks that you also get with other types of Japanese and Korean BBQ.
For safety purposes, the manufacturer has ensured that the grill will clip into place right on top of the heat source. 
Some of the downsides of this grill are it's very fragile since it's made of ceramic and it isn't exactly safe for indoor use. You should avoid using charcoal grills indoors because there's always a minimal fire hazard. 
You should also ensure that the grill doesn't get wet since it tends to break. So cleaning is a bit harder, but all you need to do is wait for the grill to cool, then throw out the ashes and wash the grill grate separately. 
Besides the minor inconvenience of cleaning, this traditional Japanese Fire Sense yakitori grill is excellent for cooking not only yakitori dishes, but also many others.
The manufacturer is so confident about this grill that they've given a 1-year user satisfaction guarantee.
I highly recommend this particular grill if you love to grill outdoors! It's easy to move around and it has a large enough cooking surface so you can cook for the whole family in 1 go when you're strapped for time.
Any outdoor gathering will be so much better when you can make authentic Japanese yakitori for your guests. 
Best tabletop gas yakitori grill: Cuisinart CGG-750
fuel: small gas cassette
size: 6.25 x 13 x 10.75 inches
cooking space: 5 skewers (154 sq inches)
grill material: stainless steel
interior material: cast iron
grate: non-stick porcelain coating
temperature: high heat resistant up to 550 F
temperature control: knob, BTU burner
adjustable vents: no
It's tough to find a high-quality gas yakitori grill. Most options out there are only charcoal-based, and the alternatives are mostly electric-powered.
However, sometimes you won't have access to electricity and you don't want to go through the hassle of dealing with charcoal. This is where gas yakitori grills come into play.
After a wonderful eating experience overseas, I wanted a Japanese grill to cook thinly sliced meat just like they do.
After a lot of research and comparisons, I finally found a gas yakitori grill that met my minimum requirements and was able to do the job: the Cuisinart CGG-750 Portable Grill.
I also purchased a couple of accessories for this grill in order to enjoy a more authentic experience.
My first purchase was a meat slicer so we could have thin slices of meat to put on the grill.
I got the Ostba meat slicer since it has a powerful 150 watt AC motor and a thick stainless steel blade. It has a dial that you can use to adjust the thickness of the cuts which is perfect for Yakitori as you probably want those thinly sliced beef strips.
The Cuisinart has proven to be so good that I already ordered a second one since we like to entertain and it's nice to have enough at home so guests can cook with each other or as a couples activity. It's an entire experience on its own.
It runs on small propane tanks and it has a flip-out propane tank for storage safety. Although it's small, this grill is very powerful and has a coil 9000 BTU burner. Therefore, it cooks your bbq foods very quickly, and it's a real time-saver in the kitchen.
When you first see it, the grill looks like a metallic picnic basket but it's a fully portable grill that opens up. It has a stack design with the propane tank at the bottom, the grill in the middle, and a wood top cover.
This works perfectly to take it to the beach and enjoy a nice grilled meal!
I've only included one gas yakitori grill in this "best" section since other options out there had serious problems and I wouldn't be able to recommend them to anyone.
You're safer choosing this yakitori grill and trying to tailor it to any specific needs you might have. It can heat up to a max of 550 F and it cooks the chicken skewers very fast so you don't need to wait around when hungry.
Let's face it: gas is not the same as charcoal, so you won't quite get the same flavors. Plus, you need to keep repurchasing the gas canisters but if you are comfortable with gas cooking devices, you'll be fine to use this one.
We still classify it as a Yakitori grill to be used mainly outdoors, because it still generates quite a bit of smoke. But, the grill has a drip pan that you fill with water to decrease smoke.
This is why we recommend that you keep it close to a window if you plan to use it indoors. However, you can also use it indoors under your exhaust hood because it's not too large.
Some people are disappointed with the grates because they are not the mesh type that traditional Japanese yakitori grills have so you can't really char the meat.
I also want to mention that you have to clean the grill by hand and it's time-consuming.
But, the pros outweigh the cons…
The Cuisinart gas grill is perfect for use on the tabletop and is ideal for yakitori grilling. It's pretty lightweight at 20 lbs considering that it's a stack-n-go compact grill and has a lot of components.
You can cook about 4-5 skewers at once and that's pretty good for a group of up to 4-5 people too. It eliminates the need for other fancy cookers.
This grill utilizes canisters that you can purchase for quite cheap and they're pretty economical too.
Although the grill smokes fairly well, you may want to set up a fan close to a window to keep from triggering your smoke alarm.
Check out the Cuisinart portable grill here
Fire sense charcoal grill vs Cuisinart gas grill
If you want the best authentic Japanese yakitori flavors, the Fire sense charcoal and the Cuisinart gas grill deliver on that.
You can't really compare the taste of charcoal and gas-grilled meats to electric so if flavor is what you want, these two are excellent options.
The difference between the two is the fuel. You need charcoal to run the fire sense grill but that also means it's convenient and you can go with it everywhere without worrying about propane tanks or power outlets.
It's the ultimate outdoor cooking grill if you love Japanese yakiniku. But, if you're not very good at controlling the grill temperature, you might want to use the gas grill.
It definitely makes cooking easier because you simply turn the knob and turn the heat up or down as needed. Thus, if you're after simplicity, gas grills are easy to use.
I also want to mention that the Firesense is larger so you have a bigger cooking surface. If you have a larger family, it might be the better option.
The Fire Sense is perfect for couples or small gatherings because the cooking area is a bit smaller.
An important feature to think about is the grill grate. The Fire sense is a traditional mesh, while the Cuisinart has thick metal grates so you don't get the same charring and searing effect.
Best portable yakitori grill for camping: Uten Barbecue Charcoal Grill
Fuel: charcoal 
Size: 13.7 x 10.6 x 7.7 inches
Cooking space: 6-8 skewers (for up to 6 people)
Grill material: iron
Interior material: iron
Grate: iron mesh (horizontal)
Temperature: high heat resistant up to 550 F
Temperature control: none
Adjustable vents: 12 airway vent 
If you love camping and grilling, then this is your go-to grill. This yakitori grill is not only small and compatible, but it also folds quite easily, making it ideal for frequent travellers and camping folks.
If you're like me, you'll probably want to make your favourite skewers on the go. It's an easy way to cook healthy food and it's a fun process too!
The manufacturer uses iron and chrome as the main materials, making the grill durable and robust. So the cold-rolled iron makes it both rust and scratch-resistant. 
You've got plenty of cooking space for up to 6 people or about 6-8 skewers at once. That's why this grill is a great option for larger groups.
Plus, you can cook corn, Japanese cabbage, seafood, pork, beef, and even ribs alongside the famous chicken yakitori. 
Additionally, the grill can withstand both heat and moisture, making it ideal for barbecuing. It's resistant to high temps of up to 550 F. 
Also, the grill is lightweight and if you're wondering about heat control, well, here's your answer: the manufacturer has crafted 12 different airway vents, giving you absolute heat control!
The size and structure of this grill make it ideal for both indoor and outdoor use. Weighing just over 3.5 pounds, this grill lets you enjoy tasty yakitori cuisines while you're on the move.
The fact that it's easily foldable doesn't mean that it can't be damaged. Users are encouraged to take excellent care of the yakitori grill.
It's advisable that you cushion it while traveling to prevent denting. The legs aren't super sturdy, so they might rust and corrode or crumble if you put too much weight on them. 
The Uten BBQ Charcoal Grill lets you not miss out on yakitori cuisines while on the move. However, it's not recommended for heavy-duty assignments.
I prefer to take this grill on camping trips or when I invite a couple of friends over to my backyard. 
Check out the latest prices here
Best large portable yakitori grill: Fanousy Stainless Steel Foldable Barbecue Grill
fuel: charcoal
size: 30.3 x 7.08 x 13.77 inches
cooking space: enough for 15 people
grill material: stainless steel
interior material: stainless steel
grate: stainless steel
temperature: high heat resistant
temperature control: carbon slot vents
adjustable vents: yes
Here in the West, we really love our outdoor party barbecues. That's why getting a large yakitori grill set with accessories is the best option for many people who love to entertain.
You can make food for up to 15 people so that means you can squeeze on over 20 chicken skewers or a combination of meat and vegetables like corn, peppers, mushrooms, and more.
Not only do you get the large stainless steel legs, but you also get a frying pan, blower, a double-sided grill brush, scraper, and a carrying case.
This means you no longer have to spend extra money to get these accessories which can be quite costly actually. 
Unlike the small indoor yakitori grills, you can use this multi-functional grill to cook all kinds of meats and vegetables to go with yakitori and other yakiniku.
Plus, you can even make some french fries or fried tofu in the frying pan side of the grill.
It's one of the most compact large grills I've seen as the legs are completely foldable and it all fits in a pretty small carrying case.
Of course, this is a charcoal grill but unlike some others, this one has some good temperature control features like carbon slot vents on both sides.
That ensures proper airflow inside and around the grill which means full combustion and well-cooked food.  
You don't need to worry about burning food so much as long as you keep an eye on the vents. 
Best large yakitori charcoal grill: IRONWALLS Portable Charcoal BBQ Grills 
Fuel: charcoal 
Size: 32.5 x 8 x 5.5 inches
Cooking space: 20+ skewers
Grill material: stainless steel
Interior material: stainless steel
Grate: steel 
Temperature: high heat resistant 
Temperature control: side vents
Adjustable vents: yes
If you like to entertain and have guests over, then you'll need a large grill. The last thing you want to do is waste time grilling for ages!
Instead, you can enjoy time with your guests. That's where this extra-large party-size grill comes in handy. Actually, it's a commercial-grade yakitori and shish kebab grill, which makes it also suitable for small restaurants. 
The tall and free-standing grill has a grilling area that measures 32.5 x 8 x 5.5 inches. The grill stand measures 30 x 9 x 27 inches.
It weighs about 10 pounds, which is actually very light! So imagine all the yakitori you can cook at once on this portable and easy-to-move cooker.
The grill is made of heavy-duty stainless steel and it's well-built. The legs look and feel stable, although you should be careful not to overload the grill rack.
It has a classic Japanese mesh wire grill grate and you'll feel like you're cooking in one of Tokyo's food markets!
The manufacturer ensured that the user would have even temperature control and this is the reason why ventilation units on each side.
These are small holes all around the yakitori grill but still, I think the heat control is rather limited, even with these adjustable vents.
The height of this grill doesn't make it ideal for tableside cuisines, and it's probably not child-friendly. Be careful that people don't knock the hot grill over; you should leave plenty of space around it. 
However, the grill has a decent heat control mechanism, and its multi-functional capabilities mean it's one of the best yakitori grills around!
There's no better way to cook for a large group than with this grill. It has enough cooking space for many skewers, plus veggie sides.
You can make the skewers on one side of the grill and smoke some tasty mushrooms and corn as side dishes.
So you can spend more time with your friends, and less time in the kitchen!
Best mini grill for one person: StyleMbro Japanese Yakiniku Grill
Fuel: charcoal 
Size: 5 x 5 x 4 inches
Cooking space: 5.0 x 5.0 x 0.2 inches or 1-2 people max
Grill material: aluminum
Interior material: stainless steel
Grate: stainless steel 
Temperature: high heat resistant 
Temperature control: round vent holes on all sides 
Adjustable vents: no
Who says you can't enjoy yakitori alone? It's such a delicious way to cook meat, you can always cook it when you're in the mood for some tasty Japanese cuisine.
This small grill is as small as it gets if you want a charcoal grill. Its 5-inch surface is large enough to fit about 2 skewers, so it's ideal for 1 or 2 people at most.
We recommend this charcoal grill for students or single adults who love Japanese dishes. It's small enough to store, even in the tightest of spaces, so you can always have the grill on hand.
This is a very traditional Japanese yakitori grill. But you can also cook yakiniku, robata, takoyaki, and any type of BBQ.
It works easily and it's made for use with charcoal briquettes. 
There's an inner charcoal holder where you place the briquettes. This is where all the smokiness comes from to infuse the chicken.
Just because it's small, doesn't mean you don't get enough aroma for your meat.
What I like is that you can place the grill on any countertop because it has a wooden base plate for protection. So you can cook on your kitchen countertop or patio on cold winter nights when you need comforting BBQ. 
The grill is constructed out of high-quality aluminum and has steel grates. There are holes in the base of the steel charcoal holder.
These allow ash to drip through to the bottom. So you can be sure of continuous and effective charcoal burning to cook your food perfectly.
It heats up quite fast, so you can get cooking right away. After you're finished, simply handwash the grill and store it away for next time. 
It's the perfect cooking device for individuals. It works indoors and outdoors, so you can take it on a camping adventure or you can make tasty skewers in your kitchen. 
There's one downside though. Due to its small size, the cooking surface is limited to a couple of skewers at a time. Since the charcoal bowl is also small, you can't cook for long periods of time. 
But this is the perfect-sized grill for singles and students. Every time you crave chicken skewers, you can get this grill flaming hot with just a handful of charcoal.
So, it's a fun cooking experience and we recommend it for newbie yakitori grillers!
Best cast iron yakitori grill: Lovt Cast Iron Grill
Fuel: charcoal
Size: 9.5 x 5 inches
Cooking space: 4-6 chicken skewers at a time
Grill material: cast iron
Interior material: stainless steel 
Grate: horizontal grill grates
Temperature: high heat resistant (450-500 F)
Temperature control: manual
Adjustable vents: no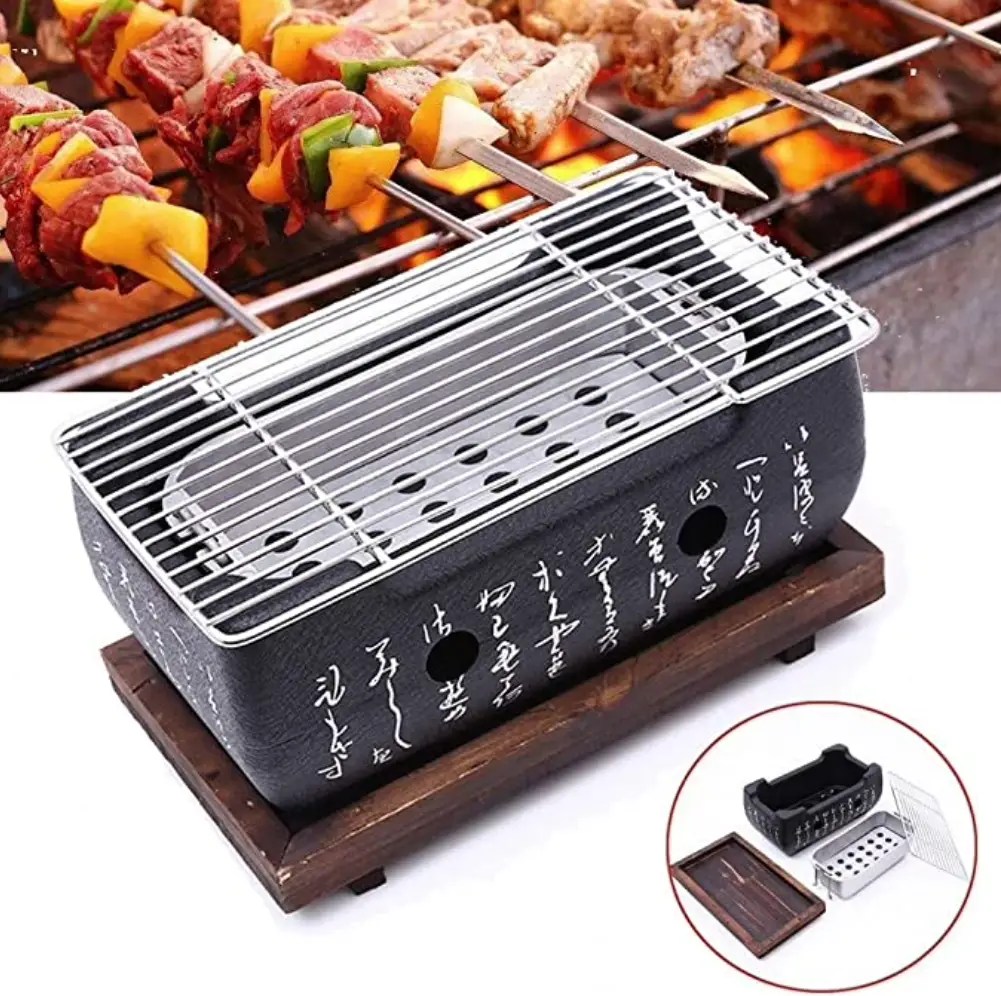 As far as portable cast iron yakitori grills are concerned, you don't need to spend a lot of money because even this affordable one does a great job at cooking on high heat at around 450 F. 
While you have to control the temperature manually, it's not really a challenge because the grill has some small holes that act as vents.
Even though the vents aren't adjustable, there are holes at the sides of the grill to ensure proper airflow. 
People like metallic and cast iron grills because they retain heat very well and if you want to cook lots of Japanese food, you want to maintain the constant heat. With this grill, you can.
Compared to the mini which is really only meant for 1 person, this grill lets you cook for 2 or 3 people comfortably. There's enough room to make about 4 to 6 delicious yakitori chicken skewers. 
Another advantage is that this grill has a stainless steel interior tray where you add your charcoal briquettes or binchotan, and it's easy to clean.
There's a lifting ring design handle that makes the steel tray easy to remove and you won't risk burning yourself. Simply remove it while holding the handles, toss out the ashes, and then wipe clean. 
As with other yakitori grills, this one is very good because it's high-heat resistant and doesn't warp under high temperatures.
So it's the kind of cooker that can last you many seasons of outdoor barbeques with family and friends!
StyleMbro grill for one vs Lovt cast iron grill
These two grills look similar and the StyleMbro is like the smaller brother grill. They're both excellent for singles, couples, or small gatherings.
If you like to have people over, the Iaxsee is much more spacious so you can cook more than just a couple of skewers at a time. With the small grill, you're very tight with cooking space and limited with time since the charcoal won't burn for too long. 
For those of you that really want to try Japanese binchotan charcoal, I recommend the cast iron grill because there's sufficient space to use that type of coal.
With the tiny grill, you'd better use a briquette but with the bigger one, you can really benefit from binchotan. Plus, it's almost smokeless so it's the better option when you want to cook indoors. 
But if we compare the build and the strength of the two grills, they're both similar.
The one issue they both have is the wooden base, which is actually a bit prone to breaking and could be an issue after extended use of your cooker.
But if you don't mind replacing that once in a while, then these two grills are great choices. 
Best electric indoor yakitori grill: Zojirushi EB-CC15
Fuel: electricity
Size: 20.5 x 14.9 x 6.1 inches
Cooking space: 12-1/2 by 9-1/4 inches (3-4 skewers)
Grill material: stainless steel
Interior material: stainless steel
Grate: aluminum & non-stick coating
Temperature: 176 F to 410 F heat range
Temperature control: automatic buttons
Adjustable vents: no
When it comes to indoor electric yakitori grills, nothing beats the original Zorijushi Japanese grill.
It's not made exclusively for yakitori, but you can use it to make this dish and a whole array of others. Just know that Zorijushi is Japan's favorite electric cooker manufacturer!
For those of you like me who love to cook chicken, this is the best type of grill because you can cook at specific temperatures.
When you're cooking skewers, it's important to have a constant temperature to ensure even cooking on all sides.
The temperature is controlled automatically when you turn the temp button. It means you don't burn, undercook, or overcook food. As a result, you won't burn your food either!
This indoor grill makes meat taste tender and juicy and it's also quite smokeless compared to other models so you don't stink up your place. 
The grill is quite small and compact, so it fits on the countertop. Its nonstick grill surface measures 12-1/2 by 9-1/4 inches, so that's enough to cook yakitori for at least 4 people at once, which makes it ideal for Japanese BBQ parties.
Since it's such a versatile cooking device, you can simultaneously cook the skewers, as well as some side dishes (like veggies).
The handles remain cool to the touch so you can maneuver this grill without burning yourself. Since you use electricity instead of charcoal with this indoor grill, you can set the temperature.
Also, the grill has low energy consumption because it heats up fast, so you don't need to fret about the power bill. 
Note that this grill is made of plastic and aluminum components along with stainless steel.
The Zojirushi EB-CC15 Indoor Electric Grill is made of high-quality materials, which makes it look aesthetically pleasing, well built, and very sturdy.
Unfortunately, this grill is not dishwasher safe; only some parts of it are, like the drip tray. The grilling surface and drip tray are detachable, which makes cleaning easier.
So the fact that it's handwash-only isn't too much of an inconvenience.
The electric grill doesn't impart the food with that classic charcoal flavor, so it does make yakitori taste slightly different.
Although this indoor tabletop yakitori grill is a bit costly, it's the best yakitori grill you can find out there and will give you good value for your money.
Another interesting thing about this grill is its 1300W heating element, which gives you easier temperature control (between 170 – 410 degrees Fahrenheit).
The temperatures are ideal for yakitori grilling since it doesn't need extremely hot temperatures.
One interesting thing about this grill is its amazing safety feature, which makes the grill not turn on when you forget to put the drip tray back in place or fix the grilling surface correctly.
Overall, this is a high-end product, made out of quality materials, and it's easy and safe to use, and clean.
Best electric plate yakitori grill: Kakuse Yatai Yokotyo Electric 
Fuel: electricity
Size: 14.37 x 5.71 x 4.13 inches
Cooking space: 8 skewers 
Grill material: stainless steel
Interior material: stainless steel
Grate: steel
Temperature: up to about 450 F
Temperature control: no
Adjustable vents: no
If your favorite grilled foods are skewers, you'll be pleased with this ultra-lightweight (3 lbs) electric plate specialty yakitori grill. It's the authentic Japanese device for quickly making yakitori!
But the best and most interesting aspect is that you can change up the grill grates and use a mesh grate if you want to make other yakiniku. 
The heating element is a classic metal coil that's in the middle of the grill. Then, you place the grate of your choice on top and then you can put the meat on.
If you want to make just skewers, you can add the meat or fish on the special bars and they'll be cooking right over the heat source. 
So this is the kind of grill that doesn't need too many temperature control features because you can turn the skewers and see when they're done.
A reason why I like this type of electric grill is that it's perfect for turning the skewers while you cook.
Also, you can make a lot of courses with it since it's versatile. For example, once you're done with yakitori, you can add the baking tray grates and cook some Japanese pancakes. 
Just a heads up: since this item is shipped from Japan, you need a transformer to use it at 120V. But you'll be surprised how such a small grill can make so much food at once in very little time!
Zojirushi Electric Grill vs Kakuse
These 2 grills are for those of you who only like to do indoor grilling. I agree with you that there's something so convenient and comforting about turning on the electric cooker, placing the meat and veggies, and having a meal in about 30 minutes or so.
The electric grill is a great cooker for busy people who want tasty and convenient meals regardless of the weather.
If you want a classic Japanese electric grill that sears and cooks meat to perfection, the Zojirushi is the best bet. It can be used on any countertop and doesn't really create too much smoke or bad smells.
Now, if you think you're mostly going to cook skewers, then the Kakuse grill is ideal, even without a mesh or other grate attachments.
I don't blame you if you love yakitori so much that you want a specialty electric cooker just for that dish.
Then, if you want to cook other Asian foods too, you can get more grill grates and expand your cooking skills. 
Brief history of the yakitori grill
Yakitori is old Japanese street food. It originated sometime in the Meiji Era (1868 to 1912). At that time, skewered pork was very popular.
Yakiton (grilled pork) and kushikatsu (deep-fried pork on skewers) were two street food dishes. So the pork skewers are the real inspiration behind yakitori.
The reason chicken became available was because of changing meat preferences and scarcity. 
In this period, the Japanese started mass farming and breeding chicken. Since there was so much chicken available, people began to experiment with chicken dishes. 
The yakitori skewer originated in large urban areas where busy people were looking for convenient and tasty street food to get on the go. So yakitori was born as a classic street food sold at many street stalls across Japan.
The same cooking method was used then as is today: charcoal. 
How does a yakitori grill work?
The yakitori grill works pretty much like other charcoal grills but since it's a tabletop grill, you'll have to use it a bit differently compared to a large outdoor Weber Smokey Mountain, for example. 
In most restaurants, the yakitori is a small rectangular grill that measures only a few inches in depth. Chefs often prepare their dishes at the table or at a central grill that's surrounded by bars.
Binchotan (Japanese white coal) is the best fuel source to prepare traditional yakitori. The heat source is very clean and doesn't impart any flavor to the chicken (or other meats and veggies).
All that yummy charred flavor comes from the binchotan smoke and the contact with the hot grill grates. 
As opposed to cooking at home or outdoors, restaurant grills in Japan can be set to only 200 degrees Fahrenheit so meat takes time to cook. 
The grill is manned by a chef who rotates the meat and allows it to cook until the flames are just below. This chef also monitors the meat's moisture and adjusts the sauce with tare. 
Since yakitori is a unique dining experience, people aren't necessarily in a rush. So they can socialize and watch their food getting cooked.
Before being served, the skewers are dunked or brushed with the tare sauce again. The final dip leaves a lacquer-like surface on the chicken, which is sweet and salty, yet subtle enough to let the chicken's flavor shine through.
So you see, it's similar to other types of grilling methods!
FAQ about yakitori
How to order yakitori
It's very easy to order yakitori because it's just like ordering fast food or other street foods. You want to order at least 2 types of skewers to really appreciate the taste of this dish.
Foodicles recommends ordering a few sticks with your drink and then ordering a few more with another drink.
If you want to order like a local, order chicken wings (tebasaki) in the first round.
This cut of meat takes at least 20-30 minutes to properly grill, so you need to wait around. In the meantime, order something that's ready quickly.
The portions are relatively small so you want to order different sticks to satisfy your hunger. Each skewer has approximately 4 or 5 pieces of meat on it.
Yakitori is best served alongside Japanese draft beer or sake. That's the way to enjoy this food like the locals do!
How much does yakitori cost in Japan?
In Japan, they sell yakitori dishes by the stick. Some food stalls and restaurants offer them in pairs. 
The price of one stick of yakitori is about 100 yen. But in some areas, the cost can be as high as 200 yen, depending on the restaurant's prestige.
In some eateries, they offer combination plates that come with different kinds of yakitori. This is the best option when you want to try many types. 
The Japanese have named the different types of yakitori dishes depending on which part of the meat is used.
Some of the most famous yakitori dishes are:
Tebasaki: made with wings
Reba: made with liver
Torikawa (tawa): uses meat from fatty chicken skin
Momo and negima are made with meat from the thighs, with the latter having additional pieces of leek in between.
Those, among others, are but just a few types of famous yakitori dishes. The flavor and texture of a different kind of meat usually make all the difference!
What are traditional yakitori grills made of?
The first yakitori-like grills were made of clay. It's a special type of clay called diatomaceous earth and it's very heat-resistant, but can be fragile and crack over time. 
But it's believed that real yakitori grills were made of iron. Those are too heavy to move around, so these days, the grills are made of lightweight steel and that makes them portable.
Yakitori vs hibachi grill
Many people still don't know that there's a difference between yakitori and hibachi grills!
The main similarity between the 2 is that they're both Japanese tabletop grills and use charcoal as the fuel source. 
In the past, the hibachi was a room heater, not a grill for cooking. 
Hibachi
Although traditional hibachi was used for heating rather than cooking, the name hibachi was adopted to market traditional tabletop grills abroad.
The term "hibachi", which is used to describe small Japanese charcoal grills or Japanese food, is frequently used outside Japan. 
Hibachi is available in a round porcelain form as well as a rectangular design made of cast iron, stainless steel, or aluminum.
Yakitori
Yakitori is a grill as well as a cooking method and food (skewers). 
2 popular Japanese grilled foods are yakiton and yakitori. Yakitori is grilled chicken meat in the form of a skewer.
Different parts of the chicken are grilled on charcoal until they're crisp on the outside, and tender and juicy on the inside.
The thing is, you can make yakitori on hibachi grills too! 
Yakiton is the same method of cooking, but for pork. Both cooking styles aim to use all parts of the animal. It's not uncommon to see dishes like chicken hearts or pork intestines.
The yakitori grill is used to cook all kinds of yakiniku (Japanese BBQ). 
Get yourself a yakitori grill that suits your needs
Most meat lovers will have probably tried the sweet and savory yakitori dishes that are every BBQ lover's list.
Japanese cuisines are one of the fastest-growing in the industry.
This is why there are many grills in the market right now. Hopefully, with the information I've provided you, you can make the right choice.
Knowing how to prepare the cuisine and using the right grill will go a long way in ensuring that you recreate the fantastic yakitori experience in your home.
And the best part about yakitori grills is that they're versatile. 
Choose a grill size suited for your family because this is an excellent way to get value for your money.
Now, you can be on your way to making delicious yakitori dishes in your kitchen or outdoors in your yard! 
Also read: can you use binchotan charcoal on a konro grill indoors?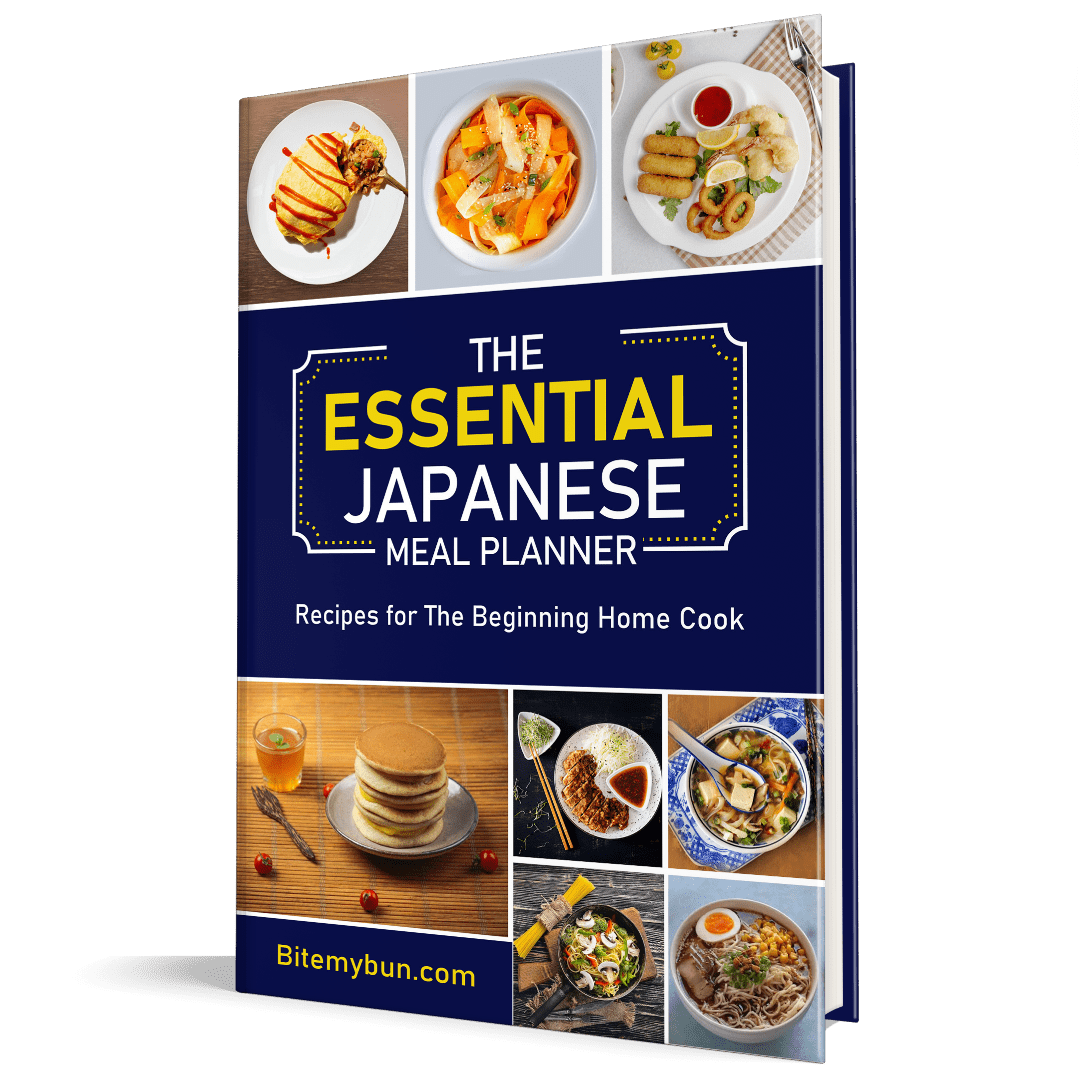 Check out our new cookbook
Bitemybun's family recipes with complete meal planner and recipe guide.
Try it out for free with Kindle Unlimited:
Read for free
Joost Nusselder, the founder of Bite My Bun is a content marketer, dad and loves trying out new food with Japanese food at the heart of his passion, and together with his team he's been creating in-depth blog articles since 2016 to help loyal readers with recipes and cooking tips.