Konnyaku (Konjac) | What is it and how do you use it? [Complete guide]
I love creating free content full of tips for my readers, you. I don't accept paid sponsorships, my opinion is my own, but if you find my recommendations helpful and you end up buying something you like through one of my links, I could earn a commission at no extra cost to you.
Learn more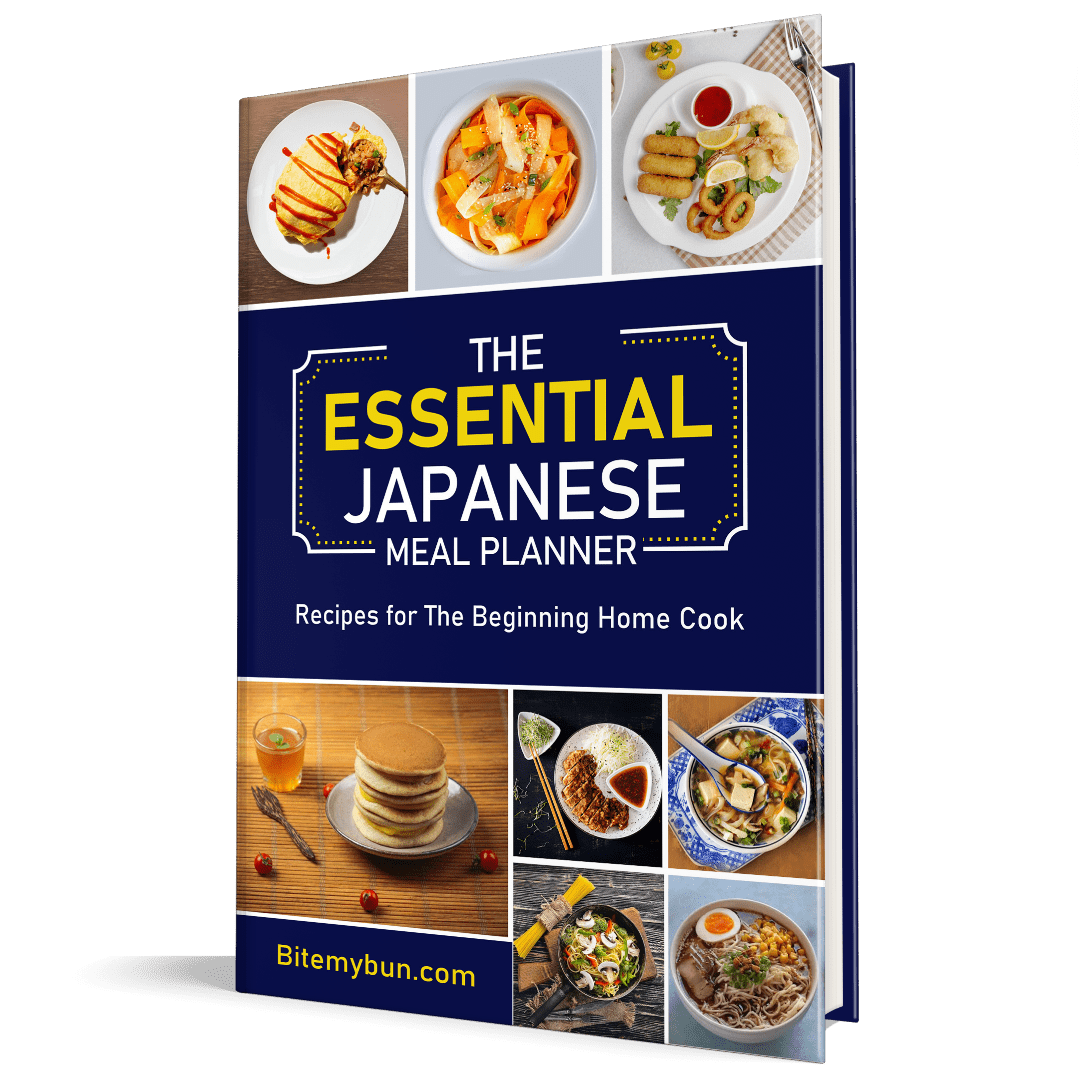 Check out our new cookbook
Bitemybun's family recipes with complete meal planner and recipe guide.
Try it out for free with Kindle Unlimited:
Read for free
If you're interested in being adventurous with exotic cuisine, why not add konnyaku to your menu?
Konnyaku is made from the konjac plant (also called the konnyaki imo plant), which grows in tropical eastern Asia.
It's been used in Japanese cuisine since the 6th century and is known for the medical benefits it can provide.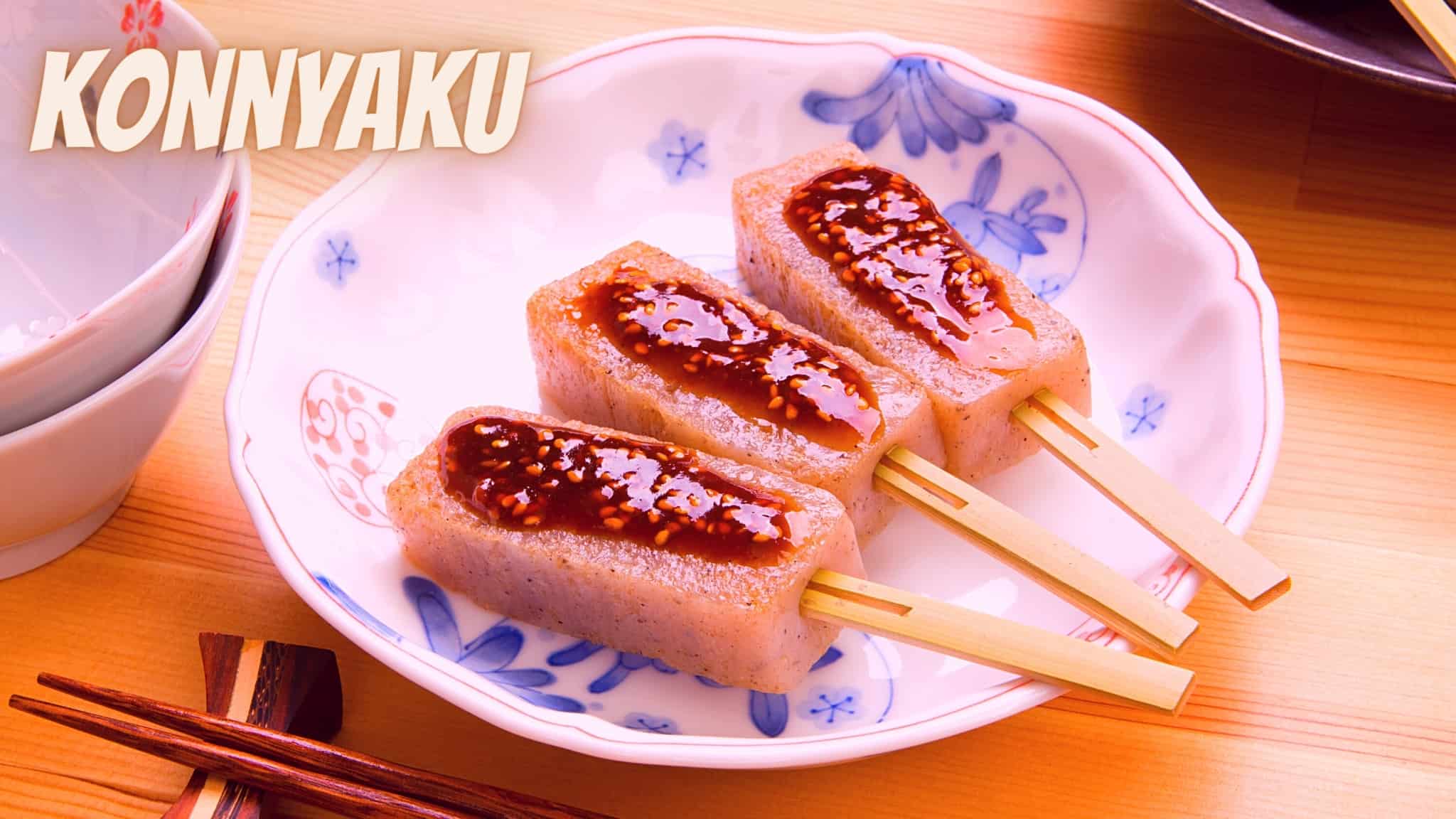 Konnyaku is watery and jello-y in texture. It has almost 0 calories, making it great diet food. It's 97% water but also contains konnyaku powder and seaweed powder. It's a good source of fiber and can be served as an alternative to meat in vegetarian meals, often in oden and sukiyaki.
Read on to find out more about konnyaku and how you can enjoy it in your dishes!
10 Tips to Save a Bundle on Asian Ingredients!
Introducing our brand new FREE PDF guide: "Saving Secrets: Unveiling the Art of Saving Money on Asian Ingredients" It's your first newsletter email, so start saving today! 📚🧧
We'll only use your email address for our newsletter and respect your privacy
What are the different types of konnyaku?
Konnyaku can be either white or gray in color. Gray konnyaku gets its color from the seaweed powder it contains.
In the old days, konnyaku was made with yam and the skin would produce a darker color.
Today, it's made with yam powder instead. When it's made with this powder, it's white in appearance.
Gray konnyaku is used in most parts of Japan. It's only in northern Japan that you're more likely to find white konnyaku.
Konnyaku can be further broken down into various types.
Here are the kinds you can choose from:
Ita-konnyaku: A thick gray slab.
Ito-konnyaku or shirataki: This is a gelatinous mixture that can be white or gray in color. It's often shaped into noodles.
Tama konnyaku: This type of konnyaku has a ball shape. It can be gray or white.
Konnyaku originates from the Japanese Muromachi period. Read more about the Muromachi period and what foods were created then.
Konnyaku noodles are really delicious, and you even have this very cute gift box from Sun Chi:
How do you cook konnyaku?
You must boil konnyaku before using it in a recipe.
Boiling it will remove the smell, while allowing it to absorb more flavors. It'll also improve the texture.
However, the way you boil it will affect the end result in terms of texture.
Here are some examples:
Cook from cold water: For this method, you'll put the konnyaku in cold water and wait until it boils. Once the water boils, leave the food in for 2-3 minutes before removing it. This will result in konnyaku that's firmer and chewier.
Cook from boiling water: For this method, you'll put the konnyaku in the water once it starts boiling and leave it on for 2-3 minutes. This will give you a softer, more tender texture.
Note: Don't overcook konnyaku or it'll start losing its calcium content. Rubbing salt on it before boiling will aid in removing the smell.
Check out this video on how to cook konnyaku:
How do you store konnyaku?
Once konnyaku is cooked, you can store leftovers in the food's liquid in the refrigerator for about a month.
You can also submerge it in water and store it in the fridge for 1-2 weeks.
What are konnyaku's health benefits?
Konnyaku provides several health benefits, including the following:
Good for digestion: The high fiber and high water content make konnyaku good for digestion.
Weight loss: Because konnyaku is so low in calories, it's great for weight loss.
Regulates blood sugar: Konnyaku contains glucomannan, which helps keep blood sugar under control.
Good for bones: The high calcium levels in konnyaku are beneficial for bone health.
Where can you buy konnyaku?
Konnyaku can be purchased through Amazon. It's also available at certain health food retailers.
How do you make konnyaku from konjac powder?
Konnyaku can be used in various recipes or you can buy ready-made food items that contain konnyaku. You can also purchase konnyaku powder, which can be used to make konnyaku.
Here's how you would go about making that transformation:
Pour 1-2 cups of water into a pot.
Slowly add the powder into the pot at a ratio of 1 teaspoon for each cup of water.
In a separate bowl, mix 100 ml of pickling lime at a ratio of 1/8 teaspoon for every cup of water you're using in your powder mixture.
Turn on the stove and heat the konnyaku mixture, stirring until it reaches a pasty consistency.
Depending on what you're looking to make, you can pour konnyaku into blocks or containers, or form it directly into noodles.
What food can I make using konnyaku?
Konnyaku can be used to make a wide variety of items. Here are a few to consider making or purchasing.
Konnyaku noodles
Also called shirataki noodles or "white miracle noodles" for the health benefits they provide, konnyaki noodles are made by forming your mixture into noodles or rice-like shapes.
Add sauce or mix them with meat and vegetables to enjoy a delicious, healthy meal.
Japanese cuisine boosts tons of different noodles. Find 8 different types of Japanese noodles (With recipes) here!
Konnyaku jelly
Konnyaku jelly is the direct result of mixing konjac powder with water and boiling as described above. It results in a jelly-like substance that's a bit chewier than most gelatin products.
Fruit flavoring is typically added and it can be served in small molds or plastic cups as a bite-sized dessert.
Konnyaku yam cake
Konnyaku's gelatinous texture makes it easy to serve as a squishy cake-like loaf.
To make up for the bland flavor, sauces and spices are typically added. These can include dashi, soy sauce, and chili pepper.
Depending on what you add, the cakes can be quite spicy. You can slice the cake or serve it in a stick-like form.
Tama konnyaku balls
Tama konnyaku balls refer to one of the types of konnyaku that are available. They typically come in prepackaged servings and can be added to a variety of dishes.
For instance, you can glaze them in teriyaki sauce or another sauce of your choice. Then combine them with veggies and meat, and add them to a skewer for a delicious barbecue-style meal!
Shirataki konnyaku rice
Shirataki konnyaku rice is similar to konnyaku noodles. It's made the same way, only the jelly is formed into a rice shape instead of a noodle shape.
You can also buy konnyaku rice as is. Once prepared, you can add sauce and serve it in any dish that'd normally contain rice.
Konnyaku stir fry
Once konnyaku is in rice or noodle form, it can easily be added to stir fries.
Just combine with meat, vegetables, sauce, and any other ingredient you desire and get ready to enjoy a delicious and nutritious meal.
Konnyaku lasagna
Konnyaku can even be used to make lasagna. The jelly can easily be shaped into thin sheets that can be used as a lasagna layer.
Add ingredients like sauce, meat, and cheese as desired to enjoy a terrific lasagna in a guilt-free way!
Konnyaku beef recipe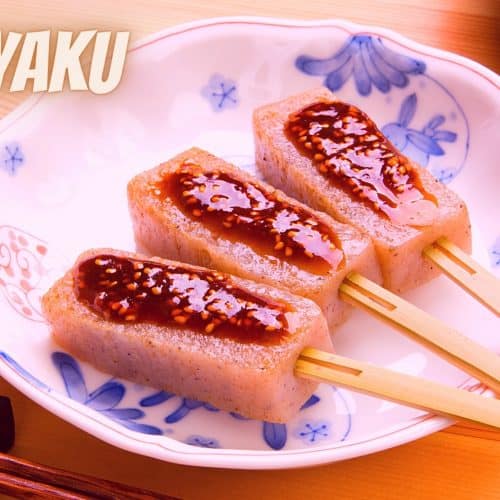 Simmered konnyaku with beef
Here's an example of a healthy konnyaku recipe the whole family can enjoy!
Ingredients  
1

block konnyaku

4

oz

stewing beef

cut into ½" cubes

3

cups

dashi

2

tbsp

soy sauce

2

tbsp

mirin

2

tbsp

sake

1

tsp

sugar

2

tbsp

brown or red miso paste
Instructions 
Bring water to a boil in a medium-sized pot. Add a block of konnyaku. Boil for 10 minutes. Drain and discard water.

Cut konnyaku lengthwise into 2 even blocks and make ½" thick cubes out of them. Then take each cube and make small cuts, both horizontally and vertically, to allow liquids to penetrate. Set aside.

Place a skillet over high heat. Add cooking oil. Then add cubed beef and brown on both sides. Remove from the pan with a slotted spoon. Use remaining fat to sauté the konnyaku so the surface is slightly blistered and browned. Remove from heat and set aside.

Place beef and konnyaku, dashi, soy sauce, mirin, and sake in a medium saucepan. Bring to a boil, then lower heat and simmer 1 to 1 ½ hours until the beef and konnyaku are tender.

Add miso paste and stir until dissolved.
Konnyaku dessert recipes
Because konnyaku is so easy to flavor, it's great for picking up sweet tastes, making it ideal for gelatin-based recipes.
Here are some ideas for healthy sweet treats that'll make the perfect complements for your meals.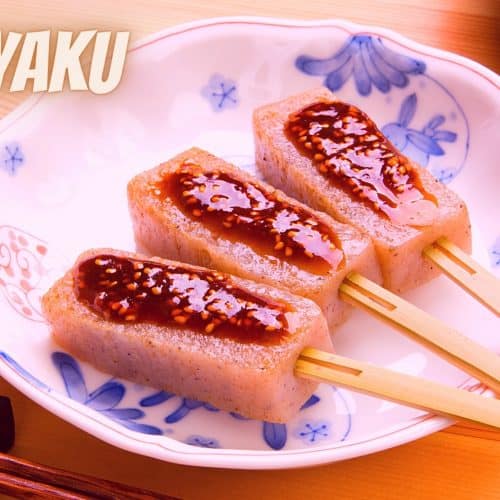 Konnyaku coconut jelly
Ingredients  
1

10g package

konnyaku jelly powder

950

ml

coconut juice

the juice of 2-3 coconuts

Sugar to taste
Instructions 
Crack the top of the coconut with your knife.

Pour the juice into a bowl.

Scrape out the meat, retaining the soft pieces. Chop and set aside.

Bring coconut juice and water to a simmer. Add sugar to taste.

Gradually stir in konnyaku jelly powder until dissolved.

Pour mixture into the shell cup or mold.

Refrigerate and serve cold.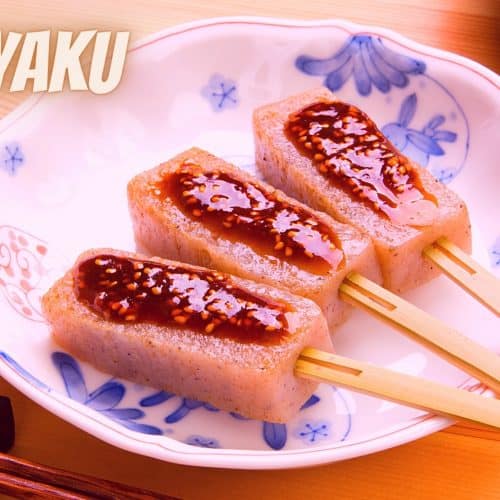 Pineapple nata jelly
Ingredients  
Canned pineapples and syrup

Nato de cocoa

canned

Konnyaku jelly powder

Water

Sugar
Instructions 
Mix konnyaku jelly with sugar until well combined.

Separate pineapple chunks from syrup. Set syrup aside.

Add water to syrup until you have 950 ml of liquid. Pour liquid into a pot and heat.

Add sugar and jelly powder.

Stir until sugar and powder are dissolved.

Place nato de cocoa and pineapple in the bottom of the mold. Pour liquid on top and allow to set. Continue pattern until mold is full.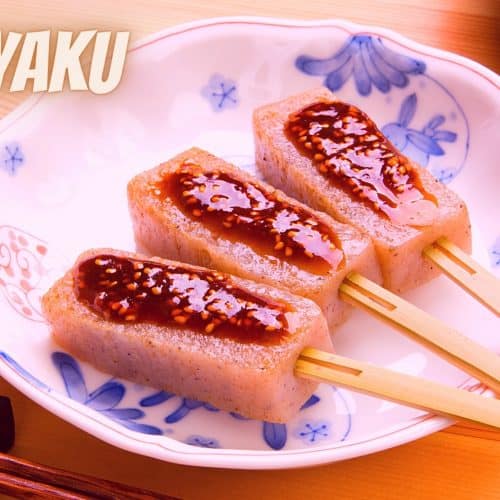 Konnyaku chocolate
Ingredients  
1

package konnyaku lasagna sheets

Cocoa powder

Your favorite sweet syrup, such as chocolate syrup

rice syrup, coconut nectar syrup, etc.
Instructions 
Wash sheets and place between sheets of paper towels to dry.

Put a few teaspoons of cocoa powder into a clean container.

Arrange sheets in a layer on the plate and cover with the syrup.

Use your hands to spread the syrup over the sheet so it covers both sides.

Add sheets to the covered container of cocoa and shake well.

Place chocolate-covered sheets on a plate. Serve with your favorite fruits and a sprinkling of nuts if desired.
Looking for more healthy and tasty recipes? Check out these 6 delicious takoyaki recipes.
Konnyaku as a beauty product
Believe it or not, konnyaku can also be used in beauty products! Its health benefits work externally and internally to improve the way you look and feel.
Here are some examples of how it can make your skin look terrific.
Konnyaku sponge
These sponges are made from the konjac root and work as a gentle exfoliator.
They can be used all over the body to produce a natural glow. They're gentle on skin, deep clean in just a few seconds, and are great makeup removers. They're also 100% biodegradable!
Konnyaku sponges come in a variety of colors, which may indicate the other beneficial ingredients they contain.
If it's black, it contain charcoal. If the sponge is green, it probably contains green tea. If it's white, it may contain kaolin clay. And if it's red, it may contain French red clay.
Konnyaku soap
Since konnyaku makes such a great sponge, it should come as no surprise that it also makes a terrific soap.
Unlike most soaps, konnyaku soap has a soft squishy texture. It can be infused with aromas that provide a great scent. It makes your skin feel instantly refreshed after using it.
There's a Japanese cosmetics company called Konnyaku Shabon that specializes in making this soap.
Other products they carry include a jelly-like konnyaku body soap that has a rich, creamy texture and produces plenty of foam.
They also sell bath balls that have a similar consistency to the soap but make for a bubbly invigorating bath.
Add konnyaku to your daily life
Konnyaku is a healthy food that can be used in a surprising variety of applications. How will you be adding it to your day-to-day routines?
Next, check out these 43 of the best, most delicious & unusual Asian food to try!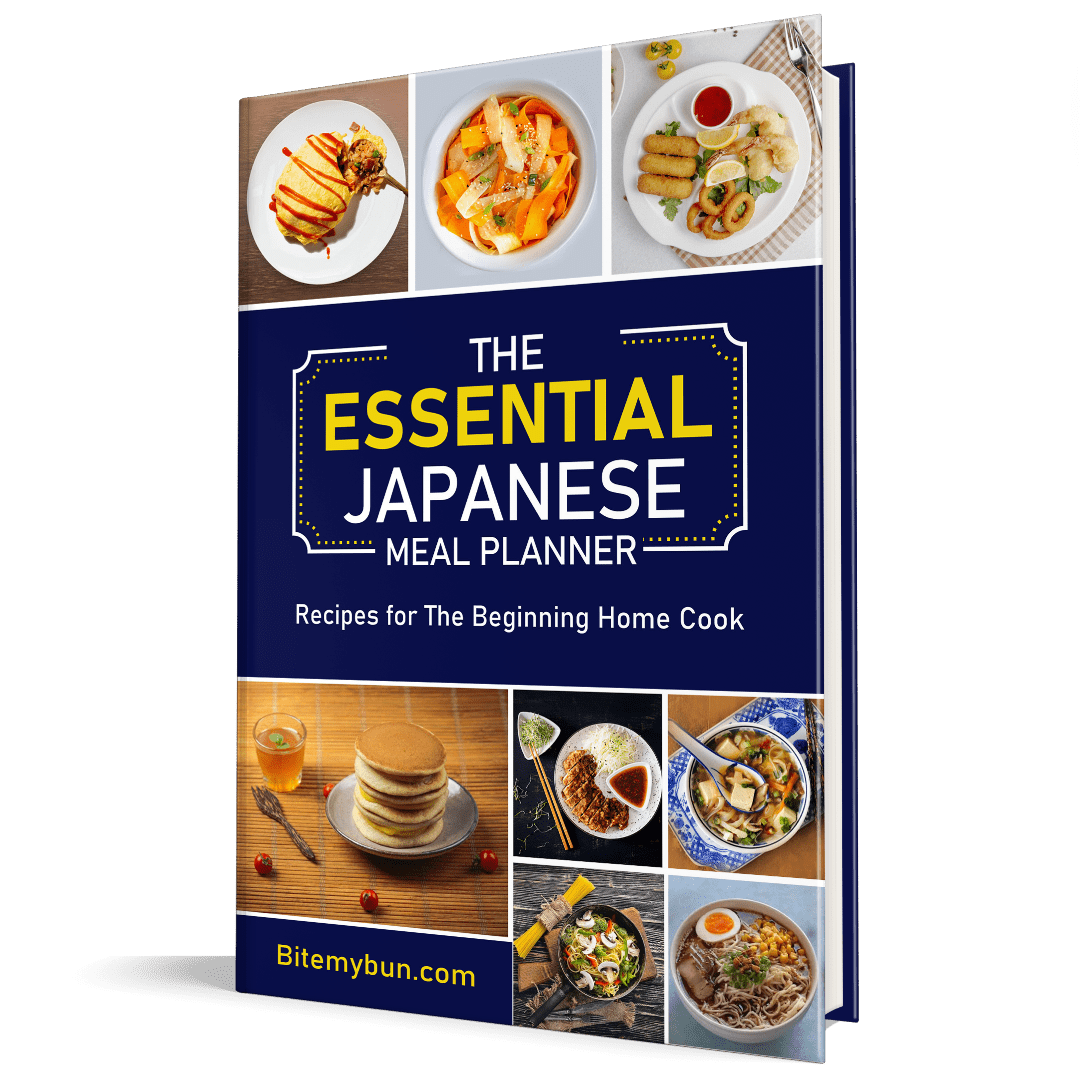 Check out our new cookbook
Bitemybun's family recipes with complete meal planner and recipe guide.
Try it out for free with Kindle Unlimited:
Read for free
Joost Nusselder, the founder of Bite My Bun is a content marketer, dad and loves trying out new food with Japanese food at the heart of his passion, and together with his team he's been creating in-depth blog articles since 2016 to help loyal readers with recipes and cooking tips.