43 of the best, most delicious & unusual Asian food recipes to Try
I love creating free content full of tips for my readers, you. I don't accept paid sponsorships, my opinion is my own, but if you find my recommendations helpful and you end up buying something you like through one of my links, I could earn a commission at no extra cost to you.
Learn more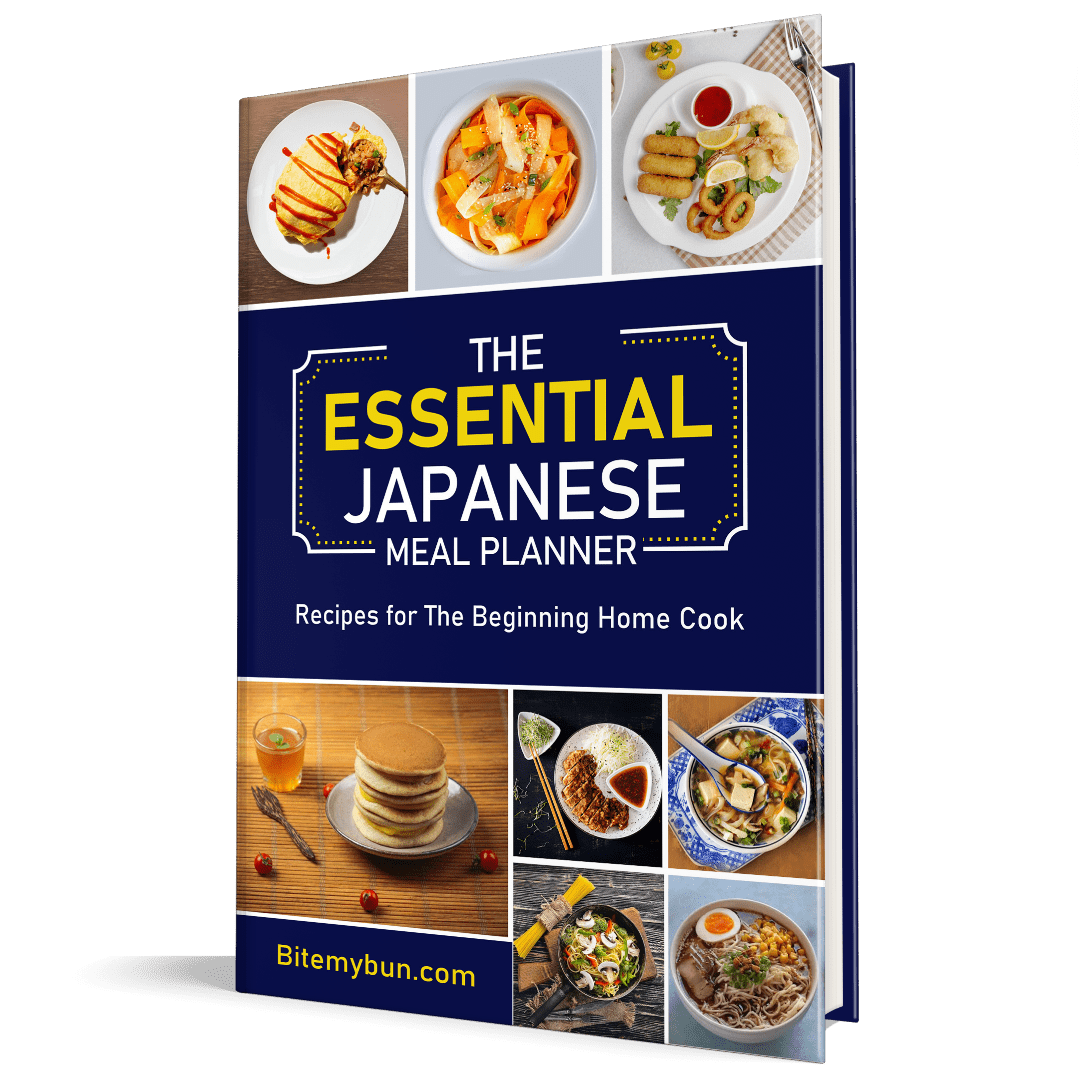 Check out our new cookbook
Bitemybun's family recipes with complete meal planner and recipe guide.
Try it out for free with Kindle Unlimited:
Read for free
If you are a fan of Asian cooking you may have traveled far and wide to eat everything the continent has to offer.
Still, with so many countries and such varied cuisines, I would bet good money you haven't tried every dish.
If you crave culinary adventure, the region has so much to offer so I decided to make a 43 item long list with some of the best food to try.
Did you know that Asian food is a tourist attraction? Foreigners actually come to Asia to sample some of them!
According to experts and economists, Asia will soon experience the next renaissance and it will be as grand and as pivotal as what Europe had experienced in the Middle Ages.
But while most Asian countries are still in the third-world status we see another side of it flourishing and already fulfilling this prophecy (of sorts) and it has to do with Asian food!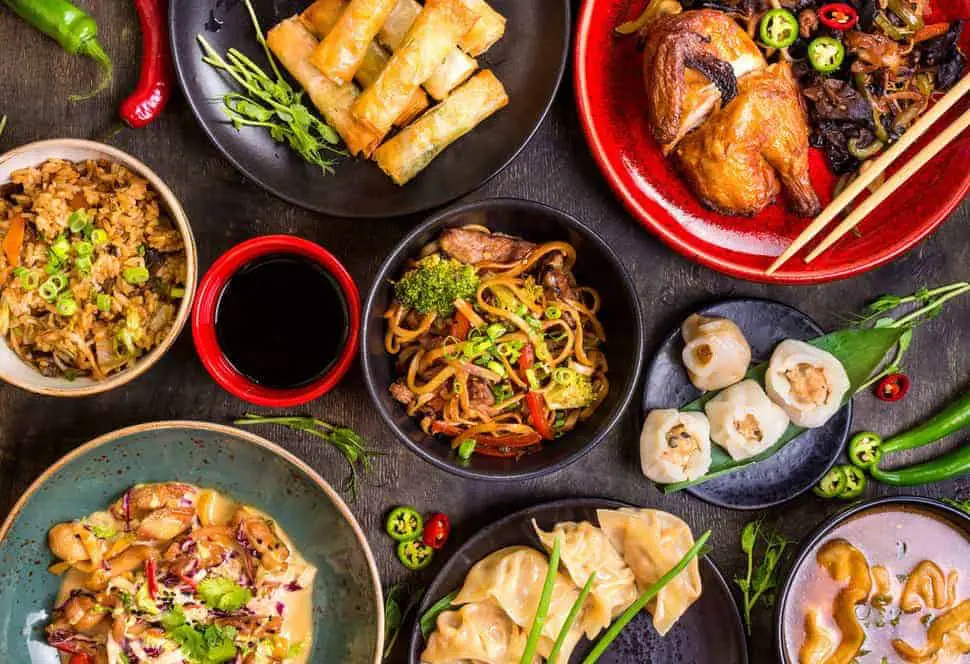 Since Asia is such a huge continent with various influences from multiple regions, flavors and cultures that, it makes it difficult to choose which Asian delicacy is commonly accepted as the most delicious.
However, we found some Asian dishes that are popular across several Asian countries and they're even popular to some foreign countries as well.
In some cases heated debates happen among restaurant owners and street vendors as to who created what dish and from which country they came from.
But does that really matter? What's important is that these Asian foods are very palatable!
Drew Binsky travels around Asia to find the best places to go, but also the best foods to eat:
Here are the best Asian foods to get you started:
Of course, there are other Asian foods that I have not included in this list that are also very popular among Asians and foreigners alike, but for now, these are the ones that I recommend that you should try.
While countries like China, Japan, and Thailand might be the first to come to mind when you think of Asian cooking, we can't forget that Pakistan and Bangladesh are other Asian regions known for their unique flavorings.
In fact, we can probably dedicate an entire book to curry alone.
But rather than do that, let's start here with this quite extensive article which includes the best Asian foods to try, or maybe even, all the Asian foods you will ever want to try and more. Read on and bon appetit!
10 Tips to Save a Bundle on Asian Ingredients!
Introducing our brand new FREE PDF guide: "Saving Secrets: Unveiling the Art of Saving Money on Asian Ingredients" It's your first newsletter email, so start saving today! 📚🧧
We'll only use your email address for our newsletter and respect your privacy
Most popular Asian Food
Let's start by going over some of the more popular Asian foods.
It's likely you have tried many of these dishes, but there will probably be a few that have never crossed your lips.
This is a good way of weening you into the more exotic foods that will be coming later in the article.
Fish Balls
Okay, get your head out of the gutter. Fish balls are not fish testicles. Rather they are made of pulverized or pressed fish meat.
They can be steamed or grilled. The meat is then put on a skewer.
Fish balls are similar to hot dogs in America in that they are inexpensive food usually sold by a street vendor and are really popular in Hong Kong and in Thailand.
They can be eaten on their own or dipped in a bowl of sauce. In rare instances, they can be served at a restaurant in a bowl of rice or noodles.
If Americans have hotdogs, then Asians have fish balls. And no, they are not the literal balls or eggs of the fish, but rather pulverized or pressed fish meat, eaten on a stick or as soup.
You can buy fishballs from any street food vendor – you'll most certainly find one in almost any street corner or market row – and they're quite cheap but are very tasty.
You can purchase them cooked, fried or steamed and they are considered to be inexpensive snacks for "in-between meals."
In the Philippines it's called "merienda" which is actually a Spanish term for light meals, but sometimes people treat it as a regular meal and eat it with rice or noodles, especially those who are poor or have below average wage.

Not all fish balls are cheap because there are restaurants (like the Aberdeen Fishball & Noodle Restaurant in Hong Kong) that have elevated this delicacy enough to charge hungry customers around $19 – $51 (HK$150 – $400) for a well prepared meal.
Vinegar, garlic, sweet soy sauce or spring onions are added to make the delicacy a bit more fragrant and sweet to smell.
Laksa
Laksa is a spicy soup that was said to have originated in Singapore but it is also popular in China, Malaysia and even parts of Australia.
Laksa is a bit like a taste explosion in your mouth.
It can be prepared in a variety of ways but, for the most part, it will feature thick noodles, a coconut-based curry sauce, tofu, fish sticks, shrimp, and bean sprouts.
Now here's an Asian delicacy that the Singaporeans want to patent as they adamantly claim that they invented it – the Laksa.
Although not much is known about its origin or the meaning of the name "Laksa" for that matter, it is believed by many that this Asian food derived from the Chinese-Malay culture interaction since the 1300 AD.
This cuisine is notoriously known for its ability to push your sense of taste to the edge. It literally is so delicious that Singaporeans would take a $20 ride from one end of their country to the other end just to enjoy a special $3 Laksa.
Sounds crazy isn't it? Well if the ingredients won't drive you mad over it, then maybe its popularity will.
That's because its sweet (coconut) tastes with sour (lemon grass or citrus) influences with more standard fare (thick noodles, egg and tofu) never leaves people's mouths and the flavor somehow translates into words in various tongues.
The amount of liquid used in cooking it also varies from light and viscous thick sap to the soup like stew.
The best thing about the Laksa is that you can use various ingredients to substitute the standard seafood portion with chicken or hard-boiled eggs or even beef and pork.
The Laksa is so popular in Asia that even Australians have started to offer it in their restaurants!
Hainanese Chicken Rice
This is a simple dish that is popular in China, Malaysia, Thailand and Singapore.
It features boiled chicken and plain white rice and it can be served with eggs, cucumber and lettuce. It can also come with a broth.
This chicken rice dish is one of the least spicy Asian cuisine has to offer, but it is often served with a dip like chili or ginger, to add flavor.
The Hainanese Chicken Rice is another favorite Asian food to locals and foreigners alike and is probably one of the simplest meals to prepare as it is only consisted of white rice, plain white chicken and condiments (cucumber, eggs or lettuce).
But what makes it endearing is how the chicken is cooked, and in fact, you can separate it as a completely different meal on its own.
The chicken is mainly boiled in its own broth or stock along with its bones and they let it simmer for at least 2 hours, the chicken soup is then used over and over again to gain until the desired taste is achieved.
In some parts in Asia they treat the boiled chicken as the meal itself and eat it with rice. They boil it with moringa and add tamarind fruit, some seasoning, ginger, tomatoes, salt and onions to enhance the taste.
Once you get a taste of the boiled chicken, the chicken soup and condiments, then you'll know why it made it to this list.

Spring Rolls
There are few Americans who haven't eaten a spring roll so this food will need little introduction.
However, for the sake of being an informative article, we will include the fact that these are fried, rolled pastries that can be filled with an assortment of cooked or raw meats and veggies.
Popular fillings include pork, carrots, bean sprouts, garlic chives, vermicelli noodles, and shitake mushrooms. Soy sauce is often used as a dip.
Spring rolls, lumpia or ngohyong is another Asian cuisine that's similar to the footlong chesedog you enjoy in America, except they're a bit spicy since it's Asian food.
You can find spring rolls all over Asia and they're mainly popular in China, Vietnam Philippines, Taiwan, Indonesia Taiwan among other countries.
Ingredients include minced pork, carrot, bean sprouts, fresh garlic chives, vermicelli noodles, and shitake mushrooms.
Soy sauce, peanut powder or fish sauce is sometimes used as dips to add taste to it. Spring rolls can be eaten raw, boiled or blanched and depending on which country you're in, you will have various kinds of raw or cooked meats or vegetables in your spring rolls.
It is said that spring rolls from Vietnam are the most delicious in all of Asia!
Popular Asian Foods are now Becoming an Expensive Delicacy in some Restaurants.
Dim Sum
Dim Sum is another dish popularly served in the United States.
The words mean 'little tokens' and it's the perfect way to describe the small servings of food hidden away in baskets and served on small plates.
Dim Sum is often served with tea and the idea is to get as many tastes as possible.
Some of the more popular items include rolls, dumplings, meatballs, paus and sweet desserts.
Here's an Asian cuisine that needs no fancy introduction as Westerners have known this delicacy since the 1960s.
Dim sum come from the Cantonese word meaning 'a little token' which perfectly describes this food, because it comes in small steamer baskets like little treasures of food instead of gold, silver or precious jewels like the ones you see in pirate movies.
There is no specific ingredient for dim sums as by nature they come in a wide variety of rolls, paus, dumplings, meat balls, sweet desserts, cakes, tarts and puddings.
The Chinese people have a saying when eating dim sums and it goes like this, "eat as many as you can because dim sums will never run out."
Pretty neat isn't it? Considering how dim sums are served in restaurants as they are included in buffets or are served like side dishes or wheeled around on trolleys.
Fried Rice
Fried rice typically starts off as white rice which is then fried in vegetable oil with soy sauce and perhaps some onions and garlic thrown in.
It can be served with coconut sauce or saffron.
Some find the rice delicious when served on its own but often, meat or veggies are added to make it into more of a meal.
The practice of fried rice cooking goes back thousands of years and once again it all started in China.
Asians are not fond of throwing away leftovers and they consider food as blessings from the gods, so if you throw away food for no other reason other than they are spoiled, you will be cursed.
In order to remove the flat taste of leftover rice Chinese cooks got creative and fried the rice with vegetable oil, add some soya-sauce, garlic, shallots or other spicy food.
In the latter years Asian chefs even added to the basic cooking method of fried rice and now you will find vegetables, meat or different sambals, eggs, satay, rice or prawn crackers (krupuk) in them which makes them even more delicious than ever before!
Of course in other countries they cook it with varying ingredients to steer away from the traditional Chinese way of preparing fried rice and reinvent it as their own.
Fried rice is a standalone meal, in fact, you can eat it as is and never need additional viands. It's easy to cook, it's delicious and it's cheap which is everything what Asians want in their food.
Tom Yum
With the second name Yum, what could go wrong?
The dish originated in Thailand and it can be described as a watery soup with a sweet and sour taste due to additions like lemongrass, tamarind, and lime.
The soup can be served as an appetizer or a main course. It can be eaten with or without rice and meat and vegetables can be added as well.
A recipe from Thailand is conquering the Asian continent fast! The tom yum spicy-sour seafood soup is rumored to have a wild taste that everyone needs to try.
Apparently they cook it with smashed lemon grass, tamarind and lime, then add different kinds of seafood meat in it such as prawns, squid or fish pieces or even chicken (for an alternative taste perhaps?) plus some vegetables, like oyster mushrooms or coriander leaves.
The result is a delicious murky spicy soup with a sour tinge to it that will send chemical signals all over your mouth and brain to react to the taste.
It's famous in places like Thailand, Indonesia, Malaysia and Singapore, but its popularity might have already reached other Asian countries already and we've just missed out on the news.
We'll have to visit the street food vendors and local restaurants in Asia to find out.
Chicken Curry
Curry defies any one certain definition.
Rather, it is a word added to dishes to let the diner know it will bare a flavor that is synonymous with the spices of India and other Asian regions.
Its flavor profile can vary as can its consistency.
Although the ingredients used to create curry can vary, coconut, ginger, and saffron are often added.
And while we took chicken curry as an example, there are plenty of other curry dishes that can be created.
Another cuisine that does not need any introduction, because well, everybody knows it and loves it, is the chicken curry. Chicken curry is a well known delicacy all over Asia.
From India, Thailand, Philippines, Indonesia and Borneo Malaysia all the way to Hong Kong and even mainland China.
You can order a delicious chicken curry in almost any restaurant in Asia, but just a heads up though, depending on the country you are in, you might get a different look and taste served on your table.
So it may be a good idea to research the different types of curry being served in different Asian countries.
The most commonly known curries are the chicken curries of Thailand which chefs cook with masala curries that Indians also use.
Lately, chefs have experimented with other meat and made seafood, beef and pork curries from it.
The result is an extravaganza of flavors that people discover and sealed the curry's place forever in the kitchen anals. This is one Asian food that is loved by all!
Sushi
Americans often think of sushi as a high-end dish but it quite common in Asia. It is served supermarkets, restaurants, and more.
Although there are many types of sushi, the identifying ingredient is the raw fish. Other common ingredients include rice, seafood wrappers, and soy sauce.
Pickled ginger and wasabi are often added as condiments and, in Asia, sushi is commonly served with tea.
You must wonder why sushi comes in next to chicken curry, don't you? Well, that's because it's as famous as the chicken curry is and is known worldwide also!
Also read: these are all of the different kinds of sushi you could try
You need to have the right kind of rice, seaweed wrappers and soy sauce in order to make sushi, but it's not as easy as it sounds. In fact, the Japanese considers it as an art.
There's probably at least one sushi restaurant in every main city of every country in the world, and especially in Asia, everybody loves Japanese food just like Chinese and Thai food.
You can order sushi at a local restaurant or if you prefer to prepare it at home, then just buy the ingredients like sweet, pickled ginger and wasabi (the green, tasty but very spicy paste that you dip the sushi in) are sold almost everywhere.
Satay
Satay is spelled differently in different regions of Asia, but basically, it's all same thing, meat on a stick.
Well, that's not exactly true. Various types of meat can be used and the meat can roasted over charcoal or open fire.
Meats commonly used include chicken or beef but you can find more unusual variations such as the heart or stomach of pigs, frogs, and bug meat.
Satay is served with various dips and, usually, a side of sticky rice.
Barbecue anyone?
If you like the taste of barbecued meats, you will love this Asian dish which features a variety of tender meats that are marinated and then skewered or grilled over a charcoal flame.
Satay originated in Indonesia where it's often served with a spicy peanut sauce. However, in other parts of the continent, different types of sauces are used.
The last Asian food on our list is the satay, although it is being called sate, satay, satey, sati or any other variations of the native tongues depending on the country that you're in.
What is satay? Well, it's basically meat on a stick roasted over charcoal or tree branches used as fuel to do convection cooking or heating, which is very similar to roasting using charcoal, except they use twigs and small trunks or chopped wood.
Popular meat choices include pork, chicken and beef; however in Thailand, Cambodia and Laos they offer it in a much wider selection! This includes liver, heart or stomach of pigs or chicken.
You can also find frogs or even bug meat on a stick. Fish, calamari, prawns or other sea creatures are also popular satays and they use various dips to eat it, peanut sauce is the most popular and mainly you have sticky rice or lontong as condiments or side dishes.
Sichuan Pork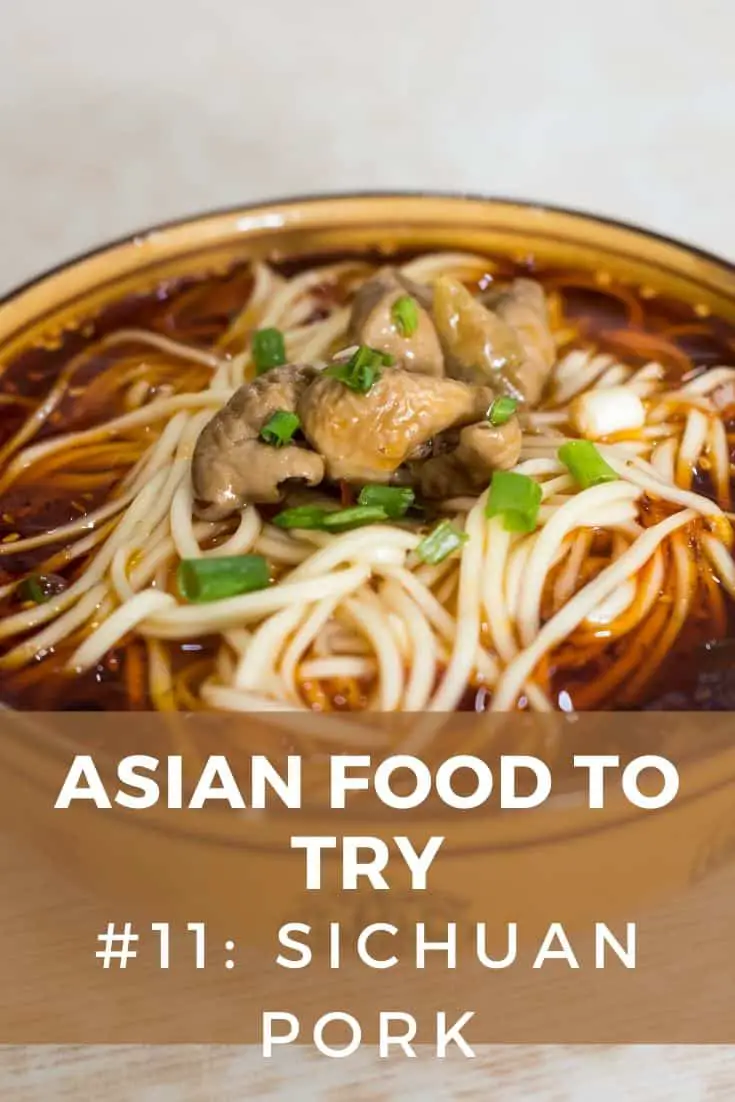 This dish consists of poached, spicy slices of pork that are boiled in water. A coating of egg white is added to preserve the flavor and tenderness.
The pork is typically served in a meaty broth with a peppery taste and a fragrant aroma.
Most Unusual Asian Dishes
Now that you are a bit warmed up, let's talk about those bucket list dishes you adventurous eaters will want to try.
If you are squeamish, you might just want to move on to the next section!
Raw Horse Meat
Raw horse meat may seem dangerous to eat but it's actually full of acids and minerals that can be beneficial to your health.
Some countries won't let you eat raw horse meat but in Korea and Japan, it's a-okay. Be sure to try raw horse meat sashimi!
Toad
Eating toad might seem exceptionally gross, but yep, it tastes like chicken, there are just a lot more bones.
Don't knock it till you try it. A lot of people say it's delicious. Although eating toad is mostly safe, certain kinds are poisonous.
Make sure the toad you're eating comes from a trusted source.
Deep Fried Pigeon
Hopefully, the frying gets rid of all those germs.
If you order deep fried pigeon in Asia, they will serve you the whole bird on the plate, including the head.
Those that have eaten it say it has a moist, rich taste that is similar to duck. However, there is not a lot of meat on pigeon so be sure to order a substantial side.
It's up to you if you want to eat the head, but avoid the beak. It is said to be crunchy, chewy and tasteless.
Skewered Scorpions and Grasshoppers
Asians are known for serving pests as a delicacy. Once scorpions are cooked, it neutralizes the poison.
However, this is not the case if the scorpions are raw. If you are eating raw scorpion, make sure the venom and stinger are removed in advance.
Tastewise, scorpions can be described as nutty and crunchy, somewhat like pistachio. Manchurian scorpions, on the other hand, are said to taste like shrimp.
Grasshoppers are rich in protein and, as a result, they are often consumed in powdered form by health enthusiasts.
This may be preferable to those who don't enjoy picking grasshopper legs out of their teeth.
Grasshoppers are pretty much tasteless and they might take on the flavor of whatever they have eaten last or whatever they were seasoned with.
Some say they taste like shrimp.
Dog Soup
We have all heard jokes about how Asians eat dogs but apparently, there is some truth to this.
Not only is dog soup a delicacy in some Asian restaurants, men often eat it because it is said to increase virility. Dog soup is served spicy.
Once called ke-go-gi, which literally translates to dog soup, Asians now prefer to call it ying-yang-to or nourishment soup. The ingredients, however, remain the same.
Blood Soup
Blood soup is a dish native to Vietnam. It is prepared with pig blood, goose, and duck meat. The meats are seasoned with peanuts and herbs like coriander and mint.
The fresh blood is collected in a bowl and mixed with fish sauce to keep it from coagulating.
The mixture is then diluted with the juices of the previously cooked meat so it becomes watery.
The dish is considered a nutrient-rich delicacy in Vietnam but it is banned in other parts of the world due to its potential to carry the bird flu virus.
Officials in Vietnam have tried to ban it as well, but as far as we know, it's still on the menu.
Puffer Fish
Puffer fish is deadly enough to kill 30 humans but apparently, it is so delicious it makes it worth the risk, and the incredibly high price tag.
Puffer fish is called fugu in Japan and bok in Korea.
It is typically prepared by highly specialized chefs only. It can also cost up to $70 USD for a multi-course meal that includes this delicacy.
Although most people have good experiences eating pufferfish, reportedly 30 to 50 people are hospitalized each year from pufferfish poisoning.
Tong Zi Dan (Virgin Boy Eggs)
Eating these eggs is part of a springtime tradition in Dongyang, Zhiejan, China where they are boiled in the urine of young boys, preferably younger than 10.
The urine is collected from school toilets or local vendors. The eggs are soaked and boiled in the urine and then cooked all day on low heat.
Urine therapy has long been a part of Asian tradition and residents believe that eating the eggs will promote circulation and reinvigorate the body.
Durian
Also known as the 'king of fruits', this Southeast Asian natural wonder is known for its imposing shell, incredible size, and terrible smell.
The fruit can grow as large as 12 inches long and it can weigh up to 7 lbs. Its spiky husk is so sharp, people need mitts to remove it.
Durian smells incredibly awful and it is banned from certain hotels and public transportation in Asia. However, it is highly nutritious.
Bird's Nest Soup
It may not sound too delicious, but bird's nest soup has also been called the "Caviar of the East".
The nest itself can cost anywhere from $2500 to $10,000 per kilogram and the bowls of soup range from $30 to $100.
Part of the cost is due to the difficult process of obtaining the nests which are built by the swiftlet bird and located high up in trees in the wild.
The nests are made from bird feathers and saliva and they are cleaned before the are served.
The end product is a hard shell filled with a soft jelly-like substance with a sweet taste.
Beondegi (Silkworm Pupae)
This may sound like an unusual dish but it is quite common in Korea. It is often served as street food and it can also be purchased in grocery stores and restaurants.
If you buy it at a grocery store, you must boil it before serving.
The pupae are steamed, boiled in a sweet-sour sauce, and seasoned. They are described to have a crispy, fishy texture and a buttery after taste.
They are also packed with protein and calcium making them one of the healthiest insects you can eat.
Most Delicious Asian Foods
While every diner has their own tastes, these dishes have been rated the most delicious due to their popularity. Read on to find out which sounds best to you.
Chili Crab
This dish is native to Singapore and it features stir-fried crab in a sweet and savory chili hot sauce. Although any type of crab can be used, mud crab is the most popular choice.
To eat the dish, just crack open the bones so you can suck on the succulent meat. This is a go-to for all Singapore tourists.
Khantoke Dinner
Popular in Northern Thailand, this dish features a sampling of various foods that are popular in the Lanna region.
Chili dips, spicy sausage, Northern curries, and rice are usually included.
The word 'Kahntoke' refers to the high round tables the meal is usually served on.
It is usually served for celebrations and accompanied by traditional dances and performances as well as a lot of booze.
Curry Feast
The island country of Sri Lanka is one that is known for its curry dishes. This curry dish features a wide variety of every type of curry you can think of:
Bean curry,
cabbage curry,
dhal curry
and all are often included.
Diners will be pleasantly surprised at the blend of spices that can be found in the meal.
The curries are commonly served with rice, spicy sambals (chili paste), and popadoms (thin flatbread).
MOMOs
MOMOs have a cute name and a delicious flavor to match.
MOMOs is another name for dumplings and they can be filled with meat or vegetables.
They are a to-go dish that originated in the Himalayas but can be found all over the Asian continent. They can be served with hot chili sauce, soy sauce, or a side of soup.
Kimchi
Kimchi is a Korean staple. Often served as a side, it consists of salted and fermented vegetables like radish and cabbage and it includes seasonings like
onion,
garlic,
ginger
and jeotgal.
Besides being a delicious and healthy side, it can also be added to soup.
Fish Head Curry
This one just barely missed being in the unusual dish category above.
However, there must be something behind Singapore's obsession with red snapper fish head because it makes a curry that is simply divine.
The flavor is hot and some may even find it a bit filling. However, smaller portions can be found in vendor stalls around the region.
Bun Cha
This may not be the healthiest dish, but it is a guilty pleasure the people of Vietnam can't seem to get enough of.
Bun means rice noodles and cha means fatty grilled pork. The meal is typically prepared with an assortment of herbs and a slightly hot dipping sauce.
It's a popular lunchtime meal.
Buryani
This layered rice dish is filled with flavors and spices. Tastewise, it can be described as a pre-cooked rice mixed with a spicy curry.
Buryani can be eaten on its own, but it is often served with Tandoori chicken.
Bicol Express
This is a spicy, stewed pork dish that is flavored with garlic, chili, ginger, and shrimp paste and then simmered in a coconut milk.
It originated in the Philippines and is one of the hottest dishes in the region. It is said to be even spicier when found in its hometown of Bicol.
Shan Noodles
Shan noodles is a dish popular in Myanmar (formerly Burma) a country in Southeast Asia.
These thin rice noodles are a popular street food as well as common tea house snack.
The noodles are topped with spiced meat and typically served with a side of soup broth that can be mixed in with the noodles.
Other popular sides include bean sprouts, deep-fried pork skins, and tofu fritters. The dish tastes great with chili and lime added.
Best Asian desserts
We can't think of a better way to wrap up this article than to touch on a few popular Asian desserts, with a couple of drinks thrown in.
You can satisfy your sweet tooth with any of the items below.
Dragon Beard Candy
Kind of the Asian take on cotton candy, this treat was first introduced in China but quickly became popular with Korean royalty.
It is made of sugar and maltose syrup and it can also contain ingredients like coconut and peanuts.
Unlike cotton candy which can be made by anyone who can spin the machine at the right angle, in Asia, chefs are trained for months to make this delicacy.
Red Bean Soup
This might not sound like much of a dessert, but it's comforting and surprisingly sweet flavor makes it the perfect way to end a meal.
Many variations of the soup have been made, but typically it just contains adzuki dried beans, water, sugar, and orange zest.
If you order this dish, you will find that it is served differently in different regions.
In Japan, you can eat it porridge style with dumplings.
In Vietnam, it is served with cold coconut milk.
Kamikaze
Though some associate this drink with the disco age of the '70s, it's likely that it originated in Korea shortly after World War II.
Kamikaze means divine wind and the drink is made from equal parts vodka and triple sec as well as freshly squeezed lemon or lime juice.
It is usually served with a lemon or lime twist and it is the perfect complement for pasta or spicy chicken wings.
Mochi
Americans will probably be familiar with mochi ice cream, but in Japan, mochi is eaten in a sort of pastry form as a rice cake made of glutinous rice.
It is described as tasting like a neutral gummy candy and marshmallow combined and it is usually flavored with green tea or filled with a sweetened bean paste.
It has the texture of playdough and refried beans.
Pineapple Cakes
These Taiwanese treats consist of a buttery crust and a pineapple jam filling.
They can be found at most Chinese grocery stores and those who eat them find them simply addictive.
Soju
This Korean drink is distilled from fermented rice or wheat barley and sweet potatoes or tapioca.
It is believed to have originated when Mongols introduced distilling to the Koreans back in the 13th century.
It is a clear beverage with low alcohol content. It has a mild flavor that works well with a variety of dishes.
It can be enjoyed on its own or some put a shot into their beer. It is also available in fruit flavors.
Khanom Chan
The Taiwanese dessert has a smooth and sticky consistency that can be compared with JELL-O.
It appears as a small layer cake and consists of three types of flour;
rice
tapioca
arrowroot
Coconut, milk, and sugar are other ingredients that contribute to its sweet flavoring.
Kanom Chan has a distinctive look due to its green or red coloring.
The coloring is derived from natural ingredients with the pandanus plant used for green varieties and the roselle herb used for red varieties.
Khanom Thungtag
Kind of a combination between a taco and a crepe, these are often found in vendor stands in Thailand.
The crepe consists of a coconut milk batter and it is usually filled with coconut cream which is then topped with a sweet or salty topping like shredded coconut, strips of fried eggs, or chopped scallions.
Ube Halaya
This dessert features peeled and boiled purple yam that is grated and mashed with condensed milk.
The mixture is then added to a saucepan and mixed with melted butter. Once it thickens and cools down, it is placed on to a platter and molded into various shapes.
The dessert stands out for its natural purple color. It is typically served cold and topped with browned grated coconut or condensed milk.
Umeshu
This Japanese liqueur is produced with fresh ume or Japanese apricot.
The fruit is macerated in a neutral based spirit and then steeped in alcohol and sugar until it takes on a bittersweet flavor and fruity smell.
The drink can be enjoyed on its own, straight or on the rocks. It can also be combined with tea, water, or soda or included in a variety of cocktails.
Fried Sesame Balls
Fried sesame balls are deep-fried treats you can pop in your mouth. They are a common snack in China and Vietnam.
The outside shell is made from glutinous rice that is coated with sesame seeds to provide a crispy exterior. They are filled with red bean filling or mung bean paste.
Takeaway
Hopefully, this article has left you well prepared for a delightful Asian culinary experience.
Which of these will you be enjoying when you visit?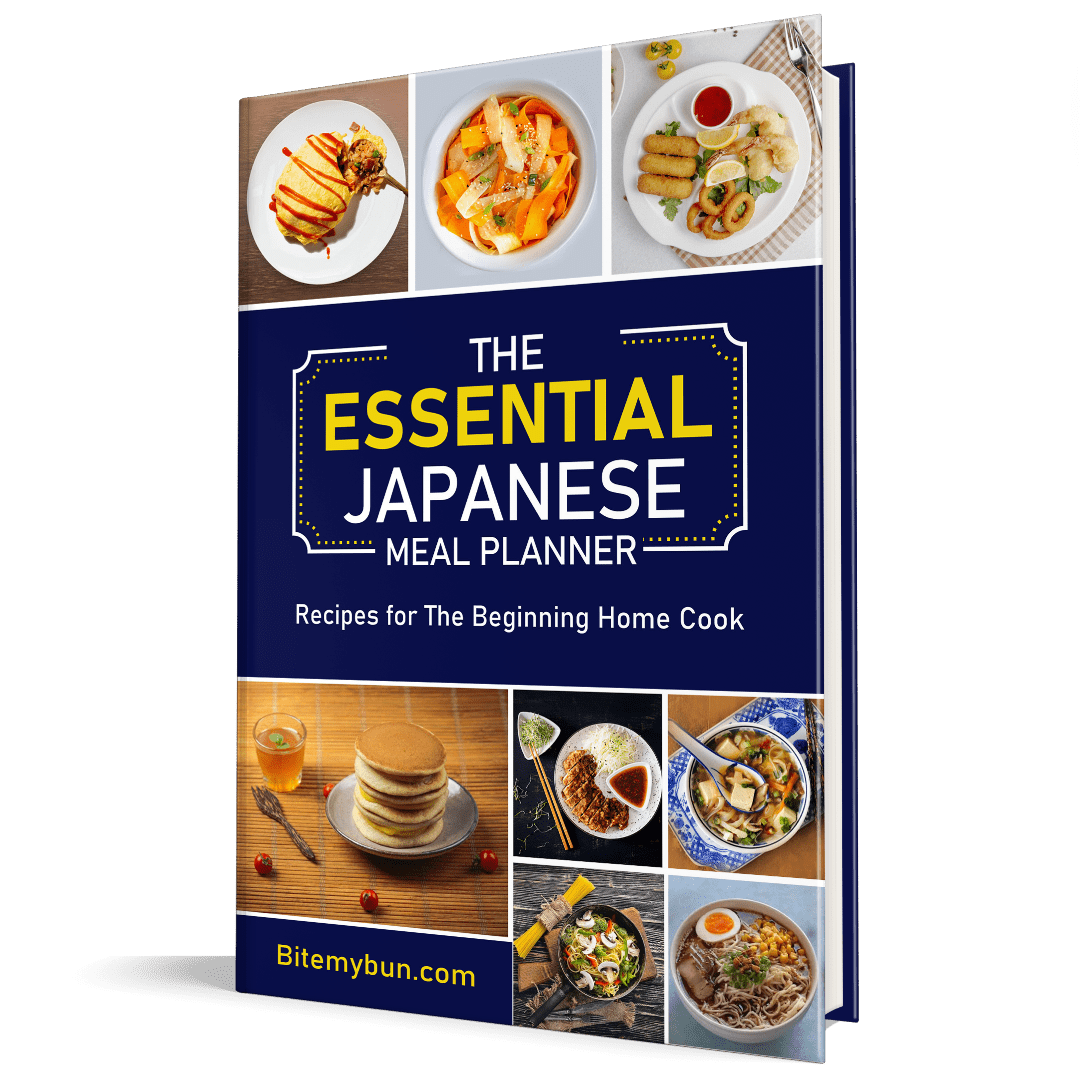 Check out our new cookbook
Bitemybun's family recipes with complete meal planner and recipe guide.
Try it out for free with Kindle Unlimited:
Read for free
Joost Nusselder, the founder of Bite My Bun is a content marketer, dad and loves trying out new food with Japanese food at the heart of his passion, and together with his team he's been creating in-depth blog articles since 2016 to help loyal readers with recipes and cooking tips.