My nr.1 best premade bottled Stir Fry Sauce to buy (+more reviewed)
I love creating free content full of tips for my readers, you. I don't accept paid sponsorships, my opinion is my own, but if you find my recommendations helpful and you end up buying something you like through one of my links, I could earn a commission at no extra cost to you.
Learn more
Stir-frying helps make great meals, especially when you don't have a lot of time on your hands.
You can make a delicious stir fry dish with pretty much any type of vegetables and/or proteins that you have lying around the kitchen or the refrigerator.
Just serve it over rice or noodles. Voilà! You have a beautiful meal that everyone loves!
You can take your stir fry dish to the next level by presenting it using a good stir fry sauce.
But what sauce to use if you want a bottled one?
My tip, use this Kikkoman Teriyaki sauce right here. I absolutely love the taste and it's gluten-free.
Teriyaki sauce's wonderfully sweet and salty taste, dark color as well as the texture makes it great for making stir-fries.
It is often used in Chinese and Vietnamese cuisine not only for cooking stir-fries but also for glazing meat or as a dipping sauce.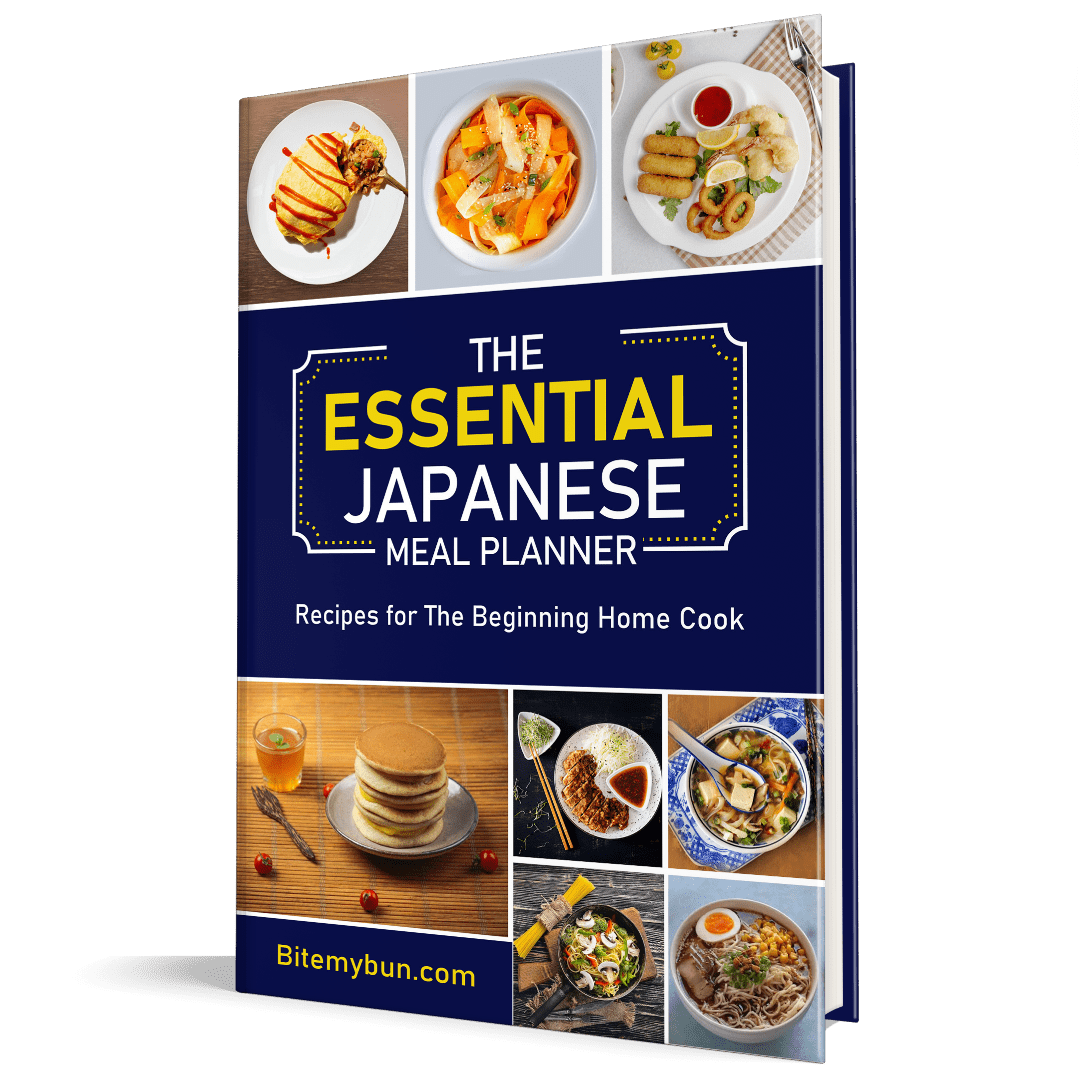 Check out our new cookbook
Bitemybun's family recipes with complete meal planner and recipe guide.
Try it out for free with Kindle Unlimited:
Read for free
Why Kikkoman's Teriyaki Stir Fry Sauce Stands Out
Finding great gluten-free, bottled stir fry sauce is a challenge, mostly because wheat is an ingredient in most products.
However, Kikkoman Teriyaki sauce is 100% gluten-free which is great news! More importantly, Kikkoman has managed to make gluten-free Teriyaki sauce without having to compensate its traditional taste, color, and texture of Teriyaki sauce.
You can buy it here, that's where I usually get it because finding it in the store can sometimes be a pain.
Alternatives to Kikkoman Teriyaki Sauce
From my experience, Premier Japan Organic Wheat-Free Hoisin sauce is a good alternative to Kikkoman Gluten-free Teriyaki sauce, however, it's slightly on the pricey side.
Furthermore, Premier Japan Hoisin sauce's taste is much different from the taste of traditional Hoisin sauce.
It doesn't matter if you like it and just want a tasty meal. I could be a deal-breaker if you're a purist though.
Let's take a look at the pros and cons of these products as well as situations where one might do better than the other.
Overall best stir-fry sauce: Kikkoman Teriyaki
We've touched on this specific sauce a bit earlier, and unless you want to create your own sauce from scratch, which is pretty cool to do, by the way, you're not going to find a more traditional tasting sauce out there.
Another good thing about Kikkoman Teriyaki sauce is that it's preservative-free. I found it very hard to find good Hoisin sauces that didn't use any preservatives.
• Gluten-Free
• Preservative Free
• Doesn't contain cornstarch
• Tastes much like traditional Teriyaki sauce
• Affordable
• A product made in the United States
Finally, it's a product made in the United States, therefore it's more trustworthy than products imported from elsewhere, especially Asia.
Low sodium stir fry sauce
Another advantage to mention is that Kikkoman started to use less sodium in their sauce, and I know a lot of you are looking out for this more and more when buying products and preparing meals.
The low sodium count in this stir fry sauce bottle will certainly be another thing to consider when looking for alternatives online or in stores.
It contains 50 percent less sodium than the regular Kikkoman Teriyaki sauce on the shelves of supermarkets and almost 60 percent less than a lot of the alternatives.
I use this almost exclusively now for preparing stir fry dishes for my family.
Best organic stir-fry sauce: Premier Japan Wheat-Free Hoisin
• Organic and Wheat-free
• Preservative Free
• Doesn't contain cornstarch
• Tastes different from traditional Hoisin sauce
• More expensive than Kikkoman Hoisin Sauce
• A product made in Canada
Hoisin sauce is usually made using:
soy beans
garlic
vinegar
red chilies
fennel seeds
sesame seeds
wheat/rice/sweet potato
water
salt
sugar
Chinese spices
Although the word 'Hoisin' means seafood in both Cantonese and Mandarin, the sauce doesn't contain any seafood ingredients!
Check out the latest prices and availability here
Other Stir-Fry Sauces That You Can Purchase Online
Lee-Kum Kee Hoisin Sauce
Hoisin sauce is a very pungent type of sauce that is used in Chinese cooking a lot. Its use ranges from glazing your meat before grilling to adding it to your stir-fries, or as a nice dipping sauce.
Lee-Kum Kee has proven yet again that it knows how to make the best stir-fry sauce based on its rich knowledge of ancient Chinese cooking methods and traditions.
Its dark color and sweet and salty in taste is great for pork BBQ, peking duck, lettuce wrap, and steamed or panfried rice noodle roll (cheungfan), as well as moo shu pork.
Ingredients include sweet potato, sugar, garlic, chili and caramel color so there are some added ingredients to this one.
The ingredients for this Lee-Kum Kee Hoisin Sauce are also filled with healthy options such as garlic, chili pepper, spices, acetic acid, and potassium sorbate.
Lobo Brand Thai Holy Basil Seasoning Paste
Said to be very similar to the fresh Holy Basils from Thailand, the Lobo Brand Thai Holy Basil Seasoning Paste is a sought-after stir-fry sauce by many chefs and cooking enthusiasts.
This Thai Holy Basil Seasoning Paste has such a great flavor, and it really tastes like those authentic Thai meals.
So whether you're stir-frying food, or you'll use this as a dipping sauce, or meat glaze, or BBQ sauce, you can bet that it will enhance the taste of every meal you're going to prepare!
Surprisingly the Lobo Brand Thai Holy Basil Seasoning Paste is not expensive per 5 packs of 1.78 Oz pack.
Ingredients include chili, basil leaves, soy sauce, and garlic but it has no MSG in it, nor any artificial coloring or preservatives.
Minor's General Tso Sauce
Minor's General Tso stir-fry sauce is not only great as an all-purpose seasoning but is also affordable and can easily be bought on the web!
This health-packed bottled stir-fry sauce has a strong sweet and spicy flavor created from the finest raw materials from Chinese farms and wild forest herbs.
Great to use in anything from stir-fries to delicious soup, or even as a dressing.
Ingredients include sugar, red wine vinegar, corn syrup, and garlic, which makes it sweet and spicy.
You can get the Minor's General Tso Sauce from Amazon for less than $20.
Koon Chun Hoisin Sauce
A lesser-known brand, the Koon Chun Hoisin Sauce is best known for its strong and sweet flavor compared to the other brands in this list.
It is quite a thick sauce, but very balanced in the use of sweet, salty, and spicy ingredients where these elements do not overwhelm each other.
If you want a hoisin stir-fry sauce that's also good for all other things including a glaze for BBQ meats and seafood, dipping sauce, vegetables, and salads, then all you need is the Koon Chun Hoisin Sauce!
Get this unique hoisin stir-fry sauce on Amazon.
Ingredients include sugar, soybean paste, garlic, and other spices.
Kikkoman Original Stir-Fry Sauce
We've previously featured the Kikkoman Hoisin Sauce which is similar to the hoisin sauce from Lee-Kum Kee, and while this is the second entry of the same brand name in this article, this, however, is an original stir-fry sauce and not hoisin.
As you may know, the Kikkoman brand always delivers on what it promises and customers are saying that it has a distinct flavor and that it retains its flavor no matter how many other ingredients you add to your recipe, which means that this is a great stir-fry sauce.
Despite it not having any preservatives, the Kikkoman Original Stir-Fry Sauce could still last for months of use just as long you refrigerate it every after use.
Ingredients include sugar, cornstarch, mirin, garlic, and ginger so it has quite a different taste than a lot of these other sauces.
Por Kwan Pad Thai Sauce
The Por Kwan Pad Thai Sauce is originally made for Pad Thai recipes which is a mixture of rice noodles, shrimp, chicken, or extra-firm tofu, bean sprouts, red bell pepper, roasted peanuts, green onions, and a few other ingredients stir-fried with fish sauce, soy sauce and a few other liquids.
But later on, people tried to use for chicken BBQ recipes and it gave the chicken BBQ a very unique and delicious flavor, so they also tried it on beef, pork and seafood BBQ recipes as well as vegetable kebabs.
Get the Por Kwan Pad Thai Sauce on Amazon.
Ingredients include sugar, glucose syrup, onion, and peanuts so watch out if you have allergies!
It's hard to find a good store-bought stir fry gluten-free sauce
Finding a quality, gluten-free Hoisin sauce is not an easy task with a wide range of products available in varying price ranges.
As anyone who has shopped for Hoisin sauce at supermarkets would already know, we found most of those products to be disappointing.
Let's take a look at why Kikkoman Gluten-Free Hoisin sauce stands out from the rest compared to other Hoisin sauces as well as stir fry sauces out there.
It's because, if you're looking for a gluten and preservative-free Hoisin sauce which tastes just like traditional Hoisin sauce, then Kikkoman is the best choice.
There are some individuals who don't like the strong sweet and salty taste of traditional Hoisin sauce.
So if you're one of those people who are looking for a milder or a slightly different version of Hoisin sauce, Premier Japan Organic Wheat-Free Hoisin sauce just might be what you were looking for.
These are by far the best stir fry Hoisin sauce products I've found.
Finding Good Stir Fry Sauces at the Supermarket
Supermarkets usually have entire isles for Chinese and other Asian food products and you might think that you'll be able to find a good bottled stir fry sauce by simply going to one.
When it comes to stir fry sauces, there are many products from Asia with different prices, qualities, and ingredients.
Unless you know exactly what you're looking for, you will be confused when you're staring at an aisle full of sauces of varying ingredients, colors, texture and taste and you might find it even harder to find one if you're looking for something specific like a healthy vegan sugarfree stir fry sauce.
Chances are, you will run out of patience and pick one without knowing exactly what you're buying.
It's the same when it comes to Hoisin sauce.
From what we've seen, supermarkets sell all kinds of Hoisin sauces. Most of them taste nothing like traditional Hoisin sauce.
Some of these products are imported straight from Asia and there are times when you wonder whether the information provided about the ingredients is trustworthy.
If you're on the hunt for a cheap stir fry sauce to cook dinner on the same day, then the supermarket might work. However, finding a good product usually involves luck and most importantly, trial and error.
Therefore, if you're opting to shop for stir fry sauce at the supermarket, be prepared to try many brands before you find a quality product, which also tastes good.
Will Asian food shops work?
Some cities have Asian shops where you can purchase ingredients including spices and sauces, but you're always taking a gamble.
Most products at such stores are imported directly from Asia. Some of them can't even be found on the internet.
Therefore, it's hard to trust the ingredients that are mentioned as well as the quality.
It's simply not a good idea to walk into an Asian food store if you're not sure exactly what you're looking for or don't know a thing or two about Asian food products.
Due to those reasons, it's a good idea to shop for items like these on the internet. You can easily find trustworthy product reviews as well as first-hand user feedback on e-commerce sites such as these on Amazon.
If you wish to have the item quickly, there are various shipping options too. For example, one-day shipping.
Is there a bottled stir fry sauce without cornstarch?
Although cornstarch is gluten-free, you must remember that adding too much cornstarch to anything isn't healthy.
Therefore, it's a good idea to avoid products that contain cornstarch as you never know how much of it is used. Finding great bottled stir fry sauces without cornstarch is not an easy task.
Most stir fry sauces have cornstarch added in order to thicken the sauce.
Kikkoman is one of the few brands which doesn't use cornstarch in their sauces.
Therefore, if you're on the hunt for a healthy stir fry sauce, it's the best option.
In the same light, Premier Japan Organic Wheat-Free Hoisin sauce is also an organic, cornstarch-free option although it's a bit more expensive.
A little bit of stir fry history
Stir-frying is a cooking method that is uniquely Asian and it originated in China.
The Chinese term (炒; pinyin: chǎo) is translated in English as "stir-frying food" in which ingredients are fried in a small amount of very hot oil while being stirred in a wok.
Believed to have been used during the Han dynasty between 206 BC – 220 AD, but the primitive cooking technique was only used for drying grain and the extravagant stir-frying method that we know today would not be developed until after a thousand years during the Ming dynasty (1368 – 1644).
Western countries would not hear about stir-fry or "Chao" until 1945 when Yuen Ren Chao published his book – How to Cook and Eat in Chinese.
After World War II the entire North American continent, as well as Europe, catches on to the stir-frying fever and Chinese, Japanese, Korean and other Asian food slowly became mainstream cuisines.
The Stir-Fry Sauce
Most Asian stir-fry sauces are made of a mixture of soy sauce, chili powder, ground bell peppers or jalapeños, corn starch, pepper, salt, tomato sauce, and a few other exotic ingredients.
They can be used for vegetables, chicken, beef, shrimp, and pork.
There are a lot of stir-fry sauces that are manufactured by big companies, but you can also find plenty of home-made stir-fry sauce and recipes.
Health Benefits of Stir-Frying Food and the Stir-Fry Sauce
First, we will start with the stir-fry sauce; the ingredients of most stir-fry sauces are practically similar and they are just as healthy as the food that they're meant to season on.
Jalapeños and other chili vegetables are known to boost the immune system, fight cancer, relieve migraine, anti-inflammatory improves the nervous system, and help pregnant women and their unborn child.
The herbs and spices that are used to create stir-fry sauce are also loaded with tons of health benefits!
Now add that to a predominantly vegetable-based stir-fry recipe and you'll get a clear picture of just how much vitamins and minerals you're consuming per serving.
If you'll also consider the way stir-fried foods are cooked, then you'll find out that because they are cooked in less than 5 minutes, the nutrients retained in the food are close to pristine.
They are economical and they look fresh and are also aesthetically appetizing.
Why we like Kikkoman Teriyaki Sauce
From our experience, we like Kikkoman Teriyaki stir fry sauce, mainly because of:
its authentic, traditional Teriyaki sauce taste
while being gluten,
preservative and
cornstarch-free
with low sodium count
When compared to other top quality stir fry sauces with similar ingredients, Kikkoman Teriyaki Sauce is also more affordable.
It also doesn't really matter what kind of stir fry you're cooking if you're using Kikkoman low sodium sauce.
Be it meat, seafood, a mix of fresh vegetables or simply everything above, it gives the stir fry a great taste, color, and texture that everyone loves.
Since the sauce doesn't have preservatives and cornstarch as a thickening agent, you have the freedom to use more of it if you like your stir-fries to have more gravy.
Finally, but most importantly, it tastes and smells amazing!
Final Thoughts
All in all, if you're looking for a bottled stir fry sauce that suits all types of proteins and vegetables while being gluten, preservative, and cornstarch-free, then Kikkoman Hoisin sauce is a great option.
Its price is reasonable and isn't much different from other, good quality brands out there.
It's got many user reviews all over the internet, therefore it's much better than buying a random stir fry sauce at the supermarket. Most importantly, it's healthy and makes stir-fries taste amazing!
Also read about this great Yakiniku sauce you can buy in my post review here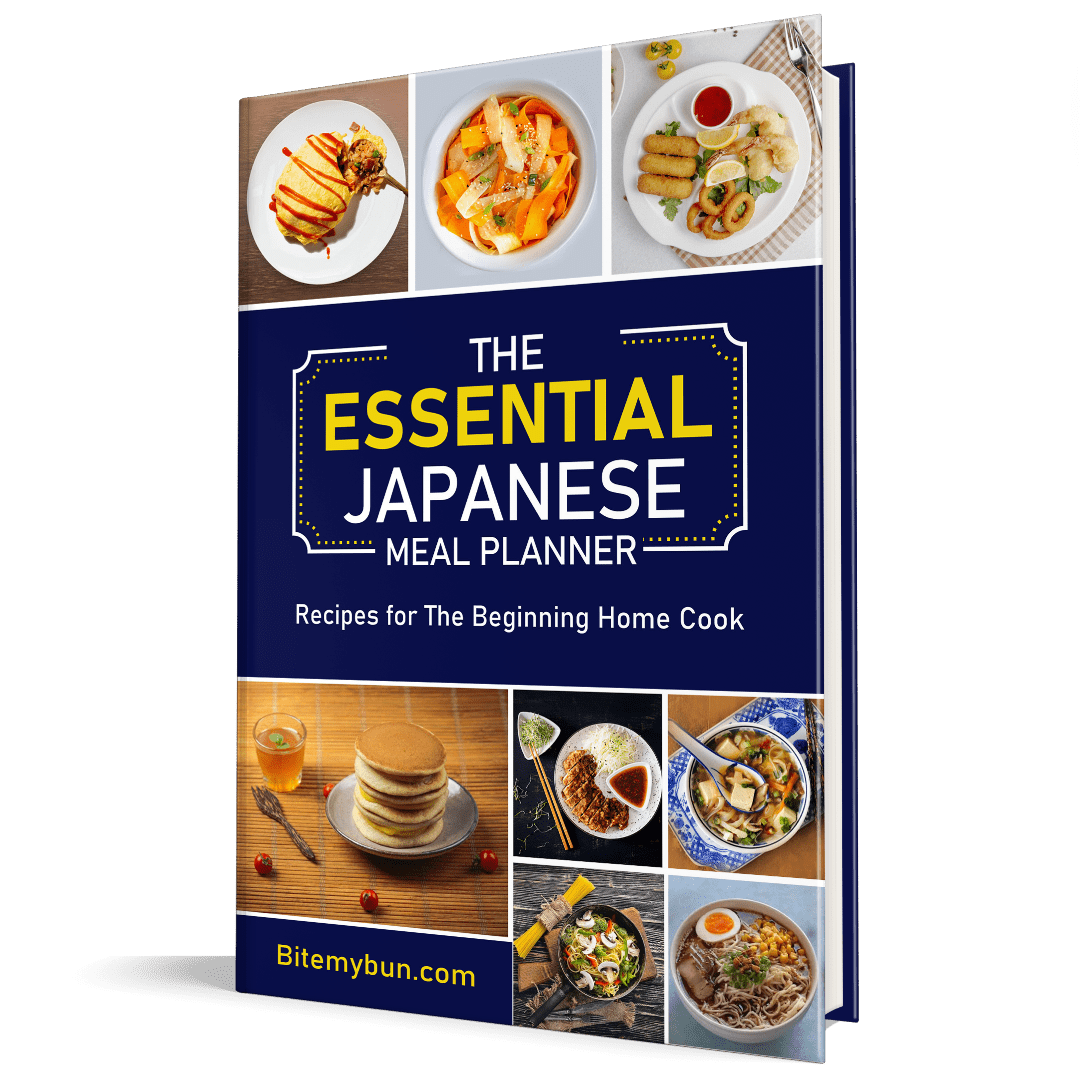 Check out our new cookbook
Bitemybun's family recipes with complete meal planner and recipe guide.
Try it out for free with Kindle Unlimited:
Read for free
Joost Nusselder, the founder of Bite My Bun is a content marketer, dad and loves trying out new food with Japanese food at the heart of his passion, and together with his team he's been creating in-depth blog articles since 2016 to help loyal readers with recipes and cooking tips.