I love creating free content full of tips for my readers, you. I don't accept paid sponsorships, my opinion is my own, but if you find my recommendations helpful and you end up buying something you like through one of my links, I could earn a commission at no extra cost to you.
Learn more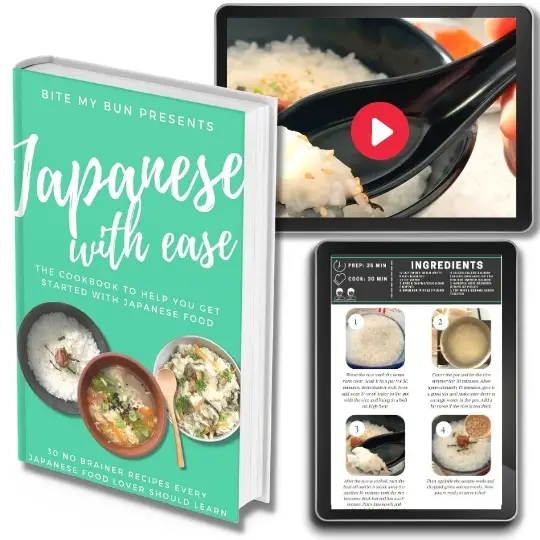 Ever had trouble finding Japanese recipes that were easy to make?
We now have "cooking Japanese with ease", our full recipe book and video course with step-by-step tutorials on your favorite recipes.
The santoku knife is one of the most versatile Japanese kitchen knives, loved by chefs and home cooks alike.
Some people mistake the santoku knife with a chef's knife, and though they look a bit similar, they are different kitchen knives.
Compared to your regular Western chef's knives, the santokus have a thinner blade and they are smaller. So, which one is best?
For everyday cutting, slicing, and dicing, you can't go wrong with the 7-inch Dalstrong Santoku Knife, because it has ridged edges, a super sharp blade, and it's made for precision cutting. It's a budget-friendly knife, perfect for chopping veggies, slicing fish, and cutting up meat.
With a santoku knife, you can cut up veggies for a tasty salad, fillet fish for sushi, cut up meat for a BBQ and so much more, you must have one in the kitchen, trust me!
But, there are other knives worth trying too, since this kind of Japanese blade can replace a host of other chef's knives.
Let's look at my top picks and then I'll review each recommendation in detail down below.
What is a santoku knife?
Santoku (三徳包丁), translated as "three virtues," in Japanese, is one of the most popular knives in Japanese restaurants as well as household kitchens.
The knife is used for chopping, dicing, and mincing all kinds of foods.
It has a slightly curved shape in the spine and a wide sheepsfoot thin blade with no tip. This means you can cut, slice, and mince anything with smooth moves.
The knife has a very thin blade and a small angle, and a steep bevel, making it extra sharp. It's also small and lightweight, which is why many people love it.
With its seamless design, it's simple to adjust your grip and move your hand along the handle.
What about the blade?
As with most Japanese knives, the santoku has a thinner blade than the Western chef's knife, so it's better suited for precise, exact cuts.
Many of the designs feature a Granton edge which means it has small scallops on the blade, and it helps prevent food from sticking to it.
Also, the santoku knife can have a single or double bevel blade, and it is well-balanced and lightweight, so using it is super easy.
Traditional santoku knives are single bevel and require a special cutting technique when using them, but modern ones are a bit easier to maneuver.
However, it's best to familiarize yourself with the santoku knife technique:
Santoku knife buyer's guide
There are a few aspects and features you should consider before buying a santoku knife.
While we all have different preferences and needs, a good quality knife will have the following characteristics.
Here's what to look for:
Sharpness
Santoku knives are known for their extremely sharp blades. As soon as you take the knife out of its box, it should be razor-sharp.
If the knife is sharp from the beginning it will save you time and effort and you won't have to sharpen it for a couple of months.
Thin blade
An authentic santoku knife has a very thin blade that's sharpened at an acute angle between 15-20 degrees.
This specific thin blade makes santoku knives special and helps you cut through the skin of veggies, fruits, and all meat varieties.
Also, a paper-thin blade will help you slice the perfect onion slices for your burger or shiitake mushrooms for miso soup.
I also want to mention that a santoku knife blade has hollow edges (Granton edge). So, the blade has small dents or dimples which prevent food from sticking to the surface.
Strong material
The blade should be made of high-quality stainless steel. High-carbon steel or high-carbon stainless steel is the best choice.
This ensures the blades don't chip or break. Thin Japanese blades are more prone to breakage but if they're made of a strong metal they will last a long time.
Since a santoku blade is not flexible, it needs a very sturdy blade because it's tough and made well.
Lightweight
An authentic santoku knife is lightweight and comfy to hold in your hands. The knife was designed for smaller hands, but these days the handle is very comfortable to hold and it's a deft kitchen tool.
It's also compact and not nearly as heavy as a classic chef's knife. The whole point is that the knife should be smaller so you can make quick, precise cuts.
Balance
The thing about balance is that how balanced the knife feels in your hand depends on your body, the size of your hands, and also the exact build of the knife.
The bolster is a band that joins the handle and the blade and it influences the balance of the knife.
One thing to note is that the santoku should be comfy to hold and it should feel balanced in your hand. This means that the weight should be just perfect for you to rest the knife in your hand.
A santoku knife doesn't HAVE to be balanced though, and it will still make excellent cuts.
Price
Santoku is not as much of a specialty Japanese knife as the usuba, for example. So, while it can be pricey, it shouldn't exceed $150-200.
That's the price of premium knives. Since it's similar to a chef's knife and it's multipurpose, a cheaper one does a fine job and there's no need for a huge investment.
Best santoku knives reviewed
Now let's look at my top picks when it comes to santoku knives. I'll show you different options, so you can see what choices there are.
Best santoku knife overall: DALSTRONG Shadow Black Series
Blade length: 7 inches
Blade material: titanium & high-carbon steel
Handle: fiber-resin
When you want a heavy-duty knife that won't let you down, you need a tough blade, military-grade handle, and the perfect edge.
At first glance, this DALSTRONG looks like a high-tech fancy knife, but it's actually one of the best titanium blade santoku knives out there.
It has a very sleek and modern design compared to the other knives on this list.
But, it offers exceptional cutting, slicing, dicing, and mincing performance, even on hard meat and vegetables. So, it's definitely the best overall and the good news is that it's affordable too!
the blade is crafted using the Honbazuke method, so the angle is 15 degrees per side and the edge is sharp as a scalpel.
a cool feature is that it's nitrogen cooled and this makes the blade slightly flexible and less prone to breakage. Since you get a bit of flexibility, you also gain the benefits of a Western chef's knife.
it has a titanium coating which makes the knife even more rust and corrosion-resistant than the others.
the handle is made of fiber-resin, so you can imagine how durable and long-lasting it is. It's not the type of handle that will break down anytime soon.
the handle shape is also unique because it's a bit narrower at the top so you can get a firmer grip and the knife won't slip.
this is the kind of edge that retains its sharpness and its shape for a longer period so you have to sharpen it less often.
Honestly, there's not much lacking with this knife. It's got the Granton, a gorgeous black titanium blade, a sleek design, and it's easy to hold and maneuver.
Therefore, it ticks off all the boxes when it comes to a great santoku knife at a reasonable price.
Most comfortable to use santoku knife: Tojiro DP
Blade length: 6.7 inches
Blade material: stainless steel
Handle: pakkawood
The Tojiro DP Santoku is one of the best value for your money knives out there.
It is an excellent knife with an even edge that both lefties and righties can use comfortably. It's not a cheap knife and you can tell as soon as you see the craftsmanship.
This knife is slightly heavier but that makes it more balanced. So, you can cut very fast with it thanks to the double bevel and sharp stainless steel blade.
It's light on the wrists, doesn't hurt your hands, and it's great for a restaurant kitchen.
cuts through fish, chicken, and hard legumes instantly and problem-free.
it's pretty much a premium knife at a lower price.
the knife's blade is stain and rust-resistant.
doesn't have the typical asymmetrical geometry, therefore it is easier to sharpen at home.
very well balanced and it has an especially comfy grip on the right hand.
the slicing-edge is comparable to a chef's knife, so it's great for all-purpose food cutting, slicing, and dicing.
when you use it for slicing, it's very easy on the wrist because it is lightweight.
Overall, my impression is that the Tojiro is one of the best value-for-money knives you can buy. It has a classic Japanese design, a super sharp blade, and it doesn't tire out your hands and wrists.
So, if you're in need of a knife for your restaurant, the Tojiro should be a top choice.
Dalstrong vs Tojiro
These two knives are comparable because they offer similar cutting results and they are in the same price range. You can't go wrong with either but there are a few notable differences.
First, the Dalstrong design is very unique and the knife is made of titanium compared to the stainless steel Tojiro. This makes the Dalstrong blade more durable but also a bit flexible, which is less common in traditional Japanese cutlery.
So, if you're looking for maneuverability of a classic Japanese blade, the Tojiro might be more to your liking.
Second, the Tojiro doesn't have the Granton (dimples) in the blade so the food might stick to the blade as you chop away.
The Dalstrong has very visible and defined dimples and offers a smoother glide and smoother, more precise cut. It all comes down to personal preference.
Finally, the Tojiro knife is a bit smaller than the Dalstrong so it's better for people with small hands.
But overall, the performance of both is similar. You get a comfy handle grip with each so cutting is pretty safe.
Best budget santoku knife: Mercer Culinary Genesis
Blade length: 7 inches
Blade material: VG-10 steel
Handle: Santoprene
If you're just dabbling into the world of Japanese specialty cutlery, you can start with a more affordable option and see how you like it.
Mercer makes great budget and mid-level knives, including this 7-inch Santoku knife. Made of high carbon steel, it can compete with other more expensive santokus.
Considering that it has a strong, durable blade, this knife is still budget-friendly and does a great job at cutting through food.
What makes this knife stand out is the non-slip Santoprene handle which makes it easy to hold, even with wet hands.
the handle is textured and made of a plastic and rubber composite so it's non-slip and easy to grip.
it has a taper-ground edge which doesn't let the blade get dull very quickly and maintains sharpness for longer.
has hollow-ground divots to prevent food from sticking onto the blade.
made of high-carbon forged steel which is rust-resistant.
sharp and the blade is durable and not easily prone to breaking.
great knife for beginners too because it's versatile.
the blade is a bit longer than other knives but it's still lightweight.
Overall, it's a great budget knife that's still good quality and has all the features of a Japanese santoku.
Since it's well balanced, it's safe to use and that textured handle really makes a difference because it offers stability when you cut.
Best santoku knife for gifting: Imarku 7 inch
Blade length: 7 inches
Blade material: stainless steel
Handle: pakkawood
For those who love to cook but don't own any Japanese knife sets, then a budget-friendly option like the Imarku is a great trial product.
If you gift this to home cooks, they'll be impressed at how easy it becomes to cut, slice, dice, and chop vegetables and meat.
Since it's an all-purpose knife they can use it for even more tasks like slicing bread, making sushi, and cutting up dried fruit. It's a great gift for yourself or your partner too!
the knife is made with a stainless steel blade, and a pakkawood handle, like the more expensive products.
it has a very sharp edge that rivals other premium blades.
the professionally polished blade gives it a nice aesthetic and it looks more expensive than it is.
the blade is 2.5 mm thick, which is excellent for slicing chicken, filleting fish, and dicing veggies.
15-18 degree angles on the sides so it's really sharp and precise.
the ergonomic design makes this knife well-balanced and it doesn't add pressure to strain your wrists.
the handle is pretty easy to grip although it's not quite as slip-proof as other models.
comes with a beautiful, elegant black gift box.
both lefties and righties can use the knife.
My overall opinion on this knife is that it offers lots of value for an affordable price. It's a great knife for beginners too because it has a classic Santoku design but the balance and lightweight material make it easy to maneuver.
So, if you think someone lacks this type of handy knife in their collection, this one is a good choice.
Mercer vs Imarku
These are both budget-friendly Santoku knives best suited for home use. Since they are both less than $50, they are good value purchases. There are some differences though that I want to talk about.
First, the handles. The Mercer knife has a Santoprene handle, which is a type of rubber-like plastic. It offers a superior grip and won't slip from your hands while you cut.
This handle makes the Mercer knife more ergonomic and more comfortable to hold compared to the Imarku.
Also, the Mercer blade is made of high-quality carbon steel that's really durable and tough so it won't get dull so soon.
The Imarku stainless steel blade is really good too so there's nothing to worry about but you might have to sharpen it once it's out of the box since it's not quite as sharp as the Mercer.
When it comes to balance and stability, the Imaru knife is excellent and it's great for smaller hands too.
Best mid-priced santoku knife: J.A. HENCKELS Classic Hollow Edge
Blade length: 7 inches
Blade material: carbon steel
Handle: stainless steel
If you don't mind trying a European-made Japanese-style knife, then the J. A Henckels Hollow Edge Santoku will surprise you. It's very similar and comparable to all made-in-Japan knives.
With a stainless steel blade and forged construction, it's the type of long-lasting kitchen knife that is great for everyday use.
It will replace your other knives and because it's so finely honed, you don't have to worry about sharpness for a while.
The biggest advantage of this particular tool is that it is dishwasher-safe, which is quite rare for a Santoku knife.
easy to clean and dishwasher safe.
it has a triple rivet handle which makes it easy to hold and won't slip from your hands.
the blade is tough and cuts through potatoes, carrots, and even radishes or hard legumes with one swipe.
the knife has a smooth finish and the classic blade indents that stop food from sticking to the blade.
this is a very sharp blade and well balanced since it's forged.
is suitable for use by people with arthritis because it's lightweight and balanced so you don't need to exert lots of pressure to slice and cut food.
can cut hard vegetables like squash.
This is the kind of kitchen knife that does it all. The one downside is that even though it's made of stainless steel, the blade can rust if you keep washing it in the dishwasher.
But other than that, it's a well-priced santoku with the classic features of a thin vegetable and meat knife.
(view more images)
Blade length: 6.5 inches
Blade material: alloy steel
Handle: pakkawood
The Mac MSK-65 is an excellent high-quality knife, that's made in Japan. It's definitely worth the money because it has a razor-sharp 2.5 mm blade that makes slicing any food a breeze.
The knife is easy to use, and like a chef's knife, it will cut up basically anything you need, from filleting fish for sushi, to cutting up a whole chicken, and of course, slicing veggies into thin strips.
hollow ground Granton reduces the drag you can experience during slicing and food doesn't stick to the blade.
slices through meat more easily compared to similar Western knives. It's especially great for fish and chicken.
made of sub-tempered steel which is more durable than regular steel.
has a very sharp edge and a 6.5″ blade.
the handle is made from a composite of plastic and wood (pakkawood) so it offers a comfy grip.
it has 50/50 geometry which makes it usable by righties and lefties.
easy to sharpen at home because you don't need to apply the traditional Japanese angles.
This is the kind of knife that will last you many years and you'll find yourself using it to cut almost anything. It can replace a host of other cheap and useless tools.
Check the latest prices here
J.A Henckels vs Mac Knife
One belongs to the luxury category and one is a mid-level knife, so how do they compare?
Well, for starters, they're both great all-purpose thin-blade utensils.
The thing that sets the Mac Knife apart is its superior craftsmanship. When you hold the knife in your hands, you can see the perfect and smooth finishes.
The Henckels lacks that overall perfect aspect but in terms of functionality, it's still great.
The Mac Knife handle is a bit better because pakkawood is a durable material and it offers a better grip.
But, many customers rave about how lightweight and easy to hold the Henckels knife is and it's even suitable for people with joint and wrist pain. So, if you're after comfort, the cheaper knife is a smarter option.
Finally, I want to mention that the Mac Knife is made of better material and is more rust-resistant. Because it's made of sub-tempered steel, you get a stronger and more long-lasting blade.
Both knives have indented ridges so they make cutting easy. It's up to you how much you're willing to pay.
Santoku knife FAQs
Here are some answers and additional information about these handy knives.
What is a santoku knife best for?
A santoku knife is a versatile tool because it's used to cut meat, veggies, fruit, and seafood with ease. But the main advantage of this type of knife is that it is extremely sharp.
Thus, it's great for fine cuts, slicing, and chopping. If you know something about Japanese cuisine, you'll know the foods are usually finely chopped.
The santoku knife is commonly used for sushi and cutting or slicing fish and other fresh ingredients. Since you can cut precisely, it's best for paper-thin cutting of all Japanese foods.
The food doesn't stick to the blade, so you don't have to stop to move the food while you cut.
Here's what to use it for in summary:
cut up the meat into fine pieces
mince meat
cut, slice, and dice vegetables
cut nuts
slice fish
slice seafood
What not to use it for:
peeling vegetables and fruit
cut bones
boning whole chickens
For boning knives, check out my review on the best honesuki Japanese boning knives
Santoku knife technique
So, is using a santoku knife just the same as a regular Western-style chef's knife?
Well, not really. The santoku knife technique is not the same. The knife has a different shape compared to a chef's knife which has a curved blade.
With most Western knives, the blade can rest atop the cutting board and then you rock it as you cut. The santoku is flat and the lack of curve means you can't move it back and forth in a rocking motion on the chopping board.
Here's what happens with the santoku knife:
The santoku knife doesn't meet the cutting board while you cut, and instead only touches at the end of the cut. So, you must use more wrist action than with a regular knife.
The motion is rather simple: push down and then forward and when you finish the cut, the knife touches the board. Lift up and repeat the cut.
At first, the wrist action may seem more intense, but it gets easier as you practice cutting. But, the benefits are quite evident as your cuts will be more precise, finer, and more efficient.
What size santoku knife is best?
It's best to stick to the classic knife and blade size. The Japenese have proved these knives are very efficient and great to use in the kitchen.
Thus the ideal blade size is 14 cm or 5.5 inches.
5.5″ is Japan's standard santoku knife blade size because it's small and sharp. Manufacturers often sell a larger-sized santoku, but these are less ideal to use.
The width of the blade and compact shape and size makes the 5.5″ blade the best for everyday use. Thus, this size makes the knife special!
But, you can buy a santoku knife with a size between 5-8 inches.
Where does the Santoku knife originate?
The Santoku is not an ancient Japanese knife, contrary to popular belief.
It was first designed and developed in the mid-twentieth century, sometime in the 1940s, for home cooks looking for a heavy-duty, multipurpose knife.
As I mentioned before, the name translates to 'the three virtues' which can refer to three ways of using the knife: for slicing, dicing, and chopping.
Or, it can refer to three types of foods you can cut with it, including meat, fish, and vegetables. Either way, the knife is versatile and good for cutting pretty much any food.
The cool thing about this knife is that it was made using traditional Japanese forging techniques that are also used to make katana swords.
Since the average person didn't really want to invest in a whole knife collection, the santoku replaced other Japanese knives including Naikiri vegetable knives, the Gyuto for meat, and the Deba fish knife.
How do you care for and sharpen a santoku knife?
The main thing to note is that a santoku knife must be hand washed only, so keep it away from the dishwasher.
Santoku knives are sensitive to acid, moisture, and salt. Also, you should not use this knife to cut through frozen foods as the blade can chip.
After using the knife, it's important that you wash the food off immediately with warm or hot water. Then wipe it clean with a kitchen towel or paper towel until it's completely dry.
After drying it, every once in a while, you can spray the knife with some vegetable oil. The oil helps create a barrier so the knife doesn't rust.
A good practice is not to keep the santoku in the knife stand for too long or it can become rusty and the handle can get damaged.
Sharpening
Knife maintenance requires occasional sharpening. When you use the santoku for cooking on an almost daily basis, the blade can get dull and it will lose its sharpness.
But don't worry, you can sharpen it about once every couple of months and it will be as sharp as when you bought it.
You need a whetstone, like the KERYE Professional Japanese Whetstone Sharpener Stone Set. It's good for sharpening all types of Japanese cutlery.
But then again, it works for a chef's knife too as well as other Western-style knives.
Here's how to use a kit like this to sharpen your santoku knive:
Do chefs use a Santoku knife?
There is some confusion about a santoku knife vs a chef's knife. I'll admit they're similar but chefs actually use BOTH types of knives.
The santoku is a multipurpose knife so it's very handy and useful for chefs working in busy restaurant kitchens.
So, yes a chef gets lots of use out of this knife, especially when cooking Asian cuisine.
You'll notice chefs using other knives, like an Hibachi chef's knive, for cutting large cuts of meat but then switching to the santoku for fish and veggies.
The knife's steep beveling makes it extra sharp compared to your regular American or European knives.
Takeaway
Whether you're a professional chef or a curious home cook, this Japanese knife style will make cutting any food easier. Forget about the heavy-weight knife with the super pointed tip and try a Santoku instead.
You'll be glad that you try it because of the unique angle sharpening which makes a Santoku very sharp.
If you prefer something easy to hold, and lightweight for cutting tasks, the super-stylish Dalstrong knife can end your search for the perfect multi-use knife.
Next time you're cutting meat, you'll realize it's well suited for chicken, pork, and fish. But, if you're vegan, you'll also be using it for slicing veggies for delicious salads and stir-fries no doubt!
Why not try your new santoku knife cutting the vegetables for this delicious & healthy Yasai Itame Japanese stir-fry vegetables recipe?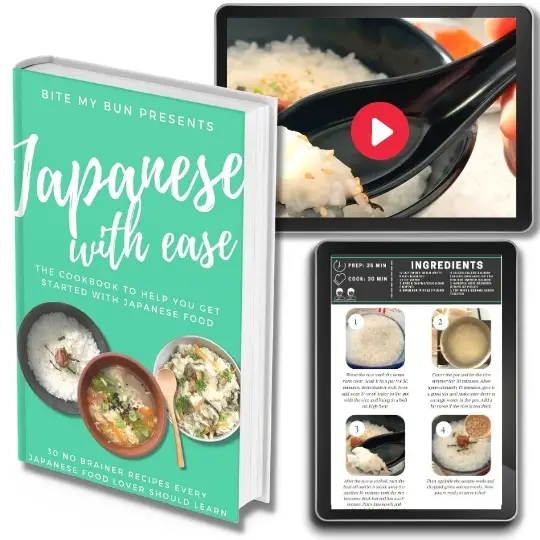 Ever had trouble finding Japanese recipes that were easy to make?
We now have "cooking Japanese with ease", our full recipe book and video course with step-by-step tutorials on your favorite recipes.
Joost Nusselder, the founder of Bite My Bun is a content marketer, dad and loves trying out new food with Japanese food at the heart of his passion, and together with his team he's been creating in-depth blog articles since 2016 to help loyal readers with recipes and cooking tips.