I love creating free content full of tips for my readers, you. I don't accept paid sponsorships, my opinion is my own, but if you find my recommendations helpful and you end up buying something you like through one of my links, I could earn a commission at no extra cost to you.
Learn more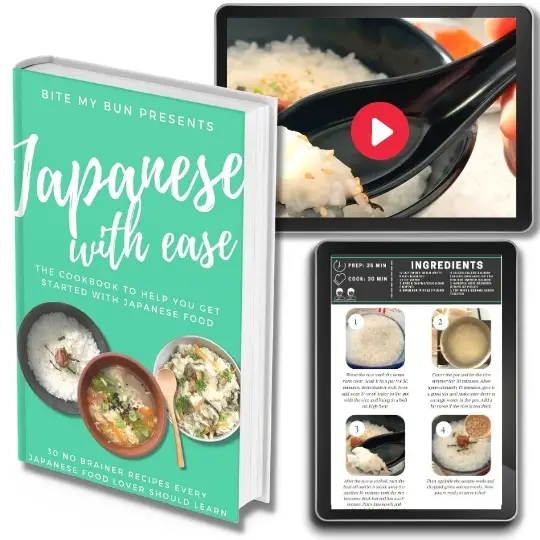 Ever had trouble finding Japanese recipes that were easy to make?
We now have "cooking Japanese with ease", our full recipe book and video course with step-by-step tutorials on your favorite recipes.
Sushi has become a popular dish not only in Japan but also in the U.S, U.K, and Australia.
This meal originated from paddy rice fields in Asia where people would ferment fish using rice vinegar, rice, and salt.
How many people spend their hard-earned dollars enjoying the narezushi (sushi) in restaurants? Yet sushi is a dish that you can make within the comfort of your home.
You can enjoy this meal with your friends and family members without spending a dime at a restaurant.
Best sushi making kits reviewed
If you are a sushi lover and have nothing to be thankful for this year, then be thankful for the Sushi making Kit. We have listed the best sushi making kits in the market below.
Most complete sushi making kit: Original AYA
AYA is the original Japanese brand to enter the U.S market. This Kit is the top crème del a crème in the market. It tops the ranks as an ideal kit that would turn any amateur to a sushi-making chef.
The kit comes with 11 pieces in total. These pieces are different sizes and shapes for your sushi (round, square, heart, triangle, etc.). As a result, you can create sushi rolls of different forms and present them to your guests or family members.
The good news is that even kids can use this kit. There are youtube video tutorials that will help you understand how to use the kit. If you are a parent, asking your kids to help out can be a great way to spend time with them and have fun in the kitchen.
The AYA kit comes with a non-stick rice spreader and a chef knife. The non-stick spreader helps you maintain the quality of your freshly made dish. The chef knife, on the other hand, helps you dissect the pieces of sushi with ease.
The kit is dishwasher friendly, so you don't have to struggle with cleaning it up. The material used to make the kit is BPA free and FDA approved.
Notable features:
AYA is the only brand that offers complimentary online video tutorials – are you disappointed with e-books? Then don't worry anymore as your AYA has taken care of your worries. With her exclusive video tutorials, AYA shares her favorite tips and walks you step-by-step to make professional, mouth-watering sushi!
Allows you to equally divide your sushi rolls – This isn't just a sushi kit, this is an experience! The Sushi Maker Deluxe can be enjoyed by kids and parents alike to quickly make gorgeous, fresh and exquisite rolls. Become a sushi chef, and share some family laughs while enjoying this truly unique sushi party!
Comes with a lifetime warranty – Should you rate your Sushi Maker Deluxe experience any less than 5 stars, you will get a full refund for your purchase.
AYA'S sushi chef knife completes your 11 piece set – Create sushi rolls of all sizes and shapes. Make heart-shaped rolls and dream up your wildest combination of fresh, delectable and colorful ingredients.
Dishwasher safe – BPA free – FDA approved – Say goodbye to the old and dusty rolling mats that are hard to clean and impossible to use. The Sushi Maker Deluxe is washed in a dash. Manufactured using durable materials, your Sushi Maker Deluxe stays clean and will last you a lifetime.
Best Sushi Bazooka: Sushedo
The Sushi Bazooka is one of the most popular products from Sushedo. The kit lives up to its huge name (bazooka) as it makes sushi preparation fun.
The kit consists of 3 major pieces. They include an endcap, a sushi tube, and a plunger.
Although they are only 3, these pieces make up a stylish design that is easy to use. On the downside, though the plastic design of the kit makes it unappealing. Also, its hinges make it difficult to close the kit properly.
The sushi bazooka consists of the main tube piece where you place your sushi rolls. The tube is 2.5 inches wide and 12 inches long. This means that you will have to put in a lot of stuffing for the kit to work.
If you are looking for a kit that will help you make small sushi pieces, then this kit is not your best option. Alternatively, if you enjoy big (bazooka like) sushi, then this is your best bet.
First, stuff the tube up with rice followed with your preferred stuffing. When you hurl the rice into the tube it will land onto a nori sheet. Once you are done with your cooking, place the kit into the dishwasher. You're done.
Your kids can use this kit safely without any fear of harm. The kit has no sharp edges. The kit is not only affordable but also comes in a package that is 100% recyclable.
Notable features:
This equipment gives you an easy and fun way to make sushi at home – With this Sushi Making Kit It`s really easy, fun and safe. No small parts, no sharp edges.
Easy to clean and dishwasher safe – the sushi bazooka packing is made of 100% recyclable craft cardboard.
Sushi bazooka is a great gift idea! – Everyone has that moment with struggling to pick a gift. Sushi Maker Machine – Here is a solution!
Don't worry if you have never made sushi at home before! – The kit comes with DIY Sushi Rolls making kit will help you to do that nice and easy!
Save your time and save your money – With sushezi Japanese sushi maker, you don't need to go to the restaurant anymore.
Check out prices and availability here
Most easy to use Sushi Roller for beginners: EasySushi 8507
The Easy Sushi 8507 is another top-ranking sushi making kit in the market. The product has a lot of positive reviews from customers due to its functionality and convenience.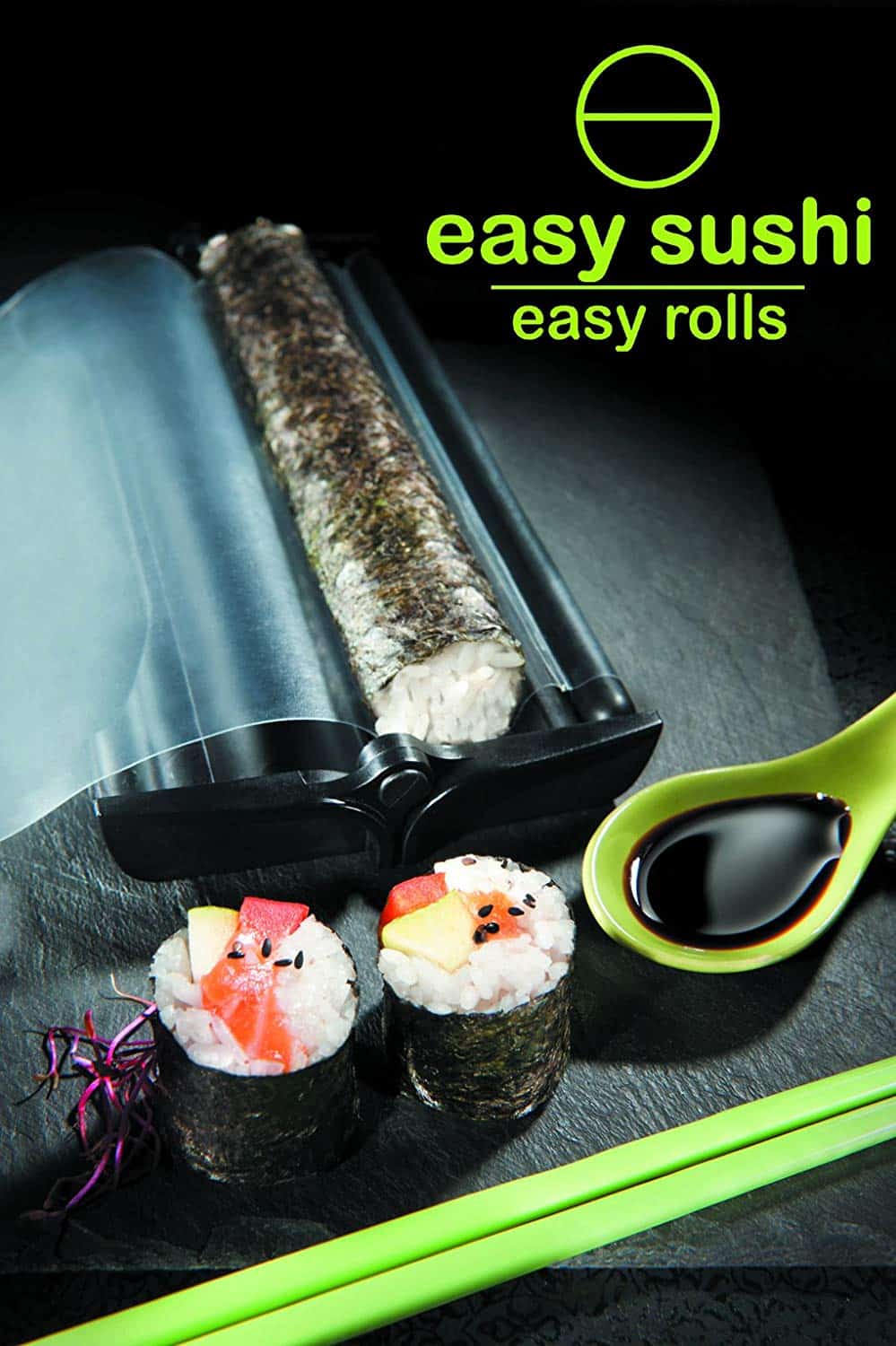 Unlike most of the kits listed here, this kit is manufactured in France. It entered the market back in 2014.
The kit has an unconventional yet simplistic design. It comes with perfectly cut pieces that make any user feel like a professional chef. The kit is made from a food-grade plastic material. As a result, even kids can use this kit without the fear of being cut.
The Easy Sushi 8507 is a patented and award-winning product of easy sushi. The plastic material means that the food prepared does not get harmed in any way.
The sushi roller is 3.5 cm/1.4 inches in diameter and 24 cm/9.5 inches in length (hmmm, how much sushi is in a roll like that?). This means that your sushi will have a standard breadth. Furthermore, the kit is easy to clean up as you can place it in the dishwasher after use.
The kit also comes with a reusable traction sheet. You can wash the sheet with non-abrasive products. You can also replace it when necessary.
Aside from sushi, you can use the kit to make other dishes. You can make rice paper, crepes, tortillas and other different wraps.
Amaze your guests and friends with the advantages of the kit but keep the secret to yourself!
Notable Features:
Easy Sushi roller dimensions: 3.5 cm/1.4 inch Diameter, Length: 24cm/9.5 inches; 1 Roller and 1 Traction Sheet included; Made in France
Easy Sushi creates tight professional-looking rolls in minutes; For the novice to connoisseur, Easy Sushi is durable, hygienic, safe, easy to use
Made from food-grade plastic in France; The dishwasher safe roller cleans quickly & easily; The reusable traction sheet can be replaced when required
Traction sheet to be hand-washed with non-abrasive cleaning products
Easy Sushi works with many different wraps, rice paper, crepes, tortillas, and even leaf wraps
Check out the latest prices here
Best sushi kit for shapes: Zen Formosa
The Zen Formosa Sushi making kit is one of the best kits in the market. The kit comes with unique features.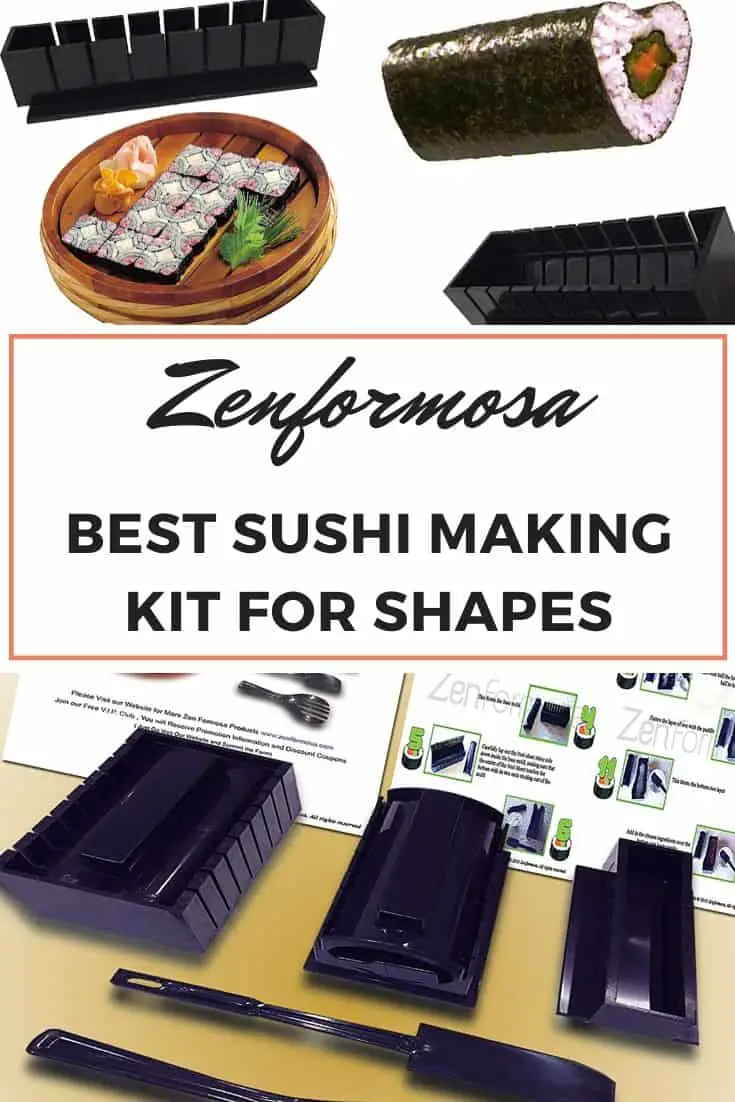 First, it contains five kinds of molds. This means you can use the kit to create various sushi designs, for instance, small square, circle, triangle, and heart-shaped sushi.
Secondly, the kit comes with a training frame. The frame is a great addition for beginners as it will help you put in the right portion of rice onto the nori sheet.
Most beginners tend to make the mistake of putting in too much or too little rice when making sushi.
The Formosa kit comes with a non-stick rice paddle. You will use this tool to evenly spread out the rice along the training frame. This advantage will help you have sufficient time to prepare your favorite fillings rather than focusing on the rice.
Feel free to experiment with the fillings, for instance, using avocado, shrimp, cucumber, etc. However, try to control the portions as too many fillings may not fit into the kit.
After you have prepared your desired filling, place the roll in the preferred mold. Then, cut the sushi evenly using a knife. Here's another idea, use the kit to make inverted sushi. Although the kit was not designed for this experiment, there is no harm in trying.
The pieces of the kit are made of sturdy plastic. The kit is affordable and dishwasher friendly. It also comes with an instruction booklet with colorful pictures that will guide you in the sushi preparation.
Notable Features:
Amazing tool for making sushi at home – this tool will give you an easy way to make sushi! Easy for the whole family to use. This kit lets you satisfy your cravings for sushi while also letting you experiment with new food preparation techniques in the kitchen.
It comes with instructions on how to make sushi – the tool comes complete with a training frame, non-stick paddle, and the Sushi Roll Cutter. All you provide are the fresh ingredients for filling, such as avocado, crabmeat, fresh cucumber, shrimp, or whatever suits your taste!
Perfect frame design to make five different shapes of sushi plus clear instruction booklet to show you how to use the different style, sushi maker. The combination of equipment in this set will eliminate all frustration when making your own rolls.
Big surprise gift for your friends who love Japanese sushi – You will be able to make all of the popular shapes of sushi utilizing specially designed molds With the rise in living standards, more and more people are becoming health conscious and are beginning to pay more attention to what they eat.
This is an amazing tool to make you become a Sushi Master – prepare for a perfect amazing holiday party! For this reason, Japanese food is becoming increasingly more popular because it is light and healthy, utilizes fresh ingredients, and contains virtually no fats or oils. Sushi is by far the most popular of these foods and is now widely enjoyed by all types of people.
Best family sushi making kit: Sushiquik
The Sushiquik Super Easy Sushi Making Kit is a popular brand with a lot of positive consumer reviews. The kit contains a total of 7 pieces that include a non-stick paddle, a roll cutter, a training frame, a rolling mat, a horizontal stand, and two end caps.
The kit comes with a stand that holds the detachable mat and the training frame. You place the rice onto the nori sheet and use the paddle to evenly spread out the rice. Later, you place your desired fillings on top.
The kit has a roll cutter. This tool is used to cut out even pieces of your dish. You can use the two end caps for serving soya sauce to accompany your sushi. One of the advantages of this kit is that you can use it to make inverted sushi (sushi with rice on the outer side). The kit is also easy to use and highly recommended for beginners.
The kit has beautifully designed pieces that are white and moss green. The paddle has a sleek finish with polka dot design on its green appearance. Also, the entire kit is made from BPA free hard plastic. This means that it is easy to clean and safe for use.
Notable features:
Detachable sushi mat so you can put it in the dishwasher with silverware
Comes complete with training frame, non-stick paddle, and the SushiQuik Roll Cutter
Makes all sushi roll sizes including rolls with rice on the outside.
Easiest and most complete sushi kit on the market.
The kit is dishwasher friendly and affordable. So you have no reason not to make sushi over the weekend.
Check the latest prices and availability here
Best quality bamboo sushi making kit: Delamu
This sushi making kit comes with 2 handcrafted 100% bamboo rolling mats, a rice spreader, 5 pairs of chopsticks, a beginner's manual, and a paddle.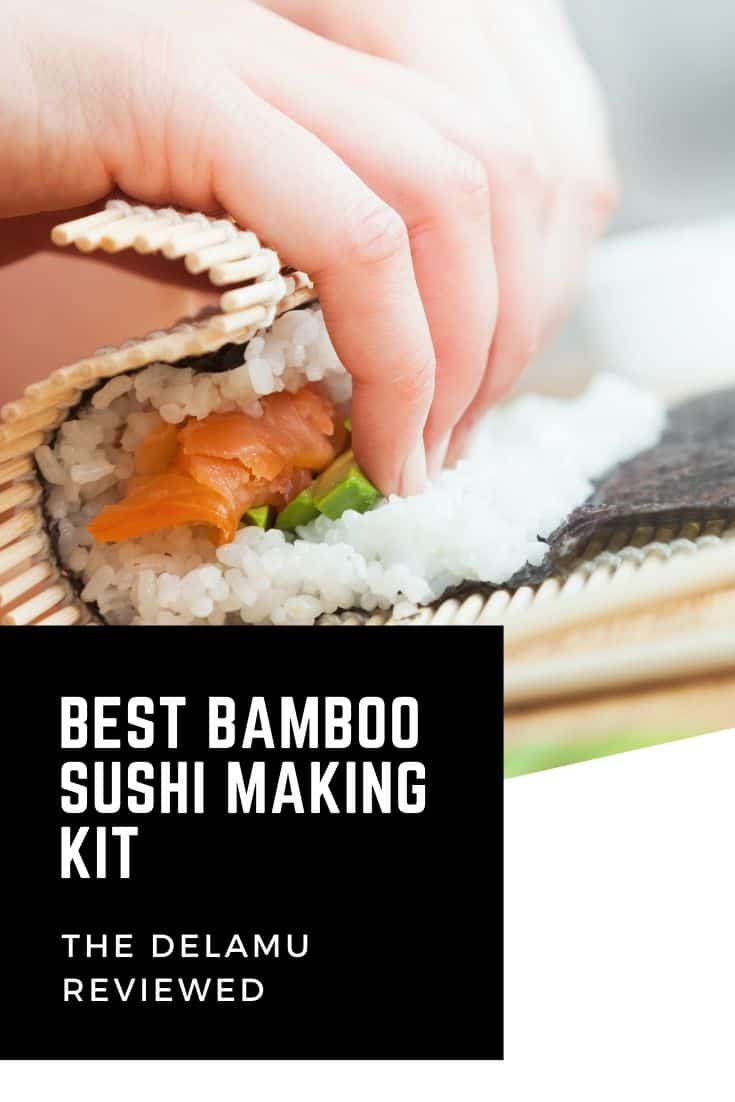 The beginner's guide contains some great recipe ideas that you can try out in the kitchen. These recipes are a short-cut from amateur to professional chefs. The kit is a fun tool for beginners and the entire family.
Notable features:
A free beginner's Guide (in PDF format) – The beginner's guide will be emailed to you once you purchase the kit. The guide contains easy to follow step-by-step instructions that beginners and first-timers can easily follow. In addition to this, the guide comes with 6 easy recipes that you can make in your home.
Natural bamboo material – Bamboo material is beneficial when making sushi. This material helps your meal to preserve its moisture, flavor, and taste. The bamboo material that comes with the kit is top quality and has a perfect finish.
Highly Detailed – The kit comes with highly detailed tools, for instance, the chopsticks have an exotic design. The aesthetic appeal of the entire kit makes sushi making and eating fun and memorable experience.
Complete kit – This kit is the best complete set for beginners. It comes with 5 pairs of chopsticks, rice spreader, 2 sushi rolling mats, and 1 rice paddle.
100% money guarantee back offer: You can purchase this kit with confidence as every purchase is backed with a 100% money guarantee offer. Each package is sealed in zip lock bags.
Sushi kit making guide: 10 easy steps
Step One
Reach out to your top five sushi-loving, adventurous friends. Your aim here is to assemble a team of sushi lovers who will help you prepare and enjoy a sizeable army of sushi rolls.
A preferred number of sushi enthusiasts is about four to eight people (plus you of course).
Also read: these are all the types of sushi, american or Japanese
Step Two
Come up with a potluck shopping list. Note down your own diet preferences as well as that of your friends. You can easily throw a party that is vegan, vegetarian, gluten-free, or fully cooked. Bear in mind that a little goes a long way in sushi making.
As a result, opt for about six to ten ingredients along with a few condiments for each party. Don't overspend, you can always purchase other ingredients for your next party.

Some of the main features at a sushi party are:
Fish
Crab Sticks
Salmon, tuna, or yellowtail (sushi grade)
Unagi (eel)
Red Snapper (Tai)
Saba (Mackerel)
Raw shrimp (for tempura)
Cooked lump crabmeat
It is 100% absolutely important that you opt for fish that is sushi grade. Any type of fish other than that can make you really, really, sick
Also read: do you know this sushi eel recipe?
Veggies
Asparagus (blanched or tempura fried)
Mushrooms (either sauteed or marinated in Teriyaki sauce)
Avocado
Cucumber (diced to matchstick size)
Green beans (either tempura-fried or blanched)
Carrots (shredded or diced to matchstick size)
Zucchini
Scallions
Sweet potato
Condiments
Other Staples
Sushi Rice (Find recipe and instructions here)
Sushi Nori (each nori sheet makes about two rolls)
Sushi Extras
Sesame seeds
Tempura batter
Masago (tiny orange fish eggs)
Spicy Mayo (mix ½ kewpie mayo and ½ sriracha)
Eel sauce (boil 1 cup instant dashi with 1/2 cup brown sugar, 1/4 cup soy sauce, and 2 tablespoons wet cornstarch)
Other Extras
Plum wine, beer, or sake
Salad with Ginger Dressing
Step Three
Come up with an Equipment List. Make a list of the basic things that you'll need to make a whole bunch of sushi. You can engage your sushi friends by asking them to bring anything that you don't have in your kitchen.
Equipment for Sushi Party:
Cutting boards (Preferably at least one for every two people)
Mixing bowls
Paper/kitchen towels
Sharp knives (also, at least one for every two people)
Plates and platters to hold the finished rolls and ingredients
A cooking pot for the rice
Chopsticks (enough for the guest)
Soy Sauce
Bamboo Rolling Mats (have one for every cutting board)
Small bowls for water (one bowl for each cutting board)
Optional Equipment that may be helpful for the Sushi Night:
A deep frying pot for tempura
Plastic wrap (for inside-out sushi rolls)
Step Four
Invite your guests. Make sure your invitation includes a potluck shopping list and the equipment list. You guys can call dibs on one or two ingredients each on the list. Your guests can bring extra equipment that they may have in their apartments. It is advisable to get an idea of what each of your guests will be bringing before the sushi night to avoid any inconveniences.
Step Five
Get your kitchen ready. Prep your kitchen by making it clean and clutter-free. You need to make sure everything is prepped, especially if your friends will be helping out with the cooking.
Step Six
Prep the table. Use a big table that is ideal for the number of guests that you have. Set up each cutting board with a small bowl of water, a knife, a rolling mat, condiments, and ingredients. Later, when you finish making sushi, you'll replace the cutting boards for plates and chopsticks.
Step Seven
Set up the ingredients. You can get the rice ready before the guests arrive. Later, cover the rice with a moist kitchen towel. Let your friends help out in preparing the veggies and fish. All the ingredients should be pre-cut into small sizes that you can easily place in the sushi rolls.
Assign a task to each of your guests. To one, the task of chopping the cucumber, to another, the task of frying tempura, or slicing the fish. Make it a team effort so that the work will flow effortlessly
Step Eight
Get it done! Once you have the ingredients on the table, start rolling the sushi. This can be done in a matter of minutes. Later, transfer the rolls to the platters and you guys can marvel at the work well done!
Step Nine
Enjoy your meal! Replace the cutting boards with plates, chopsticks, and soy sauce dishes. Also, serve any extras that you may have like salads or soup.
Step Ten
Clean up the epic mess in the kitchen. You can make this a team effort after enjoying a round of beer.
Also read: this is everything you need to nood about sushi for beginners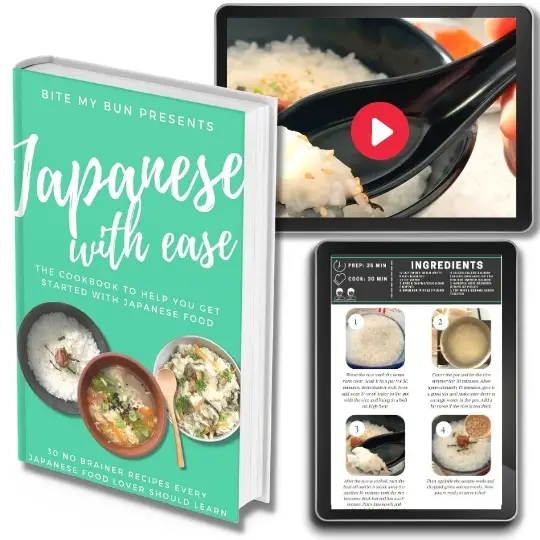 Ever had trouble finding Japanese recipes that were easy to make?
We now have "cooking Japanese with ease", our full recipe book and video course with step-by-step tutorials on your favorite recipes.
Joost Nusselder, the founder of Bite My Bun is a content marketer, dad and loves trying out new food with Japanese food at the heart of his passion, and together with his team he's been creating in-depth blog articles since 2016 to help loyal readers with recipes and cooking tips.