Best takoyaki batter mix | Top 4 to buy + how to make your own
I love creating free content full of tips for my readers, you. I don't accept paid sponsorships, my opinion is my own, but if you find my recommendations helpful and you end up buying something you like through one of my links, I could earn a commission at no extra cost to you.
Learn more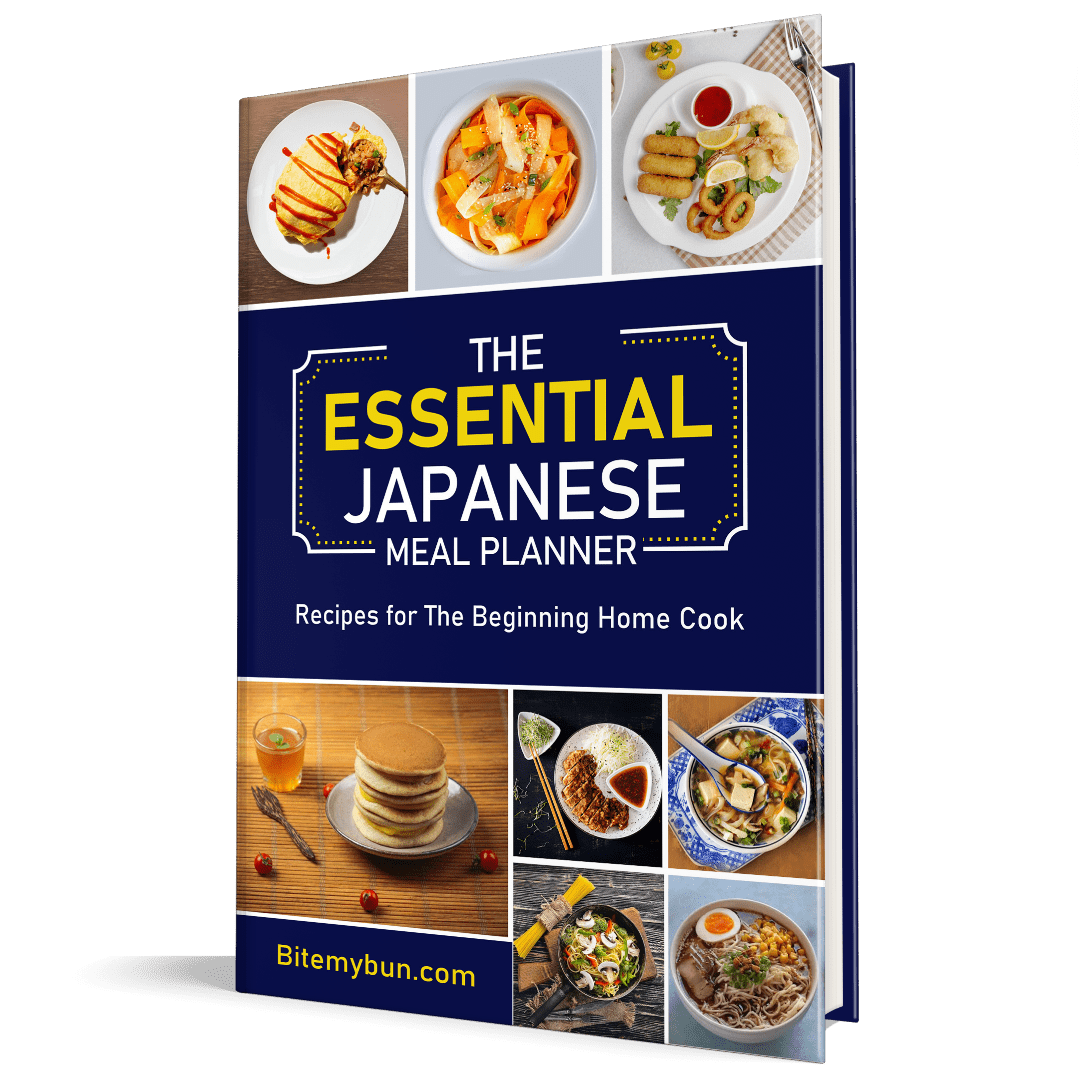 Check out our new cookbook
Bitemybun's family recipes with complete meal planner and recipe guide.
Try it out for free with Kindle Unlimited:
Read for free
When you're craving a comforting Japanese snack, there's nothing quite like a piping hot deep-fried batter ball with a soft octopus filling.
Takoyaki is undoubtedly one of the best umami snacks Japan has to offer. But, making it at home can be a bit time-consuming if you have to do all the work from scratch.
That's why you'll be glad to know that you can buy takoyaki batter mix right from Amazon so you can start cooking the octopus balls in no time. 
The takoyaki flour mix is already pre-mixed and very tasty, so don't be wary of using it if you want authentic restaurant-style takoyaki.
However, if you'd rather make your own takoyaki batter from scratch, that's possible too! I'll tell you exactly how to do it.
Check out the best takoyaki batter mixes in the overview, then read on for full reviews and a great takoyaki batter recipe.
17 Easy Recipes Anyone Can Make
All the tips you'll need to get started in Japanese cooking with, for a limited time, free as our first email: The Complete Japanese With Ease Cookbook.
We'll only use your email address for our newsletter and respect your privacy
Best brands of takoyaki batter mix
Having a pre-packaged takoyaki flour mix for the batter is a real timesaver. I can really recommend the ones above!
Once you have your takoyaki batter mix ready, and a suitable takoyaki pan or takoyaki maker, you can start making takoyaki octopus balls very quickly because the flour for the batter is pre-mixed.
You only have to add water and eggs to make it a runny liquid.
Then, you need to get your takoyaki filling and topping ingredients.
All you need to get the best tasting takoyaki balls is:
You can also check out our delicious takoyaki recipes, and you can use the flour mix you get from Amazon for those too.
Wondering how to make takoyaki without a special takoyaki pan? (hint: it's not easy)
Best takoyaki batter mix overall: Otafuku Takoyaki Flour for Japanese Takoyaki
# of takoyaki balls you can make: 100
Otafuku is Japan's favorite brand of takoyaki batter mix. It's very affordable but super tasty and resembles the flavor of Japanese street food takoyaki.
I would describe the taste of this takoyaki flour mix as "very close" to traditional takoyaki.
It's less dense than the Nissin powder and much fluffier.
One of the challenges of getting the takoyaki batter right is combining the dashi and kombu dashi to achieve a balanced flavor. That's where Otafuku comes to the aid – their takoyaki flour mix is the best on the market because they got the taste right.
The key to the best takoyaki batter is to get the correct proportions of dashi flavor so that it doesn't overpower the flavor of the octopus. But, with this mix, you don't have to add the dashi yourself; it's already in there as powder flavoring.
Customers really enjoy this flour mix for takoyaki balls because there's a blend of fish stock made of bonito flakes and dashi stock, as well as some kombu dashi stock made from seaweed.
This, combined with wheat flour, creates the perfect batter for homemade octopus balls.
The bag of flour mix has a simple takoyaki recipe on it so you can make this tasty snack at home for the family, or you can host a takoyaki party with your friends.
The lovely Me & Kumazawa sisters explain how to use the batter mix:
You can make takoyaki for a large party from this 1 lb bag because there's enough flour mix in there for approximately 100 takoyaki balls.
The flour is manufactured in Los Angeles, USA, and the ingredient list is pretty clean.
Making the batter will be quick and easy, and once it's runny, you can heat up your takoyaki pan or electric takoyaki maker and start frying the octopus balls until they're golden brown.
Overall, this is a tasty mix you can use, and people are impressed because it's much tastier than using plain flour to make your own batter.
Best takoyaki batter mix kit: Otafuku Takoyaki Kit
# of takoyaki balls you can make: 32
Is your family craving some savory snacks? Perhaps you have a couple of people coming over and want to treat them to one of the best Japanese recipes of all time.
The Otafuku takoyaki kit is the best choice if you're cooking for up to 4 people at once and don't plan on making up to 100 octopus balls. It's easy to use because there are English measurements on the packaging.
Although this is called a takoyaki kit, it doesn't include all the ingredients you need. Instead, this is a flour kit for making the batter – it already has the dashi flavor.
It includes flour, a little bit of ginger, some seaweed, and tempura crisps. Of course, they can't provide cooked octopus and creamy toppings.
All you need is 2 large eggs and some water to make this batter.
Then you can start prepping the rest of the filling and topping takoyaki ingredients. Once you're ready to fry, you can grab your cast iron pan or electric takoyaki grill and get cooking.
I promise your guests won't be disappointed with the flavor after taking one bite of the Otafuku takoyaki ball. With this flour mix, takoyaki is fun to make.
Runner-up best takoyaki batter mix: Nissin Takoyaki Powder
# of takoyaki balls you can make: 1oo
This is another recommendation for those of you who really love to make takoyaki at home because you can make about 100 octopus balls per bag.
The Nissin brand is best known for its instant noodles, but they also make takoyaki batter and flour. You can find their takoyaki mix at Asian grocery stores or online.
With this takoyaki powder mix, you can make about 100 takoyaki balls – that's more than enough to satisfy your hungry friends and family or cook in several batches.
But, the good news is that you can use this mix for more than just takoyaki. Customers are also using the Nissin mix to make Korean green onion pancakes and other Japanese food like tempura batter.
Compared to the Otafuku takoyaki flour mix, this one is denser, and the batter becomes a bit thicker. The texture is less fluffy but just as delicious. It really comes down to your personal preference.
Your takoyaki will be a bit more firm, and the batter is less runny compared to Otafuku or Higashimaru.
Also, you can expect crunchier octopus balls with this mix, although that also depends on how you fry them in your takoyaki pan.
Some customers recommend adding a hint of baking powder to make the batter fluffier.
The taste of Nissin's takoyaki powder is very delicious. People compare it to the takoyaki you can get at a restaurant or street food vendor.
There are two cons: first, the mix is a bit pricier than the others, and although it says the bag contains 500 grams of the takoyaki flour mix, some people complain that there are only 400 grams.
The Nissin mix contains powdered dashi made with dried bonito flakes and kombu seaweed powder but also some beni shoga powder to give it that classic flavor.
Best takoyaki batter mix for intense flavor: Higashimaru Takoyaki Cooking Mix
# of takoyaki balls you can make: 75
Higashimaru is a brand well-known for ramen soup and udon soup stock, powder condiments, and instant noodles.
This takoyaki flour mix contains wheat flour, and you only need to add 1 egg and 350 ml of water. Since you're adding only one egg, it has a slightly different texture than some of the other mixes.
Also, if you take a look at the ingredients, you'll notice there are many artificial flavorings and other ingredients, including sugar, lots of salt, bonito flakes extract, chicken extract, powdered soy sauce, potato flour, kelp powder, and MSG.
Many people avoid MSG, but it should be fine in small quantities. In all honestly, though MSG makes the food taste very good.
This brand is well-liked in Japan, and you can find this mix at most grocery stores.
It makes really good takoyaki, and the flavor is quite intense; you can taste the bonito flakes and dashi powder.
What is takoyaki batter made of?
Very simple. It's a mixture of Japanese stock dashi, all-purpose flour, baking powder, eggs, salt, and soy sauce. Some mixes also include dried bonito flake powder and kombu powder.
If you don't want to make the batter from scratch, you can find takoyaki mix in Japanese grocery stores or Amazon.
How do you use takoyaki powder?
You use the takoyaki powder to make your favorite takoyaki recipe without having to make your own dashi stock first.
So, you take the takoyaki powder and combine it with water and eggs, according to the instructions listed on the package.
Recipe: how to make takoyaki batter and mix takoyaki flour
To make a delicious takoyaki ball, you have to start off with the flour mix for the runny batter. Here is the most basic and simple recipe. The batter will be tasty and umami.
Ingredients  
120

grams

of self-raising flour

2

large eggs

1

tbsp

of dashi powder

360

ml

(12.1 oz) of water

1

tsp

salt
Instructions 
In a large bowl, pour the flour.

Crack in the 2 eggs.

Add the dashi stock powder and the salt.

Using a whisk or mixer, combine the ingredients well until they are smooth.

Start adding the water bit by bit and mix well until the batter is smooth, like a pancake batter.
That's all you have to do to make the takoyaki batter for octopus balls. See how easy it is to make this recipe?
Now, you are ready to pour the batter into the molds of your cast-iron takoyaki pan or cake pop maker.
Once you have the batter, you add in the finely chopped octopus, beni shoga, and fry the balls until golden brown on the outside, but still nice and gooey on the inside.
Make sure to flip the balls on time and in the right way, I explain the tricks for this here.
Then top with dried bonito flakes, takoyaki sauce, Kewpie Japanese mayonnaise, and green onions.
It's really that simple to make authentic takoyaki at home using store-bought flour mix and it's going to taste almost like the Japanese street food version.
Like your takoyaki vegan? Here's what to use instead of octopus
Is takoyaki flour the same as okonomiyaki flour?
Technically, no these are two distinct flour mixes. But, there's no denying it; the taste is fairly similar. The takoyaki batter is a little bit similar to okonomiyaki.
Some people even go as far as to recommend you use okonomiyaki flour mix to make the batter for both of these yummy Japanese recipes.
The okonomiyaki is made with unbleached wheat flour. It is then combined with soy flour and there's kelp spice in there for flavoring.
The takoyaki is made with all-purpose flour (wheat) and soy sauce flavoring.
Can I use takoyaki flour for okonomiyaki?
Although takoyaki and okonomiyaki are different types of food, you can technically use takoyaki flour to make okonomiyaki pancakes.
However, when you use one for the other, you want to switch up the spices you use because the flavors of these dishes are different.
You can read all about how to use takoyaki flour mix for okonomiyaki and vice versa in our other blog post.
Also, you can use okonomiyaki sauce for takoyaki or even tonkatsu sauce if you can't get your hands on the real takoyaki sauce.
Takeaway
The pre-made takoyaki flour mix is a time-saver because you can make the takoyaki in record time.
It takes less than five minutes to make a batter with the perfect consistency for crispy, golden brown octopus balls with a gooey inside.
I highly recommend using a takoyaki mix if you don't like to complicate things. They are all really tasty, and with a bit of experimentation, you'll get the perfect texture.
Made a nice big batch of takoyaki? Here's how long you can keep it before it goes bad and how to freeze it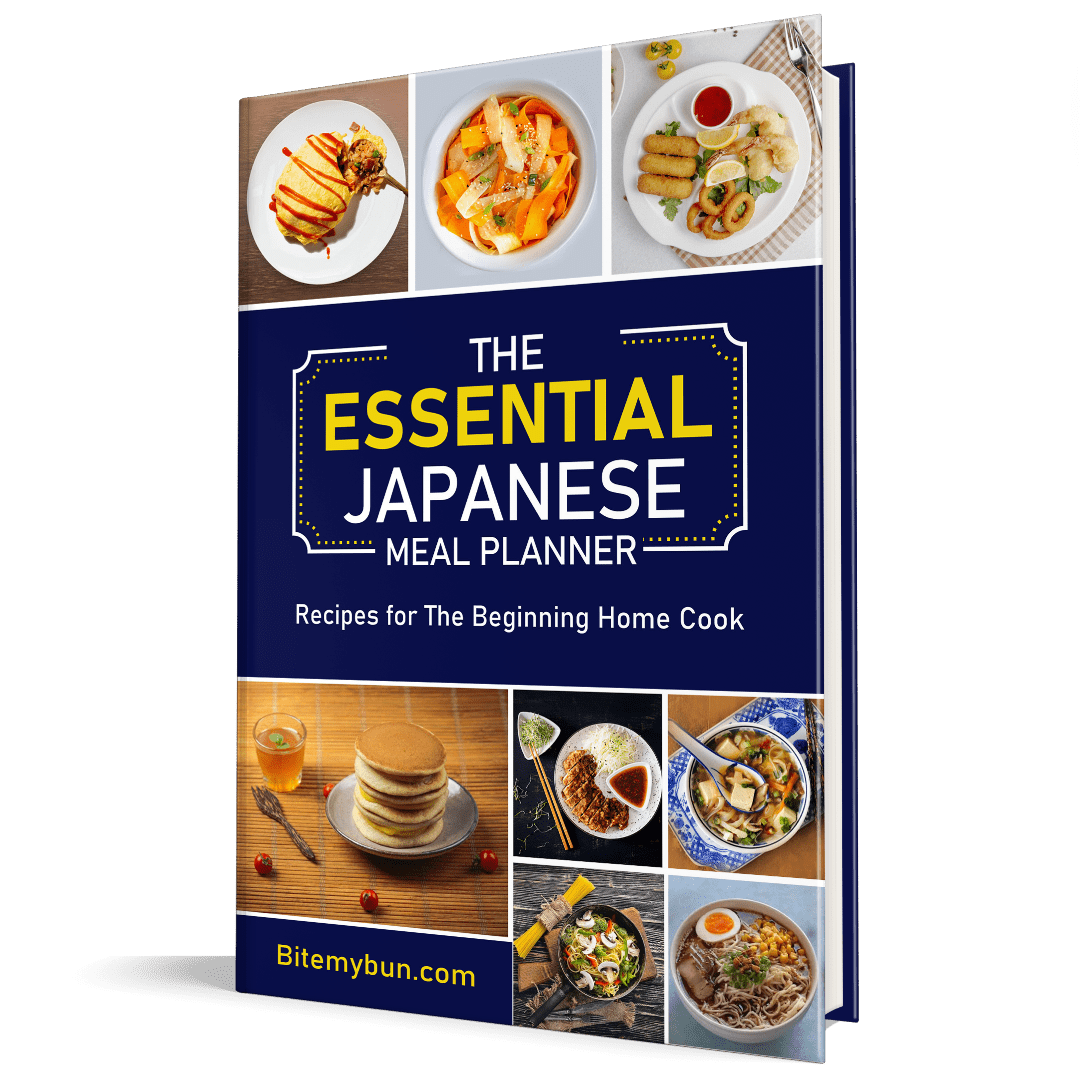 Check out our new cookbook
Bitemybun's family recipes with complete meal planner and recipe guide.
Try it out for free with Kindle Unlimited:
Read for free
Joost Nusselder, the founder of Bite My Bun is a content marketer, dad and loves trying out new food with Japanese food at the heart of his passion, and together with his team he's been creating in-depth blog articles since 2016 to help loyal readers with recipes and cooking tips.