What is Tenkasu? About Agedama Tempura Flakes & its recipe
I love creating free content full of tips for my readers, you. I don't accept paid sponsorships, my opinion is my own, but if you find my recommendations helpful and you end up buying something you like through one of my links, I could earn a commission at no extra cost to you.
Learn more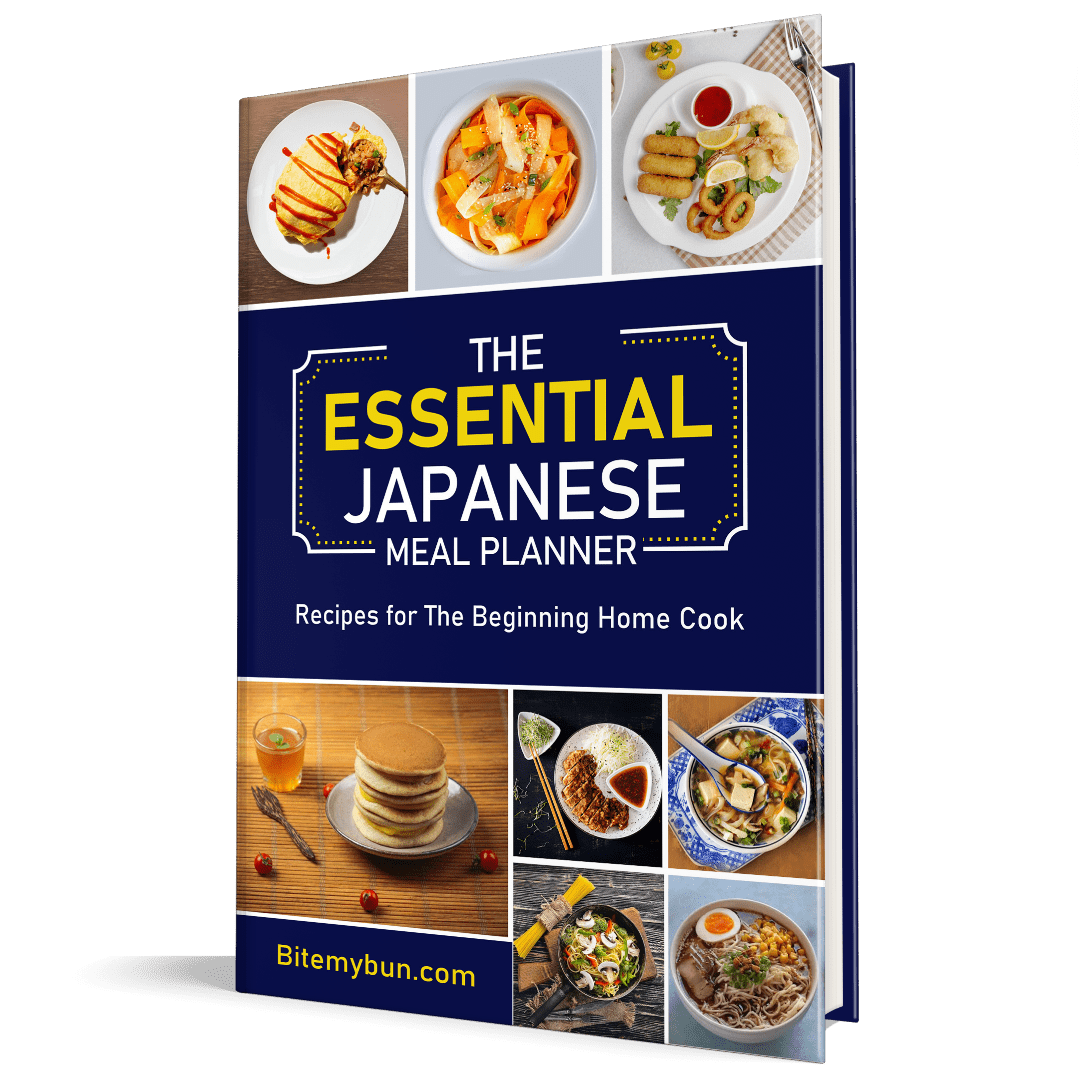 Check out our new cookbook
Bitemybun's family recipes with complete meal planner and recipe guide.
Try it out for free with Kindle Unlimited:
Read for free
What is Tenkasu?
Tenkasu is crumbs of deep-fried flour batter commonly used in Japanese cuisine. Some people call this condiment Agedama, which literally means "fried ball," or tempura flakes.
Making them is pretty easy, although you can buy the ready-to-use packages at the market or online.
These crunchies are simple, yet they can complement so many dishes.
In this article, I'll discuss how to make tenkasu or which one to get if you're buying pre-made, and a little history about these bits of tempura.
10 Tips to Save a Bundle on Asian Ingredients!
Introducing our brand new FREE PDF guide: "Saving Secrets: Unveiling the Art of Saving Money on Asian Ingredients" It's your first newsletter email, so start saving today! 📚🧧
We'll only use your email address for our newsletter and respect your privacy
What is Tenkasu?
Sometimes, people call this condiment tempura flakes since they get their flakey texture from tempura batter. However, the majority of Japanese choose to keep calling it Tenkasu.
There are many kinds of dishes that compliment tempura flakes. For example, you can sprinkle them as toppings on udon, ramen, or yakisoba.
Tenkasu can also elevate savory pancakes like okonomiyaki and monjayaki with some crunchiness inside the soft batter.
You can also make some tempura with tenkasu or sprinkle it on top of your rice.
Are tenkasu and agedama the same?
Tenkasu and agedama are the same things, but people from various regions in Japan call these tempura scraps by different names. The term tenkasu is used in the western parts of Japan, whereas agedama originates from the eastern areas.
What are tenkasu tempura flakes made of?
Tenkasu is flakes of tempura batter made from wheat flour, potato starch, shrimp flakes, a little dashi soup, and rice vinegar.
This soft batter is deep-fried in vegetable oil and results in delicious, crispy tempura flakes for your dish.
History of Tenkasu
The word "tenkasu" is from "ten," which stands from tenpura (tempura), and "kasu," which means scraps of waste.
Hence, tenkasu has a literal meaning of "tempura scraps." According to history, it is indeed the scraps you get from cooking tempura.
As you add the tempura into the wok, you will notice how some bits of the batter split away before forming crumbs on the surface of the oil.
To cook the next batch of tempura, you need to scoop all these crumbs first to clear out the oil in your wok.
After finishing cooking tempura, people will end up with a small portion of tempura scraps.
They taste so delicious that people think it's a shame to throw them away. Hence, they started using it as toppings and extra ingredients for many dishes.
Top 3 Store-Bought Tenkasu
Tenkasu can be difficult to cook because it takes some effort if you're not already making tempura.
Not to mention how cooking it would require some special techniques to make it right.
The easiest way to stock up tenkasu in your kitchen is by buying it pre-made.
Some brands provide packaged ready-to-use tenkasu in a plastic package. A lot of people prefer this convenient choice.
If you consider buying a pack of those ready tenkasu, here are some of the most popular brands to check out:
Otafuku Tenkasu
The most popular instant tenkasu brand is Otafuku. It has the perfect crunchiness and savory taste.
Otafuku Tenkasu comes in a plastic ziplock package, so you can reseal it again if you haven't finished the whole pack.
Even so, you have about one week to finish your pack of Otafuku Tenkasu.
It's one of my favorite Japanese cooking ingredients: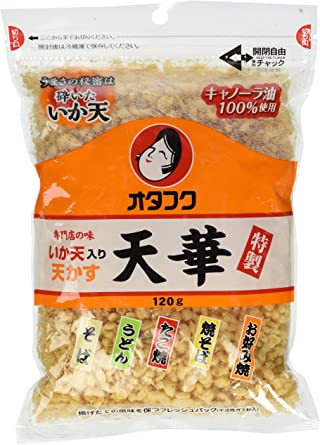 Yamahide Tempura Flakes
This brand offers two versions of tempura flakes; original and prawn flavored.
The prawn tempura flakes contain real prawn shavings that enrich the taste even more.
Yamahide Tempura Flakes is a favorite for cooking homemade okonomiyaki and toppings for soup-based dishes such as ramen and udon.
Marutomo Tenkasu
Another brand notable for its tenkasu is Marutomo. Many countries have imported this tenkasu brand. Therefore, it should be easy to get one in countries outside Japan.
The tempura crumbs are airier and have a lighter taste than other brands, making this brand so lovable.
Tempura Batter Mix
The batter used in tenkasu is similar to the batter used for tempura coating.
The only difference is that you need to add beaten eggs to the tempura batter.
For easier preparation, many manufacturers provide the tempura batter mix flour.
Some people think it is better to buy tempura flour rather than the instant tenkasu, while some believe otherwise.
These two kinds of products have their advantages and disadvantages.
The pre-ready tenkasu might be the best for practicality, but you need to store them properly to keep them crisp. Also, pre-made tempura flakes won't last long.
On the other hand, the mixed flour would require effort for cooking, although it is still much more manageable than making it from scratch.
However, you can cook a little by little as you need it, so you won't need to worry about spilling the leftovers.
It's best if you were already planning on making some delicious tempura recipes.
If you are considering buying the tempura batter mix, here are some recommended brands:
Kikkoman Tempura Batter Mix
If you look for the batter mix flour to cook it yourself, your best option would be Kikkoman Tempura Batter Mix.
The famous brand never fails to satisfy people with each of their products, and their tempura batter mix is no exception.
Shirakiku Tempura Batter Mix
Another great brand for a tempura batter mix flour is the Shirakiku.
This product is popular because it goes well with almost any kind of tempura; vegetables, fish, shrimp, chicken, and of course, simple tenkasu bits.
You can adjust the lightness of your Agedama crumbs by the amount of water you add to the flour.
Check prices and availability here
Tenkasu "Agedama" Tempura Scraps recipe
It is possible to make your tenkasu from scratch at home. The ingredients are common to find in the market, and the process is quite simple.
You might need some technical tips to make it great, but the tricks are not difficult to follow.
Ingredients  
3½

ounces

wheat flour

(100 grams)

2

tbsp

potato starch

2

tbsp

rice vinegar

6½

oz

thin dashi soup, chilled

(180-200 cc)

vegetable oil for deep-frying
Instructions 
Put all the dry ingredients in a bowl and mix them well

Pour in the wet ingredients while keep stirring the batter until they get evenly mixed

Turn on the stove and wait for the oil to get hot

Scoop the batter using chopsticks and spread it onto the hot oil by pouring it in a circular motion above the wok

The batter will separate instantly and pop up to the surface like bubbles

Scoop all the tenkasu with a wire mesh strainer before they turn overcooked, let all the oil drips

Place the tenkasu on a plate lined with a paper towel to get all the oil absorbed. Replace the paper towel as necessary

Wait until the tenkasu dry and on regular temperature

Store your tenkasu in a perfectly sealed container. It can either be a jar or a ziplock plastic bag.
Samurai Sam's Kitchen also has a video where you can see how to drip the tempura batter into your oil:
Tips :
You can replace dashi with regular cold water and salt
Use carbonated water to make it even more crunchy
Whether you use dashi, carbonated water, or regular water, make sure they cook at a low temperature, as it will affect the crunchiness.
The consistency should be similar to crepe batter. To test your consistency, try dipping your finger in the batter and lifting it. The resulting batter stream should be a straight line.
Add more flour if you aim for thicker and bigger bits.
Try not to overmix the batter as the starch will develop too much and make your tenkasu soggy.
Be careful when pouring the batter onto the oil, as there might be some oil splattering.
Adding too much batter in a wok will make the batter fail to separate. As a result, the tenkasu bits will end up bumping and sticking to each other.
Excess oil that stays in your tenkasu will reduce its crispiness and make it less tasty. So, be sure to get all the extra oil removed from your Agedama crumbs.
You can always make your own dashi stock following these recipes I've written about here.
Popular Recipes Using Tenkasu
Unlike regular fried flour batter flakes, tenkasu can retain its crispiness even if it mixes with water.
You can pour it into your bowl of soup and enjoy some crisps as you slurp. Japanese also love mixing the tenkasu into some savory cake dishes.
It creates a contrasting combination between the crispiness of the tenkasu and the tenderness of the cakes.
Try out some ways of using tenkasu for dishes as below:
Takoyaki
Traditionally, people use octopus dice as the filling of their takoyaki.
To elevate the taste, you can add pieces of pickled ginger and green onion.
Along with all those fillings, tenkasu will make your takoyaki taste even better.
Okonomiyaki
Tenkasu is a crucial element to okonomiyaki, the traditional Japanese-style frittata.
Okonomiyaki itself is much lovable due to its rich ingredients;
Japanese yam
Squid or other protein
Cabbages
Eggs
Tenkasu
Flour
Not only do these ingredients create an ultimate, savory taste, but they also give varied textures.
Udon, Ramen, or Soups
Prepare your dish as usual until your bowl is complete. Adding the tenkasu should be the last step, so it stays at the toppings.
Bear in mind that tenkasu will expand if submerged in water. So if you put too many tempura flakes into your soup, your tenkasu will fill up your bowl in a few minutes.
Onigiri
Some people mix tenkasu with rice to make onigiri. It is quite an intelligent move to make your easily packed lunch taste better.
This simple trick gives a sense of crispiness while chewing the soft rice. Tenkasu onigiri is much beloved, especially by children, because of the sensation.
You can sprinkle tenkasu on your rice or dry noodle meals the same way you sprinkle fried shallots on Asian meals.
Try being creative in your kitchen by making new variations of dishes using tenkasu. These crumbs are versatile enough to match with many kinds of dishes.
What is a Good Tenkasu Substitute?
Instant tenkasu might be unavailable in many countries outside Japan. Even though making them is easy, not many people are willing to do so.
Now, what should you do when the recipe you want to create asks for tenkasu, which you cannot get?
If tenkasu is unavailable, you can either skip the ingredient or find a substitute according to what effects tenkasu you wish to bring on your dish.
If you aim for the crunchy sense, you can use rice crispies or panko (bread crumbs).
If you want the umami kick, try replacing the tenkasu with katsuobushi, fried shallot, or aonori.
You can also combine the crunchy and the umami substitutes to get both of the tenkasu traits.
Sometimes, it is even acceptable to skip the ingredient without any substitute at all.
Tenkasu mostly plays a supporting role. Your dish would likely still taste delicious even if it doesn't have the tenkasu.
Also, read my full post on tenkasu substitutes to learn more.
Nutritional Value of tenkasu
Unfortunately, if you love eating healthy, there is not much hope you can put into the tenkasu. The main ingredient is wheat flour, and it is mostly carbs, and there are high sodium levels. Not to mention the frying process will create cholesterol.
Even if you add dashi and prawn flakes into the batter, all the vitamins and minerals would likely dissipate during the deep-frying process.
Since tenkasu is not so nutritious, pair tenkasu with a delicious and healthy meal.
However, don't worry too much about eating tenkasu. They are fine in moderation!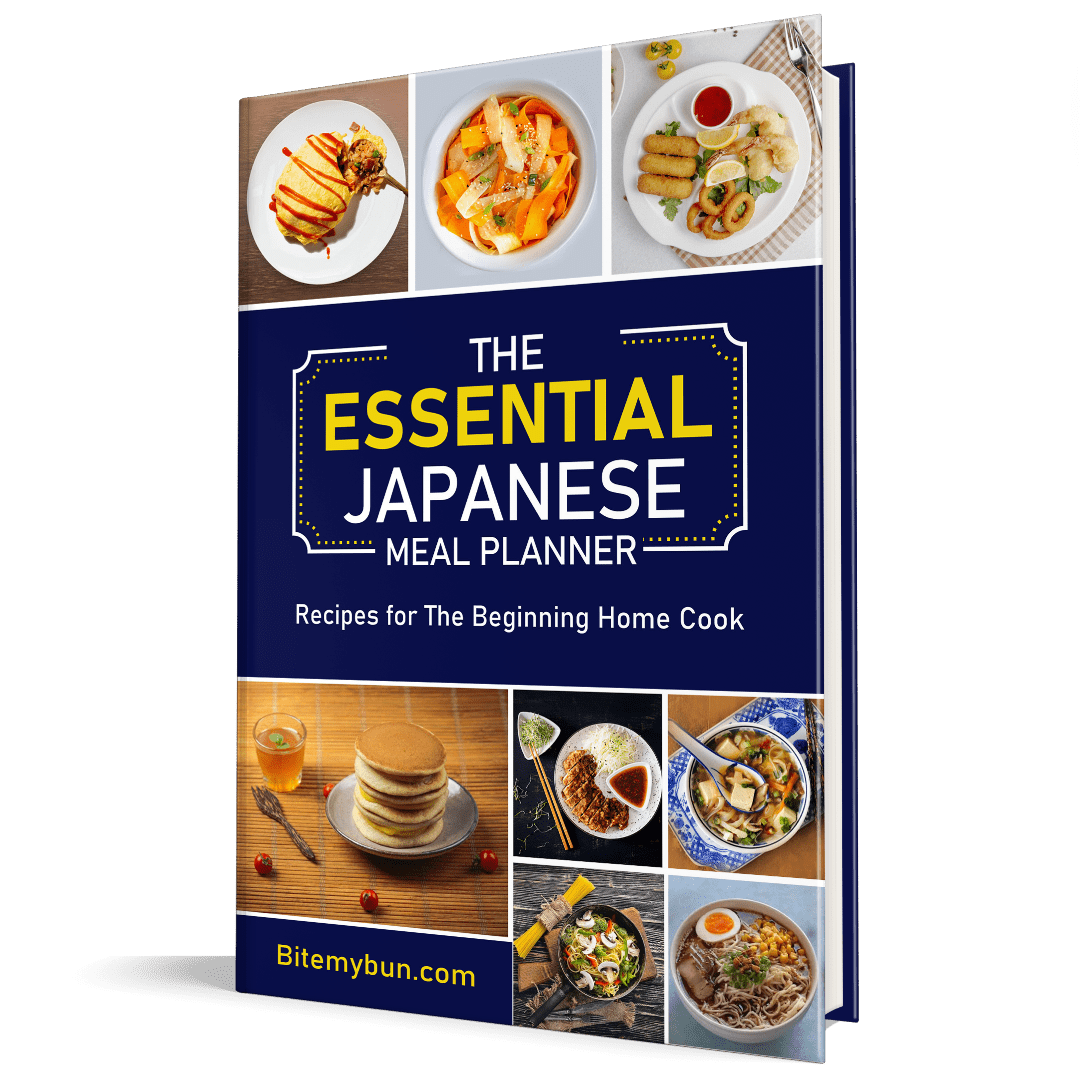 Check out our new cookbook
Bitemybun's family recipes with complete meal planner and recipe guide.
Try it out for free with Kindle Unlimited:
Read for free
Joost Nusselder, the founder of Bite My Bun is a content marketer, dad and loves trying out new food with Japanese food at the heart of his passion, and together with his team he's been creating in-depth blog articles since 2016 to help loyal readers with recipes and cooking tips.