Best Japanese tabletop grill | Yakitori, Hibachi, Teppanyaki [Top 8 Reviewed]
I love creating free content full of tips for my readers, you. I don't accept paid sponsorships, my opinion is my own, but if you find my recommendations helpful and you end up buying something you like through one of my links, I could earn a commission at no extra cost to you.
Learn more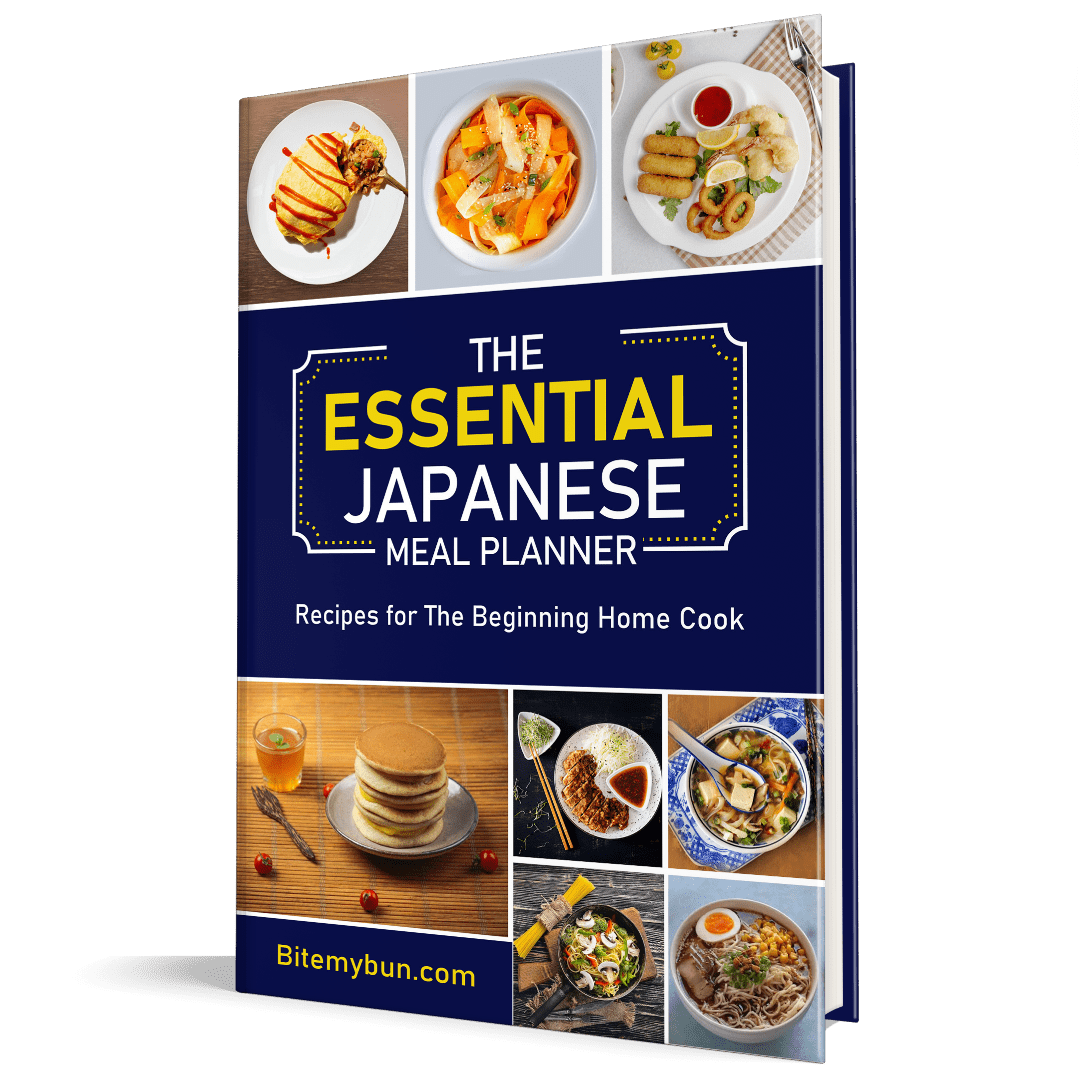 Check out our new cookbook
Bitemybun's family recipes with complete meal planner and recipe guide.
Try it out for free with Kindle Unlimited:
Read for free
Hibachi, shichirin, yakitori, konro, and teppanyaki are all types of Japanese tabletop grills. If you're a big barbecue fan like me, then you definitely need your own Japanese tabletop grill to make all the best foods.
Japanese barbeque, known as yakiniku, is one of the tastiest dishes, with various grilled meats, seafood, veggies, tofu, and more.
Once you savor a dish like yakitori chicken skewers, you'll be making it for your family all the time!
The best versatile and portable tabletop Japanese grill is the IAXSEE Cast Iron Grill because it's an affordable cooker that delivers the authentic flavors of charcoal-cooked food. You can use it to make yakitori and all other types of BBQ right on your table at home.
This small cast iron grill is very portable and compact, so you can cook in your kitchen or outside during your next camping trip. It also has a traditional rectangular design, with a wooden bottom and regular grill grates so you can make yakitori, beef, fish, and more.
The cast iron grill is the top Japanese tabletop grill because it is so versatile, it's quick to set up, and you can use traditional Binchotan coals for the best flavors.
Don't worry; I'm sharing a full review with all the specifications and details you need below.
I'm comparing 6 of the best Japanese tabletop grills in this post, including traditional ceramic shichirin, electric grills, charcoal grills, and a gas grill.
So, there's something for everyone, and you can make an informed decision when choosing the best unit for your next Japanese BBQ dinner.
10 Tips to Save a Bundle on Asian Ingredients!
Introducing our brand new FREE PDF guide: "Saving Secrets: Unveiling the Art of Saving Money on Asian Ingredients" It's your first newsletter email, so start saving today! 📚🧧
We'll only use your email address for our newsletter and respect your privacy
Japanese tabletop grill buyer's guide
Before you make a purchase, you need to consider the following features of the grill.
Grilling surface area
Do you cook only for yourself or maybe up to three people? Then a small hibachi is just fine, and you don't need a large cooking surface.
But, if you have a large family or like to entertain at your place, then look for a medium or large tabletop grill.
In Japan, you'll find many tiny hibachi grills for a single person.
Then, the next size up is for 2-3 people, and the largest ones are made for five and up. But you can always batch cook, so size shouldn't be a huge issue.
Weight of the grill
The idea behind the tabletop grill is that it should be portable. Therefore, you need a lightweight unit.
Some of the ceramic shichirin grills are a bit on the heavy side, and they are sensitive to breaking. So, you'll need to be more careful when moving them.
But the average yakitori grill is pretty lightweight (under 20 lbs.), so you can maneuver it easily.
Wattage (for electric cookers)
Wattage just refers to how powerful an electric grill is. So, the higher the wattage, the more powerful the grill is and the more heat it produces.
1300 Watts is the perfect wattage, but all the electric grills or teppanyaki are designed so you can cook all kinds of foods.
Material
Japanese grills are made of various materials, but they are all quite good heat conductors.
Many traditional konro or shirichin grills are made of either a ceramic material or diatomaceous earth. This is a sensitive material, and it is more prone to cracking.
Most hibachi grills are made of cast iron with stainless steel or aluminum grates. If the grill body is made of an aluminum or stainless steel body, it is lighter and more portable.
The grill grates are often a mesh. Cast iron grills are extremely durable and a great investment.
Best Japanese tabletop grills reviewed
Before I get on with the reviews, I just want to mention that the term yakitori grills simply refers to a tabletop Japanese grill used to cook yakiniku (Japanese BBQ).
A yakitori grill can be used to make the classic skewers or cook any other type of barbecue food. Most people also used the term "hibachi" to refer to the same grills.
The grills are fairly similar, except for teppanyaki, which has flat, smooth griddles known as hot plates.
Now, let's move on to the individual reviews and side-by-side comparison of similar grills.
Best overall tabletop yakitori grill: IAXSEE Cast Iron Grill
Material: cast iron and stainless steel
Size: small (9.5 x 5 inches)
If you want to try traditional Japanese barbecue with Binchotan charcoal and the finest meats, you need a good-old-fashioned charcoal grill.
Traditional yakiniku is best cooked with fine binchotan charcoal from Kishu. It's the highest grade and best quality charcoal for your grill.
There's no doubt the food will taste amazing, but you'll love how convenient and easy to use this cooker is.
This Iaxsee grill is made of cast iron and stainless steel components which ensure great heat retention. The grills grates are not a mesh so that they will last longer, but this also means you can get those perfect BBQ sear marks.
Since the grill has a rectangular shape, it's ideal for cooking yakitori chicken, beef, or pork skewers because the meat won't fall between the grates.
The grill is very small, so it's ideal for individuals and couples. But, the advantage is that it's portable and easy to carry, and pretty lightweight.
In terms of design, it's simple, but its even flame heating system ensures that the whole cooking surface is heated at the same temperature. Your food will be cooked in no time, and then once you're done, the grill is easy to clean.
It's the perfect no-fuss device for occasional yakiniku. I also want to mention it's a budget-friendly grill, so it won't break the bank.
Best Japanese tabletop gas grill: Iwatani Smokeless Korean Barbecue
If you don't want to mess around with charcoal, then a gas grill is the next best thing. Don't let the name of this Korean barbecue grill fool you; it's perfect for Japanese yakiniku too.
In fact, Iwatani is one of Japan's best grill manufacturers. It's made of alloy steel, and aluminum and the fuel source is small gas tanks (canisters).
Surprisingly, the grill is very compact and lightweight (5 lbs), so you can keep it on your countertop, tabletop or take it camping with you.
I like the versatility of this grill because you can safely use it indoors and outdoors, so it eliminates the need for a bunch of cooking units in the home.
The grill plate is similar to a teppanyaki grill, but it has embossed grates all over to give you a true barbecue experience.
It has a water pan to prevent any smoking, so the good news is you're not going to smoke up your house.
The cooking flame seems pretty low but don't worry; it's perfect for cooking all types of yakiniku, which is all about thin strips of meat, fish, and veggies.
You might struggle a bit with skewers because of the round shape of the griddle, but you can make almost any kind of meat easily.
The griddle is non-stick, too, so clean-up is simple, and you'll never end up with burnt food.
Yakitori grill vs gas grill
Besides the obvious fact that the yakitori is a charcoal grill and the gas grill isn't, some other notable differences will make one more suited to your lifestyle than the other.
First, I want to mention that a gas grill runs on small gas tanks, and you need to buy those separately, which might be harder to procure in the US than charcoal.
Therefore, if you want a cheap and easy-to-find fuel source, you might prefer the charcoal grill.
Next, I want to compare grill grates or cooking surfaces. The first charcoal grill has classic grill grates that are suitable for any food, including yakitori.
However, the gas grill has a round and dome-shaped griddle, so it's harder to cook skewers. Therefore, the gas grill is better if you like the Korean BBQ experience and don't mind not having the grill sear marks.
But, the bottom line is that both of these grills are portable and suitable for indoor and outdoor use, so you can take them with you on the road since they're light and compact.
Also read: Difference Between Korean BBQ And Japanese BBQ Explained
Best for camping and outdoor cooking: Bruntmor Pre-Seasoned Hibachi-Style Grill
An outdoor grill should be heavy-duty and large enough to feed a group of close friends and family. This Bruntmor cast iron charcoal grill is the perfect camping tabletop grill.
But, you can also use it "off the table" and straight on the ground. It's not only an affordable cast iron grill, but it's similar to one of the most popular Lodge Cast Iron models, so basically, it's a great dupe.
When you're out camping, you can easily use this grill to cook Japanese, Korean, and Western foods because it's a versatile cooker. You can cook for up to 6 people so everyone can enjoy yakiniku.
Unlike some of the other small Japanese hibachi or shirichin grills, this one has an air vent and a charcoal access flap. That way, you can control the temperature and add more coal quickly when needed.
Since it's already pre-seasoned, you can get straight to cooking!
So, the main advantage of this outdoor grill is the temperature control features which many other charcoal grills lack.
The only disadvantage is that the grill isn't as well built as an expensive brand-name cooker.
However, it's a great grill for a fair price, and if you maintain the cast iron grill and season it, you'll get tons of use out of it. Oh, and when you're done, you can carry it using the grip handles and empty out the ash in minutes.
Check prices and availability here
True Japanese pitmasters are familiar with the traditional konro grills, made from diatomaceous earth – a natural clay-like material.
Local manufacturers handcraft these grills, and they are quite expensive. However, there's no topping this kind of grill if you want the best authentic Japanese BBQ.
The grill looks like a long rectangular box, and it's the perfect shape for any yakiniku, especially yakitori.
This Kinka grill is much heavier than other small portable grills because it's made of natural clay material. But, if you care for it properly, it will last for many years so you can keep making tasty barbeque.
So, what does this material mean, and why is it so sought after?
Well, the grill gets really hot inside but stays pretty cool on the exterior. It's safe to cook in because there are no chemicals that can melt and seep into food.
When fueled by Binchotan charcoal, the flavor is pretty much unmatchable. I also like that you can cook for a larger group with this particular model as it's larger than most other portable grills.
Both of these grills are a bit more pricey than the other ones on my list. But, the truth is, they're excellent cookers.
The Bruntmore is versatile and made of sturdy cast iron, so it's the perfect outdoor grill.
The Kinka is similar because it's large enough to cook for a group, but it's made of natural diatomite, making it one of the highest-quality Japanese grills.
The Bruntmor has the upper hand when it comes to portability because it has easy-grip handles, and it's not as sensitive to transport.
But, the Kinka is prone to cracking if mishandled since it's made of a fragile material. So, if you're going to be traveling a lot and you don't have a good place to store it, I recommend the cast iron grill instead.
Now, if flavor is most important, the Kinka grill is the one to opt for because the food cooks better on diatomaceous earth. You can also swap grates easily to make it suitable for any type of yakiniku.
Best Japanese tabletop teppanyaki grill: Jean-Patrique The "Teppantastic" Electric Grill
The teppanyaki griddle is unique because it's a flat, smooth surface. You can cook anything from okonomiyaki (Japanese egg pancakes) to sausages to yakiniku beef and more.
So, while you won't get grill sear marks, the teppanyaki griddle is one of the most fun Japanese cookers.
This electric version is better than the propane-fueled ones you find in restaurants because it's safer for at-home use.
This affordable electric griddle is made of aluminum and has a non-stick surface so that food doesn't stick to the hot plate.
The advantage of this grill is its large cooking surface of 17″x 9.8″ inches, so you can fit lots of meat and vegetables on the grill.
There are five adjustable heat settings, so you can make anything. Temperature control is the main advantage of this type of cooker, compared to a small charcoal grill.
But, what I also love is that you don't have to make a mess with charcoal, there's no need for propane tanks, and electricity is cheap, so this is a great value grill.
Also, it's smokeless, so you don't smoke up the house.
During the summer months, you can also use it to entertain outdoors on your patio or balcony.
As a bonus, you also get mini spatulas with your grill so the whole family can get in on the communal teppan-style cooking.
Best indoor electric tabletop grill: Zojirushi EB-CC15
Many people these days are looking for convenient and simple cooking methods. Luckily, Japanese bbq is easy to make, especially with a Zojirushi electric grill.
The heating element is incorporated under the grill grate, and it heats up quickly, so your grill is ready to use in no time.
Also, the benefit of an electric grill like this is that there is a temperature controller so you can set it how high you like.
With charcoal grills, you don't really have a temperature control option, and for beginners, the electric has the edge over those types of grills.
Another thing I like about Zojirushi is that they made a long electric cord so you can move the grill around the kitchen. Then, another interesting design feature is the built-in thermostat, so the food is cooked to perfection.
When cooking, it's best to add a light layer of oil to the grates as a seasoning. Then, you can be sure the food doesn't stick.
If you're wondering about flavor, the grilled food is almost as amazing as a charcoal grill, and you can basically cook anything you like with this grill.
The grill can heat up to a temperature of 410 F, so it competes with any charcoal hibachi!
Check prices and availability here
Teppanyaki vs Zojirushi
These two grills are both powered by electricity, so they cook food in the same way.
If you're looking for a more versatile cooking griddle, the teppanyaki grill is the best. You can make anything from eggs to pancakes, to wagyu beef, skewers, and all kinds of tasty foods.
The bottom line is that with teppanyaki, you can make a full course meal.
With the Zojirushi grill, you have a more traditional type of grate cooking surface, while the teppanyaki is a hotplate, and you can't get sear marks.
However, in terms of cooking performance, they're both excellent. It all depends on what kind of cooking experience you want.
With teppanyaki, you can use spatulas to cook liquid ingredients. It's definitely more versatile.
I just want to mention that both of these cookers are smokeless and best used indoors. But, if you want a truly authentic Japanese cooking experience, I think the teppanyaki is more fun to use, especially with a group of people.
Best portable Japanese tabletop charcoal hibachi grill: ADIMA Japanese Ceramic Clay Grill
Here's a small round hibachi grill made for singles or couples. It's the type of small portable cooker made of ceramic material, lightweight, and easy to carry to and fro.
It's made of ceramic clay material, but it's much cheaper than the premium Konro grill I mentioned earlier. So, it's an excellent alternative that delivers almost identical cooking results.
You can use any kind of charcoal with this grill, but of course, binchotan will give you the tastiest food.
But what I really enjoy about this grill is that it's has a tall circular shape and stainless steel exterior grates to ensure the hot cooker doesn't touch objects near it.
Therefore, it's safe to use and not really a fire hazard. Plus, you can also use it indoors and outdoors, so it's a great cooker to have.
It is pretty small and compact and weighs approximately 12 lbs, so you can lift it without a struggle. If you don't want to make a big mess, you can always wrap foods in tin foil and then cook them on the grates.
So, my overall impression is that this ceramic hibachi is a great versatile addition to your kitchen.
Best Japanese shichirin ceramic tabletop grill: Noto Dia Table-top Charcoal Grill
The Hida Konro grill is pretty well-known because it's one of the best budget Japanese shirichin grills on the market.
It's quite large, and many restaurants use it as a tabletop grill for patrons to cook on. The price is low considering that it's made of diatomaceous earth and has a cast-iron frame.
The rectangular shape makes it suitable for cooking yakitori, but it's very versatile, and I recommend it for any type of yakiniku.
A minor disadvantage is that you can't control the flames and heat too much because the vent holes are not adjustable.
But, that's the case for most tabletop charcoal grills, so once you get the hang of it, you'll be cooking great meals without burning your food.
The design is very traditional, with Japanese lettering on the exterior. The box is made of paulownia wood which makes it look more expensive than it actually is.
With about 65 sq. inches of cooking space, you can make meat and veggies at the same time.
The only downside to using this grill is that you have to handwash all the components, so clean-up might take a bit longer compared to an electric cooker.
Also, check out my full article about the Hida Konro grill to read more about features and the pros and cons.
Adima vs Hida konro
These two charcoal grills are similar, but one is round, the other rectangular.
If you want a small compact grill for 1-3 people, the Adima round hibachi is best, and if you prefer something more suited to a larger family, the Hida Konro shichirin is better.
I like the round shape of the hibachi because it fits nicely onto the table, and you have leftover space around it.
Pricewise, these grills are approximately the same price, but you get a better value with the Hida Konro because it's bigger and you have more cooking space.
Some people always want a rectangular grill because you can then place skewers on the mesh and turn them using bamboo sticks.
I would warn you that you always have to be careful with both of these ceramic grills because they are prone to cracking.
Also, you have to handwash them, and it is a bit tedious, but the cooking results are delicious. You get that smokey aroma you would get when using a large outdoor BBQ smoker.
Japanese tabletop grill FAQs
Can you use Japanese charcoal grills indoors?
Yes, since many of these charcoal grills are meant to be used on a tabletop, they are suitable for indoor use.
The thing is that the grills are small, and even though you use charcoal, you only use a small amount, and there's not too much smoke.
Also, these grills are designed to be quite fire-proof so that you can use them safely.
Electric hibachi or teppanyaki grills are even safer because they have smokeless technology. The same goes for gas grills, as they're commonly used in restaurants, so they're safe for use in your home.
Is a yakitori grill only meant for skewers?
No, a yakitori grill refers to all kinds of portable tabletop grills, including hibachi, konro, and shichirin. But, some grills are much better suited for yakitori skewers than others.
If the grill has a rectangular shape and mesh grates, then it's easy to turn and cook the chicken skewers.
The bottom line is that you can use a yakitori grill for cooking almost any type of food.
How do you light the charcoal in the hibachi grill?
Lighting the charcoals is quite simple. All you have to do is:
place the charcoal (preferable binchotan) in the bottom and then stack them in a pyramid shape
pour some lighter fluid over them
wait between 30-40 seconds and then light the charcoal
Once they are lit, put the grates over the grill and wait for the binchotan to turn a white color
How do you clean a tabletop charcoal grill?
Traditional ceramic tabletop grills can only be hand washed. Most components are not dishwasher safe.
The best practice is to clean the grates with hot water and a cloth or scouring sponge. Then, remove the ashes and wipe everything with a paper towel.
A diatomaceous earth grill cannot be cleaned with any soap.
If you've got lots of stuck-on food on the grates, you can combine ½ cup of baking soda with ¼ cup of warm water and use a small brush or toothbrush to scrub the grates with that solution.
Takeaway
Whatever the occasion, a Japanese tabletop grill is a perfect cooker because it allows you to make delicious yakiniku using any ingredients you like.
Whether you choose a charcoal ceramic grill, an electric one, or a flat surface teppanyaki, you're making a good decision because all of the cookers are portable, and you can use them while camping.
If you can only choose one that does it all, I recommend the affordable IAXSEE Cast Iron Grill because it is small and you can use high-quality binchotan charcoal with it for the tastiest homemade yakiniku ever.
Next time you feel hungry, Japanese BBQ should be at the top of your list because it's easy to make, and with the right grill, the whole family will love cooking and eating together.
Read next: Where to buy AMAZING Yakiniku sauce OR make your own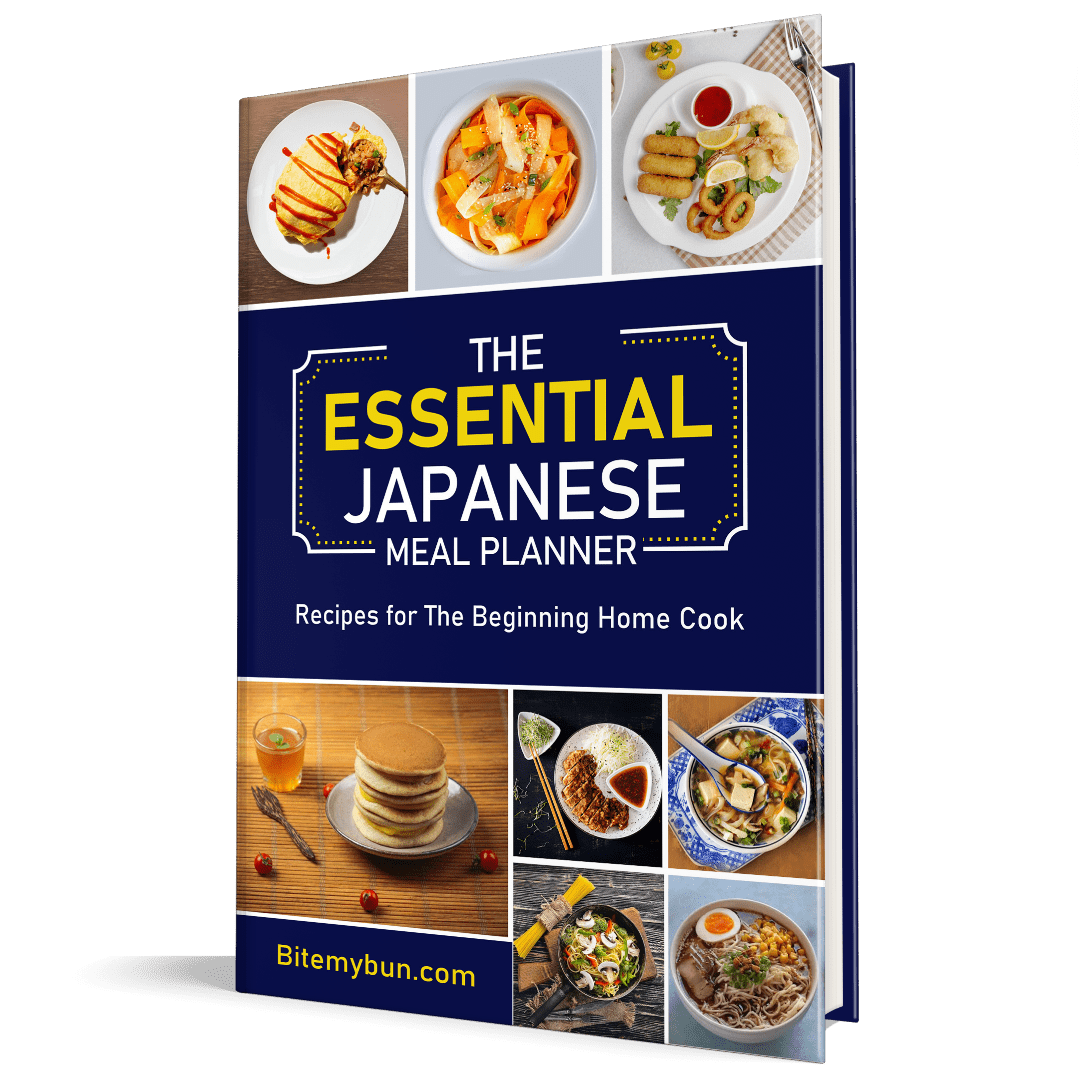 Check out our new cookbook
Bitemybun's family recipes with complete meal planner and recipe guide.
Try it out for free with Kindle Unlimited:
Read for free
Joost Nusselder, the founder of Bite My Bun is a content marketer, dad and loves trying out new food with Japanese food at the heart of his passion, and together with his team he's been creating in-depth blog articles since 2016 to help loyal readers with recipes and cooking tips.