I love creating free content full of tips for my readers, you. I don't accept paid sponsorships, my opinion is my own, but if you find my recommendations helpful and you end up buying something you like through one of my links, I could earn a commission at no extra cost to you.
Learn more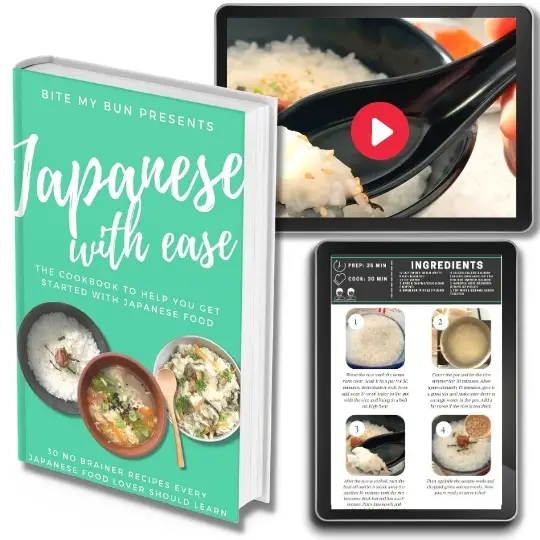 Ever had trouble finding Japanese recipes that were easy to make?
We now have "cooking Japanese with ease", our full recipe book and video course with step-by-step tutorials on your favorite recipes.
As we all know, there are a lot of ways and alternatives for preparing rice, from pressure cookers to microwave rice cookers, instant pots and even cooking in pots on stovetops. But in this post, we will be focusing on electric rice cookers. And not just any electric cooker, the Black and Decker 3 cup rice cooker review.
Black+Decker Rice cooker RC503 Specifications & Feature
But before we go into talking about and explaining all the features of this particular cooker, let's first go into the world of small rice cookers.
Small rice cookers are not that special or different from conventional rice cookers, it's just that they are – small. Usually, small rice cookers cannot take more than 2 cups of uncooked rice and 3 cups of cooked rice at a time, so in real terms, they are small.
But irrespective of their sizes, they can do all the necessary things expected of a rice cooker; they can be used to cook different types of rice, white rice, brown rice, sushi rice, sticky rice, and others. Some small rice cookers even have steamer functions, so you can steam buns and dumplings at home as well.
Usually, small rice cookers are not expensive, so they are good options for people working with budgets, but as usual with the world today, there can be expensive ones too. Small rice cookers are user-friendly, really fast, offer a lot of functions in a small package and most importantly, do not take a lot of counters or kitchen space.
So now let's get back to the main product that we will be talking about.
Black + Decker Rice cooker reviewed
Because we live in an age where people don't mind paying a lot of money on a smartphone (which they will end up criticizing), paying twenty dollars for a rice cooker shouldn't be a big deal.
This model from Black and Decker is one of the cheapest rice cookers you will ever find anywhere, (unless you are buying a second-hand product). You can't get it for more than thirty bucks (really cheap). Contrary to the popular opinion that cheap appliances will offer poor functionality, will most probably not give the user what they want and will not last long, this cooker is of outstanding quality, as small rice cookers come, this is one of the perfect models out there.
A lot of people have been surprised by the quality of this model, most them had thought the unit will be a failure and were ready to drop negative reviews about, some went as far as getting back up rice cookers, in case the unit stops working all of a sudden, but they were all disappointed, they never got to say anything wrong about this unit.
Okay, let's not talk about the price tag yet. When you look at the structure and design of the unit, you can tell that it was built to last. The pot allows you to cook not only rice but varieties of food materials, vegetables, meat and what have you. This shows that this device is designed for heavy use.
It has two different heat settings—cook and keeps warm. The cook function allows you to cook food at a higher temperature, this is suitable for cooking soft and perfect rice without burning or turning them brown. After cooking the rice, the keep-warm function ensures that food is kept warm and fresh for the time you'll be ready to eat it.
The cooker is fast and efficient, as it takes just about 20 minutes to cook three cups of rice, so it makes your cooking easy you just put in your rice, go away and do something else for 20 minutes to come back and meet your fully prepared rice.
But whatever we want to say about this cooker, we cannot overlook the fact that it is very affordable, this should count as another benefit of this cooker. Obviously, the product cannot be compared to a lot of the others available in the market, but overall, in its own right, it is impressive. It packs a lot of heat considering the amount you paid for it, and no doubt it is very durable.
The fact that it is cheap doesn't mean that it doesn't have most of the necessary accessories and features. Yes, you're still getting a dishwasher safe product that can be easily disassembled and reassembled. The styling is not bad, so you're not getting an ugly product or something that will look obscure on the countertop.
All of these say one thing: even for the price tag, the BLACK+DECKER RC503 Rice Cooker is no joke.
Features
Automatic keep warm
I have talked about this feature earlier but let me buttress on it. The keep-warm function regulates the temperature of the cooker to a point where it is not hot enough to cook food but hot enough to keep the food from getting cold. Thereby keeping your food warm till you are ready to serve and eat. And it is easy to use, the matter of fact you don't need to do anything, the cooker automatically switches to keep warm mode once the rice is cooked to the required level.
Food steaming basket and other accessories
the food steaming basket is an accessory that allows you to make healthy meals with fish, vegetables, and more. You also get a measuring cup and spoon. The measuring cup makes it easy to measure just the right amount of rice into the cooker while the spoon is for serving the cooked food. The spoons are made of plastic to prevent accidental scratches to the nonstick rice pot.
Note: Use only the measuring cup to measure rice, do not use a real cup.
Cooking Capacity
Can take up to three cups of cooked rice so the ideal capacity for uncooked rice will be approximately two cups. In terms of electric size, it consumes about 120 volts.
Nonstick Rice Pot
The cooking compartment of the model is a nonstick pot, which is ideal for cooking rice. The nonstick rice pot is easily removable for cleaning. It is also dishwasher safe so you can clean it using a dishwasher.
black and decker 3 cup rice cooker RC503 instruction (pdf 354KB)
Pros
Very affordable: this unit can be easily acquired for less than 30 dollars.
Great value for the price
Nonstick inner pot
Comes with additional accessories
2 years limited warranty from the manufacturers
Portable and durable design, suitable for small kitchens and for carrying around on trips.
Cons
Limited capacity in terms of the size of food it can cook
It's only an entry-level cooker, so it offers very little in terms of advanced features
The inner pot isn't made of the more reliable and safer stainless steel.
Check prices and availability here
Conclusion
It won't be wrong to say that the RC503 rice cooker is not the heaviest or strongest contender out there, but it sure makes a statement for itself with its abilities and features. Okay, let's look at some of the main highlights again.
Firstly, the Black and Decker brand is well-reputed in the world of kitchen appliances. Secondly, this model being an entry-level cooker (usually you shouldn't expect anything else than heating) it packs a tremendous amount of heat, and lastly, it offers excellent value and service for a meager amount of money. It has the looks and most of the features you will find in most mid-range cookers.
But this cooker is not for people who consume a lot of rice and frequently; instead, it is for people who prefer to keep it all clean and straightforward when cooking their rice, this is a convenient getaway compared to the usual way of cooking using pots on gas stoves. So all in all, this model is an excellent buy if your needs fit into its features.
Related: Best 3 Cup Rice Cooker
Is the item Durable?
It is evident from just a glance at the design and construction of the device that it was built to last. The exterior is made of solid plastic and ceramic material, with a tempered glass lid. The lid and the nonstick inner pot are all removable for proper washing, and all dishwasher safe, i.e., can be washed in a dishwasher.
Is the item easy to use?
It is effortless, safe, and convenient to use, with just the press of a button you can your rice fully cooked. Just put in your rice, press the right buttons (follow the instructions in the manual) and wait for about thirty minute, that's if you intend to eat the rice immediately but, in case you're not ready to have your meal yet, the automatic keep-warm function will kick in once the food is cooked, this feature helps to keep your food warm and fresh for the time you will want it.
What are the dimensions of this cooker
The BLACK+DECKER RC503 Rice Cooker has dimensions of 6.5x8x8 in. (HxWxD)with a weight of approximately 2.43 lbs and a capacity of holding 3 cups of cooked rice.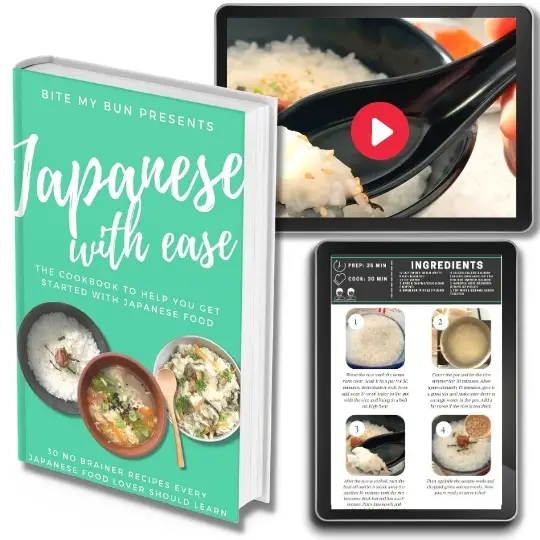 Ever had trouble finding Japanese recipes that were easy to make?
We now have "cooking Japanese with ease", our full recipe book and video course with step-by-step tutorials on your favorite recipes.
Joost Nusselder, the founder of Bite My Bun is a content marketer, dad and loves trying out new food with Japanese food at the heart of his passion, and together with his team he's been creating in-depth blog articles since 2016 to help loyal readers with recipes and cooking tips.