I love creating free content full of tips for my readers, you. I don't accept paid sponsorships, my opinion is my own, but if you find my recommendations helpful and you end up buying something you like through one of my links, I could earn a commission at no extra cost to you.
Learn more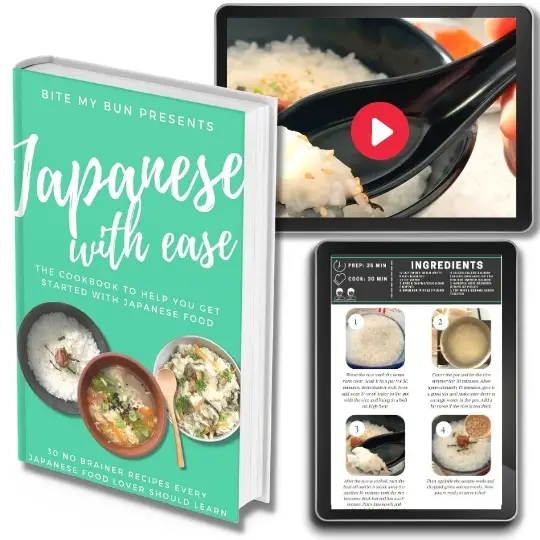 Ever had trouble finding Japanese recipes that were easy to make?
We now have "cooking Japanese with ease", our full recipe book and video course with step-by-step tutorials on your favorite recipes.
Chicken broth is a staple in many recipes, but it can be hard to find vegan substitutes, or you just might not have any on hand.
There are several ways you can make your own broth at home using ingredients that you probably already have around the house.
These chicken broth substitutes will help you whip up tasty soups and sauces without any fuss!
Chicken broth substitutes
Let's dive into the substitutes you can use instead of chicken broth. My favorite chicken broth substitute is this delicious vegetable broth.
Here's a minimalist, quick, and delicious vegetable broth recipe!
Vegetable chicken broth substitute recipe
A good substitute for chicken broth is vegetable broth. It may not be identical to chicken broth in taste and color but can add great flavor to your food. It tastes just as delicious as chicken broth, maybe even more!
Ingredients  
1

tbsp

coconut oil

1

large

onion

salt

to taste

pepper

to taste

2

cloves

garlic

minced

2

medium

carrots

water

2

bay leaves

4

tbsp

tomato paste

nutritional yeast

optional
Instructions 
Note: To get fast results, chop the vegetables first.

Heat one tablespoon of oil and water in a pot and add all the vegetables, salt, and pepper.

Stir the mixture until the vegetables are softened.

Add more water and bay leaves, then bring the mixture to boil.

Once boiled, reduce the heat level and add tomato paste. You can also add nutritional yeast; however, it's optional.

Continue cooking at a low heat level for about half an hour. The more you cook it, the richer the flavor will be.

On completion, taste the vegetable stock. Adjust the flavors accordingly and let it cool.

Finally, pour it in a container.

To make vegetable broth, you'll need a few spices and vegetables of your choice. For a great chicken broth substitute, it's recommended to use vegetables with neutral and more savory tastes, like carrots, garlic, mushrooms, etc.
You can use corn as a flavor enhancer. Additional seasonings like cumin powder, paprika, garlic, cloves, red chili powder, curry powder, etc. can also be used to take things to the next level. Just adjust the spice levels according to your taste buds!
Vegetable broth remains fresh and edible in a refrigerator for about 4 to 5 days but it lasts in the freezer for about 30 days.
Tips for broth substitutes
It's important to remember what gives any broth the definition and taste needed.
While choosing any replacement, keep in mind the ingredients used for each substitute so you know which one to use for the required recipe.
Try to use the substitute with as many similar ingredients to chicken broth as possible.
Keep in mind that the taste of the dish will change a little depending on what substitute you're using.
Don't go too far experimenting with the substitute or it might ruin the flavor entirely.
FAQs
You now know how to make a chicken broth substitute. But that's just 1 alternative!
Curious to learn more about substitutes? Read on for some answers!
What are the benefits of vegetable broth?
Other than being a great substitute for chicken broth, vegetable broth has some other benefits as well. Here's a list:
It has a high amount of minerals thanks to the vegetables, so it prevents several diseases. That's why it's called "Magic Mineral Broth"!
It's loaded with phytochemicals that prevent eye diseases, cancer, and heart problems.
It works as an immunity booster.
It has detox properties that keep the body toxin-free.
What is the nutrient content of vegetable broth?
Vegetable broth has wonderful nutritional content because it contains a large number of veggies that provide antioxidant and anti-allergy properties to the broth. It has a high amount of sodium but fewer calories in comparison.
Containing a handsome amount of vitamin A, this chicken broth substitute works great for your eyes. The best part is that you can choose to add or subtract any nutrients of your choice by carefully selecting the vegetables you want to put in your broth.
Here are some other chicken broth substitutes you can use.
Can you use water instead of chicken broth?
If you're looking for a chicken broth substitute, you can just use water. Chicken stock is used to add moisture and saltiness to a dish. Water is perfect to get the right moisture and is more flexible than chicken broth, letting you adjust the saltiness to your liking.
You can use water in the same amount you would use chicken broth and it's a great low-sodium broth substitute.
Of course, homemade chicken broth allows you to do the same thing and is always a better option than canned stock.
If you want to imitate the fat in chicken broth, you can add a tablespoon of olive oil to plain water to make it an even closer substitute.
Can you substitute chicken broth with chicken stock?
You can use both, although chicken broth is made out of chicken meat and has a lighter flavor.
Chicken stock is more flavorful because it's made from bones and cartilage. The latter contains collagen, which is the secret to the richer texture! This is due to the gelatin released by long-simmering bones.
Can you use white wine and soy sauce as substitute chicken broth?
If you're struggling with the flavor of your dish without chicken broth, consider introducing some flavor enhancers like white wine or soy sauce.
Combine the above with more dried herbs and spices in the dish to give it that extra boost of flavor it needs!
Do people use chickpea liquid as a substitute for chicken broth?
Ok, you might not have this on hand either, but you might make some hummus soon. In that case, save the chickpea liquid since it's actually one of the best-tasting alternatives to chicken broth!
This "aquafaba" (leftover liquid from cooking or soaking chickpeas) is a common ingredient used by many people with egg allergies or vegans looking for an alternative to traditional ingredients like eggs and dairy products.
You can make it yourself or it can sometimes even be found at grocery stores, costing less than $4 per container!
To use it as a broth substitute, you'll want to dilute the aquafaba with equal parts water to the liquid.
What are bouillon powder/cubes?
Bouillon is a very thin liquid made by boiling water with vegetables, meat, or fish. It's available at the market in the form of liquid, powder, and cubes.
The powder is a dried form of the soup. While cubes are the most popular form of bouillon, they might not contain all the healthy ingredients.
However, they're an easy and ideal substitute for chicken broth. These broth substitute cubes can easily be made at home and taste just as delicious as chicken broth.
Additionally, they can be stored in the pantry for several weeks, readily available for hassle-free and convenient cooking!
Bouillon is available in a variety of flavors and ingredients. Nevertheless, to make simple bouillon powder, you'll require the following ingredients:
Herbs (Can contain rosemary, oregano, or basil)
Seasonings (Can be of your preferences)
Salt (According to your taste)
Nutritional yeast
Method:
The amount of powder required depends upon the recipe you're going to use it for, the quantity you need, and your tastes. However, a simple method to prepare it is:
Add all these ingredients in a food mixer and blend it until you get a fine powder.
Once the powder is grainless and uniform, it's easy to make broth out of it.
Stir the powder in hot water and cook for a little while.
What are the benefits of bouillon?
Nutritional yeast is an excellent source of vitamins, protein, and various minerals.
Non-animal proteins can be added to a vegetarian diet.
The herbs are organic and easily available.
The herbs help with losing weight and sleep.
All the ingredients are inexpensive and are easily available in the market.
It helps in healing stomach swelling.
What is the nutritional content of bouillon?
Bouillon contains a variety of vitamins and trace minerals. It also has proteins that can fulfill the protein requirement of people who don't eat animal-based food.
Although it has fewer calories, it can fulfill the water and salt requirements of your body for a whole day.
Also read: these are great substitutes for beef broth
What are bouillon granules?
Bouillon granules are the almost same thing as bouillon cubes, but in a different form and packaging. These granules are concentrated to chicken stock in dried form and are ground instead of just being pressed in the form of a bouillon cube.
The thing that makes these granules different from cubes is convenience and how fast they dissolve in water. They're easy to measure and stir but serve the same purpose as bouillon cubes.
Is beef broth a good substitute for chicken broth?
Beef broth has a distinctive, robust flavor and is much stronger tasting than chicken broth. It can sometimes overpower other flavors in the dish.
If you're low on chicken broth and only have beef broth available as an alternative, try diluting it with water to make your soup.
Is chicken stock the same as chicken broth?
Many people tend to confuse chicken broth and stock. But there's a fine line between both of them!
Chicken broth is made mostly out of meat. On the other hand, stock is made out of flesh, bones, and everything else.
Homemade chicken stock is a very good substitute for chicken broth. It can be more delicious and rich in taste because bones produce gelatin that's extracted into liquid.
Moreover, stock contains more calories than chicken broth. But on a healthier note, it has more protein, vitamins, carbs, and minerals, which adds to its nutritional value.
How can you make chicken stock using bones only?
One very handy trick is to make chicken stock using leftover bones from whatever you've got. That is, if you've used the chicken for something else and are left with just bones, you can still utilize them to make a very flavorful stock at home.
It's relatively effortless to make and gives your meal a better taste. All you need is to simmer the bone broth at a low flame for a minimum of one hour or as long as a day.
Longer simmering gives it a richer taste. You can add any leafy green vegetables, parsley, bay leaves, or any other seasonings of your choice to mold the taste according to your taste buds.
Don't panic if you don't have chicken broth
The next time you reach into your pantry and there's no chicken broth left, don't panic! As you can see, there are several ways you can sub this essential ingredient. So you can definitely save your dish, even without chicken broth in it.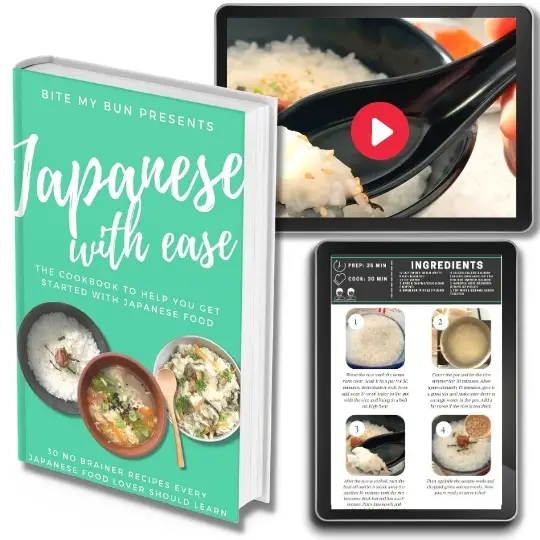 Ever had trouble finding Japanese recipes that were easy to make?
We now have "cooking Japanese with ease", our full recipe book and video course with step-by-step tutorials on your favorite recipes.
Joost Nusselder, the founder of Bite My Bun is a content marketer, dad and loves trying out new food with Japanese food at the heart of his passion, and together with his team he's been creating in-depth blog articles since 2016 to help loyal readers with recipes and cooking tips.