Chicken Inasal Recipe [Just As Finger-Licking Good As The Original!]
I love creating free content full of tips for my readers, you. I don't accept paid sponsorships, my opinion is my own, but if you find my recommendations helpful and you end up buying something you like through one of my links, I could earn a commission at no extra cost to you.
Learn more
With the sudden boom of chicken inasal in Manila, as started by that particular chicken inasal chain, who wouldn't be familiar with this dish?
Its combo of chicken and unlimited rice at a very affordable price was such a hit that the giant fast-food chain actually bought the chicken inasal store.
Having the hometown glory of Visayas, this chicken inasal recipe of chicken and special spices and calamansi sure has captivated the minds and taste buds of all Filipinos.
However, if you're craving some inasal but don't have access to the nearest inasal store, what's there to do? Well, make it yourself!
With this chicken inasal recipe, you'll be able to replicate the store-bought dish and satisfy your cravings.
The key to a tasty inasal is the marinade and the sauce with annatto, in that it'll give the chicken its unmistakable taste and color.
Also check out this chicken giniling with green peas recipe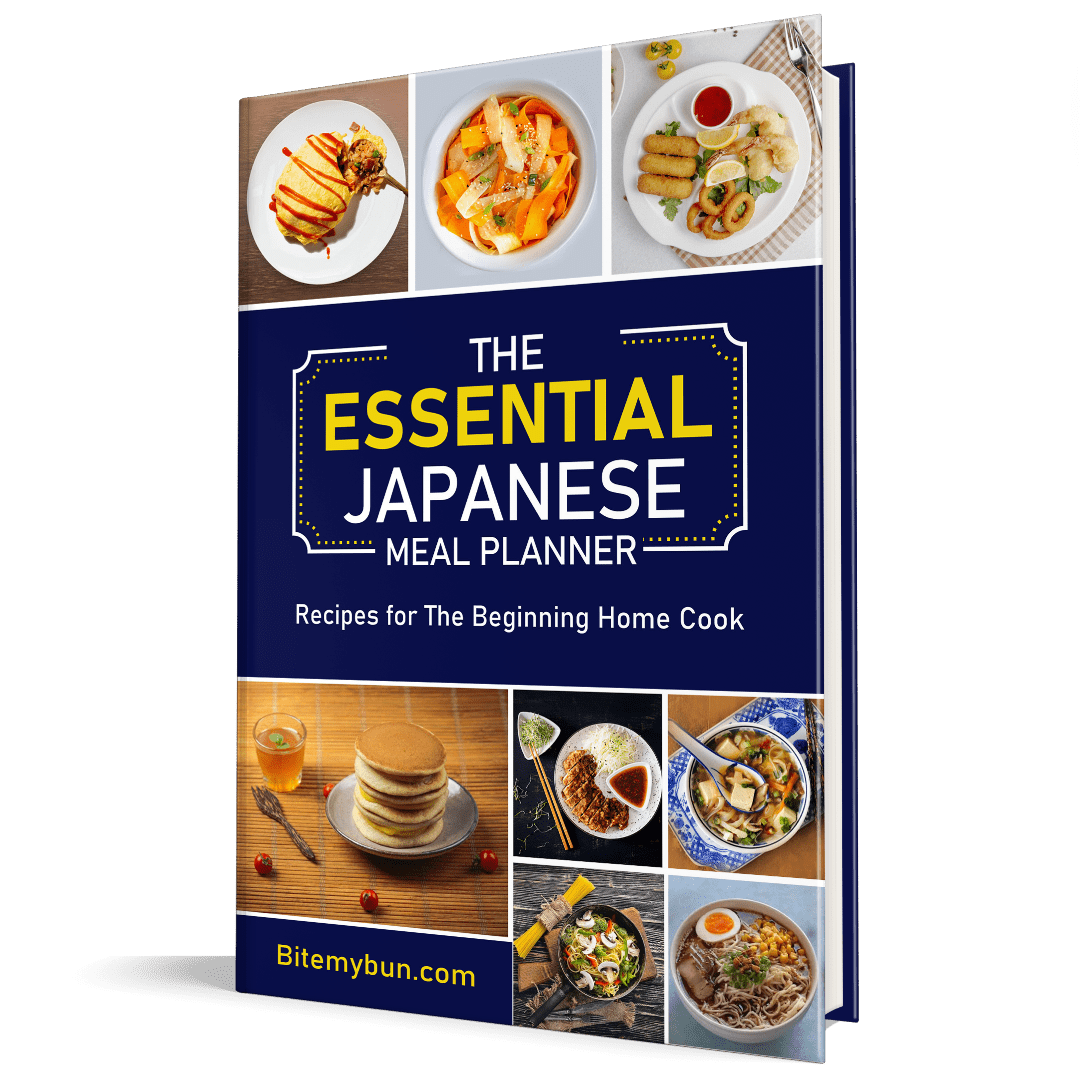 Check out our new cookbook
Bitemybun's family recipes with complete meal planner and recipe guide.
Try it out for free with Kindle Unlimited:
Read for free
Chicken Inasal Preparation
Chicken inasal recipe (original)
With the sudden boom of chicken inasal in Metro Manila, as started by that particular chicken inasal chain, who wouldn't be familiar with chicken inasal? Its combo of chicken and unlimited rice at a very affordable price is irresistible!
Ingredients  
1

whole

chicken

cut into 6 parts (legs, wings, breasts)
Marinade
1

head

garlic

macerated

2

tbsp

chopped ginger

1

tbsp

brown sugar

⅓

cup

sinamak

(native coconut vinegar)

10

pcs

calamansi extract (the juice)

3

stalks

tanglad (lemongrass)

julienned

Salt and coarsely ground pepper
Basting sauce
½

cup

margarine or butter

¼

cup

atsuete (annatto seeds) oil

Salt and pepper

Bamboo skewers

Charcoal for grilling
Instructions 
In a large bowl, put in the garlic, ginger, vinegar, a small amount of sugar, calamansi, tanglad, salt, and pepper. Mix all the ingredients, then add the chicken meat. Lightly rub the marinade on the meat. Place chicken in the fridge and let sit. After 30 minutes, turn the meat and let it sit for another 30 minutes. It's not ideal to marinate the meat overnight since the acid of the vinegar will completely break down the enzymes of the meat.

Meanwhile, in a saucepan, over low fire, combine margarine/butter and annatto seeds. Stir until the margarine melts and the annatto seeds are well infused and have developed a deep orange color. Turn off the heat, then add a small amount of salt and pepper to taste.

After marinating the chicken, put several slits on the part near the bone to help with cooking the meat fully. Skewer the meat and cook over a hot charcoal grill, skin side down, basting it once in a while. As much as possible, don't turn the meat more than twice since the result will be drier meat.

While hot, serve together with steamed rice paired with grilled oysters and sinamak or soy sauce with calamansi and siling labuyo (red chili peppers).
Nutrition
Calories:
241
kcal
Carbohydrates:
9
g
Protein:
1
g
Fat:
23
g
Saturated Fat:
5
g
Cholesterol:
1
mg
Sodium:
271
mg
Potassium:
143
mg
Fiber:
1
g
Sugar:
3
g
Vitamin A:
1017
IU
Vitamin C:
4
mg
Calcium:
32
mg
Iron:
1
mg
Cooking tips
When making the marinade, be sure to use fresh ingredients. The flavors will be more intense when you use fresh ingredients.
Also, be sure to let the chicken marinate for about 30 minutes on each side. This will help the flavors penetrate and give you a more flavorful chicken.
After marinating the chicken, cut a few slits in the part of the chicken that is close to the bone to help the meat cook all the way through.
Put the meat on skewers and cook it with the skin side down over a hot charcoal grill, basting it every so often. Don't turn the meat more than twice if you can help it, because it will dry out the meat and make it too chewy. 
It's important not to overcook the chicken, so keep an eye on it and remove the pieces as soon as they have cooked through. If you leave them too long, the meat will dry out.
Remember that the bigger pieces of chicken take longer to cook. For instance, drumsticks and thighs need longer on the grill than breasts.
The best temperature for grilling chicken is medium-high. If the temperature is too high, the skin will be burned and the meat inside will be raw.
Use a meat thermometer to make sure the chicken is cooked perfectly.
The inside temperature of the meat should be 165 degrees F. It will be juicy yet still thoroughly cooked.
Leaving the chicken out in the open is one of the most common mistakes people make when grilling. Once the meat pieces are in place, the grill lid should be pulled down while the meat is cooking.
This will make an environment like an oven and control the heat. It also gives you more control over the air, which will make flare-ups less likely.
Then, make sure to rest chicken inasal for about 3 to 5 minutes before serving. This will help the juices to redistribute throughout the chicken and make it even juicier.
Nothing works better for cutting chicken (as well as fish) than a Japanese funayuki knife
Cooking chicken inasal in the oven
If you don't have a grill, you can also cook your chicken inasal on the stove or in the oven.
Set the oven rack in the middle and heat the oven to 425°F (218°C). Put aluminum foil on a baking sheet with a rim and a wire rack on top.
Take the chicken out of the marinade and let any liquids drip off. Place the chicken, skin side down, on the prepared wire rack and throw away the marinade.
Brush annatto oil all over the chicken and cook it for 10 minutes. Turn the chicken over so that the skin is on top. Brush the whole thing with annatto oil, and cook for 10 minutes.
Keep cooking the chicken, flipping it and brushing it with annatto, for about 10 more minutes, or until a thermometer inserted into the thickest part of the thigh reads 165°F (74°C).
Take the chicken out of the oven and brush both sides with annatto oil.
Special ingredients
For this recipe, annatto oil (atsuete) is used to baste the chicken. Annatto oil is made from the annatto seed, which gives the oil a deep-orange color and earthy flavor.
You can buy annatto oil in a bottle at the store or online. La Favorita vegetable oil contains annatto oil and has that dark orange hue the chicken needs.
Another important ingredient for the marinade is sinamak. Sinamak is a Filipino spiced vinegar made with cane, garlic, ginger, and black pepper.
Calamansi juice is another integral part of the marinade. Calamansi is a citrus fruit similar to a lime or lemon. It's sold in bottles just like lemon or lime juice. Sun Tropics calamansi juice is made from pure calamansi juice without all the nasty additives.
Tanglad, aka lemongrass, is also essential for the marinade. You can buy fresh lemongrass at Asian markets or online.
Substitutions & variations
You can change up the marinade and basting ingredients to make your own signature version of this chicken.
You can use different vinegars, citrus juices, and herbs to create a unique flavor.
For the basting oil, you can substitute with coconut oil or even ghee. Coconut oil will add a tropical flavor to the chicken while ghee will give it an Indian twist.
Sinamak is a spiced vinegar and you can use other vinegars in its place.
Apple cider vinegar or white wine vinegar will give the marinade a different flavor profile but it's do-able.
The best substitutes for sinamak though are coconut vinegar or palm vinegar.
Atsuete oil is not always easy to find so you can also use paprika or smoked paprika as a substitute.
The flavor will be different but the color will be the same. Add the paprika into some vegetable oil and you're good to go.
If you cannot find calamansi juice, you can use fresh orange or lime juice in its place.
Lemongrass is best added fresh but you can use a paste if you can't find the fresh lemongrass. The flavor won't be as intense but it still works!
Finally, you can use chicken breasts instead of bone-in pieces if you prefer. If you do use chicken breasts, reduce the cooking time to about 8 minutes per side.
What is chicken inasal?
Chicken Inasal is a well-known Ilonggo dish of marinated chicken, cooked over charcoal. It's the Filipino version of chicken barbecue.
This dish came from the city of Bacolod, which is on the northwest coast of Negros Island in the Philippines.
The word inasal is an Ilonggo word that means "char-grilled" or "roasted" meat. The Hiligaynon name for this dish means skewered – so it's a skewered or grilled meat.
This dish is so well-known and popular in this province that there is a market in Bacolod City called "Manokan Country" (Chicken Country) where almost all menus have Inasal as the main course.
Before grilling, chicken pieces are marinated in a special mix of spices and then grilled until they are done.
This Ilonggo version of grilled chicken is unique because of the special marinade and basting sauce.
Looking for best grill to prepare your chicken inasal? Nothing works better than a quality Japanese tabletop grill (find the top 8 Yakitori, Hibachi, Teppanyaki grills reviewed here)
Why is chicken inasal special?
Chicken Inasal is special because of its unique flavor. The marinade and basting sauce give it a delicious, smoky taste that can't be found in other grilled chicken recipes.
The marinade contains a special Filipino spiced vinegar called sinamak, lemongrass, and calamansi juice.
It's also special because it's served with all you can eat rice and vinegar-based dip called "Sawsawan".
This tangy sauce adds a piquant flavor to the meal and helps balance out the smoky flavor from the grilled chicken.
Origin
Chicken inasal is a traditional Filipino dish hailing from the region of Bacolod. There's some debate about the history of this dish.
It is believed to have been invented by Ilonggo settlers in the 18th century and has been a staple in Filipino cuisine ever since.
But there are also a number of stories that suggest there was inasal in the Fort San Pedro area of Iloilo when the Spanish were there during the Spanish colonial era.
In the 1970s, inasal became popular on Bacolod's Cuadra Street, also known as "Chicken Alley." Still, the inasal in the two cities has different tastes.
Many people think that Bacolod's inasal has a slightly sour base flavor and Iloilo's has a sweet base flavor.
The dish has become so popular that it is now served all over the Philippines and even in some parts of the world.
How to serve and eat
In Bacolod, it is served with garlic-flavored steamed white rice and a side of lechon sauce or spiced vinegar.
Sawsawan (dipping sauce) is also a popular accompaniment. It's made of calamansi juice and soy sauce or vinegar.
In Iloilo, it is served with garlic-flavored steamed white rice, while in some restaurants, it is served with steamed white rice and atchara (pickled papaya).
Chicken inasal is best enjoyed with a cold beer or an iced tea.
In the Philippines, it is usually served for lunch and dinner and even for parties and special occasions. It is a great way to feed a crowd without spending too much money.
Similar dishes
There are other regional versions of inasal.
In the Visayas region, one popular variant is called adobong manok (chicken adobo). This dish is made with chicken and a tangy, garlicky sauce.
Another popular variety is the Bicol Express.
This dish is made with coconut milk, shrimp paste (bagoong), chilli peppers and other spices. It can be served with steamed white rice or banana leaves.
Aside from this recipe, you can also try our chicken barbeque recipe. This is also a popular recipe from the Philippines and can be seen at different parties.
Last but not least is the fried version of inasal called piniritong manok.
This dish is made with marinated chicken pieces that are deep-fried until the skin is crispy. This dish is usually served with a dipping sauce or sawsawan.
FAQs
What is the taste of chicken inasal?
Chicken inasal is a typical charcoal-grilled dish that combines the ideal amount of smokey, peppery, and citrus flavors with delicate chicken legs.
Steamed rice, a salty soy and vinegar dipping sauce, and some Filipino pickles are all included with this chicken dish.
So, the taste is best described as smoky, spicy and slightly tangy.
What is the best way to cook chicken inasal?
The best way to cook chicken inasal is to marinate it with annatto oil, garlic, ginger, lemongrass and other spices.
Then, it's best to keep basting the meat while you cook it on a charcoal grill. You can use the gas or electric grill too but the skin won't be as crispy.
Finally, it's important to cook the chicken through until it reaches an internal temperature of 165°F (74°C). This will ensure that the chicken stays moist and flavorful.
Is chicken inasal healthy?
Chicken inasal is quite high in calories and fat due to the marinade and the cooking method. However, it is a good source of protein and has some vitamins and minerals.
But, compared to fried or other chicken dishes, it doesn't contain as much sodium, so it is healthier than other chicken dishes.
Overall, chicken inasal can be part of a healthy diet if consumed in moderation. It's best to pair it with steamed white rice, vegetables or salad for a balanced meal.
Conclusion
As you can see, this inasal recipe isn't that complicated. You just need some sinamak.
You just need a good grill, a rockstar marinade, and oh-so-tasty basting sauce to recreate that chicken inasal taste that everyone's looking for!
Looking for something Japanese? Try this easy Miso Chicken Recipe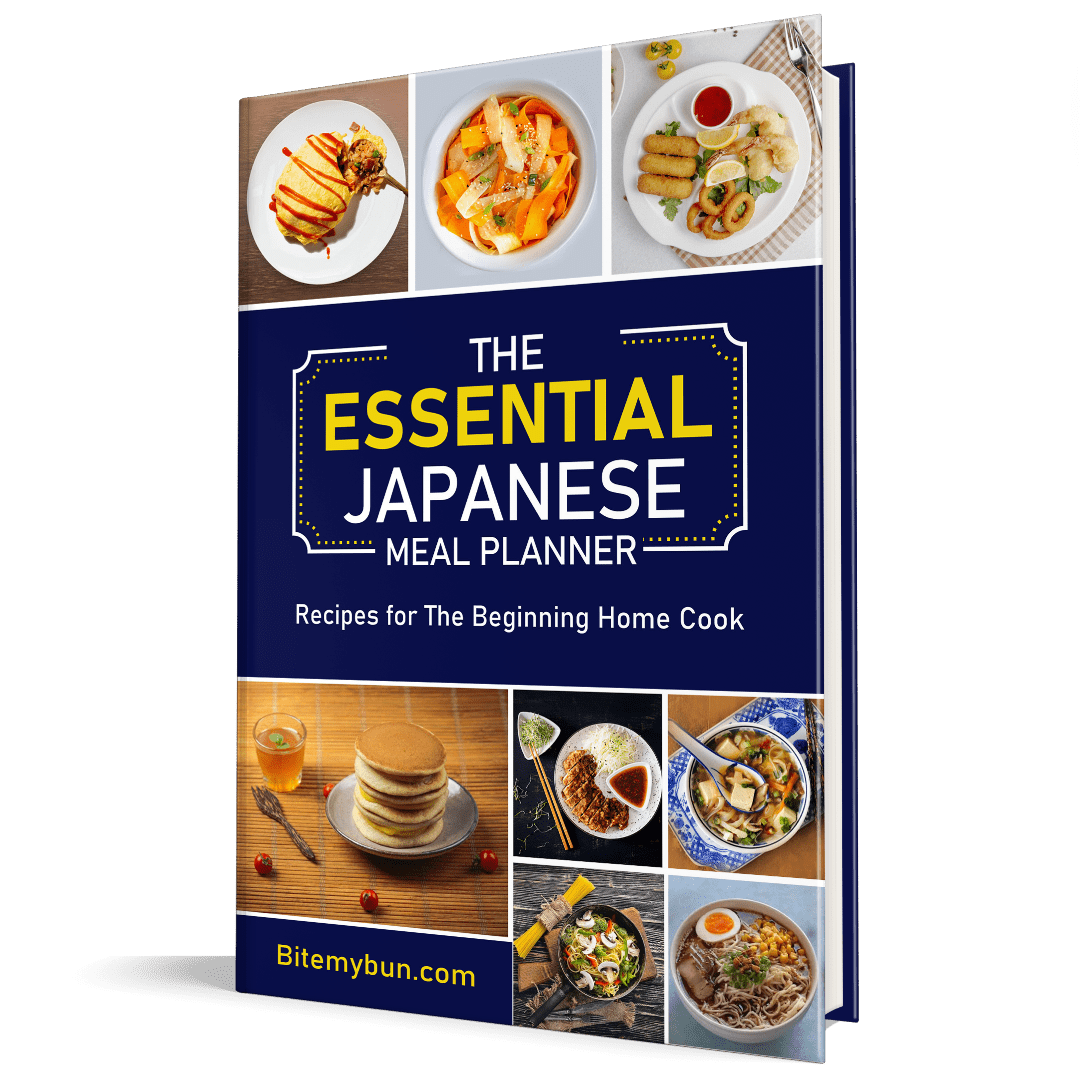 Check out our new cookbook
Bitemybun's family recipes with complete meal planner and recipe guide.
Try it out for free with Kindle Unlimited:
Read for free
Joost Nusselder, the founder of Bite My Bun is a content marketer, dad and loves trying out new food with Japanese food at the heart of his passion, and together with his team he's been creating in-depth blog articles since 2016 to help loyal readers with recipes and cooking tips.