7 expert tips to perfect Siopao Pork Asado & dough from scratch
I love creating free content full of tips for my readers, you. I don't accept paid sponsorships, my opinion is my own, but if you find my recommendations helpful and you end up buying something you like through one of my links, I could earn a commission at no extra cost to you.
Learn more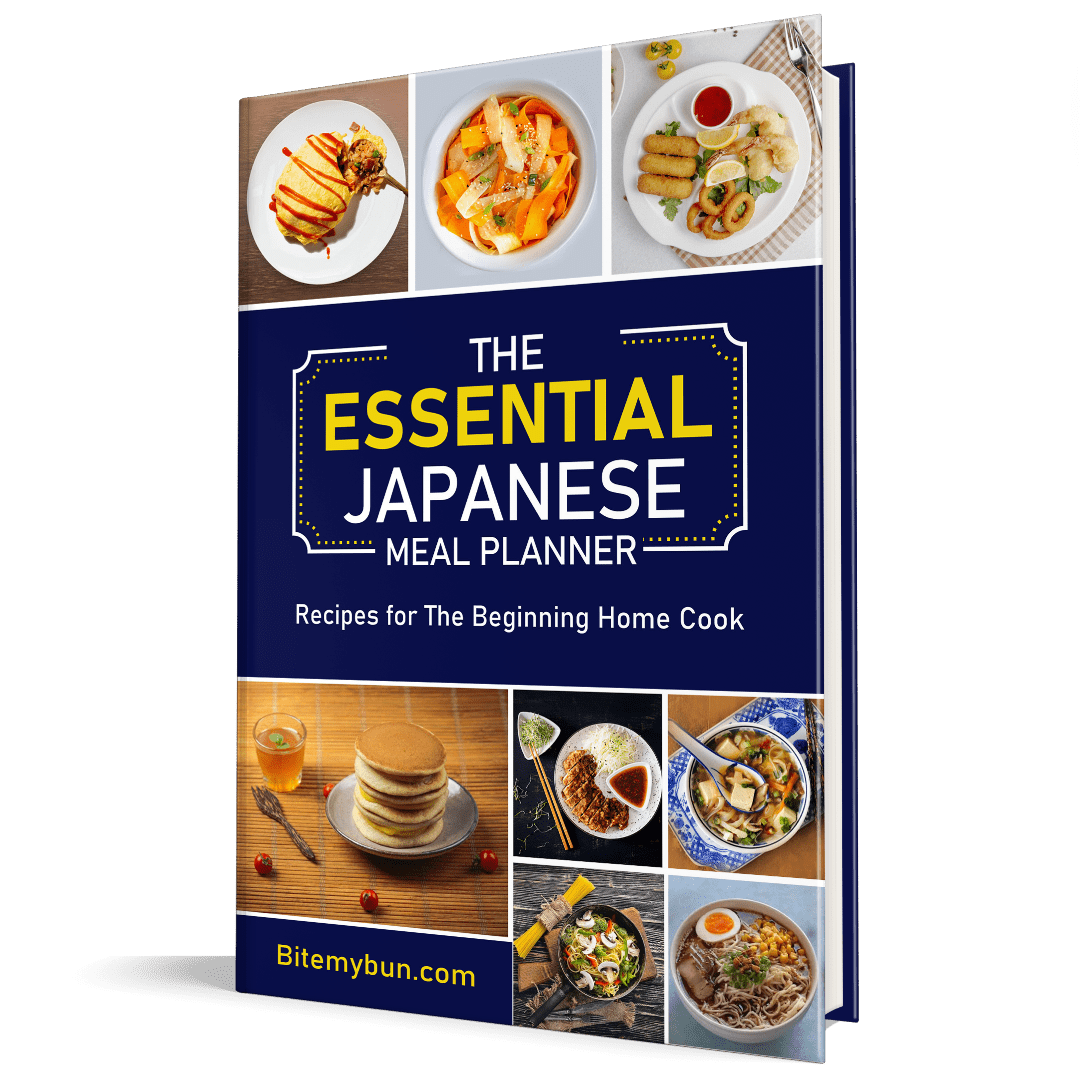 Check out our new cookbook
Bitemybun's family recipes with complete meal planner and recipe guide.
Try it out for free with Kindle Unlimited:
Read for free
Siopao is a well-loved snack in the Philippines. Actually, siopao is a variant of a popular Chinese steamed bun called baozi. In Cantonese, it's known as "cha siu bao".
It was introduced to the Filipinos by Ma Mon Luk who has a very interesting story on the origin of this delectable bun.
But let's first get into the recipe-making already!
Siopao or steamed buns have become a favorite among Filipinos and have become one of the most bought Filipino foods.

10 Tips to Save a Bundle on Asian Ingredients!
Introducing our brand new FREE PDF guide: "Saving Secrets: Unveiling the Art of Saving Money on Asian Ingredients" It's your first newsletter email, so start saving today! 📚🧧
We'll only use your email address for our newsletter and respect your privacy
Siopao Recipe Preparation Tips
Though Siopao can be bought easily, you can cook it on your own. Preparing your very own Siopao isn't really hard but you have to be careful on the dough.
Siopao Pork Asado recipe with dough from scratch
Siopao is a well-loved snack in the Philippines. The Siopao Recipe was introduced to the Filipinos by Ma Mon Luk who has a very interesting story on the origin of this delectable sandwich.
Ingredients  
dough:
¼

cup

lukewarm water

1

tsp

yeast

1½

cups

all-purpose flour

(more for dusting)

¼

cup

sugar

½

cup

lukewarm milk

a pinch of salt
Asado filling:
1

tbsp

vegetable oil

or you can use lard

1

lbs

pork

sliced into small cubes

1

tbsp

garlic

minced

½

white onion

diced

2

tbsp

soy sauce

1½

tbsp

oyster sauce

½

tbsp

hoisin sauce

2

tbsp

white sugar

1

tbsp

corn starch

(dissolved into 2 tbsp water)
Separate filling:
2

eggs

hard boiled red shelled or Salted eggs *optional, but very delicious*
Instructions 
Siopao pork asado filling recipe
Over medium heat, heat a pan. Once the pan is hot, add in the oil.

Add and saute the garlic until fragrant. Then, add onions and saute it until translucent, about 1 minute.

Add the pork cubes and mix them with garlic and onions. Let it cook until they are no longer pink in color.

Stir in soy sauce, oyster sauce, hoisin sauce, and sugar. Mix it until well combined. Simmer until the sauce thickens up a bit.

Now, pour in the cornstarch mix and stir. Simmer it for 5 minutes. Remove from heat while you prepare the dough for the siopao buns.
Siopao dough recipe
Dissolve the sugar in the lukewarm water.

Proof the yeast with warm milk and wait for few mins or until bubbles form. Proofing is to sprinkle the yeast over the surface of the milk and tiny bubbles should begin to appear on the surface or around the edge of the container and it should start to smell yeasty.

Then stir to combine your milk-yeast mixture and water-sugar mixture.

Add flour to the mixture little by little until the 1 1/2 cups are fully dissolved.

Roll out the dough on a floured surface and knead.

Slowly add in more flour as needed until you form a nice consistency.

Then form it into a ball.

Place the dough in an oiled container then covered it with a moist towel and place it in an airless area. Let it rise for 30-45 mins. After 45 mins, punch the dough to let the air out then knead the dough for at least 2 mins.

Then again, let it rest for 5-10 mins (make sure you cover it with the moist towel again)

Then divide it into 8-10 pcs or depending on how big you want them.
Form the balls:
Now to form a ball: using a roller pin, flatten each individual ball then place the filling in the middle. I usually flatten the patties first to insert hard-boiled eggs in the center. (I divide one boiled egg into four) before I form it into a ball. But again, the hard-boiled or salted eggs are optional.

Seal each piece of dough into a ball by just joining the ends.

Place each dough ball in a 2 inch by 2-inch wax paper.

Then let it rise for 30mins again and steam each batch for 15-20 mins.

Serve with any kind of Pancit.
Nutrition
You can buy Siopao almost anywhere; from well-known restaurants to even from the sidewalk vendors.
The Siopao Recipe has many variations but the most common is the Asado and Bola Bola. The price also varies depending on where you'll buy it from.
How to make siopao dough
To ensure good tasting dough, make sure that you follow the accurate measurements of the ingredients which you should have bought from good sources.
Preparation may not take long but cooking time takes quite a few hours. You have to cook the meat filling first before preparing the dough and the dough has to have time to rise.
There aren't many ingredients and sautéing the ingredients well is the secret to make a very delicious siopao.
It will be a surprise for the kids once they taste this new dish you have prepared.
How to steam siopao
One of the biggest challenges of making siopao at home is the steaming part. The buns are made with yeast and they are not baked liked bread.
Therefore, the buns don't form a crust-like bread does, and this makes them vulnerable to breaking, cracking, and collapsing.
Without stabilizing, the buns are constantly at risk of losing their shape and collapsing. Steaming is a unique cooking method that comes with its own challenges.
The goal is to make soft fluffy buns that keep their shape.
Here's how to steam siopao. You can use a bamboo steamer basket or a steel steamer basket. It's up to you and both give the same result. I will discuss the best steamers and share a detailed review of each down below.
Steps to steam:
place each bun onto a small square of wax paper. You don't want the buns to touch the steamer directly.
add a thin layer of cooking spray or oil onto the steamer basket
place the buns into the steamer basket carefully as not to break them. Cook in batches and add about 3 0r 4 buns per batch to avoid them from touching.
place the steamer onto a large pot of boiling water start steaming in batches. Steam the buns over low to medium heat for about 15 minutes.
Siopao equipment & steamers
The key piece of equipment needed for making siopao is a steamer. Without a steamer, you can't make these yummy snacks.
Then you also need wax paper and a siopao molder, but that's optional.
Keep in mind that wax paper is NOT the same thing as parchment paper.
I recommend using wax paper to prevent the siopao from sticking to the steamer. Best of all, it's affordable on Amazon.
You also need a siopao molder if you have trouble molding the buns. It's a cool little kitchen accessory you need if you make steamed buns often.
The siopao molder is a small plastic tool that helps you get the shape, ridges, and wrinkles on a bun just right. It has a lotus-flower appearance and you simply place the dough inside and the tool molds it for you.
It's definitely a time-saver, not to mention how amazing your buns will look once cooked.
Best traditional siopao bamboo steamer: Steami
If you want to try the traditional method of making siopao, then you need to try the lightweight bamboo steamer. It makes your buns super airy and fluffy, and the filling is cooked to perfection.
The main advantage of the bamboo steamer is its efficiency and versatility. It also preserves the natural flavors of the buns and you can cook without oil or fat.
10 liners are also included in the kit so you can make some batches of tasty siopao.
This traditional steamer is made of eco-friendly bamboo which is the best material for steaming siopao and dumplings.
To use it, all you need to do is line the steamer with some cooking oil and then use wax paper to place the dumplings.
This way the dumplings don't stick and you will get perfectly steamed buns in about 15 minutes.
The bamboo steamer is also a good healthy utensil because the bamboo wood is nontoxic and helps you make delicious low calories dishes.
Check out the latest prices and availability here
Best electric steamer: BELLA Two-Tier
When saving time and convenience is at the top of your list, then an electric steamer is an excellent investment for your kitchen.
This two-tier steamer makes it super easy to steam all kinds of buns and dumplings.
It comes with a reservoir view window which lets you see how much water you need to add and what's even better, the device starts making steam in about 30 seconds!
Add boiling water to the steamer before you start, then add the siopao and steam according to the steaming settings on your steamer.
Of course, the buns must be steamed longer than most green veggies, so keep that in mind.
I would use one tier of the steamer at a time because then the buns are cooked evenly.
But, since this is a multi-tier steamer, you can make some steamed asparagus or broccoli on the top tier to enjoy with your siopao.
Since it's such an affordable kitchen appliance and it fits into small spaces, you can surely get lots of use and make many healthy meals.
Best metal pan steamer: Oster Sangerfield
The great thing about a metal pan steamer with a steamer basket is that it's a versatile piece of kitchen equipment.
You can use it to steam meat, vegetables, and of course, dumplings and siopao.
Unlike bamboo steamers, the stainless-steel steamer is sturdy, and you don't need to worry about being delicate with it.
Not only is it affordable, but it's easy to use and comes in different sizes to suit your needs. The pan has a glass lid so you can see the siopao buns as they steam.
When you steam your siopao, line the steamer with greaseproof paper. You don't want the buns to come into direct contact with the metal.
Also, make sure to leave space between the buns. But the most important trick is to avoid condensation and water droplets.
Before you place the lid, cover the pan with a clean cloth to help absorb the water.
What is siopao?
It's quite obvious that siopao is a Cantonese (Chinese) steamed bun filled with diced or minced meat, with a sweet and salty flavor.
Siopao is a traditional Chinese word. Siopau means "hot bun". The Philippines borrowed the dish and the name remained unchanged.
It is now one of Filipinos' all-time favorite snacks. You can find it everywhere, from restaurants to street vendors, to the freezer aisle of Asian supermarkets.
The Japanese version of siopao is called Nikuman, and the buns are usually filled with pork, cabbage, and shiitake mushrooms.
The Korean version is either Kimchi pork buns, which contain pork and fermented cabbage (kimchi), or jinppang-mandu which is made by adding more veggies to the pork filling.
Is siopao a dumpling or dim sum or something else?
Siopao is not a dumpling because it's a steamed yeast bun, with a similar consistency to fresh bread. It's considered a Filipino dim sum.
If you're unfamiliar with the term, dim sum refers to a Chinese meal that is served on small plates with a variety of dumplings and other appetizers or snacks.
Steamed buns are one of these snacks, so you can call siopao a dim sum.
Many people get confused about siopao because it resembles a similar dish called siomai. But, there's a difference between the two.
Siopao vs siomai
Siopao is a steamed bun filled with meat, usually sweet BBQ-style pork, and served with an Asado sauce.
The siomai is not a steamed bun, but a dumpling filled with minced pork and then dipped in a soy, calamansi juice, and chili-garlic oil sauce.
Siopao vs cha siu bao
The cha siu bao refers to a Chinese version of siopao. It's almost identical because it has the same sweet and salty BBQ-style filling.
The main difference between Chinese and Filipino dumplings is sweetness. Filipinos prefer the buns to be sweeter rather than savory.
Thus, most Filipino siopao recipes contain at least 15% more sugar than their Chinese counterparts.
But did you know there are many types of siopao? Yes, the most common is the Asado and bola-bola siopao.
I want to talk about the Asado and bola-bola first, then I'll explain some others.
Recipe variations: Asado vs bola-bola filling
In the recipe, I shared the Asado filling which is made with diced pork, soy sauce, and oyster sauce. Filipinos love two classic siopao fillings: Asao and Bola-Bola.
What's the difference?
Asado – diced pork or chicken cooked in soy sauce, oyster sauce, and seasoned with sugar and salt.
Bola-bola – this is made with minced pork or beef and seasoned, which is mixed with egg and flour.
Both have a similar flavor but it's up to you whether you prefer minced or diced meat. Both have a sweet and savory taste.
How to make bola-bola siopao
To make bola-bola siopao, you make the dough the exact same way as for the Asado, the difference lies in making the filling.
You need a raw egg, two hardboiled eggs chopped into small pieces, ground (minced) pork, and finely chopped shrimp, and then all the other ingredients you used for Asado.
Mix the raw egg, cooked ground meat, shrimp, and boiled egg, and fill the buns. You can use regular eggs or salted eggs (like these you can make yourself!) it's up to you.
Different types of siopao
The most common siopao fillings are meaty and savory, with a hint of sweetness. The meats are pork, chicken, and beef, but you can experiment with turkey and lamb if you want.
Siargao is a small island in the Philippines. It has its own siopao variation which is entirely sweet.
It's called the paowaw and it's a sweet steamed bun filled with bukayo, which is sweet coconut filling.
Sometimes siopao becomes an art form. What I mean is that people take the time to "carve" beautiful designs on the exterior of the buns.
You may also notice the dough has different kinds of pleats. Some buns are simple whereas others are full of intricate details.
Filipino siopao is usually much whiter than other Asian steamed buns. That's a result of flour bleaching which means the flour is whiter and the dough has a clean white color.
If you make the buns in North America or Europe, the flour will not be bleached and the buns have a yellowish color, but trust me, the taste is just as divine.
Some other delicious fillings include:
spicy sausage
regular pork and beef sausage
chorizo
salted duck egg
chicken egg
tamarind
hoisin sauce
soy sauce
oyster sauce
ginger
coconut
How to serve siopao & popular pares "pairs"
Siopao is both a snack and part of a full meal. One of the most popular Filipino dish combinations is siopao with mami chicken noodle soup.
The sweet and savory buns enjoyed alongside a hot soup are a culinary delight you can't miss out on.
When you're done making the buns, you can try them with the mami soup, or any type of Pancit Recipes and it will be lip-smacking good if you will also have a few pieces of siomai on the side.
Don't forget about a tasty dipping sauce. I will talk about them more in a minute.
Calamansi, chili garlic oil, and soy sauce is the best condiment for the Siomai and mami while preparing your very own Siopao sauce make it all the more perfect.
People prefer either a sweet or hot sauce for the Siopao so if you're preparing this recipe for a group of people, make sure that you have made both kinds of sauces for everyone to enjoy.
For Chinese people, they love to have tea to pair these buns with, but for most Filipinos, Soda or Gulaman is the perfect partner.
Siopao may seem like a simple snack or go-to food but it will satisfy the hungry tummy because of its meat filling and the dough of course.
Dipping sauce for siopao & how to make it
You can't try siopao without a tasty sauce!
The sauce that goes with the steamed buns is siopao sauce and it's a delicious mix of flavors. The sauce is stored in the fridge and used as a cold or hot dipping sauce.
To make siopao sauce,
mix 2 cups of beef broth,
with 1 star anise,
1/2 tsp of five-spice powder,
2 tbsp of diluted cornstarch with water,
1 tbsp Worcestershire sauce,
2 tbsp soy sauce,
2 garlic cloves,
4 tbsp of brown sugar,
salt,
pepper,
1/4 of a diced onion.
Boil everything together for a minute and then strain. Now you've got a thick brown sauce that's just the right balance between sweet and savory.
Some people also add in a bit of cassava flour to thicken the sauce but it's not really necessary.
How to store and reheat siopao buns
You can store leftover siopao buns in the fridge for up to 3 days. Place the buns in an airtight sealed container. If you want to freeze them, you can do that too. Place the buns on a baking sheet. Arrange the buns in one layer so that they're not touching and freeze them. Once frozen you can place them in Ziplock freezer bags so that they're not taking up all the freezer space. Keep them frozen for a maximum of 2 months.
When you're ready to defrost and enjoy, thaw them in the fridge and then steam them again for about 5 minutes. The texture won't be as fluffy and perfect as the freshly steamed dough, but the taste will be just as amazing.
How to reheat siopao with and without a microwave
You've got cold or frozen siopao buns, now what do you do?
The easiest way to reheat siopao is using the microwave oven:
spray a small amount of water on the buns but don't drench them
put the bun on a microwave-safe plate and wrap it in cling film. The cling film must be loose, not tight on the bun.
heat in the microwave for about 40 seconds per bun at 600W for refrigerated buns. Frozen buns must be heated for 1 minute and 30 seconds or so.
eat them right away and don't wait for them to cool down again. Once they are reheated you cannot refrigerate or freeze the buns a second time.
Without a microwave, using a steamer:
boil a pot of water and keep at medium or high heat
place the steamer (metal or bamboo is fine)
place the buns side by side and put the lid on
use a cloth as a barrier between the steamer and lid to avoid condensation and water dripping onto the buns
steam the buns for approximately 7 or 8 minutes
Can you buy frozen siopao?
Many Asian grocery stores sell frozen siopao buns that you can steam at home. The way to do this is to place the buns in the oiled steamer and steam them over boiling water for 20-25 minutes. Once cooked, the meaty filling will be hot and ready to serve.
Henlin is a popular Filipino frozen siopao brand. Their best-selling buns are the ones with Asado and bola-bola fillings, combined with salted egg and Chinese chorizo. Another popular brand is King Chef and these buns are also highly rated by customers.

History of siopao: is it Chinese or Filipino?
Siopao is actually a Chinese dish that was brought over to the Philippines. As I mentioned at the beginning of the article, steamed buns are traditionally Chinese and called baozi or bao for short.
They originated in Northern China as a variation of another type of bun, called Mantou.
Ma Mon Luk, or Ma Wen-lu in Chinese, came to the Philippines in 1918 because he wanted to get over heartache, and for this to happen, he devoted his life to building a grand business: thus the birth of the Siopao, Mami (Chicken Mami) and Siomai industry.
Siopao was sold as a type of street food at food vendor stalls and in small restaurants or fast-food type establishments.
Ma Mon Luk was a generous man and gave away the steamed buns to victims of various disasters as well as the poor. But these buns were so tasty, the whole country started eating siopao.
FAQ: what you need to know about siopao
Why is Siopao white?
Many people wonder why siopao is white and can't quite get them that color when making them at home. The secret is that you have to use bleached flour.
You can find this type of flour in specialty shops and Asian grocery stores. If you use standard all-purpose flour, the buns will have a cream or off-white color. Sometimes it even turns yellowish, depending on the flour quality.
Is siopao good for your diet?
One of the most common questions people have while eating siopao is if it's healthy or not. Well, siopao is a snack, so like all snacks, it should be consumed in moderation.
With that being said though, I wouldn't call it junk food. It's not nearly as bad for you as a common snack like chips.
A siopao bun can have 300 calories, so it's not the kind of snack to keep having more of, but a couple of buns are so filling you might not even crave more.
As well, the buns are not gluten-free and not vegan so you're getting protein and fats with each bite.
My overall conclusion is that siopao is not the best diet food for weight loss because it contains quite a few carbs, lots of fat, and cholesterol.
But, when you crave some comfort food, this snack is tasty and satisfying!
Can you make siopao in an air fryer?
Surprisingly, yes, you can make a type of siopao in an air fryer. The one thing to note is that the buns will be more like bread buns rather than white steamed buns.
You can make the filling in a skillet and the dough in a bread maker. You can't make the dough in the air fryer, but you can use the air fryer to cook the buns instead of steaming them once they're stuffed.
Line the air fryer with parchment paper and fry for about 7 or 8 minutes at 350 F.
Can you make siopao in a bread maker?
You can make the dough with a bread machine easily. All you have to do is place the dough ingredients and set the machine to the "dough" setting.
This saves you all the time you'd spend kneading and mixing. Don't forget to let it sit so the yeast helps the dough rise.
The bread machine can't steam your buns so you still need to steam them for 15 minutes over boiling water.
Can you make siopao dough without yeast?
Sure, if you don't like or can't eat yeast, then you can make the siopao buns yeast-free. They will still turn out fluffy and soft.
Instead of yeast, use baking soda OR baking powder. This is the start ingredient of yeast-free steamed airy buns.
Make sure the baking soda or powder is fresh or else the buns won't be as fluffy.
Siopao with bread flour or cake flour, is it possible?
Yes, you can use bread flour which has a higher gluten content and more protein but it makes the texture of the buns a bit stickier.
The most commonly used flour is all-purpose and bleached (in the Philippines) but most types of flour work as long as you use good yeast.
You can also use cake flour which makes the buns extra soft.
What type of yeast can I use for siopao?
You can use both instant yeast and dry active yeast:
instant yeast: shortens the rising time and there's no need to proof it
dry active yeast: needs to be proofed in warm water or milk before use and the rising time is longer
Can you make siopao with biscuit dough or dumpling dough?
Technically, no because then it's no longer siopao.
When you steam biscuit dough or dumpling dough the texture is much different. As you know, dumpling dough is a thin, almost transparent, and slippery dough.
The reason why siopao is so good is because of that airy, soft, and fluffy dough.
Conclusion
Being able to cook your own Siopao will add savings to your budget and can also assure you that your family will be eating a clean and sanitary meal.
This will help prevent any untoward health risks, especially for the kids. That's the advantage of being able to cook your own meal.
You can start adding this to the snacks that you prepare for the family. You can bet that the kids will love this truly appetizing snack.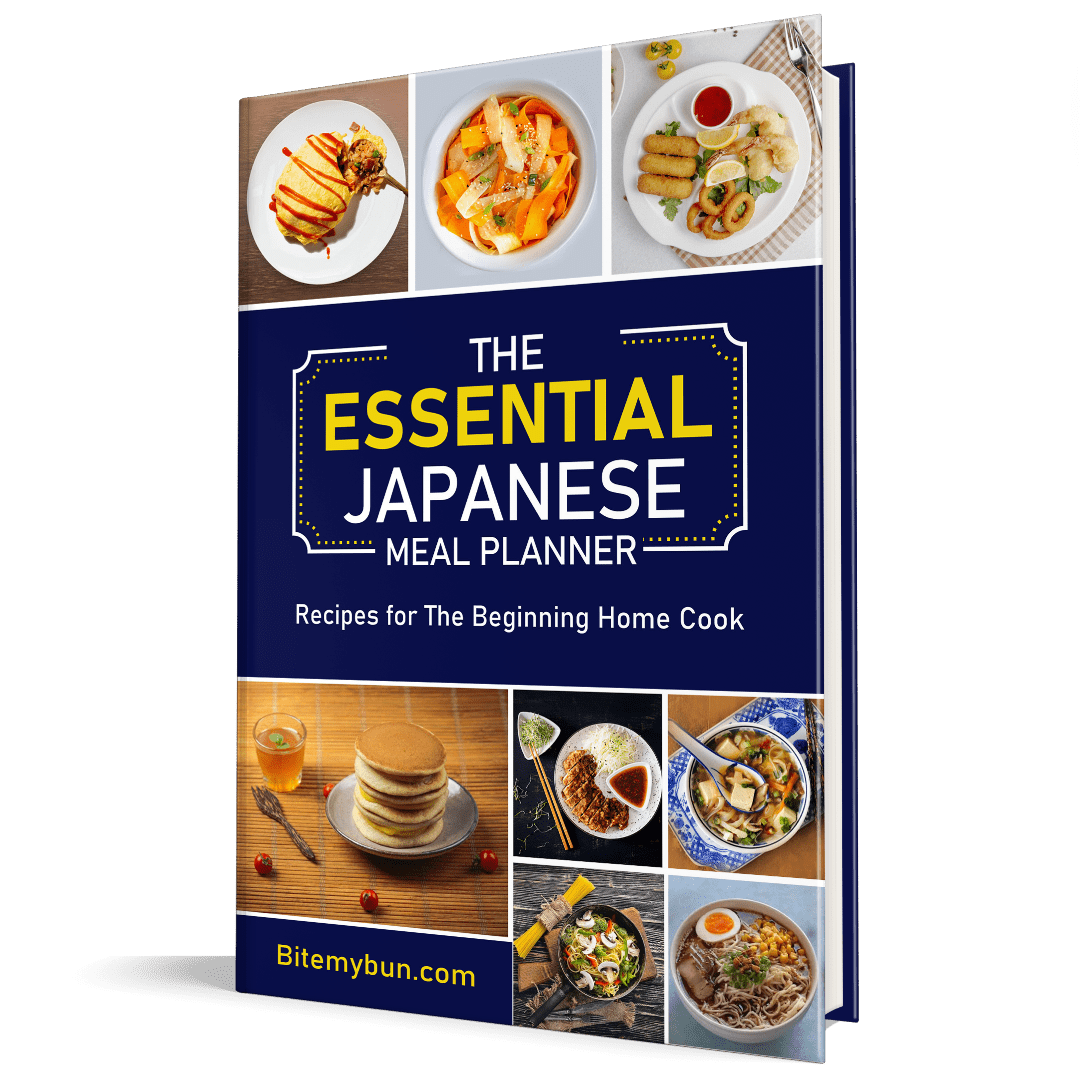 Check out our new cookbook
Bitemybun's family recipes with complete meal planner and recipe guide.
Try it out for free with Kindle Unlimited:
Read for free
Joost Nusselder, the founder of Bite My Bun is a content marketer, dad and loves trying out new food with Japanese food at the heart of his passion, and together with his team he's been creating in-depth blog articles since 2016 to help loyal readers with recipes and cooking tips.