Pancit luglug recipe: Tasty shrimp and crackling pork
I love creating free content full of tips for my readers, you. I don't accept paid sponsorships, my opinion is my own, but if you find my recommendations helpful and you end up buying something you like through one of my links, I could earn a commission at no extra cost to you.
Learn more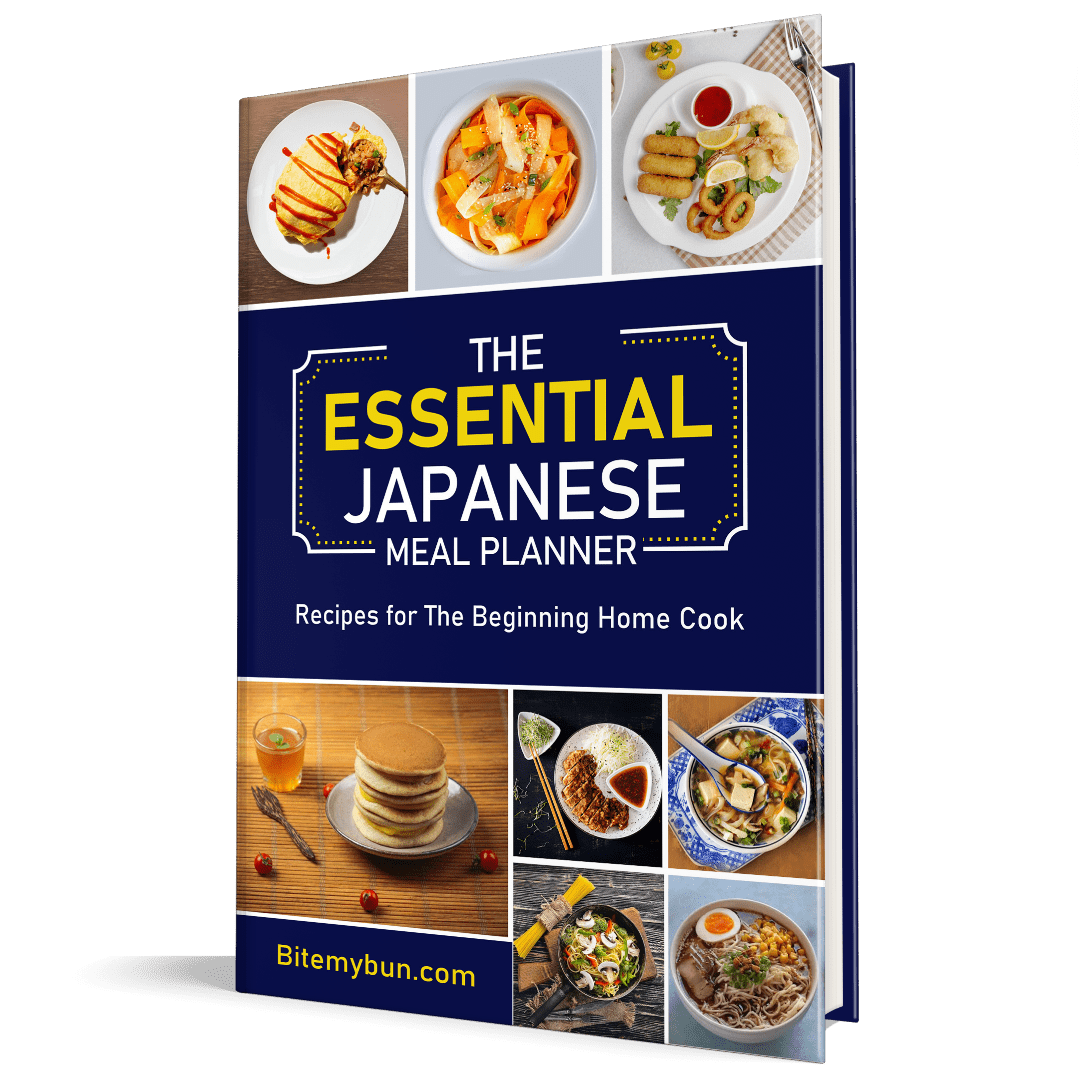 Check out our new cookbook
Bitemybun's family recipes with complete meal planner and recipe guide.
Try it out for free with Kindle Unlimited:
Read for free
Do you love your noodle recipe so much that you think no other dishes can surpass it? Hold that thought for a minute!
If you're wondering what this noodle recipe is, it's the infamous pancit luglug recipe, which is also known as cornstarch noodles or rice noodles in some variations, with a medley of toppings and sauce. "Luglug" literally means "to dunk in the water," "submerge," or "rinse."
The name of this recipe refers to the actual act of dunking the freshly cooked noodles into hot water to reheat them. Then, you add the sauce after.
Pancit luglug is usually eaten as a midday snack in the Philippines, but it's also your best friend to serve on any special occasions that'll keep your guests coming back.
The kinds of noodles that are used here are either thin or thick white cornstarch noodles. But personally, I like to use the thick ones, as I love to savor them more and they're harder to melt, especially when heated as leftovers. So I enjoy the dish a little bit more!
This pancit luglug recipe has been credited to the people from the fishing town of Malabon, located north of Manila, which is why the sauce contains lots of seafood. Although pancit luglug is sometimes referred to as "pancit Malabon", they're actually 2 different dishes with lots of unmistakable similarities.
The thin rice noodles (or bihon) can also be used as a substitute for the thicker noodles that are used in making this pancit luglug recipe.
10 Tips to Save a Bundle on Asian Ingredients!
Introducing our brand new FREE PDF guide: "Saving Secrets: Unveiling the Art of Saving Money on Asian Ingredients" It's your first newsletter email, so start saving today! 📚🧧
We'll only use your email address for our newsletter and respect your privacy
Pancit luglug recipe and preparation tips
The thin rice noodles (bihon) don't need to be soaked.
The sauce and toppings for this pancit luglug recipe are usually poured over the noodles, and the toppings are then beautifully arranged on a "bilao" or a bamboo-woven shallow round basket.
Just before serving, pancit luglug will be mixed thoroughly so that all the toppings and sauce will adhere to the noodles. To add sourness to the already mouthwatering dish, calamansi is scattered around the bilao.
The calamansi is squeezed into the noodles alongside the patis (fish sauce) and some "paminta" or ground black pepper.
Some popular toppings for pancit luglug are crumbled chicharon (fried pork cracklings) and some sprigs of small onion leaves.
There are other versions of this pancit luglug recipe with thin diagonal slices of kamias or bilimbi placed as a topping or garnish. This is best eaten while still warm.
Also read: how to make Filipino buttered shrimp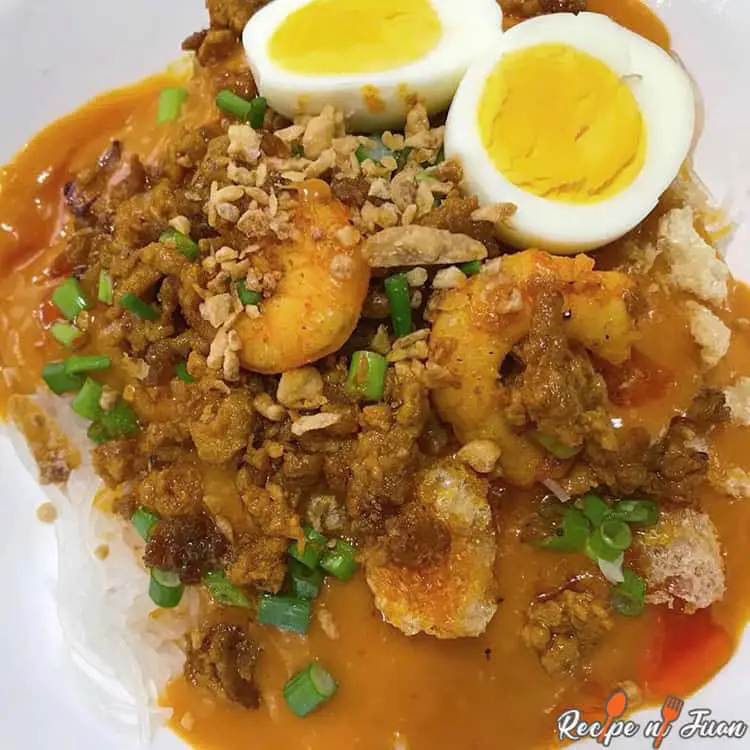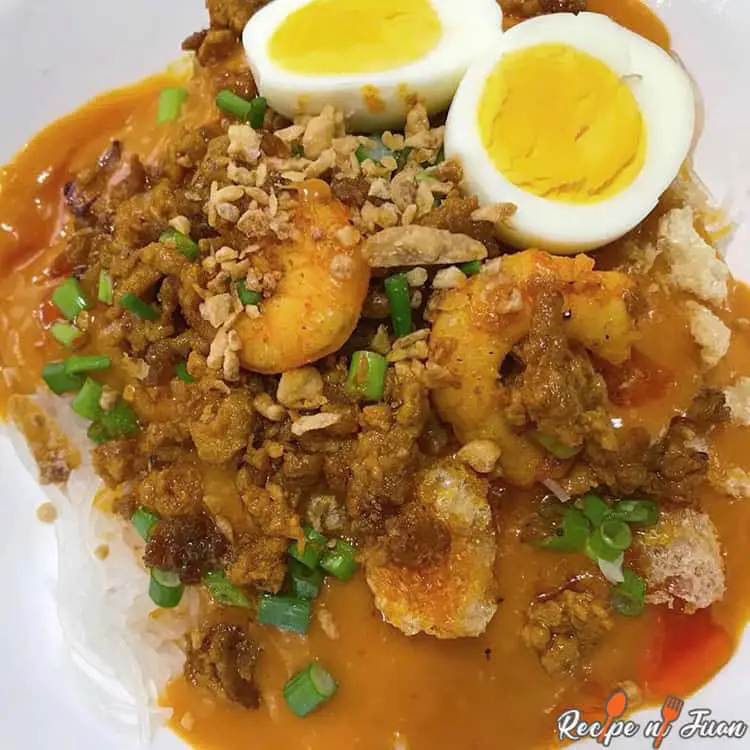 Pancit luglug recipe with shrimp and crackling pork
This pancit luglug recipe is also known as rice noodles with a medley of toppings and sauce. "Luglug" literally means "to dunk in water".
Ingredients  
600

g

rice sticks (luglug)

250

g

shrimp

with heads

¼

cup

flour

dissolved in 1 cup of water

3

cups

water

2

tbsp

annatto powder

dissolved in 1/2 cup of water

2

tbsp

fish sauce

or to taste

4

boiled eggs

8

pcs

fish balls

thinly sliced

½

cup

smoked fish flakes

75

g

pork crackling (chicharon)

crushed

100

g

firm tofu

diced

2

stalks

spring onion

3

cloves

garlic

1

medium

onion

Cooking oil

Salt and pepper to taste
Instructions 
Remove the shells and heads of the shrimp.

Pound the shrimp heads using a mortar and mash in 3 cups of water.

Strain the shrimp liquid and set aside.

In a large casserole, bring 10 cups of water to a boil.

Cook the noodles according to package instructions or until soft.

Rinse the noodles in cold running water. Drain well and set aside in a platter.

Heat oil in a pan. Add the garlic and onion. Sauté for a few minutes.

Add shrimp, fish balls, tofu, and season with salt and pepper. Sauté until the shrimp is done. Set aside.

Put 3 cups of water in a saucepan, add annatto powder, ground pepper, fish sauce, and flour dissolved in water.

Simmer over medium-low heat. Stir constantly for about 3 minutes or until liquid starts to thicken.
Notes
Cooking tips
Cook the noodles according to package instructions.
You can add pork, crab meat, and squid.
Fry the smoked fish and flakes. Serving directions
Pour the shrimp sauce over the noodles and top with stir-fried shrimp, fish balls, and tofu.
Sprinkle with smoked fish flakes and crushed pork crackling.
Garnish with spring onion and add the sliced hard-boiled eggs.
Serve with lime quarters.
Nutrition
Check out YouTube user Kawaling Pinoy's video on making pancit luglug:
Also check out spicy dilis, Filipino dried anchovies
Cooking tips
Just like any other type of dish, this pancit luglug recipe also has some cooking tips and tricks that I'll share with you:
To make your saucy noodle dish more savory, add a bit of all-purpose flour and mix it into the annatto water. Stir well until you've got that creamy feature of the sauce or orange gravy.
If you want your noodles to be made just right for your pancit luglug, pre-rinse the noodles for about 10 to 15 minutes. Then drain the water and throw the noodles in the boiling pot of water.
Toppings matter! And I love ground butter-fried shrimps or hibe, some squid rings, hard-boiled eggs, and ground pork; the result is just awesome. Try it too!
Mix well until the noodles are all savory orange with the sauce.
Substitutes and variations
If you're out of some of the ingredients of this recipe, relax! You can still make your own delicious pancit luglug using some of my ingredient substitutes and variations.
Use annatto seed instead of annatto powder
Don't have annatto powder but got an achiote tree right in front of your house? Then you can use annatto seeds and add them into the boiling water until you've got your desired color!
Use paprika instead of annatto powder
Paprika is considered to be the best substitute for annatto powder, as they both have a spicy flavor. While paprika can be used to enhance a number of foods, it's especially effective in roast chicken and black bean chili.
Use thick rice noodles instead of thin, and vice versa
Pancit luglug is pretty flexible with the noodles, so simply pick the one you want to use for your dish!
Use cornstarch instead of all-purpose flour
Adding cornstarch or all-purpose flour makes the gravy thick, which is ideal for making pancit luglug. So if you don't have any all-purpose or cornstarch available, feel free to use the other substitute.
Use hibe instead of fresh shrimp
Hibe are dried shrimp that are used in soup bases like misua and as a seasoning in place of salt. It works in a pinch if you can't get fresh shrimp!
What is pancit luglug?
Pancit luglug is a noodle-based dish native to Pampanga, Philippines. It's made out of thin or thick cornstarch noodles, seafood toppings, pork rinds, and an orange savory sauce from the delicious combination of shrimp broth, flour, and annatto powder. The dish is best served when warm for meriendas, midday snacks, or on just about any occasion.
You can also serve pancit luglug with a warm bowl of rice, sliced bread, or puto (Filipino steamed rice cake). But as for me, I like to have it as it is and drink orange juice after.
Whatever it is that you want to pair this dish with, you'll surely be enjoying this dish with every savory slurp!
Origin of pancit luglug
As I've already mentioned to you before, pancit luglug came from Pampanga, Philippines. However, due to its popularity and mouthwatering taste, you can now find pancit luglug anywhere in the Philippines.
When you're traveling to some local areas, simply look for this dish in the noodle section on the menu. For about ₱50.00 to ₱80.00, you can already get a bowl of this dish.
How to serve and eat
Serving and eating pancit luglug also comes easy and don't require much effort. Simply take out the cooked noodles from the pot and mix them well with the sauce. Then add your favorite toppings, and don't forget the calamansi!
If you prefer to serve it with bread or rice, prepare them as well, or just eat it as pancit luglug as is.
Don't forget to take a picture and enjoy it while it's warm!
Similar dishes
Loving your pancit luglug already? Here are some other similar dishes to enjoy as well! Go add them to your list now and try them all.
Pancit palabok
Pancit luglug is said to be very much similar to pancit palabok in terms of preparation. However, pancit palabok typically uses thin rice noodles.
This pancit is tasty and filling, and the delicious sauce will make your mouth water.
Pancit Malabon
Pancit Malabon is a Filipino delicacy that comes from Malabon. Unlike pancit palabok, this dish uses thick rice noodles. And due to the achuete, shrimp broth, and flavor ingredients, the sauce has a yellow-orange color.
Pancit lomi
Lomi noodles are a type of thick egg noodle that's typically made by soaking them in lye water to give them their distinctive chewy texture. This dish is well-known as Batangas Lomi.
It has a variety of meat pieces, veggies, and soup stock thickened with cornstarch, and of course, yummy noodles.
Filipino spaghetti
The meat sauce is used to make Filipino spaghetti. This version has a lot of meat items, such as ground pig, luncheon meat, and hotdogs, in a sweet tomato-based sauce. It's frequently served on the menu during kid's birthday parties, along with delicious fried chicken and cake.
FAQs
Is there a difference between pancit luglug and palabok?
Yes, there is and it's the noodle type used. While pancit palabok typically utilizes thin rice noodles, pancit luglug uses thick or thin cornstarch noodles.
Why is it called "pancit luglug"?
The traditional Kapampangan method of "rinsing" the noodles before cooking or reheating gave rise to the name "pancit luglug."
How do you store pancit luglug leftovers?
To store pancit luglug leftovers, simply place them in an airtight container and put it in the refrigerator. To eat it again, simply reheat it in the oven, microwave, or stove.
Get yourself a bowl of pancit luglug
Pancit luglug is sure to be your winning food for merienda, special occasions, or on just about any day! It's your go-to recipe to serve with guests that are delicious yet easy to make. Once you've mastered cooking pancit luglug, you'll be surprised that you have some talents in cooking.
Craving something appetizing, creamy, and saucy? Make yourself a bowl of pancit luglug now!
Don't forget to follow my recipe as well as my cooking tips!
'til next time.
If you enjoyed my recipe, please rate it 5 stars and share it with your friends and family as well. Thank you and mabuhay!
If you're interested in learning more about pancit luglug, then read this article.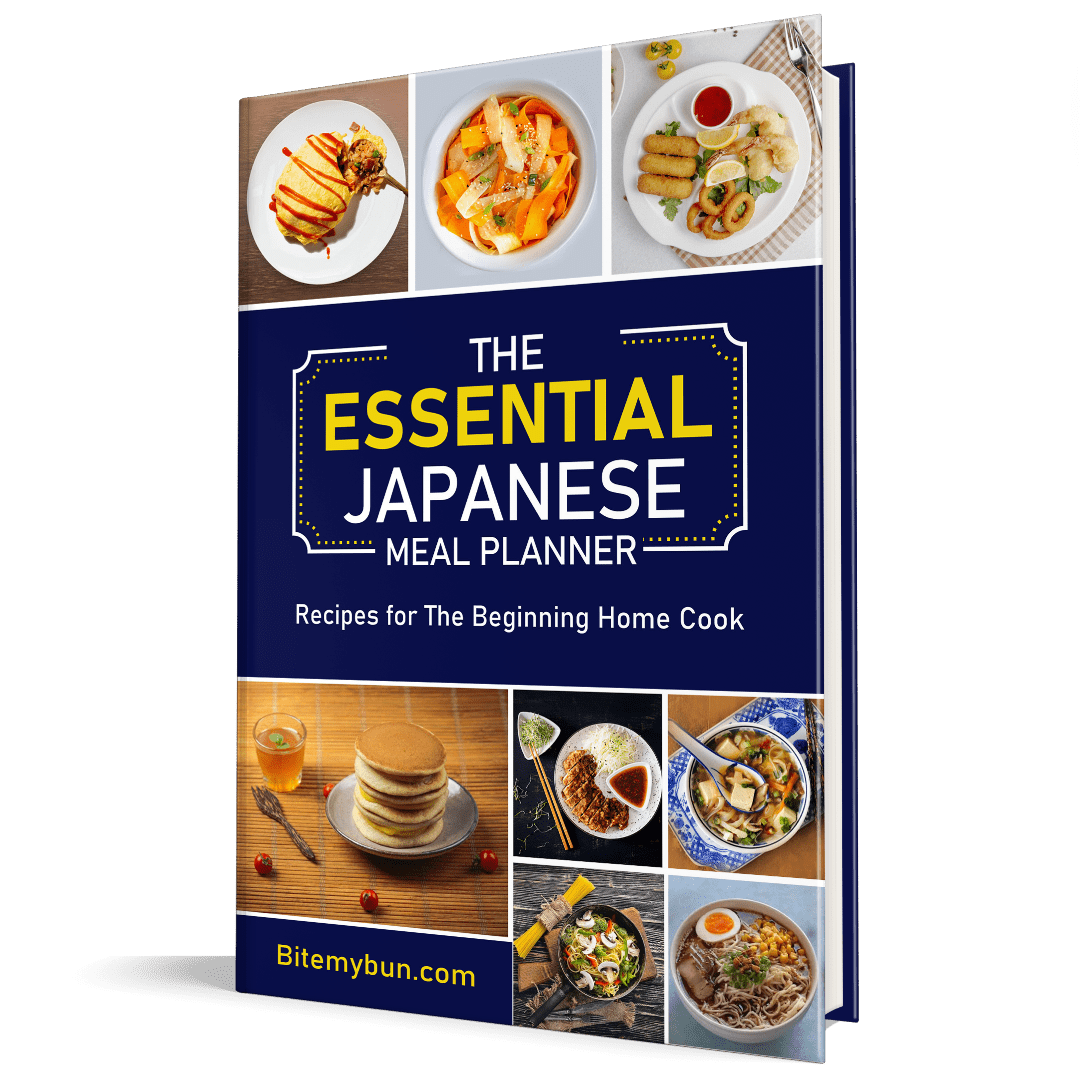 Check out our new cookbook
Bitemybun's family recipes with complete meal planner and recipe guide.
Try it out for free with Kindle Unlimited:
Read for free
Joost Nusselder, the founder of Bite My Bun is a content marketer, dad and loves trying out new food with Japanese food at the heart of his passion, and together with his team he's been creating in-depth blog articles since 2016 to help loyal readers with recipes and cooking tips.