Ponzu sauce recipe: make it at home [+ cooking tips]
I love creating free content full of tips for my readers, you. I don't accept paid sponsorships, my opinion is my own, but if you find my recommendations helpful and you end up buying something you like through one of my links, I could earn a commission at no extra cost to you.
Learn more
Ponzu sauce is a light, tangy sauce that is often used in Japanese cuisine. It is traditionally made with mirin, soy sauce, citrus juice, and bonito flakes.
While ponzu sauce is readily available in most Asian supermarkets, it is very easy to make at home.
I'll give you the recipe and some cooking tips to make sure you are never our of ponzu sauce in your kitchen.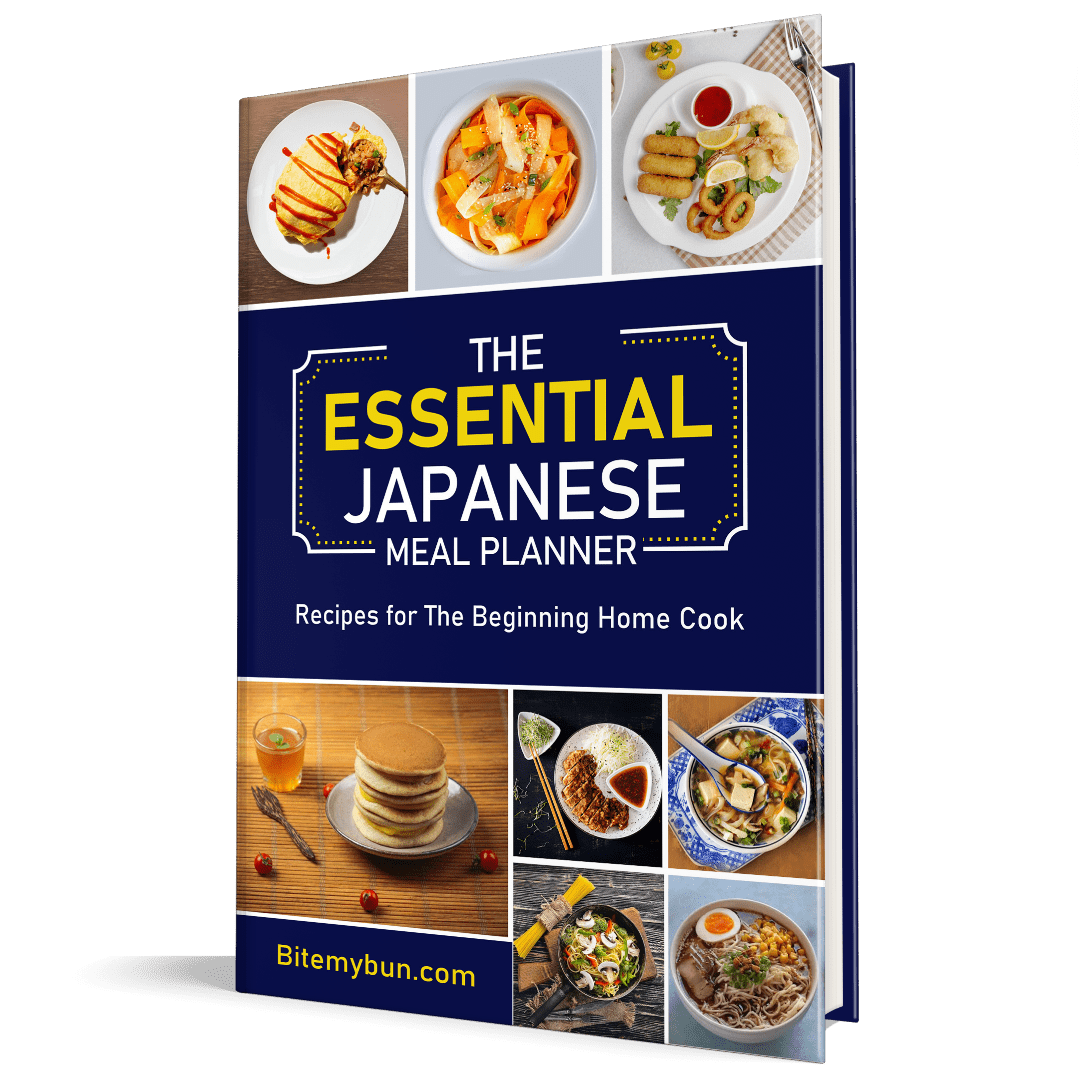 Check out our new cookbook
Bitemybun's family recipes with complete meal planner and recipe guide.
Try it out for free with Kindle Unlimited:
Read for free
Make your own ponzu sauce
If you're looking for a versatile sauce that can be used in a variety of dishes, ponzu sauce is a great choice.
Give it a try the next time you're in the mood for something light and refreshing.
Homemade ponzu sauce recipe
Here's a simple but authentic homemade ponzo sauce recipe that's highly recommended!
Ingredients  
½

cup

soy sauce

½

cup

citrus juice (juices used can vary according to taste)

Lemon zest from one lemon

2

tbsp

mirin

1

cup

dried bonito flakes (katsuobushi)

1

piece

kombu (dried kelp)
Instructions 
Combine ingredients in a mason jar and mix well. Steep in refrigerator for 24 hours or up to a week. (Some restaurants will even let their ponzu sauce steep for a month. This is recommended for bigger batches.)

Drain to get rid of excess bonito flakes. (These can be saved and used to make furikake (Japanese rice seasoning))

Use immediately or store. To be safe, ponzu can be stored for one month. But if you keep it away from water, you may be able to store it for 6 – 12 months.
Cooking tips
Now that you're familiar with ponzu sauce's ingredients, it's time for you to learn the secret of making the best-tasting ponzu sauce there is!
And to do that, simply follow my cooking tips below.
I like my ponzu sauce thick, so if you do as well, feel free to add cornstarch. In a small bowl, whisk together 2 teaspoons of water and cornstarch until the cornstarch is completely dissolved. Ponzu sauce should be thickened and clear when you add the cornstarch mixture and bring it to a boil, stirring frequently for approximately a minute.
If you've got more time to explore and possibly find a yuzu fruit, it's better to add a little bit of it for a more tangy Japanese flavor.
Ponzu can be frozen and used later. Any that you won't use right away can be frozen in an ice cube tray as a quick solution. When the cubes are frozen, remove them from the freezer and store them in a plastic freezer bag. Then, when you want to use ponzu in a dish, just defrost the desired quantity.
Lastly, if you're not in a rush to get a good taste of your homemade ponzu sauce, then it's better to wait a week or even a month for the best results.
Note: For the citrus juice, there are a number of combinations you can use.
Some recommend mixing 6 tbsp lemon juice with 2 tbsp orange juice. Grapefruit juice can also add a bit of a zing.
Curious about that furikake? Learn all about this savory sprinkle for Japanese dishes and how to make it yourself here
Substitutes and variations
Homemade ponzu sauce will have a fresher flavor than store-bought varieties, and you can adjust the ingredients to suit your taste.
I know making this tangy, and sweet Japanese condiment can be really easy and finding its ingredient is equally manageable as well.
But what if you don't have all the ingredients?
Nothing to worry about! Check out some of these ingredient substitutes and variations.
Using tamari instead of soy sauce
The Japanese sauce called tamari (or tamari shoyu) is created from fermented soybeans.
It is a better option for a dipping sauce than Chinese soy sauce since it is thicker and has a more harmonious flavor.
It is also gluten-free and vegan. Add salt, umami, and other nutrients to dishes by using tamari straight from the bottle.
Using dry sherry or vinegar instead of mirin
I know you can easily grab mirin online or in any specialized Asian stores, but if you're in a hurry, you can substitute mirin for dry sherry.
It is a great alternative since, as a wine, it has a flavor and body that is comparable to mirin.
However, it has a higher sugar level than rice vinegar, but with a mirin-like alcohol percentage.
On the other hand, you can also use vinegar. Use 1 teaspoon of white wine vinegar and 1/2 teaspoon of sugar for every 1 teaspoon of mirin.
Mirin can be replaced with whatever vinegar you have on hand, including white vinegar and apple cider vinegar.
There you have the best ingredient substitute for this quick and easy homemade ponzu sauce.
If you have some additional ingredient substitute recommendations, feel free to comment on them.
Add some spice
If you like a spicier version of your ponzu sauce, try adding a pinch of chili pepper flakes.
For more ponzu sauce substitute recipes, check out: 16 best ponzu sauce substitutes & recipe to recreate the perfect taste
What is ponzu sauce?
Ponzu sauce is a traditional Japanese condiment that is a citrus-based sauce with a tart-tangy taste akin to a vinaigrette. It combines soy sauce, sugar or mirin, dashi, and ponzu (citrus juice from sudachi, yuzu, and kabosu with vinegar).
The Japanese word "ponzu" means "juice extracted from sour oranges." The term "ponzu sauce" is derived from the Dutch word "pons," which originally meant "punch."
Later, the suffix "su" was changed to the word "zu," which means "vinegar."
Ponzu sauce is widely available in both Asian and Western grocery stores, and it's also easy to prepare at home.
It works well as a dipping sauce for a variety of foods, including cold noodles, salads, dumplings, grilled meats and fish, cold-sliced meat, and many other items.
As for myself, I prefer to eat my ponzu sauce with grilled fish.
Trust me, it really tastes good complimenting the already mouth-watering flavor of the fish with a tangy and a bit sweet ponzu sauce.
Try it too and you won't be disappointed!
How to serve and eat ponzu sauce
Just like how easy it is to prepare this Japanese condiment, serving and eating it also comes easy!
Ponzu sauce doesn't specifically have a standard serving and eating process. Since it is a condiment, it depends on the accompanying dish on how you will eat it.
Here are some ways you can serve and eat your delectable homemade ponzu sauce.
As a finishing sauce – to sprinkle over your dinner and side dish, brush over sushi, serve with tataki (lightly grilled fish or meat), or add to stir-fries, veggies, cold noodles, and tofu.
As marinade – for seafood, steak, chicken, hog, and other meats
As a salad dressing – in preparing a vinaigrette with it for your leafy greens.
As a dipping sauce – for gyoza, steamed dumplings, shabu-shabu, sushi, and other dishes.
You can pretty use ponzu sauce on many dishes as this Japanese condiment is pretty flexible.
So, why don't you try it on some of your favorite home dishes and see if it tastes a lot better with ponzu?
Similar dishes
Can't get enough of our ponzu sauce? Here are some similar dishes that are a must-have! Go and try them out!
Yuzu kosho
Yuzu kosho is a pasty Japanese condiment made of fresh chiles (typically green or red Thai or bird's eye chilies), salt, and the juice and zest of the acidic, aromatic yuzu citrus fruit, which is native to East Asia.
Teriyaki sauce
To generate its particularly strong flavor, the traditional Japanese teriyaki sauce includes soy sauce, mirin, sugar, and sake. Westernized versions add honey, garlic, and ginger for extra pungency.
Nam Prik Pla
Nam Pla is a fermented fish-based fish sauce that is popular in Thailand (usually made with anchovies). It has a distinctive flavor from the fermented fish and is fairly salty.
Shoyu sauce
The name "shoyu" is used to refer generally to soy sauces produced in the Japanese way from fermented soybeans, wheat, salt, and water.
They make a wonderful all-purpose cooking and table sauce because they are often relatively thin and transparent.
Eel sauce
Eel sauce is made with just four ingredients: sake, mirin, sugar, and soy sauce.
Its flavor will improve a wide range of other foods in addition to eel and sushi rolls, making it simple to utilize.
So, why don't you bring out your rice balls, yakitori, noodles, or sushi and pair them with our ponzu sauce or some of our best sauces?
Head over to your kitchen now and showcase your cooking skills.
FAQs
Still got questions about ponzu sauce? Check out some of the FAQs below.
How is ponzu sauce different from soy sauce?
When contrasting the two sauces side by side, ponzu has more tang than soy because citrus fruit has been added.
It also has a sweeter, stronger flavor than other condiments. If you've always consumed soy sauce, the initial taste of ponzu can astound you.
What is ponzu sauce good with?
Traditional uses for ponzu include dipping shabu-shabu and other simmering meals, sashimi, thinly sliced seared beef (tataki), soba or somen noodles, and even dumplings.
Does ponzu sauce taste fishy?
The flavor of ponzu sauce is sour, sweet, and salty. It has a flavor that is fairly acidic and zingy, as you might anticipate from a vinaigrette.
Citrus juice, mirin (rice wine), and sometimes soy sauce are used in the recipe to provide these flavors.
Is there alcohol in ponzu?
Mirin, which is used to make ponzu sauce, contains sake (Japanese liquor). The amount of alcohol in this recipe is modest because we heat the mirin to further reduce the amount of alcohol.
Takeaway
Ponzu sauce is delicious on grilled meats or fish, as a dipping sauce for sushi or tempura, or as a zesty salad dressing.
With its bright flavor and versatility, ponzu sauce is an essential ingredient in any Japanese kitchen.
If you don't have ponzu sauce at home and don't feel like using a substitute, gather your ingredients and get cooking.
Making ponzu sauce at home is easy, and it will add a delicious zing to all of your favorite dishes.
Next, learn about 13 popular teppanyaki dipping sauce ingredients and 6 recipes to try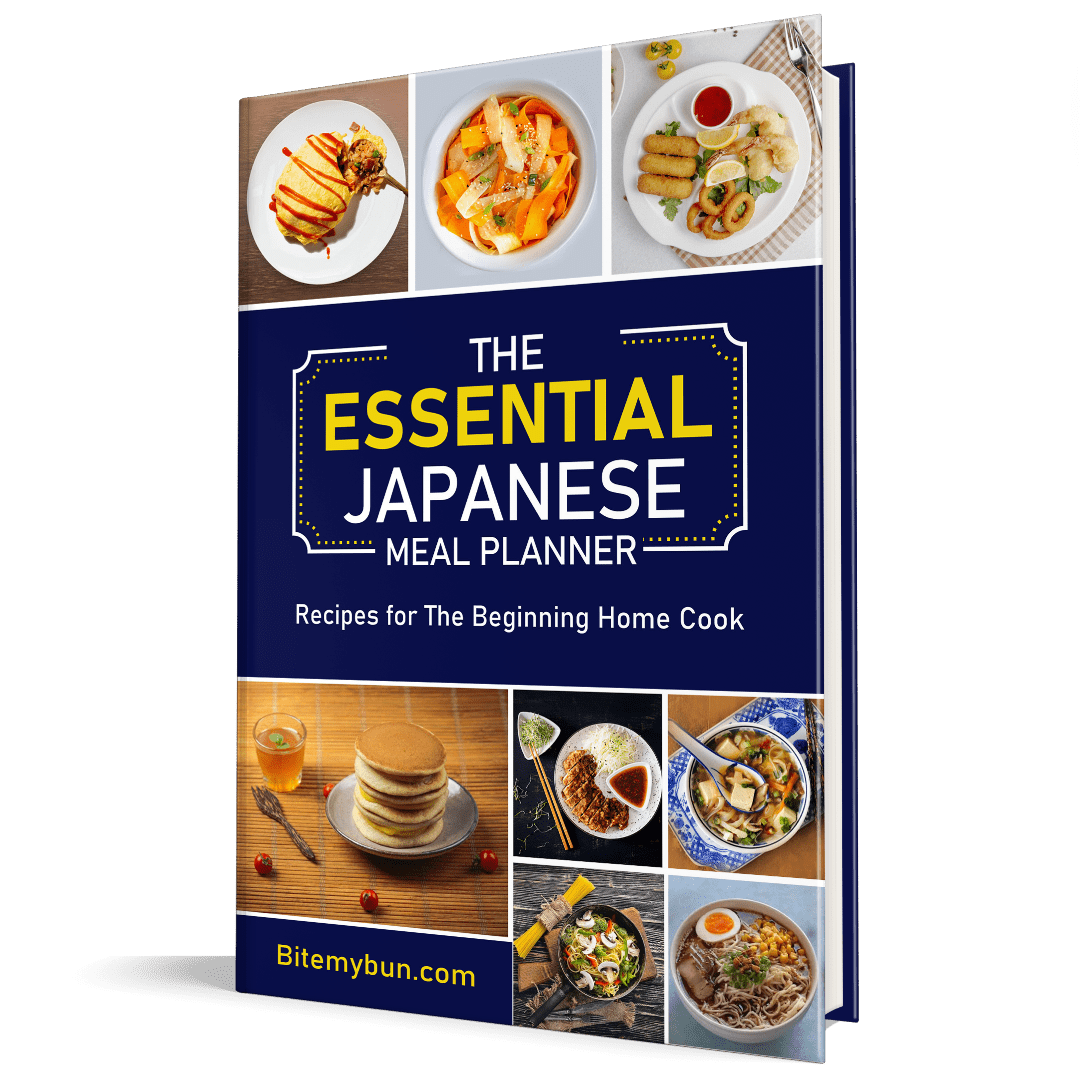 Check out our new cookbook
Bitemybun's family recipes with complete meal planner and recipe guide.
Try it out for free with Kindle Unlimited:
Read for free
Joost Nusselder, the founder of Bite My Bun is a content marketer, dad and loves trying out new food with Japanese food at the heart of his passion, and together with his team he's been creating in-depth blog articles since 2016 to help loyal readers with recipes and cooking tips.