Delicious Filipino Pork Igado Recipe with Liver and Patis Fish Sauce
I love creating free content full of tips for my readers, you. I don't accept paid sponsorships, my opinion is my own, but if you find my recommendations helpful and you end up buying something you like through one of my links, I could earn a commission at no extra cost to you.
Learn more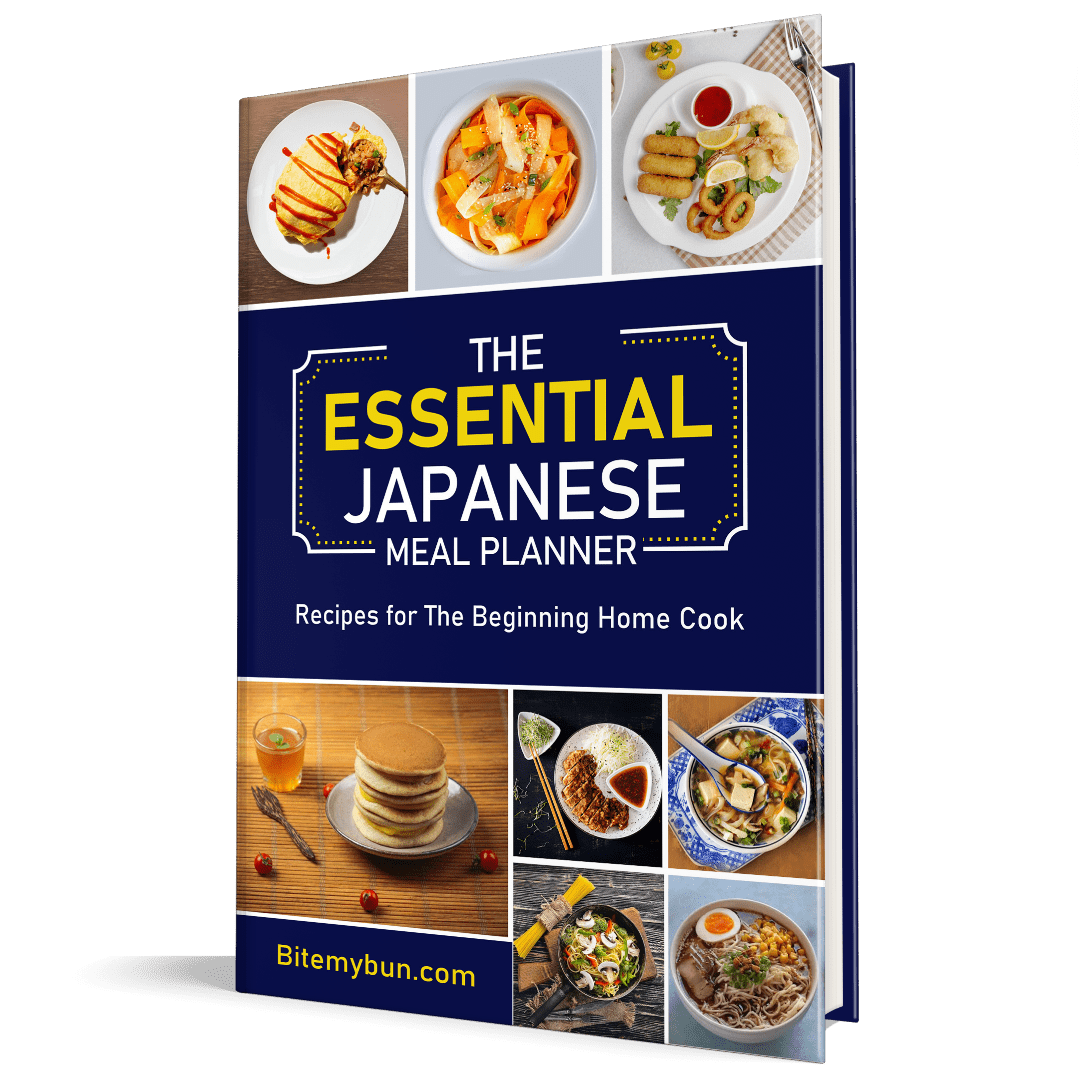 Check out our new cookbook
Bitemybun's family recipes with complete meal planner and recipe guide.
Try it out for free with Kindle Unlimited:
Read for free
If you want to eat delicious Filipino food, then you must head all the way up north to Ilocos Sur. This is where many ingenious dishes are prepared, like okoy, bagnet, empanadas, pinakbet, and longganisa.
But did you know that there's also another delicious dish that came from there? The dish is igado.
The igado recipe shared here uses pork belly, pork liver, garlic, onion, bay leaves, black pepper, vinegar, soy sauce, bell pepper, green peas, and seasoning. This combination of ingredients creates a well-rounded dish that is tasty and nutritious.
The taste of this dish is savory and a bit sour. But many people love it for that and people who aren't even from the province eat this dish too!
10 Tips to Save a Bundle on Asian Ingredients!
Introducing our brand new FREE PDF guide: "Saving Secrets: Unveiling the Art of Saving Money on Asian Ingredients" It's your first newsletter email, so start saving today! 📚🧧
We'll only use your email address for our newsletter and respect your privacy
How to make pork igado taste amazing
The taste of this dish is savory and a bit sour. But many people love it for that and people who aren't even from the province eat this dish too!
The secret to the best igado is a splash of fish sauce, so check out my tasty recipe!
Pork igado recipe with liver and patis fish sauce
The igado recipe shared here uses pork belly, pork liver, garlic, onion, bay leaves, black pepper, vinegar, soy sauce, bell pepper, green peas, and seasoning.
Ingredients  
1

kg

pork (kasim)

thinly sliced into strips

½

kg

pork liver

sliced into strips

2

pcs

bell pepper

sliced

1

pc

carrot

sliced

1

pc

potato

sliced into strips

4

pcs

onions

minced

3

cloves

garlic

chopped

3

tbsp

cooking oil

½

cup

white vinegar

2

small cans

cooked sweet peas

Pinch of salt

Patis (fish sauce)
Instructions 
In a pan, sauté the garlic and onions.

Add the pork, liver, and bell pepper, and stir for a minute.

Add vinegar, pouring from the side of the pan, and bring to a boil without stirring. Lower heat and simmer until most of the liquid's evaporated.

Add just enough water to cover the meat.

Cover and simmer for 30 minutes or until the pork become tender.

Add potatoes and carrots. Mix well and cook until vegetables become tender.

Add salt and patis to taste.

Finally, add the sweet peas. Mix well.

Cook for at least 1 minute.
Nutrition
Cooking tips
Sauteing is the way to start cooking the dish. You saute the first few ingredients, like the garlic and onion.
Please take note that this dish has a good amount of liver because it gives this dish its thickness and savory taste.
To prepare the liver for cooking, you should wash it under cold running water for about a minute. This will help remove any blood and impurities.
Overall, the dish can be a bit oily, so you could say that it's somewhat a "putok-batok" dish.
But the goodness of the dish comes from its oiliness! The combination of the sourness, saltiness, other ingredients, and its oiliness makes the dish whole.
When preparing this delicious recipe, you can semi-freeze the liver so it'll be easier to slice. Also, make sure not to cook the liver too long because it'll harden and become rubbery.
Both the pork and liver should be marinated but in separate bowls. Once the marinating time is done, you must take out both from their marinade and prepare them for cooking.
If you're wondering about the pork cuts to use for this recipe, I recommend kasim or liempo. Pork butt is excellent because it's a bit fatty.
You could also use pork loin or tenderloin, but they'll make the dish less flavorful.
When cooking, make sure that the pork is cooked through before adding the liver. The reason for this is that the liver cooks quickly.
If you want a little bit of crunch in your dish, then you could add some chopped green bell peppers.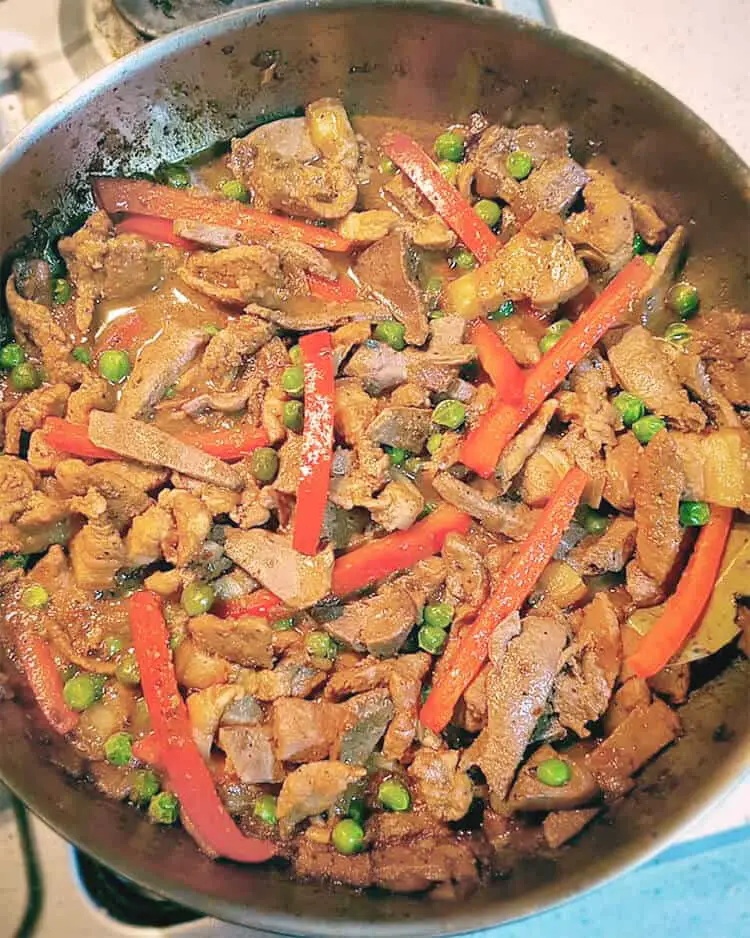 Check out YouTuber Kusinerong Arkitekto's video on making pork igado:
Substitutions & variations
Some versions of this dish include using other internal organs of the pig, like the heart, kidney, and intestines.
You can also try pork igado with liver spread which has an almost identical taste. For this variation, you can add 1/2 cup of pork liver spread to this dish.
Pork igado with pineapple is also a good variation. You can add 1/4 cup of pineapple juice or tidbits to this dish. This will give the dish a hint of sweetness.
Another variation is the pork igado with tomato sauce. You can use 1/4 – 1/2 cup of tomato sauce instead of the vinegar to add a different twist to the dish. Tomatoes make the dish a bit sweeter than usual.
If you don't like liver, you can also try this recipe with ground pork or try the pork igado without liver using only pork butt, tenderloin, or shoulder.
There's the pork igado bicol recipe which is a spicy version of the dish.
For this recipe, you'll need 1 small can of coconut milk, 3 pcs chili pepper (siling labuyo), and 1 tsp sugar. Just add these ingredients when you're cooking the dish.
Pork ribs igado refers to igado made with pork ribs instead of the usual pork cuts. This is perfect for those who love eating ribs!
You cut up the meat into small pieces, marinate it, and then cook it like how you would usually cook igado. You don't need to cook the actual bones.
When it comes to seasoning, fish sauce (patis) is usually added to igado. But you can use other seasonings like soy sauce or oyster sauce instead.
If you want, you can also use chicken instead of pork for this recipe. Just follow the same procedure and cooking time but use dark meat and some innards.
What is pork igado?
Pork igado is a popular Filipino dish that originated in the province of Ilocos Sur.
The dish is made with pork butt, innards, liver, and vegetables, including potatoes and bell peppers. It is usually served with rice or bread.
The traditional pork igado is an Ilocano food favorite. Locals there make it with pork tenderloin and organ meat such as the heart, liver, and kidney.
Perhaps this is one of the best Filipino dishes available for pork lovers.
Some folks, nevertheless, might still need to develop a taste for it, especially if you decide to make the version that includes offal.
Pork igado is usually cooked in vinegar and soy sauce. The sourness of the vinegar, combined with the saltiness of the soy sauce, creates a perfect balance of flavors.
Patis then adds a bit of umami to the dish.
Igado is best served with steamed white rice, and it's a popular lunch or dinner menu item because it's so hearty.
Origin
Pork igado is said to have originated from the Ilocano people in the province of Ilocos Sur.
The original version of the dish used pork tenderloin and organ meat, including the heart, liver, and kidney.
The Ilocanos are known for their ingenuity when it comes to cooking. They are also known for their thriftiness, as they would often use every part of the pig, from the head to the tail.
The Ilocanos are also known for their love of vinegar. So it's not surprising igado combines savory and sour flavors.
A little history about this igado recipe: Elpidio Quirino was the 6th president of the Philippines and was born in a provincial jail in Vigan, which is in Ilocos Sur.
His family loved Ilocano dishes, and igado was one of their favorites to serve. This proves that even high-ranking people love the dish!
It's also a dish inspired by the Spaniards, as the word higado" is the Spanish word for "liver". It's pronounced today as "higado" because according to the story, someone misheard the word "higado" for "igado", hence the name.
Today, it's the accepted name of the dish. The dish may be influenced by the Spaniards, but it's still a Filipino dish and one that's loved by many!
Ilocos Sur is where you'll probably taste the best pork igado. But you don't have to go there just to try it! You can easily make this dish at home using this recipe.
How to serve and eat
Igado is best served with steamed rice, but it can also be enjoyed with pancit (stir-fried noodles), or even on its own as a light meal.
Generally, igado is a lunch time meal or dinner because it's quite filling. It's also a very hearty dish, so it will definitely satisfy your hunger.
When eating igado, be sure to mix everything together before taking a bite. This will ensure that you get a bit of everything in each forkful – the pork, the liver, the veggies, and the sauce.
I like to add a bit of extra patis (fish sauce) to my igado, as I find that it really enhances the flavors. But feel free to add more or less, depending on your taste preferences.
If you want a bit more of a sour taste, you can add a little bit of calamansi juice to your igado. This will also help cut through the richness of the dish.
Igado is best-enjoyed piping hot, so be sure to dig in as soon as it's served!
How to store
You're likely wondering how long does pork igado last?
Pork igado will last for about 3-4 days in the fridge as long as you keep it in an airtight container. If you want it to last longer, you can freeze it for up to 2 months.
To reheat, simply thaw the igado overnight in the fridge and then reheat in a pan over low heat until warmed through.
You can also reheat it in the microwave for a couple of minutes or so.
Similar dishes
If you want to channel your inner Ilocano, you can make this dish together with other Ilocano dishes like dinakdakan, dinengdeng, and the ones mentioned above.
Menudo is also a similar dish, as it also uses pork and liver.
But what sets menudo apart is that the pork is cut up into cubes instead of slices. Also, this dish uses some type of sausage, usually chorizo.
Pakbet or pinakbet is another Ilocano dish that's similar to igado, as it also uses vegetables and pork.
The main difference is that pakbet uses finely chopped-up vegetables, while igado uses bigger pieces of vegetables.
If you want a non-pork version of igado, you can make chicken igado which is tasty too.
If you want to try other Filipino dishes that use pork, you can also make adobo, lechon kawali, and crispy pata.
FAQs
How many calories are in pork igado?
If you're curious about pork igado calories, one serving (bowl) has approximately 560 calories. It really depends if you stick to this recipe or make additions and substitutions.
Some versions can contain as little as 300 calories, but you might have to skip the liver and potatoes.
Overall, pork igado with liver is quite a healthy food. It's a good source of protein and other nutrients, but like most dishes, it's best consumed in moderation.
Can I make pork igado without liver?
If you want to make this dish but don't want to use the liver, you can simply use other organs or skip the organs altogether.
Some people don't like the taste or texture of liver, so if that's the case with you, then you can definitely make this dish without it.
Igado is also delicious with just veggies and pork, so if you want to keep it simple, you can definitely do that too.
Does igado have to be cooked in vinegar?
No, it doesn't have to be cooked in vinegar, but it does help give the dish a bit of tang and helps balance out the flavors.
If you don't want to use vinegar, you can skip it or substitute it with lemon juice or calamansi.
What kind of vinegar can I use for igado?
For this dish, you can use white vinegar, apple cider vinegar, or even rice vinegar.
I personally like to use white vinegar as it has a very mild flavor and doesn't overpower the other ingredients. But feel free to use whatever vinegar you have on hand.
Conclusion
Preparing pork igado will be a feast for your group of friends or family! The textures and flavors in this dish are truly something to behold.
Most of all, eating this dish is something to look forward to. This is especially true when you're interested in knowing the history of the foods you're eating, like a real foodie would be!
Get to know the flavors of Ilocos and its people through this dish. Prepare this igado recipe and expect to be taken on a wonderful culinary journey.
Read next: 1 ingredient that will make you cringe to make this Pork Dinuguan recipe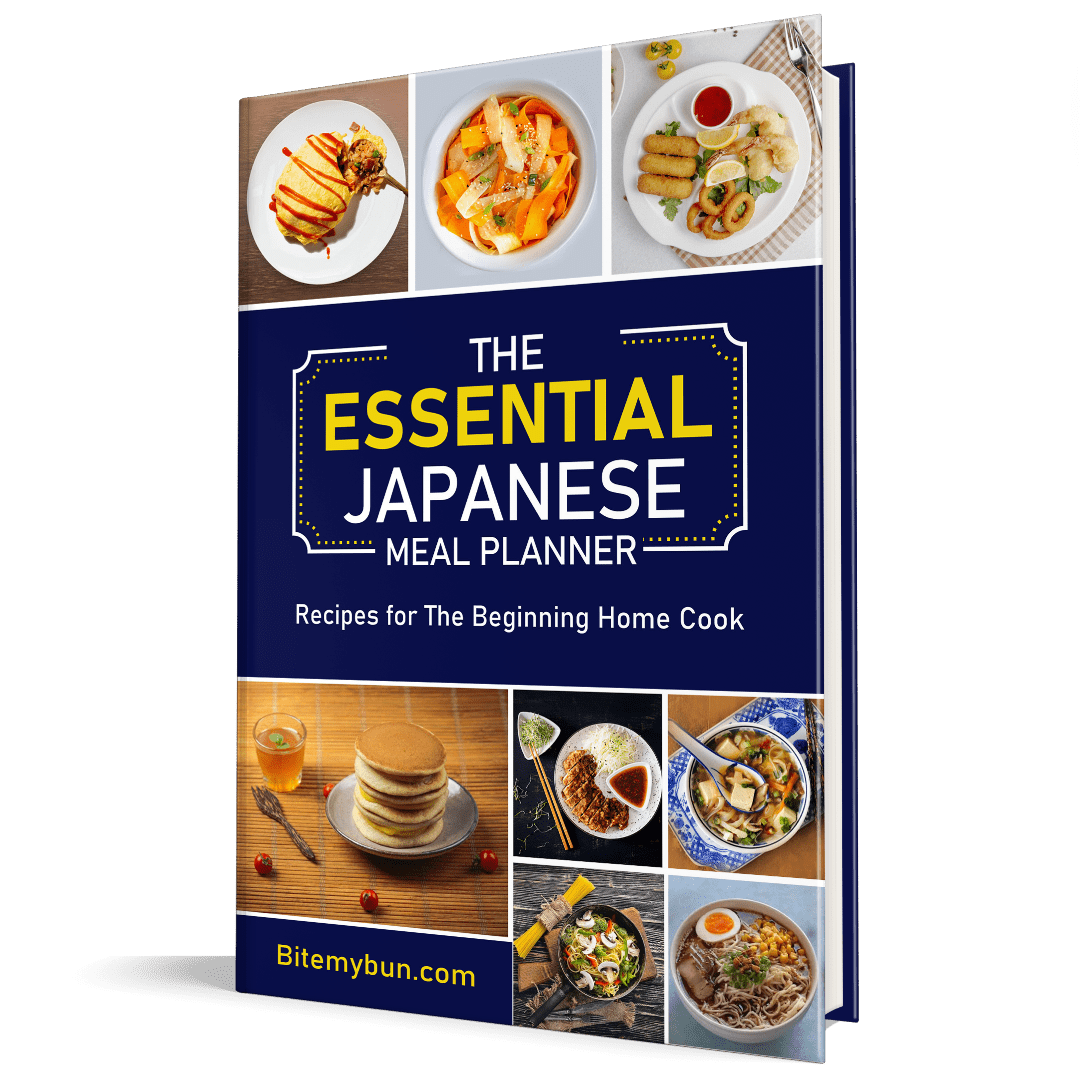 Check out our new cookbook
Bitemybun's family recipes with complete meal planner and recipe guide.
Try it out for free with Kindle Unlimited:
Read for free
Joost Nusselder, the founder of Bite My Bun is a content marketer, dad and loves trying out new food with Japanese food at the heart of his passion, and together with his team he's been creating in-depth blog articles since 2016 to help loyal readers with recipes and cooking tips.