Sunomono cucumber salad recipe | Simple, healthy & refreshing dish!
I love creating free content full of tips for my readers, you. I don't accept paid sponsorships, my opinion is my own, but if you find my recommendations helpful and you end up buying something you like through one of my links, I could earn a commission at no extra cost to you.
Learn more
One of the healthiest side dishes to accompany any meal is a good Japanese cucumber salad.
Since cucumbers are plentiful year-round, you have to try Japanese Sunomono cucumber salad, also called Kyuri no Sunomono.
This light salad is made with small Persian or kyuri Japanese cucumbers which are marinated with vinegar and salt. It sounds basic enough but the flavor is so refreshing, you'll be making this healthy salty, sweet and sour salad all the time!
In Japan, many people serve this as an appetizer because it's quick and easy to make in a hurry.
There are actually so many ways to make this salad but I'm sharing a simple cucumber and wakame recipe with only a few ingredients that anyone can make since there's no cooking involved.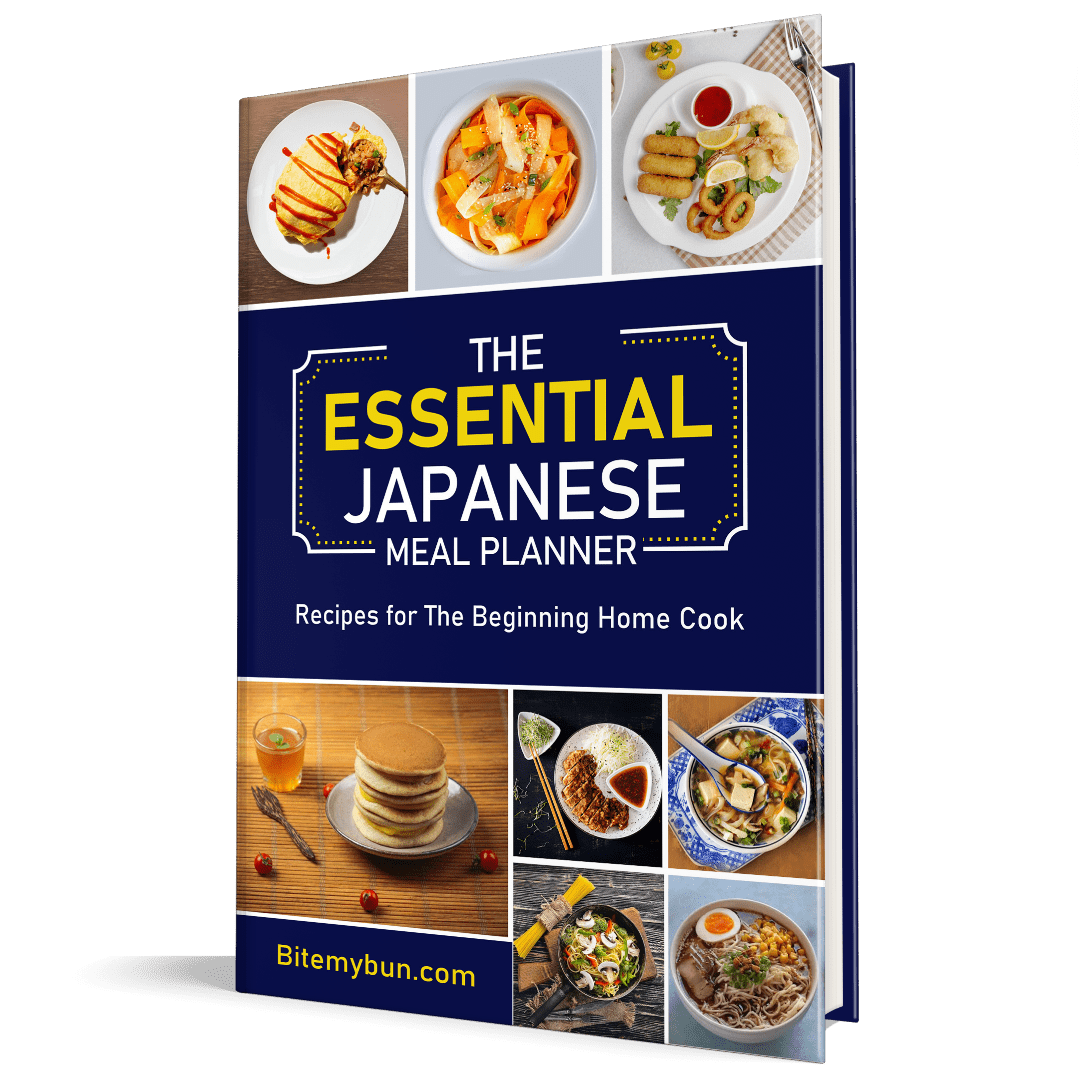 Check out our new cookbook
Bitemybun's family recipes with complete meal planner and recipe guide.
Try it out for free with Kindle Unlimited:
Read for free
Kyuri no Sunomono cucumber salad recipe
What makes this cucumber salad special is the combination of flavors. The salty, sweet, and sour flavors combine with the crunchy Wakame seaweed for a delicious crunchy healthy salad.
This delicious salad is full of calcium, potassium, and Vitamins A & C – you can have this salad if you're on a diet too!
For this recipe, you don't need to cook anything, it's a basic raw Japanese cucumber salad.
Before getting started: find Japanese cucumbers or Persian cucumbers
If you want the best sunomono cucumber salad, you can't use those large American or English cucumbers. You need the smaller thin Japanese (kyuri) or Persian cucumbers because they are crunchy and seedless.
Also, these cucumbers varieties have a thin skin, making them easy to peel and they are easy to slice crosswise compared to regular American cucumbers.
Regular cucumbers just don't work as well. Having a lot of seeds is really bad for this salad because you don't want to have to remove them all or chew through them when eating.
Now it's time to make this easy salad recipe.
Simple Sunomono Cucumber & Wakame salad
What makes this cucumber salad special is the combination of flavors. The salty, sweet, and sour flavors combine with the crunchy Wakame seaweed for a delicious crunchy healthy salad.
Ingredients  
2

Japanese or Persian cucumbers

1

tsp

salt

Kosher is best

1

tbsp

dried Wakame

seaweed

1/2

tbsp

sesame seeds

toasted

4

tbsp

unseasoned rice vinegar

1/2

tsp

soy sauce

2

tbsp

white sugar
Instructions 
Wash and dry the fresh cucumbers.

Peel the cucumber roughly so there's still some skin left to give the salad a nice color.

Cut the cucumbers into thin round slices. You can use a vegetable mandoline slicer to get the right size.

Put the cucumbers into a bowl and sprinkle 1/2 tsp of salt onto them. Use your hands to massage the salt into the cucumbers. Set aside and let them absorb the salt.

Soak the wakame seaweed in a bowl of water until it rehydrates. This takes approximately 8-10 minutes.

Make the dressing: combine the rice vinegar, 1/2 tsp of salt, sugar, and soy sauce. Mix it well using a whisk. Make sure the salt and sugar dissolves.

Drain the liquid from the salted cucumber slices. You can squeeze out the liquid using your hand.

Drain the wakame seaweed and add on top of the cucumber.

Combine with the dressing and sprinkle sesame seeds on top. Now you are ready to eat.
Cooking tips
The dressing gives the cucumbers a strong sour vinegar flavor. If you don't like the taste of strong rice vinegar you can add some water or dashi stock to dilute it.
If you want a more pronounced vinegar flavor, add 1-2 tbsp more rice vinegar. An unseasoned rice vinegar gives the best taste.
You can also add shredded carrots or daikon radish for a bit of color and sweetness.
I recommend slicing the cucumber into thin strips so you can easily use chopsticks to grab the crunchy pieces. I always use a mandoline slicer and this makes my work so much easier.
When you're salting the cucumber, let it sit for a couple of minutes, and then mix it with your fingers as if you're giving the cucumber pieces a massage.
Then let the cucumber drain its liquids for at least 5 minutes. Too much cucumber water takes away from the tasty dressing.
The salad will taste even better the next day so feel free to make this in advance.
Substitutions and variations
Sunomono cucumber salad is one of those healthy side dishes that can be adapted to suit different preferences. Many Japanese restaurants have their own versions of this salad.
You can add other vegetables like thinly sliced red radish or carrots. Be sure to cut them into very thin slices so they blend well with the cucumber.
If you don't have wakame seaweed, arame or kombu seaweed are other options. Soak them in water for 10 minutes until rehydrated.
If you want a more umami flavor, use dashi stock instead of water when soaking the seaweed.
Toasted sesame oil can be used in place of toasted sesame seeds. However, I like toasted sesame seeds because they're so crunchy.
For a spicier version, add some chili pepper flakes or thinly sliced fresh chili peppers.
Some people also like to add strips of pickled ginger to add spiciness and a bit of kick.
If you don't have unseasoned rice vinegar, you can use apple cider vinegar or white vinegar. Don't use rice wine vinegar because it gives the Japanese cucumbers an odd flavor.
You may not need to add salt if the soy sauce you're using is salty enough. Also, you can use gluten-free soy sauce (tamari).
For the dressing, if you want to cut down on the sugar, you can use honey or leave it out altogether.
Seafood toppings
Many people add seafood to the sunomono salad. This makes the salad even tastier and adds lots of texture.
You can keep the same dressing and then here's what you can add to the cucumber:
Crab or imitation crab meat (surimi). Dice the crab into small pieces.
Salted anchovies: the best are the small boiled baby anchovies since they are salty and crunchy.
Boiled baby octopus is another good option. Chop into small pieces and add to the cucumber salad. You can find octopus sashimi at most Japanese grocery stores.
Shrimp is another good seafood to use and adds crunch too.
Oysters (takio) are added for extra protein.
Lobster meat works too but it's pricier.
What is sunomono cucumber salad?
Sunomono cucumber salad is a popular Japanese dish made with cucumbers marinated in vinegar, sugar, and salt. It is often served as an appetizer or side dish.
The Japanese term "sunomono" refers to a vinegar-based dish (not just cucumber) and these dishes are served as appetizers or side dishes alongside meat or other dishes.
"Su (酢)" is the Japanese word for vinegar and it's common knowledge that the sour vinegar salad boosts appetite so these vinegar-based salads are commonly served at Japanese restaurants.
What makes this cucumber salad different from others is that you need to use small Japanese or Persian cucumbers. These are small, narrow, and very crunchy.
The good old English cucumber won't work for this refreshing salad.
Some variations of sunomono cucumber salad contain seafood like crab, anchovies, or baby octopus but the original is vinegared cucumber with salt and it tastes so light and healthy.
Origin & history
The origin of sunomono cucumber salad is unknown but it's believed that this dish was created in the Edo period (1603-1868) in Japan.
During this time, vinegar was introduced to Japan from China and it quickly became a popular ingredient in many dishes. The word "su (酢)" or vinegar was first seen in a Japanese dictionary in 1709.
So it's likely that the sunomono cucumber salad was created around this time when vinegar-based dishes were becoming popular in Japan.
How to serve sunomono
This salad is often served with sashimi or sushi but it's also a great side dish for grilled meats or fish. This is a good side dish for Japanese barbeque too!
Also, it's the perfect refreshing sour salad to accompany very spicy foods. A mouthful of cucumber salad cleanses the palate for the next bite of food.
But any rice dish makes a good candidate for this light salad. Foods like onigiri taste really good with a side of sunomono cucumber salad.
Usually, sunomono cucumber salad is served as a side dish or an appetizer before the main dish is served at the restaurant.
It's also a popular dish to take on picnics or to potluck parties.
The salad is served in small bowls and eaten with chopsticks or a fork.
Be sure to eat the salad within a day or else it gets very mushy. You can store the salad in an airtight container for a few hours but the cucumbers might leave some excess liquid.
Similar dishes
You're probably wondering about other types of Japanese sunomono salads. Here are some popular dishes that are similar to cucumber sunomono:
seaweed salad (wakame salade),
daikon radish salad (tataki daikon),
octopus salad (tako sunomono),
shrimp salad (ebi sunomono).
grilled chicken Japanese cucumber salad sunomono
These salads all follow the same basic recipe of being marinated in vinegar, salt, and sugar. The main difference is the type of ingredient used.
There are endless possibilities when it comes to sunomono salads and you can use any type of vegetables or seafood that you like.
Just remember to keep the ratio of vinegar to salt to sugar the same so that your salad turns out delicious!
Also check out this yummy soba noodle salad recipe if you are looking for a bit more filling meal
Is Japanese cucumber salad healthy?
If you're wondering about the nutritional information of this delicious salad you'll be glad to know it's very healthy.
Cucumbers are low in calories and a good source of vitamins C and K. They also contain antioxidants that can help to protect your cells from damage.
Vinegar is also healthy as it contains acetic acid which has been shown to lower cholesterol and blood pressure.
The vinegar dressing contains sodium from the salt and soy sauce but you can cut back on the quantities. Overall this is a dish packed with vitamins and minerals.
So go ahead and enjoy this delicious and healthy salad.
Conclusion
Sunomono cucumber salad is a refreshing and healthy dish that is perfect for any occasion.
Whether you're looking for a light appetizer or a side dish to accompany your main course, this salad is a great option.
And thanks to its simple ingredients and easy preparation, it's also a dish that anyone can make at home in only 15 minutes or so.
As long as you get small cucumbers, you're guaranteed that nice crunchy fresh taste and texture. Serve this delicious recipe with your favorite Japanese BBQ meats and enjoy!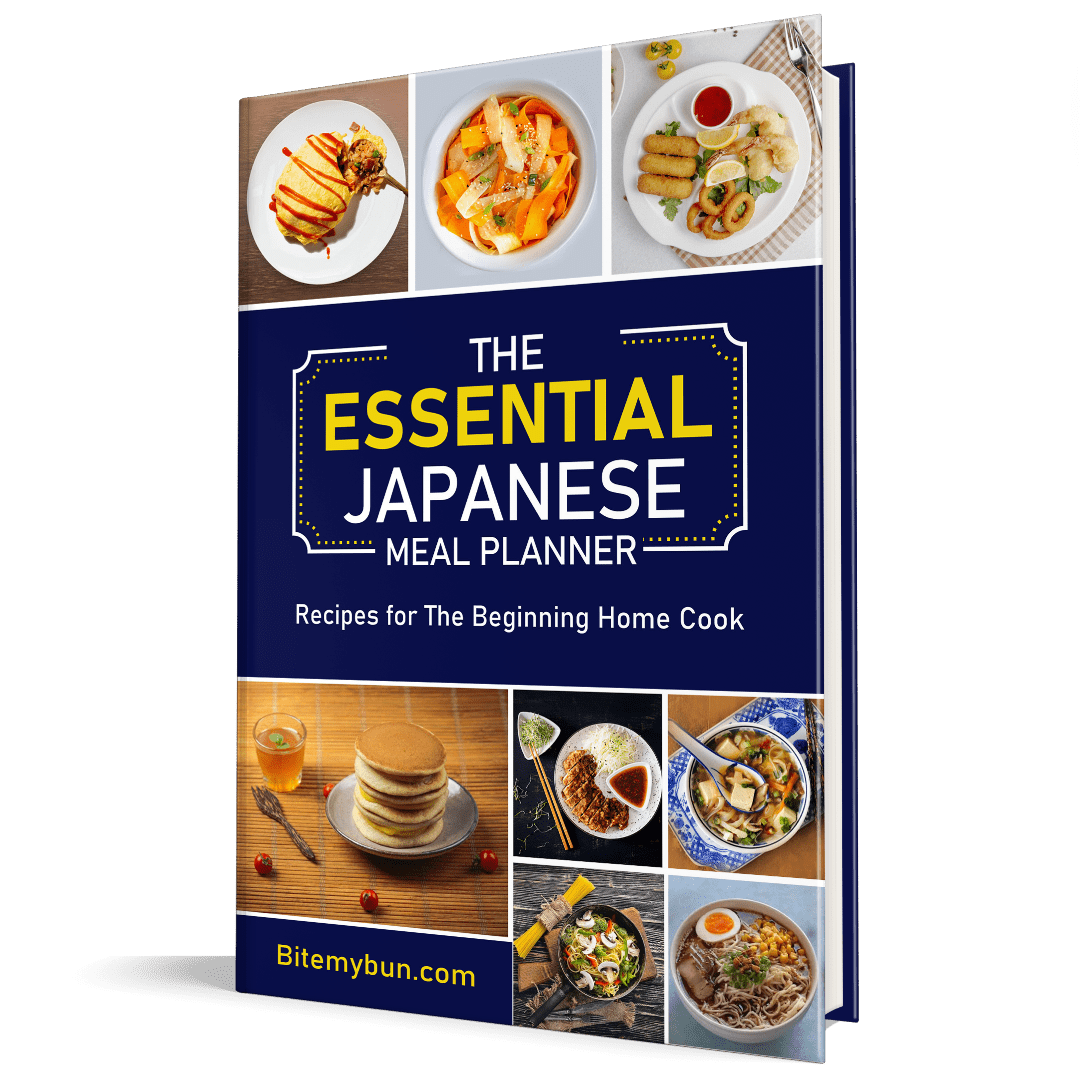 Check out our new cookbook
Bitemybun's family recipes with complete meal planner and recipe guide.
Try it out for free with Kindle Unlimited:
Read for free
Joost Nusselder, the founder of Bite My Bun is a content marketer, dad and loves trying out new food with Japanese food at the heart of his passion, and together with his team he's been creating in-depth blog articles since 2016 to help loyal readers with recipes and cooking tips.