The Ten Don which literally translates to "tempura donburi dish", or tempura bowl, can be made with a variety of ingredients and it also has a long history in Japan!
Enjoy eating one of these bowls while hot and accompanied by miso soup and a salad or pickled ginger.
Tendon is a traditional dish in Japan that's commonly made up of a rice bowl (donburi) with tempura layered on top of the freshly cooked rice.
The term "Ten Don" comes from the abbreviated Japanese word tenmura-don, but the Japanese folks have become more accustomed to the abbreviated word than the original word that describes the cuisine.
The hardest of the donburi dishes
Another popular dish known as tenju is very similar to Ten Don, except it is placed inside a boxed container instead of a rice bowl.
It is a bit more challenging to make the Ten Don compared to other donburi dishes such as the oyakodon, katsudon, or the gyudon, because it requires more ingredients.
You can make dashi yourself using this recipe or any of the substitutes I've outlined in that post, or you can buy it off the shelf.
You might not have some of the other ingredients as well so here are my favorites:
The vegetables and even the shrimp can be substituted for other ingredients if you don't have or don't like some of them.
You should try to add the crispy Japanese renkon lotus root if you can because it really adds to the authentic flavor of the dish.
How to Prepare Tendon
Japanese people often love to eat Ten Don dishes around lunch or enjoy it as a light evening meal.
Tendon is a simple Japanese rice dish that derived from a large food group called "donburi," which combines ingredients like freshly cooked rice topped with seafood (usually shrimp) and vegetables that's been marinated in tempura batter and then deep-fried in vegetable oil, and sprinkled with tentsuyu (a special tempura sauce that's both sweet and savory).
While the preparation of the ingredients for this dish is done individually, all of its ingredients are served in a single bowl, and usually, you start with the rice when you cook this dish (you may want to choose the short-grained white rice as it pairs well with the other ingredients).
Crafting the tentsuyu requires caress because you'd have to carefully keep an eye when cooking the dashi, rice wine mirin, soy sauce, and sugar, and allow it to boil and simmer for a few minutes until it starts to thicken.
The final and most sensitive step is preparing the tempura.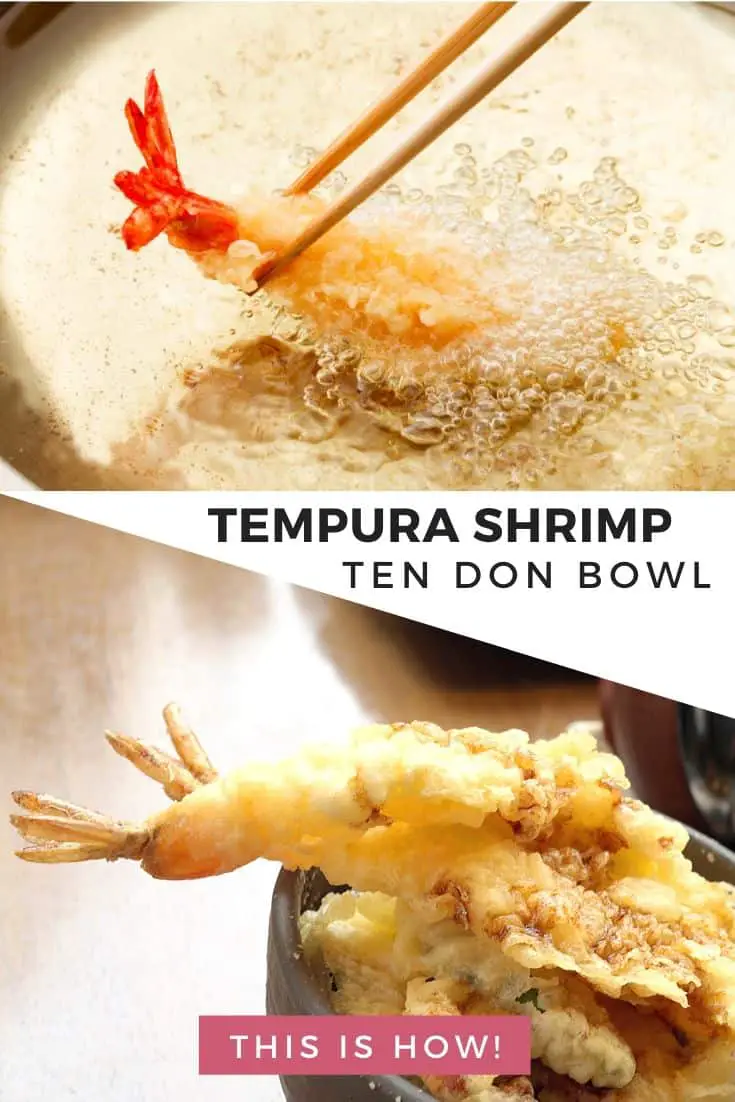 First, you must remove the shell of the shrimps or prawns, and then thinly slice the vegetables.
Sprinkle the shrimps/prawns and the sliced vegetables with flour, then dip them in tempura batter (tempura batter is usually made of tempura flour, water, and egg).
If you want to get that special, crispy texture of the tempura, then make sure that you put the tempura ingredients and batter in the freezer and fry them while they're ice-cold.
Then, start frying the ingredients in vegetable oil – do it quickly and in small batches – remove them from the frying pan once they turn slightly golden in color.
Once all the ingredients have been cooked, then it's time to assemble them and you start with placing the cooked or steamed rice in a rice bowl, then place the tempura and vegetables on top of the rice, and finally drizzling the tendon with tentsuyu sauce.
The Ingredient Trinity
One could argue that the Ten Don recipes consist of three things:
the main ingredients
side ingredients
and decoration, or coloring ingredients
The main ingredients are usually the shrimp (deep-fried), squid or the sillago (sillaginidae).
What is Ebi Tendon?
A word you might often hear is Ebi Tendon.
The Ebi tendon is shrimp tempura and literally means shrimp tempura bowl. It is the most popular among the 3 seafood ingredients in Ten Don.
The side ingredients of Ten Don are called "kakiage" and it is composed of shells, small shrimps, and a mixture of vegetables that have been deep-fried.
Meanwhile, the lotus root, pumpkin root, eggplant, shishito green pepper, and deep-fried green bean make up the decorative ingredients of Ten Don.
Tempura is generally cooked by frying the ingredients in vegetable oil after coating it with the tempura batter, which is made up of wheat flour, stirred egg, and water.
The tempura is placed on top of a bowl of freshly cooked white rice and then seasoned with ten-tsuyu (tempura sauce) that's made from dashi, sake, mirin, sugar and soy sauce.
Read about the best brands of cooking sake when looking into making this.
In order to make delicious tempura for the Ten Don recipe, chefs use specially-made tempura flour instead of wheat flour.
In case the ingredients for the ten-tsuyu are not available, you can use Yamaki or Kikkoman Hontsuyu or Mentsuyu sauce as a replacement.
My favorite is the Kikkoman Hon Tsuyu:
History of Ten Don
The history of how tendon became a national Japanese cuisine is sketchy at best with many theories about its origins.
One of the prominent theories says that restaurants in Asakusa called Sansada and Hashizen, which is located in Shimbashi were the ones that started the Ten Don recipe craze in Japan during the latter part of the Edo Period (1603-1868).
The restaurant in Shinbashi – Hashizen – closed shop after serving locals for over 400 years with good food and great service; however, Asakusa restaurant has remained in business and is now holding the world record for being the oldest tempura restaurant in all of Japan.
Another theory states that a restaurant in Kanda called Nakano and another one in Asakusa called Daikokuya are the ones that started serving Ten Don dishes to their patrons, but have done so at a much later date during the Meji Era (1868-1912).
Like the 2 previous restaurants the fate of the Nakano restaurant in Kanda ended up like the Hashizen restaurant in Shinbashi and they also closed up shop at the turn of the 21st century, but again the Daikokuya restaurant is resilient and is still in business to this day.
The recipe for their tempura sauce is still the one they use today and it was created back in 1887.
In addition, there are also many theories about the origins of Tempura.
Origins of Tempura (Ten Don's main ingredient)
You can't talk about Ten Don without mentioning tempura as it is the main topping in most Ten Don recipes.
The prevailing theory is that the word "tempura" derived from the Portuguese word "tempero," which means seasoning or spice when translated in English.
According to the legends, a Japanese chef who once worked for a Portuguese Christian missionary convent in Japan used to prepare meals for them overheard them uttered the word "tempero" while working in the kitchen.
History recalls fried dishes made from rice flour, which were similar to tempura, although no one is sure whether shrimp or other seafood was used to make it, that dates back to the Nara Period (710-794 AD) and Heian Period (794-1185 AD).
However, the primitive form of tempura known as the Nagasaki Tempura appeared later on during the Edo Period in the 16th century AD.
Incidentally, Nagasaki Tempura also derived from Nanban-ryori, which historically got its roots from a good portion of Portuguese cuisines.
Nagasaki Prefecture has an important significance when you talk about tempura and the Nagasaki tempura because this region has been heavily influenced by the Portuguese due to the isolationist foreign policy by the Japanese government of the Edo Period, Western countries were allowed to dock in the Nagasaki port.
Compared to the tempura we eat today, the Nagasaki Tempura was more fritter, as it was cooked with seasoning flour.
Nagasaki Tempura was first introduced in the Kansai region in Western Japan during the 16th century and by the 17th century, it became known as the Kamigata.
Kamigata means a region referring to the city of Kyoto and Osaka.
Most of the ingredients of Kamigata Tempura are deep-fried vegetables, and chefs prefer to use sesame oil or soybean oil when frying it, instead of the usual lard oil.
Like Nagasaki Tempura, it was also fried with seasoning flour.
On the other hand, the Kamigata Tempura was also introduced in the Kanto Region (including Edo – modern-day Tokyo) in Eastern Japan during the 17th century.
In Nihonbashi, street stalls began to open near the riverbanks and fish market and served deep-fried fish and shrimp.
When it became popular among the locals, it then spread across the country and was later on dubbed "Edomae Tempura," or Tokyo style tempura in modern lingo.
During the Meiji Era, chefs decided to do away with the seasoning flour that was originally used to cook the Nagasaki Tempura in order to give customers a new flavor.
The Edomae Tempura was eaten with grated radish with a specially-made dipping sauce that made the whole experience even better.
It was in the mid-18th century that Edomae Tempura became very similar to our current tempura that's very flavorful.
At the beginning of the 19th century, some of the street stalls (Hashizen or Sansada) started putting tempura on rice (but not yet in rice bowls) and poured tempura sauce.
People at that time called it Ten Don, and Ten Don was born.
Some Japanese restaurants serve a high-class type of Ten Don dish called "Jo Tendon."
This special type of tendon is cooked with a larger deep-fried shrimp, or sometimes a conger eel.
With the exception of jo tendon due to it being in a class of its own, there are a variety of tendon recipes, which include
shio tendon,
kakiagedon,
tentamadon
and many others.
Unlike other tendon dishes, shio tendon is seasoned with a simple salt instead of the extravagant tempura sauces.
Meanwhile, kakiagedon is a tendon dish that has a mixture of tiny shrimp, vegetables and shell called "kakiage."
Finally, the tentamadon is just tempura that's been dipped in scrambled eggs and then deep-fried.
Restaurants in Japan that Offer Ten Don Dishes
There are many Japanese restaurants serving Ten Don.
Among them include Soba restaurants (buckwheat noodle), gyudon and Ten Don restaurant chains.
The reason why soba restaurants serve tendon is that it uses dashi to make its soba noodles and dashi is also used when making Ten Don.
However, they limit the number of shrimps they add to their Ten Don dishes to a maximum of 2, and the reason for that is because the Ten Don is just an additional dish to their main dish, which is the buckwheat noodle or soba.
Perhaps the most popular restaurant in Japan is known as Tenya and it has a branch in almost all of the Japanese prefectures.
When you plan to visit Japan, then include eating at a Ten Don restaurant in 1 of your itineraries, as this is a good way to experience and understand Japanese culture.
If, however, you can't visit Japan for any reason, then simply buy Hontsuyu or Mentsuyu sauce and enjoy it at home.