Japanese eggplant (Nasu dengaku) + 6 delicious recipes to make
I love creating free content full of tips for my readers, you. I don't accept paid sponsorships, my opinion is my own, but if you find my recommendations helpful and you end up buying something you like through one of my links, I could earn a commission at no extra cost to you.
Learn more
Different regions have their own specialties. In the case of eggplants, Japanese eggplants have a unique appearance and taste.
They're quite different from the ordinary eggplant in color, look, and flavor. And contrary to the standard teardrop-shaped eggplant, these are cylindrical.
There are many ways to get a great dish out of an eggplant. And the Japanese have developed multiple ways to cook it!
It can be fried, boiled, roasted, steamed, or grilled.
With such versatility, it all depends on the individual's personal preference. Such flexibility is ideal for both vegetarians and vegans!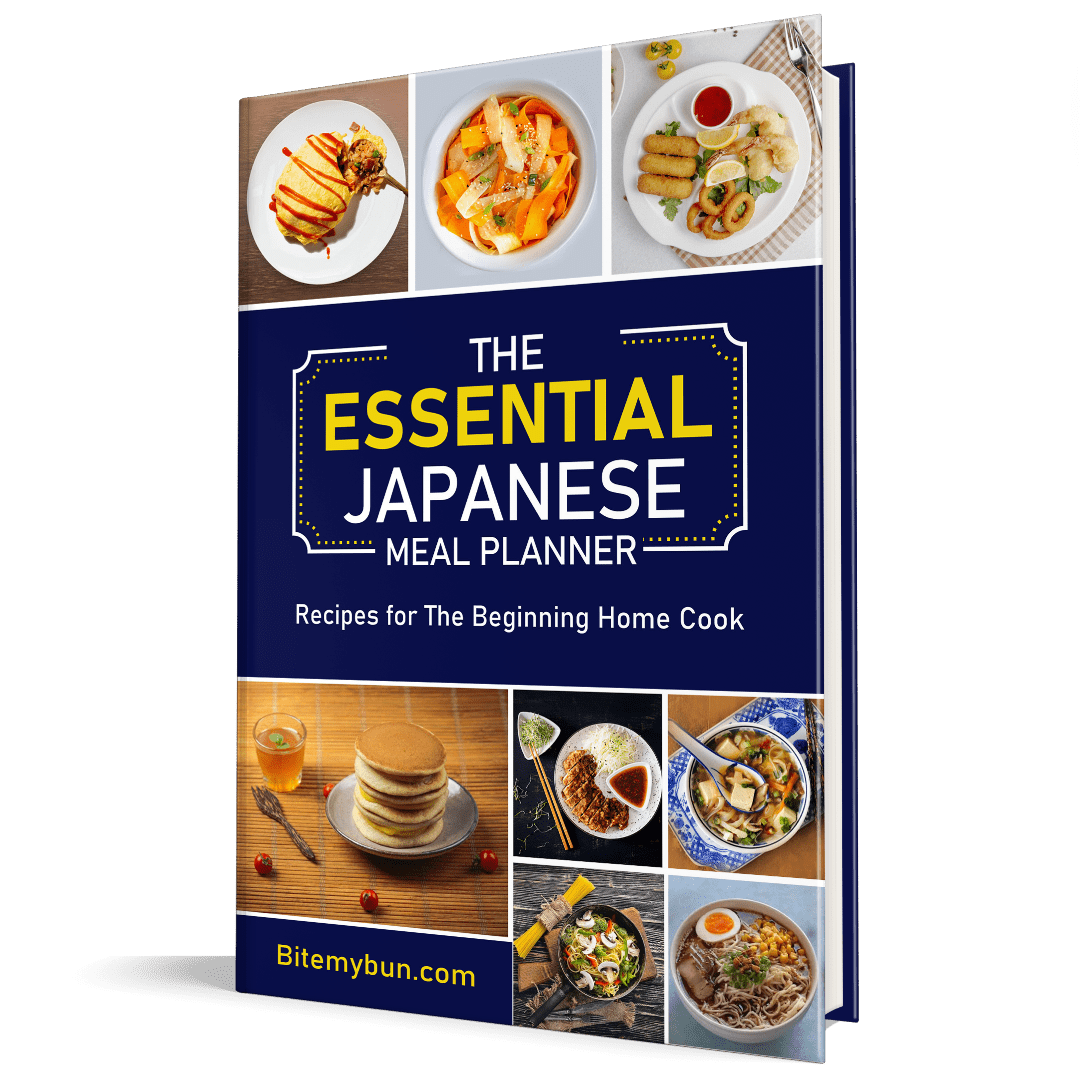 Check out our new cookbook
Bitemybun's family recipes with complete meal planner and recipe guide.
Try it out for free with Kindle Unlimited:
Read for free
How to prepare Japanese eggplant
Eggplant can be enjoyed in multiple forms. Because you can use so many different cooking methods, each Japanese region and culture has its way of making it.
Since it's easily available and has such great taste, eggplant is liked by almost everyone. It has a very low-fat content so it's always a part of people's dietary plans.
In this section, I'll talk about the most popular and in-demand eggplant recipes.
Here's Diana on how to salt the eggplant before using them, which can make them much less mushy and crisper:
Japanese miso eggplant (Nasu dengaku) recipe
It takes around 15 minutes to prepare this easy recipe. Having a delicious taste and extraordinary appearance, this recipe can be used when time is short or you want something light and mouth-watering. It serves 2 to 3 people and can be presented to guests to make a statement of original Japanese delight.
Ingredients  
6

regular-sized

Japanese eggplants

weighing around 700 grams

1

small

onion

sliced

½

cup

miso paste

or soybean paste

4

tsp

ginger

minced

1

tbsp

mirin

2

tsp

sesame oil

1

tbsp

sugar

2

tbsp

olive or vegetable oil

1

tbsp

sake

Salt and pepper

to taste
Instructions 
Preheat the oven at 230°C (450°F), which will take about 20 minutes.

Vertically slice the eggplants and place them on a tray with butter parchment paper in between. Make a few knife carvings on the inside to add a cubicle design pattern (like in Diana's video).

Brush olive or vegetable oil on the sliced sides and add salt and pepper according to taste.

Bake for about 20 minutes or until the center gets soft and creamy, and the outer peel turns dark.

In the meantime, make a mixture of iso paste, ginger, sesame oil, mirin, sugar, and sake.

Spread this miso mixture on the eggplants so the sliced flesh parts are filled with the paste.

Broil on the grill of the oven for another 5 minutes.

Garnish with sesame seeds, salt, and pepper. Serve right away!
Notes
Flip the eggplants in between for thorough baking. This dish is best when served hot.
I love this recipe because you don't need a whole lot of ingredients. You want to make sure you've got some fresh eggplant ready.
I recommend getting American eggplant because this variety is usually bigger and has thick meaty flesh, making for a juicy and creamy miso eggplant.
If you can find small Japanese eggplants, get 3 so there's enough to satisfy your hunger. The smaller the eggplant, the less bitter it tastes. However, choose medium-sized ones so they still have enough succulent flesh.
What's the origin of miso eggplant?
The traditional Japanese eggplant recipe is called nasu dengaku, which translates to something along the lines of "fire-grilled eggplant".
The word "dengaku" is used to describe foods that have a miso glaze. This dish was popularized in Japan during the spring planting season, and it's usually served alongside white rice as a side dish.
Japanese eggplants (kome nasu) are generally much smaller than American, European, or Australian eggplants. However, you can use any type of eggplant you can find at your grocery store or farmer's market.
In Japan, the most popular way to make nasu dengaku is to grill the eggplants.
Luckily, there's an easy way to make this dish without going outside and grilling. I know that not everyone feels like firing up the grill for a few eggplants.
That's why today, I'm sharing a healthy low-fat version you can make by pan-frying and broiling. This recipe is a healthy vegan dish you can cook up in less than 20 minutes.
All you need to do is pan-fry the eggplant for a few minutes on each side, season with miso glaze, and then broil in the oven for a few more minutes!
Miso eggplant: Cooking tips
If you want the eggplant to be extra soft and tender, soak it in water for a few minutes.
This process also removes the tangy or astringent and often bitter taste. You can even remove some of the big seeds because they taste bitter.
Also, did you know that there are male and female eggplants? The males are better for the recipe because they contain fewer seeds and have a sweeter taste.
To check for a male eggplant, look for slimmer, longer plants with a round indentation mark on the bottom.
The traditional Japanese eggplant recipe calls for red miso or awase, a mix of white and red miso. It has a strong savory flavor.
If you prefer a more subtle taste, use white miso, which also has a lower sodium content.
Miso eggplant: Nutritional information
Each serving of miso eggplant has about 290 calories, 16 grams of fat, 27 grams of carbohydrates, and 94 mg of sodium.
Awase miso has high salt content, so substitute it with white miso if you can't have too much salt.
Eggplant is a good source of vitamin A, vitamin C, calcium, and magnesium.
And by the way, this recipe is gluten-free and vegan!
What to serve with miso eggplant?
As I mentioned before, it's perfectly fine to have this dish as a main course, but some delicious pairings complement the savory miso flavors.
If you want an easy side dish, you can pair this Japanese eggplant recipe with plain boiled white rice or jasmine rice.
Alternatively, you can serve the eggplant with curry or various chicken dishes, like baked crispy chicken or grilled chicken. You can also try it with some fried tofu or konnyaku (konjac plant) if you prefer vegan food.
Don't forget to drink a cup of genmai tea to soothe and aid digestion.
There are more additional toppings you can add besides sesame seeds and scallions. To add a pop of color and flavor, add grated ginger, micro herbs, and even spicy sauces.
It's up to you to add flavors you like, but the traditional recipe calls for simple sesame and spring onion/scallion topping.
Now it's time to fire up the pan and get that miso paste bubbling!
If you like vegetable dishes, check out my teppanyaki recipe for stir-fried vegetables, which could be a great side for larger eggplants.
2. Roasted eggplant recipe
Roasted eggplant serves both as a full course meal and a side dish.
For a healthy and beneficial lifestyle, this Japanese eggplant recipe can be enjoyed with miso rice. However, as a side dish, you can eat it with chicken or salmon with different kinds of sauces such as soy, etc.
You have to roast the eggplants until the center melts. Then, you can garnish them with sesame seeds to give them a complete look. This Japanese eggplant recipe serves 4 to 6 individuals.
Ingredients:
800 grams of eggplants sliced from the center
1 small cup of chopped scallion or onion
2 tablespoons of vinegar
1 teaspoon of sesame seeds
1 small piece of crushed ginger
1 cup of raw miso or miso paste
2 tablespoons of sesame oil
2 tablespoons of olive oil
Directions:
Heat the oven at 230°C(450°F), which takes about 20 minutes while you prepare the rest.
Set up the sliced eggplants on the baking tray with the butter or parchment paper in between.
Brush olive oil all over the eggplants until they're shiny. Then put the tray in the oven.
Bake the eggplants for about 30 minutes or until they turn golden.
After baking, take the tray out and let it cool.
Meanwhile, take a medium-sized bowl and add vinegar, water, sesame oil, and miso paste in it. Mix it well until it takes the form of a paste.
Spread this paste on each eggplant slice and heat in the oven for an additional 5 minutes or until the eggplant sides start to shrink.
Finally, sprinkle in some raw or toasted sesame seeds and scallions/onions on top and serve it on a platter.
Note: Don't go overboard when brushing the oil on your eggplants. And make sure to flip the eggplants in between baking to cook them completely!
3. Grilled eggplant recipe
Japanese eggplants can be easily grilled. Since they're much softer and smoother than regular eggplants, their cooked filling gives a mushy effect.
Grilled eggplants can be enjoyed with tahini sauce to get a creamy texture. Or they can be eaten with soy sauce to get a traditional Japanese flavor.
A small quantity of it can act as an appetizer with a heavy meal, but grilled eggplant with miso and rice can itself be used as a 3-course meal.
Ingredients:
4 regular-sized Japanese eggplants (weighing almost 700 grams in total)
3 tablespoons of sesame seeds
3 teaspoons of olive oil
3 teaspoons of soy sauce
2 tablespoons of squeezed lemon juice
Salt and pepper to taste
Thai basil leaves for garnish
Directions:
Cut the eggplants vertically from the center.
Heat the grill up with coal or gas.
In the meantime, place the sliced eggplants on a big and narrow tray and sprinkle a little salt and pepper to taste. Also, brush olive oil on the sliced sides. Leave it like that for 2 to 3 minutes.
Place the eggplants on the grill. Make sure that the sliced side is facing downwards toward the heat source. Complement the eggplants with lemon juice and olive oil at regular intervals to give them a juicy essence and make sure they don't get burned. Grill for about 5 minutes.
Keep flipping them until they're completely scorched.
After grilling, garnish with Thai basil leaves, sesame seeds, and soy sauce.
Note: The amount of oil you'll need will vary depending on how long you'll be grilling. Give eggplants a design with a knife to get a grilled look. Eggplants contain a lot of moisture but you can use salt to dry it out first so it'll be a little less mushy and moist.
4. Pickled eggplant recipe
Eggplant pickles are very strong in taste and are often used as a side dish with 3-course meals. They add an exciting flavor to the food and that's why native Japanese (as well as a lot of foreigners) love these!
This Japanese eggplant recipe is a simple guide to prepare delicious homemade Japanese-style pickled eggplant that can brighten up any dish because of its taste and texture.
Here's a detailed list of all the ingredients required.
Ingredients:
6 to 8 regular-sized Japanese eggplants (around 1 kg)
Half jar of olive oil to cover
1 tablespoon of Japanese cayenne pepper powder
3 teaspoons of salt
Directions:
Simmer or poach eggplants in boiling water until they get soft. It usually takes around 5 to 10 minutes.
Trim the top and bottom edges of the eggplants so only the middle part is used for the pickles.
Mix salt and cayenne powder along with a little oil to give it a pasty texture and apply to each eggplant. Completely cover with the mixture.
Put the eggplants in a container and leave it like that for about half a day. After this time, remove the excess salted water.
Place pickles lengthwise in a jar and add olive oil. Make sure that the pickles are completely dipped in the oil.
Close the lid and refrigerate it for a complete week.
After a week, enjoy it as a side with other dishes for a striking and appetizing dish!
Note: Choose a regular or big sized jar that fits both the eggplants and the olive oil. Giving cayenne-salted eggplants more time will help the mixture to get into the eggplants core completely, adding a full flavor to the center.
For maintaining freshness, keep them out of hot temperatures.
5. Stir-fried Japanese eggplant recipe
The stir-frying technique is used as an economical way of quickly preparing a meal. Scientifically speaking, food prepared using stir-frying is much healthier than grilling or boiling.
Even though the preparation takes less time, it's a great way to give Japanese eggplants an overall sweet and still moist flavor and great texture. Also, you need much less oil than when using other methods of cooking, so it's also healthier!
There are many ways of stir-frying eggplants. They can be cooked with ginger, cucumber, garlic, etc., and the spice level can be adjusted.
Consume this Japanese eggplant recipe with rice, or enjoy them separately or as a side dish to your meal.
Ingredients:
6 medium-sized sliced Japanese eggplants (weighing around 1 kg)
1 sliced green onion
3 tablespoons of vegetable oil
1 tablespoon of sesame oil
1 tablespoon of soy sauce
4 tablespoons of minced garlic
2 tablespoons of ginger
1 tablespoon of cornstarch
1 tablespoon of salt
Directions:
Trim the edges of the eggplants, slice them vertically from the center, then cut further into small slices of 1/4th inch thick.
Add eggplant slices in a colander and add a pinch of salt. Mix it well and then leave for a few minutes. Rinse out the salted water from the slices.
Take a bowl and put the eggplant slices in it. Add cornstarch and completely coat each slice.
Heat the vegetable oil in a pan and put the eggplant slices in. Stir gently for 15 minutes until they turn into a golden brown color. This will take about 4 to 6 minutes. Repeat this step until all the eggplant slices are completely done.
Clean the pan completely and add sesame oil. Heat it for a few seconds and then add garlic and ginger. Cook for 2 to 3 minutes.
Once again, add fried eggplants. Add soy sauce and green onions. Stir for a few seconds to mix it up.
Take out onto a serving dish and garnish with sesame seeds.
Note: Choose a pan size where all the above-mentioned ingredients can fit without overlapping. Adding fried eggplants again to the cooked garlic and ginger adds a new flavor and essence to the eggplants.
6. Vegan eggplant recipe
An eggplant platter can be a dish of choice for vegans and vegetarians. There are a huge number of vegan eggplant recipes.
It can be eaten with rice, noodles, beans, grains, etc. Because of its protein enrichment capabilities, it can act as a genuine meat replacement.
The following is a recipe to prepare marinated eggplants that can be enjoyed in many flavors (i.e. spicy, sweet, etc.).
Ingredients:
This recipe serves 4 to 6 people. It contains the following ingredients:
5 to 7 medium-sized Japanese eggplants (weighing around 1 kg)
2 tablespoons of ginger
3 tablespoons of soy sauce
1 sliced green onion
1 tablespoon of mirin
Salt and pepper to taste
2 tablespoons of minced garlic
1 tablespoon of sesame oil
2 tablespoons of sugar
2 tablespoons of vinegar
3 tablespoons of sake
2 teaspoons of sesame seeds
Directions:
Slice the eggplants vertically from the center. Cut them further into little square, bite-sized pieces.
Take a medium-sized bowl and add soy sauce, vinegar, sake, sugar, and mirin. Blend until the sugar grains start to disappear.
Put the blended mixture onto the eggplant chunks. Do this several times until the pieces are completely layered. Leave the coated pieces for a few minutes.
Heat up the pan by adding sesame oil. Now put the slices in the pan. Cover it with a lid and let it cook at medium heat. Flip and add some extra mixed sauce after a few minutes.
Take the eggplants chunks out when they fully turn golden brown.
Put in a big dish and garnish with green onions and sesame seeds.
Serve right away as gravy with rice or as a side dish.
Note: Liquid sugar or sugar powder can be used for quick recipes. Keep adding the marinated sauce while cooking to completely coat each piece.
Read on to learn more about these very tasty zucchini recipes, which you can also grill and do a lot of stuff with to add them to your dinner repertoire.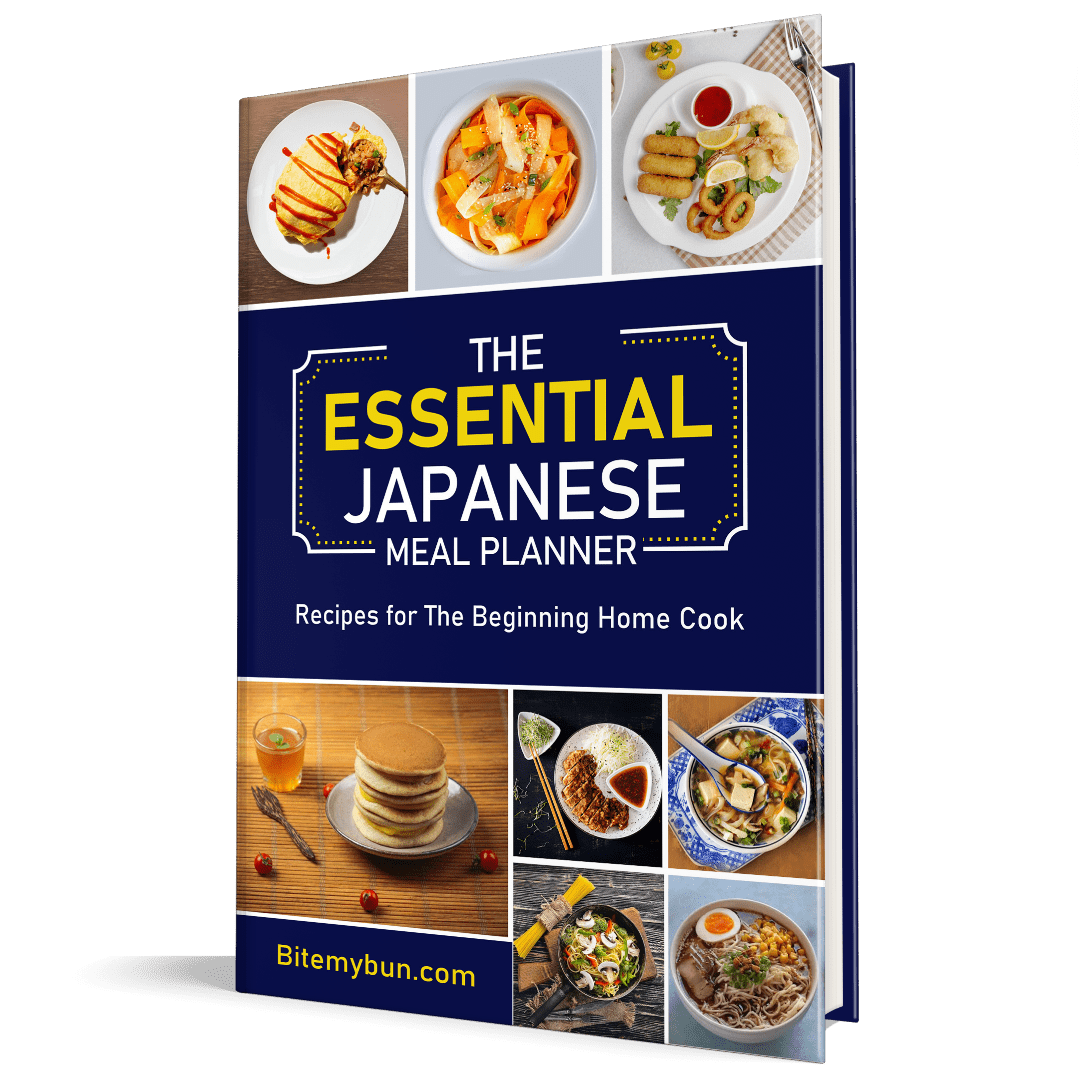 Check out our new cookbook
Bitemybun's family recipes with complete meal planner and recipe guide.
Try it out for free with Kindle Unlimited:
Read for free
Joost Nusselder, the founder of Bite My Bun is a content marketer, dad and loves trying out new food with Japanese food at the heart of his passion, and together with his team he's been creating in-depth blog articles since 2016 to help loyal readers with recipes and cooking tips.