I love creating free content full of tips for my readers, you. I don't accept paid sponsorships, my opinion is my own, but if you find my recommendations helpful and you end up buying something you like through one of my links, I could earn a commission at no extra cost to you.

Learn more

A non-stick surface is a surface engineered to reduce the ability of other materials to stick to it. Non-stick cookware like copper ceramic pans are a common application, where the ceramic clay layer (non-stick coating) lets the food to cook and get burnt to a slight crisp that turns brown and yet won't let it stick to the pan.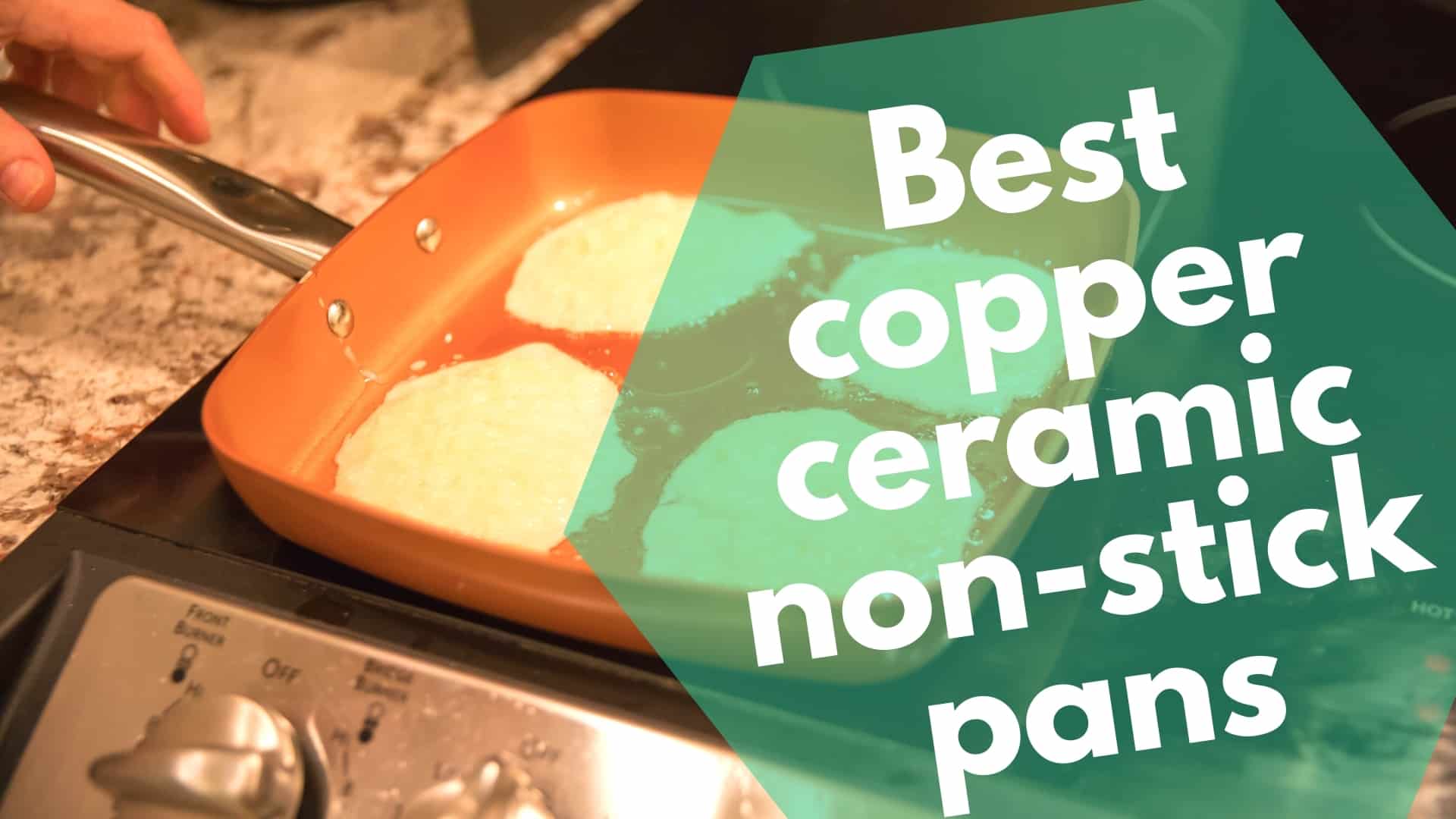 The term "non-stick" is a slang used to describe metal surfaces (usually cookware) that's been coated with a layer of polytetrafluoroethylene (PTFE), which the common name brand is called, "Teflon." My top choice for ceramic copper non-stick cookware is this Farberware Glide set which you can buy here on Amazon for a very affordable price for such a complete set. It's non-stick and will last you a long time and Farberware prides themselves on innovating on durability and non-stick surfaces. Watch their video on innovation: New innovations in coatings have been developed and are marketed as non-stick cookware and they include enameled cast iron, ceramics, silicone, anodized aluminum, and seasoned cookware. The superhydrophobic coating is the latest cutting-edge innovation in the non-stick coating in the market today. These are the top choices for copper ceramic sets:
What are Copper Ceramic Pans Made Of?

Technically, any type of ceramic object is made from fire-hardened clay mixed with other elements for any specific purpose the object may serve. So when we talk of ceramic coated cookware, we are talking about some sort of metal (which in this case is copper) that has been coated with a layer of ceramic. For ceramic coated copper pans this means that it does not allow food to stick to its surface, but more importantly, it also prevents any chemical reactions when food is heated in copper cookware, which can sometimes poison people. The ceramic coatings in non-stick cookware are usually made of inorganic materials, which are mostly silicon and oxygen (substances that are considered inorganic do not contain any carbon element in them).
Influence of Copper Ceramic Pans in the Market

Copper ceramic pans have taken the cooking arena by storm all thanks to their amazing attributes, which are their non-stick ceramic coating, robustness and great glossy looks. Now with the copper ceramic pans, you can finally have the eye-pleasing aesthetics of copper, but none of the unsafe and toxic potentials that it carries when it chemically reacts to food and heat, all thanks to the safe and ultra-non-stick ceramic coating. With its almost scratch-proof surface plus a 100% guarantee zero stickings of any type of food, copper ceramic pans are your ultimate frying surface. Frying food with other pans gives you trouble, but frying with copper ceramic pans puts your mind at ease. Because of its copper core component, it has the ability to absorb and distribute heat quickly and evenly, therefore there will be no hot spots and burnt areas on your food. From sizzling, succulent steaks to freshly fried fish fillets, you can sauté, stir-fry and sear like a pro! And you don't even have to worry about your food needing oil or burn in fat or butter to be cooked as the copper ceramic pans require little to no oil or butter to cook your food with perfection. Newer models of copper ceramic non-stick pans are also PTFE (polytetrafluoroethylene) and PFOA (perfluorooctanoic acid) free, which means that your food doesn't contract any chemicals from the pans. Copper ceramic pans are also safe in ovens and can withstand temperatures of up to 260° Celsius! So there's no need to burn your omelet or toast the top part of your tart on the grill. The copper ceramic non-stick pans are truly remarkable pieces of modern kitchen tools! It's almost unbelievable that something so lightweight and pretty can be so sturdy and robust. By now I'm sure copper ceramic pans have made an impression of you, so go to your nearest home depot or online store and get a set of this amazing kitchen cookware.
Copper Ceramic Cookware Pros & Cons
Pros:
The best material for quick heating and heat distribution when it comes to kitchen cookware.
Superb aesthetics
Non-stick
Safe
Durable and dependable
Easy to clean
Comes in various pretty colors
Food can be safely stored in it
Dishwasher safe
Cons:
Chips easily
Copper ceramic cookware that has PTFE and PFOA are of a bit of concern compared to those that do not have these chemicals.
Best Copper Ceramic Non-Stick Cookware
Farberware Glide 11-Piece Copper Ceramic Non-stick Cookware Set

One of the best manufacturers of copper ceramic non-stick cookware is Farberware. Their Reliance Pro Set boasts of aluminum construction for the first-rate fusion of durability and heat conductivity.
Slotted turner
Slotted spoon
Solid spoon
Ladle
Whisk
Pasta Fork
So you can start cooking right out of the box. So whether you'll want to cook sticky raspberry-glazed chicken wings, fall-apart bourbon ribs, chicken hot wings with blue cheese slaw and skinny fries, homemade Italian-style lasagna, or any sticky recipe, you can be sure that the Farberware Reliance Pro Set can handle it. Check out prices and availability here
BulbHead (10824) Red Copper 10 PC Copper-Infused Ceramic Non-Stick Cookware Set

Red Copper is another well-known brand in the copper ceramic cookware area and their 10-Piece Copper-Infused Ceramic Non-Stick Set says a lot about the quality of the products they produce. View this set here on Amazon
Gotham Steel Copper Nonstick Frying Pan and Cookware Set

Now here's the kitchenware that makes all other kitchen tools look like tin cans! Introducing the Gotham Steel Copper Non-Stick Frying Pan and Cookware Set. Check out the latest prices here on Amazon
Also read: red copper pan vs gotham steel, which is better?
MICHELANGELO Copper Cookware Set

Being a German manufacturer is a big thing because everybody knows that the Germans built the best quality items that are also very useful.
8-inch skillet
10-inch skillet with cover
8-quart stockpot with lid
1.5-quart saucepan with cover
3-quart saucepan with lid
3.5-quart sauté pan with helper handle and cover
8-inch steamer insert
Michelangelo's cookware also has a titanium core and copper ceramic non-stick layer, which makes them very strong and durable, scratch-proof and ultra non-stick when it comes to cooking. Cook your food with minimal oil/butter, the food gets heated evenly and quickly due to the copper element added in the cookware, nothing sticks to the surface, it cleans up easily and is dishwasher safe. This non-stick pots and pans set are made of professional-grade aluminum alloy that is a very good heat conductor and does not exhibit uneven spots on the metal surface when cooking. High-quality copper ceramic materials that it does not chip, peel or flake even under extreme temperatures. The glass lid that comes with some pots and pans seals in the flavor and nutrients for a healthier and better-tasting food. Zero PTFA, PFOA, lead and cadmium in the copper ceramic layer, which means you'll only have healthy meals all the time. Check it out here
SHINEURI Nonstick Ceramic Copper 10 Pieces Cookware Set

For under a 100 dollars you will get a 10-piece non-stick ceramic copper cookware set from Shineuri –a prominent brand name in the cookware industry.
8-inch frying pan
9.5-inch frying pan with lid
1.5-quart saucepan with lid
2.5-quart saucepan with lid
6-quart casserole pan with lid
Stainless steel steamer inert
Check prices and availability here
Copper Chef Round Pan 3 Pack 8, 10 and 12 Inches

You only need to mention the name "Copper Chef" once and just about anyone would know that it's kitchenware and it's high quality. Check them out here on Amazon
Conclusion

Copper ceramic non-stick pans are great for all cooking occasions and if you'll go for the ones that are PTFE and PFOA free, then it will put your mind at ease as you will know that there are no harmful chemicals leaking into your food. I've laid out the best brands in the copper ceramic non-stick cookware industry for you to choose from, but don't let me stop you from doing your own research too! Of course, there are lots more copper ceramic non-stick cookware out there that we forgot to mention in this list. Enjoy cooking your favorite recipes in any of the top brands of copper ceramic non-stick cookware that you'll plan to own soon!
Read more: these are the top copper skillets you can buy right now
Joost Nusselder, the founder of Bite My Bun is a content marketer, dad and loves trying out new food with Japanese food at the heart of his passion, and together with his team he's been creating in-depth blog articles since 2016 to help loyal readers with recipes and cooking tips.