I love creating free content full of tips for my readers, you. I don't accept paid sponsorships, my opinion is my own, but if you find my recommendations helpful and you end up buying something you like through one of my links, I could earn a commission at no extra cost to you.
Learn more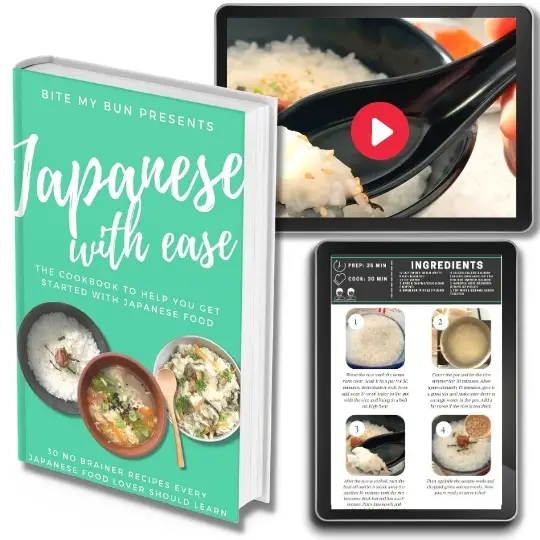 Ever had trouble finding Japanese recipes that were easy to make?
We now have "cooking Japanese with ease", our full recipe book and video course with step-by-step tutorials on your favorite recipes.
No travel experience in Japan is complete without sampling some of Japan's most popular snacks.
Why? Because these snacks are unique, flavorful, and different from any of the North American and European snacks you've tried!
In this post, we'll share the top Japanese snacks you have to try, and I assure you that you'll be craving for these treats as soon as you read about them.
Plus, we'll be sharing the best snack shops in the world-famous Tokyo Station.
If you're not heading to Japan anytime soon, don't worry. You don't have to travel to Japan to taste their delicious snacks because you can find plenty of yummy treats online.
You can find an assortment of the best Japanese snacks on Amazon. Just pick your favorite snacks from our list of delicious treats.
You'll find a mix of sweets, candies, salty snacks as well as some of the best desserts.
Here are the best snacks in a quick overview, but be sure to read everything about them further down in the article.
Best Japanese snacks to try
Best Japanese noodle snack: Nishin Yakisoba UFO
The UFO is the most popular brand that most Japanese people buy when it comes to instant yakisoba noodles.
When you tear the paper cover on the yakisoba UFO, you'll be able to see that it has ready frozen cabbage on top of the fried noodles.
To prepare instant yakisoba, you'll need to use a completely different process, unlike the regular cup of noodles instant meals.
First, you will use boiled water for cooking the noodles, and then discard it via the vent in the package. Be careful not to get burned by the steam.
Once the water is completely drained, you can now add the yakisoba sauce packet—and you will be done. It's not a soup, but rather a ramen-type of snack.
These noodles have a chewy texture, which is very satisfying and blends very well with the bits of pork and crisp cabbage.
You can add dried nori (seaweed) flakes and pickled and grated ginger if you want to have a completely different yakisoba experience.
Lastly, don't forget to top the snack with an egg for some additional kick. But it tastes great right out of the package as well.
In this video, Japanese and Americans swap snacks and taste cool snacks we even haven't gotten around to putting on the list:
Best Jelly snack: Jin Jin Assorted Fruit Coconut Candy
(view more images)
The flavor and texture of these fantastic Japanese jelly snacks is kind of hard to describe, but each container has an average of 15 servings of mouthwatering jelly cups that come in assorted flavors.
The jellies are made from coconut, which is an excellent alternative to gelatin.
These jellies are tasty and healthy because they are cholesterol and fat-free.
Check out the latest prices and availability here
Best Gummy Snack: Kasugai Pure Fruit Gummies
These gummy candies are the most popular in Japan. They come in a wide variety of flavors and have a jelly and chewy texture.
People love these gummies because they have an authentic fruit taste.
(view more images)
These gummies are made from fruit pure and are considered a healthy snack because they contain pure fruit puree (paste). They also contain collagen and Vitamin C.
Kids love these gummies because they are tasty and come in sour as well as sweet varieties.
Check prices and availability here
Sweetest Japanese snack: Tokyo Banana CAKE
This is a Japanese sweet cake that has the shape of a banana. The original Tokyo banana is full of thick banana custard on the inside, covered in a fluffy sponge cake.
(view more images)
But, as you might be aware, Japan is a very creative nation, so they've also come with some fantastic flavors for this snack.
For instance, the honey flavor has a triple pattern that resembles the honey bee.
The heart maple, on the other hand, is very cute, with surprising and colorful heart-like designs, and comes with a very delicious maple-flavored filling.
Also, you'll be able to sample other amazing flavors such as banana caramel, milk cream, chocolate caramel, and many others.
This sweet snack is usually packaged in a square gift box, which allows many people to buy it as a souvenir for their family and friends.
Weirdest Japanese snack: Moko Toilet Candy
Moko Moko is the original strange candy snack, which deserves a notable mention.
This is probably one of the weirdest candies you'll find. It is a bubbly powder candy mixed in a small plastic toilet.
The package comes with your own tiny toilet and the flavored candy to make your own concoction.
(view more images)
So, here's how to eat this funny candy. First, the little toilet must be assembled, then filled with candy powder.
Once water is added into the toilet bowl over the powder, it starts to bubble. The flavors of the bubbles vary.
You then drink up the yummy liquid candy with a straw. It's so odd that you've got to try it!
Best Japanese snack gift box: Mochi variety pack
This is a rice cake with a sweet profile flavor and chewy, sticky, and soft texture.
Mochi comes in a wide range of flavors, which include adzuki bean, red bean, matcha, green bean, and cherry among others.
Once you taste this snack, it's hard to resist eating more since it's very delicious.  People love this snack primarily because of its diverse flavors.
There are certain types of mochi with strawberry, vanilla, and matcha ice cream, and these are some of the types that tend to be irresistible.
These are very popular in Japan, and many people from other countries also love them.
You can buy this gift box here
Best adopted snack: Japanese KitKat
We aren't exaggerating when we say that Japan is the treasure island of KitKats.
Japan adopted the chocolate bars from England over 30 years ago, and today, the nation has become famous because of the 300 diverse and unique KitKat flavors you can find there.
You haven't really tried this popular chocolate until you've tasted the unique flavor combinations available.
(view more images)
Some of the best flavors include strawberry or blueberry cheesecake, matcha (green tea), lemon, sakura (cherry blossoms), grape, and red bean paste, among others.
Also, it's important to note that there are some weird KitKat flavors, which include grilled potato, brown sugar syrup, wasabi, pumpkin, French salt, soybean powder, apple vinegar, houjicha (houji tea), and cappuccino.
Many of the odd flavors are limited edition and released on special occasions.
Check out this assortment of flavors here
Best Japanese snack stick: Pocky
This is another popular Japanese snack. Pocky was introduced in Japan over 50 years ago.
Since then, it has become an export to many countries across the world, both European and Asian. So what is pocky?
Pocky is a biscuit bar in which two-thirds of the bar is coated with solid chocolate cream. The biscuit part of the bar is very crunchy, and it has a plain flavor.
The creamy cover makes it unique. The sweet coated cream and plain biscuit are the perfect combination.
These days, this fantastic snack comes in a wide assortment of flavored creams, not only the chocolate version you've probably heard of.
Some of the unique flavors, which are only found in Japan, include:
wagokoro (the finest red bean and matcha, which is limited to Japan)
the rainbow pocky (which has seven flavors)
almond crush,
adult amber whiskey, which is loved by many people who like drinking whiskey
pumpkin apple (a limited edition for Halloween)
giant cantaloupe (found only in Hokkaido)
Check out this assortment of flavors here on Amazon
Best Japanese potato snack: Jagabee
A product of Calbee, Jagabee, is a popular Japanese snack made from potatoes and shaped like French fries.
It has a slightly salty flavor, with a touch of butter soy sauce and cheese. Jagabee is crunchy, both in the outer shell and its interior.
It has a fantastic flavor, as it has the right amount of salt. There are different flavors available, including a low sodium version and seaweed dashi.
Although Oreo isn't Japanese and technically the Tiramisu flavor is made in Korea, not Japan, this is one is very popular in Japan and one of the most common Japanese snacks.
You will always find it on every Japanese snack list.
This is a must-try sweet snack, which has a very unique taste, and no other food brand has been able to imitate and make a replica of this snack.
The Japanese Oreo's are shaped just like their American counterparts, but the flavors are different.
This circular biscuit has a unique flavor, which is crispy, a bit sweet, and a bit bitter with its chocolate flavor. Different filling creams are used depending on the variety.
Oreos come in different crazy and weird flavors, which include lemon mousse, watermelon, green tea latte, pumpkin spice, peanut butter, red velvet, and candy corn among others, the most popular being tiramisu.
Best tea snack: Apple Yokan
This yummy snack is the perfect apple cake tea companion.
Also known as yokan, this snack consists of a jelly dessert that's made of sugar, apple juice, and agar. The most famous apple farms in Japan are in the Aomori Prefecture.
The Apple Yokan is very delicious, with a chewy and sweet texture.
It has cute packaging, with the face of a goldfish, which symbolizes a traditional game known as Kingyo Sukui (goldfish scooping).
Usually, this dessert is served with a hot cup of tea or served as sweet finger food at gatherings.
Cutest Japanese snack: Taiyaki
Customers love all things cute, and Taiyaki is a sweet Japanese snack shaped like a fish.
The snack comes in a yellowish wrapper, which made from wheat flour or dough and has a sweet red bean paste filling on the inside.
Today, taiyaki is available with other sweet fillings such as chocolate, matcha cheese, ice cream, and custard.
It can be bought in different outlets and small snack shops around the country. It is best enjoyed while piping hot.
Other common types of taiyaki include ice cream taiyaki.
This form of taiyaki is like a waffle ice cream from western countries, which is usually frozen, thus making it fresh and ideal for hot summer seasons
Best Japanese pancake snack: Dorayaki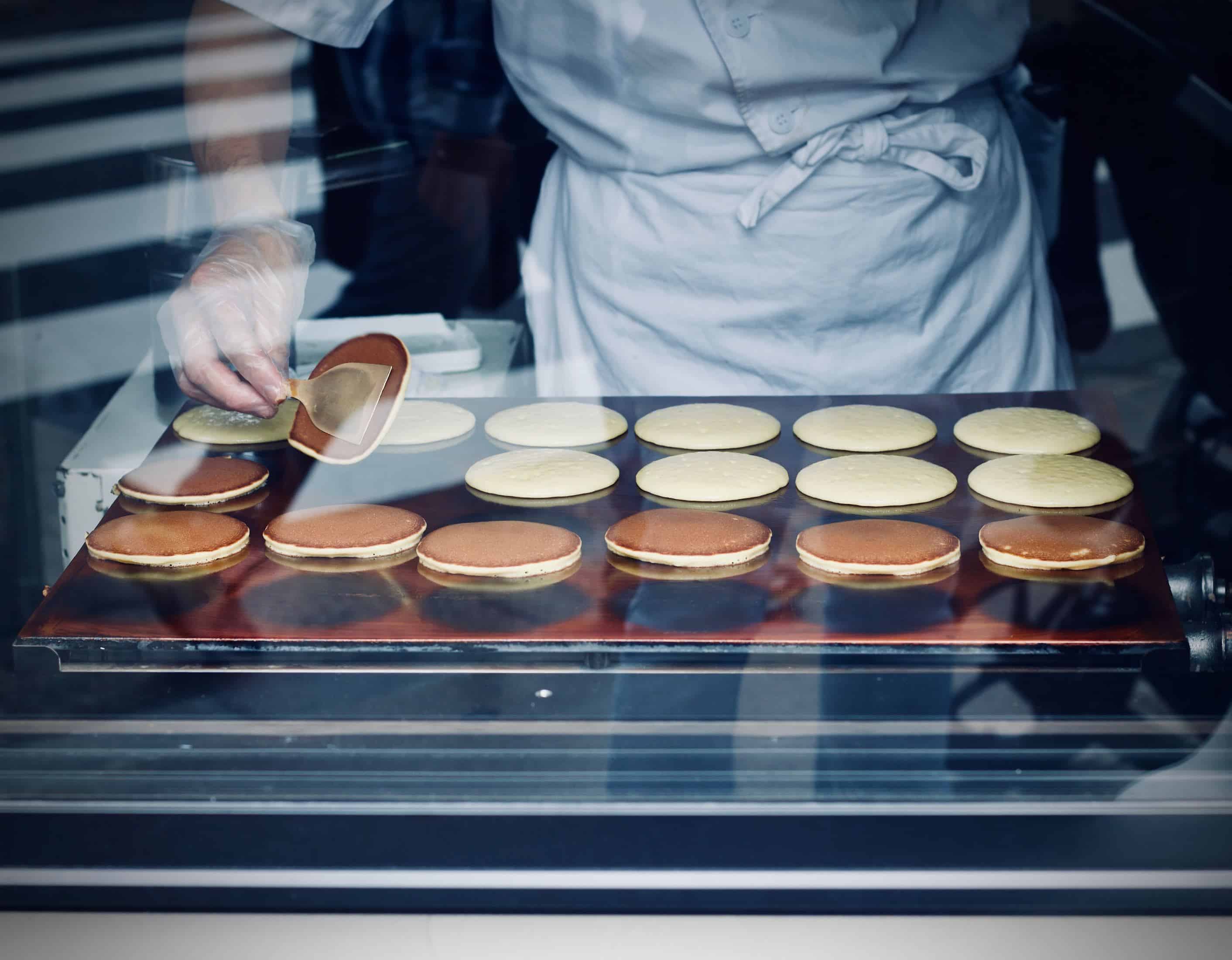 Doraemon is one of the most popular and favorite comic characters of all time, and the fame of this cute, fat cat robot spreads across the entire globe: he is a big fan of dorayaki.
Doraemon's preference makes dorayaki a common household name, and thus it has become one of the most famous snacks in Japan.
So, what's this dorayaki we are raving about? It consists of two-round pancakes, filled with red bean paste.
It has a soft and fluffy texture and a very sweet flavor—which is one of the best sacks for people with a sweet tooth.
Best Japanese snack flavor: Matcha Green Tea
Matcha is a product of fresh green tea leaves. It has an intense flavor, which is not bitter, but it has a strong aroma.
The best green tea in the entire world is not only found in liquid form, but also used to add some flavor for many Japanese foods and snacks, like matcha chocolate, matcha ice cream, matcha milk tea, and matcha cakes among others.
Almost all of the snacks in Japan are available in a matcha flavor variety.
Best street food snacks: Japanese Crepes
Most people are familiar with the crepes that originated in France, not Japan.
Despite this, crepes have made their way to Japan and turned out to become of the most popular snacks in the country.
A crepe is a form of thin, round pancake rolling, which has filling on the inside.
Mostly, it comes with a different variety of fillings, but the two most common fillings include sweet and savory.
Crepes are easy to make. First, the batter is spread, on a frying pan, and then the filling is spread out on it, after which the dough is rolled up.
What makes Japanese crepes unique is their fillings.
Some of the common fillings that you will find in sweet crepes include whipped cream, cookies, and multi-flavored ice cream, cheese, and certain fruits like banana, kiwi, or strawberry.
Savory crepes, on the other hand, have fillings like mayonnaise, tuna, shrimp, meat, and sausage, among others.
Here are some recipes for Japanese snacks
Dorayaki Recipe
Ingredients
All-purpose flour – 1 ¼ cup
Baking soda – 1 tsp
Eggs – 2
Sugar – ½ cup
Honey – 1 tbsp.
Milk – ¾ cup
Anko (sweet red bean paste)
Directions
In a medium-sized bowl, mix the flour and baking soda.
In another medium bowl, whisk the eggs, honey, and sugar together and then add milk, and give it a good mix.
Now, add the dry ingredients into the egg mixture and give it a good whisk until the batter becomes soft and runny.
Heat a non-stick frying pan and add a small amount of oil and wipe off the excess oil.
Next, in medium-low heat setting, pour 1/8 cup of the batter on the pan, just like a pancake. Cook for around 2 minutes, until the surface of the batter, has bubbles and the edges have become dry. Now, you can flip it over and cook for an additional 1 minute.
Move it to a plate and then cover it using a wet paper towel.
Now, take one cake, and place one heap-full tablespoon of Anko, and then cover it with another cake. Wrap it using plastic, and then press it with your hands.
Lastly, pinch to ensure that you seal the edges of the pancakes together.
Also read: this Japanese uni is Sea Urchin gonads, but you should try it
Sakura mocha-style rice balls
Ingredients
Hot cooked white rice – 2 small rice bowls
Umeboshi – 1 piece (minced) and 1 extra piece to adjust the tartness
A dash of salt
A dash of kombu tea
Extra additions to the batter
Knombu tsukudani and salmon flakes
Shiso leaves – 4
Carrot – 2 slices (thinly sliced)
Ham and kamaboko
Directions
Boil the carrots and then cut the sakura flowers and petals using a cookie cutter. You can also use a pair of scissors or a knife in case you don't have a cookie-cutter. These flowers are just for decoration, which means they don't have to be perfect.
Repeat the same procedure if you are using kamaboko or ham
Now, divide your rice into two equal portions, add the kombu tea and umeboshi to one part, to make it red, and then add kombu tea and salt to the other portion to make it white. You will be adding the filling to the white rice; therefore, make sure that you flavor it.
Make two white and red rice balls, and add your favorite filling to the white balls. Leave the red balls as is, and shape them into round or cylindrical rice balls.
Complete step 4 using shisho leaves, arrange the cut carrots on top, and you will be done,
This simple snack is ideal in the early summer months and during the fall season.
Homemade Japanese Pocky Snack Sticks
Here's how you make your own delicious Pocky snacks sticks, just like they taste in Japan!
Ingredients  
5¼

oz

Plain flour

(150g)

1

tbsp

Sugar

A pinch of salt

1¾

oz

Unsalted butter

(50g)

3

tbsp

Milk
Toppings
1¾

oz

Melted milk chocolate

(50g)

2

tbsp

Crushed almonds
Instructions 
Put all the dry ingredients in a food processor and then pulse twice for 3 seconds.

Next, add the butter into the food processor, and pulse for 2 or 3 times, until you get a mixture resembling coarse bread crumbs

Add the milk, and then pulse again.

Take the dough from the food processor, and then wrap it using a cling film or saran wrap, and then refrigerate for 30 minutes.

Preheat your oven to 355 degrees Fahrenheit (180 degrees C)

Roll the dough until you get a thickness of 5 mm.

Cut into a rectangle shape, and then cut it into thin pieces of around 5 mm.

Place the thin pieces in the oven, and then bake for about 15 minutes.

You can coat with melted chocolate or any other toppings of your choosing.
Why is Japanese candy so good?
Not only is Japanese candy popular, but it is also delicious.
There's no single right answer as to why it's so good, but here are the three main reasons people love Japanese goodies.
Variety of Flavors
Japanese treats are complex and varied. Whereas people in North America are used to the usual chocolate, caramel and nougat flavors, in Japan the people prefer other flavors.
You'll often find alternating and different flavors in one candy. Most snacks come in a large variety of flavors.
An excellent example of this is the KitKat bar, which is available in over 300 types!
Healthy
Many people are searching for healthy snacks. Did you know that, in general, Japanese snacks are healthier?
They contain less sugar, and the reason is that their treats have different flavors and don't rely on nougat, chocolate, and caramel as the base ingredient.
Attractive Packaging
People are drawn to exciting packaging and colorful snacks. That's the reason why Japanese marketers are always innovating packaging.
There's no doubt Japanese snacks have cooler packaging than North American ones. The packaging is innovative, colorful, and well designed.
What snacks to buy in Tokyo?
Did you know Tokyo Station is the place to try a large variety of tasty snacks? If you're ever in the area, you need to visit these three shops and grab some must-buy snacks!
Calbee Snacks
Calbee is a major manufacturer of Japanese snacks. They have a shop with their best goodies inside Tokyo Station. Here's a list of the must-have snacks from Calbee
Olive Oil Potato Chips
Shrimp Flavored Chips
Jagaree Mashed Potato Chips
Tokyo Banana
Don't pass by the Tokyo Banana shop without trying their delicious treats. This is a sweet sponge cake dessert shaped like a banana with a sweet banana custard filling.
We've already listed the Tokyo Banana as a must-try snack, but in the shop, you'll find many more flavors and varieties than your classic banana dessert.
Also, try KitKat's Banana Flavored Goodies.
New York Perfect Cheese
This famous shop is known for its Langues de Chat (cat tongue shaped biscuits). The biscuit is stuffed with white chocolate and a layer of Danish cheese.
It's the perfect mix of sweet and salty. Even though the name suggests an affiliation with New York, I assure you the treats you'll find there are uniquely Japanese.
Here's what you should know if you are going to buy snacks in Japan
Japan is known for its culinary variety. You are going to find a lot more snack options at every corner than you will in North America or Europe.
The flavors are often unique and new to most tourists or foodies. That's why it's important to keep an open mind and try the types of snacks you've never seen before.
If you want to try the best foods and eat like the locals, always check out snack guides (like this one) to make sure you're not missing out on something truly delicious!
Also read: these are the best reviewed Teppanyaki grills you can buy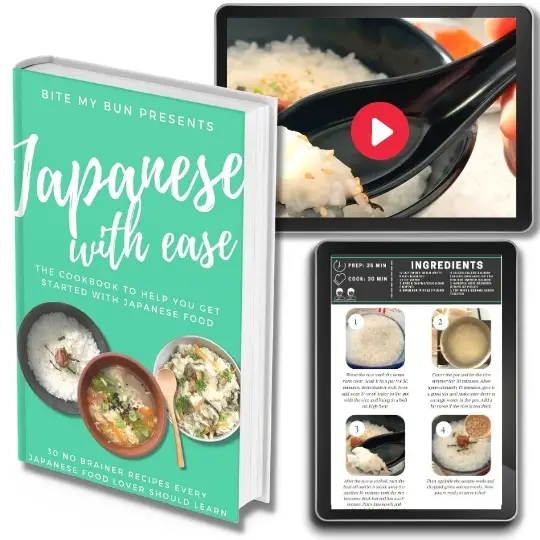 Ever had trouble finding Japanese recipes that were easy to make?
We now have "cooking Japanese with ease", our full recipe book and video course with step-by-step tutorials on your favorite recipes.
Joost Nusselder, the founder of Bite My Bun is a content marketer, dad and loves trying out new food with Japanese food at the heart of his passion, and together with his team he's been creating in-depth blog articles since 2016 to help loyal readers with recipes and cooking tips.