There is no way you can claim that you have experienced Japan until you sample a number of Japanese snacks, and see the magic that they offer.
In this post, we shall share the top Japanese snacks, and you should be ready to start craving for these snacks as soon as you read about them.
Here are the best snacks in a quick overview, be sure to read everything about them further down the article.
In this video, Japanese and Americans swap snacks with some more snacks we even haven't gotten around to putting on the list:
best Japanese snacks to try
Best Japanese noodle snack -- Nishin Yakisoba UFO
The UFO is mostly the first brand that most Japanese people crave when it comes to instant yakisoba noodles. When you tear the paper cover on the yakisoba UFO, you'll be able to see that it has ready frozen cabbage on top of the fried noodles.
To prepare instant yakisoba you'll need to use a completely different process, unlike other noodles.
First, you will use boiled water to cook the noodles, and then discard it via the vent in the package, and take care not to be burnt by the steam. Once the water is completely drained, you can now add the yakisoba sauce packet—and you will be done.
These noodles have a chewy texture, which is very satisfying and blends very well with the bits of pork, and crisp cabbage.
You can add dried nori (seaweed) flakes and pickled and grated ginger if you want to have a completely different yakisoba experience. Lastly, don't forget to top the snack with an egg for some additional kick.
But it's fine right out of the package as well.
Best Jelly snack -- Jin Jin Assorted Fruit Coconut Candy
The flavor and texture of these amazing Japanese jelly snacks is kind of hard to describe, but each container has an average of 15 servings of mouthwatering jelly cups, that come in assorted flavors.
These jellies are cholesterol and fat-free, and very delicious.
Check out the latest prices and availability here
Sweetest Japanese snack – Tokyo Banana CAKE
This is a Japanese sweet cake that has a shape of a banana. The original Tokyo banana is full of banana custard inside, covered with a fluffy sponge.
But, as you know that Japan is a very creative nation, the Japanese have also come with some amazing flavors for this snack.
For instance, the honey flavor has a triple pattern that resembles the honey bee. The heart maple, on the other hand, is very cute, with amazing and colorful heat-like patters, and comes with a very delicious maple-flavored filling.
Also, you'll be able to see other amazing flavors like banana caramel, milk cream, chocolate caramel, and many others. This sweet snack is usually packaged in a square gift box, which allows many people to buy it as a souvenir for their family and friends.
Weirdest Japanese snack -- Tuna eyes
There is one thing you should never do in life—accuse the Japanese of being wasteful.
This weirdest Japanese snack ensures that the Japanese people use every last bit of the fish, regardless of how disturbing the snack might look.
Typically, the tuna eyes are sautéed or braised, and then served as pre-dinner snacks to seafood lovers in downtown Tokyo. In fact, they are very delicious—but you have to overcome the initial shock to enjoy them.
Best Japanese snack gift box -- Mochi variety pack
This is a rice cake with a sweet profile flavor and chewy, sticky, and soft texture. Mochi comes in a wide range of flavors, which include red bean, matcha, green bean, and cherry among others.
When you taste this snack, it's hard to resist it since it's very delicious, especially because of its diverse flavors.
There are certain types of mochi with strawberry, vanilla, and matcha ice cream, and these are some of the types that tend to be irresistible.
These are very popular in Japan, and many people from other nations also love them.
You can buy this gift box here
Best adopted snack -- KitKat
We aren't lying when we say that japan is a treasure island of KitKats. Japan adopted the chocolate bars from England back over 30 years ago, and today, the nation has become famous because of the 300 diverse and unique KitKat flavors.
Some of the best flavors include strawberry or blueberry cheesecake, matcha (green tea), lemon, sakura (cherry blossoms), grape, and red bean paste among others.
Also, it's important to note that there are some weird KitKat flavors, which include grilled potato, brown sugar syrup, wasabi, pumpkin, French salt, soybean powder, apple vinegar, houjicha (houji tea), and cappuccino amongst others.
Check out this assortment of flavors here
Best Japanese snack stick -- Pocky
This is another popular Japanese snack. Pocky was introduced in Japan over 50 years ago, and now it has become an export to many countries across the world, both European and Asian. So what is pocky?
This is a biscuit bar whom two-thirds of the bar is coated with solid chocolate cream. The biscuit part of the bar is very crunchy, and it has a plain flavor which the sweet coated creaming making the perfect combination.
Today, this amazing snack comes in a wide assortment of flavored creams, not only chocolate.
Some of the unique flavors, which are only found in Japan include wagokoro (the finest red bean and matcha, which is limited in japan) the rainbow pocky (which has 7 flavors), almond crush, adult amber whisky, which is loved by many people who like drinking whisky, pumpkin apple (a limited edition for Halloween), and giant cantaloupe (found only in Hokkaido), among others.
Check out this assortment of flavors here on Amazon
Best Japanese potato snack -- Jagabee
A product of Calbee, jagabee is a popular Japanese snack, which is shaped like French fries.
It has a slightly salty flavor, with a touch of butter soy sauce and cheese. Jagabee is crunchy, both in the outer shell and its interior.
It has an amazing flavor, as it has the right amount of salt. Also, it has beautiful packaging, with an eye-catching image of little potato.
Best snack cookie -- Oreo tiramisu
Although Oreo isn't Japanese and technically the Tiramisu flavor is made in Korea, not Japan, this is one is very popular in Japan and one of the most common Japanese snacks, and you will always find it on every Japanese snack list.
This is a must-Japanese snack, which has a very unique taste, and no other food brand has been able to imitate and make a replica of this snack.
This circle biscuit as a unique flavor, which is crispy, a bit sweet, and a bit bitter with its chocolate flavor. Different filling creams are used on this amazing Japanese flavor.
Oreos come in different crazy and weird flavors, which include lemon mousse, watermelon, green tea latte, pumpkin spice, peanut butter, red velvet, and candy corn among others, the most popular being tiramisu.
Best tea snack -- Apple Yokan
Also known as yokan in japan, this snack consists of a jelly dessert that's made of sugar, apple juice, and agar. The most famous apple-producing are in japan in the Aomori Prefecture.
The Apple Yokoan is very delicious, with a chewy and sweet texture. It has a very cute wrapping, with the face of a goldfish, which symbolizes a
traditional game known as Kingyo Sukui (goldfish scooping).
Cutest Japanese snack -- Taiyaki
This is a sweet Japanese snack shaped like a fish. The snack comes in a yellowish wrapper, which made from wheat flour or dough and has a sweet-red bean paste filling on the inside.
Today, taiyaki with other sweet fillings like chocolate, matcha cheese or ice cream, and custard can be found in different outlets.
Other common types of taiyaki include ice cream taiyaki. This form of taiyaki is like a waffle ice cream from western countries, which is usually frozen, thus making it cool and ideal for hot summer seasons.
Best Japanese pancake snack -- Dorayaki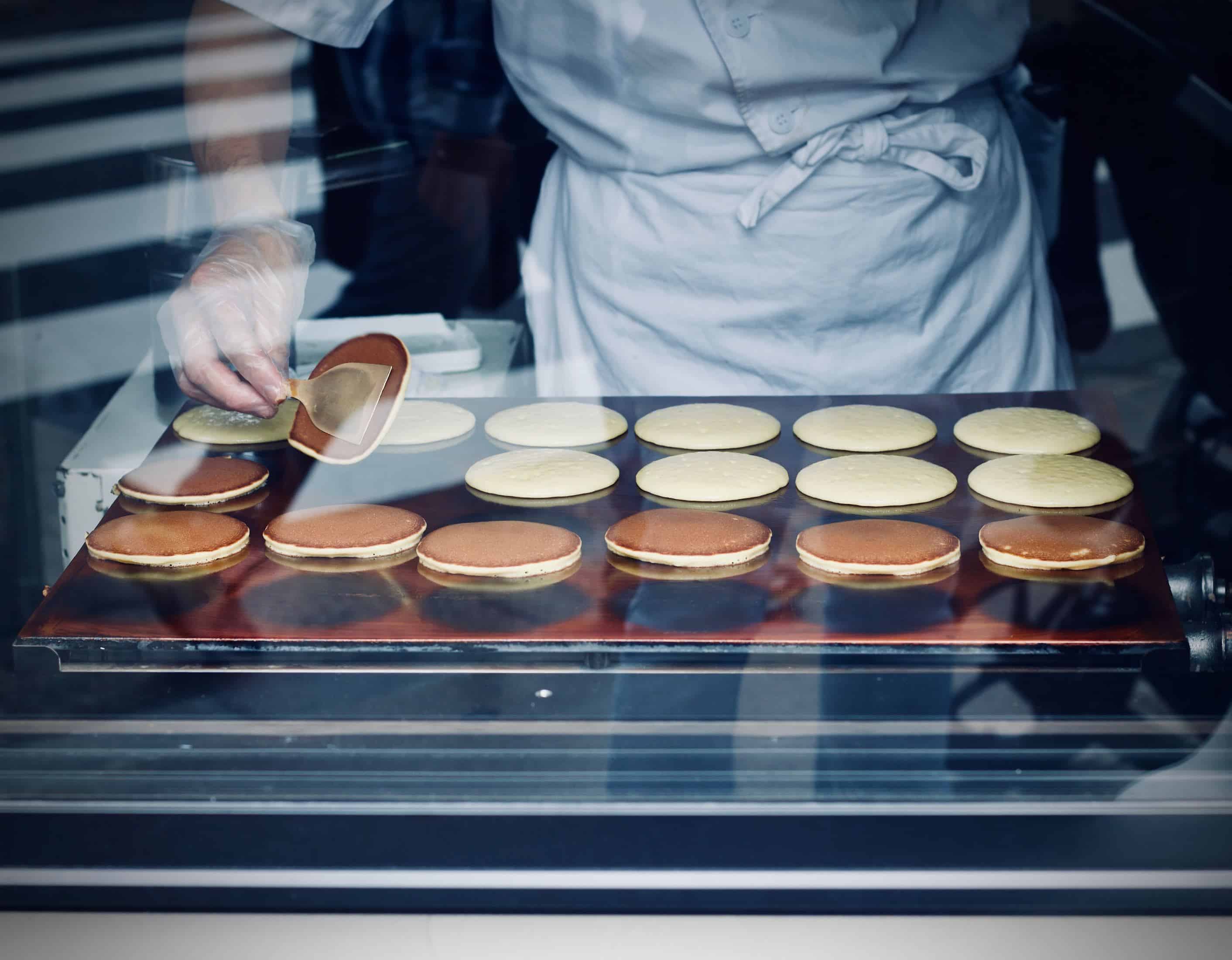 Doraemon is one of the most popular and favorite comic characters of all time, and the fame of this cute, fat cat robot spreads across the entire globe: he is a great fan of dorayaki.
Doraemon's hobby can make dorayaki a common household name, and thus it has become one of the most famous snacks in japan.
So, what's this dorayaki we are talking about? It consists of two-round pancakes, filled with red bean paste.
It has a soft and fluffy texture and a very sweet flavor—which is one of the best sacks for people with a sweet tooth.
Best Japanese snack flavor -- Matcha Green Tea
Matcha is a product of fresh green tea leaves. It has an intense flavor, which is not bitter, but it highlights the comfort of fragrance.
The best green tea in the entire world is not only found in liquid form, but also used to add some flavor for many Japanese foods and snacks, like matcha chocolate, matcha ice cream, matcha milk tea, and matcha cakes among others.
Best street food snacks -- Japanese Crepes
Most people argue that crepes originated from France, not japan. Despite this, crepes have made their wat to japan and turned out to become of the most popular snacks in the country.
A crepe is a form of thin, round pancake rolling, which has filling on the inside. Mostly, it comes with a different variety of fillings, but the two most common fillings include sweet and savory.
First, the dough is spread, on a frying pan, and then the filling is put on the dough, and then the dough is rolled up.
Some of the common fillings that you will find in sweet crepes include whipped cream, cookies and multi-flavored ice cream, cheese, and certain fruits like banana, kiwi, or strawberry.
Savory crepes, on the other hand, have fillings like mayonnaise, tuna, shrimp, meat, and sausage, among others.
Here are some recipes for Japanese snacks
Dorayaki Recipe
Ingredients
All-purpose flour – 1 ¼ cup
Baking soda – 1 tsp
Eggs – 2
Sugar – ½ cup
Honey – 1 tbsp.
Milk – ¾ cup
Anko (sweet red bean paste)
Directions
1. In a medium bowl, mix the flour and baking soda
2. In another medium bowl, whisk the eggs, honey, and sugar together, and then add milk, and give it a good mix.
3. Now, add the dry ingredients into the egg mixture, and give it a good whisk until the batter achieves the desired smoothness.
4. Heat a non-stick frying pan and add a small amount of oil and wipe off the excess oil.
5. Next, in medium-low heat setting, pour 1/8 cup of the batter on the pan, just like a pancake. Cook for around 2 minutes, until the surface of the batter, has bubbles and the edges have become dry. Now, you can flip it over, and cook for an additional 1 minute.
6. Move it to a plate and then cover it using a wet paper towel.
7. Now, take one cake, and place one heap-full tablespoon of anko, and then cover it with another cake. Wrap it using plastic, and then press it with your hands. Lastly, pinch to ensure that you seal the edges of the pancakes together.
Also read: this Japanese uni is Sea Urchin gonads, but you should try it
Sakura mocha-style rice balls
Ingredients
Hot cooked white rice – 2 small rice bowls
Umeboshi – 1 piece (minced) and 1 extra piece to adjust the tartness
A dash of salt
A dash of kombu tea
Extra additions to the batter
Knombu tsukudani and salmon flakes
Shiso leaves – 4
Carrot – 2 slices (thinly sliced)
Ham and kamaboko
Directions
1. Boil the carrots and then cut the sakura flowers and petals using a cookie cutter. You can also use a pair of scissors or knife in case you don't have a cookie-cutter. These flowers are just for decoration, which means they don't have to be perfect.
2. Repeat the same procedure if you are using kamaboko or ham
3. Now, divide your rice into 2 equal portions, add the kombu tea and umeboshi to one portion, so as to make it red, and then add kombu tea and salt to the other portion so as to make it white. You will be adding the filling to the white rice, therefore, make sure that you flavor it.
4. Make two white and red rice balls, and add your favorite filling to the white balls. Eave the red balls as is, and shape them into round or cylindrical rice balls.
5. Complete step 4 using shisho leaves, arrange the cut carrots on top, and you will be done,
6. This simple snack is ideal in the early summer months and during the fall season.
Homemade pocky recipe
Ingredients
Plain flour – 150 g
Sugar – 1 tbsp.
A pinch of salt
Unsalted butter – 50 g
Milk – 3 tbsp.
Toppings
Get your quick start in enjoying Japanese cuisine here with our top recommended tools
Melted milk chocolate – 50 g
Crushed almonds – 2 tbsp.
Directions
1. Put all the dry ingredients in a food processor, and then pulse twice for 3 seconds.
2. Next, add the butter into the food processor, and pulse for 2 or 3 times, until you get a mixture resembling coarse bread crumbs
3. Add the milk, and then pulse again.
4. Take the dough from the food processor, and then wrap it using a cling film or saran wrap, and then refrigerate for 30 minutes.
5. Preheat your oven to 180 degrees C.
6. Roll the dough until you get a thickness of 5 mm.
7. Cut into a rectangle shape, and then cut it into thin pieces of around 5 mm.
8. Place the thin pieces in the oven, and then bake for around 15 minutes,
9. You can coat with melted chocolate or any other toppings of your choosing.
Also read: these are the best reviewed Teppanyaki grills you can buy