Japanese kitchen scissors and shears | Top 7 options reviewed +how to use them
I love creating free content full of tips for my readers, you. I don't accept paid sponsorships, my opinion is my own, but if you find my recommendations helpful and you end up buying something you like through one of my links, I could earn a commission at no extra cost to you.
Learn more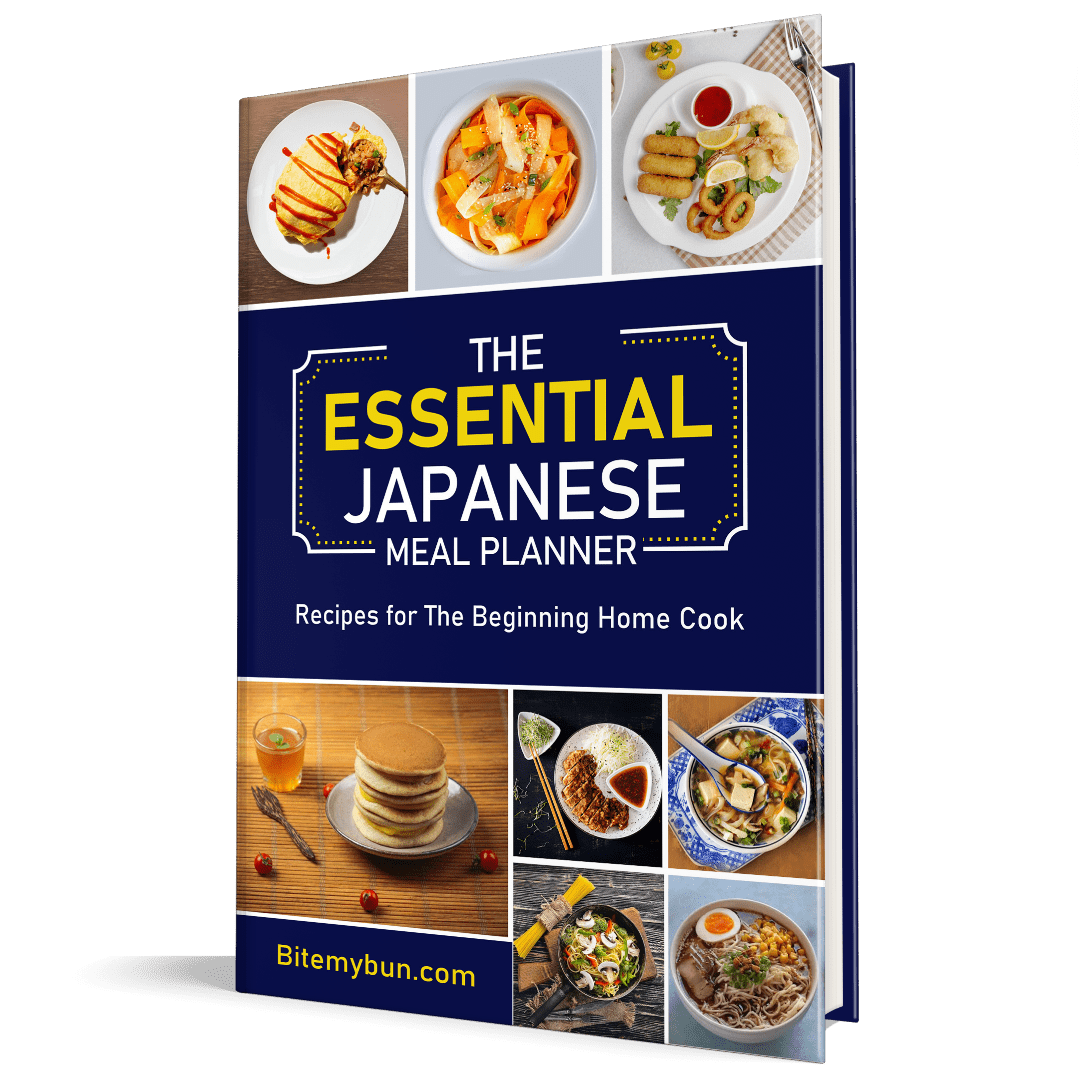 Check out our new cookbook
Bitemybun's family recipes with complete meal planner and recipe guide.
Try it out for free with Kindle Unlimited:
Read for free
If you regularly cook Asian food, your kitchen utensil kit is incomplete without some sharp Japanese kitchen scissors and shears.
They are very versatile utensils that help you cut up ingredients like meat, fish, vegetables, fruit, and herbs.
If you are bad with a knife, scissors and shears can help you get your kitchen tasks done quickly and safely.
In fact, a Japanese kitchen is always equipped with food scissors and shears that chefs and everyday home cooks use to cut up the herbs, veggies, and meats.
It saves a lot of prep time in the kitchen, and these specialty tools prevent you from cutting and injuring yourself because they are designed to fit your hands and fingers perfectly.
My top pick for Japanese kitchen shears is the Shun Premium Kitchen Shears because it can cut any ingredient, has a super sharp blade, and it's made of top-notch materials that last a lifetime.
The top pick for scissors is the Yoshihiro Stainless Steel Scissors because it is strong enough to cut hard-shelled seafood and perfect for cutting any type of meat.
I am sharing a roundup of the best kitchen shears and scissors in the table below, but you can read the full reviews by scrolling down.
10 Tips to Save a Bundle on Asian Ingredients!
Introducing our brand new FREE PDF guide: "Saving Secrets: Unveiling the Art of Saving Money on Asian Ingredients" It's your first newsletter email, so start saving today! 📚🧧
We'll only use your email address for our newsletter and respect your privacy
What is the difference between kitchen shears and scissors?
Before I explain top picks in more detail, and also how you would use them, let's dive into the difference between shears and scissors first. I'll also talk about what to look for when buying kitchen scissors and shears.
How many times have you made stir-fries but spent lots of time cutting up all the ingredients with a bad knife?
Food grade scissors, cleavers, and shears are the easiest way to cut up ingredients for delicious stir-fries, noodle dishes, soups, rice dishes, and more! They can be used interchangeably in most cases to cut up ingredients.
Kitchen shears and scissors are commonly sold as a part of a knife set, but they aren't always the best quality. That's why I recommend getting Japanese utensils that offer exceptional performance.
Main differences
At first glance, kitchen scissors and shears may look very similar, and you probably can't tell the difference. They both have blades, finger holes, handles, and a similar design.
The main difference between the two is the size of the handles, finger holes, and blade length.
Scissors have symmetrical finger wholes that are equal in size. So, this means that the large handle has two equal holes. The blade length for most scissors is 6 inches or under.
If you look at shears closely, you'll notice that one finger hole is smaller than the other. This means the bottom handle hole is larger. It also has more of an oblong shape. Also, the blade length usually exceeds 6 inches.
An exception is kitchen snips, which have short 4- or 5-inch blades. A shorter blade provides more leverage or force to cut.
Utility and function
There is also an extra category of various kitchen snips, shears, and scissors that are specially designed as poultry, fish, and herb cutters. I included them in my reviews too, but most are multi-functional.
But it comes down to their utility and what each is used for.
Kitchen shears are mostly used to cut open packaging, snip and cut herbs from plant pots, cut them into smaller pieces, cut poultry, and slicing foods.
Kitchen scissors are used to shred leafy greens without damaging them. Scissors make clean cuts, so they are handy when you want to decorate foods with perfectly sliced and cut-up greens. You can also cut pizza (like this delicious tofu one), meat, bacon, and other "hard" foods.
For example, if you've ever been to Korean BBQ joints, you might've noticed the hostess cuts up your meat with kitchen scissors to make clean cuts while the meat is on the grill.
What to look for in kitchen scissors and shears?
Before you go and make a purchase, you have to consider your specific needs while cooking.
What do you usually cut up? Are you right or left-handed? What do you struggle with chopping and cutting up while cooking and baking?
Some shears are specifically designed to cut herbs, while some scissors are so heavy-duty you can cut through chicken bones.
Since shears and scissors are almost the same, you should look for the same things when buying either of them. But not all shears and scissors are created equal, and they vary in price greatly.
The best quality Japanese utensils are expertly crafted using high-quality materials that will last you a lifetime.
Let's take a look at the factors to consider before choosing the perfect scissors and shears for your kitchen.
Type
Not all shears are the same or do the same thing.
The most common type is multi-purpose kitchen shears. With these, you can cut up meat, slice leafy greens, and cut herbs.
Heavy-duty shears are strong enough to cut through bone and seafood shells, but they are usually more expensive. You can also buy poultry shears to cut through chicken, turkey, and hens raw or cooked.
For example, a poultry shear can help you cut up a roasted chicken because it is designed with a bone notch.
Grip and blades
Grip is extremely important when it comes to scissors and shears. A poor grip can cause injury.
The handles should have an excellent grip which helps you get a good grip on the blades too while using them. Most shears and scissors have padded or rubber handles made with non-slip material.
Look for heavy-duty materials like stainless steel with micro-serrated blades. Serrated edges ensure a better grip because the food doesn't slip out while you cut it.
Additionally, stainless steel doesn't rust, and it's easy to wash and clean.
Extra features
These features include things like dishwasher safe, which means you can put them in the dishwasher, and cleanup is easy.
Unfortunately, not all shears and scissors are dishwasher safe, so you have to check to ensure you don't ruin them. Even if they aren't, these utensils are pretty easy to clean, just like knives.
Another feature to consider is a handle-lock which keeps the shears and scissors closed when they are not in use. This makes them safer, especially if you have kids in the house.
And finally, you can look for added features like a built-in bottle opener. It's a fun addition to a basic utensil and makes it versatile.
Best Japanese scissors and shears reviewed
Now let's look at my top picks in more detail. What makes these to great?
Best overall Japanese shears: Shun Premium
The best pair of shears have to do it all, or else it's not worth the cost.
Luckily, this one does it all because it can cut bone, meat, vegetables, leafy greens, dried fruit, seafood, and herbs. It's the type of multi-purpose cutting tool that you can use on a daily basis when making Japanese food.
When it comes to kitchen shears, Shun makes some of the best. Although a bit pricey, this shear is the top of the line and can handle all types of cutting and slicing tasks.
This is one of those occasions where you want to spend more on premium Japanese cooking utensils.
This particular pair is not only suitable for your home kitchen, but it has commercial-grade blades, so it's ideal for restaurants too.
The shears are made of the most high-quality, durable materials. You can see it in action here:
The best feature of the Shun Premium is that the shears have two types of blades. Both blades are made from very strong and durable materials: high-carbon and molybdenum-vanadium stainless steel.
The bottom blade is micro-serrated which grips the foods, especially slippery ones like fish and meat. The top blade is smooth, which offers a nice clean cut which is handy if you want to cut leafy greens.
When you need to cut bones, especially poultry, the shears help keep you safe because they have a bone notch at the blade's end.
With the back elastomer grip on the handles, the shears won't slip from your fingers. Therefore, cutting through chicken bones is no longer a challenge!
Now you can make yummy teriyaki chicken without worrying about cutting the meat off the bone.
Best kitchen scissors & best for seafood: Yoshihiro All Stainless Steel
The first thing you'll notice is that these kitchen scissors look like any multi-purpose scissors, but they are much more than that.
Yoshihiro is premium kitchen scissors best suited for cutting up seafood like hard-shelled shrimp and crab. The scissors are made for precise, clear cuts out of high-quality inox stainless steel.
Because it has a longer blade, this pair of scissors can help you pull apart, mince and trim meat, as well as cutting up produce, greens, herbs.
Since it's a heavy-duty tool, it can also crack nuts or even crab shells.
What makes this product stand out is the design and craftsmanship, making it worth the high price.
The blades have micro-serrated edges and an ergonomic handle to prevent the scissors from slipping from your fingers as you use them.
There is no rubber or plastic component as the scissors are made entirely from stainless steel, yet the ridges on the handle make them easy to maneuver.
Another advantage of these premium scissors is that they don't rust, and you can use them daily because they are durable. You can separate the blades and then realign them through the interlocking screw to make it easier to clean them.
I would note, though, that these scissors are not dishwasher safe, so you'll have to resort to handwashing only.
But overall, compared to other scissors, especially budget ones, you can expect a much cleaner and efficient cut every time.
If you regularly cut a variety of ingredients, especially hard-shelled seafood, or you like to shred and pull apart meat, this is the perfect pair of scissors.
Check prices and availability here
Best budget shears & best multi-purpose: CANARY Heavy Duty
I don't blame you if you don't want to spend too much money on a pair of kitchen shears. But this pair made in Japan stainless-steel kitchen shears strikes a nice balance between an affordable price and good functionality.
These may not last you a lifetime, but you can cut meat, vegetables, herbs easily, so you'll find plenty of use for these versatile shears.
This pair of kitchen shears is unlike ordinary scissors, making it a hassle to cut anything in the kitchen. With the serrated blades, you can make clean cuts in one stroke without getting the scissors stuck in the food.
I like this budget utensil because it can cut through hard ingredients pretty well but excels at soft ones like chicken breast or cheese.
You can't expect the same quality as the 80+ dollar options I mentioned above, but this pair will do the job for everyday use in the kitchen. You can slice meat, crack nuts, chop green leafy plants, cut up veggies, trim herbs, and more.
In terms of material, the shears are made of stainless-steel blades and an ergonomic non-slip handle.
The shears are handcrafted in Japan, and luckily, they are dishwasher safe so you can clean up quickly, and the scissors are more hygienic.
I also recommend these shears because they have bonus functions. The handles serve as a bottle opener, meat tenderizer, garlic crusher, lid opener, and can opener.
Talk about versatility in the kitchen, right?
Best herb scissors: Multipurpose Set with 5 Blades and Cover
As you know, Japanese cuisine is known for all the flavorful and healthy dishes, and most of them contain all kinds of herbs.
Trimming and cutting herbs can be a tedious task, but not if you have a pair of herb scissors with five blades.
Therefore, mincing herbs can become a quick task with the five sharp stainless-steel blades because the blades help you cut up a larger quantity of herbs with each chop.
The scissors have a rubbery ergonomic handle that makes them easy to hold and use them. Plus, they won't slip out of your hand while cutting.
A small brush called a cleaning comb is included, which helps you pick out any remaining herbs that get stuck in the scissors, so you can work faster and clean up quicker too.
Cutting herbs with a hard stem, like rosemary and thyme, is a challenge with regular scissors. But, with these scissors, it's an easy task because the blades are sharp and don't dull quickly.
As well, even after long-term use, there's no need to worry about rust. You can wash the scissors in the dishwasher, so cleaning is not a hassle.
Finally, I just want to mention that this pair of scissors is very affordable (around $10), and it does a great job at cutting herbs.
So, if you want to quickly add some basil to your pasta or cilantro on your steak, hold the scissors at a 45-degree angle and start cutting; you'll be done in seconds.
Check prices and availability here
Best for decorative cutting and best curved shears: KAI Cuisine
Are you looking for a precise cut every time? Do you have to cut lots of vegetables and herbs to add a nice decorative touch to your food?
Well, a curved kitchen shear is one of the most useful tools. The curved blades hold the food in place, so it's easier to cut them quickly.
With this unusual design, it's easier to feel the weight of the ingredients in your hand. Using these shears, you can turn food into art.
The shears have a curved plastic pouch that is ergonomic and non-slip, so the shears don't slip out of your hands.
One of the main advantages of this particular pair of shears is that it has a super long blade and large handles, which allow for a tighter and firmer grip.
Also, the longer blade makes it easy to cut up chicken breast and other soft ingredients because they don't slip out between the blades.
In fact, a curved blade is ideal for cutting up whole poultry, removing fat from meat, and even removing fish scales. You can also cut hard seaweed and other hard ingredients.
The one downside is that the shears a bit heavier than other models. As well, these shears cannot be disassembled, but they are very easy to wash.
But these shears are so cheap and cost under $25, so they are a must-have investment for your kitchen.
So, if you plan on cutting meat near the bone or cutting up veggies into different shapes, you can really get lots of use out of these Japanese shears.
Best for left-handed people: Seki Stainless Steel Blade Soft Grip
Don't worry, lefties, there are some really good Japanese kitchen scissors out there, and Seki's multifunctional pair is designed with left-handed people in mind.
Seki is one of Japan's best cutlery manufacturers, and their scissors are suitable for the everyday cook as well as professional chefs working in renowned restaurants.
The blades are made of rust-proof stainless steel. These scissors are the perfect size for everyday cutting needs (215 x 83 x 14 mm).
Compared to some other kitchen scissors, the blades are slightly thicker and have serrated edges so you can cut deep into the meat, especially near the bone.
Not only can you cut slippery foods, but you can use these scissors to cut packaging and plastic.
The handle can also be used as a can or lid opener or to crack hard shells when prepping seafood.
What makes me like this pair of scissors, though, is that the handles are large enough, and lefties can get a comfortable grip. This reduces the chances of injury and does cooking and cutting much easier.
As you know, it's hard to find the perfect leftie-friendly kitchen utensils. Plus, this one is cheap and sturdy, so it'll last you for years!
Check prices and availability here
Best for sharp cutting & best for meat: Toribe Kitchen Sputter KS-203
This pair of shears is one of the sharpest you can find, so you're guaranteed a price and soft cut. It's ideal for cutting meat, especially chicken and fatty tissue on pork or beef.
Cutting through the meat is no problem, and you can usually do it in one cut. It's such a lightweight pair of scissors, it causes no discomfort, and you can maneuver the scissors comfortably.
Check out this review of Toribe shears:
When you look at the design, it's different from other scissors and shears. First, the scissors are built out of high-quality rust-resistant stainless steel with no rubber or plastic parts.
But the handles are different because they are very thin and relatively small. However, this ensures a firm grip and ergonomic way of holding the scissors, making it safe and easy to cut anything.
In fact, you can do hours of meal prepping because these scissors don't cause your hands to tire out.
If you visit a Japanese restaurant, you might see the chef or host cutting your meat using the Toribe scissors while it's still cooking. That's because it's hard to rival the sharpness and comfortable grip of these scissors.
Another advantage of using them is that they are easy to clean. The removable parts are put back together quickly, and you'll hear a loud click which ensures the parts don't come loose.
When to use kitchen scissors and shears: cooking styles & dishes
Most dishes require some prep which involves chopping up meat, vegetables, fruit, and herbs. Kitchen shears come in handy for these tasks.
Let's take a look at the types of Japanese dishes and cooking styles where you need to use scissors and shears.
Stir-fries
The first way to use kitchen shears is when you make a stir fry like Yasai Itame. It's a dish full of tasty vegetables, meat or sausage, and noodles.
With kitchen shears, you can slice the pork or chicken into thin strips. As well, you can even cut the cabbage, onion, and carrots into thick or thin slices.
You would need to use long blade shears to make cutting cabbage easier. With shears, you can also cut ginger knobs and snip the spring onions.
Poultry
Next, you need to own shears if you prefer to cut up your own meat. Chicken is one of those meats that can be a hassle to cut.
Once you roast a whole chicken, you need serrated edges to cut open the breast and cut through the bones. The best Japanese kitchen shears I recommended, like the Shun and Yoshihiro, will help you cut through hard poultry bone.
You can also use the shears to separate the meat from the bone if you're using chicken thighs for teriyaki.
Japanese people are big on cutting up their own chicken, and that's why they take pride in having good-quality kitchen shears.
Here is a tutorial for cutting a whole raw chicken:
Nut and shell cracking
Seafood is a prevalent part of Japanese cuisine.
Most kitchen shears like the Yoshihiro shears have ruffled edges that act as can openers or shell crackers. This means you can crack open hard-shelled seafood.
Cracking crab and lobster shells with the shears makes cooking seafood much easier. So, prepping hard shellfish doesn't have to feel like a chore, and you can make a seafood hot pot or crab fried rice.
The same goes for nuts like walnuts, peanuts, or hazelnuts. If a dessert requires some nuts, you can crack them open with the shears.
Fish
With kitchen scissors, you can also take off the scales from the whole fish or use the blades to slice open and degut the fish.
The serrated blades remove scales without tearing all the fish skin off, so it's easier to cut the trunk into thin filets.
Although the fish for sushi and sashimi is usually cut with a santoku sushi knife, you can use shears to cut up some salmon if you're planning to make sushi at home.
Other uses for kitchen shears
Besides the uses, I listed so far, there are many other reasons why kitchen shears are useful.
Cut up bacon
Trim fat from meat
Cut dried fruit
Cut cooked noodles
Remove leaves from fresh sprigs (think rosemary etc.)
Cut bread
Make food smaller and bite-sized for kids
Cut up food while it's cooking
Snip food in a can
Snip the ends of vegetables like beans (great for edamame, snap peas too)
Takeaway
Every kitchen needs a good pair of kitchen scissors, and whether you cook mainly Asian food or Western food, you'll find a use for them.
As I listed above, there are tons of uses for kitchen shears because they make cutting up ingredients an easy task. Say goodbye to fatty beef or chicken skin, remove fish scales, and cut up lobster for fried rice.
And even if you don't cook too often, you can use the shears to chop up herbs for miso soup or stir-fries.
I highly recommend a pair of premium Japanese stainless steel shears because they last a lifetime and are worth the price.
But, I understand if you're not too keen on investing before you try using kitchen scissors, and in that case, the budget pick will get the work done too.
Looking for more top-quality Japanese kitchen gear? Check out my review of the Best Hibachi Chef Knife | These 4 are the knives you want to buy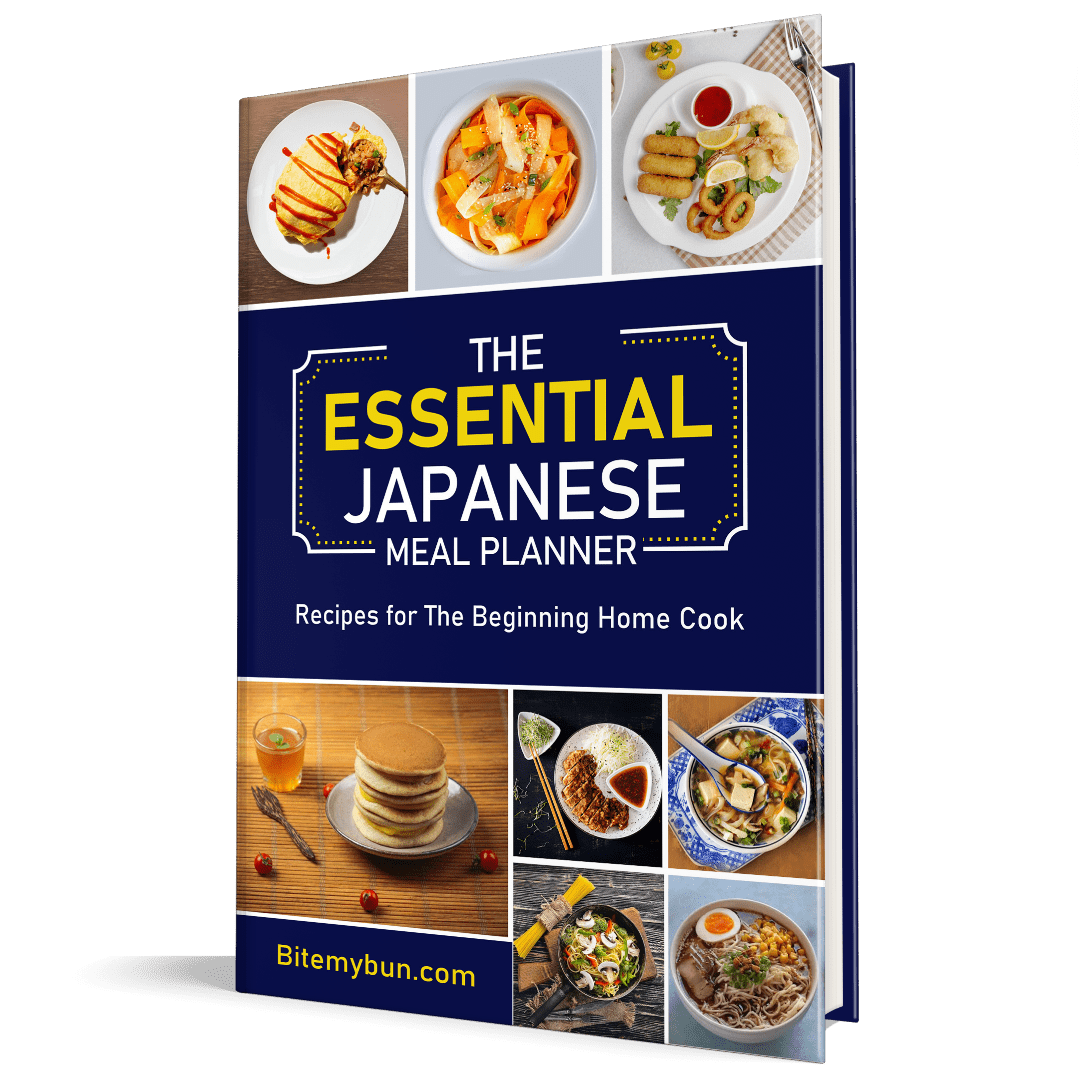 Check out our new cookbook
Bitemybun's family recipes with complete meal planner and recipe guide.
Try it out for free with Kindle Unlimited:
Read for free
Joost Nusselder, the founder of Bite My Bun is a content marketer, dad and loves trying out new food with Japanese food at the heart of his passion, and together with his team he's been creating in-depth blog articles since 2016 to help loyal readers with recipes and cooking tips.