Best ramen machine | Make your own ramen with this top 5
I love creating free content full of tips for my readers, you. I don't accept paid sponsorships, my opinion is my own, but if you find my recommendations helpful and you end up buying something you like through one of my links, I could earn a commission at no extra cost to you.
Learn more
If you love ramen or work in a restaurant that serves ramen, it's likely you have a ramen machine on hand.
There's nothing like the experience of making your own ramen at home.
To use the machine, you add the dough and then crank the handle or turn the machine on.
You will soon have a delicious pasta product that you can season as desired.
Do you want to make your own ramen at home?
If you're on the lookout for the best ramen machine, you're in luck because, in this post, we'll discuss our top favorites and explain what to look out for when buying a ramen machine.
Also read: Is Ramen Soup? Or is it something else? Here's what the experts say.
Let's start with the best all-around ramen machine.
If you make ramen often, the Razorri Electric Pasta and Ramen Noodle Maker is an excellent choice because it does all the work for you and has 13 different noodle shapes to choose from. It's the most versatile of the bunch and easy to use.
It makes ramen and other types of pasta quickly and easily and it also mixes all the ingredients for you and gives you a great tasting dish in five to ten minutes.
While the Razorri is a great option, there are plenty of others out there, including manual pasta makers too.
The table below will give a quick peek at the ones we choose as our favorites.
We'll have full reviews later on in the article.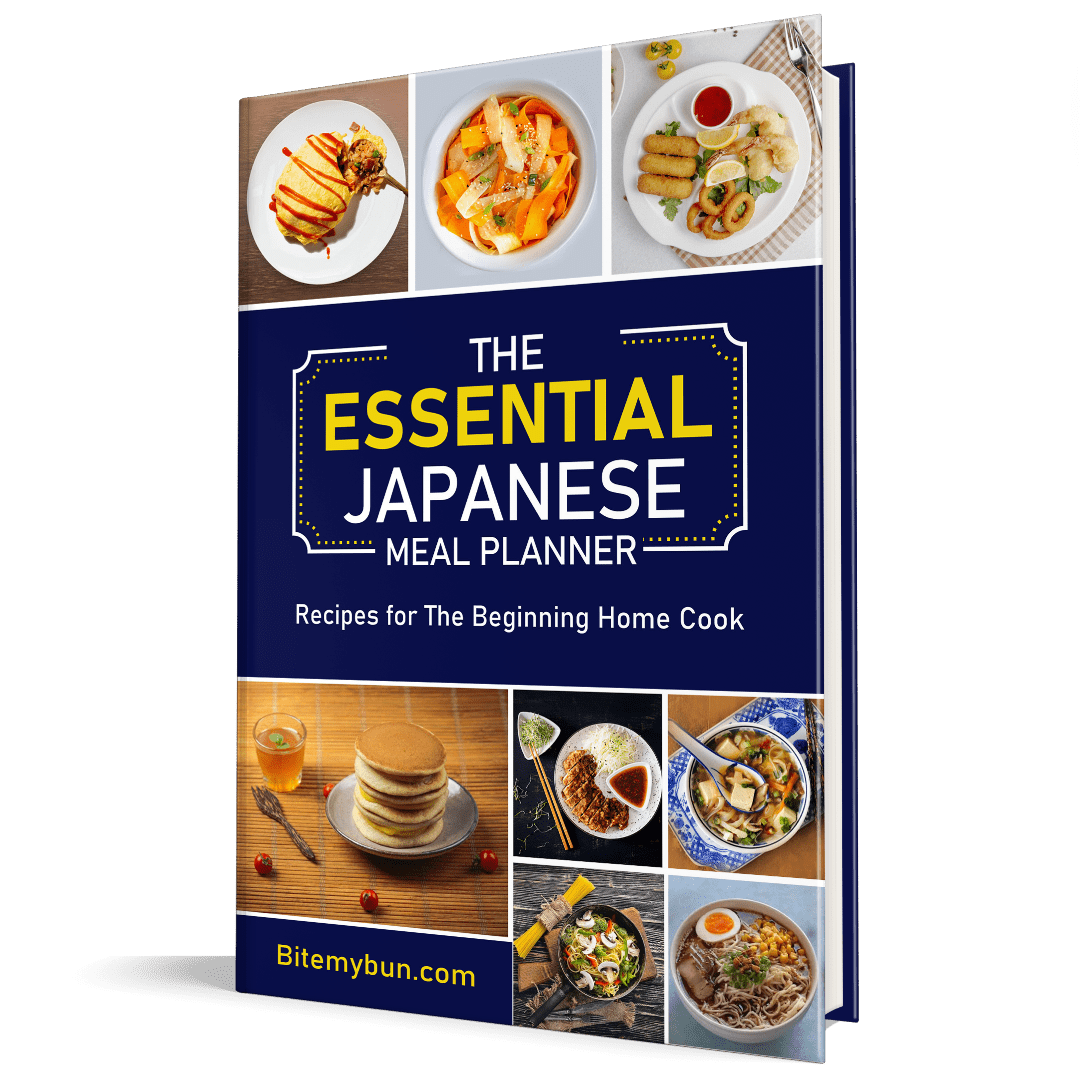 Check out our new cookbook
Bitemybun's family recipes with complete meal planner and recipe guide.
Try it out for free with Kindle Unlimited:
Read for free
What to know when buying a ramen machine
For most people, making a meal at home means saving money. Not so with a ramen maker.
When you buy ramen in the store, it can be as little as just a few cents a package.
When you compare this to the expense of buying the machine and all the fresh ingredients, homemade pasta is a lot more expensive.
Handmade pasta isn't easy to make either.
So if you commit to buying a ramen machine, you have to really love the homemade taste. That being stated, the end product can be quite delicious.
If you think a ramen maker is for you, here are some things to consider.
Also read: Are Ramen Noodles Chinese or Japanese?
Manual vs. automatic
Manual ramen machines use a hand crank while automatic machines do the work for you.
Electric machines are also easier to clean and provide more options regarding the types of pasta you can make. They also produce pasta faster.
Some electric ramen machines will also knead the dough for you so all you have to do is add the ingredients.
The machine will knead the dough internally and will churn out tasty food.
On the downside, automatic ramen makers are more expensive than manual ones.
Manual ones are also better for making long pasta varieties.
Pros of manual pasta maker
manual pasta makers are simple because you just feed the dough and turn the crank
works better for long pasta like linguine and spaghetti
comes with special cutting tools
cheaper than automatic
durable and reliable
Cons of manual pasta maker
doesn't work well for small pasta types
takes some effort to make the pasta
you need to let the ramen dry
Pros of automatic pasta maker
the machine does all the work for you so there's no manual labor
quick and easy
comes with lots of pasta shape molds and discs
some are dishwasher-safe and easy to clean
time-saver
Cons of automatic pasta maker
more expensive than a manual machine
you need to learn all the settings and features
can be costly to replace pieces
uses electricity
Cost
When buying a pasta maker, here's the general price range you will be looking at.
Manual: $15-$70
Electric: $75-$300
Of course, everyone likes saving money but a more expensive machine may be more reliable, easier to use, and produce more varieties of pasta.
Ease of use
Generally speaking, an automatic machine will be easier to use than a manual one.
When it comes to automatic machines, those that knead the dough for you will give you the least amount of trouble in the kitchen.
As far as manual machines go, you will want to find one with a handle that's easy to crank.
You will also want to look for one that has features that help the pasta stay in place.
A knob that adjusts the thickness of the pasta will also come in handy.
Dough roller thickness and pasta thickness
Most automatic and manual machines have adjustable rollers and setting so you can make pasta that is between 0.5 mm and 9 mm thick.
This all depends on how thick you want the pasta to be.
Ramen's thickness is between 1.15 mm and 1.8 mm, depending on the Japanese region where it's made.
Usually, the machine has different pasta shape attachments which all have varying thicknesses.
Speed
Most pasta makers come with information that lets you know how long it will take to make the pasta before you buy it.
If speed is important to you, be sure to double-check so you can find out how quickly it will work to produce the pasta.
Some machines can make 1 lb of pasta per batch in about 1o minutes while a commercial machine can crank out 70 lbs in 60 minutes.
Manual machines depend on how fast you twist or use the hand clamp.
Durability
It goes without saying that you will want your pasta maker to be durable.
Look for a reliable brand with good reviews to find one you can feel confident about.
Pasta types
If you like to make a lot of different kinds of pasta, you will want to find a machine that's up to the task.
You may find a machine that claims to make different types of pasta, but be sure to read the fine print!
They may require you to buy additional attachments to do so.
In general, automatic machines will make a larger variety of pasta than a manual machine will.
All machines can make thin pasta between 1mm and 2mm thick which is what you need to make ramen noodles.
Best ramen machines reviewed
Now that we know more about ramen machines, let's take a look at some of the best products out there.
Overall best ramen machine:

Razorri Electric Pasta and Ramen Noodle Maker
type: electric
how many types of noodles you can make: 13 types
capacity: 1 lb per batch
time: 10 minutes per batch
dishwasher-safe: yes, all removable parts
There's nothing simpler than using an electric pasta maker to make tasty homemade ramen.
Compared to a manual machine, the electric takes far less time and in approximately 10 minutes, you'll have a 1 pound of fresh pasta, ready for boiling (here's how much ramen you need per person).
That's why the best overall ramen machine is this Razorri which comes with 13 different pasta-type settings so you can make ramen, as well as spaghetti, macaroni, and more.
The great thing about this machine is that it does all the kneading work for you and the shaping so it makes ready-t0-cook pasta in minutes.
Also, you don't need to let them dry either which also reduces the total work time and this is important for busy people.
Basically, it's super easy to use, even for someone who's never used a pasta-making machine before.
Follow the recipes in the booklet, add the raw ingredients into the machine, choose from one of the 13 size and type settings, put it on the machine head, and then press starts.
Yes, it's really that simple!
All of the shapes for the pasta are stored right beneath the machine so you won't misplace them.
Cleaning up is easy too because all of the removable parts are actually dishwasher-safe, so you don't need to scrape off the dough.
One downside to this machine is that some of the pasta molds are made of plastic material. This makes them a bit fragile and they can warp over time.
A commercial machine will have metal shapes, but then again, the price is much higher.
This Razorri Electric Pasta maker is the cheapest in its category. Compared to the Emeril Lagasse pasta maker with all the same features, this one is about 60 dollars cheaper but works just as well!
Sometimes there's no need to splurge because if you want to make traditional Japanese ramen, this machine can do it in record time.
Overall, people who use this machine are saying it's a great value purchase because it gives excellent results all the time and there's no need to buy that instant ramen stuff ever again!
Check prices and availability here
Try making this delicious Japanese style mushroom pasta recipe with homemade pasta!
Best manual pasta machine: Marcato Atlas 150
type: manual
how many types of pasta you can make: 12 types
thickness: 0. 6 to 4. 8-Millimeter
dishwasher-safe: no
Pasta purists are going to tell you that a manual pasta maker is the best way to make traditional ramen, spaghetti, and other types of pasta.
It's not really that hard because you use the hand crank to push out fresh ramen in minutes.
Made in Italy, you know this pasta machine will get you the high-quality pasta you are after. The good news is that it makes amazing ramen too!
The Marcato Atlas 150 Pasta Machine is a durable machine and attachments can be added to provide variety. It's 150 mm, so it's ideal for making ramen.
The machine is made of stainless steel that has been chrome-plated, which gives it extra durability.
It makes a variety of pasta including fettuccini, lasagna, and tagliatelle, not just ramen so it's a good tool to have in any kitchen.
It comes with a cutter to manually cut the pasta to the right length, it has a hand crank, clamp, and of course the instructions.
The machine can roll your dough sheets that are anywhere to around 150 millimeters in width and at a thickness from .6 to 4.8 millimeters.
It has 12 pasta cutting accessories that are sold separately. This is one major con – although the machine is under $100, you have to buy the accessories separately.
Another inconvenience is that it isn't dishwasher safe though. So, you have to wash the components manually but they don't really stick so it's not a daunting task.
Compared to other manual pasta makers like the no-brand $20 ones on Amazon, this is much higher quality and Marcato products are very sturdy.
The cheap knockoffs break and rust after a few uses whereas this one lasts for many years.
Some customers say that the clamp tends to get stuck sometimes and the screws can come undone, but with proper maintenance, it should last you well.
Overall, this is the best manual machine because its capabilities will produce an end product that is consistent and tastes great.
You also don't need to use electricity and the compact size makes this pasta maker a great accessory.
Razorri electric vs Marcato Atlas manual
It all comes down to personal preference and how often you make ramen at home.
The good thing is that making ramen with an automated machine like the Razorri takes only about 10 minutes, so it's extremely time-efficient.
And because it takes less time to make the ramen, you're more likely to get it out and start using it.
When using the manual pasta maker from Marcato, you need to make the dough and then feed it through and it takes longer.
But, one of the reasons why people love that machine is because it is chrome plated and very long-lasting, among other things.
It's also one of the few Italian pasta makers that create that perfect ramen noodle texture and the noodles don't all stick together.
So, if you're looking for an affordable pasta maker that can make really good ramen, the Marcato is the best in its class.
An important consideration to keep in mind though is that the automatic electric machine is much more versatile because it can make at least 13 types of noodles and pasta.
The Mercato, on the other hand, is better for Italian-style pasta than Japanese noodles.
How about trying wafu pasta, which is Japan's answer to Italian pasta?
Best budget noodle press machine: Newcreative Stainless Steel
type: manual
how many types of pasta you can make: 5 types
thickness: 1 – 5 mm
dishwasher-safe: no
One of the problems with many manual pasta makers like this which have a press function is that they leak dough when pressed. The Newcreative one doesn't so it's easy to use and doesn't make a mess everywhere.
Plus, it has a low price, so it's perfect if you don't really want to invest in a ramen maker because you only make it occasionally.
The Newcreative Noodle Press Machine is great for chefs that want to put some backbone into making their ramen.
Just insert the dough, select the mold dish you want to use a press. The machine will churn out the pasta you desire.
The machine has a diameter of 6 cm. and an inner diameter of 5 cm. You can use different turning motions to change the size of the dough.
It can also be used to squeeze fruit juice. So, it's a pretty versatile tool to have on hand.
Also, it can be taken apart and easily cleaned. But, keep in mind that it's a handwash-only machine because of its material components.
It is made of non-corrosive stainless steel materials but the rocker is made of cast iron. This means that you need to remove it after use and season it with oil. This can be a bit of a hassle sometimes but since the machine works pretty well, you'll want to ensure the rocker doesn't rust.
Just a heads up, according to customers when you get the machine it comes with a bit of grease on it so your first batch of ramen may come out greasy. I recommend making some extra dough that you won't use for cooking until the greasy bits come out.
It's a cheap but effective noodle maker, especially if you want something small and compact. Although you have limited options when it comes to the types of pasta you can make, it's still great for ramen and spaghetti.
Compared to the other manual pasta makers, it's not as durable of a product but at such a low price, you can get replacement parts if something breaks down.
Other than that, it's a good pasta maker and works faster than many of the larger manual pasta makers. You can twist out the dough pretty fast and it's convenient to store too.
Best commercial electric ramen maker:

Minneer 2200W
type: electric
wattage: 2200
dough thickness: 0 – 20 mm
capacity: 70 lbs per hour
dishwasher-safe: no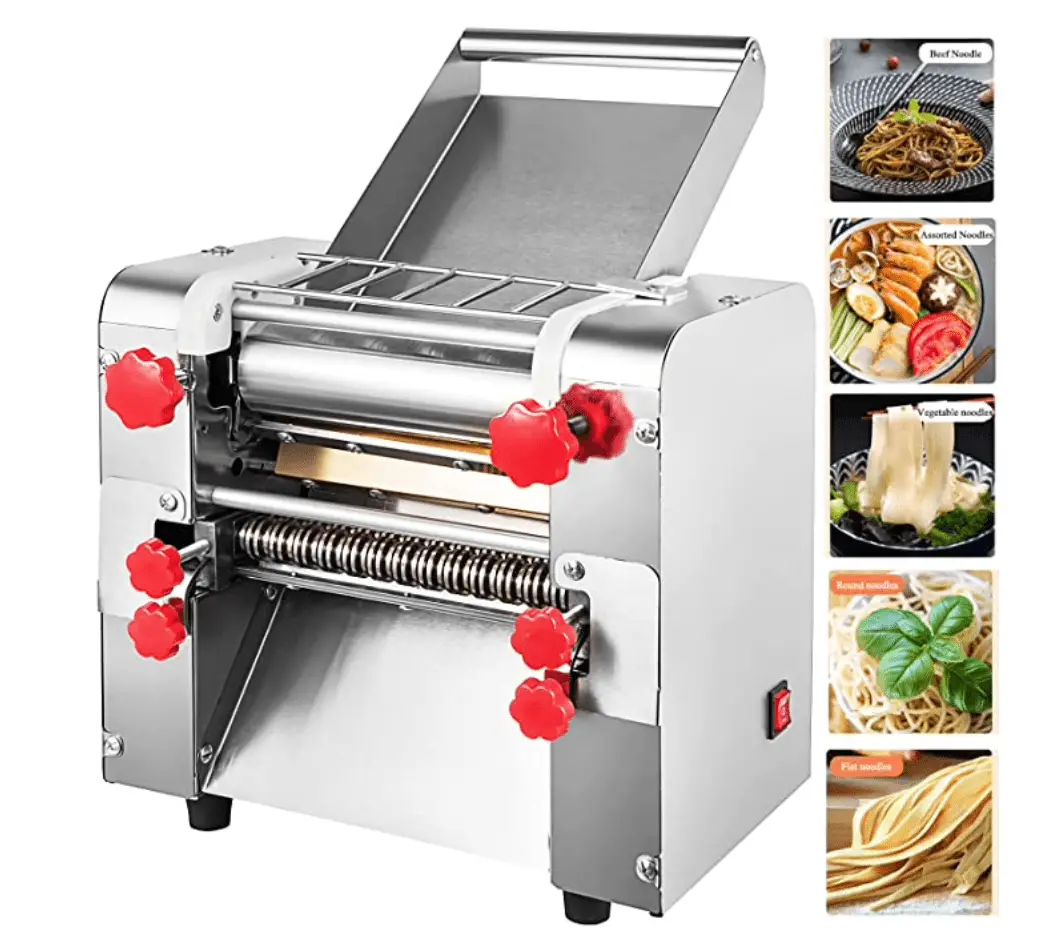 Customers love fresh ramen – that's why they choose to come to dine out. If they wanted instant ramen, they can make that at home. With a commercial electric pasta machine, you can make fresh ramen for patrons in large quantities (70 lbs per hour).
This Commercial Electric Pasta Maker is great for those that own a restaurant and need to make a variety of pasta quickly and easily.
You're not limited to ramen only, and you can make all types of pasta. Widths range from 3mm to 9mm.
It can make a wide variety of pasta including spaghetti, ravioli, lasagna, vermicelli, and even dumpling wrappers, to make delicious Japanese Gyoza dumplings for example.
It can also be used at home to make different delicious pasta dishes.
The machine features a knob that adjusts the thickness of the noodles from .1 to 20 mm. This will also change the texture and taste of the pasta. It's very easy to use this machine because the knob is quite large so you can adjust the knife safely.
There's also a protective safety net and sturdy feet with an anti-skid base so you can use it on the countertops too.
The good news is that this machine is very silent so it doesn't cause noise pollution.
It is made of a stainless steel material that is durable, safe, and rust-proof.
But what really sets this machine apart is that it doesn't make sticky dough so the pasta retains its shape and doesn't all stick together like clumps. If you use more flour, then you can make very dry pasta.
Some customers complain that the knife is not sharp enough but the Minneer customer service can help and send replacement parts.
Overall though, this is a very good commercial-grade pasta maker. It's pricey but worth it because it's automatic and you don't have to do hard work.
Another commercial machine like Imperia is manual and it takes a lot longer to make fresh ramen. We all know that speed is very important in a restaurant so an automatic machine like this Minneer is very handy and useful.
Best commercial manual ramen maker with attachments: Cucina Pro
type: manual
noodle thickness: 1/4 inch (8mm) or 1/8 inch (3mm) strips
dishwasher-safe: no
Traditional pasta makers are manually operated just like back in the old days. This Italian pasta maker is great for making ramen noodles too, and it's one of the most durable and well-built commercial pasta makers on the market.
If you don't mind cranking out the noodles, you can make all types of pasta with minimal effort quite efficiently.
The roller works smoothly and cranks out flat dough sheets. Then you feed them through the cutters and collect the noodles in a tray.
Because the cutters are a bit hard to change, attach, and detach, it takes a bit longer to get going. The cutters are effective but compared to an expensive cutter like the KitchenAid, it's not quite as precise. But, for ramen, it works amazingly well and the noodles don't really stick together.
This Cucina Pro Pasta Maker Machine is ideal for fettuccine and spaghetti lovers as it comes with attachments for making both types of pasta.
It's really surprising how cheap this pasta maker is compared to the automatic commercial pasta machine! With approximately $30, you can make enough ramen to feed hungry customers.
But, you need to keep in mind that this machine is not really as heavy-duty so you should be prepared to replace some pieces every now and then.
It also comes with a recipe book that provides terrific recipes so it's perfect for those looking for new meal ideas.
The machine's attachments are included so it has everything you need to make pasta at home. So, the good news is that it's suitable for restaurant as well as at-home use.
It also comes with a hand crank, a metal countertop clamp, and a brush for easy cleanup.
It is made of a heavyweight chrome steel construction for extra durability.
Just make sure to use the pasta maker on a very flat surface because the clamp isn't as secure as it should be and you don't want the machine to move around as you're rolling out the pasta.
Overall, this manual ramen maker is an excellent budget-friendly alternative to the expensive Minneer automatic machine and it still makes great pasta shapes.
Minneer electric vs CucinaPro manual
This is a showdown between two great pasta and noodle makers that are suitable for commercial use, not just the home kitchen.
When it comes to versatility, the Minneer electric machine is the clear winner because it can make many types of noodles of varying thicknesses (learn all about the different Japanese noodles here).
The CucinaPro is the manual alternative and while it can also make ramen, it's better suited for Western pasta varieties.
It's a made in Italy product, so it's well-built but still not as commercial or professional-grade as the Minneer. If you have a small restaurant it's a perfect size and people can make the ramen quite quickly.
But, if you want to make 70 lbs of ramen per hour, the Minneer is a better choice and also more suitable for larger dining establishments.
A manual model is always a top choice for people who love to cook using traditional methods. On the other hand, the electric model is best for busy, modern foodies who want to serve fresh ramen fast.
Making ramen doesn't have to be a hard chore and you can serve healthy, delicious ramen and pasta with no nasty preservatives that customers will love.
Asian ramen and Western pasta are definitely not the same thing.
FAQs
What other food can you make with a pasta maker?
Getting a pasta maker will prove useful. A ramen maker is very handy and it's not just good for making ramen.
You can make other types of pasta like spaghetti, linguine, fettuccine, etc.
But, you can even make cookie dough, crackers, dumplings, egg roll wrappers, pastry dough, icing for the cake, flatbread, and even pie crust.
Should you lubricate your pasta maker? 
Most machines, whether automatic or manual will have instructions about care and maintenance.
If the pasta maker has cast iron components, those need seasoning or oiling but don't use vegetable oil because that can become rancid and smelly.
Manual pasta makers need more maintenance.
Metal pasta rollers and their cutting attachments are prone to rusting and squeaking. If they don't turn smoothly, you can lubricate these components with food-grade oil on the rollers.
This oil will transfer to the pasta dough when you use it so it might make the pasta greasy.
Conclusion
If you are in the market for a ramen maker, the Razorri Electric Pasta Maker is a choice you can count on. You can make more than just ramen and it is fully automated so you can say goodbye to manual labor.
It makes pasta quickly and easily, it's easy to clean and it produces a wide variety of pasta.
But if it's not the ideal choice for you, this article has a variety of other options.
Which will be best for you?
If you love fresh ramen, a pasta maker is worth the investment because it tastes much better than pre-packaged instant noodles.
Wondering what's the difference between Japanese Ramen and Korean Ramen (Ramyeon or "Ramyun")?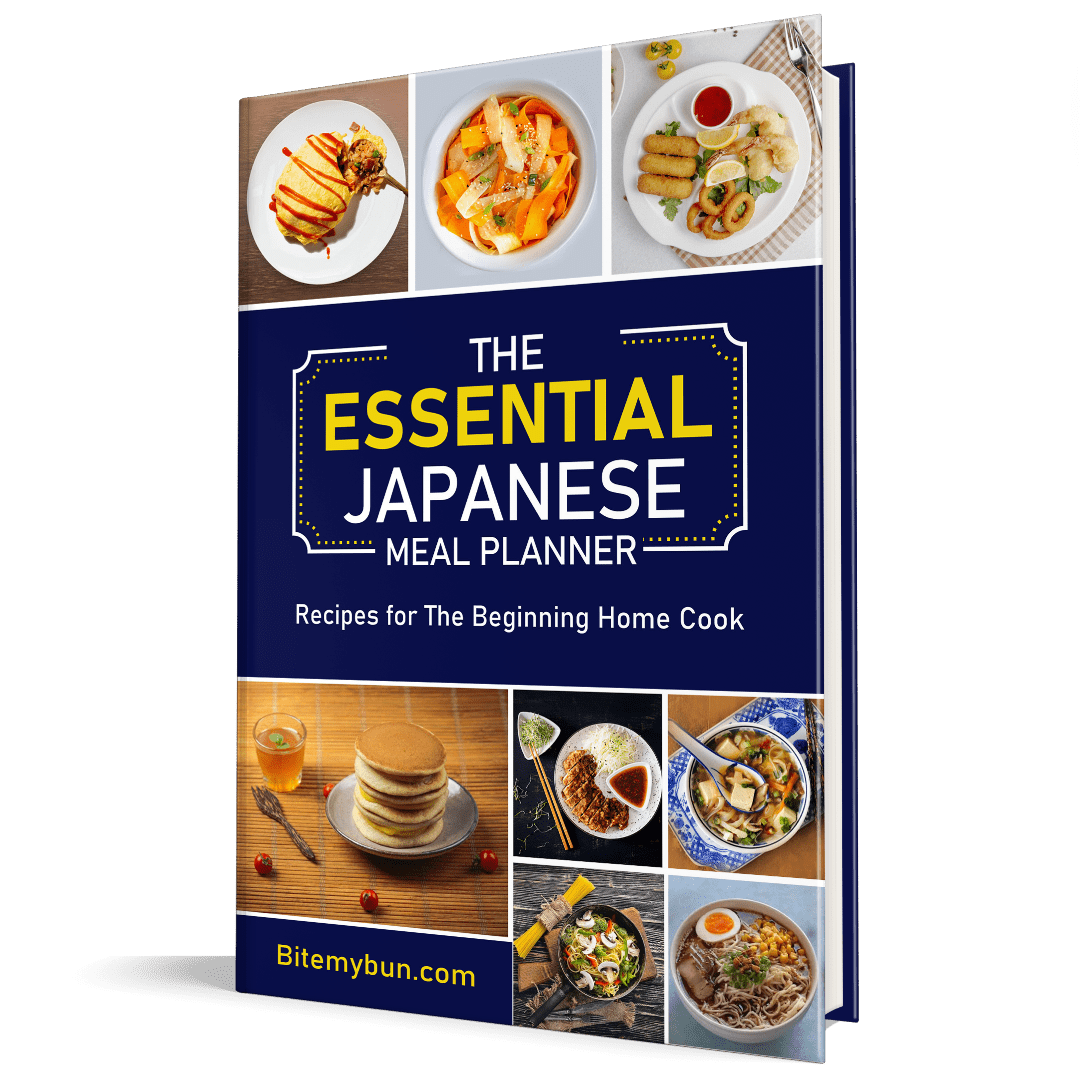 Check out our new cookbook
Bitemybun's family recipes with complete meal planner and recipe guide.
Try it out for free with Kindle Unlimited:
Read for free
Joost Nusselder, the founder of Bite My Bun is a content marketer, dad and loves trying out new food with Japanese food at the heart of his passion, and together with his team he's been creating in-depth blog articles since 2016 to help loyal readers with recipes and cooking tips.