Best Robata Grill | Affordable options and top of the line grills
I love creating free content full of tips for my readers, you. I don't accept paid sponsorships, my opinion is my own, but if you find my recommendations helpful and you end up buying something you like through one of my links, I could earn a commission at no extra cost to you.
Learn more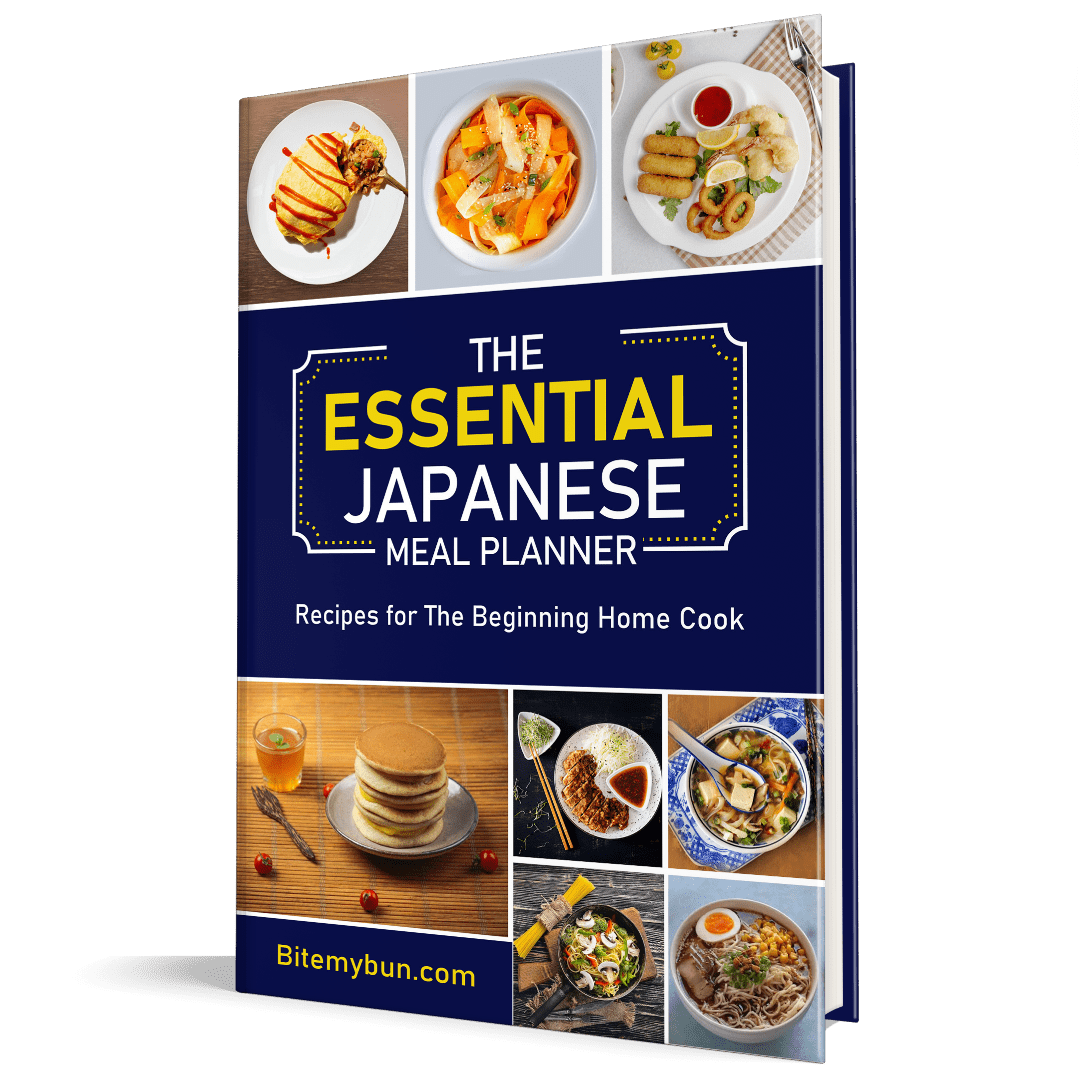 Check out our new cookbook
Bitemybun's family recipes with complete meal planner and recipe guide.
Try it out for free with Kindle Unlimited:
Read for free
This is a text overlay image of the original work Accent Cleveland by Edsel Little on Flickr under cc.
The Japanese never cease to impress people and if you thought that their teppanyaki-style cooking was great, then prepare to be royally inspired even more with the robatayaki way of grilling food!
Translated to literally mean "fireside-cooking," robatayaki is not to be confused with any mecha-inspired anime and/or otherwise mecha film franchise that Hollywood likes to bank on, but rather this is a traditional Japanese cooking method that creates delicious cuisines.
Apparently when you incorporate the term "yaki" into another Japanese word, then it instantaneously becomes a palatable meal!
Words such as teppanyaki, yakiniku, teriyaki, yakitori, monjayak, okonomiyaki,and a whole lot of other yakis bear a striking resemblance to robatayaki and it is for a good reason.
But in this blog topic, I will mostly be talking about the robata grill which makes the robatayaki meals.
You may have heard about the teppanyaki grill, the yakitori grill, and the hibachi grill, but perhaps you haven't heard of the robata grill before.
10 Tips to Save a Bundle on Asian Ingredients!
Introducing our brand new FREE PDF guide: "Saving Secrets: Unveiling the Art of Saving Money on Asian Ingredients" It's your first newsletter email, so start saving today! 📚🧧
We'll only use your email address for our newsletter and respect your privacy
Best Robata grills reviewed
The robata grill is a charcoal grill used to prepare Japanese food to customers seated around the cooking area and its cooking style is known as robatayaki.
Down below I have some more info around Robata and even some recipes for you to try out on your grill. But now, here are the best Robata grills to buy right now.
Before we go into the absolute best brands, bear in mind that those are commercial kitchen grade grills that you probably won't buy for your home.
So if you're looking for a suitable alternative that just might not be the most traditional or the very top brand, check out this party grill on Amazon.
Since Robatayaki is charcoal grilling where everyone gathers around while the meal is prepared, this grill is a very affordable alternative to get started with robata:
As Robatayaki grilling is all about playing with heat and different heights of the food to the heat source, another option would be these Yakitori style grills here:
They are in a different price range than the Party grill obviously but are definitely the real deal when it comes to Japanese charcoal grilling so make sure to check these out as well.
Watch executive chef Hideaki Leung how he does this at his restaurant:
You'll especially want to use this binchotan charcoal from Japan when cooking in this style:
This party griller is one of the recommended Yakitori grills as well, although there are a few better Yakitori options on my list you could read about here.
Later on in this post, I'll get into the brands that make these specifically for Robata.
What is a Robata Grill?
If you're familiar with teppanyaki and hibachi restaurants, then you definitely must be aware of robata restaurants too!
In fact, there are a lot of robatayaki restaurants that's been operating in major cities all over the world.
Cooking Style Differences
Putting the hibachi, teppanyaki, and robatayaki cooking styles side by side there's only a few noticeable differences that you can spot.
For instance, the hibachi cooking style is eerily similar to the teppanyaki cooking technique and both utilize an elaborate theatrical skill to ensure that the customers are entertained and are satisfied with the food.
The robatayaki cooking method does not include any theatrics, but the food being cooked on the robata grill exudes flavors that are almost irresistible to the taste.
The Modern Robata Grill
Today's robata grill is just an upgraded version of the one used in ancient Japan and the cooking technique is pretty much the same.
The different levels (heights) of the grill grates are how robatayaki is cooked with the food that needs more heat is placed closest to the heat source, whereas those that only need lesser heat are placed on the top grill grates.
In this article, we will be talking about the different brands of robata grill and how they affect the restaurant industry.
The robata grill originated in Japan during the feudal times of the Shoguns and Samurai clans; however, the grill was not as important as the cooking style is – robatayaki.
Today the term "robatayaki" refers to restaurants in which seafood and vegetables are cooked over an open charcoal grill. Manufacturers thought that it would be prudent to create a grill that's exclusive to cooking
robatayaki dishes and thus the robata grill was born.
In ancient times the Japanese cooked their robatayaki meals in the irori because aside from it keeps them warm they also enjoy cooking, eating and socializing around it. Today's modern robata grills are multifunctional cooking instruments that allow you to grill multiple recipes at the same time.
Robata grills use white oak "bincho," or more accurately called Kishu binchotan a compressed hard-wood charcoal that looks like a black cylinder. This type of charcoal produces the right kind of heat and preserves the taste of whatever food you'll cook on top of the robata grill.
How Chefs Cook with the Robata Grill
There are also no control knobs in robata grills that allow you to control the temperature like in other grills, instead, the layout of the grills is set up in a way that there are different levels of grill grates where you can place the food on top of.
Raw meat is placed at the bottom grill gate to receive the searing temperatures directly from the coals and then you place the food on the higher grill grates until you reach the top grate where you only need to saute the meat/food.
Depending on the kind of food/recipe you're cooking you can transfer them from the top grate after a few minutes of sauteing.
So, in essence, you control how the heat affects the food by placing and replacing the food at the different layers on the robata grill in order to cook them.
It's quite the challenge, but with enough time to practice robatayaki-style of cooking, you should be able to master it.
How does the Robata Grill Differ from other grills?
The teppanyaki iron griddle, when compared to the robata grill, is actually not a grill, but just a flat square or rectangular chrome/stainless steel surface where the chef mostly stir-fry things, although they can technically grill meat, vegetables, and other food.
Robata grill vs hibachi grill
Meanwhile, the hibachi grill is a small cylindrical or cube-like baked clay or melted diatomaceous earth that was originally built as a heating device in ancient Japanese homes.
Later on, people used it for grilling seafood and other recipes that were perfect for quick grilling on small grilling equipment.
Tobata grill vs Yakitori grill
The yakitori grill, on the other hand, was specifically made to cook yakitori meat (skewered meat like Mongolian BBQ style).
There are also your normal American charcoal grills and they are vastly different from the robata grill.
With the robata grill, the heat source (the smoldering Kishu binchotan charcoals) cannot be adjusted and remains constant all throughout your cooking and grilling.
You do robatayaki-style cooking/grilling by adjusting the height on which the food/meat is placed on top of the grill.
Raw food recipes/meats are placed closer to the heat source to cook them evenly, then the chef moves them higher on the multiple layers of grill grates to lessen the amount of heat that they receive.
Check out these Shichirin grills as well
Top Recommended Brands to Buy a Robata Grill From
There aren't a lot of companies that manufactures and sells robata grills let alone those that make a high quality one; however, the 10 brands below are trusted name in the grilling equipment industry.
J&R Manufacturing
Kosei Yakitori/Robata Grill
Soppas Professional Stainless Steel Dual Fuel Robata Grill
Clayoven Robata Flame Grill
Kopa Robata Grill
SEMAK CBR-160C Charcoal Robata Grill
VulcanoGres Japanese Robata Grill
Beech Ovens Robata Grill
Grilling.co.za Custom Robata Grills
Style Global Australian-made Robata Grills
J & R Robata Grill
J & R Manufacturing is one of the most respected restaurant cooking equipment manufacturers in the world!
They make high-quality smoker grills, broilers, rotisseries and custom restaurant, and kitchen equipment.
One of their best selling products is their very own robata grill broiler model 10185 that has 3 totally separate grilling zones, which allows the chef to do flexible cooking with it.
J & R Manufacturing prides itself on the flavors, textures, tenderness, and appearance of the foods cooked in their equipment are second to none.
They also use heavy gauge steel and thick refractory linings that have been field-tested over the last 30 years are found in their robata grills and other restaurant equipment, which makes their products extremely durable.
They are also known to have relentless innovation that is why their robata grill is unique, practical and efficient.
Their custom products are also highly valued by their customers on top of that they also have great customer service.
Accessories:
Ash carts
Wood carts
Spit carts
SS fish grates (for "X pattern marking)
Rotisserie roast baskets
Custom rotisserie baskets
Grill grate scrapers (specifically designed to work with this model, and come with a grate lifter)
Bean pan racks (to keep beans from spilling in an Oyler)
Racks for sausage to be able to fit more
Firestarter disks
Pros:
Easy to use
Adjustable cooking surface
Their unique Chef Cool® design keeps the heat inside the grill and won't allow it to escape to the kitchen, thus keeping your kitchen cool at all times.
Easy to clean with uncomplicated removable parts that you can take out individually, clean them, and then put them back together again.
Air control damper
Rugged durable design features
Cons:
Soppas Professional Stainless Steel Dual Fuel Robata Grill
Next, we have the Soppas Professional Stainless Steel Dual Fuel Robata Grill from Hefei Century Five-star Kitchen Equipments Co., Ltd.
This freestanding stainless steel grill which has a cast iron cooking grid and is powered by LNG (liquefied natural gas) is also well known in the restaurant industry.
It always uses 20 KW of electrical power for induction heating as this robata grill uses a dual heating source plus additional space for wood and charcoal fuel.
It has over 800 mm2 of cooking space with 2 additional grill grates set atop at 1 foot apart to make it a truly robata grill.
You can cook anything in this robata grill which includes yakitori and skewered chicken, steaks, shrimps, fish, and other seafood; as well as burgers and vegetable skewers.
Accessories:
AISI 304 stainless steel construction, one-piece pressed worktop
Separate controls for each half module
Cooking surface grids in cast iron, easily removable for cleaning
Stainless steel high splash guards on the rear and sides of cooking surface
Splash guards can be easily removed for cleaning
Large oil drawer to collect the fat and grease
Open base compartment for storage of pots pans sheet pans etc
Cabinet with stainless steel feet adjustable height from 140 – 190mm
Pros:
Simple design and easy to use
Large cooking space means that you can cook multiple recipes at the same time
High quality durable stainless steel construction
Gas burners, electrical induction cooking, and wood or charcoal fuel makes this grill efficient
Insulated brick chamber for wood and charcoal
Large oil collector and ashtray
Cons:
Clayoven Flame Robata Grill
The one that stands out among the group is the Clayoven Flame Robata Grill and unlike other robata grills which are made of stainless steel; this one is made of clay.
The Clayoven Group Inc. has been around mass-producing clay ovens since 1974 and their unique Shahi Tandoor® quality design grills are nothing short of being world-class.
The Flame Robata Grill is too large to be fueled by the Binchotan charcoal because that would be too costly to spend a ton of money on fuel alone; however, the fact that it is made of clay and has a true robata grill design, it is very possible to use Binchotan to cook food on it.
It also features 3 grill grate decks plus the main grilling surface which is closest to the flames of the grill indicates that you can have cooking flexibility with this robata grill.
Pros:
Instant gas-fired cooking
Even heat distribution system
Can be used with charcoal or lump wood for extra aroma
3 tier cooking for searing, cooking, and resting
Freestanding, countersunk and table-mounted versions
Custom made to your specifications
Designed for easy maintenance and cleaning
Natural gas, LPG or pure solid fuel
Cons:
It's heavy and not easy to move around (if the occasion calls for it)
Expensive
Kopa Robata Grill
Kopa is a UK-based that manufactures charcoal and smoker ovens among other things and their robata grill is on par with the best robata grills on this list.
The Kopa Robata Grill follows the ancient Japanese tradition when cooking robatayaki where the fuel basin is reserved for charcoal and wood chips (the use of Binchotan charcoal is optional in case you want to get the best taste for your recipes).
This robata grill features 2 additional grill grate platforms besides the one on the base, which is a true robata grill design based on the old Japanese originals.
This, therefore, allows the chef to cook skewers, steaks, and burgers on the base grille grates while putting chicken wings and shrimp on the next, and vegetables or meat kebabs on the top grill grates.
The quality finish of the Kopa Robata Grill is comparable to world-class robata grills that are available in the market today.
Accessories:
Open stand
Hot cupboard
Tongs
Charcoal grate set
Heated upper rack
Pot & pan grabber
Fish hook
Rib rack
Castors
Pros:
Professional Robata Grill designed for UK restaurant market
Multi-level grilling with multiple temperature zones
The fire-proof charcoal burning chamber
Stainless steel side-tabling with GN compatible storage
Stainless steel construction with high-density insulation
Space for two independent grills per level
Lower grill dimensions: 565 x 350mm
Upper grill dimensions: 240 x 620
Includes Kopa Tongs and stainless-steel skewers x5 as standard
Cons:
More expensive the other robata grills at £7,499.00 ($9,823.69)
Additional shipping cost
Diamond CBR-160C Charcoal Robata Grill
The Land Down Under has an impressive robata grill too! And it comes in the form of the CBR-160C Charcoal Robata Grill manufactured by Diamond Catering Equipment Australia and distributed by SEMAK.
This grill has an elaborate design as much as the other top notchers in this list yet it remains true to the original robata grill design inspired by the Japanese some 500 years ago.
Designed for front of house use, the robata charcoal grill tantalizes customers with the flames and theatre of charcoal cooking.
The CBR-160C Charcoal Robata Grill does not only come with multiple extra grill grates, but it also features adjustable height for them allowing for varied temperatures cooking.
Pros:
Column to support the grills
Upper shelf to keep warm skewers or dishes
3 type of grills: rod, grooved and adjustable support for skewers
Stainless Steel grease collector with support for "espetos"
Refractory brick interior
Cast iron charcoal hopper
Easy to empty Ashtray
Iron adjustable feet
Made in Spain under license in Australia by Diamond Catering Equipment
It can be used with all types of charcoal; Coconut charcoal, mineral charcoal…
Supplied with: Adjustable Skewer Support, 8 x Single Skewer, 8 x Double Skewer, Rod Grill, Grooved Grill, Poker, Tongs
Cons:
VulcanoGres Japanese Robata Grill
The Africans also built their own version of the robata grill and the company called VulcanpGres seems to be the one that manufactures it, while the website http://grilling.co.za is the sole distributor of this grill.
Like most robata grills on this list, the VulcanoGres Japanese Robata Grill possesses the true robata grill design.
It has multilayered grill grates with adjustable height feature, it uses charcoal for fuel, and it has cabinets for the dripping oil/fat and ashtray as well as a spacious bottom section.
Although this robata grill is said to be built with high-quality stainless steel construction, it appears to be dull like the Soppas robata grill that we've discussed earlier.
But that's only because we've compared them with the other robata grills that have more features than the rest.
Pros:
Cheaper than the other robata grills
Easy to use
Easy to clean
Purely relies on charcoal fuel
Has a huge cooking area
Cons:
No adjustable height for the extra grill grates
May not have the quality similar to the other grills on this list
Beech Ovens Robata Grill
Another robata grill made in Australia and it's called the Beech Ovens Robata Grill.
Beech Ovens designs develop and manufacture a product range that includes everything from stone- to wood- and even electric-grill ovens.
They even accept custom ovens for specific cooking requirements depending on what the customer wants for their custom oven.
However, their robata grill is limited to skewer recipes only as it does not include a height adjuster nor does it come with additional grill grates to make the layered grills that are common in robata grills.
If anything this is more of a yakitori grill than a robata grill, although they may still have other information that they didn't include on their website, that would be unwise as you would want to provide all the necessary information if you're marketing your product.
You can get more information about the Beech Ovens Robata Grill at their contact page.
Pros:
Small and lightweight
Great for skewers, steaks, kebabs, vegetables, and burgers
Easy to use and easy to clean
Affordable price
Good quality construction materials
Cons:
No option for additional grill grates
No further details provided on their webpage and you will have to contact them directly for full disclosure of the product
Style Global Australian-made Robata Grills
Style Global Robata Grill is another grill in this entry that's manufactured by an Australian company and it is every bit as good as the top robata grills in this list.
It has a ceramic walled compartment designed specifically to withstand the extreme temperatures of burning charcoals to serve as the heat source for the grill.
But it also has an LNG alternate fuel source so you can choose to cook either using charcoal as fuel or gas or a combination of both (Binchotan charcoal is also an option for this grill).
The grill is made of quality stainless steel finish, durable and elegant looking much like the other grill we've already mentioned before.
The gas models are fitted with specially designed high-performance burners and custom matching burner radiants which provide intense controlled temperature, best suited for all types of food cooking processes.
Pros:
Made of high-quality materials that are made to last
Easy to operate and clean
Uses charcoal and gas for fuel
Well-known brand from Australia
Great for skewers, steaks, kebabs, vegetables, burgers and a lot more recipes
Cons:
Product specs PDF cannot be downloaded from the webpage
Kosei Robata Grill
Kosei is one of the best yakitori and robata grill manufacturers in the world today and it's no surprise as they are a Japanese company who by and large knows their trade better than others.
There are actually 7 different models for the Kosei Yakitori/Robata Grill, but they mostly only differ with their grill sizes (cooking space) and the number of gas burners they have. Other than that they are almost the same.
The idea of creating the grill is built around mimicking the searing temperatures that Binchotan charcoal can produce and Kosei gloriously was able to achieve this with an ingenious method by using special Kosei Rods to produce heat that is comparable to Binchotan charcoal.
Since Binchotan charcoal cannot be sold in very large quantities, the manufacturers attempted to reproduce the heat that the Binchotan creates and thus was able to come up with a compromise in their robata grill design features.
The rods create extreme infrared heat that cooks the meat to perfection without dehydrating them, thus retaining the great flavors of the meat, seafood and vegetables.
Furthermore, you can also add real charcoal to give food additional scent and flavor. This allows the grill to cook a large variety of food such as steaks, skewers, vegetables, burgers and many other recipes.
Accessories:
Ceramic coated covers
Grill grates height adjuster
Grill net for steaks
Iron plate gill net
Multipurpose gill net
Pros:
It uses lesser gas and yet is able to attain extremely high temperatures by heating the specialized rods beneath the grill, which radiates infrared heat almost like what Binchotan charcoal generates.
The infrared heating ability of this grill heats the food directly unlike smokers that heats up the air to cook the food, which is inefficient. The benefit of this kind of heating is that it locks in the moisture of the food and not dehydrates it, thus preserving the flavors that make the food delicious to eat.
It allows you to use real Binchotan charcoal to give the food an added aroma and enhanced flavor.
You can cook a wide range of food recipes in this grill including skewers, chicken yakitori, steaks, burgers, wings, all sorts of kebabs, grill fish and other seafood.
It's probably one of the few commercially available grills you can easily take apart. That's a big bonus because you'll be able to clean it without having to have the right set of tools in your kitchen, or calling a maintenance person.
Cons:
Expensive
Robatayaki Recipes to Try on Your Own Robata Grill
If you are keen on owning a robata grill, then you may want to try preparing these recipes and to see if you are skilled enough to please yourself and your guests.
Recipe #1. Alfonsino Robatayaki
Ingredients
Alfonsino
ice-cold water
5 g brown sugar
140 g red bream (alfonsino) fillet
5 ml rice vinegar
200 g arare (Japanese rice crackers
30 g salt
100 g eggs (just the egg white)
Vegetables
2 king brown mushrooms
oil, for cooking
butter, for cooking
2 spring onions
extra virgin olive oil
salt and white pepper
Aji vinegar
23 g aji amarillo paste
12 g rice vinegar (shiragiku)
12 g grapeseed oil
6 g yuzu juice
1 g salt
1 g white pepper
2 g ginger
Kamkoku sambal
120 ml soy sauce
80 ml (1/3 cup) water
3 g sambal oelek
36 g brown sugar
5 ml sesame oil
Truffle poke sauce
30 g aji vinegar
180 ml kamkoku sambal
60 ml (1/4 cup) truffle oil
10 g finely chopped coriander
10 ml freshly squeezed lime juice, plus lime zest to garnish
 
Balsamic spray
30 ml balsamic vinegar
90 ml grapeseed oil
30 ml soy sauce
Cooking Instructions
Setup the robata grill, pour the binchotan charcoal in the fuel box below and light it up until the binchotan smolders into glowing pieces of charcoal lumps. Do not use lighter fluid or any liquid fuel when lighting the binchotan up.
First, you'll need to prepare the ingredients for the Alfonsino. To make the brining liquid, you'll need to mix the vinegar, salt, and sugar into a large bowl with 2/3 of the volume filled with water (roughly 3-4 cups of water).
Prepare a shallow plate and place the fish with the skin facing upwards. Pour brining liquid into the plate that's enough to submerge the flesh, but will keep the skin dry. Brine the fish for 30 minutes, then transfer it into a clean dry plate and refrigerate for later use.
Beat the egg whites until it becomes foamy and then refrigerate for later use.
Place the rice crackers on a dinner plate and set aside.
Chop the mushroom in a criss-cross pattern and cut it around the bottom half of the stem also in half lengthwise until you'll make 20 tiny cubed pieces. Place the frying pan over the stove and set the temperature to medium-high and start heating the oil and butter. Toss in the mushrooms and saute for 1-2 minutes until the outside of it becomes soft, then transfer it into a clean plate and let cool.
Remove any dried out outer layers of the spring onions and chop it into tiny pieces, then set aside for later use.
This time mix all the ingredients for the aji vinegar in a small bowl and stir thoroughly. You should have more than enough of it to cook all your food.
Do the same with the ingredients for the kamkoku sambal sauce and set it aside for later use.
Making the truffle poke sauce requires you to mix the kamkoku sambal and aji vinegar in the blender, and then gradually adding the truffle oil until the whole mix thickens into a sauce. After this happens, transfer the sauce into a small bowl and stir thoroughly while tossing in the coriander and lime juice, then set aside for later use.
Combine the oil, soy sauce and vinegar in a spray bottle in order to make the balsamic spray. Set it aside for later use.
Impale the fish with 4 skewers across its width to keep stable while grilling. Put it at the lowest grill grates of the robata grill with its skin facing the charcoal briquettes for 3 – 5 minutes, so it will get direct heat from the binchotan charcoal. Grill for 15 – 20 minutes more and poke the fish meat with a toothpick every 5 minutes or so to release the fat.
Get a brush and use it to coat the skin of the fish with the egg whites that you previously whisked, then dip the fish skin into the rice crackers until you've coated them completely.
Put the fish back into the robata grill, but this time place it on the second level grill grates to reduce the heat it is being exposed to and make the skin side face downwards to the heat source. Spray the fish skin with light balsamic spray and then spray the binchotan charcoal also in order to infuse the charcoal smoke with the vinegar mix to add flavor to the fish. Cover the fish-skin with a metal bowl and keep grilling it until the rice crackers that have been coated become crispy. Turn the opposite side until the fish is cooked at medium-rare.
Grill the mushrooms as well and spray them with the balsamic spray (lightly), then cover with a metal bowl or an upsidedown frying pan and grill it until it softens.
This time use the brush again in order to coat the spring onions with olive oil. Spray again with the balsamic spray and cook it until it becomes tender. Place the vegetables on the third level grill grates as it does not need too much heat when it is grilled and it is often grilled with low, but consistent temperature.
Now the alfonsino robatayaki is ready to serve! Slice the fish into 4 strips lengthwise and place it on a serving plate. Chop the spring onions diagonally to add aesthetics to the food and arrange it on top of each slice. Arrange the mushrooms as well on both sides of the fish slice and drizzle them with the truffle poke sauce as well as grate the lime zest and sprinkle all over them.
Chef's notes
Yamasa brand soy sauce enhances the taste of the sauce. Choose this soy sauce if it's available in your area.
You can get the aji Amarillo paste from Latin American grocers on the web as it is a native in Peru.
Even though sambal oelek is an Indonesian chili, shrimp and fish paste you can buy a bottle of it at Amazon.
Truffle oil is easy to find whether online or in your local grocery.
Recipe #2. Calamari Yaki Grilled Calamari (Robatayaki Style)
Ingredients
1/4 cup extra-virgin olive oil
1 1/2 pounds of fresh squid, which should be cleaned (you can ask the salesman to do it)
1 1/2 tbsp fresh lemon juice (1 small lemon)
1/2 tsp coarse salt
1/2 tsp dried oregano
1 clove of garlic minced
Ground black pepper to taste
Cooking Directions
Put the whole oregano sprigs, garlic, salt, lemon juice and olive oil in a serving bowl and mix them thoroughly.
Grill the squid on the robata grill placing it on the lowest grill grates to get the maximum amount of heat from the binchotan charcoal, then make sure to char each side by letting it sit on the coals for about 60 seconds per side. Once done, remove from the grill and chop the squid into a quarter of an inch rings (including the tendrils). Toss the chopped squid into the lemon sauce and drizzle freshly ground pepper over it, then serve right away.
Recipe #3. Halibut Aji Yaki
Ingredients
Four 6-ounce pieces of halibut
1 tsp sesame seeds
2 1/2 tsp dashi powder
2 tsp peanut oil
red chili flakes to taste (just a little bit is fine)
1/2 cup mirin
1 tbsp sugar
3 tbsp soy sauce
Cooking Directions
Marinade the fish with the 2 teaspoons of peanut oil and sprinkle it with sesame seeds.
Pour dashi powder into a mixing bowl with 1/2 cup of warm water, then combine the rest of the ingredients with the dashi liquid and stir thoroughly (sugar, red chili flakes, soy sauce, and mirin). Set aside for later use.
Heat up the saucepan over the robata grill and fry the fish for about 3-4 minutes browning each side evenly.
Once it's done, then transfer the fish onto a clean plate and let sit to cool.
Pour the liquid dashi mix into the saucepan and bring to boil (make sure that you only use 3 – 4 quarts of the liquid dashi mix). Place the saucepan on the next level grill grates of the robata grill to reduce heat and let the liquid mix simmer, then add the fish back to the saucepan.
Put a lid on the saucepan and let it simmer for another 4 minutes or so, then flip the halibut and cook for some 4 minutes or more.
Transfer the halibut onto a clean plate along with the sauce and allow the heat to dissipate for about 5 minutes while it cooks the sauce and it becomes thick and glazy.
Stir-fry the vegetables and add them on top of the glazed halibut and serve it immediately.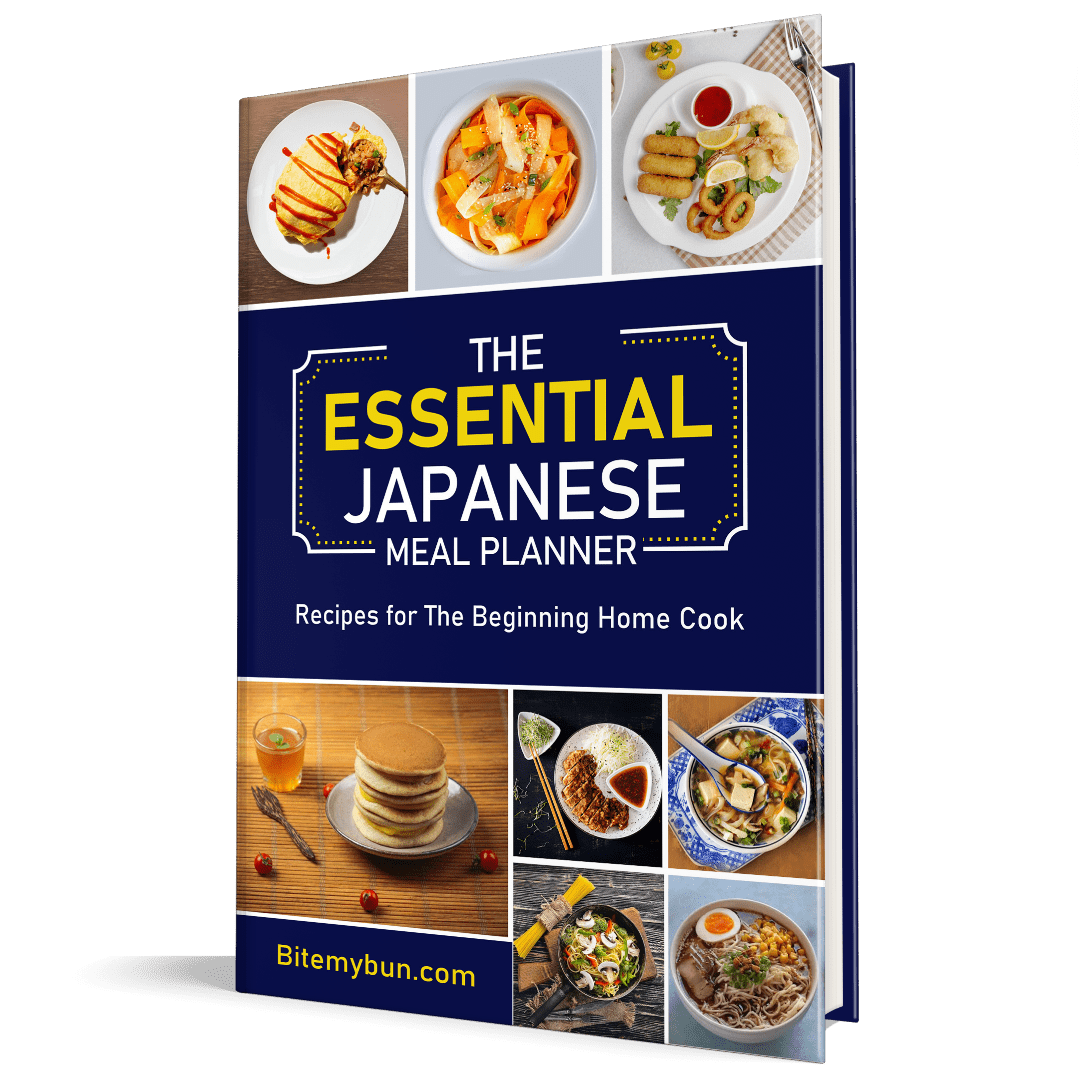 Check out our new cookbook
Bitemybun's family recipes with complete meal planner and recipe guide.
Try it out for free with Kindle Unlimited:
Read for free
Joost Nusselder, the founder of Bite My Bun is a content marketer, dad and loves trying out new food with Japanese food at the heart of his passion, and together with his team he's been creating in-depth blog articles since 2016 to help loyal readers with recipes and cooking tips.