Shichirin grill | review of the top 6 best grills [+Shichirin explained]
I love creating free content full of tips for my readers, you. I don't accept paid sponsorships, my opinion is my own, but if you find my recommendations helpful and you end up buying something you like through one of my links, I could earn a commission at no extra cost to you.
Learn more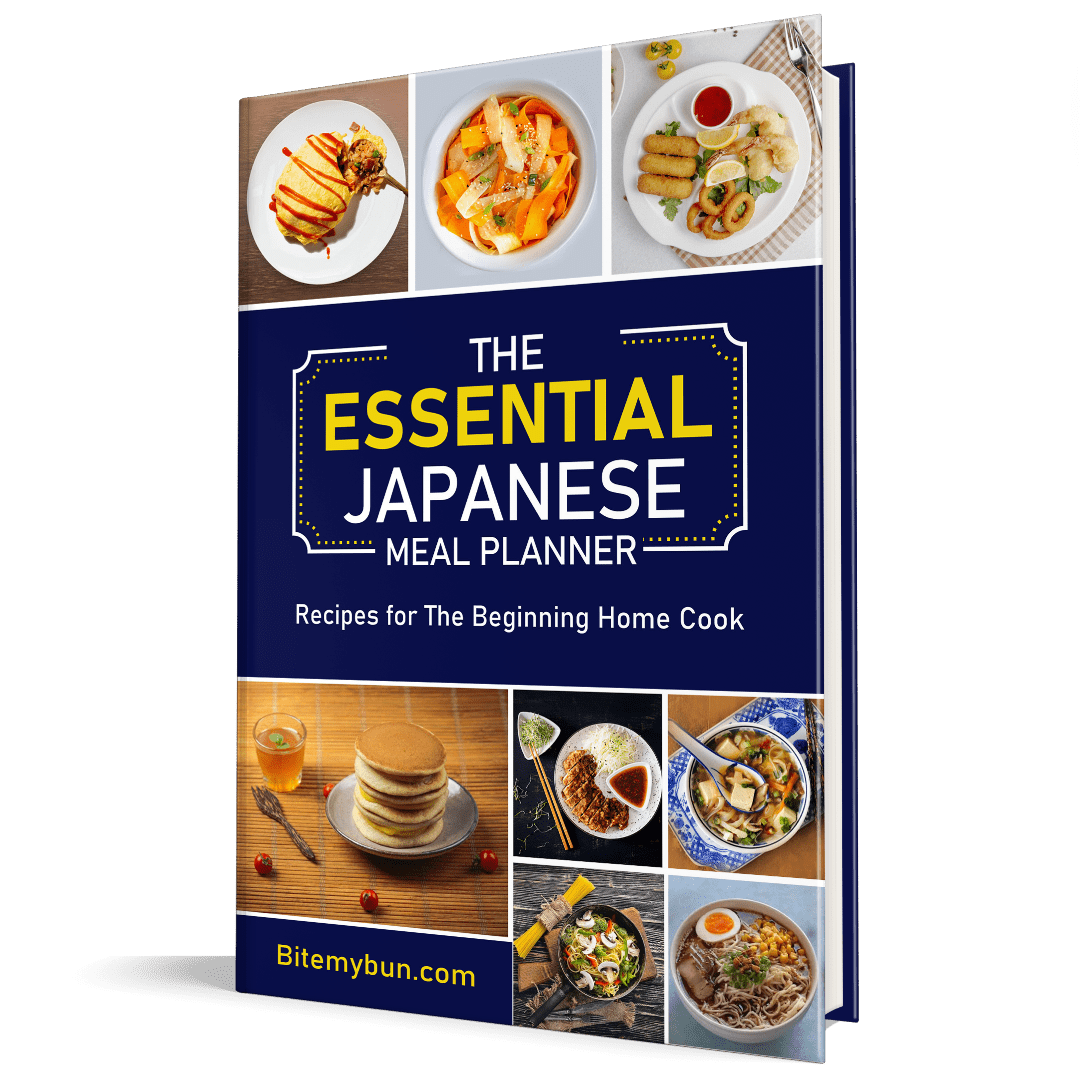 Check out our new cookbook
Bitemybun's family recipes with complete meal planner and recipe guide.
Try it out for free with Kindle Unlimited:
Read for free
How did you enjoy cooking with your teppanyaki grill so far?
Were you able to cook great recipes?
Is it exactly like you expected? If so, then you're on your way to becoming an amateur chef yourself! But, wait, you need to try shichirin grills too. 
So cheer up and brace yourself for some more good stuff from us here are at Bite My Bun.com.
This time we're talking about the Shichirin Grill.
You can read on to find out what it is, what you can cook with it, and a few of the best grills you can buy, or you can check out my favorite, the affordable round PUXING Japanese Tabletop BBQ Grill. It's the perfect traditional style charcoal shichirin you can use on the tabletop or outdoors. 
It's a great buy and easy to use with its foldable design.
This YouTube video shows how to prepare and grill food on the small charcoal grill:
The good news is that the Japanese people knew that there are dozens of different ways to cook scrumptious meals, and if you've been impressed by their teppanyaki iron griddle, then you'll also be amazed by the Hibachi "Shichirin" Grill!
Let's take a quick look at the top choices, and then I'll take a closer look at each of these.
I've tried quite a few and came up with a top 6 of my favorites:
10 Tips to Save a Bundle on Asian Ingredients!
Introducing our brand new FREE PDF guide: "Saving Secrets: Unveiling the Art of Saving Money on Asian Ingredients" It's your first newsletter email, so start saving today! 📚🧧
We'll only use your email address for our newsletter and respect your privacy
What is shichirin? 
Shichirin, pronounced as shee-shee-rin in English, is translated to "7 rings" and refers to the fact that back in the day (Edo period), the word rin was a local Japanese currency. 
Grilling with the Shichirin has a unique aspect: it's about dining and sitting around the fire of a portable tabletop grill. The delicious food is served in small portions, similar to gourmet food. 
Everyone at the table is responsible for grilling. Friends and family can use a Shichirin to share a table around the grill, where everyone makes their own food.
Shichirin, a Japanese barbecue that is compact and portable, can be carried around easily. This grill allows us to enjoy the table.
Grilling on Shichirin is more than a barbecue. It refers to a completely different style. There are no whole chickens or half-pigs, just small refined dishes that require more precision, such as yakitori skewers or chicken hearts. 
Most grills are fueled by Binchotan charcoal, but for convenience, people buy electric and propane shichirins too. 
Shichirin vs hibachi vs konro
In the West, the terms shichirin, hibachi, and konro are all used interchangeably to refer to a small cooking device. 
Hibachi is the most popular name for this tabletop cooking device, but shichirin is another technical term. When the hibachi container is used for cooking food and not heating up a room, then it can be called shichirin. 
But that's not all because the konro is yet another term for hibachi and shichirin. If the konro is round in shape, then it's most often called shichirin because people most often associate shichirin grills with being round. 
Apparently, as tabletop grills from Japan became increasingly popular, people in the West had a hard time pronouncing the word shichirin. The restaurants then adopted the term Hibachi because it was easier to pronounce. 
Here's the bottom line:
In Japan, hibachi is mostly used to refer to a heating device for the home. In the West, though, the term hibachi refers to small tabletop grills used in Yakiniku restaurants. 
I will talk about the differences in terminology later on in the article and clear up even more of the confusion. 
Shichirin grill buying guide
Before we get to the actual reviews, it's best to know what to look for when buying your shichirin grill. After all, not all Japanese grills are the same, and some have better features than others.
Material
Your hibachi grill's material will affect its durability and cooking efficiency. Cast iron and diatomaceous earth (ceramic) is the best choice if you are looking for a traditional shichirin grill.
The ceramic is known as an amazing insulator that retains heat well and cooks food evenly. But, the disadvantage of the ceramic grill is the fact that it is prone to cracking and is quite fragile compared to metal. 
Cast-iron and aluminum last for a very long time and can withstand a lot of heat and use without buckling or breaking. Cast-iron grills can also enhance the taste of your food. Cast iron is also an excellent material for making the grates on your grill.
Cast-iron has its downsides, too, though. It is heavier than aluminum and requires more maintenance. 
If you want non-stick grates, I recommend Teflon or non-stick ceramic coating on aluminum, cast iron, or stainless steel grates. 
Aluminum shichirin grills are cheaper and don't last as long, but they do the job. They need to be cleaned regularly to prevent rust and wear.
Gas vs. Charcoal vs. Electric Infrared
The traditional shichirin grill runs on charcoal. It is the classic way to grill and has been for centuries in Japan. 
Propane is another favorite for small portable grills. Gas grills offer a few benefits: they are quick to ignite and are easier for you to manage the temperature.
You lose what you get in convenience because the traditional charcoal flavor in food prepared on a charcoal grill is unbeatable.
The charcoal grill takes longer to get ignite and heat up to the desired temperature compared to gas and electric cookers. 
The temperature control of charcoal hibachi grills is also more challenging.
Infrared electric shichirin grills are the easiest to use because you set the desired temperature, and the grill heats up in seconds.
The advantage is quicker cooking because the infrared heating elements get very hot and emanate the perfect amount of heat to cook the food evenly. 
Personal preference is the most important factor.
Gas and infrared hibachi grills are easier to use for beginners. However, experienced cooks may prefer the added flavor of a charcoal hibachi barbecue grill.
Portability
Shichirin grills tend to be lightweight. For easy transport, you should look for one with handles. Hibachi grills have the greatest advantage of being portable. You can bring it along on camping trips or to your friend's house to cookout.
One thing to note, though, is that the ceramic grills can be heavier. However, they are still portable due to their small size. 
A heavy shichirin grill is not very practical. Most grills weigh about 12-20 pounds, but the mini ones are even lighter than that. It all comes down to size and material – a heavy ceramic increases the grill's weight. 
Cooking surface
Before you make a purchase, check the total surface area of the grill. The amount of food that you can grill at once is limited by the surface area.
Taller and square hibachi grills may have different spaces in the charcoal bowl, but a smaller square grill has much less cooking space than the rectangular and even round one. 
A singles or couples grill has enough space for about 4 smaller pieces of meat and yakitori. A large one can be used to cook for up to 6 people. 
Charcoal bowl
The charcoal bowl size is important too.
These areas can be used to stack or remove charcoal, allowing you to have different heat levels in different parts of your grilling area. This setup allows you to sear certain foods and warm others.
Cost
Be aware of the cost of your shichirin barbecue. Cast iron grills are a great investment and offer excellent value. They are often more costly than the cheaper plastic hibachi grills.
The ceramic ones are about the same price.
Electric can be cheap, but the infrared models and gas grills can be the priciest. 
Best Shichirin grills reviewed
The Hibachi was originally designed as a heating device and was mostly used by the upper-class citizens, aristocrats of Japanese society, and the Samurai military of ancient feudal Japan.
As time went on, this efficient design was spread into public markets and was eventually sold as both a heating device and charcoal grill.
Even in this day and age, you can still see ceramic Hibachi shichirin grills sold as a commodity.
It's also a popular item when it comes to festivals held outdoors during fall and winter times and the Japanese tea culture ceremony.
Best budget shichirin grill: 

PUXING Japanese Tabletop BBQ Grill
material: aluminum alloy
shape: round
grate: stainless steel
size: 8.27 x 7.87 x 6.3 inches
If you want to try the best yakiniku, a small round charcoal grill like this Puxing tabletop shichirin is a great product to start with. It is small, compact, portable, and has an authentic Japanese-style design.
This grill is made of a strong aluminum alloy that heats up fast and also distributes the heat evenly, so your food is cooked to the same temperature all over. As well, the components are heat-resistant and safe to use. 
The grill grate is made of a stainless steel mesh, and this material has non-stick properties, so you don't have to worry about delicate meats like chicken or fish and seafood sticking to the grill grate.
Also, stainless steel is a great material because it is easy to clean, and you can season it with a bit of cooking oil. 
You might be nervous about using this shirichin on the table because you're afraid it can damage it. But, there's no need for concern because the grill has a solid wood base that keeps the table cool and won't let the grill burn it.
However, some customers have complained that the wood can get black and charred if you do a lot of grilling at once. 
The round shape is actually better because it improves air circulation, so the temperature is easier to maintain compared to a rectangular one. 
I recommend binchotan charcoal, but you can use whatever you have on hand. You put the charcoal underneath the round aluminum grill body.
When using it indoors, you need to be careful when handling the charcoal and make sure to have proper ventilation, or the smoke will set off the fire alarm. 
Finally, I want to mention that this grill is versatile and portable. Since it is lightweight, you can take it with you anywhere, so it's a good camping grill too. Then, you can even place a separate grill plate on top to make Korean-style BBQ. 
It's amazing to have something other than your tabletop teppanyaki grill for a change.
You can buy the Puxing shirichin here on Amazon.
Best traditional charcoal Shichirin: NOTO DIA Tabletop grill
material: cast iron & diatomaceous earth
shape: rectangular
grate: iron with zinc plating
size: 11.4 in × 6.3 in × 5.1 in
If you're after the authentic Japanese shichirin experience, then try cooking on a ceramic and cast iron grill with classic wire mesh grates.
The Noto Dia is an easy-to-carry tabletop Shichirin grill fueled by binchotan charcoal, which cooks your meat, seafood, and vegetables to perfection. Its rectangular shape even makes it easy to cook yakitori skewers. 
Also, it is lightweight and budget-friendly and does what it's made for, and you have a little more room for grilling multiple items at once compared to the Noto Dia small-sized shichirin. 
It's actually rare to find a real Japanese Shichirin grill on the web to purchase as Westerners are more familiar with the grill, but if you look hard enough, you will find a few available for purchase – and they are quite beautifully crafted too!
The NOTO DIA Table -Top Shichirin Grill is actually made in Japan and comes with an ergonomic, energy-efficient, and practical design with Japanese inscriptions all over its sides to accentuate that Japanese look and feel.
It makes you feel like you're cooking at a local Japanese family restaurant. 
This Shichirin grill is made from a cast-iron frame with a diatomaceous earth interior. The earth is sourced from Oku-Noto in Noto Prefecture, known for the highest-quality ceramics.
Thus, you can expect amazing quality and durability from this grill. Unlike those cheaper metal shichirins, this one doesn't overheat and burn the base.
The diatomaceous earth is one of the best natural thermal insulators, so you're grill stays hot as long as you need it to, and the heat is distributed evenly for well-cook food every time. 
However, since it is made of diatomaceous earth, you can't expose it to water while hot, or it can crack and break. Also, be careful when transporting it because it is more delicate than stainless steel shichirins. 
The grill's exterior is lined with heat and fireproof materials, which makes it lightweight, safe, and easy to carry. 
There are 6 ventilation holes for optimal airflow, so you're grill doesn't overheat, and you have a bit of temperature control. 
It's great for both indoor and outdoor excursions, picnics, or camping. Since it's well ventilated with three exhaust vents on each side, it should give enough oxygen to the charcoal to burn consistently while you grill your food.
Use binchotan charcoal for a completely smokeless and flameless cooking experience. 
Check out the latest price on Amazon
Puxing vs. NOTO DIA
These are two charcoal grills with similar features. However, the difference lies in the design and size. 
The round Puxing shichirin is a budget-friendly all-around great grill for those getting started with hibachi and tabletop grilling.
It is made of a pretty durable cast iron and has nonstick grates for effortless cooking. The charcoal bin is pretty small, but it's enough to cook all the food you'd need for 2-4 people.
But, if you want something bigger and better, the spacious rectangular ceramic Noto Dia grill is an excellent option. It's made of quality Japanese materials, and it's better for larger groups. 
Both of these grills have a similar design, although the shapes are different. They are ventilated through small holes on all sides of the grill. This makes it a bit hard to control the temperature compared to electric and gas grills. 
The Puxing is smaller and thus easier to move around and carry. It's also less fragile than the Noto Dia because that one has a cast-iron frame, too, but it's also made with diatomaceous earth, and that's prone to cracks and breaks, especially if it comes in contact with water.
I would recommend the Noto Dia if you're serious about shichirin grilling for the long term. But, if you only have yakiniku occasionally, the Puxing is a cheap way to grill quickly on your tabletop. 
Most durable shichirin: 

Campers Collection Charcoal Stove
material: ceramic 
shape: round
grate: stainless steel
size: 8 x 4.7  inches
If you want to invest in a high-quality shirichin grill, then the Hinomaru is one of the most trusted brands for tabletop cookers.
This round grill is a konro style shirichin. It's pricier than the others, but it's an artisan item made of authentic Japanese ceramic material. This means that it is more efficient at retaining heat, and you'll be grilling faster but better-tasting foods.
You should use charcoal briquettes for this grill and place them straight into the ceramic dish, which maintains the heat very well for optimal cooking temperature. 
Like the other tabletop models, this grill also has a solid wood base, but it's much better quality than cheaper shichirins and actually heat-resistant, so it won't get charred or burned after the first few uses.
Therefore, your countertop or table doesn't get burned and damaged after making yakiniku indoors. 
The grill grate is made of sturdy stainless steel mesh, which is the best type of grate design for traditional Japanese barbeque. Also, this type of wire mesh is easier to clean because it doesn't stick to the meat.
So, if you make some tasty bbq chicken thighs, your chicken will have that browned crust and charring, but it won't stick to the grate even though you're still cooking with charcoal.
The ventilation is pretty good as there are medium-sized holes all around the sides of the ceramic bowl. 
Because the grill is made of ceramic, you should not wash it with water because it damages the decorative exterior layer. Only the grill grate needs washing, but since it's non-stick, you don't need to scrub too hard. 
Since it's one of the most durable shichirin grills, it's suitable for both restaurant and home use. The ceramic isn't as prone to breaking as cheaper knockoff models. You can move the grill around because it's portable and quite lightweight.
It is understandable why some people will think twice when buying this grill as it comes with an expensive price tag for a medium-sized grill; however, a few things about this model are guaranteed to satisfy your needs when you compare Hibachi/Shichirin charcoal grills.
The first point that one should notice is that it is one of the best Hibachi/Shichirin grills around that's made of durable ceramic material.
The ceramic helps the grill warm up evenly via conduction heat transfer, and with adequate maintenance, the grill should last you a lifetime.
The small surface area of the grates is surprisingly enough to prepare food for 2 – 4 people with ease.
If you want a grill that's simple and easy to set up, gives great flavor to your food, and almost never malfunctions since it has no mechanical parts, then the Hinomaru is for you!
It's also very durable and will give you more for your money's worth.
Check prices and availability here.
Best mini shichirin grill: 

Hinomaru Collection Japanese Tabletop Shichirin
material: ceramic 
shape: square
grate: stainless steel
size: 5 x 5  inches
Cooking for one doesn't have to mean you just eat microwave meals alone. With a mini tabletop shichirin grill, you can grill your favorite chicken, beef, pork, fish, and vegetables in a matter of minutes.
The Hinomaru mini grill is the perfect smokeless cooking accessory for singles and couples. 
It's a tiny grill, but you can make about 3 yakitori at once or 5 thinly sliced pieces of beef. The good thing is, though, that you only need a few pieces of charcoal to heat this one up and cook the food. Then, of course, you can always add more meat and cook as you eat. 
The small fire chamber means that you can start up the fire quickly and easily, and the 4 small ventilation holes help maintain the temperature without causing the grill to overheat. 
The wire mesh grill grate is non-stick but gives the meat those beautiful char marks. It is also dishwasher-safe, which makes clean-up easy.
However, since the grill is made of ceramic material, you can't wet it, so it's best to wipe it with a damp cloth only after it is completely cooled. 
This grill has a small wooden base that ensures safety when using it on a table because it doesn't burn the table surface.
Some users say that this wooden base goes black and charred after prolonged cooking and might need replacing. But, considering this is such a budget-friendly shichirin, the wood stand is pretty inexpensive. 
Finally, I want to mention that this grill is easily portable, so you can use it indoors in your kitchen but also outside on a small balcony or if you go camping alone or with a partner. 
Campers Collection vs. Hinomaru
The Campers Collection shichirin is a round ceramic grill, designed like the old Japanese grills of the past. Hinomaru's small grill, on the other hand, is a classic cheap but well-made grill for one or two people. 
The Hinomaru mini grill is almost half the size of the Campers Collection, so you can cook much less food as the surface area is smaller.
But, it depends on how many people you generally cook for. If you want a charcoal grill for yourself only, then it's a compact and easy-to-store device. 
I recommend the larger ceramic charcoal grill for true Japanese BBQ fans because the components of this cooker are very well made.
It's definitely an investment shichirin grill, but it's worth buying if you're looking for a combination of quality and portability. 
When it comes to cooking efficiency, the authentic Camper's Collection ceramic is a better insulator and cooks food more evenly as the temperature stays more stable.
The small Hinomaru's temperature is hard to control, and you don't really have many options. You can only use a very small amount of charcoal at once, so you're limited. 
The bottom line is that if you're single or a couple, you can get the mini shichirin and cook at home on your kitchen counter or table safely.
But if you want a premium grill that offers a cooking experience similar to that of a Japanese yakiniku restaurant, the quality round grill is sure to please even the pickiest pitmasters. 
Best infrared shichirin grill: 

Flexzion Infrared Smokeless Indoor Grill
material: aluminum
shape: rectangular
grate: nonstick cast-aluminum
size: 22.8 x 16.7 x 12 inches
Cooking with charcoal isn't for everyone. Maybe you hate the smoke, or you're scared to light up charcoal inside your home, and that's fine.
There are some great alternatives to charcoal shichirins. One of them is the infrared electric grill like the Flexzion Infrared Smokeless Indoor Grill.
This electric grill works with infrared technology to provide a smokeless grilling experience. Therefore, it's the best indoor shichirin-type grill for the home. 
There's a spacious cooking surface considering it's a small tabletop grill. You can make about two large steaks at once. But what makes this a versatile product is that it comes with different grilling accessories so you can make more than just basic yakiniku. 
You get a rotisserie spit attachment to make rotisserie chicken in record time, and there's also a 7 piece kebab (yakitori) set and the classic grill rack for yakiniku. Thus, this is one of the most versatile grills on our list. 
The advantage of an infrared electric grill is that it's smokeless and doesn't flood your home with a bbq smell. Also, the powerful 1780 W heating element cooks the food very fast (compared to other electric grills), and everything cooks evenly. 
Another benefit is that the fat and grease drip off, so the meat and fish are healthier than cooking it in a pan or in the oven. 
But, you might prefer an infrared cooker over a charcoal shichirin because of the temperature control feature. You can select the desired temperature, wait a few minutes for the grill to heat up, and immediately start grilling.
Because this is not a hot air cooker, the food retains its moisture this way, and you won't get dry, chewy beef or chicken, that's for sure!
Also, you don't have to deal with sudden flames or flare-ups, which can cause burnt food. This grill can heat up to 450F, and you also have a timer control feature for up to 90 minutes of nonstop cooking. 
One minor problem is that the grill plate is slightly higher up, so it might take longer to cook the food than it claims on the packaging, but this mostly affects the rotisserie chicken. 
Overall, this is the perfect smokeless cooker for daily use because it is versatile and not limited to Japanese BBQ use only. 
Best gas shichirin grill: 

NOMADIQ Portable Propane Gas Grill
material: stainless steel
shape: foldable oval
grate: stainless steel with ceramic nonstick coating
size: 25.6 x 16 x 7.5 in
If you like to do your shichirin cooking outdoors, you probably want a portable propane gas grill like NOMADIQ. It's easy to use, the propane is relatively cheap, and you don't have to mess around with the smoky charcoal. 
The main benefit of this is that it's very compact, yet it offers a ton of cooking space compared to other shichirin grills.
When combined, the grill opens up into two large grill surfaces (226 sq. inches), which means you can make about 4 burgers per side or all kinds of meat cuts for classic yakiniku.
Having two powerful separate burners (10,000 BTU) is the best part because if you're only cooking for a couple of people, you can just use one side of the grill and save propane. You can also set each side to its individual temperature.
This feature is useful for making different types of foods. For example, you can cook beef at a higher temperature on one side and mushrooms at a lower temperature on the other. A turn knob controls each burner and is simple to use.
The propane tank is connected with the grill by a dual-hose that feeds to both ends. It's controlled by an electric push-to-start ignition switch. This easy-to-reach switch works great every time. 
The whole system is user-friendly and even beginner-friendly, which is more than I can say for some of the larger charcoal shichirinsthath can overheat. 
There's one downside to this grill, and that's the price. Since it costs over $300, it's best for those looking for a long-term investment in a cooker that's very convenient to use.
It has many features that set it apart from charcoal shichirins, so it's more of the ultimate outdoor camping gas grill than a simple product. 
But overall, this is one amazing grill. It's very compact, folds up into a small hand-held cooker, and comes with a handy carrying strap.
You'll feel like you're carrying a small bag because it only weighs 12 lbs, so it's the ultimate picnic grill for the family. 
Flexzion vs. Nomadiq
For those who don't like using charcoal grills, then the infrared electric and the propane shichirin are the best alternatives. These are safe indoor/outdoor grills and provide tons of flavor, even though you're missing out on that subtle smokiness of binchotan. 
The Flexzion is a versatile infrared grill with a rotisserie and kebab attachment so you can cook and grill anything you like, not just Japanese dishes.
It's perfect for those looking for cookers that can do more than the average charcoal grill. But, if you want an outdoor cooker you can count on, the Nomadiq camping grill is the best propane cooker that mimics a Japanese shichirin.
When it comes to ease of use, the infrared grill is the winner because you can set the temperature you want, and it heats up in less than a minute.
The propane grill is also easy to use, but you need to keep an extra propane tank with you just in case it runs out. Thus, it can be a bit inconvenient to use at times.
Then when it comes to the cooking surface, the Nomadiq wins because it has two sides with two separate burners and a large total cooking surface area, so you can make tons of bbq at once.
Both these grills have non-stick surfaces, so your meat never sticks and burns. 
The bottom line is that if you want a compact foldable grill, the Nomadiq gas grill is the top choice because it's light and easy to carry whereas the infrared grill is large and kind of chunky.
What does Shichirin mean?
七輪, or Shichirin is a small portable grill from Japan. The Japanese have been using grills like these as far back as the Edo period, which is 1603 AD. A Shichirin grill is made out of clay or ceramic. The Shichirin is called that way when people stop using it as a Hibachi – this is the one difference that Westerners often get wrong most of the time.
However, it wasn't the foreigners who thought about using the Hibachi as a device to grill food; no, it was the Japanese peasants during the Edo period, and boy were they right!
So essentially the Shichirin is a Hibachi used for cooking and no longer for heating homes, but the two are interchangeable nowadays. So it's really not that big of a deal anymore.
How to use a shichirin grill
1. Prepare the charcoal. Then, break the charcoal into small pieces so that it fits into the charcoal bowl
2. (optional) If you have difficulty lighting up charcoal, use a binchotan starter pan. Put the charcoal into a binchotan starter pan, and then put this pan on the gas hob. Of course, you can still start the charcoal without using this kind of pan. But, with a pan, it is much easier and safe. A chimney starter is a good tool also and helps you light up the coals.
3. Allow the charcoal to rest for 10 minutes. It's ready when the charcoal turns a deep reddish-brown color, and there is ash. Binchotan charcoal doesn't really smoke much. 
4. Move the charcoal to your grill's charcoal pan or bowl. The coals can be left in the pan to continue burning. Due to the design of Shichirin and Konro, they don't need a lot of binchotan. If you use too much, you're just wasting this expensive coal.
5. Place the mesh grill grate on top of your konro, and once the grill mesh is heated, you can start cooking. You can also cook meat, fish, and veg, as well as warm-up sake, or place a pot and pan on top to cook other foods. 
6. Once you're done, you have to extinguish the coals. You should never wet the grill. So, when you finish cooking, move the charcoal to the extinguishing pot and put the lid on, and shut it out from the oxygen. You can get the extinguisher bucket on Amazon. 
What kind of charcoal do you use with a shichirin grill?
The answer is binchotan Japanese charcoal. It is a special type of charcoal that is whiter in color, it doesn't smoke as much and burns clean, so it gives the meat a better taste. 
Binchotan was traditionally used in Shichirin and is still popular today. This unique charcoal (also known as white charcoal) was created in Japan. Binchotan is one of the most valuable natural fuels on the planet. But, this makes it quite expensive because it's rare and comes from a special area of Japan.
This premium charcoal is extremely heat resistant and can reach temperatures up to 1000-1200 degrees C. It has an average carbon percent of 95-98%. It is still handmade from woods like Lychee, Maitiew, and Konia. The process takes over 9 days, hence the high cost. The result is premium-grade charcoal with a ceramic-like texture. It burns very long once ignited and produces little ash and odor.
The charcoal's high temperature allows for excellent results and the food to remain succulently tender. A small quantity of binchotan can be used to fuel the Shichirin for many hours. 
This is what Shichirin looks like
Here are a few photos to give you an idea of what a shichirin grill looks like: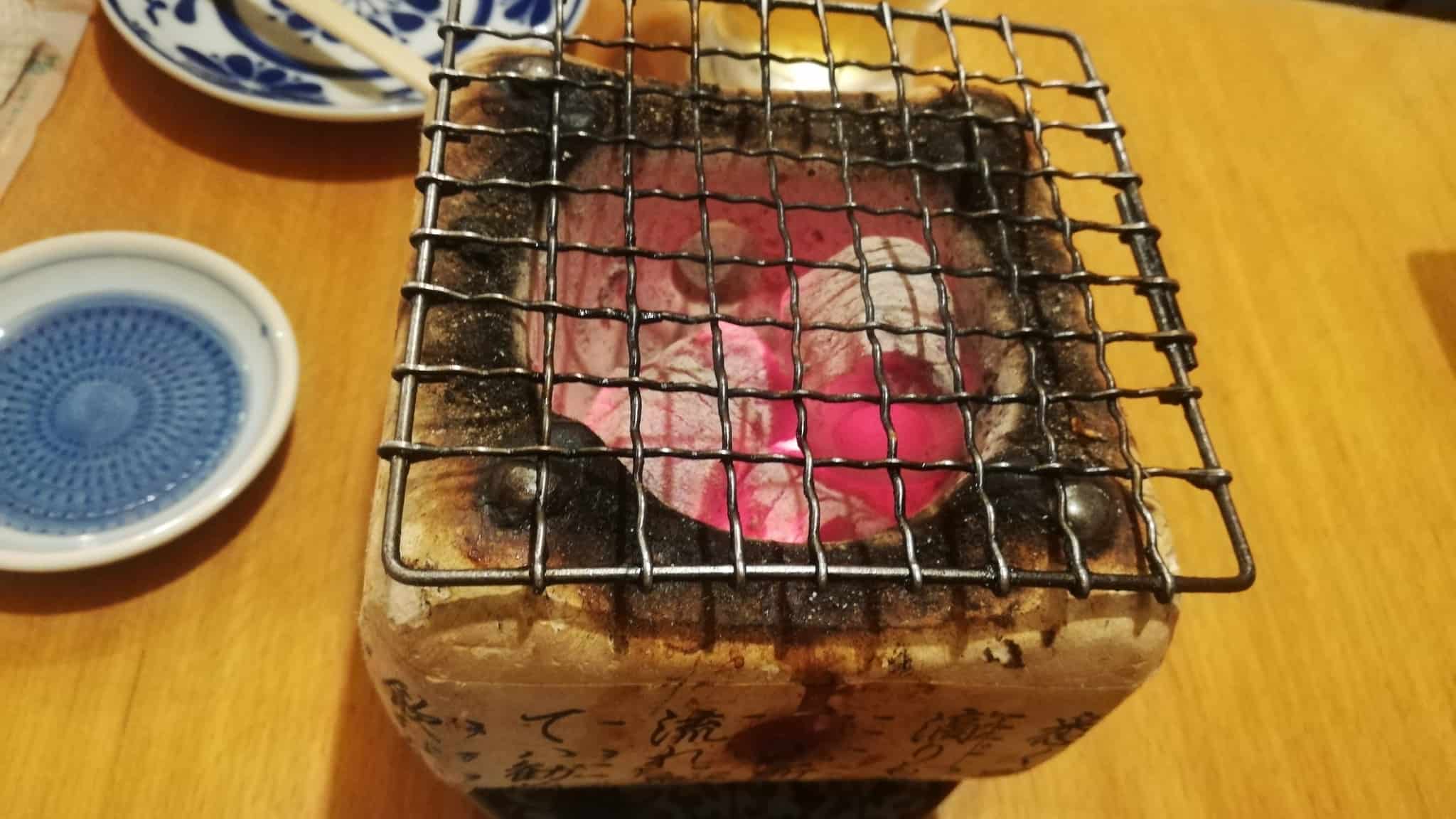 Shichirin vs. other types of Japanese grills
Shichirin vs. Hibachi
The Hibachi was originally intended to be used as a heating device in ancient Japanese homes.
Since it is small and lightweight, it was easy to carry and move around to wherever the user may need it in order to heat up a particular spot in his/her house.
Its basic design is mostly round and cylindrical, but sometimes it is made into a box shape, and binchotan charcoal is commonly used for these types of grills.
Hibachi comes in the traditional round porcelain form, as well as a rectangular shape made from cast iron, stainless steel, or aluminum.
The Hibachis that survived the times are now sold as high-value antiques and are made from ceramic materials which are also designed like China wares that have lacquered finish and intricate decorations on their surface.
These days, however, Hibachis are made of metal alloys on the exterior for strength and durability, while the interiors are lined with heat and fireproof materials, so they could accommodate superheated charcoal and be able to withstand extremely high temperatures.
Each Hibachi is sold with a pair of tongs for you to use when you place the charcoal inside for heating.
Traditionally, Hibachi in Japanese means "Charcoal Grill," which is used to heat homes during cold seasons; however, it is called a "Shichirin" once used as a cooking device.
In Western countries, people only know it as Hibachi as it was the term generally accepted since Shichirin is somewhat difficult to pronounce.
The Shichirin is a small, lightweight (approximately 2 – 5 lbs in weight) cooking stove that you can pick up, carry and move around to your cooking location preference.
The typical fuel for the Shichirin is charcoal, but you may use wood pellets and charcoal briquettes (please consult with experts as the level of doneness with your food may vary), and it can get pretty hot.
Looking back 400 years ago, dating back to the Edo Period in Japan, experts say that very little has changed in how Hibachis/Shichirins are made; therefore, modern Shichirins are roughly the same those in ancient times.
New Shichirin designs are made from melted diatomaceous earth, which is molded into the design pattern that Hibachi/Shichirin makers intend.
But not all Shichirins are made with this material as some types of Shichirins are made of ceramics and are double-sided and lined with insulating materials in between the ceramic sheets.
The basic design for the Shichirin is mostly cylindrical; however, squares and rectangular shapes are known to exist too!
Japan is famous for its indigenous exotic delicacies that are unique in this part of Asia, and like the Italians and the French people in Europe, the Japanese never disappoint when it comes to serving your great food selections.
While there is plenty of Japanese food to pick from (i.e., sashimi, tempura, ramen, sushi, etc.), grilled cuisines somehow always become the favorite of both locals and foreigners alike.
Grilling has become an age-old tradition in the country, and over time, there have been countless grill designs and charcoal-based cooking that were developed and have become very popular in Japan.
Shichirin vs. Konro
This compact and lightweight Japanese grill is a unique design grill lined with ceramic or aluminum casing and has a narrow rectangular top to keep food from falling into the charcoal fuel burning inside.
These days aluminum meshes are used to cover the top to prevent that from happening, and the box-shaped grill has been made a bit bigger as the issue with food falling into the box is a thing of the past.
Check out this post about Konro grills here
Shichirin vs. Irori
Perhaps the rarest among Japanese grills, the Irori is a type of open hearth that was cut out and dug through the floor of old Japanese houses.
You must suspend a kettle above the furnace of a burning binchotan charcoal below approximately 0.5 feet high to cook the food inside the kettle.
These days the Japanese no longer burrow through their floors, but instead, this sunken hearth is built on the floor of the house.
But you'll probably not find an Irori in any Japanese house these days, although some restaurants still have this kind of grill in their establishments.
Shichirin vs. Teppanyaki
Teppanyaki is the term used for any type of food that has been prepared or cooked from a teppan iron grill.
In the 20th century, when Westerners would frequently visit Japan, the restaurant's chefs would put on a show and prepare the food on the teppan right in front of their foreign guests.
With ingredients such as beef, shrimp, chicken, and vegetables used in a typical teppanyaki dish, its popularity spread quickly, and more and more tourists came to Japan just to try out this specific cuisine.
Today, however, people are more interested in newer recipes for teppanyaki, so they go to teppanyaki restaurants where really good chefs can create amazing delicacies.
When modern iron manufacturing was introduced in Japan, the teppan was also born.
Some Japanese culinary experts figured that an open iron cooktop or a flat iron skillet that's unusually larger than regular skillets allows them to cook multiple recipes in one large iron grill.
This is indeed more advantageous than the average grill, and they could grill meat, seafood, and vegetables simultaneously without having to change cookwares.
The teppan also birthed some of the most exotic and unique Japanese dishes in history!
Japanese Shichirin food
Yakitori and Yakiton
You could call them barbecue chicken and barbecue pork; however, they are not exactly like Western barbecue steak that puts preference on lean meat (which are mostly the animal's muscles and soft tissues).
No, these delicacies use every part of chicken and pork, even heart and intestines, all placed in skewers.
The Yakiton and Yakitori are cooked on a Konro or Shichirin over superheated over binchotan charcoal for several minutes until the outside of the meat becomes crispy while keeping the insides soft, tender and juicy.
Yakiniku
Adopted from the Korean-style barbecue, the Yakiniku has become a 100% Japanese-style barbecue with the beefsteak in bite-sized pieces, probably the most popular of them all, which have been marinated well in various delicious and spicy sauces and grilled over binchotan charcoal for several minutes in order to make it soft and juicy.
Sakana no Shioyaki
A seafood favorite among Japanese folks is the Sakana no shioyaki. If you season any type of fish with salt and grill it over charcoal heat, then it is called Sakana no shioyaki.
The most common types of fish used for this recipe are the ayu (sweetfish) and the saba (mackerel).
They are highly nutritious as fish are known to have high omega-3 fatty acids content, which is good for the heart.
Robatayaki
Robatayaki, which is often just referred to as "robata," is a way of cooking that originated in Hokkaido, the northernmost prefecture of Japan. 
The robata includes all kinds of seafood that are skewered and speared to the irori hearth when grilled.
Just select your preferred skewered seafood and pluck it out of the irori hearth, dip it in a hot and spicy or just regular sweetened sauce or soy sauce, and you'll be as happy as you can be.
Kabayaki
It is an original Japanese recipe where the main ingredients are fish and eel.
Both the fish and eel are stripped of their bones in order to make it easier for them to eat, then they are made into fillets and butterflied.
They are then marinated in a specially made soy-based sauce and cooked over charcoal until they become tender and crisp. They are best eaten with hot steamed rice.
Check out our teppanyaki buying guide for home grill plates and accessories.
FAQs
Do Japanese restaurants use a shichirin grill?
Most Japanese restaurants use a teppanyaki flat griddle when a chef cooks for the diners, seated around the table and grill.
But, when diners cook the food for themselves, they can also cook on a built-in hibachi-style grill. Most people know this kind of dining style as Korean BBQ. 
The shichirin, konro, and hibachi with the wire mesh are mostly used for home cooking and camping, though. 
Where do you need to travel for the best shichirin experience?
When you travel across Japan, you'll come across smaller specialty shichirin restaurants, and these are the best ones. 
In Kyoto, the best beef, Yakiniku, is made at Shichirin Yaki Kaneko. You sit around a table and a tabletop round shichirin grill on which you cook a variety of meats and vegetables. 
If you're visiting Osaka, you need to plan a visit to the local commercial Nipponbashi district. There, visit Shichirin Yakiniku An An Nihonbashi, one of the best restaurants because the food is great and prices are affordable. 
One of Tokyo's popular shichirin restaurants is Shichirin-Ya Asabu Juban because they serve delicious beef cuts you can cook on Binchotan coals. 
Can you use Shichirin inside? 
Yes, you can use the shichirin grill indoors. 
When using these grills outdoors, people can use regular black charcoal because that smokes a lot and really makes everything smell like barbecue.
However, you don't want to use regular charcoal inside the home, or your house will smell bad, and the fire alarms might go off!
Indoors, you want to use binchotan white charcoal only because it is mostly smokeless.
Also read: Can you use konro grills indoors? Here's why you shouldn't
Takeaway
When you buy any one of the six shichirin grills on my list to cook tasty foods, you'll be amazed at how easy it is to grill at home or outside in nature.
Whether it's labeled as a hibachi grill or konro, you can surely make tasty yakiniku on it that the whole family will love. 
The Puxing cast iron round shichirin is the ideal size for small groups, and it heats up evenly. You can make quick yakiniku with that delicious aroma of the binchotan. Once you get a taste, you'll be cooking with this grill all the time! 
But, if you think you want to cook for a large family, then you should invest in a ceramic grill like the NOTO DIA, which is large enough to cook lots of skewers, steaks, and veggies for yummy side dishes. 
Read next: This is how you light Japanese Charcoal | 3 easy steps and some tips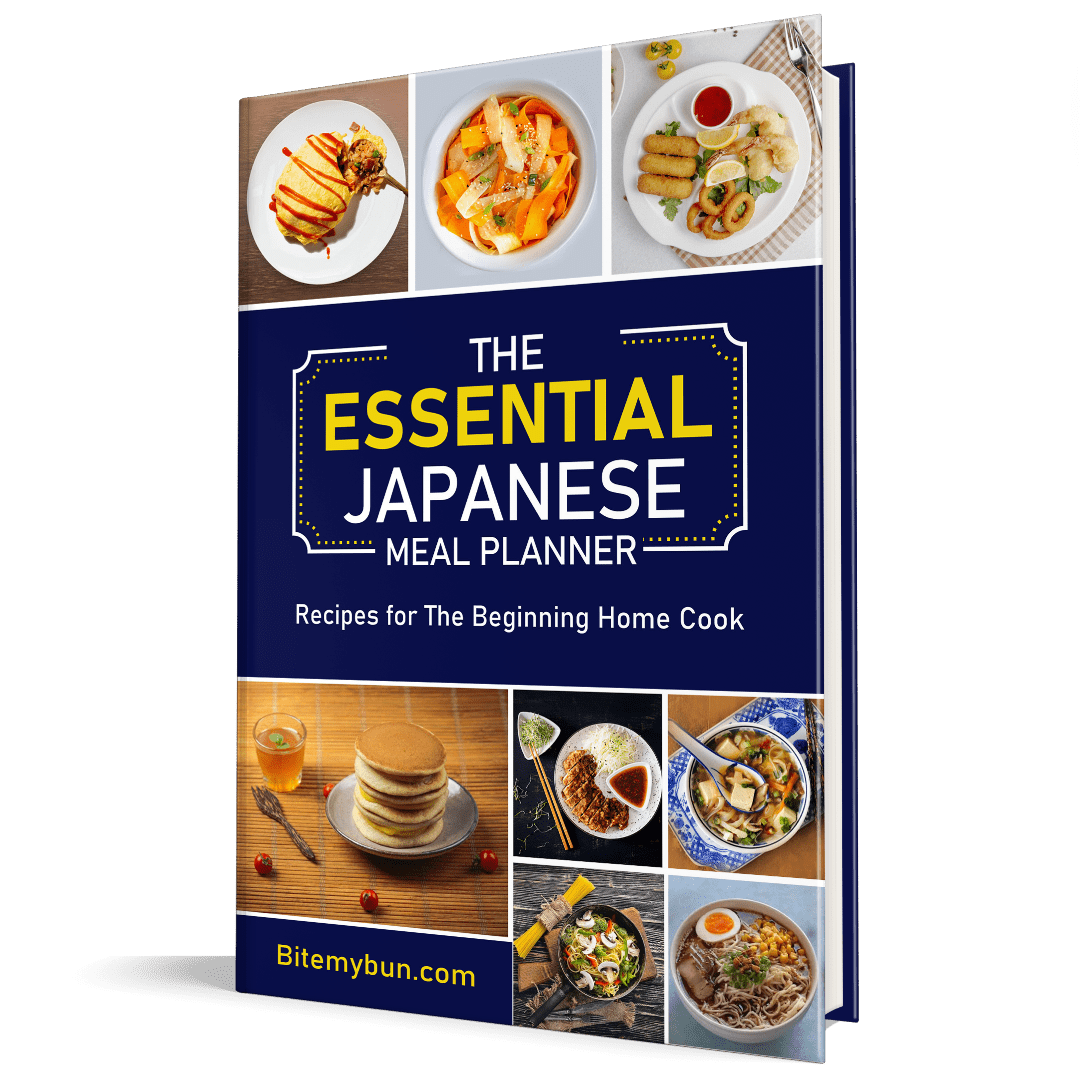 Check out our new cookbook
Bitemybun's family recipes with complete meal planner and recipe guide.
Try it out for free with Kindle Unlimited:
Read for free
Joost Nusselder, the founder of Bite My Bun is a content marketer, dad and loves trying out new food with Japanese food at the heart of his passion, and together with his team he's been creating in-depth blog articles since 2016 to help loyal readers with recipes and cooking tips.