I love creating free content full of tips for my readers, you. I don't accept paid sponsorships, my opinion is my own, but if you find my recommendations helpful and you end up buying something you like through one of my links, I could earn a commission at no extra cost to you.
Learn more
How did you enjoy cooking with your teppanyaki grill so far?
Were you able to cook great recipes?
Is it exactly how they are described to taste like? If so, then you're on your way to becoming an amateur chef yourself!
So cheer up and brace yourself for some more good stuff from us here are at Bite My Bun.com.
This time we're talking about the Shichirin Grill.
You can read on to find out what it is, what you can cook with it and a few of the best grills you can buy, or you can check out my favorite, this Son of Hibachi Shichirin grill here.
It's a great buy and easy to use with its foldable design.
This YouTube video shows how to prepare and grill food in the Son of Hibachi Charcoal Grill:
The good news is that the Japanese people knew that there are dozens of different ways to cook scrumptious meals and if you've been impressed by their teppanyaki iron griddle, then you'll also be amazed by the Hibachi "Shichirin" Grill!
Let's take a quick look at the top choices, and then I'll take a closer look at each of these.
I've tried quite a few and came up with a top 3 of my favorites:
Best Shichirin Grills Reviewed
The Hibachi was originally designed as a heating device and was mostly used by the upper-class citizens, aristocrats of Japanese society and the Samurai military of ancient feudal Japan.
As time went on this efficient design was spread into public markets and was eventually sold as both a heating device and charcoal grill.
Even in this day and age, you can still see ceramic Hibachi shichirin grills sold as a commodity.
It's also a popular item when it comes to festivals that are held outdoors during fall and winter times as well as the Japanese tea culture ceremony.
Best cheap shichirin grill: Son of Hibachi
One of the most innovative Shichirin designs available with easy to lock in place top parts and foldable design.
This is probably the most innovative Hibachi design to have been introduced to the market in a decade!
The Son of Hibachi Charcoal Grill is designed to be portable, easy to carry and be very fuel-efficient that get the grill hot and ready in about 7 – 10 minutes time without any hassles.
If you open it, then you'll have 170 inches2 of cooking space, but it's not the cooking space that's what is impressive about this Hibachi/Shichirin grill.
No, it's the way how charcoal is heated and how the designers discarded the grill lid altogether to come up with this very efficient design.
When preparing the grill all the parts are easily assembled and removed for cleaning. Place the coals on each side of the 2 halves of the grill and fold it up.
Secure the top part with the easy-to-remove lock and keep 2/3 of the top open, then use the bottom tray to start the fire with some barbecue firelighters.
Once you've heated up the grill like a chimney for 7 – 10 minutes, then you open it up and start grilling your favorite food.
Once done, fold it back up and place it inside the specially designed "Snuff Out Pouch" in order to extinguish the superheated coals and put out the fire by depriving it of oxygen (the Snuff Out Pouch comes only when you purchase the Combo Kit).
Pros
• Starting the fire to heat the charcoal is fairly easy
• Easy storage and deployment with its fold-up feature
• No need to wait for charcoal to cool down with its special snuff out pouch
• Easy to clean/self-cleaning (as claimed by the manufacturer)
Cons
• Beginners may find assembling and grilling with this grill a bit challenging
• Sometimes shipped out products are damaged or broken
Description
• Nickel-plated steel cooking grates with 170 inches2 of space
• Very lightweight at only 18 lbs.
• Cast iron cooking grates with adjustable height
• Enameled steel construction
• Small and lightweight enough for one hand-carry thanks to the fold-up design
• Lidless open grill design
• The fold-up chimney design compresses the air around the charcoal which makes it easier to burn it to high temperatures fast
• Made in China
Guide Review
Before the Son of Hibachi came along traditional designs Hibachi/Shichirin grills lined college dorm balconies and camping grounds all over the US, but when people discovered the existence of this amazing grill (which is kind of surprising as it has been around for years now), everyone suddenly preferred this lightweight and easy-to-carry Shichirin and discarded the older designs or sold it on eBay.
But while the design itself is cutting-edge and somewhat simplified some people still find it difficult to put the whole thing together.
There is also the issue of broken or damaged parts which contributes to the frustration of some customers, albeit small, but still that accounts for some 10% – 20% of the feedback and rating given to the grill brand by dissatisfied customers.
Some people may not want to invest $100 USD for the full kit (Combo Kit) upon hearing that some of the Son of Hibachi grills being delivered with damaged parts and had to be replaced or refunded.
This brings them to a decision crossroad whether or not to just buy a $45 USD worth of Hibachi/Shichirin grill that's made from reliable materials, instead of the Son of Hibachi grill.
Still, if you'll get lucky and end up owning a well-made Son of Hibachi grill that belongs to the 80% – 90% of people who say they did not get any manufacturing defects, well then, it should be a blessing!
It's amazing to have something other than your tabletop teppanyaki grill for a change.
You can buy the Son of Hibachi here on Amazon
Best traditional charcoal Shichirin: NOTO DIA Tabletop grill
Easy to carry tabletop Shichirin grill that is lightweight and budget-friendly and does what it's made for, although you do have a little less room for grilling multiple items at once.
It's actually rare to find a real Japanese Shichirin grill on the web to purchase as Westerners are more familiar with the grill, but if you look hard enough, you will find a few available for purchase – and they are quite beautifully crafted too!
The NOTO DIA Table -Top Shichirin Grill is actually made in Japan and comes with an ergonomic, energy-efficient and practical design with Japanese inscriptions all over its sides to accentuate that Japanese look and feel.
This Shichirin grill is made from diatomaceous earth and is lined with heat and fireproof materials, which makes it lightweight, safe and easy to carry.
It's great for both indoor and outdoor excursion, picnic or camping and it's well ventilated with four exhaust vents on each side it should give enough oxygen to the charcoal to burn consistently, while you grill your food.
Key Features
• Available in 5 sizes
• Traditional Japanese easy-to-carry clay charcoal stove that's also used in five-star restaurants.
• Made from sculpted diatomite than common molded ones makes it durable, better at thermal insulation and keeps its original structure intact.
• The diatomaceous earth is taken from Oku-Noto in Noto Prefecture
• A song from traditional Japanese Noh play "Makurajidou," is written on a printed washi paper which covers some of the external portions of this stove.
• Our Shichirin charcoal grills are all hand-made by local skilled Japanese craftsmen
Check out the latest price on Amazon
Most durable shichirin: Seny Japanese Ceramic grill
The most expensive of the three but it does offer a lot of room and another useful feature is the lowering door in front of the grill which allows you to add more oxygen or reduce them by taking them out of the fuel section without taking off the grates, which is a real hassle saver let me tell you.
There is no question that the Seny is one of the best Hibachi/Shichirin grills when it comes to its features.
It is understandable why some people will think twice when buying this grill as it comes with an expensive price tag for a medium-sized grill; however, a few things about this model is guaranteed to satisfy your needs when you talk about Hibachi/Shichirin charcoal grills.
The first point that one should notice is that it is one of the best Hibachi/Shichirin grills around that's made of durable ceramic material.
The ceramic helps the grill warm up evenly via conduction heat transfer and with adequate maintenance, the grill should last you a lifetime.
The second point to consider when purchasing this grill is that it has adjustable grates that allow you to grill your food at the appropriate distance that's recommended by experts.
You see the distance of the grates to the furnace will determine whether your food is well grilled or it gets burned.
The third crucial point on why you should buy the Seny is that it comes with additional design features that significantly improve the convenience of cooking.
The draft door, for instance, which is placed at the bottom of the grill help regulate airflow.
This is simple physics – more air means more oxygen and more oxygen means more heat and vice versa.
The small surface area of the grates is surprisingly enough to prepare food for 2 – 4 people with ease.
If you want a grill that's simple and easy to set up, gives great flavor to your food and almost does not malfunction since it has no mechanical parts, then the Seny is for you!
It's also very durable and will give you more for your money's worth.
Check prices and availability here
What does Shichirin mean?
七輪, or Shichirin is a small portable grill from Japan. The Japanese have been using grills like these as far back as the Edo period which is 1603 AD. A Shichirin grill is made out of clay or ceramic. The Shichirin is called that way when people stop using it as a Hibachi – this is the one difference that Westerners often get wrong most of the time.
However, it wasn't the foreigners who thought about using the Hibachi as a device to grill food, no, it was the Japanese peasants during the Edo period, and boy were they right!
So essentially the Shichirin is a Hibachi used for cooking and no longer for heating homes, but the two are interchangeable nowadays. So it's really not that big of a deal anymore.
Shichirin photos
Here are a few photos to give you an idea of what a shichirin grill looks like: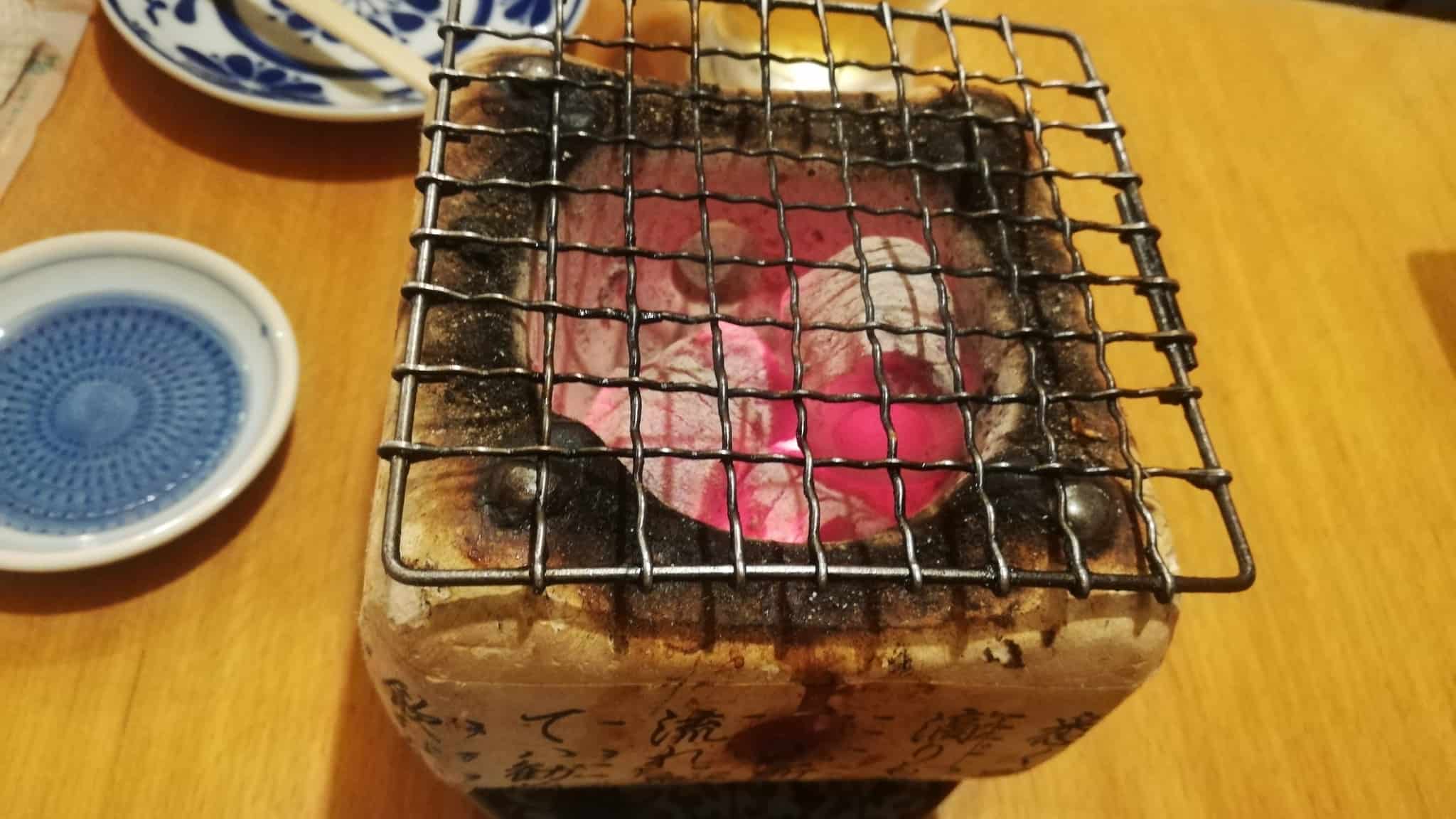 Shichirin vs other types of Japanese grills
Shichirin vs Hibachi
The Hibachi was originally intended to be used as a heating device in ancient Japanese homes.
Since it is small and lightweight it was easy to carry and move around to wherever the user may need it in order to heat up a particular spot in his/her house.
Its basic design is mostly round and cylindrical but sometimes it is made into a box-shape and binchotan charcoal is commonly used for these types of grills.
Hibachi comes in the traditional round porcelain form, as well as a rectangular shape made from cast iron, stainless steel or aluminum.
The Hibachis that survived the times are now sold as high-value antiques and are made from ceramic materials which are also designed like China wares that have lacquered finish and intricate decorations on its surface.
These days, however, Hibachis are made of metal alloys on the exterior for strength and durability, while the interiors are lined with heat and fireproof materials, so it could accommodate superheated charcoal and be able to withstand extremely high temperatures.
Each Hibachi is sold with a pair of tongs for you to use when you place the charcoal inside for heating.
Traditionally, Hibachi in Japanese means "Charcoal Grill," which is used for heating homes during cold seasons; however, it is called a "Shichirin" once it is used as a cooking device.
In Western countries, people only know it as Hibachi as it was the term generally accepted since Shichirin is somewhat difficult to pronounce.
The Shichirin is a small lightweight (approximately 2 – 5 lbs in weight) cooking stove that you can pick up, carry and move around to your cooking location preference.
The typical fuel for the Shichirin is charcoal, but you may use wood pellets and charcoal briquettes (please consult with experts as the level of doneness with your food may vary), and it can get pretty hot.
Looking back 400 years ago dating back to the Edo Period in Japan experts say that very little has changed in the way Hibachis/Shichirins are made, therefore modern Shichirins are roughly the same as those in ancient times.
New Shichirin designs are made from melted diatomaceous earth which is molded into the design pattern that Hibachi/Shichirin makers intend.
But not all Shichirins are made with this material as some types of Shichirins are made of ceramics and are double-sided and lined with insulating materials in between the ceramic sheets.
The basic design for the Shichirin is mostly cylindrical; however, squares and rectangular shapes are known to exist too!
Japan is famous for its indigenous exotic delicacies that are unique in this part of Asia and like the Italians and the French people in Europe, the Japanese never disappoint when it comes to serving your great food selections.
While there is plenty of Japanese food to pick from (i.e. sashimi, tempura, ramen, sushi, etc.) grilled cuisines somehow always become
the favorite of both locals and foreigners alike.
Grilling has become an age-old tradition in the country and over time there have been countless grill designs and charcoal-based cooking that were developed and have become very popular in Japan.
Here are some of the Famous Japanese grills to acquaint yourself with:
Shichirin vs Konro
This compact and lightweight Japanese grill is a unique design grill that is lined with ceramic or aluminum casing and has a narrow rectangular top in order to keep food from falling into the charcoal fuel burning inside.
These days aluminum meshes are used to cover the top to prevent that from happening and the box-shaped grill has been made a bit bigger as the issue with food falling into the box is a thing of the past.
Check out this post about Konro grills here
Shichirin vs Irori
Perhaps the rarest among Japanese grills, the Irori is a type of open hearth that was cut out and dug through the floor of old Japanese houses.
You must suspend a kettle above the furnace of a burning binchotan charcoal below at approximately 0.5 feet high in order to cook the food inside the kettle.
These days the Japanese no longer burrow through their floors, but instead, this sunken hearth is built on the floor of the house.
But you'll probably not find an Irori in any Japanese house these days, although there are still some restaurants that have this kind of grill in their establishments.
Shichirin vs Teppanyaki
Teppanyaki is the term used for any type of food that has been prepared or cooked from a teppan iron grill.
In the 20th century when Westerners would frequently visit Japan the restaurant's chefs would put on a show and prepare the food on the teppan right in front of their foreign guests.
With ingredients such as beef, shrimp, chicken, and vegetables used in a typical teppanyaki dish its popularity spread quickly, and more and more tourists came to Japan just to try out this specific cuisine.
Today, however, people are more interested in newer recipes for teppanyaki, so they go to teppanyaki restaurants where there are really good chefs that can create amazing delicacies.
When modern iron manufacturing was introduced in Japan, the teppan was also born.
Some Japanese culinary experts figured that an open iron cooktop or a flat iron skillet that's unusually larger than regular skillets allows them to cook multiple recipes in one large iron grill.
This is indeed more advantageous than the average grill and they could grill meat, seafood, and vegetables simultaneously without having to change cookwares.
The teppan also birthed some of the most exotic and unique Japanese dishes in history!
Japanese shichirin food
Yakitori and Yakiton
You could call them barbecue chicken and barbecue pork; however, they are not exactly like Western barbecue steak that puts preference on lean meat (which are mostly the animal's muscles and soft tissues).
No, these delicacies use every part of chicken and pork even heart and intestines all placed in skewers.
The Yakiton and Yakitori are cooked on a Konro or Shichirin over superheated over binchotan charcoal for several minutes until the outside of the meat becomes crispy while keeping the insides soft, tender and juicy.
Yakiniku
Adopted from the Korean-style barbecue, the Yakiniku has become a 100% Japanese-style barbecue with the beefsteak in bite-sized pieces probably the most popular of them all, which have been marinated well in various delicious and spicy sauces and grilled over binchotan charcoal for several minutes in order to make it soft and juicy.
Sakana no Shioyaki
A seafood favorite among Japanese folks is the Sakana no shioyaki. If you season any type of fish with salt and grill it over charcoal heat, then it is called Sakana no shioyaki.
The most common types of fish used for this recipe are the ayu (sweetfish) and the saba (mackerel).
They are highly nutritious as fish are known to have high omega-3 fatty acids content which is good for the heart.
Robatayaki
Robatayaki, which is often just referred to as "robata", is a way of cooking that originated in Hokkaido, the northernmost prefecture of Japan. 
The robata includes all kinds of seafood that are skewered and speared to the irori hearth when grilled.
Just select your preferred skewered seafood and pluck it out of the irori hearth, dip it in a hot and spicy or just regular sweetened sauce or soy sauce and you'll be as happy as you can be.
Kabayaki
It is an original Japanese recipe where the main ingredients are fish and eel.
Both the fish and eel are stripped of their bones in order to make it easier for them to eat, then they are made into fillets and butterflied.
They are then marinated in a specially made sauce that's soy-based and is cooked over charcoal until they become tender and crisp. They are best eaten with hot steamed rice.
Check out our teppanyaki buying guide for home grill plates and accessories.
Every month new cooking tips in your email?
Japanese recipes, cooking tips and more with the first email our FREE mini-recipe guide "Japanese with ease"
Joost Nusselder, the founder of Bite My Bun is a content marketer, dad and loves trying out new food with Japanese food at the heart of his passion, and together with his team he's been creating in-depth blog articles since 2016 to help loyal readers with recipes and cooking tips.