12 best ramen substitute choices | Vegan and gluten-free options
I love creating free content full of tips for my readers, you. I don't accept paid sponsorships, my opinion is my own, but if you find my recommendations helpful and you end up buying something you like through one of my links, I could earn a commission at no extra cost to you.
Learn more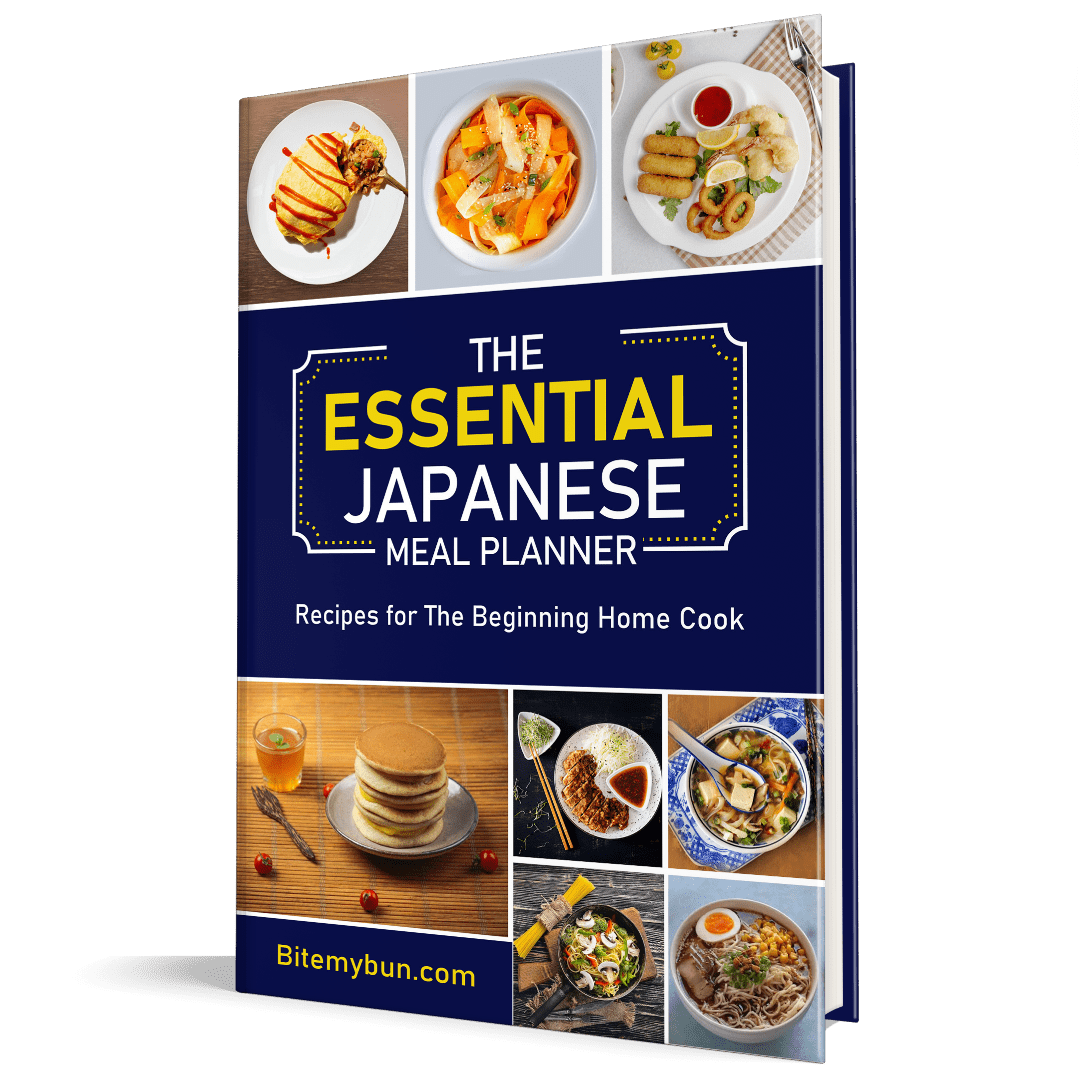 Check out our new cookbook
Bitemybun's family recipes with complete meal planner and recipe guide.
Try it out for free with Kindle Unlimited:
Read for free
Ramen noodles are one of the most popular noodles varieties in Asia and North America.
In Japanese, the term "ramen" means "pulled". These noodles are made from wheat flour, egg, and kansui water.
They're usually sold dry, fresh, and even frozen. But (instant) dry ramen is most popular, as it's sold in convenient packets or styrofoam cups.
Unfortunately, ramen has a bad reputation because the noodles contain high amounts of sodium and MSG in some cases.
Therefore, many people look for alternatives and healthier substitutes for ramen noodles.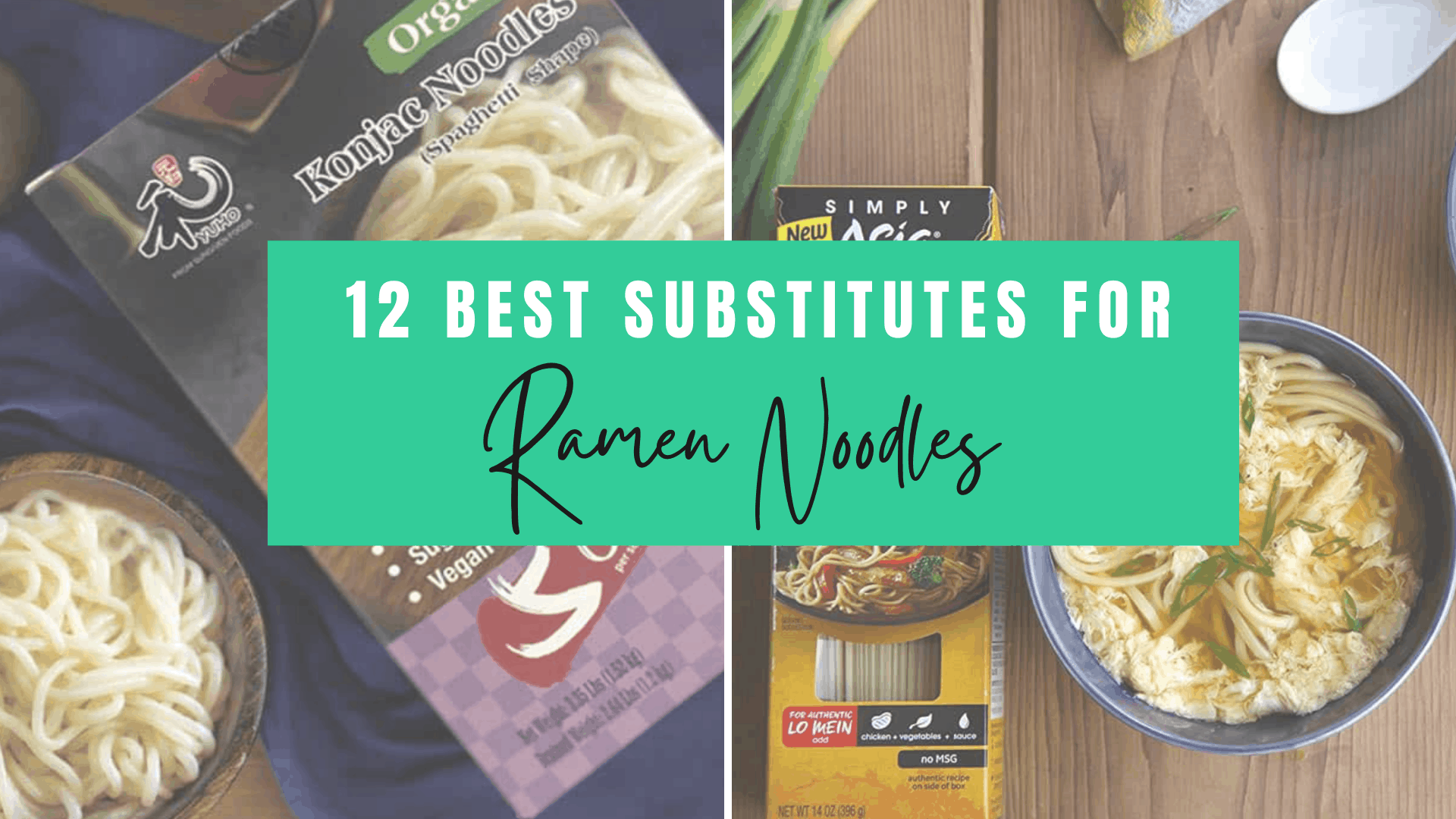 The best ramen noodle substitutes have to be slurpable, chewy, and springy in texture.
Therefore, the best substitute for ramen is any type of air-dried egg noodles with a similar flavor and texture, such as Chinese egg noodles, which come in many varieties.
A healthy Japanese alternative to ramen noodles is udon noodles because they're made of similar ingredients: wheat flour, salt, and water, but without egg, so they're vegan. Udon is thicker, with a chewy texture, and goes well with soups, just like ramen.
The best gluten-free substitute for ramen is soba noodles, which are made of buckwheat and have a similar thickness to ramen.
In this post, I'm sharing a lengthy list of tasty ramen substitutes, including egg noodles, healthy noodles, vegan options, and even the best gluten-free varieties.
Keep reading to find out more about each option!
10 Tips to Save a Bundle on Asian Ingredients!
Introducing our brand new FREE PDF guide: "Saving Secrets: Unveiling the Art of Saving Money on Asian Ingredients" It's your first newsletter email, so start saving today! 📚🧧
We'll only use your email address for our newsletter and respect your privacy
What is ramen and what does it taste like?
Did you know that ramen is originally a Chinese noodle? However, it's now most popular in Japan.
In Korea, it's called ramyeon, and it's a savory, brothy dish.
Some people will say that ramen tastes like a chewy plain noodle. But the truth is that ramen is more complex than that basic definition!
Ramen has a strong, chewy texture, and it's commonly squiggly, but there are straight varieties too. When buying instant noodle packets, you'll notice it's not straight pasta like spaghetti.
Ramen is famous for its springy and slurpable texture, so it's best known as being a broth noodle.
Ramen is slurpable because it's made with a mix of high-protein and high-gluten flour.
The flavor is savory, and that's a result of kansui. This "kansui" refers to alkaline water or the alkaline elements added to the wheat flour and egg.
Alkaline elements make the noodles have a slightly salty and savory flavor.
Fresh ramen contains eggs, but dried ramen might not. That's especially true for those 99-cent ramen packets.
Also read: Are ramen noodles fried? Instant ramen is; here's why
Top pick ramen noodle substitutes
Alright, so you're looking to replace ramen and wondering what to use. Here are my favorite ramen noodle substitutes!
Chinese egg noodles
Chinese egg noodles are often used as a ramen or udon substitute. They're made with egg and wheat flour, and usually have a yellow color.
Some varieties, like Hong Kong egg noodles, are much thinner than regular egg noodles.
Just like ramen, all varieties of egg noodles have a springy texture and are firm. Some egg noodles also contain alkaline elements, just like ramen, so there's not much difference tastewise.
You can use the egg noodles to make stir-fries too. But they have a pleasantly chewy texture, which is ideal for ramen!
Wonton noodles
Some egg noodles are used exclusively for brothy soups. Known as wonton noodles, these egg noodles are a type of pasta made from wheat flour and egg.
But don't be confused; not all egg noodles are wonton noodles.
Wonton noodles are made explicitly for wonton dumplings soup. So they have a similar texture to ramen.
Usually, egg noodles are best served fresh and have a yellow color. The noodles are available in thin and thick varieties, depending on what dish they're used for.
The reason why egg noodles are the best ramen substitute is because of the flavor, which is very similar.
Wonton noodles are sometimes packaged like ramen in small packets and sold as a type of instant soup.
Chow mein noodles
Chow mein noodles are also called Hong Kong-style pan-fried noodles. They're very thin and already par-cooked, so they're also great for making stir-fries.
When fried, the noodles become very crispy. However, if you're out of ramen, you can boil them and use them as a substitute.
Just be careful because they cook in under 1 minute. So you need to dip them into boiling water for about 50 seconds and then add them to the ramen broth.
Lo mein noodles
Lo mein egg noodles are the thick alternative to chow mein. They're thicker than ramen noodles but have a similar savory taste.
Although less springy than other noodles, they absorb broth well. So if you want to make thick ramen with eggs and vegetables, the thicker lo mein noodles pair well.
These noodles take about 3 to 5 minutes to cook and taste great when left in ramen broth!
Spaghetti
Turning spaghetti into ramen is impossible, but you can improve spaghetti to give it that unique chewy and savory flavor and texture.
The secret is baking soda. Think of it as the pasta hack that turns Italian pasta into an Asian-style noodle!
The problem with spaghetti is that it's a straight, long pasta without the classic savory flavor of ramen.
When you cook spaghetti noodles, add 1 tablespoon of baking soda. This makes the pasta water alkaline and makes the pasta taste similar to ramen noodles.
When you add baking soda, the pasta becomes springier (just like ramen) and takes on a similar yellow color.
Somen
Sōmen (素麺,そうめん) is a type of long white Japanese noodle and is very similar to ramen.
Like ramen, somen noodles are also made of wheat flour; however, they're thinner (about 1 mm in thickness) and they tend to stick together like angel hair pasta.
Also, they're white in color, whereas ramen is yellowish.
The reason why somen is one of the best Japanese ramen substitutes is that it's also air-dried and has a similar texture once added to ramen broth.
Healthier ramen noodle substitutes
Ramen noodles aren't very healthy or nutritious. They lack fiber and other important proteins, so they're basically full of carbs and sodium.
But if you love to eat ramen and don't want to give up this quick dish, then you can use a healthy vegan substitute called udon noodles.
Udon noodles (vegan)
I love udon noodles because they're egg-free, vegan, and have a great chewy and springy texture like ramen.
Usually, udon noodles are made of 2 basic ingredients: wheat flour and water. So most people can eat them, and they're a great alternative for ramen.
But what makes this such a close match to ramen is the slurpability of udon. Just like ramen, you have to take long slurps to get them all into your mouth!
It's no wonder udon soup is also very popular. There's something about slurpy noodle broths that makes them irresistible.
In Japan, udon is the "down-to-earth" noodle that people use to make comfort foods.
Read more about Ramen vs. udon noodles | Comparing flavor,use, taste, cooking time, brands
Gluten-free ramen noodles substitutes
There are so many Asian noodle varieties out there. The good news is that there are a whole bunch of gluten-free ramen substitutes.
So if you're gluten intolerant or simply don't like ramen, then why not give these a try?
Rice noodles
Rice noodles are a type of very thin translucent Vietnamese noodle. You'll also see them labeled as vermicelli.
They're made of rice flour and look like glass noodles. They're not quite like ramen noodles, but they're healthier. The texture of rice noodles is slippery and not springy.
Usually, rice noodles are used for pad thai or pho (Vietnamese soup). But they're a good fit for ramen broth too, as they absorb the tasty flavors of the liquid.
Soba noodles (buckwheat noodles)
Think of soba noodles as Japan's best healthy noodles. Authentic soba is made from buckwheat flour only, but some cheaper varieties also contain wheat flour, so be careful and read the label.
Soba noodles are used to make cold soba dishes and stir-fries. But they're also commonly used to make hot soups, so you can add them to ramen broth.
Soba noodles have a similar thickness to ramen noodles, but they're even more slurpable.
In terms of flavor, it's not quite the same savoriness because you can taste the buckwheat. Soba noodles are also brown in color.
Glass noodles
Glass noodles are translucent noodles made from either mung bean or sweet potato starch. Some people also call them cellophane noodles because they're very thin and look like long glass threads.
These noodles are almost flavorless and plain. But combined with a savory ramen broth, they taste great!
What makes them so similar to ramen is that they have the same springy texture.
Shirataki noodles
Shirataki noodles aren't only gluten-free, but they're also low carb and keto-friendly. Therefore, they're a healthy alternative to ramen noodles.
Shirataki noodles, also called konjac noodles, are made from yam starch. They're known for being very chewy and springy, so they're a good alternative to ramen.
When cooking these noodles, though, you have to wash and soak them beforehand because they have a strong odor. Their flavor is very mild, so they're very similar to ramen.
Kelp noodles
Kelp noodles are full of healthy nutrients. If you don't mind a bit of sea taste, you can use kelp noodles instead of ramen.
These noodles are so much healthier because they contain lots of calcium, iron, iodine, and vitamin K. As a bonus, kelp noodles are also low-fat and diet-friendly!
The noodles are very chewy, and you can cook them or eat them raw. Simply pour the ramen broth over them and get ready to eat.
These are the best no-cook option if you're in a hurry.
Learn more about the benefits of kombu, wakame, and kelp, and how to use them
Can you use any noodles for ramen?
When you're out of ramen noodles, you can actually use almost any type of Asian-style noodles. You can use fresh, dried, or frozen noodles to make a bowl of hot ramen.
The best way to make ramen is to cook the noodles separately and then add them to the broth with veggies and toppings.
Again, I recommend using egg noodles to copy that ramen texture, but realistically, you can use any noodles you prefer. You might have to sacrifice some of that chewy and springy texture though.
Explore these ramen substitute options
No ramen noodles at home? No problem. Grab any noodles you have on hand, add savory broth, and prepare to eat yummy comforting soup!
The bottom line is that you can use almost all types of noodles. Luckily, you can find all kinds of healthy, low-fat, vegan, and gluten-free options on Amazon and in grocery stores.
Learn more: 8 different types of Japanese noodles (with recipes)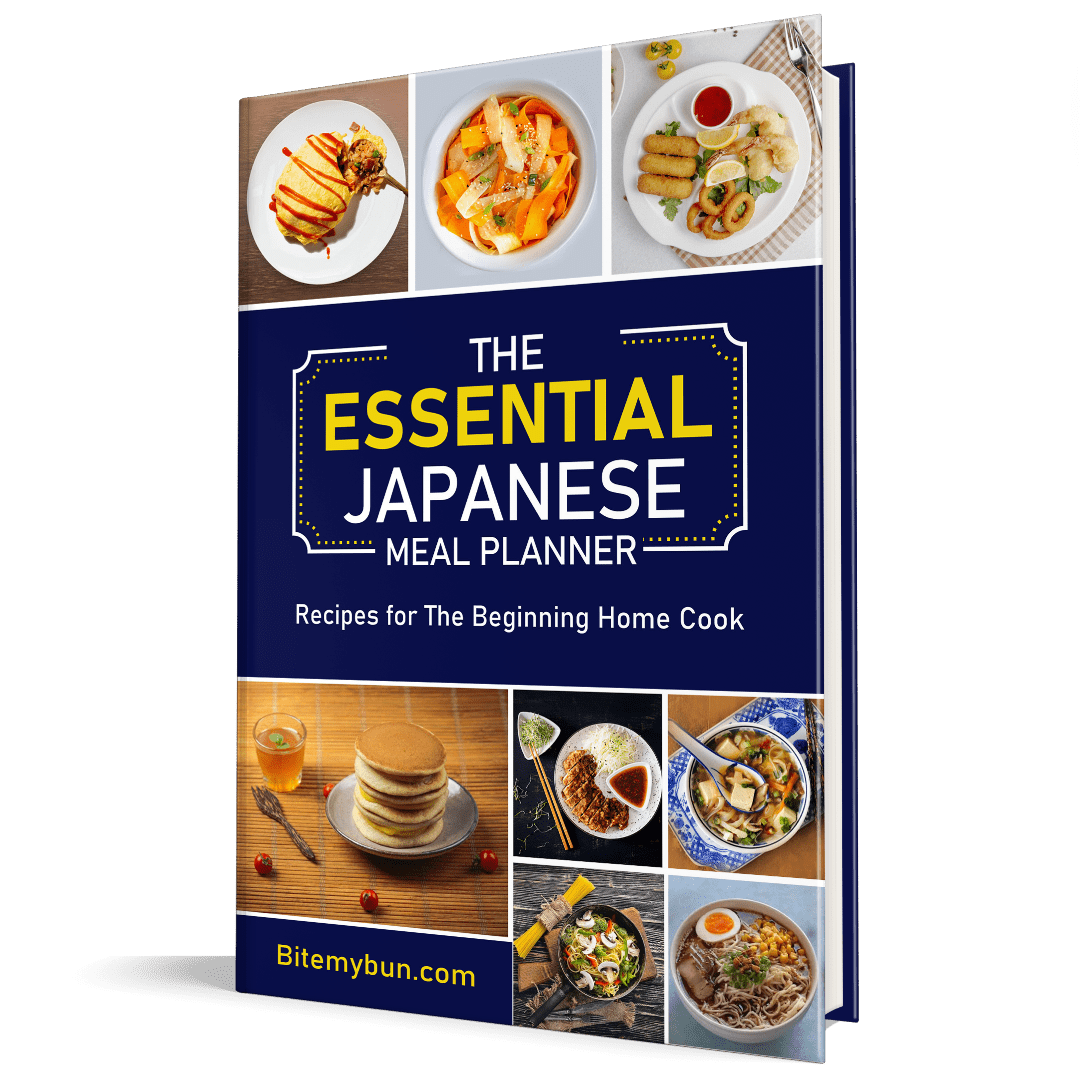 Check out our new cookbook
Bitemybun's family recipes with complete meal planner and recipe guide.
Try it out for free with Kindle Unlimited:
Read for free
Joost Nusselder, the founder of Bite My Bun is a content marketer, dad and loves trying out new food with Japanese food at the heart of his passion, and together with his team he's been creating in-depth blog articles since 2016 to help loyal readers with recipes and cooking tips.