I love creating free content full of tips for my readers, you. I don't accept paid sponsorships, my opinion is my own, but if you find my recommendations helpful and you end up buying something you like through one of my links, I could earn a commission at no extra cost to you.
Learn more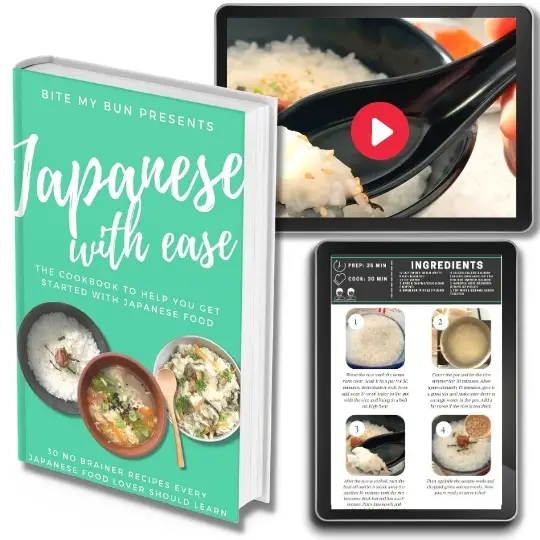 Ever had trouble finding Japanese recipes that were easy to make?
We now have "cooking Japanese with ease", our full recipe book and video course with step-by-step tutorials on your favorite recipes.
Ok, so today I was craving some miso soup and I wanted to add some noodles to it to make it more of a full lunch for today.
I also decided to look at some vegan options for you vegans out there because normally there's dashi in miso soup and I found a way to create some vegan dashi to add to the miso soup.
Make the cold brew vegan dashi and just add some
and you're done!
Delicious vegan miso soup
Ok, so this is what we're going to be making, a nice and vegan miso soup.
These are all of the ingredients that you'll need:
Let's get into the recipe!
Vegan miso soup with noodles
A very easy and delicious miso soup with vegan dashi. Added some noodles to make it a full lunch.
Equipment
Mason jar or another container for the dashi
Ingredients  
Vegan dashi
4

dried

shiitake mushrooms

1

sheet

kombu

2

cups

water
Miso soup
1

bundle

ramen noodles

2

tbsp

miso paste

1

stalk

green onions

1

hand

dried wakame
Instructions 
Vegan dashi cold brew
Let's first make the vegan dashi: you'll need two cups of water, four dried shiitake mushrooms, and one long piece of kombu seaweed.

This is enough for around four people, four servings of soup but making less than this will be hard to soak the kombu in.

Now soak the mushrooms and seaweed in water for 30 minutes in a jar or a bowl. I use a mason jar for this.

You can soak them for 12 hours in the fridge for more flavorful results. I definitely recommend doing that.

After the dashi has had time to soak, open the jar and pinch the mushrooms to get all of their flavors out then remove the mushrooms and the seaweed from the water and throw them away or use them in another recipe or in this case in this miso soup.

Now strain your stock by pouring the liquid through a fine strainer and remove any pieces of debris you see floating in it with a spoon now keep this stock in the fridge for no more than three days.
Miso soup
Ok, now in the meantime let's cook some water and then boil our ramen noodles in it. Just follow the package. It's usually around eight minutes or so, and while that's boiling we can also start making our miso soup base.

Just put the dashi broth on in a small pan and then add the shiitake mushrooms to it.

You want to boil them for a few minutes then, when it's boiling, you can also add your miso paste to it.

So now you have a nice miso dashi base broth. Just stir it a little so all the miso gets absorbed in the water then just let it stand for a few minutes.

Give it some time to boil for a few minutes then scoop out the shiitake mushrooms, they're done and you can cut them later.

Now let's cut the green onion into small pieces. You can add those to the bowl, then add in your dried wakame seaweed, some noodles (they can be cold), and then you just pour over your hot miso soup.

Then cut your mushrooms and add one or two to your bowl and give it a little stir, and there's your soup!
If you liked the recipe, please leave a comment on my Youtube channel, because that would help me out a lot. And that's where I'm most active, I try to reply to every one of your comments.
Is Miso Soup Vegan or Vegetarian?
Miso soup gets its name from the miso paste used in making it. While miso paste is made from fermented soybeans and thus is vegan/vegetarian-friendly, another key ingredient makes the traditional preparation of this soup not vegan or vegetarian.
Dashi is the traditional stock for miso soup. The most common recipes for dashi include fish stock or dried fish.
However, dashi can be made vegan, so you can still enjoy delicious miso soup! If you're eating out, check with the restaurant to see which stock they use.
How Can I Make Vegan or Vegetarian Substitutes in My Miso Soup?
Since the only ingredient in traditional miso that may not be vegan is the dashi, here are some tips for making fish-free dashi that will still give you umami and a briny flavor, which are crucial in good miso soup.
When making your dashi, be sure to use seaweed or kelp (kombu). This will provide the salty, briny flavor expected from the fish without requiring actual seafood. Dried seaweed flakes will also make a delicious garnish on top of your completed soup.
Include dried mushrooms. Mushrooms will give your soup the umami flavor that is so important for this dish. Dried shiitake mushrooms are an excellent choice for this option.
Try daikon radishes. Daikon radishes will provide umami and also enhance the umami of any other ingredients you use, such as shiitake mushrooms. These radishes also come in a variety of colors which will add vibrance to your soup.
Make your dashi with carrot peels. Carrot peels are rich in umami and also will provide some sweetness to your Miso soup. Carrot peels are also rich in nutrients, so they make a great addition to your dashi stock. Pair them with kelp or seaweed to match brine and umami in a nutrient-packed, vegetarian-friendly dish.
What Else Can I do to Enrich my Vegan Miso Soup?
Don't forget to load up on delicious vegetables. Miso soup can be made with very few additions or lots of vegetables. If you want a nutrient-packed dish, add root vegetables like carrots and radishes.
Green onions add excellent flavor and color to the dish, so they are perfect to add or to sprinkle on as a garnish.
Other delicious additions to your miso soup can make it stand out. Miso soup frequently uses tofu, and it will boost the protein level of your dish.
Noodles or zoodles add a different texture and heartiness to the soup. Enjoy!
Also check out everything on how long dashi will keep after you've made a batch here
And don't worry if you don't have all of the ingredients at hand. If you're preparing this in advance, you can easily get them online.
These are my favorite brands, I always check the lowest prices for the ingredients I use:
Shiitake

(view more images)
Dried kombu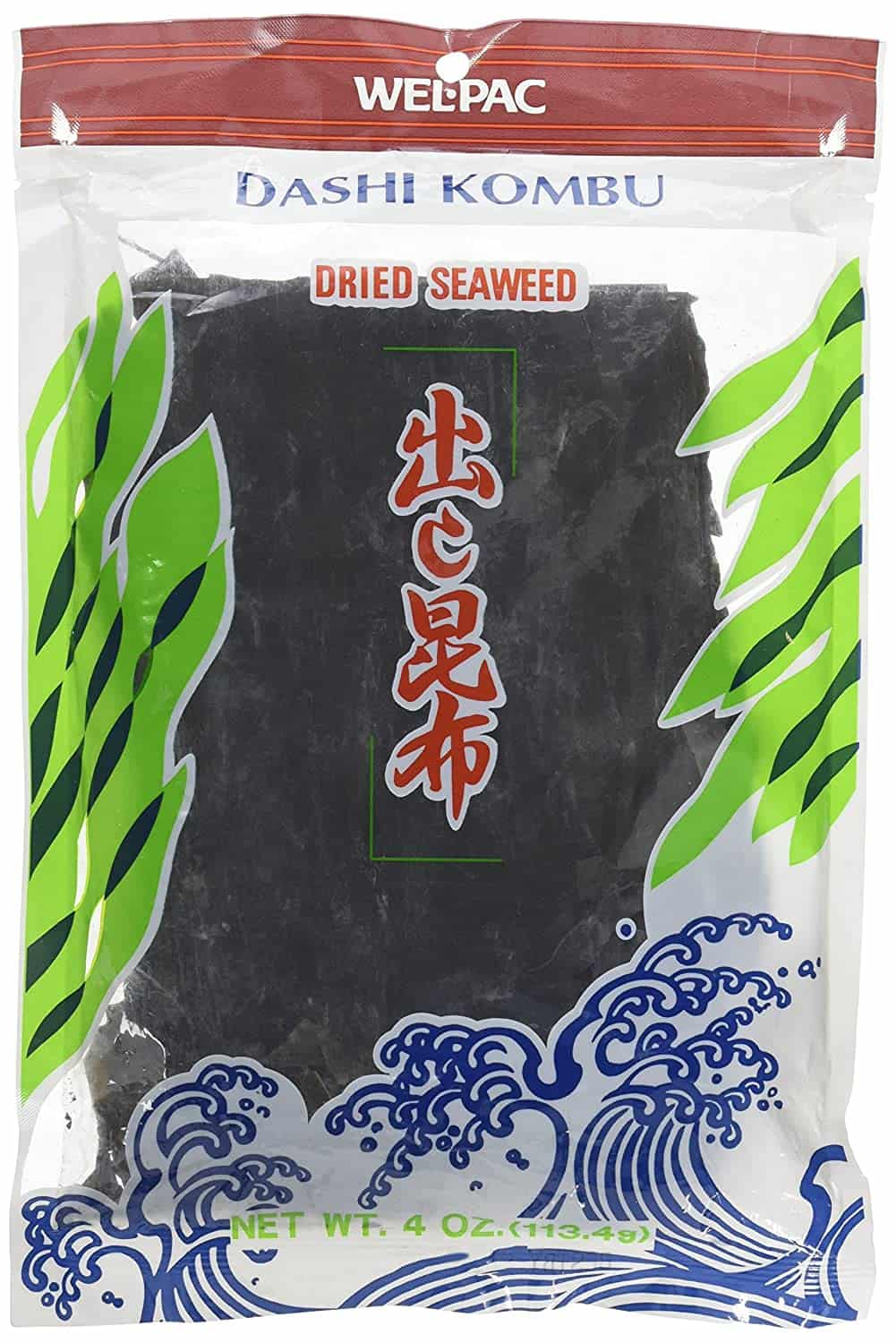 (view more images)
Miso paste
Otherwise, we've got some excellent substitutes for some of these that might help:
Ok, so that's it. I hope that you'll enjoy it as much as I did making it and of course, eating it for my lunch.
I also have another recipe for you. It's even easier to make miso soup with a pre-packaged miso base and pre-packaged miso ingredients and all of the dried ingredients that you'll need.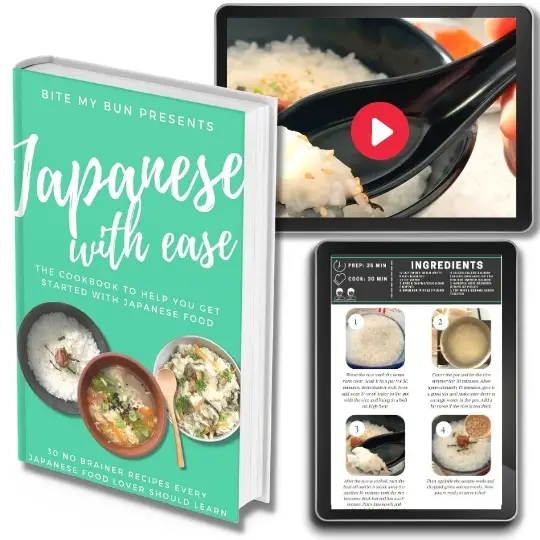 Ever had trouble finding Japanese recipes that were easy to make?
We now have "cooking Japanese with ease", our full recipe book and video course with step-by-step tutorials on your favorite recipes.
Joost Nusselder, the founder of Bite My Bun is a content marketer, dad and loves trying out new food with Japanese food at the heart of his passion, and together with his team he's been creating in-depth blog articles since 2016 to help loyal readers with recipes and cooking tips.