Make this mild Japanese beef curry if you can't handle spicy Indian curry
I love creating free content full of tips for my readers, you. I don't accept paid sponsorships, my opinion is my own, but if you find my recommendations helpful and you end up buying something you like through one of my links, I could earn a commission at no extra cost to you.
Learn more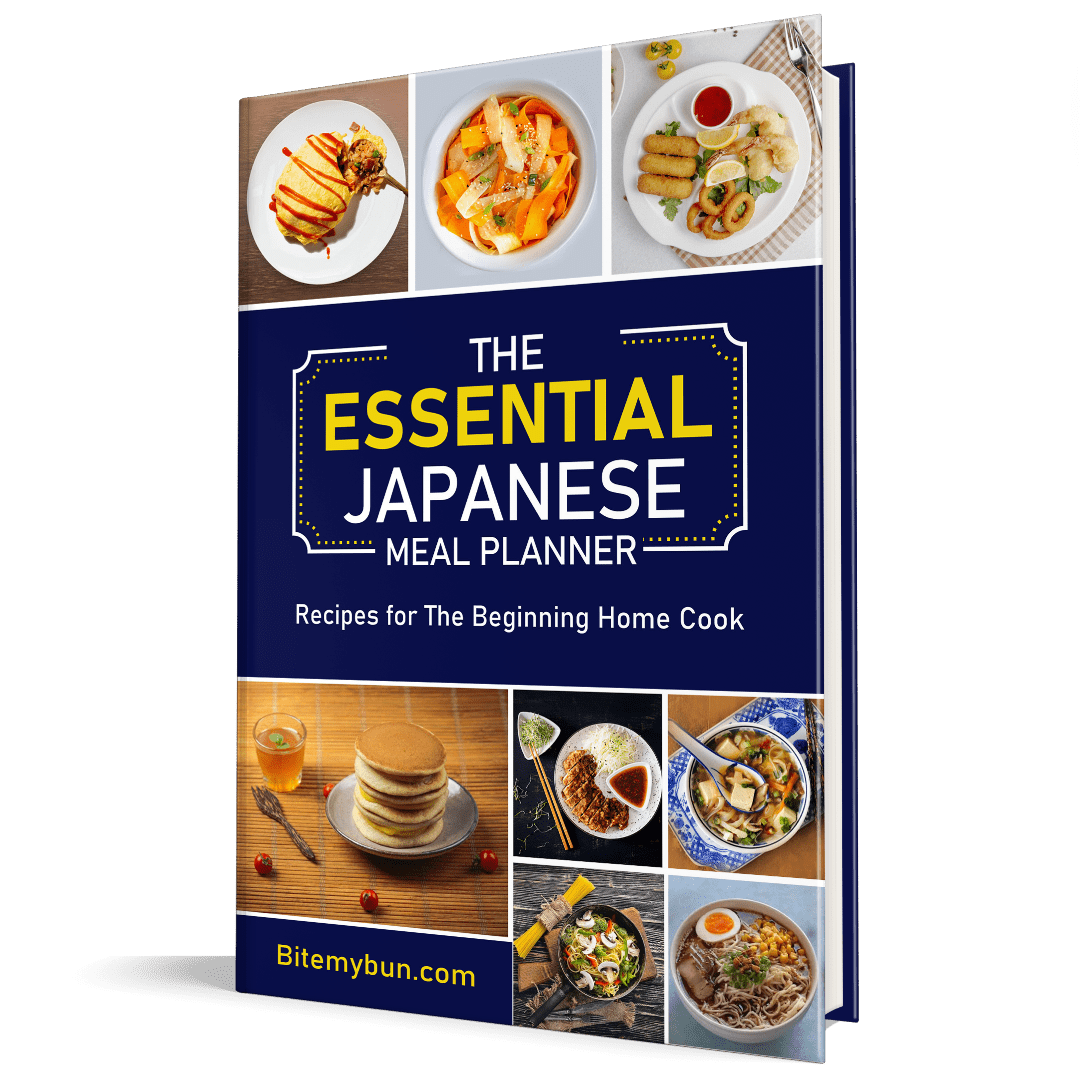 Check out our new cookbook
Bitemybun's family recipes with complete meal planner and recipe guide.
Try it out for free with Kindle Unlimited:
Read for free
If you haven't tried Japanese curry before, you're missing out! It's one of the most popular Japanese dishes and it comes in three forms: curry rice, curry udon, and curry bread.
Curry served with rice is the most popular type of curry in Japan, and Japanese curry is a lot milder than Indian curry so it's great for beginners.
Together with the sauce, a wide variety of ingredients, including veggies and meats are used to prepare Japanese curry.
Let's make a delicious Japanese beef curry and I also have a few other recipes in this blogpost.
10 Tips to Save a Bundle on Asian Ingredients!
Introducing our brand new FREE PDF guide: "Saving Secrets: Unveiling the Art of Saving Money on Asian Ingredients" It's your first newsletter email, so start saving today! 📚🧧
We'll only use your email address for our newsletter and respect your privacy
The best Japanese curry recipes
Easy Japanese Beef curry recipe with Golden Curry & rice
This hearty and savory Japanese beef curry is made with beef, potatoes, carrots, curry roux, and mushrooms, and it makes an amazing introduction for those new to curry. It is adapted to Japanese taste, which makes it milder, and sweeter, with a stew-like texture.
Ingredients  
3

medium

onions

3

carrots

1

russet potato

8

mushrooms

30

ounces

stew meat 

lean

kosher salt

to taste (or use sea salt)

black pepper

freshly ground, to taste

2

tbsp

all purpose flour

2

tbsp

extra virgin olive oil

(1 tbsp. for onion, 1 tbsp. for beef)

2

cloves

garlic

minced

1

inch

ginger

grated

1

tbsp

curry powder

2

tbsp

tomato paste

1

cup

red wine

8

cups

beef stock

2

bay leaves

1

box

Japanese curry roux

1

tbsp

worcestershire sauce

¼

apple

red pickled daikon

to serve (optional)
Instructions 
Gather all your ingredients
Beef curry ingredients (preparation)
Cut your onion into thin slices, and then cut your carrot diagonally, as you rotate it in a quarter in between the cuts. This cutting technique is called rangiri in Japanese.

Cut your potato into half, and then cut the half pieces into quarters. Soak in water for around 15 minutes so that you can remove the starch.

Clean the mushrooms—you can use a pastry brush to do so. Avoid washing them as they can absorb moisture, but you can give them a quick rinse. Once done, cut them into thin slices.

Slice your beef into 1 ½ inch cubes, and then sprinkle pepper and salt, and apply a light coat of flour to the meat.
Cooking the curry
Using a cast-iron skillet, heat 1 tablespoon of butter and 1 tablespoon of oil on high heat. Add the beef cubes, but don't crowd the skillet to avoid steaming the beef. Therefore, you should make sure that you cook in small batches. Make sure that the beef it cooked on both sides, and until brown—this should take around 10 – 15 minutes. If you choose to cook in small batches, transfer the cooked beef to a side plate, and then work on the other batch.

Next, using a large heavy-bottomed pot, heat 1 tablespoon of butter on medium heat, and then add the onion. Next, add 1 tablespoon of olive oil and stir well to ensure that the onion is coated with oil. Add 1 tablespoon of salt after 10 minutes, and then sauté the onion until translucent until tender—this should take around 20 to 25 minutes. If you have plenty of time, you can spend more time until the onions are caramelized—this should take around 40 minutes.

Now, you can add ginger, garlic, tomato paste, and curry powder, and then sauté for around 2 minutes.

Add the beef and wine, and allow the alcohol to evaporate—this will take around 5 minutes.

Add your veggies and then pour the beef broth until the veggies are covered—you don't have to use all of the broth at once. Cover the pot with the lid, and then allow it to boil.

As it continues to boil, skim off the fat and scum from the soup.

Next, add the bay leaf, and then cover the pot using the lid, but leave it slightly ajar—and now simmer until your veggies are tender—this should take around 20 minutes.

As you continue to cook, skim the broth so that you can clean the surface of the broth. You can now add the remaining broth or water—if needed.

When all the ingredients are tender, add the curry roux. Turn off the stove. Using a ladle to add the roux, allow the curry roux to dissolve completely inside the ladle, and then release it to the broth. This will ensure that the undissolved roux will not get into the broth. When you feel that the curry is very thick for your taste, you can add some water to dilute it. Now, you can start to cook using low heat, and stir regularly—be careful to avoid burning the curry.

Add the Worcestershire sauce and grate the apple to add some sweetness.

Simmer while uncovered, and on low heat—stir occasionally, until the curry gets the consistency you need.

For serving, use Japanese rice, with fukujinzuke topping and some daikon if you like it (and have it).
Nutrition
Calories:
614
kcal
Carbohydrates:
39
g
Protein:
62
g
Fat:
19
g
Saturated Fat:
5
g
Cholesterol:
132
mg
Sodium:
1218
mg
Potassium:
2477
mg
Fiber:
5
g
Sugar:
12
g
Vitamin A:
7798
IU
Vitamin C:
16
mg
Calcium:
146
mg
Iron:
8
mg
Don't have daikon radish to serve with your curry? I have listed the best substitutes to use here
The common ingredients used in Japanese curry include carrots, potatoes, meat, and onions.
The curry sauce is mostly prepared from curry powder roux, which is usually a blend of Indian spices.
However, Japanese curry is usually thicker in texture and less spicy compared to Indian curry. Here are a few Japanese curry recipes.
You should get Japanese curry powder to not overpower the dish, and I like the CoCo Ichibanya brand, which has a mixed variety pack so you can try out a few different flavors:
Katsu Curry – the most popular curry dish
If you haven't heard of katsu curry, you're missing out.  It is a traditional Japanese curry dish that is panko-coated chicken in a thick creamy curry sauce served with rice.
The taste is sweet and fruity and it is milder than other curries. It is sweetened with honey or sugar.
Here is the recipe for a delicious meal of katsu.
How do you make Japanese curry from scratch?
Here is the recipe for simple chicken curry from scratch, without the store-bought roux. The base is actually easy to make at home.
Chicken Curry from Scratch
Ingredients
Vegetable oil – 2 tsp
Large onions – 2 (thinly sliced)
Chicken thighs – 1 lb. (cleaned and cut into chunks)
Carrots – 2 (cut into chunks)
Water – 4 cups
Large potatoes – 2 (cut into chunks)
Small apple – 1 (peeled, cored, and pureed)
Kosher salt – 2 tsp (use half if its normal salt)
Garam masala – 1 tsp
Peas – ½ cup
For the roux
Butter – 3 tbsp.
Flour – ¼ cupi>
Garam masala – 2 tbsp. (you can also use curry powder)
Cayenne pepper – ½ tsp (use less if you want a mild taste and more if you need it to be spicy)
Ground Black pepper
Ketchup – 1 tbsp. (you can also use tomato paste)
Tonkatsu sauce or Worcestershire sauce – 1 tbsp.DirectionsPreparing the curry
In a large saucepan, heat the oil over medium-low heat, and then add the sliced onions. Sauté the onions, with a pinch of salt, until they are caramelized and golden brown. This should take around 30 minutes with occasional stirring. When ready, you can now remove the onions, put them in a bowl, and then set them aside.
Turn up the heat setting to high, and then add the chicken thighs—stir-fry until lightly browned on each side.
Put back the onions in the saucepan, add the sliced carrots, and water, and then allow them to boil. Skim off any oil or foam that accumulated at the pot's surface, then reduce the heat to medium.
Add the potatoes, salt, garam masala, and pureed potato, and then simmer for around 30 minutes or until the meat, carrots, and potatoes are tender.
Preparing the roux
As your curry continues to cook, melt the butter in a small skillet over medium-low heat.When the butter starts to bubble, add the garam masala and flour, and continue stirring until you get a thick paste. Next, add the cayenne pepper, fresh ground black pepper, and then stir. Now, you can add the Worcestershire sauce and ketchup to mix.
Continue to cook until the paste starts to crumble. Remove from the heat, and then put aside until the veggies and meat are ready.
Finishing preparing the curry
When the veggies become tender, add about 2 cups of liquid to the roux, and then whisk until it becomes smooth. You can now pour back this mixture into the pot, and then stir until you get a thick texture.
Add your peas and then heat through.
You can serve with rice.
Vegetarian curry
Ingredients
Potato – 1 (200 g), halved and then cut into small bite-size pieces—around 12
Carrot – 100 g ( halved cut into ¾ inch thick discs or 2 cm pieces)
Zucchini – 100 g ( halved cut into ¾ inch thick discs or 2 cm pieces)
Dry white wine – 100 ml
Water – 400 ml
Vegetable stock powder – 2 tsp.
Salt – 1 tsp.
Sugar – 1 tbsp.
Sweet red apple – 1 (grated)
Tamarind – 1 tsp
Curry base
Oil – 2 tbsp.
Butter – 30 g
Onions – 2 (450 g) thinly sliced
Ginger – 25 g (grated)
Garlic – 2 cloves (grated)
Flour – 2 ½ tbsp.
Curry powder – 2 tbsp.
Red chili powder – ½ to 1 tsp
Tomato paste – 2 ½ tbsp.
Directions
Prepare the curry base
Add oil and butter in a large frying pan—set the heat over medium-high and then melt the butter
Add the garlic, onion, and ginger to the frying pan, and then sauté for around 10 minutes, until the onion turns to gold and soft.
Now, reduce the heat to medium, and then sprinkle the flour over the onion. Continue sautéing to cook the flour—this should take around 1 minute.
You can now add the remaining curry base ingredients, and then cook for an additional 1 minute, and ensure that you mix the ingredients well.
Add the sliced carrot and potato to the curry base, and then cook for some time.
You can add the wine, and then increase the heat—give it a good mix. When the mixture starts to boil, you can now add the rest of the ingredients, and then give them a good mix.
Put a lid on the pan, and then continue cooking for around 7 minutes. After that add the sliced zucchini, and cook for an additional 8 minutes with the lid on. You should continue cooking until the veggies are well cooked, and curry turns into a béchamel sauce. Ensure that you continue mixing the curry often to prevent it
from sticking to the bottom of the pan.
When done, you can serve with hot rice.
Recipe note
If your carrot is thick, cut it into half-vertically, and then slice it into half discs. Make sure that the carrot pieces are slightly smaller than the potatoes in size, as this allows them to cook at the same time.
You can use Vegeta stock powder. Rather than the 400 ml of water and stock powder, you can also use vegetable stock—with reduced salt (preferably). If that's the case, you will need to adjust the amount of salt needed as the stock comes with salt.
You can use 4 tablespoons of palm oil or grapeseed oil rather than butter and oil—that's if you don't take butter.
If you love spicy food, you can increase the hot chili powder by ½ teaspoon—this will make your curry very spicy. You can also reduce the chili powder you need to use or use mild chili powder—that's if you prefer your curry to be mild.
Add some small amount of oil if you see that the onions are sticking to the pan.
When you see the curry remaining to be watery, remove the lid, and then cook while the pan is open to make the sauce thicker.
You can keep the curry in a fridge for a number of days—reheating the curry daily makes it better. You can also freeze this curry, but the texture of the vegetables and potato can become somehow deteriorated.
Gluten-free Curry recipe
Ingredients
Coconut oil – 1 tablespoon (you can also substitute with rapeseed or vegetable oil)
Onion – 1 (diced)
Garlic – 2 cloves (minced)
Ginger – 1 cm (1/2 inch) peeled and minced
Curry powder – 1 tsp (heaped), to taste
Ground cumin – 1 tsp
Ground turmeric – 1 tsp
Carrots – 2 (peeled and diced)
Potatoes – 400 g (diced) you can also substitute them with sweet potatoes)
Eggplant – 1 (diced)
Frozen peas (handful)
Coconut milk – 200 ml.
Vegetable stock cube – 1 (make sure that its glute-free)
Agave syrup – 1 tsp. (you can also substitute with another sweetener)
Tamari – 1 tsp (or gluten-free soy sauce)
Tinned tomatoes – 120 ml. ( ½ cup)
Corn flour (cornstarch) – 2 tsp
Salt and pepper to taste
To serve with:
Cooked sticky or brown rice
Salad
Pickled ginger
Directions
Heat the coconut oil in a frying pan, and then add the onion, ginger, and garlic once the oil is hot.
Fry for around 10 minutes, until soft.
Add cumin, turmeric, and curry powder, and then fry for around one minute, until you smell the fragrance.
Add the potatoes, carrots, frozen peas, eggplant, coconut milk, carrots, tamari, stock cube, and agave syrup, and ensure that you add enough water to cover.
Allow the mixture to boil, and then reduce the heat. Let it simmer for about 15 minutes, or until the potatoes are well cooked.
Next, add the tinned tomatoes, and then cook for an additional 10 minutes.
In a separate bowl, dissolve the cornflour in a small amount of water, before you add the curry.
Stir well, and then allow it to heat gently for an additional number of minutes until the sauce achieves the desired thickness. If the sauce is not becoming thick, add some more cornflour dissolved in water, and if it's too thick, add more water.
Now, add salt and pepper to taste.
Serve with brown or white sticky rice, pickled ginger, and a side salad.
Leftovers keep well covered in the fridge for up to a few days, but they aren't great to freeze as potatoes can get a little mushy when defrosted.
Also read: this is how you can make authentic sushi vinegar for your rice
Tofu curry
This is a quick and easy curry meal, with warm ginger and spiced flavor, and it is a balanced bowl of goodness.
Ingredients:
For the sauce
Vegetable oil – 2 tbsp. (not olive)
Brown onion – 1 (finely chopped)
Fresh ginger – 1 tsp (grated)
Garlic – 2 cloves (minced)
Curry powder – 1 tsp (5 ml)
Plain flour – 2 tbsp.
Vegetable stock – 1 ½ cups
Tamari – 3 tbsp.
Honey or rice syrup – 1 ½ teaspoon
Rice vinegar – 1 tsp
Garam masala – 1 tsp
Momen tofu – 300 grams (medium to firm)
Almont or soy milk – ¼ cup
Flour – 2 tbsp.
Vegan Panko crumbs – 1/3 cup
Vegetable oil to shallow fry
Steamed rice, sliced shallots, spring onions, and julienned carrots to serve.
Directions
To prepare the curry sauce, heat the vegetable oil in a pan, in a medium-high heat setting.
Now, add the onion, garlic, and ginger, and then saute until tender—this should take around 3 minutes
Add the curry powder, and then continue stirring until you get fragrant.
Stir in the flour, and then cook for 1 ½ minutes.
Whisk in the stock slowly, and then add the soy sauce, and rice syrup, and simmer for 10 minutes as you stir occasionally, or until you achieve the desired thickness for the sauce.
Stir in the rice vinegar and garam masala, and then keep warm.
To prepare the crispy tofu, turn the tofu out to a kitchen towel and allow it to drain.
Slice the tofu block into ½ inch thick slices.
Pour some flour into a plate, the Panko crumbs on another plate, and the milk in a medium bowl. Put them beside each other with a large plate at the end to put your finished crumbs.
Roll every tofu slice in the flour, then in the milk, and lastly, roll it in the crumbs.
Heat oil to fill ½ inch frying pan, and then shallow fry the tofu for about 2 minutes on every side, or until golden brown.
Once done, transfer it on a kitchen paper towel to drain.
To serve, put a few spoons of steamed rice on a plate or bowl, put the crumbles tofu around the rice, and then spoon over some curry sauce. Lastly serve with fresh shallots, carrot, and spring onions.
Instant Pot Japanese Curry Recipe
Ingredients
Rice – 1 cup (brown or white)
Carrots – 2 (chopped)
Garlic – 4 cloves (chopped)
Red onions – ½ (chopped)
Limes – ½ (wedged)
Cornstarch – 1 Tbsp.
Turnips – 1 (cubed)
Beef – 1 lb. cubed (boneless chuck, shoulder or round roast)
Curry powder – 1 Tbsp.
Red pepper flakes – ¼ tsp (optional)
Ketchup – 2 Tbsp.
Garam masala – 2 tsp
Ginger – 1 tsp (grated)
Low-sodium beef stock – 3 cups
Chives – 2 tsp (chopped)
Potatoes – 1 cubed (russet)
Brown sugar – 1 Tbsp.
Low-sodium soy sauce – 3 Tbsp.
Salt – 1 – ½ tsp
Black pepper – ½ tsp
Water – 3 Tbsp.
Directions
Preparations
For the white rice, use 1:1 water to rice ratio when using an instant pot. Cook for
around 4 minutes while on the manual function setting, natural release for 10
minutes and then quick release—when done set aside. For brown rice, use 1.25:1 water to rice ration. Cook for 20 minutes on the manual setting, natural release for 10 minutes, and then quick release. (You can do this up to 5 days ahead)
As the rice cooks, prepare your veggies (onions, carrots, garlic, ginger,
turnips)—prepare as guided. (You can do this up to 4 days ahead)
Prepare the limes/chives as directed
For the beef, chop into small bite-sized pieces, and the season with salt, and
pepper, and then tenderize with a fork.
Prepare the potatoes.
Cooking
Heat your instant pot on the saute settings and brown the beef.
Mix the beef, carrots, onions, garlic, ginger, turnips, and potatoes inside in the
instant pot.
In a mixing bowl, mix the stock, sugar, ketchup, curry powder, garam masala,
soy sauce, salt, red pepper flakes, and black paper, and then pour the mixture
into the instant pot.
Close the lid, and make sure that it's locked in, set the pressure valve to sealing, and then cook on the manual setting for 20 minutes. After the 20 minutes, cook in
natural release for 10 minutes and quick release.
Whisk together the cornstarch and water, and then add curry as you stir. Allow it
to sit for 10 minutes to achieve the desired thickness.
If you had prepared the rice ahead, reheat using a microwave.
Taste the curry and season with pepper and salt—if needed
Serve in bowls and then top with curry, chives, and serve with lime wedges.
All about Japanese curry
Before we delve into our selection of the best Japanese curry recipes, let's discuss what makes this type of food special.
What is Japanese curry?
Curry is common in many Asian countries. The Japanese curry comes in three popular forms. The most common kind of curry is the curry rice – sauce served over rice.
The second type is curry udon, which is a sauce served on noodles. And finally, curry bread (kare pan) – it is curry wrapped in dough and bread crumbs and deep-fried.
Japanese curry resembles a thick stew and has the consistency of gravy. The main ingredients are a form of protein (chicken, beef, pork), potatoes, and carrots. The base of the curry is a roux.
Why is Japanese curry so good?
This dish is so popular and beloved by the Japanese because it has a unique spicy taste. It is the perfect food to eat all year round.
The spices help you perspire and it helps cool your body down. As well, curry stimulates the appetite which makes you want to keep eating more – simply put, it's addictive and tasty!
How is Japanese curry different?
The sauce is made from roux or curry cubes which is a mix of Indian spices. Thus, the flavor is based on traditional Indian curry.
The difference between the two is that Japanese curry sauce is thicker in texture. Also, it is less spicy and sweeter. Some might call Japanese curry less flavorful than its Indian counterpart.
In general, the Japanese use fewer spices to make curry thus the flavor is not as strong and vibrant. It is described as an understated "umami".
If you're wondering how spicy the curry is, it's not very spicy. People like to eat it mild, but you can always make the curry spicier by using spicy cubes.
Does Japanese curry contain milk or dairy?
No, Japanese curry generally does not contain milk. You're probably thinking of Thai curry which contains coconut milk. The Japanese curry recipes rarely used milk.
However, some curries contain diary in the form of an egg, used to prepare breaded katsu chicken curry, or used as a garnish.
Is Japanese curry healthy or unhealthy?
Japanese curry is considered to be a more unhealthy type of food. This is due to the high-fat content of the roux.
It also contains lots of sugar and carbohydrates which makes it unsuitable for people on a diet.
If the curry has lots of vegetables instead of meat, it has a lower calorie count of about 310 calories per serving.
What is curry roux or curry cubes?
A curry roux is the base of the dish. It is a mixture of sauce that is made from fat, flour, and spices. Usually, you will find the roux at the supermarket pre-made in a cube format.
You'll find tons of varieties in Asian supermarkets. These curry cubes will make your life easier as they contain all the spices and flavors for the curry.
You can find them in all kinds of flavors and spiciness levels.
Are curry cubes healthy?
If eaten in moderate quantities, curry cubes are healthy. They are a delicious base for any Japanese curry.
They contain a relatively high quantity of fat and sodium but that is necessary to make a good curry.
Also read: use this as a substitute if you don't want to use chicken broth or stock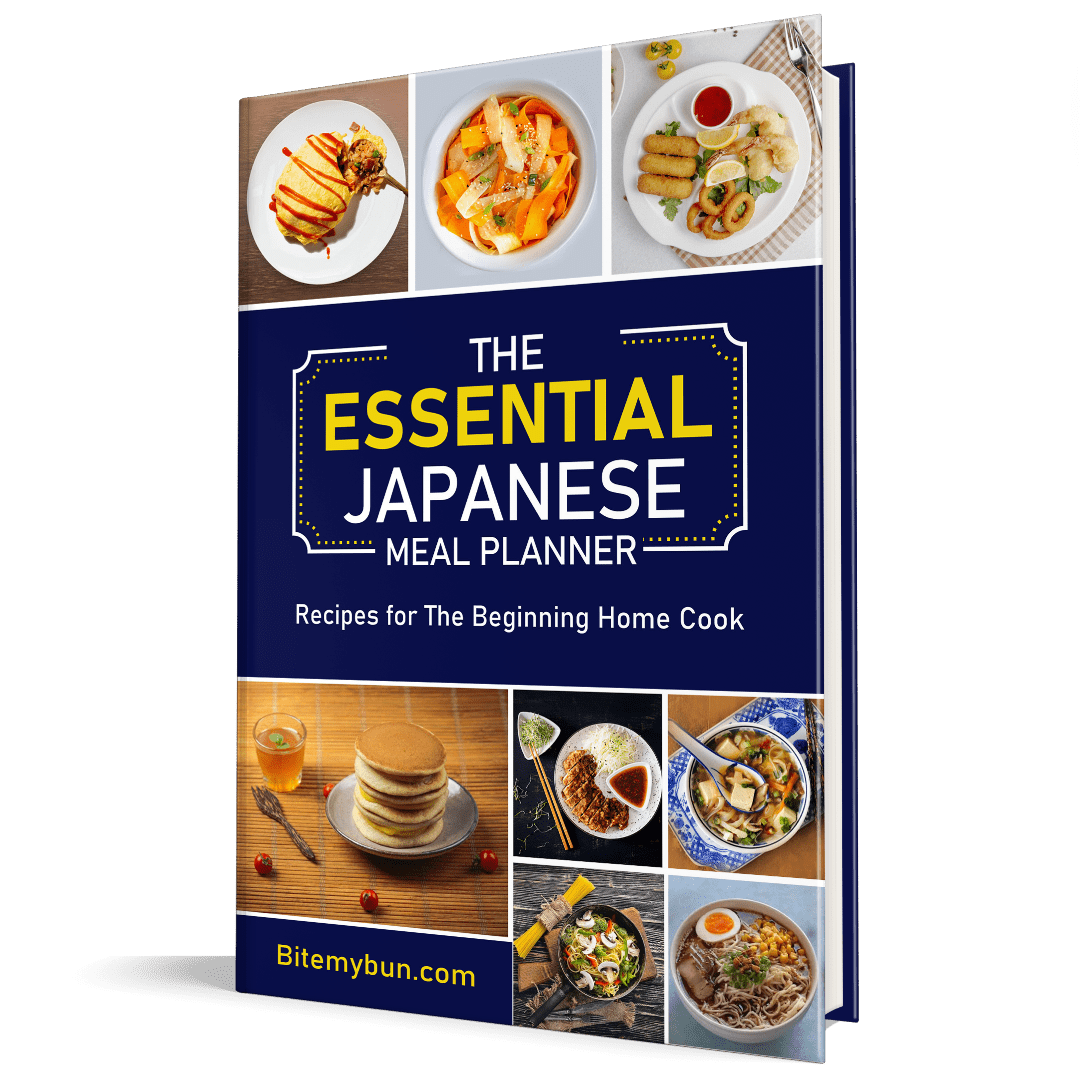 Check out our new cookbook
Bitemybun's family recipes with complete meal planner and recipe guide.
Try it out for free with Kindle Unlimited:
Read for free
Joost Nusselder, the founder of Bite My Bun is a content marketer, dad and loves trying out new food with Japanese food at the heart of his passion, and together with his team he's been creating in-depth blog articles since 2016 to help loyal readers with recipes and cooking tips.