Recipe: Japanese hamburger steak with egg | How to cook Hambāgu ハンバーグ
I love creating free content full of tips for my readers, you. I don't accept paid sponsorships, my opinion is my own, but if you find my recommendations helpful and you end up buying something you like through one of my links, I could earn a commission at no extra cost to you.
Learn more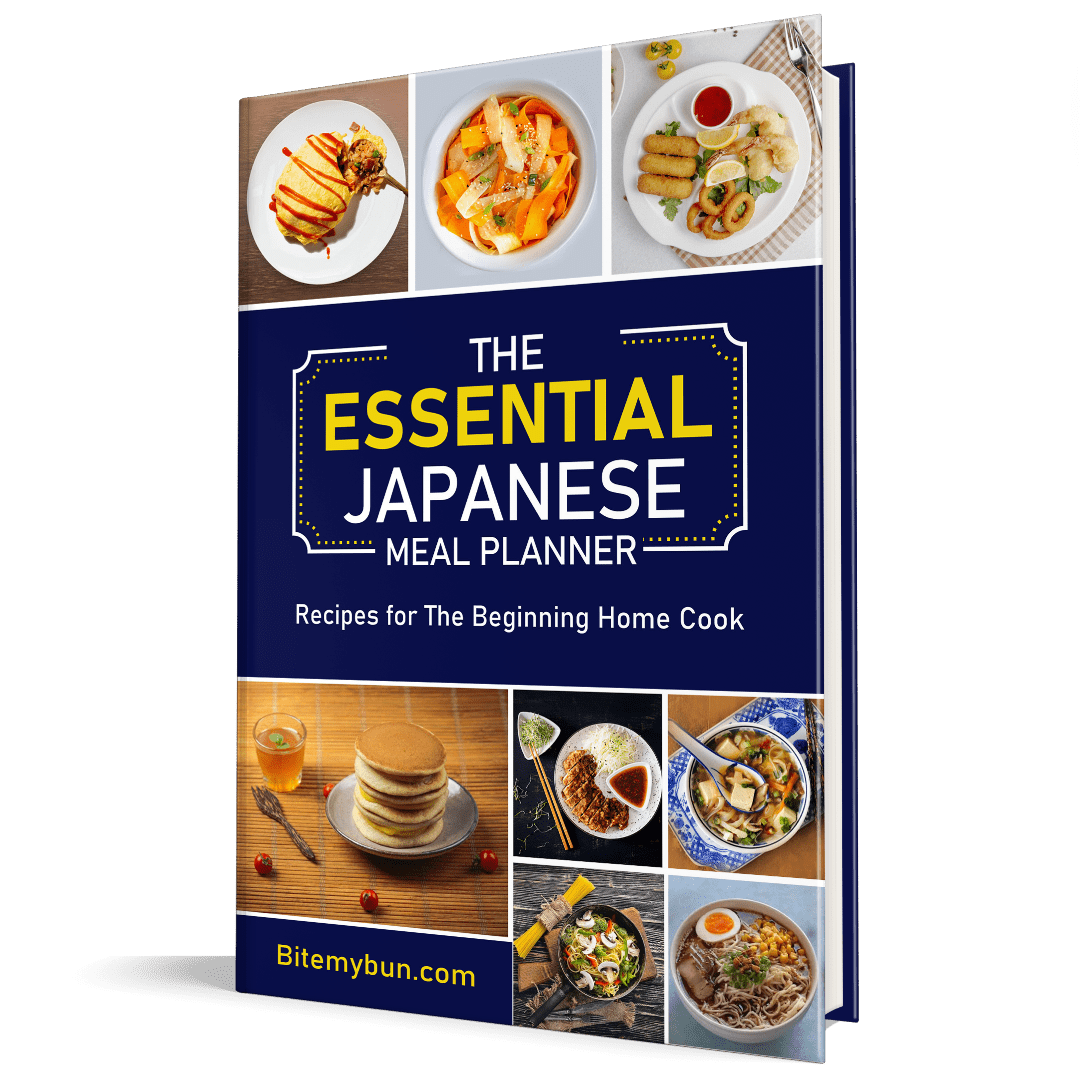 Check out our new cookbook
Bitemybun's family recipes with complete meal planner and recipe guide.
Try it out for free with Kindle Unlimited:
Read for free
I'm sure you're familiar with the American hamburger, but what about a Japanese hamburger served as a steak, not as a burger stuck between bread buns?
The Japanese hamburger steak (hambāgu ハンバーグ) is a great way to enjoy minced beef and pork in a steak format alongside rice and vegetables and served with a fried egg on top.
It's topped with a delicious wine sauce that just elevates the flavors from fast food to restaurant-worthy.
It's the perfect fusion dish that combines Japanese minced steak with the Western burger recipe.
You're going to enjoy making this simple recipe for your family and it's the kind of dinner that even picky eaters will like!
Hambāgu recipe: tasty Japanese hamburger steak with egg
What makes this dish extremely tasty is the combination of meat juices, sauteed onions, and dry red wine. It makes the hamburger meat taste different from your average hamburger. This Japanese hamburger steak recipe takes less than half an hour to make and the meat is pan-fried on high heat until golden brown.In Japan, you can buy pre-packaged portions of beef and pork mixed to a 7:3 ratio.This is called Aibiki Niku and makes it super convenient to make hamburger steak. But, you can just mix the minced meat at home and save money. For this recipe use a ratio of 2:1 beef to pork ratio.
Ingredients  
227

grams

minced beef

113

grams

minced pork

1/2

large onion

3

eggs

5

tbsp

panko bread crumbs

40

ml

milk

1/3

tsp

salt

1/4

tsp

ground black pepper

1

tbsp

vegetable oil
For the sauce:
1

tbsp

unsalted butter

3

tbsp

dry red wine

3

tbsp

ketchup

3

tbsp

tonkatsu sauce

3

tbsp

water
Instructions 
Dice the onion into small pieces.

Grab a large pan or skillet and heat up the cooking oil. Saute the onions until they are translucent.

Move the onions to a separate bowl and let them cool completely.

In a bowl, combine the beef and pork with salt and black pepper.

Add in 1 egg, panko, and milk. Use a silicone spatula to mix the ingredients.

Once combined, continue to mix and knead the meat with your hands until it's quite sticky.

Divide into 4 parts and shape your patties. You want to mix them well until they have a smooth texture.

Toss each patty from one hand to the other and press them to remove any air bubbles that have formed.

Shape your oval patties and cover them with plastic wrap. Let them cool in the fridge for about half an hour.

To cook the patties, heat up the oil and start frying your patties. While still cool, make a dent in the middle of each patty. This helps the patties keep their texture.

Cook each patty for about 3 minutes or so on each side on high heat or medium-high heat. Cook for 5 minutes if you like them very well done.

Once patties are browned remove them and set them aside.

In the same oil, fry 2 eggs and then cut them in two. Set aside.

Leave the fatty oil and grease in the pan and add the butter, wine, ketchup, and tonkatsu sauce.

Mix all of the sauce ingredients and bring them to a simmer on medium low heat. Cook for a couple of minutes or so until the alcohol evaporates and the sauce thickens.

Once thickened drizzle all over your patties. Place half an egg on each patty and enjoy.
Cooking tips
There are some tips you can follow to make it easier to cook the perfect Japanese hamburger steak.
First, make sure to shape your patties nicely so they cook evenly. If you have any cracks or uneven edges, the meat will shrink and become dry while cooking.
Second, it's important not to overcook the meat. The key is to cook them on high heat so the outside
How to remove air pockets from patty
One of the common problems people encounter is that the meat patty becomes full of air pockets. Therefore, it's essential that you remove air pockets from hamburger steak to give it that perfect burger texture.
With your hands, knead the mixture into a gruel-like consistency.
Use your left hand to catch the meat mixture as you toss it into your right hand.
Do this a few times to get rid of the trapped air. Cooking the hamburger won't go as smoothly if you don't make sure it is of solid consistency.
How to prevent the patty from losing its shape
For best results, place the patties in the refrigerator for at least 30 minutes to allow the fat to solidify before cooking.
To prevent the meat patties from exploding or crumbling while cooking, indent each patty with your fingers. The indentation will disappear when the meat is cooked.
Making the sauce
Use the same pan you cooked the meat patty to make the wine sauce reduction. The hamburger is juicy by itself, but the rich grease left in the pan adds a new layer of flavor to the already succulent dish.
For the sauteed onion, be sure to cook it and allow it to cool completely before removing it from the pan. The natural sweetness of the onion will enhance the flavor of the hambāgu.
Use red wine to make the sauce. This is the best liquid and really enhances the flavor of the meat.
But don't skip the tonkatsu sauce which adds sweetness and makes the sauce tastier.
Substitutions
You can switch up the beef to pork ratio from 2:1 to 3:1. Alternatively, you can use only minced beef or minced pork but this does change the flavor a bit.
I've heard some people use Beyond Meat or other plant-based minces to make this recipe vegetarian and vegan!
Also, you can fry one whole egg for each patty if you want more protein.
Instead of using red wine, you can use white wine or even sake. I've used all 3 and they all work great in this recipe!
Beef or chicken stock can be substituted for alcohol if that's not an option for you.
If you want to save on calories, feel free to use a light or zero-calorie cooking spray in place of the vegetable oil.
You can also add 1 tbsp of oyster sauce into the sauce and some more ketchup.
Instead of tonkatsu sauce, you can use Worcestershire sauce with some added sugar to sweeten it.
Soy sauce can also be used to give the hamburger steak a more umami flavor.
If you want to add additional condiments and spices to the ground meat mix, you can add nutmeg, ginger, and garlic. These add more flavor to your hambāgu steak mix.
Variations
Hambāgu can be served with all kinds of toppings such as a fried egg with sauteed mushrooms (usually shimeji).
There are also several variations of this dish in different parts of Japan.
Wafu hambāgu is made with a savory soy sauce and grated daikon (radish). Another version is the Teriyaki hambāgu with a sweet sauce.
Demi-glace hambāgu is a variation that is made with a thick brown sauce and served with steamed rice.
Chīzuhanbāgu (チーズハンバーグ) is the cheese version with melted cheese on the patty.
In Okinawa, they have their own version of hambāgu called taco rice (タコライス), which is served on top of rice and topped with taco-flavored ground beef, ground pork, shredded lettuce, and cheese.
10 Tips to Save a Bundle on Asian Ingredients!
Introducing our brand new FREE PDF guide: "Saving Secrets: Unveiling the Art of Saving Money on Asian Ingredients" It's your first newsletter email, so start saving today! 📚🧧
We'll only use your email address for our newsletter and respect your privacy
What is hamburger steak with egg?
Hamburger steak (Hambāgu (ハンバーグ) with egg is a popular Japanese dish that is made by cooking a hamburger patty in a pan and then topping it with an egg. The dish is often served with rice and vegetables on the side.
The version with egg is called Hambāgu no tamago (ハンバーグのたまご).
It's called a "steak" because it resembles the shape of a steak and is served without the traditional hamburger buns made of bread. It's also served with side dishes like veggies and rice just like a steak.
What makes Japanese hamburger steak so tasty is that it's made of two types of minced meat: beef and pork. The combination gives the meat a perfectly balanced flavor.
This dish is served at almost all Yoshoku restaurants. These are restaurants that serve Western-style food with a Japanese twist.
But, hambāgu is also a popular home comfort food that families like to enjoy for dinner or on special occasions.
In the US, this dish is fairly similar to hambāgu but it's called hamburger steak. In the U.K, this dish is called Salisbury steak and it's the same kind of ground beef patty.
Origin & history of hambāgu
The dish was first created in the early 20th century by a Japanese chef working at a Western-style restaurant in Tokyo.
The chef was trying to create a steak that was similar to the ones served in Western restaurants but he didn't have the right ingredients.
So, he decided to use ground beef instead and this is how the hambāgu was born.
The dish became popular in the 1950s when Western-style restaurants started popping up all over Japan. It's been a popular dish ever since and it's now a staple in Yoshoku cuisine.
But the hambāgu is actually inspired by Hamburger steak which is a popular dish in the US.
The US version is made with ground beef, breadcrumbs, and egg. It's usually served with gravy or ketchup on top.
Europeans know this dish as Hamburg steak or Salisbury steak.
How to serve Japanese hamburger steak
This dish is typically served with rice and vegetables on the side. The most popular way to eat it is with a fried egg on top.
As I mentioned steamed or grilled vegetables are the healthiest side dish to serve with your Japanese hamburger steak.
The steamed rice is the most basic side dish but it actually complements the meaty and saucy patty.
Also read: Best saucepan for perfectly cooked rice + Top 5 helpful non-stick tools
Some people like to have a side of mashed potatoes, boiled potato, or potato wedges with their hamburger steak.
You can also serve it with hot miso soup and a salad.
The dish is eaten with chopsticks or a fork if you like.
When do you eat it?
This dish is usually eaten for dinner but it's also a popular lunch dish. It's often served at Yoshoku restaurants as well as at home.
It's also a popular dish to serve at parties or potlucks because it's easy to make and can be served to a large group of people.
Many people like to serve hambāgu for special parties or celebrations or seasonal feasts.
Similar dishes
Hambaga is actually an American-style hamburger with buns, quite an exotic dish for most Japanese. Hambāgu is the bunless steak version.
You can also have chicken hambāgu with minced chicken or turkey meat and it's also delicious.
Soboro donburi is a rice bowl with minced beef which has a slightly similar flavor.
Menchi katsu is a fried ground beef cutlet that's similar to hambāgu but it's all deep-fried.
In Korea, there is a similar dish called bulgogi which is made with thinly sliced beef that is marinated in a sweet and savory sauce. The meat is then grilled or cooked in a pan and served with rice and vegetables.
In the Philippines, there is a similar dish called tapsilog which is made with beef that is marinated in a vinegar sauce and then cooked in a pan. It's served with rice and a fried egg on top.
Can you store Japanese hamburger steak?
Hambāgu can be stored in the fridge for up to 2 days or in the freezer for up to 3 months.
If you're storing it in the fridge, make sure to wrap it tightly in cling film or aluminum foil so that it doesn't dry out. Or, you can place it in an airtight container to make sure the sauce doesn't dry out.
To reheat, simply cook it in a frying pan over medium heat. You might want to make the delicious sauce again so it's hot and fresh.
Conclusion
Hambāgu is a popular staple in Yoshoku cuisine and there are many variations.
The Japanese hamburger steak with egg recipe that we've provided here may be different from the one you're familiar with, but it's just as delicious!
This Japanese hambāgu dish can be served for dinner or lunch and also at special occasions such as parties, seasonal feasts, family gatherings, and more.
It's a relatively easy dish to make, so you don't have to be a master chef to whip up a delicious batch of Japanese hamburger steak!
For perfectly cooked rice everytime check out my ultimate guide to the best rice cookers on the market here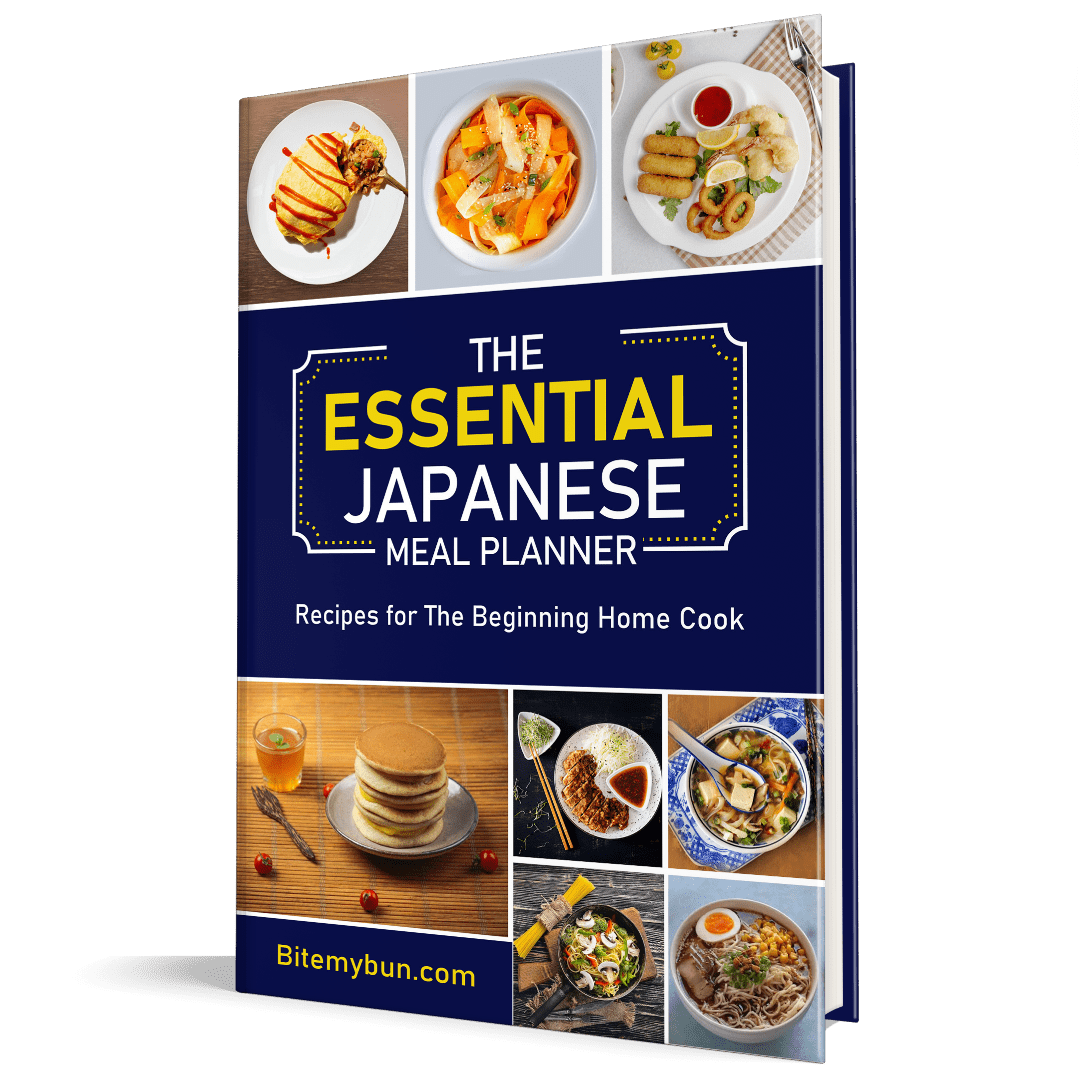 Check out our new cookbook
Bitemybun's family recipes with complete meal planner and recipe guide.
Try it out for free with Kindle Unlimited:
Read for free
Joost Nusselder, the founder of Bite My Bun is a content marketer, dad and loves trying out new food with Japanese food at the heart of his passion, and together with his team he's been creating in-depth blog articles since 2016 to help loyal readers with recipes and cooking tips.