Best sushi knife | 15 best for sashimi, meat & fish cleavers
I love creating free content full of tips for my readers, you. I don't accept paid sponsorships, my opinion is my own, but if you find my recommendations helpful and you end up buying something you like through one of my links, I could earn a commission at no extra cost to you.
Learn more
Whether you are an entry or professional sushi chef, you will need a sushi knife to assist in the preparation of sushi.
These knives are essential tools, which are perfect for cutting the ingredients you need to prepare your sushi, as well as cutting through your sushi for the perfect presentation.
However, there is one challenge that most of us face—choosing the best sushi knife since there are hundreds of choices in today's market.
You don't want to use a regular kitchen knife because the results won't be as expected.
Here are the Diaries of a Master Sushi chef to show you what you can do with the right tools:
When choosing the best sushi knife, you will need a knife that feels good in your hands, as well as one that's made of good quality and durable materials.
I'll take you through the top choices here first, and after that, I'll give you some background information on the different types of knives and these top brands:
When choosing the best sushi knife, you will need a knife that feels good in your hands, as well as one that's made of good quality and durable materials.
For a sushi knife that can do it all and won't break the bank, I recommend the Kyoku Samurai Yanagiba knife which is a Japanese-style thin narrow blade knife that offers scalpel-like sharpness and a durable wooden handle. It's perfect for the everyday home cook looking to delight the family with sushi rolls. 
I'll take you through the top choices here first, and after that, I'll give you some background information on the different types of knives and these top brands.
Also read our post on Sushi for beginners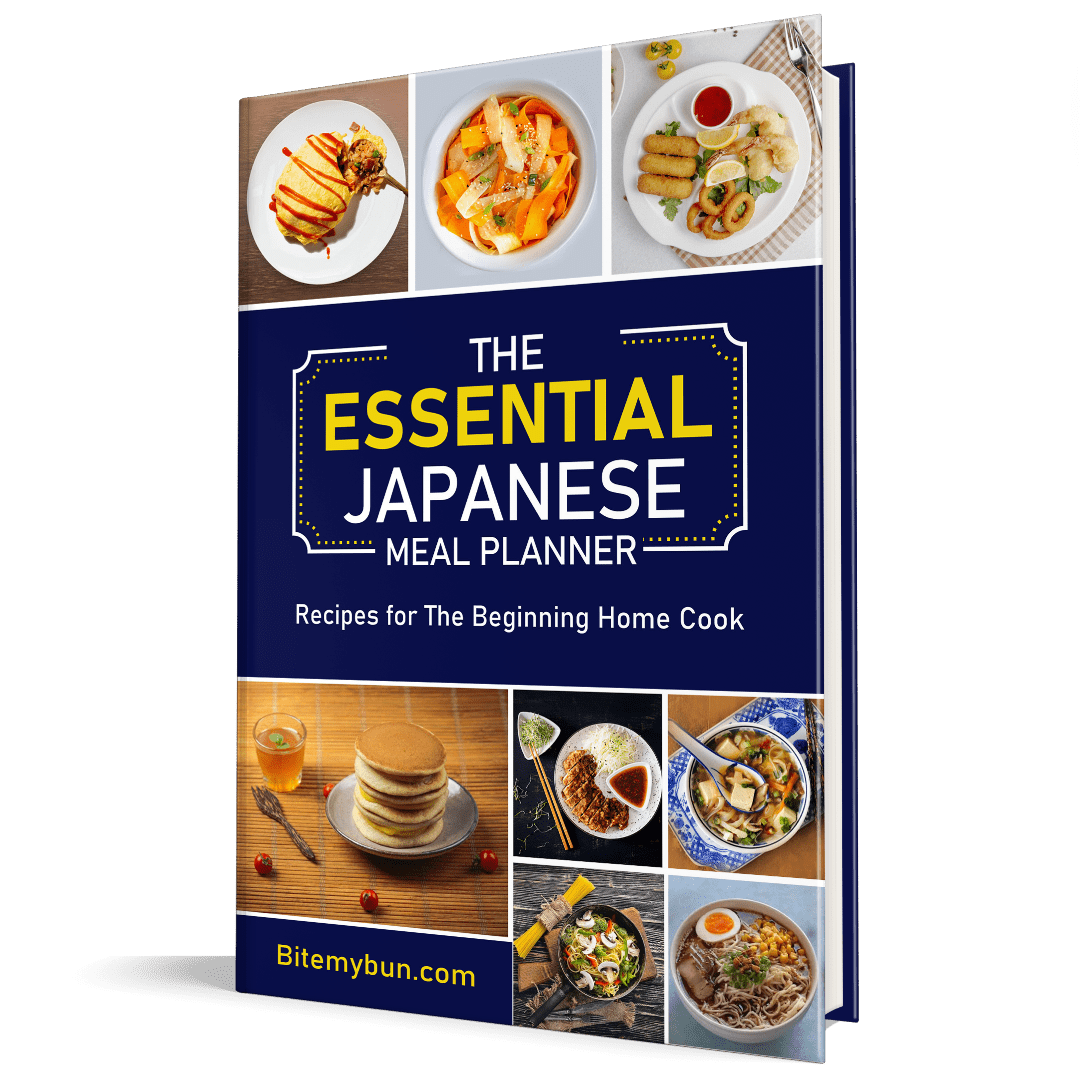 Check out our new cookbook
Bitemybun's family recipes with complete meal planner and recipe guide.
Try it out for free with Kindle Unlimited:
Read for free
Buyer's guide – buy the best sushi knife
Now, let's take a closer look at what we need to take into consideration when finding the best sushi knife for home.
It doesn't matter if you are a beginner chef or a professional sushi chef. You may want to cut and assemble your own sushi at home.
If this is the case, then you need to have the best sushi knife for the job.
The same knives are used to make both sushi and sashimi and both are single-bevel blade knives. 
There isn't much of a difference between sushi and sashimi, and the two are often used interchangeably. However, they are not the same thing. Sashimi is thinly sliced raw meat – tuna or salmon, for example. Sushi is rice mixed with other ingredients.
Traditional yanagiba sushi knives have an edge that is just one-sided. So, if you are left-handed, luckily there are leftie knives too!
These knives should also be made of high-quality, hardened steel because you need a good, sharp knife to get the perfect cuts. It also allows the knife to retain its sharp edge for longer.
Learn more about the wonderful Japanese craft of knife making
Blade 
To understand what type of blade is ideal for sushi and sashimi knives, you need to know why they're different. 
What's the difference between sushi and sashimi knives?
The most unique characteristic of sushi and sashimi knives is that they have a relatively narrow blade and the traditional Japanese ones have a single-bevel blade.
This means the knife is sharpened to hold the cutting edge on one side and the other side stays flat. Food doesn't stick to the flat edge. 
Sushi knives are designed to cut sushi rolls, cut vegetables, cut fish, seafood, and meat. But, the sashimi knife, on the other hand, is designed specifically to cut the fish and seafood. 
Since there are many steps involved with making sushi rolls, the sushi knife is versatile and multi-purpose so it can cut the ingredients and the rolls once they're ready to serve. 
Both sashimi and sushi knives are traditionally made of high-carbon steel.
This material is excellent at retaining a much sharper edge than some other blades and other knife types. The disadvantage is that this steel blade is prone to rust. 
So, one of the most important factors to consider when it comes to your sushi knife is going to be the sharp edge and its ability to stay sharp for as long as possible.
Hard steel alloy or something with higher carbon content is recommended. This allows for a very sharp edge and allows for improved edge retention.
Learn more about the differences between sushi and sashimi here
Handle materials
The handle materials are the next most important component to consider when buying a good sushi knife.
This also has a lot to do with the way the knife looks. You should have a good grip and also enjoy the way your knife looks. It should have an ergonomic handle that is comfortable to use.
Traditionally, the sushi knife handle is designed with comfort in mind.
The handle has a D cross-section which makes the handle more ergonomic and it doesn't cause your hand to hurt after a long time of handling it. 
Most authentic Japanese knives have a wood handle and a bone cap near the top.
Modern or cheaper sushi knives can have plastic or composite material handles and this makes them dishwasher-friendly and even more comfy to hold. 
Half tang & full tang
Sushi knives are based on the traditional Japanese katana and this is where they inherit the tang from.
Tang is the handle's metallic portion that runs down the handle's length. You can find full and half tang knives.
The half tang runs down only half of the handle and the full tang runs down the entire handle. Having a full-tang knife is usually better because it implies the knife is sturdier and lasts longer. 
Blade length
Typical sushi knives come at a length of between 7 inches and 13 inches, but a professional sushi knife can also be longer.
When slicing sashimi, you want single and uninterrupted pulling cuts through the meat. This leaves a nice and neat edge.
So, the longer the blade of your knife is, the easier it is to accomplish these clean cuts and avoid multiple strokes.
Blade material
If you're wondering what type of steel is best for a sushi knife well there are three types and they are all suitable. I would go with the carbon steel version. 
There are 3 popular types of steel that are used to manufacture sushi knives. Which one is the absolute best is actually up to debate.
Carbon Steel
Carbon steel is the first. This grade of steel produces the sharpest edge conceivable, but it is the most difficult to maintain and is prone to rust.
So, if you buy a carbon steel sushi knife, you'll have to sharpen it more frequently than other varieties of steel, and you'll have to be very careful to keep the blade clean and dry.
Stainless steel
Stainless steel is the second option. Although stainless steel does not rust, it does not keep a sharp edge as well as carbon or composite steel.
Steel composite
Last but not least, composite steel knives have a sharper edge than stainless steel and are less prone to rust, but they are also more expensive.
Brands
As you can see from our list above, there are many big brand names mentioned as some of the best sushi knives on the market today.
However, it really comes down to what you are looking for and your personal preference when it comes to finding the absolute best Japanese sushi knife.
You also have to seriously consider your budget as well.
Blade patterns & designs
A lot of sushi making also has to do with presentation. For this reason, sushi chefs want to make sure they have knives they are proud to show off.
Some of the higher-end sushi knives have layers of multiple steel alloys with herringbone or Suminagashi patterns. Other knives may have more intricate etchings, including symbols.
You'll notice that some knives have holes in the blade.
No, this is not just for the sake of cool design, but instead, the holes create air gaps that ensure that sticky rice and all the other sushi ingredients don't stick to the sides of the blade. 
Price & budget
Finally, we can't forget about the price and budget. The budget you settle on will determine the quality of the sushi chef knife you purchase.
However, you can still find a good yanagiba sushi knife available that fits within many different budgets.
Try to avoid the cheaper sushi chef knives as they will not work as well and definitely won't last as long.
A few hundred dollars, on the other hand, take you into more of a middle ground where you can still find an affordable sushi knife without having to tread into the thousands for more high-end varieties and a more professional Japanese sushi knife.
Also check out my round-up of the best sushi making kits and throw a sushi party!
Best sushi and sashimi knives reviewed
Now you are more versed in the art of buying a sushi knife, let's dive deeper in the extensive reviews of my top favorites. 
Best Japanese sashimi knife (Yanagiba): KYOKU Samurai Series – 10.5″ Yanagiba Knife
Type: yanagiba (best for slicing fish fillets)
Blade length: 10.5"
Single bevel
Handle material: wenge wood
If you're starting your homemade sushi and sashimi journey, you need a hefty Japanese yanagiba knife. 
Since it's the traditional sushi knife, it can cut and slice your ingredients and help you make sushi that looks like the rolls you find at the restaurant. 
It has a 10.5" blade, which is a good size for a sushi knife. The single-bevel blade is made out of cryogenically treated high-carbon steel, which ensures that it retains its sharpness and doesn't rust. 
It's surprising how affordable this high-quality knife is. It even has a triple-riveted wenge wood handle that ensures comfort while cutting.
Having a comfy handle is essential, especially for a hefty knife like this one. Wenge wood, with its dark color, looks stylish, but it's durable and shock-resistant. 
Most people rave about how hefty this knife is. With a spine over ⅛" inches thick, it's quite the big knife. It is more front-heavy when it comes to balance, and that's a good thing for a sushi knife. You can fillet fish and surimi without a lot of effort. 
The blade is really well made, too, because its blade can pass a file hardness test and still retain enough flexibility to make it easy to cut with. It's also razor-sharp and has a hardness of 56-58 HRC.
This KYOKU knife is best known for its seriously sharp edge. Artisans season the blade at 11-13°, so it's sharp and stays sharp even after you fillet fish and cut through vinegared rice and vegetables. 
As soon as you try slicing salmon, you'll see how easily the blade glides through the flesh. You can cut small pieces too for the sushi rolls without rough edges in the flesh. You can even cut through very delicate ingredients without having to switch to another knife. 
There's some issue with minor visual imperfections in the handle. Apparently, people have noted a tiny ½ mm gap between the end of the blade and the start of the handle, and this gap is rust-prone. 
Also, some users are saying the blade is a bit too thick, and using the knife for hours can become tiring because of its size. 
Overall, this is the best sushi knife for all your cutting, slicing, and filleting needs because it's balanced. It has a sharp blade, hefty build, but its comfy handle reduces finger fatigue, so you can use it for hours on end, making delicious sushi rolls. 
If you're looking for a great value knife for your money, the KYOKU Yanagiba is the one. The knife is usually compared to the similar Kai Wasabi one, but that one has a plastic handle, and the edge doesn't hold as long – that's why I prefer the KYOKU. 
Best cheap sushi knife: Lucky Cook sashimi sushi knife 10-inch
Type: yanagiba (best for slicing fish fillets)
Blade length: 10"
Single bevel
Handle material: wood
If you like to make sushi but don't want to spend a fortune on expensive Japanese knives, you can do all the cutting and slicing with the Lucky Cook knife. 
Not only is the knife very affordable but it's also very sharp and can easily compete with KYOKU or Tivoli (which has a similar price). 
With this sashimi knife, you can slice through flesh easily and make precise, clean cuts. You can use it to slice small and medium-sized fish. 
With the single-bevel asymmetrical blade, you can do all the slicing in one simple stroke. Therefore, you don't need to use too much energy and your hands don't hurt even after doing lots of filleting. 
You can be sure this blade is sharp and has pretty good edge retention so it's great for the everyday home cook.
It is a specialty fish knife, so you can use it alongside other kitchen knives to make all kinds of Japanese foods, not just sushi or sashimi. 
The blade is made of stainless steel which isn't quite as good as carbon steel so you can expect some rust to form over time. However, stainless steel is a good blade material and will last long. 
This knife excels at mincing big fish like tuna too, but it's one of the best knives for cutting through sushi rolls, even though it has a narrow blade.
Because the blade is sharp, it cuts the sushi rolls in one single stroke. 
The knife's handle is made of cheaper wood so it's not as high quality as authentic Japanese artisan knives. B
ut, it is dishwasher-safe and this gives it an edge over many other similar products. Also, the handle is non-slip and quite comfortable to hold.
Some users noticed the knife isn't sharpened the same along the length of the blade and so it can seem unsharpened at first. 
I recommend sharpening it often for a consistent edge. You might notice there are minor flaws with the grind at the tip but a bit of sharpening solves the issue. 
The Lucky Cook sushi knife is a great multi-purpose knife tool because it does it all – any sushi chef and home cook can use it to fillet the fish, cut the vegetables, and then cut the rolls.
With some specialty knives, you can only do one of these tasks but this is a great cheap do-it-all knife. 
Best overall KYOKU Samurai vs Lucky Cook budget knife
These knives have a similar design and perform almost equally but the KYOKU yanagiba is of better quality. It is a true Japanese sashimi knife whereas the Lucky Cook is a budget-friendly copy. 
The main difference here is the blade – the Lucky cook has a rather basic stainless steel knife. It's not as good as the high-carbon KYOKU blade because it doesn't hold the edge as well. 
You might also notice differences in the build because the Lucky Cook has some minor flaws at the tip and you can tell there isn't as much attention paid to the details. 
However, this cheaper knife is lighter than the KYOKU and some people are saying this makes it comfier to use and hold for long periods.
You can use both knives for all sushi-making-related tasks such as skinning, filleting fish, cutting the vegetables into thin strips, and then cutting through the rice rolls. 
If you're just looking for a basic sushi knife that does it all, the Lucky Cook knife is a great option.
But, if you're keen on excellent design and want a well-balanced knife, the KYOKU is well worth the extra dollars. It's also affordable but has a better quality blade.
Best professional sushi knife: Yoshihiro Shiroko Yanagi
Type: yanagiba (best for slicing fish fillets)
Blade length: 9.5"
Single bevel
Handle material: magnolia wood
A sushi chef knows that you can't really put a price on a real Japanese sushi knife that's handmade by local artisans.
The Yoshihiro Yanagi is by far one of the best professional-grade sushi knives because it's designed for the wear and tear of sushi-making at busy restaurants. 
The value is incredible with this knife because even though it's pricy, it can last for decades and still retain a sharp edge after tons of use.
It has a traditional Japanese design and appearance, with a single bevel, so it's a great addition to any knife collection for the pros. 
This is a Kasumi knife (forged with 2 metals) and made of iron and white steel. It's a durable combination that's well-known for its excellent edge retention.
But, the blade is flat on one side and concave on the other so it will take some practice to get the perfect cut. 
The knife comes super sharp out of the box but you need to be sure you don't hit bone or the cutting board when cutting the fish or else you risk chipping the blade. 
When used properly, the knife can cut through fish, vegetables, and cooked rice with minimal to no damage to the food cells.
This makes it one of the most precise knives and it offers clean cuts all the time. When the Yanagi makes clean cuts, it doesn't alter the texture and flavor of the food. 
What really impressed me is that this blade can cut paper-thin slices of any fish or vegetable with zero tears and rips. Therefore, you can use it for salmon, tuna, and whitefish sashimi as well as sushi. 
The knife has a lightweight D-shaped magnolia handle, which is very durable but also requires special care. This is definitely not the type of knife you want to throw into the dishwasher or you end up ruining it. 
Compared to all the other cheaper sushi knives on this list, the Yoshihiro has a perfect balance between blade and handle.
This makes it super easy and comfortable to use and make precise cuts once you get the hang of Japanese cutting techniques. 
One thing to note though is that this Yanagi knife requires lots of proper maintenance and care or else it can chip and get rusty. 
You must clean and wipe the blade after cutting through meat and fish immediately to prevent rust formation. Therefore, It's not the best starter Yanagi for amateurs, and it's more suitable for pros. 
Best professional sushi knife set: YOSHIHIRO hammered Damascus
Type: various
Number of pieces: 6
Hammered texture
Blade length: 5.3" – 9.5"
Handle material: wood
If you think the Yoshihiro Yanagiba knife is impressive, you probably want a full 6-piece set to use every day.
You get the three most important knives the professional sushi chef needs plus some other knives you can use for any kitchen task.
When you're making sushi rolls you always have to cut all kinds of ingredients which all have different textures. Chances are that one knife isn't enough for every task. 
Here, you're getting 6 knives:
2 Gyuto Chef Knives 8.25" (210mm) & 9.5" (240mm)
Petty Utility Knife 5.3" (135mm)
Santoku Multipurpose Knife 7" (180mm)
Sujihiki Slicer Knife 9.5" (240mm) – perfect for filleting fish into paper-thin slices
Nakiri Vegetable Knife 6.5" (165mm)
You can use the Sujihiki slicer to fillet your fish, and then the nakiri to cut vegetables into thin strips or small bite-sized pieces. The chef knives can help you cut meat (other than fish) and the santoku is good for cutting up the sushi rolls. 
The knives have a hammered finish Damascus steel blade which is not only very resistant and durable but the dents ensure the food doesn't stick to the sides of the blade. This way you can make clean cuts very fast. 
Like the other Yoshihiro knives, these are all very well-balanced so your hand doesn't tire after lots of cooking and cutting.
Since the blades are razor-sharp, there is no issue with dulling and rough cuts. 
These knives have contoured Yo (Western) handles which are triple-riveted to ensure they last a lifetime but it also offers a very secure grip because your fingers mold to the handle. 
There are an overwhelming number of pros to getting these knives but the one main con is the price.
A set like this will set you back over $700 but since you're getting 6 of the most sought-after Japanese knives, it's not a bad deal.
If you have these knives you probably don't need any more professional ones. 
Check prices and availability here
Yoshihiro Yanagi vs Yoshihiro Set
In the battle of professional knives, it all comes down to what you need for your sushi-making kit.
If you already own other Japanese knives, you only need a specialty Yanagiba knife but if you don't have a collection of Japanese professional-grade blades, you should get the whole set.
It has all the knives you need to cut through various food textures.
The single Yanagi knife is a classic single-bevel blade that is exactly what you need for thin, precise fillets.
But, the set offers both single and double-bevel knives so you can find one that you can easily maneuver.
The reason why Yoshihiro is a top brand I always recommend is that their knives are all high-quality and built to last a lifetime.
Other brands like Dalstrong have similar sets but they are built in more of a Western style and not as ideal for sushi making. 
If you can find Shun sushi knives, you can get those too, but they are at a similar price point to Yoshihiro and also hand-made. Yoshihiro is easier to find online and they offer a huge variety of knives.
Best bones and cartilage cleaver (Deba-bocho): SANE-TATSU Deba bocho cooking knives
Type: deba bocho
Blade length: 7"
Single bevel
Handle material: wood
This is a heavy-duty meat cleaver, and it is ideal for cutting through the cartilage of fish and bones. 
The sushi knife is not ideal for home sushi makers but rather, it's best for professional kitchens where chefs do it all – from the butchering, cutting, deboning the fish to slicing the fish for sushi. 
Mostly, it's used by pro sushi chefs who spend most of their time preparing a whole fish for sushi. 
But, if you're the kind of person who wants to buy whole fish or large salmon cuts and what to debone and cut the fish for other recipes, you might find a big deba bocho cleaver useful. 
The Deba Bocho has to be sharp and heavy, and this Sane Tatsu Japanese Yasugi Forged steel knife is the best you can get.
It's a single-bevel, high-end pro-knife that is ideal for slicing through steak and fish bones with lots of ease. Its extraordinarily thick blade, of up to 6mm, is designed to last for several years.
The Yasugi Forged Steel is specifically designed to cut through steaks, fish, cartilage, and small bones, as well as handle any other tough job like beheading the fish.
That's because the blade has an obtuse angle at the heel which prevents the blade from getting damaged when you cut through the rougher head and spinal bones. 
This blade has been forged from high-grade chromium-molybdenum stainless steel, which means the knife cannot rust, unlike other blades.
Although this is a modern material, it is safe for dishwashing and it holds up really well. 
One downside of this knife is the handle – it seems a bit lower quality than the blade but it's still pretty comfy on the hands.
Because the wood is rather delicate I still recommend hand washing this knife after use. 
Overall, this knife is handcrafted using top-grade steel, which means it meets the highest standards of top-quality sushi knives.
Best fish cleaver: Master Kuo G-5 XL 9.8″
Type: fish cleaver
Blade length: 9.8"
Curved blade
Handle material: wood
This is the best fish cleaver for any tuna sushi and sashimi. It's specifically designed for butchering and cutting through large fish species. 
If you're just making some sushi rolls at home with store-bought salmon or other fish, you can skip out on this hefty cleaver.
But, if you have a restaurant and want your chefs to work with large fish, you definitely need a cleaver like this one. 
The Master Kuo 9.8" has a rounded blade which makes it easy to cut through flesh and bone. You have to push the heel of the blade firmly into the fish and roll the blade forward to finish the cutting motion. 
This hefty blade has a 12" thick spine which contributes to the cleaver's weight. You need to exert quite some force when using it. 
The blade is made of clad 3-layer stainless steel like and it's well worth the price. Compared to cheaper Dalstrong and Imarku cleavers, you can really tell this is a specialty knife because the blade is amazing. 
The whole design is based on the Chinese art of swordmaking so you can count on precise cuts with one stroke. 
This cleaver has really great reviews because it holds a sharp edge very well. Also, it doesn't rust too easily.
When rusty, all you have to do is sharpen it and the rust layer comes right off. Therefore, you can use this cleaver for many years to come.
The handle is a bit short so you need to hold it tight in your hands to ensure it doesn't slip. It's made of wood and has a textured pattern to prevent it from slipping from your fingers. 
If you want to make sushi from big fish like tuna, this Asian cleaver is a must-have. 
Sane-Tatsu deba bocho vs Master Kuo fish cleaver
The deba bocho is a knife and cleaver hybrid with a shape similar to a chef's knife while the Master Kuo is a classic circular blade cleaver. 
If you need to cut and butcher small and medium-sized fish, you'll be fine with just the Deba Bocho knife but if you use whole tuna or large salmon, you need a hefty fish cleaver. 
Sane-Tatsu is quite an expensive brand but their cutlery is made in Japan out of premium materials so their deba bocho will last you much longer than budgets brands like Mercer.
Those deba bocho knives go dull after the first use. 
The same thing can be said about the Master Kuo cleaver.
It is one of the best in its category and since you need to use it to chop fatty flesh and large bones, you don't want to get the flimsy budget versions. 
Best sushi knife with holes & best for sashimi: Hinomaru collection sekizo
Type: yanagiba with holes 
Blade length: 9"
Double bevel
Handle material: wood
Do you like to make sushi and sashimi at home but struggle to cut clean fish fillets and strips? 
The Hinomaru Sekizo knife with holes is the best solution. This knife has 11 small holes along the bottom of the blade which are air gaps to prevent the fish flesh and other ingredients from sticking to the blade. In fact, the holes are there only to reduce the friction between the blade and food. 
It's the best way to ensure clean cuts that don't destroy the food's texture at all. The knife is especially good at slicing through cured salmon
The blade is made of stain-resistant stainless steel so it's quite rust-resistant if you wipe it clean immediately after use. 
Compared to regular sushi knives, this one has a double-beveled edge, not a single one.
That makes it suitable for beginners too because it's just like the regular Western knives most of us are used to. 
Having the holes really helps you cut fast because you don't need to keep removing stuck-on food bits. Therefore, when you use this knife you will feel like it's an extension of your arm. 
You can even sharpen it yourself using a whetstone and the knife isn't as high maintenance as more expensive ones. But, the blade is super sharp – it can skin fish and vegetables and cut the avocado into the smallest bite-sized pieces for your sushi rolls. 
The main disadvantage of having the holes is that some food, like perfectly cooked sushi rice, will grab onto the holes so I don't recommend it for cutting the rolls. It's best reserved for cutting the ingredients. 
Although the knife technically prevents rice from sticking, it's not really the case so use a santoku or other knife without holes for cutting sushi rolls. 
The Hinomaru knife is quite cheap and budget-friendly so it's a great value buy and others will definitely think you paid more than 20 bucks for it.
Best budget sashimi knife & best for beginners: Mercer Culinary Asian collection Yanagi 
Type: yanagiba with holes 
Blade length: 10"
Single bevel
Handle material: santoprene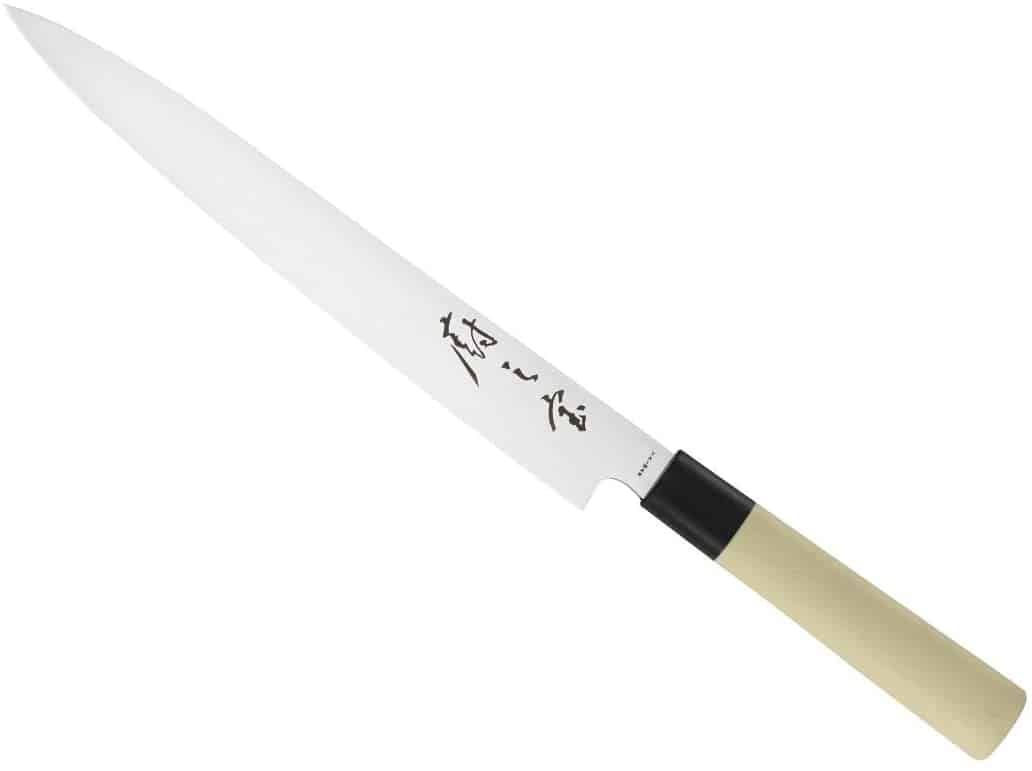 Having a proper single-bevel Yanagi for sashimi is more useful long-term than a sushi knife with holes, especially if you're after versatility. 
This budget-friendly sashimi knife by Mercer is a good quality knife, designed to replicate traditional Japanese Yanagi. 
It's a good knife for beginners and more experienced sushi home cooks too because it's extra sharp and has all the design features of expensive premium knives. 
Unlike the premium Kyoku Samurai knife, this one is made of high-carbon German steel, not Japanese. But, it still performs well when it comes to cutting fish and sushi ingredients. 
Surprisingly, it even slices through tough chewy octopus meat in a breeze, making it a perfect knife for dicing up fresh octopus for takoyaki. 
Of course, you can't expect the blade to be of equal quality but it's still rust-resistant and very sharp. The secret to its sharpness is the convex grind which not only ensures you can cut anything in one stroke but doesn't let food stick to the blade.
In a way, it's similar to the knife with holes so you can use this one as a substitute if you don't want to spend money on two knives. 
The knife has an oval santoprene handle which is quite comfortable to hold. This rubber material makes the knife's handle softer and lighter so it's easier to use for long periods. 
Customers are constantly praising this rubber handle because it's easier to clean and wash. Those traditional wooden handles can be high maintenance but this one isn't.
When it comes to similar knives, there's a good reason to choose Mercer over the likes of Wusthof – it's lighter and the spine and heel are much smoother. 
Overall, this is an excellent tool for slicing fish and veggies and the blade holds its sharpness much better than some of the $100+ knives on Amazon.
Hinomaru knife with holes vs Mercer budget knife
Both of these knives are designed to slice and fillet raw fish with ease and precision. They are both in a similar price range but the main difference is that the Hinomaru has those air holes while the Mercer doesn't. 
If you struggle to cut raw fish and vegetables without them sticking to the side of the blade, you'll find that the Hinomaru knife can improve your sushi cutting skills greatly.
Also, the blade is double-bevel so it's easier to use than a single-bevel one. 
The Mercer budget knife performs well and slices food into very thin strips. It has a sharper edge and since it's a single-bevel knife, you need to practice using it before you can confidently start cutting like restaurant sushi chefs.
It really depends on how sticky and textured the fish is – if you're just slicing salmon, you might not even need those holes that much.
Finally, there's a difference between the blades. The Mercer's rubber handle is comfier to hold and easier to clean.
If you don't like the feel of wood handles, you should pick this one. The Hinomaru wood knife is okay but it's nothing to rave about.
Best long sushi and sashimi knife (takohiki): Masamoto Hon Kasumi Tamashiro
Type: takohiki
Blade length: 14"
Single bevel
Handle material: wood
The Takohiki knife is a type of Yanagiba but it has a square tip.
This knife comes from the Tokyo region and can be used for all the same tasks you use the regular yanagiba for. It excels at cutting fish for sushi and sashimi. 
The Masamoto is an expensive premium ion disambiguated wl-thing" itemid="https://data.wordlift.io/wl143530/entity/japanese-knives">Japanese knife but it's probably the sturdiest and best long knife you'll find. It can slice through raw fish instantly without any tears or rips in the flesh texture. 
Takohiki knives are usually used to cut octopus. The blade's square tip is perfect for cutting curled octopus tentacles. It allows you to pull and uncurl the tentacles. 
But, the square tip also has a second use because it can help you transfer and lift sliced fish from the cutting board to your plate without damaging the shape and texture. 
I know I've been talking about octopus here but you can slice through any type of fish flesh with great precision.
Having a longer blade also makes it easier to slice larger fish cuts and you can cut to fillet the flesh in fewer moves. 
The white steel blade is very sharp and holds the edge well. This innovative white steel blend is made from materials that are native to Japan and local artisans make the knives using only the best of the best prime resources. 
This knife won't let you down when you need to work fast – that's why it's a great knife for restaurant sushi chefs. Most home chefs probably don't need to spend so much money on an expensive sashimi knife. 
There's a traditional narrow wood handle which makes the knife very balanced in your hand.
The only problem is that using this long-blade knife requires a bit more skills. Finding your balance is more difficult but it can feel heavy after prolonged use. 
Best premium Honyaki: Yoshihiro Mizu Yaki Honyaki
Type: honyaki takohiki
Blade length: 11.8"
Single bevel
Handle material: ebony
If you're going to invest in one pricey sushi knife, you can't get any better than the Yoshihiro honyaki. Only a few Japanese skilled tradesmen can make these sword-like knives. 
Technically, this is another takohiki knife but it doesn't have a fully square blade tip like the Masamoto. 
The knife is made of expensive blue steel and has a mirrored polish finish – you can see the quality just by looking at it.
Traditionally, the honyaki is made using the same methods as swordsmithing. 
Honyaki refers to the long and meticulous crafting method which draws out some of the hardness of the steel. But, it infuses it with resiliency and durability so it's fit for cutting any fish and seafood flesh. 
Thus, the high price reflects the quality and the fact that this knife is "true forged" just like a Japanese sword. 
If you've used a yanagi knife before, you can learn to use the takohiki pretty fast.
It's designed to cut through the long tentacles of an octopus but it also allows you to cut paper-thin fish slices for your sushi rolls. 
This knife's blade is flatter but lighter which lets you slice in uninterrupted cuts. On one side, it has a flat grind and a concave rim but on the back, there's a flat rim.
This combination is perfectly calculated to maintain the meat and fish's texture without damaging it one bit.
If I have to make one criticism, it's the high price tag but since they make a limited number of these knives per year, it's not surprising and this kind of quality is hard to beat.
This knife is for professionals who really need a sharp, precise blade. 
Masamoto Takohiki vs Yoshihiro Honyaki
These are two premium takohiki knives designed for professionals. They are suitable for cutting octopus and other raw fish and seafood. 
The noticeable difference is that the Masamoto takohiki has a traditional square tip which is a must-have requirement if you cook with octopus.
But, if you're looking for the ultimate sword-like sharpness and don't really focus on octopus, the Honyaki knife is every sushi chef's dream. 
What makes the Yoshihiro interesting is the ebony handle. It is a Wa-style octagonal shape which is more comfortable to hold than the Masamoto wooden handle. 
Of course, you expect these expensive knives to be comfy to use, but the truth is that Japanese knives can be quite tricky to hold and balance.
The Yoshihiro ebony handle offers a more secure grip than the wooden Masamoto.
The Masamoto knife is made of a "secret" iron and steel blend called white steel while the Honyaki is forged out of blue steel like a sword. It is the sharpest and most resilient blade on this list. 
It comes down to personal preference and budget. Since these knives function in a similar way, you can choose whichever tip you need more.
Best left-handed sushi knife: KS&E Hasegawa 10-inch
Type: yanagiba (best for slicing fish fillets)
Blade length: 10"
Single bevel
Handle material: wood
Don't worry lefties, there's a perfect sushi knife out there for you. Everyone deserves a sharp sushi knife because there are plenty of left-handed amateur home cooks and professional chefs.
Using a regular wl-thing" itemid="https://data.wordlift.io/wl143530/post/different-sushi-types-explained">sushi knife meant for right-handed people is outright dangerous. Not only do you risk injury but you can end up ruining the fine, delicate texture of the fish. 
The blade is beveled and sharpened to perfection on the left side so it's only suitable for left-handed users. 
The KS&E 10" sushi knife is made in Hasegawa, Japan by skilled tradesmen. It has a stainless steel blade and a traditional wooden handle.
The blade is corrosion and rust-resistant if you wash and dry it after each use. 
You can compare this leftie knife to the KYOKU Samurai Yanagiba because they are of similar quality and price. The KS&E knife has an octagonal blade which makes it ergonomic and easy to grip. 
So, even as a left-handed user, you can cut with the same precision as a right-handed person. There's no difference in terms of functionality between this leftie knife and all the others. 
The blade is 3mm thick so it's ideal for slicing raw fish but you can even get away with cutting up the rest of your sushi ingredients into small pieces. 
Take your time learning to use this knife. It's not designed with beginners in mind because it has a single-bevel blade after all.
You need some slicing skills before you can slice salmon or tuna in one stroke.
The experts might say that this knife isn't quite up there with the Shun or Yoshihiros, but if you're a leftie wanting a great sashimi knife without spending a fortune, you'll be pleased with it. 
Overall, the knife is a great made-in-Japan product with a sharp single bevel edge and sturdy handle.
I highly recommend it for home cooks looking to break free from the struggles and dangers of rightie knives when cutting fish and seafood. 
Make your collection complete with this top 8 chef's choice left-handed Japanese knives
Best sushi knife for cutting rolls: Oxford Chef santoku knife
Type: santoku 
Blade length: 7"
Double bevel
Handle material: composite
Do you struggle cutting your sushi rolls? Many people have trouble cutting up the sushi into rolls because the rice and filling tend to fall apart during the cutting process.
The solution for this problem is a good Santoku knife with a Granton (hollow) edge. 
This type of blade design is preferable for nt-522b7fcc-b25b-48ce-9528-039614e225d0″ class="textannotation">cutting through sticky ingredients like vinegared sushi rice because the hollow ridges are like air pockets that prevent food from sticking to the blade.
As a result, you can actually cut perfect sushi pieces that stay intact before serving. 
The knife is heavy but well-balanced so it glides smoothly and offers a secure grip. You can describe the cutting experience as "smooth like butter". It cuts through cooked rice, vegetables, meat, and raw fish with ease. 
Customers are saying it can even cut gourds and disjoint very large cuts of meat.
This versatility makes it an ideal sushi knife because it can do it all and if you're not willing to spend a lot of money, this one knife can replace a host of others. 
The full tang Oxford knife has a very comfortable ergonomic handle. It offers optimal knuckle clearance so you can cut and chop using smooth hand motions that don't hurt your knuckles and tire your fingers. 
Some users are complaining that this knife is slightly off-balance and it can make your cuts imprecise. 
I think it depends on the size of your hands but you should keep in mind that it's quite a big bulky knife.
I don't recommend it for those delicate fish filleting tasks. The Yanagi is the better option in that case. 
Also, when you cut acidic foods, you'll quickly notice the staining on the steel blade. You need to clean it immediately to avoid ugly staining and rust.
Overall, this Santoku knife is a more affordable alternative to KYOKU brand's Santoku or an alternative for the Mikarto.
This one is the better choice because it retains its edge longer and it's easier to keep the heel sharp. 
Best vegetable knife (Usuba-bocho): TUO Nakiri knife 6.5 inch
Type: usuba/nakiri vegetable knife
Blade length: 6.5"
Cleaver
Double-bevel
Handle material: pakkawood
Sushi rolls are filled with all kinds of vegetables from cucumbers to avocado and bell peppers. But the secret to great sushi rolls that keep their perfect form is to use very thinly sliced vegetables. 
The Nakiri and Usuba-bocho refer to a specialty Japanese vegetable cleaver. It has a very sharp double-edged blade that will help you make thin, clean cuts.
href="https://www.bitemybun.com/best-usuba-square-knife/">Usuba can be translated to a thin blade, that's used for slicing and chopping thin sheets from veggies. You can also use it to peel and make fine cuts. 
The nakiri makes sure any fruit or vegetable you'll be slicing with this knife will always cut through with a single push, so it is great to lighten the strain on your hands from other types of knives.
The TUO is a budget-friendly Japanese-inspired knife made of German steel.
The blade undergoes cryogenic tempering which gives it hardness, durability, and a bit of flexibility so you can slice food with a fine texture.
Just keep in mind that this is a vegetable cleaver, not a meat cleaver. I don't recommend trying to fillet the fish with this – it's just too big and the blade is way too wide for such a fine task. 
Many people are intimidated by the wide blade, but the nakiri is a well-balanced knife. This one is full tang and has triple rivets which contribute to its solid build.
Some people are saying that the cleaver is not quite as sharp as it's supposed to be so it's harder to slice through hard vegetable skins. This problem is likely the result of a coarse grit on the belt grinder. 
However, this is a cheap knife and the finishing details are not quite on the same level as the much more expensive counterparts like Shun.
Also, the transition from the plastic handle to the metal blade is not as smooth.
These minor flaws are a reflection of the price. The handle is made of a really nice pakkawood but it's hygienic and easy to clean compared to regular wood. 
For all your vegetable slicing, dicing, and mincing needs this Nakiri does the job well. The good news is that you can use a Nakiri or Usuba bocho for all other vegetable cooking tasks, not just for sushi. 
Oxford Chef santoku vs TUO Nakiri
If you need a knife to cut the 5-4789-a98e-99c21dd49f00″ class="textannotation disambiguated wl-thing" itemid="https://data.wordlift.io/wl143530/post/different-sushi-types-explained">sushi rolls into smaller pieces to serve to your guest or family, the Santoku knife with a Granton edge is a must-have. 
It can also do almost all the vegetable cutting tasks you need to make sushi, so the Nakiri might be unnecessary. 
However, if you're making lots of vegetarian and vegan sushi, you'll need a Nakiri cleaver to chop and slice the veggies into fine pieces. 
Both of these knives are comfortable to hold and use and they have ergonomic handles. 
When you choose a Santoku knife you're getting a kind of all-purpose cutting tool for the kitchen whereas the Nakiri is a specialty knife. 
It's not the best at cutting and filleting fish and seafood whereas you can get away with cutting fish using the Santoku. The meat's texture might turn out less than perfect but it's suitable for homemade sushi. 
Because the santoku has a sharp tip and sheep-foot-shaped blade, it can be used for cutting rolls too and making precise fine cuts in the food. I wouldn't try to do precision cutting with the Nakiri.
Also read: 5 main types of traditional Japanese sushi explained
Best Sujihiki slicer knife: MASAMOTO AT slicing knife 10.5″
Type: Sujihiki slicer and carving knife
Blade length: 10.5"
Double-bevel
Handle material: pakkawood
If you have a hard time using Japanese single-bevel blades, I feel you.
This double-bevel Sujihiki is a good alternative for the yanagiba and it will make cutting tasks a bit easier. 
The Japanese Sujihiki is a larger slicing knife for carving roasts, large beef cuts, and even fish.
Sushi chefs also use this knife to slice the ingredients in the rolls like smoked salmon, avocado, and cucumbers.
The knife has a long, narrow blade and pointed tip which quickly pierces through flesh so you can use it to cut fish and seafood without tearing or ripping it.
This allows you to make perfect cuts for sushi rolls. 
But, this knife is mostly used by Westerners as an alternative to the traditional Japanese Yanagi knife.
It has a double-bevel blade so it makes it easier to use even if you're not familiar with the Japanese blade. Many people use this specific knife to cut a sashimi block. 
Good news – even left-handed people can use this knife with no problems so it's very versatile. 
The handle is made of a strong pakkawood so it can handle the elements like humidity much better.
In terms of handle weight, it is moderately heavy but this makes the knife good – only those cheap knives have very light blades but those won't last you long.
This knife's blade is made of stain and rust-resistant stainless steel which doesn't require as much maintenance as carbon steel.
Most people prefer carbon steel but this Japanese-made knife has a good quality build so the material isn't really an issue. 
Customers love that this knife holds its edge very well and you can tell that it's a high-quality object.
People who buy this knife to slice their sushi ingredients are very pleased with the value. It's worth the investment because it's a multi-purpose knife and everyone can use it. 
Although it's a double-bevel knife, it is initially sharpened for right-handed users at a 70/30 ratio so you have to sharpen the back of the blade first if you're left-handed. 
Masamoto is often compared to Shun knives and the Masamoto is preferred by those who feel frustrated with the chippy Shun blades – they're kind of a hassle to sharpen. 
Best sushi Kiri cleaver: Sakai Takayuki 
Type: sushi roll cutter
Blade length: 9.44″
Double-bevel
Handle material: resin
In some parts of Japan, this id="urn:enhancement-c16e3054-fb1b-450d-83bf-3cc354ea1fe9″ class="textannotation disambiguated wl-thing" itemid="https://data.wordlift.io/wl143530/post/different-sushi-types-explained">sushi kiri is the most popular knife for cutting sushi rolls.
You might be satisfied with the yanagiba but if you're familiar with the Osaka and Kyoto regions, you might have heard of this special sushi roll knife.
It looks like a cleaver with a rounded circular type of blade. 
This knife is used to cut and slice the ed">sushi rolls and Battera sushi, also called Hako sushi. 
These knives are made by artisans and they are very expensive. So, you might not need this specific knife unless you're a sushi chef.
In that case, it will make your life easier because it has a rounded blade, perfect for precise cutting of the rolls. 
The knife has a very luxurious octagonal-shaped resin handle – this material is easy to clean and more hygienic than most wood handles.
Although the cleaver is a bit heavy, the knife is well-balanced so you don't tire your hands.
With an alloy steel blade, this Sakai knife is one of the most resistant to corrosion and rust. The blade is well-made and strong so you can cut through fish too if necessary. 
The Sakai knives are very high quality and their blades are known for their sharp edges.
It makes slicing through vinegared rice, fish, and vegetables very easy and smooth. The food doesn't stick to the blade's edge. 
Sakai is one of the top knife-makers in Japan with a history of over 600 years – the artisans are highly skilled and that's why the prices are high. 
Generally, Sakai is compared to Shun knives but it's a step up in terms of overall design and quality.
If you're looking for a collectible sushi knife for your collection that can last a lifetime, the Sakai is a top choice. 
Types of Japanese sushi and sashimi knives
There is more than one type of b584d4-65d5-44ca-ae63-2effc1b220e9″ class="textannotation disambiguated wl-thing" itemid="https://data.wordlift.io/wl143530/entity/japanese-knives">Japanese knife used for making Yanagiba
Yanagiba knives are commonly used to skin fish and slice boneless fish fillets for Sashimi and Sushi dishes. They can also be used to fillet small to medium-sized fish.
The Yanagiba's narrow blade and somewhat acute edge angle considerably reduce the amount of effort necessary to cut through food.
Because of the cutting process, acute blade angle, and sharp edge, the sliced surface has relatively little cellular damage. This is especially crucial in meals where the fish is eaten raw since it helps to keep the fish's original flavor and texture intact. 
Deba-bocho
The deba-bocho is a type of smaller cleaver. It is used to cut through bones and fish cartilage.
It's considered quite a heavy-duty cleaver and is suitable for the tougher sushi-making tasks. This knife is especially handy if you're getting whole fish and prepping it for sushi at home or in the restaurant. 
The Japanese Deba is often used for breaking down and seasoning fowl and other meat with small bones.
The Deba's substantial weight is advantageous because, with proper care, the knife's solid heel part can be used to cut or chop through the bones present in small and medium-sized fish.
It's a great salmon knife and you can use it to slice the fillets for sushi. 
Debas are also widely used to cut fish heads in half, and when used properly, they can also be used to safely remove and split open crab legs and claws.
The Deba is not advised for chopping through large bones because the blade can chip. 
Usuba and Nakiri
The usuba bocho refers to a vegetable knife or cleaver with a thin, straight blade edge honed on the right side. Kataba is the name for this sharpness on one side.
These days it's often replaced by the Nakiri which is almost the same thing because Nakiri knives are cheaper. They're used to cut up all the vegetables for sushi into small pieces and fine, thin slices. 
The Usuba sushi knife is used by textannotation disambiguated wl-thing" itemid="https://data.wordlift.io/wl143530/post/different-sushi-types-explained">sushi chefs to slice razor-thin slices and sheets off of the veggies for an id="urn:enhancement-c37b6c76-46ed-4b5f-8f0d-9f17f2e5db93″ class="textannotation disambiguated wl-thing" itemid="https://data.wordlift.io/wl143530/post/different-sushi-types-explained">sushi rolls. 
Santoku
Santoku means "three virtues" in Japanese, and it relates to the knife's superior performance when cutting fish, meat, and vegetables.
It has a flat belly shape that lets it be used in an up and down chopping action, which is ideal for sushi making.
The Santoku is an all-purpose type of knife so you can use it for meat, vegetables as well as slicing the rolls.
Takohiki 
The Takohiki knife is actually a type of Yanagiba but a local Tokyo variation. It's used for the same tasks as the yanagiba but it has a square tip.
This design is suitable for cutting curled octopus tentacles and prepping the octopus flesh for sushi, takoyaki, and other Japanese octopus dishes.
To use the knife, you need to pull and lift the blade through the flesh. The square tip is ideal for lifting the meat from the cutting board to put it on the plate. 
Sushikiri
Sushikiri is a Japanese word that means " id="urn:enhancement-962297f9-ae8b-4c5a-8cd0-01e400625090″ class="textannotation disambiguated wl-thing" itemid="https://data.wordlift.io/wl143530/post/different-sushi-types-explained">sushi slicer."
Sushi rolls and battera sushi are sliced in one rolling slice without being crushed, thanks to the long symmetrically curved blade.
In the Kansai (Osaka) region, these knives are very popular but it's hard to find these types of knives in the States or even on Amazon. That's because these knives are manufactured in a limited number by Japanese artisans. 
The knife looks like a type of cleaver but the blade is rounded and curved, not straight and wide like the usuba. 
How to hold and use a sushi knife
Finger position
Sure, you have a good sushi knife but then how do you hold it? This is possibly the most serious issue that many people are confronted with because maneuvering Japanese knives is a bit different from the traditional Western-style knife. 
If you want to be a pro at cutting clean and precise sushi slices, you should first learn how to hold the knife correctly and avoid injury. 
The majority of people grip the knife by the handle, which is incorrect. The base of the knife should be held with your index finger and thumb instead of firmly gripping the handle.
Wrap your remaining three fingers around the handle. At first, this position seems hard and inefficient but holding your sushi knife in this manner improves precision when making accurate cuts and specially angled ones. 
Some people grip their sushi knives with their index fingers on the blade's top and you can do this too. if you hold the knife in this manner you have more control over the tip of your blade.
But, making aesthetically pleasing -sushi-types-explained">sushi rolls necessitates total control over the entire blade. This can be accomplished by employing the first approach, which guarantees that the index and thumb serve as a fulcrum for support.
Cutting Hand Positioning
It depends on how you position your cutting hand on whether you're a leftie or a rightie.
The hand you use to chop the food is the same one you use to hold food and you should use that dominant hand to cut and chop. 
Most people are unaware that if you want to cut sushi better, you must place your cutting hand in a precise way.
Curl your fingers inward to grab the food and create your hand into the shape of a paw when cutting. Make sure your thumb is curled as well.
Some people, on the other hand, use their thumbs to maintain the chopping board in place. It's fine to do so; just make sure it's not near the blade to avoid any mishaps.
If you have a chopping board with a sticky surface it's easier to make sure that the chopping board doesn't move while you're making sushi.
When slicing spherical objects such as cucumbers or surimi, keeping your thumb on the cutting board prevents your food from rolling away.
Another important point to remember is that your middle finger should always be perpendicular to the cutting board.
When you chop your meal, the knife will move down the surface of your finger. It's easier to avoid cutting yourself if it's perpendicular to the board.
Cutting at an angle with your sushi knife is an excellent habit. You'll be able to make more room on the board this way.
Furthermore, having the knife perpendicular to the board forces you to lean to one side, which will make you tired quickly.
To improve your chopping skills, practice the proper knife holding and cutting hand methods when preparing lass="textannotation disambiguated wl-thing" itemid="https://data.wordlift.io/wl143530/post/different-sushi-types-explained">sushi rolls or whenever you use your When the knife is not in use, how should it be stored?
Sushi knife etiquette also involves how the knife is handled when not in use.
Place the knife on the top edge of the chopping board with the knife's edge pointing away from the board once you've finished slicing the sushi rolls.
This refers to proper etiquette and it's done this way to ensure that people around you know you're done using the knife for the time being. 
This prevents you or anybody else in the kitchen from injuring oneself while reaching for the knife.
Furthermore, having it directly on top of the board makes it easier for everyone to see where the knife is.
Done cooking? Don't keep your Japanese knife collection in the kitchen drawer but invest in a proper knife storage solution (you can thank me later)
FAQs
Why is Yanagiba called 'The Willow Blade' knife?
The Japanese word Yanagiba ((柳刃包丁)  is translated as "willow leaf blade" in English. The reason why this knife blade is called that is that the blade has a willow leaf shape. It is a long but slender leaf-like blade. 
Even the sharp-angled tip resembles the shape of a Japanese willow tree. 
The willow blade knife is known as the best sushi knife because the long blade with the angled tip allows for clean cuts in a single stroke without making you cut in a bad zigzag form. 
Why are Japanese knives so good?
Japanese knives are so good and world-renowned because of their sharpness.
The reason you can get them this sharp is because of the quality steel with which they were forged, and this allows them to be sharpened at a better angle than most knives.
Sharp knives like these cut through almost anything with ease and remove the need for the chef to use a lot of pressure.
Are Japanese knives cheaper in Japan?
Japanese knives are substantially cheaper in Japan itself compared to America or other western countries. A lot of this has to do with the fact that they don't have to be shipped to be able to be delivered to you.
The other being, they are just kitchen knives over there and we mostly pay a bit of a premium here, just because of the name and we think they're cool.
Is a santoku knife good for sushi?
The Santoku is a good knife for sushi, but you can do better.
If you've bought a Japanese knife, chances are you have a Santoku knife. It's the most versatile knife Japanese chefs can have, and it's suitable to use for a lot of dishes.
But ent-7b0a3bd6-1ae2-44a5-83d7-6ccd395ccad8″ class="textannotation disambiguated wl-thing" itemid="https://data.wordlift.io/wl143530/post/different-sushi-types-explained">sushi chefs want to use the best knife for the job and will choose a separate knife for each individual task in preparing sushi.
Bottom line
As highlighted earlier, you will need a d4d196f8″ class="textannotation disambiguated wl-thing" itemid="https://data.wordlift.io/wl143530/post/different-sushi-types-explained">sushi knife whenever you are preparing
Have your sushi cut and ready? Finish it off with the 16 best sushi sauces you must try! (list of names + easy recipes)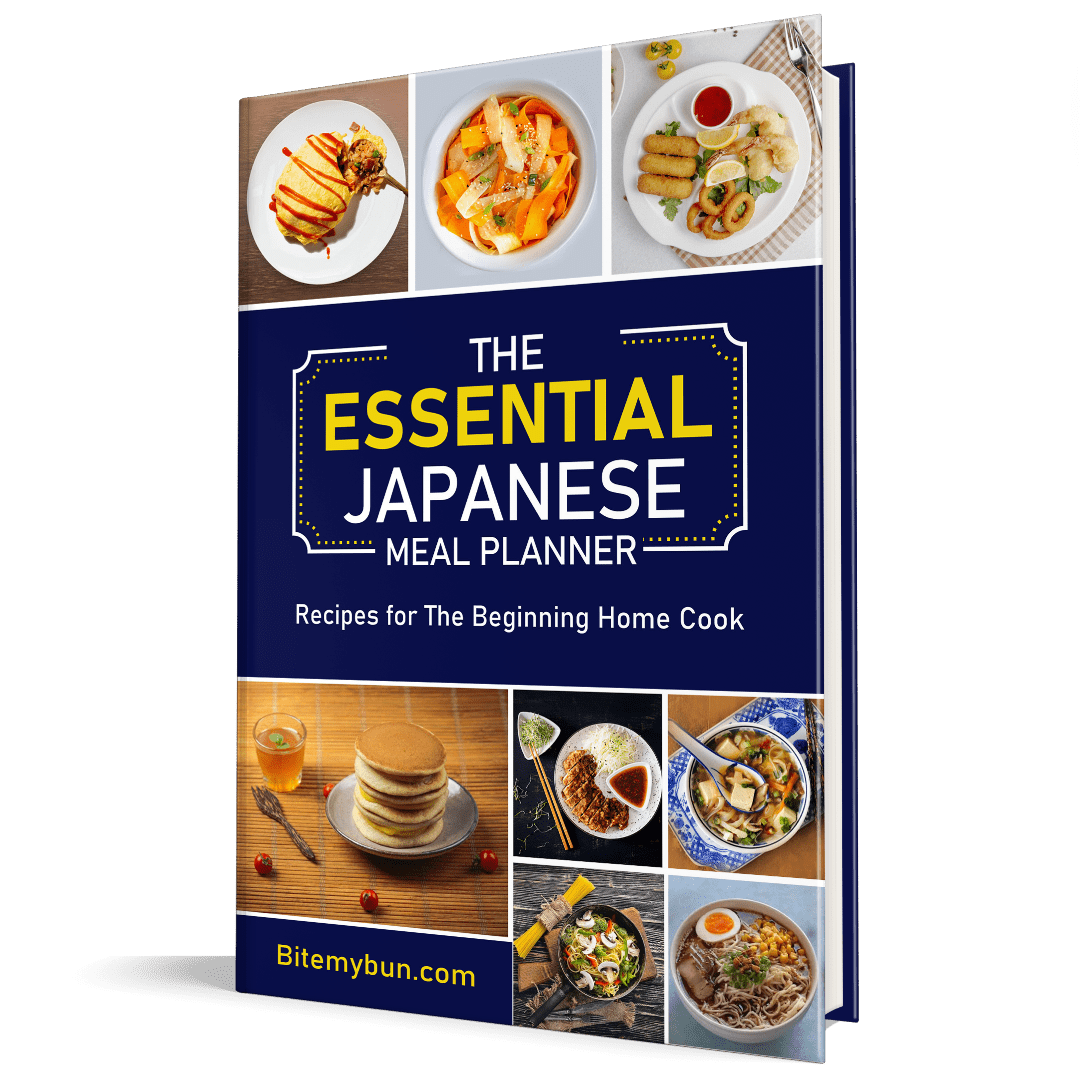 Check out our new cookbook
Bitemybun's family recipes with complete meal planner and recipe guide.
Try it out for free with Kindle Unlimited:
Read for free
Joost Nusselder, the founder of Bite My Bun is a content marketer, dad and loves trying out new food with Japanese food at the heart of his passion, and together with his team he's been creating in-depth blog articles since 2016 to help loyal readers with recipes and cooking tips.