I love creating free content full of tips for my readers, you. I don't accept paid sponsorships, my opinion is my own, but if you find my recommendations helpful and you end up buying something you like through one of my links, I could earn a commission at no extra cost to you.
Learn more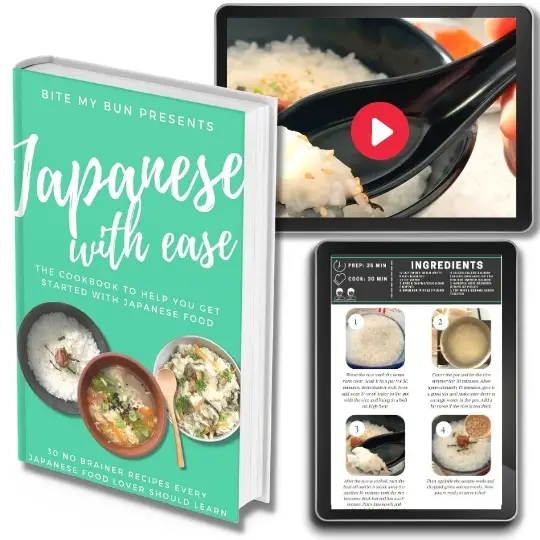 Ever had trouble finding Japanese recipes that were easy to make?
We now have "cooking Japanese with ease", our full recipe book and video course with step-by-step tutorials on your favorite recipes.
The sushi sandwich is an increasingly popular hybrid between the Western "sandwich", a Japanese dish called onigirazu, and sushi.
People love this fun dish because it mixes popular ingredients with the flavors of sushi. It's easy to make this dish at home or buy it from gourmet grocery shops.
In this article, I'll take a look at what it is and how to make it!
Many specialty restaurants also offer sushi sandwiches for dine-in or take-out.
The sushi sandwich is a popular hit on social media platforms like Instagram because it's an aesthetically attractive dish.
Plus, it's kind of easy to make. You can just pile on all your favorite ingredients and toppings to create your own unique Instagrammable lunch, snack, or dinner!
This hybrid sandwich is a great option for fish and meat-eaters, as well as vegetarians and vegans alike because it's easy to customize each sandwich to suit all individual food preferences.
What is a sushi sandwich?
This dish is initially inspired by a rice dish called onigirazu from Japan. It looks like a Western-style sandwich, but it's made of rice and seaweed and packed full of delicious seafood, meat, or vegetarian ingredients.
If you don't like raw fish, then this dish is for you. It can taste like sushi rolls, but you can substitute ingredients and forget all about raw fish!
The sushi sandwich is the perfect food for those who are bored of having the same old for lunch and want to switch things up.
For this sandwich, you can use many of the same ingredients you'd use to make traditional seafood or vegan sushi rolls like these we made here.
It's easy to pack up for lunch since it's compact like a bread sandwich. Plus, it can be prepared as part of meal prep for the next day, as it keeps its freshness for 24 hours in the refrigerator.
So you might've heard of sushi sandwiches being called "onigirazu", but did you know it's actually not the same thing and incorrect to call them one and the same? The sushi sandwiches you'll find for sale at grocery sushi fridges like the ones at Whole Foods aren't quite like the Japanese versions.
There's a distinction between onigirazu and a sushi sandwich. The former is made using plain white rice, while the latter is a seasoned dish made with vinegar-soaked rice.
"Sushi sandwich" is the term to use for Western and American styles of this dish.
These sandwiches are great options for dieters and are considered low-calorie foods, as, on average, 1 serving of vegan sushi sandwich contains about 150 calories while those with ingredients such as salmon contain about 250 calories per serving.
Also read: these healthy brown rice sushi recipes will work for sandwiches too
Now that you've read about all the possible ways to make a sushi sandwich, it's time to get cooking and make your own delicious version in the comfort of your home with the kitchen tools you already own!
Sushi sandwich with smoked salmon and fried tofu
In this recipe, you'll learn to make a delicious smoked salmon and tofu sandwich. Tofu and salmon are easy-to-find ingredients and are healthy for you too! Tofu is naturally gluten-free and a great source of calcium and iron. 125g of tofu has only 95 calories. Smoked salmon contains lots of vitamin D, vitamin B-6, and magnesium.
Ingredients  
4

cups

short-grain rice

4

large

nori sheets

4½

ounces

smoked salmon

2

blocks

tofu

1

avocado

1

egg

1

cucumber

1

cup

rice vinegar

1½

ounces

sugar

2

tbsp

salt

2¼

ounces

cream cheese

1

ounce

cornstarch

3¼

ounces

all-purpose flour

1

tbsp

baking powder

180

ml

cold water

1

handful of chopped chives

Teriyaki sauce

Soy sauce
Instructions 
Preparing the rice
Before you start putting your sandwich together, you must cook the rice. Cook your sushi rice for about 20 minutes in a pressure cooker. The rice should be firm. Once the water evaporates completely, your rice is ready.

In a large bowl, mix 1 tbsp salt, sugar, and vinegar, and heat up the mixture in the microwave for 1 minute, or until the sugar melts.

Pour this mixture over the cooked rice and mix well.

Allow sushi rice to cool to room temperature. It's much easier to mold the rice once it's cooler.
Preparing the fillings
In a bowl, whisk together the egg, flour, cornstarch, baking powder, and 1 tbsp salt.

Slowly mix in the cold water and stir.

Slice the tofu into small strips and marinate it in this batter.

Heat the canola oil and fry for a few minutes on each side until crispy and golden.

Cut up all your filling ingredients and put them in small bowls.
Assembling the sushi sandwich
Lay down your plastic wrap on the flat surface you're using and place 4 nori sheets in a square shape.

Place ½ a cup of your cooked rice in the center of the seaweed and lay it out in a diamond shape. Use moist hands or a moist rice paddle to make sure the rice isn't sticky.

Spread out the cream cheese onto your rice evenly, as this is your base layer.

Add all of your fillings in layers in this order: tofu, salmon, avocado, cucumber, and chives. Make sure that you don't overstuff your sandwich, as it can lose its shape.

Add another ½ cup of rice on top of your fillings and maintain that diamond shape to cover all the fillings. Make sure to pat lightly and avoid thick chunks of rice.

Use the plastic wrap to pull 1 edge of the nori sheet towards the middle of the rice and press down hard to make the seaweed and rice stick together.

Repeat the same step for the opposite corner.

Now fold the other 2 corners towards the middle and seal them using the plastic wrap.

Press lightly to seal the nori sheet and rice.

Your finished sandwich should look like a square package that can be cut into two triangles.
Notes
1 serving of this sandwich contains about 250 calories
, so it's a healthy option for sandwich lovers looking to skip out on bread.
For this recipe, you need some plastic wrap
to lay down on your cutting board or flat surface.
The sandwich will be made and wrapped with the help of this plastic wrap.
If you want to make your work easier, try a special sushi sandwich
-
making device that'll help you fold the sandwich just right every time.
Nutrition
Before serving, let the sandwich cool in the fridge for 1 hour or overnight if you're taking it to work the next day.
If you want to make a more accessible version of this dish, try using a large pan.
Cover the whole pan with nori sheets, followed by a layer of sushi rice and your fillings. Then cover in another layer of rice and a final layer of nori sheets.
Cut into small bite-sized chunks. It'll be like a sushi sandwich pie!
Try this delicious dish today and savor all the flavors of seafood sushi rolls in convenient handheld sandwiches.
Here's Cooking with Chef Dai with a great explanation:
The origins of onigirazu
Onigirazu refers to a rice ball that doesn't need to be molded into a triangular shape like onigiri.
The onigirazu sandwich has a specific inventor and history. It's inspired by traditional Japanese rice balls.
In 1991, Tochi Ueyama first shared this sandwich in a popular manga series called Cooking Papa, which aired in Japan. He was inspired by his wife, who made this sandwich for the family.
It quickly became popular, and people started making their own versions of this manga dish at home!
Also read: brown rice for sushi? Yes, it can be done!
Sushi sandwiches around the world
You're probably wondering what kinds of ingredients you can make sushi sandwiches with.
Typical fillings include:
Avocado
spicy tuna
Salmon
Crab/fake crab meat
Vegetables
Pickled vegetables
Tofu
There are also specialty sandwiches that use unique ingredients such as Japanese sweet potato, spinach, radishes, daikon, mushrooms, oysters, and sashimi.
Did you know that different countries have their own versions of sushi sandwiches that are inspired by local cuisine?
For example, in the United States, the BLT (bacon, lettuce, and tomato) sandwich is very popular and has been adapted for the sushi sandwich. Instead of adding fish, tofu, and pickled veggies, the American sushi sandwich includes hot sriracha sauce, smoked bacon, small pieces of tomato, and iceberg lettuce.
Or you can use the red sauce often found on top of sushi (in our list of all of the sushi sauce names).
Australians enjoy adding canned tuna, capers, and mayonnaise (I talk about my favorite Kewpie here!) to their sushi sandwich. This recipe is like the famous tuna and mayo sourdough Subway sandwich.
In Western European countries, people enjoy stuffing their sushi sandwiches with luncheon meat, poached eggs, and lettuce or cilantro. You can also use pork, beef, and chicken instead of luncheon meat.
In Vietnam, there's a popular gluten-free sushi sandwich with chicken cooked in teriyaki sauce, Dijon mustard, carrots, and butter lettuce.
Vegans in Japan prefer tofu katsu onigirazu, which is made of sushi rice, fried katsu tofu, lettuce, carrots, pickled radish, pickled burdock root, and teriyaki sauce.
You can make much in the same way as this vegan tofu sushi recipe we wrote about here.
Make your own tasty sushi sandwich
Now you know about onigirazu and sushi sandwich. The beauty is, you can make yours according to your personal tastes, so the world's your oyster. You can keep things interesting by switching up ingredients so it never gets old!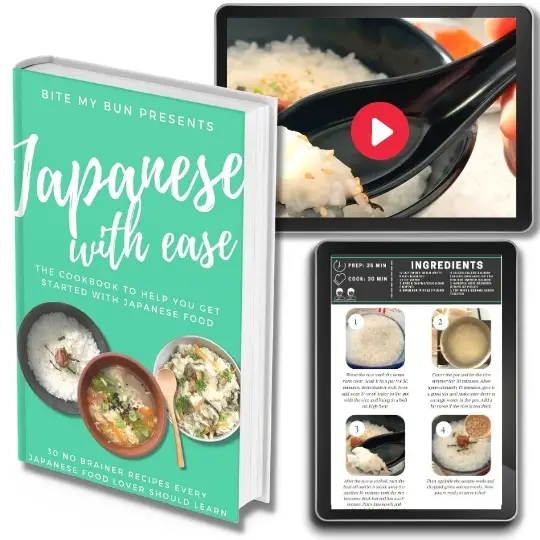 Ever had trouble finding Japanese recipes that were easy to make?
We now have "cooking Japanese with ease", our full recipe book and video course with step-by-step tutorials on your favorite recipes.
Joost Nusselder, the founder of Bite My Bun is a content marketer, dad and loves trying out new food with Japanese food at the heart of his passion, and together with his team he's been creating in-depth blog articles since 2016 to help loyal readers with recipes and cooking tips.