Kitsune udon: How to make this classic & popular Japanese noodle soup
I love creating free content full of tips for my readers, you. I don't accept paid sponsorships, my opinion is my own, but if you find my recommendations helpful and you end up buying something you like through one of my links, I could earn a commission at no extra cost to you.
Learn more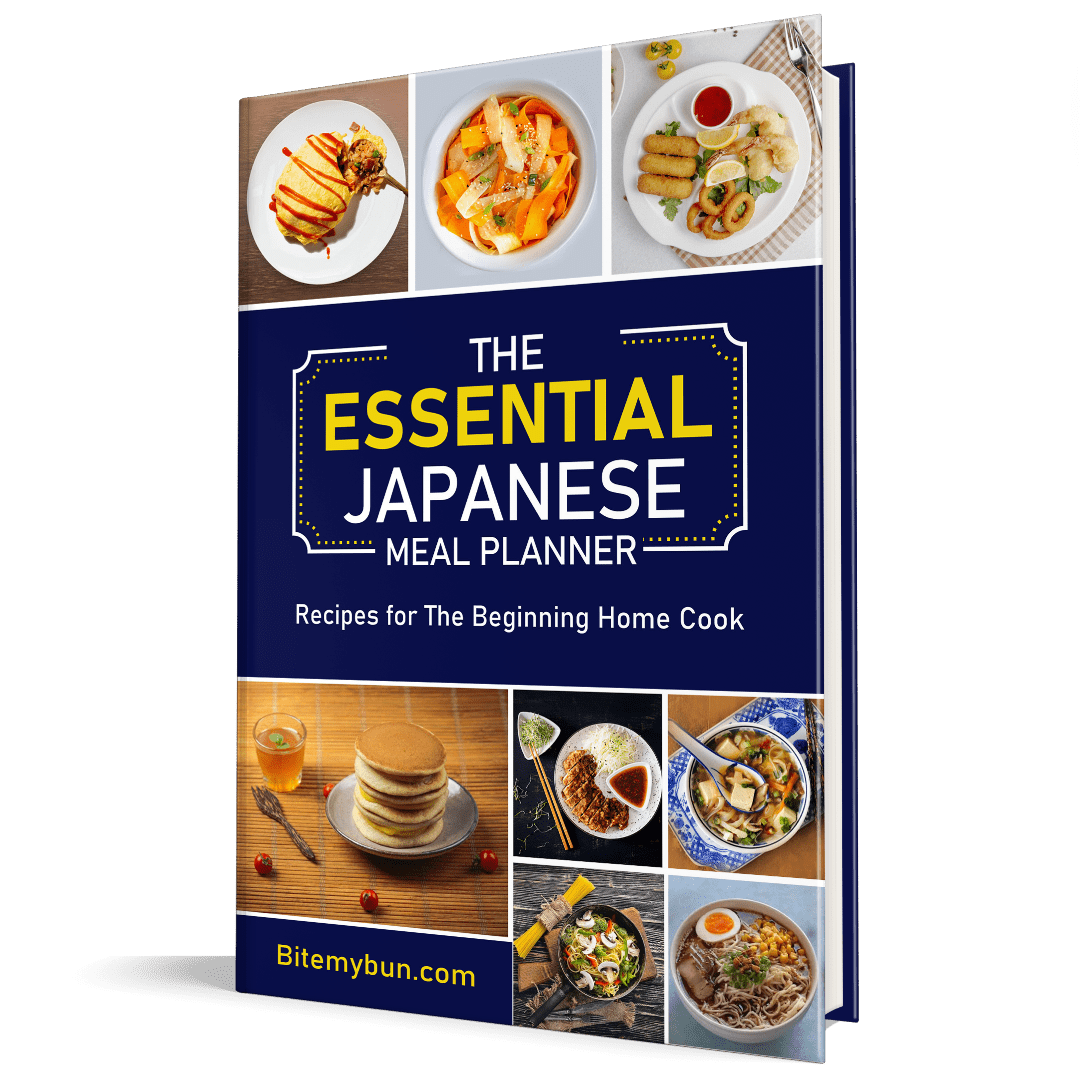 Check out our new cookbook
Bitemybun's family recipes with complete meal planner and recipe guide.
Try it out for free with Kindle Unlimited:
Read for free
You've likely heard of udon noodles, but have you tried delicious kitsune udon before? It's one of the most popular Japanese noodle soups!
Kitsune noodle soup is made with thick, chewy udon noodles in a savory dashi broth and topped with seasoned fried tofu pouches, narutomaki fish cakes, and scallions.
It's by far one of the most hearty and tastiest Japanese soups. It's served piping hot during cold months, but it's served cold with dashi sauce during hot summer days.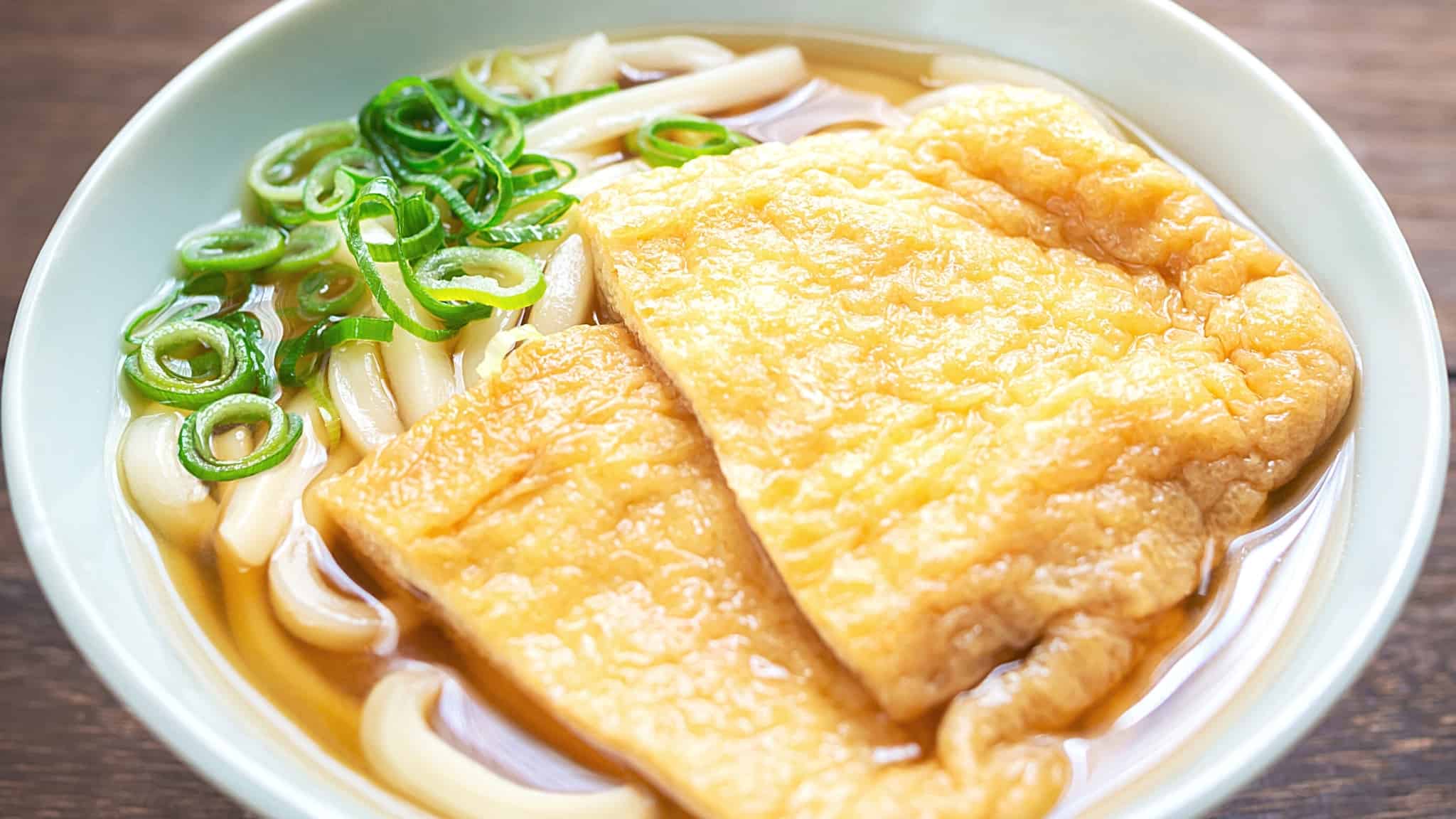 If you're a fan of Japanese noodle soups, then you'll appreciate the tasty seafood flavors and chewy noodles combined with the texture of abura-age tofu.
I'm sharing my favorite kitsune udon soup recipe with you, plus a few variations you can try too!
10 Tips to Save a Bundle on Asian Ingredients!
Introducing our brand new FREE PDF guide: "Saving Secrets: Unveiling the Art of Saving Money on Asian Ingredients" It's your first newsletter email, so start saving today! 📚🧧
We'll only use your email address for our newsletter and respect your privacy
What is kitsune udon?
The recipe for kitsune udon is fairly similar across Japan. The most important ingredient is the thick and chewy udon noodles, of course.
Dashi, soy sauce, mirin, and sugar are the base condiments. The soup has a salty-sweet flavor and a light brown color.
Then, the noodles are topped with deep-fried tofu pouches called inari age and abura-age, which are the "star" ingredients of this dish!
The final decorative, colorful, and flavorful touch is achieved by a couple of slices of narutomaki pink swirl fishcakes.
Then, a final garnish of shichimi togarashi (seven spice) brings it all together!
If I had to describe the taste of this soup, I'd say it's mild, sweet, and salty with a light seafood flavor. Plus, there's no spiciness, so it's suitable for kids and adults alike. It's also a good comfort food if you're feeling under the weather.
For this recipe, you'll need a Japanese otoshibuta drop lid. You can find these on Amazon.
Learn more about Japanese cooking vessels here: Best Yattoko cooking pot and pincers reviewed
Check out this video by YouTube user Cooking With Dog to see kitsune udon being made:
Kitsune udon recipe
A delicious udon dish that adds just a little bit of spice.
Equipment
pot

saucepan

Otoshibuta (a drop lid) for the fried tofu pockets. A drop lid helps keep the tofu submerged in the flavored broth.

knife

cutting board

chopsticks
Ingredients  
For broth:
2

packets

udon noodles

8

cups

water

2

cups

dashi stock

4

slices

naruto fish cake

1

chopped scallion/spring onion

1

tbsp

soy sauce

1

tbsp

mirin

½

tsp

Japanese seven spice

shichimi togarashi

½

tsp

sake

optional
For inari age (tofu):
1

cup

water

2

tbsp

sugar

1

tbsp

soy sauce
Instructions 
Inari age (tofu)
Before we get started with the soup, we have to prepare the seasoned fried tofu pouch.

Grab a sieve and place it in the sink. Place the tofu pockets in the sieve and pour hot water on all pieces.

Make sure the tofu is well soaked. Flip over and pour hot water again.

Let the tofu cool, and then squeeze out the excess water with your hands.

Slice the tofu into strips or cut each piece diagonally into 2 triangles. Most restaurants serve the tofu in triangles.

In a small saucepan, put in about a cup of water, soy sauce, and sugar, and bring to a boil.

Once boiling, put in the tofu pieces, turn the heat low, and let them simmer for approximately 15 minutes. Now place the drop lid (otoshibuta) on top to keep the tofu submerged and make sure it steams.

Turn off the heat and leave the tofu to marinate in the sauce.
Udon soup
Grab a large bowl and boil 8 cups of water on high heat.

As the water boils, grab a saucepan and add the dashi, soy sauce, and mirin. Bring it to a boil, stir, and turn the heat off. Put aside for now.

When your water is boiling, add the noodles and cook as per packaging instructions.

Once the noodles are cooked, take them out and place them into 2 bowls.

Add soup, 2 tofu triangles for each bowl, 2 slices of naruto, and garnish with a good amount of scallions. Sprinkle some Japanese seven-spice to give the soup that extra rich flavor.

The soup is ready to be served!
How is kitsune udon served?
Most people love to enjoy this soup on its own as a light meal. But it's also commonly served with a side of rice.
For a drink, pair udon noodle dishes with some off-dry sparkling wine because it gives a pleasant contrast to the chewy noodles.
Some restaurants also serve some additional toppings to enjoy with your kitsune udon, such as a boiled egg and tempura.
The soup is served in bowls, and the toppings and noodles are eaten with chopsticks while you have a spoon for the soup.
Kitsune udon: nutritional information
Udon noodle soup is quite a healthy and low-calorie dish. It's not really considered to be a full meal, so it's perfect as a light lunch or dinner, or on those days when you're in a rush and want a quick soup.
Udon noodles are high in fiber and B vitamins, which contribute to healthy cell function. They also convert the food you eat into energy and directly influence your metabolism. So an udon noodle soup isn't too bad for you at all!
Here's what you can expect from this kitsune udon noodle recipe:
Calories: 413
Carbs: 65 grams
Protein: 18 grams
Fat: 7 grams
It's also a good source of potassium, fiber, calcium, and vitamins A & C.
Note: this recipe contains 8 grams of sugar and 2,200 mg of sodium. If you're on a diet or need to lower your salt consumption, always use low-sodium soy sauce and add only 1 naruto cake. As well, you can use reduced-sodium dashi powder, or use this dashi, which is best for udon dishes.
Kitsune udon recipe variations
Kitsune udon is a classic recipe, and there's not much variation if you want to cook it the traditional way.
However, given people's different dietary preferences, I'm sharing other ways to vary this udon recipe.
By making simple substitutions and using alternative ingredients, you can change up this dish while retaining its tastiness.
Different fish cakes
Narutomaki kamaboko is a type of fish cake in white color and pink swirly pattern. But you can use other types of kamaboko, such as red, white, chikuwa, konbumaki, sasa, or whatever type you can find at the supermarket.
Naruto is popular for kitsune udon because it adds a pop of color to an otherwise bland, brownish dish. It's not a star ingredient in the recipe though, so you can switch it up.
Vegetarian & vegan-friendly
The main concern in this recipe for vegans is the dashi and narutomaki fish cake.
There's some sort of misconception that vegan dashi is hard to find and make, and that's simply not true.
Dashi is traditionally made with bonito flakes (fish). But the vegan version is called kombu dashi, and it's made with seaweed or shiitake mushrooms, and surprisingly, it tastes delicious too!
It's got a similar type of flavor, so you can use it for this kitsune udon soup.
Related: 5 substitutes for your dashi stock | Powder, kombu & bonito alternatives
Skip the naruto fish cakes and add another vegetable topping besides scallions, such as carrots or Japanese parsley (regular parsley is also great).
As well, a very popular vegan ingredient is mushrooms, of course.
For this recipe, add a cup of small shimeji mushrooms (enoki is okay too). These will add an extra earthy flavor and make the soup feel heartier.
Also read: 7 most popular Japanese mushrooms & their delicious recipes
Meat
If you add meat to this dish, it becomes a different udon soup. It's not quite kitsune, especially if you skip the tofu.
You can make beef udon by adding thin strips of boiled beef. Chicken udon is made with thin boiled chicken strips. These recipes are full of protein, and I'd argue they're more flavorful.
You can also try seafood like shrimp, but make sure to keep some inari age to give it that classic kitsune vibe.
Additional toppings
You can add your favorite toppings, but keep in mind that you're changing the recipe.
Toppings to use that pair well with the aburaage and noodle flavors include:
Boiled egg
Tempura
Different types of kamaboko (fish cakes)
Mushrooms
Nori
Chili pepper
Wakame seaweed
Origin of kitsune udon
Kitsune noodle soup translates to "fox noodles," and this name is a result of an old folktale.
According to this tale, the fox loves to eat deep-fried tofu. So it's only natural that the fox also loves this noodle dish because the main topping is fried tofu!
Another legend claims that fried tofu has the same reddish-brown color as fox fur.
Whichever you believe, what really matters is that this dish is yummy!
It's believed that kitsune udon originated at the same time as tanuki udon during the Edo period (1603-1868) in the Osaka region.
Since then, it's been very popular, especially in the Tokyo area. But you'll find this dish all over Japan in most restaurants.
Enjoy this classic and popular Japanese noodle dish
If you're a fan of noodle soups, then you'll love this recipe.
That deep-fried tofu just adds such a unique texture to this otherwise basic soup. As you take a spoonful of yummy broth, bite into the tofu, as the flavor pairing is amazing.
So the next time you're considering a light but tasty meal, try this amazing recipe!
Learn more about Japanese noodles: 8 different types of Japanesen noodles (with recipes)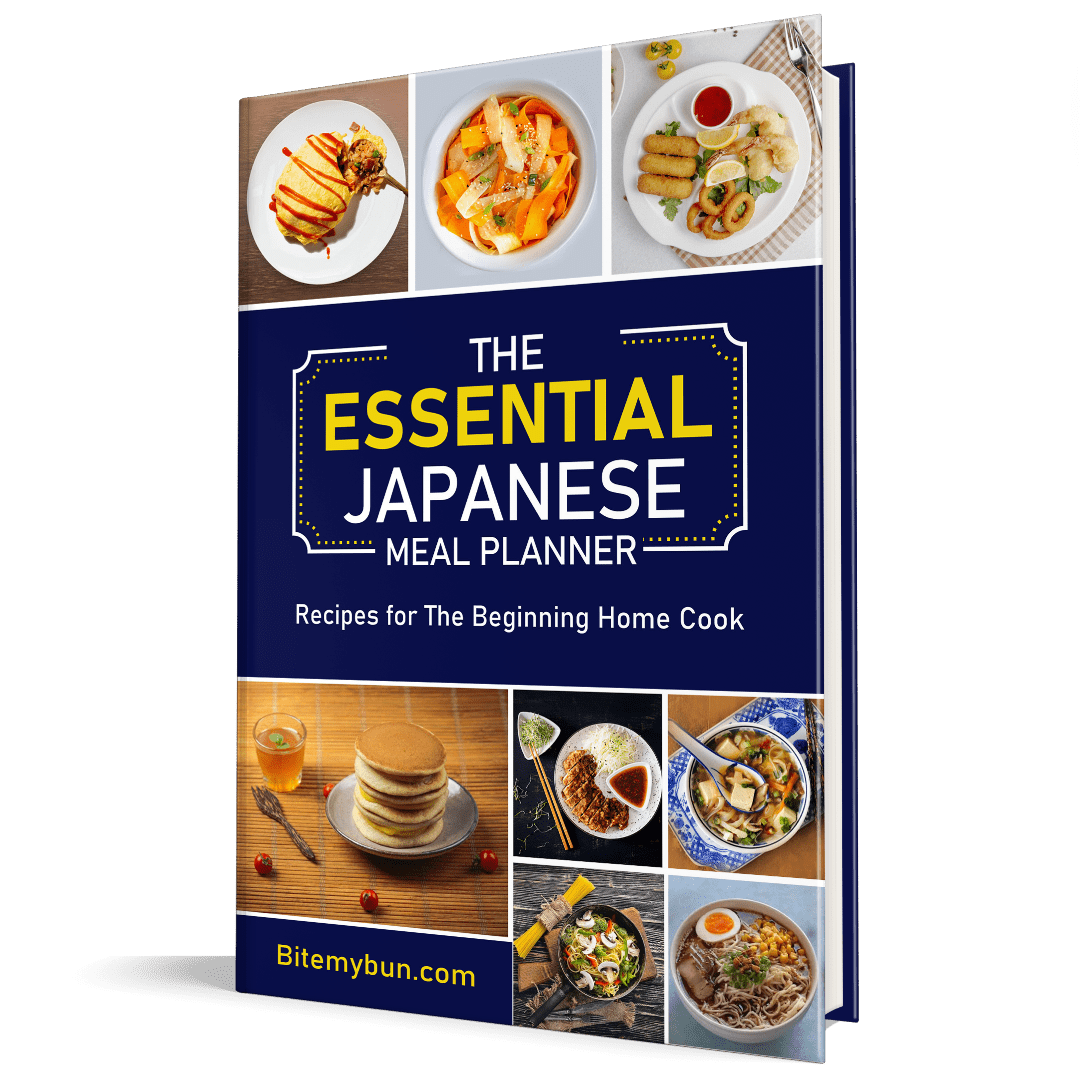 Check out our new cookbook
Bitemybun's family recipes with complete meal planner and recipe guide.
Try it out for free with Kindle Unlimited:
Read for free
Joost Nusselder, the founder of Bite My Bun is a content marketer, dad and loves trying out new food with Japanese food at the heart of his passion, and together with his team he's been creating in-depth blog articles since 2016 to help loyal readers with recipes and cooking tips.