Delicious Nilagang Baka recipe with beef shanks & fish sauce
I love creating free content full of tips for my readers, you. I don't accept paid sponsorships, my opinion is my own, but if you find my recommendations helpful and you end up buying something you like through one of my links, I could earn a commission at no extra cost to you.
Learn more
This Nilagang Baka recipe is yet another brothy Filipino dish that's perfect for rainy days. This mild-flavored soup is a lunch and dinner favorite among kids and adults because it's such a simple comfort food.
It's made up of the bony parts of the cow with tender meat that falls off the bone and vegetables. Plus, this Nilagang Baka recipe is very easy to cook, as it's also just a one-pot affair.
The ingredients in this Nilagang Baka recipe include the beef bones called "buto-buto" in Tagalog, which is its main ingredient (though some buy actual beef for its meatiness), salt, peppercorns, mature corn, Baguio beans, sliced papaya, Chinese cabbage, (or it can be a combination of cabbage and potatoes, depending on the person cooking), and pechay, which can be added in combination with papaya.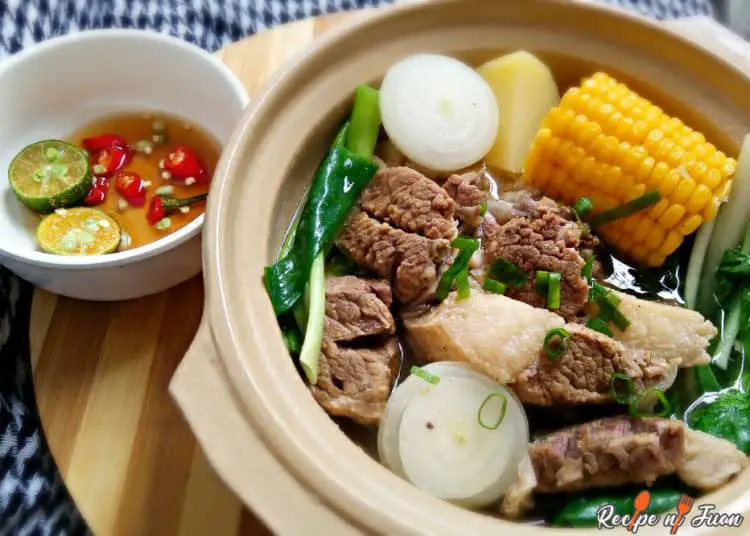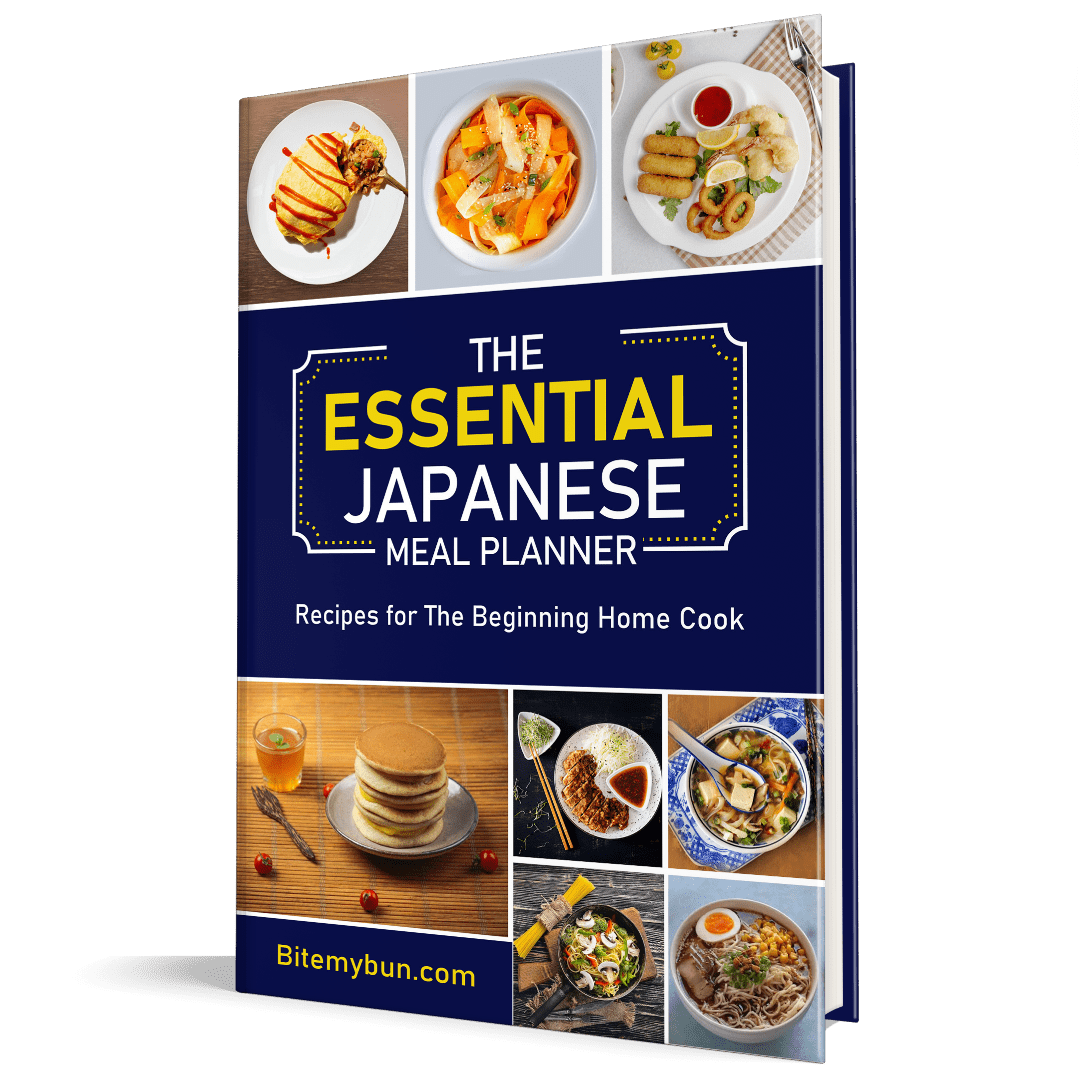 Check out our new cookbook
Bitemybun's family recipes with complete meal planner and recipe guide.
Try it out for free with Kindle Unlimited:
Read for free
Nilagang Baka recipe and cooking tips
In cooking Nilagang Baka and following this recipe, you have a variety of choices.
One is to buy beef bones and put them in a large pot with water and boil for 30 minutes to create the beef stock. This stock will serve as the broth to the Nilagang Baka.
Another one is to just put water into the pot, add the beef and beef bones, and let it simmer for 20 – 30 minutes.
In both choices though, the ending is that after a while, you can already see that the meat and the meat around the bones are starting to get tender. You can then start adding seasonings to this dish, such as salt and pepper.
For an enhanced flavor, especially if you haven't used beef broth, you can add beef broth cubes bought from the supermarket.
As for the vegetables, put the corn in first, as well as the papaya, as these are the hardest ingredients. Follow these 2 with the other vegetables, depending on their hardness.
For example, if you're going to have pechay as well, put it in the pot just before you turn off the stove and let the remaining heat cook the vegetable.
Add salt and whole peppercorns to taste.
After putting in all vegetables, let it simmer for another 10-15 minutes or depending on whether the beef and the harder vegetables are already tender enough to be eaten.
Be careful though in over simmering, except if that's your intention.
This is perfect for rainy days and as with many other popular Filipino dishes, should be eaten with rice.
Filipino Nilagang Baka Recipe
This is perfect for rainy days and as with many other Filipino dishes, should be eaten with rice.
Ingredients  
1

pound

beef shanks

cut into serving parts

1

pound

beef tendons

water

1

small

onion

peeled and quartered

10

peppercorns

1

tbsp

fish sauce

2

medium

potatoes

peeled and quartered

1

small

cabbage

cut into wedges

10

green beans

ends trimmed

salt to taste

green onions, optional
Instructions 
In a pot, combine the beef shanks, beef tendon, and enough water to cover. Over medium heat, bring to a boil, skimming scum as it rises to the top.

Once the broth clears of scum, add onions, peppercorns and fish sauce. Lower the heat, cover, and cook at no more than a simmer for about 2 to 2-1/2 hours or until shanks are fork-tender and tendons are soft. Add more water as needed during cooking to maintain about 6 cups.

Add potatoes and cook for about 5 minutes. Add green beans and cabbage, and cook for another 3 to 5 minutes or until vegetables are tender yet crisp. Season with salt to taste. Garnish with chopped green onions if desired and serve hot.
Notes
Since beef tendons are tough and fibrous connective tissues, they are almost impossible to cut uncooked. Ask the butcher to slice tendons into pieces or halfway during cooking and when tendons are soft enough to slice through, remove from pot, cut into serving parts and then return to pot to continue to cook.
Nilagang Baka cooking tips
The broth is the core of this beef nilaga, as it is with every hearty soup.
To keep it clean and bright, pay close attention to it as it comes to a boil, especially in the first few minutes, and skim the scum that rises to the surface on a regular basis. When you don't skim, the broth ends up looking 'muddy'.
Reduce heat to low and keep it at a low simmer once the froth has been removed.
You can blanch the meat and bones to help eliminate blood, coagulated protein, and any other impurities. These impurities change the color of the stock. It's an optional step, but it does make the broth clearer.
Note that if you're using beef tendons, there are very tough to cut because the connective tissue is full of fibers. It's incredibly hard to cut through this if it's uncooked.
When buying the meat, ask your butcher to cut and slice the tendons into smaller pieces. Or, you can cut them yourself after the meat has been cooking for a while and have softened. Cut them up into smaller pieces you can easily serve and continue cooking.
Blanching beef
Blanching the beef isn't hard. Grab a medium-sized pot and bring the water to a boil. Then add all the meat and bones. Shortly boil them for only about 5 minutes.
After it has briefly boiled, you need to drain the liquid and meat. Throw away the liquids and then rinse all the meat and bones under cold water and remove any scum or visible impurities.
Then you can place the rinsed meat back into the soup pot to cook nilagang.
Substitutes & variations
Of course, as with any traditional local dish, there are many variations possible.
Meat
Another similar soup to try is Nilagang Manok, made with chicken and saba banana, or Nilagang Baboy, made with boiled pork pieces.
Beef is the best type of meat for this soup because of the meat's texture and the flavor of the bones.
For the meatiest and most tender boiled meat, try using beef sirloin. It's also a great option if you don't like fatty beef, tendons, and lots of bone.
But, you can substitute the beef with chicken and pork. However, your soup might not be as rich or gelatinous. Instead, the flavor profile changes but this doesn't make it any less delicious!
If you're looking to make the dish healthier then you can use chicken instead of beef and pork.
You'll still end up with lots of protein but you're reducing the cholesterol levels. Since chicken is white meat, it has a neutral flavor but don't worry, seasonings make the soup tasty.
There's a popular pork version of nilagang with some pechay (bokchoy) and pumpkin-variety called kalabasa. This is similar to sweet potato and makes the soup a bit sweeter.
Nilagang Baka with Kalabasa simply takes your favorite Nilagang Baka recipe and replaces the carb-heavy potato with butternut squash.
This, like many other well-known kalabasa recipes such as Pinakbet or Ginataang Sitaw at Kalabasa, combines the deliciously smooth and flavorful butternut squash with delicate beef or pork and other veggies.
Try Nilagang Baka with a richer texture and more sweetness!
But, let's go back to the beef for a minute.
You can use different cuts of beef for this recipe – some people don't like the bone and want meat only whereas some like the cheaper cuts because of the rich meaty taste they give.
In the Philippines, they mainly like to use meat that is high in connective tissues. Examples of these cuts include tendon and beef shank because it causes the broth to be thicker, gelatinous, and very full-bodied or rich.
Also, you can choose tough, bony, and sinewy meat cuts such as ribs, neck, chuck, round top, and of course brisket.
Cheaper beef cuts are excellent for low and slow soups and stews because they break down and become soft and tender but also make your broth flavorful.
If you like Filipino beef recipes you cannot miss out on this perfect & delicious Beef Pares recipe
Cabbage
The best version of this dish contains some type of cabbage. In the Philippines, they like to use either Chinese cabbage which has a ruched texture, or bok choy which is a small leafy cabbage variety.
If you don't have those typed of cabbage on hand, don't worry because you can slice up regular cabbage from the store.
Condiments
The main condiments of the soup are black peppercorns and salt. But, you can take the nilagang baka to a whole new level by adding star anise.
This condiment gives the nilagang baka a mild bitterness, spiciness, and sweetness. Despite its subtlety in flavor, it is an important component that brings the dish's flavor to life.
If you don't have access to star anise, there are a few alternatives that can help you have a taste similar to it.
Use 1/2 teaspoon of Chinese Five Spice Powder for every star anise you'll need to give your Nilagang Baka comparable remnants of the star anise's pleasantly spicy flavor.
Another option is to use 3/4 teaspoon of fennel seed. This component has a licorice-like flavor that is similar to star anise. As a result, your food will have a distinct flavor.
You can also combine some chili flakes into the fish sauce to add some spice.
How to serve & eat Nilagang Baka
The dish can be served as is if you're just looking for a quick comforting meal.
However, Nilagang Baka is usually served with a bit of soy sauce and fish sauce, also known as patis. These ingredients add saltiness and a bit more depth in terms of flavor.
If you like, you can even have a small cup of fish sauce on the side and dip the meat and veggies before eating them.
A cup of rice is served as the main side dish because it's filling and has a neutral bland flavor that doesn't take away from the rich soup.
You can also add calamansi on top of the soup. Calamansi is a Filipino citrus fruit or Filipino lime that resembles a small green lime. It gives a pleasantly sour and tart flavor, making the broth tangier.
Some people also like to have a cup of simple broth on the side and sip or slurp it while eating the soup.
Similar dishes
There are many delicious Filipino soup dishes. As I mentioned earlier, the most common variations on beef nilagang are Nilagang Manok made with chicken and saba banana and Nilagang Baboy made with chunky pork pieces.
There are non-soupy dishes too which use similar ingredients and flavors like Nilagang Baka. Nilaga Pork Baby Back Ribs is a good example of grilled meat used in a nilaga soup.
You may be accustomed to seeing the succulently juicy and delectable pork ribs slathered in a thick barbecue sauce.
While grilling this ingredient takes center stage, you might want to give Nilaga's method a try as well. Pork baby back ribs served this way are significantly more comforting and cozy.
The tasty and satisfying pork ribs are yours to enjoy. And you can do it all while eating leafy veggies like baby bok choy and cabbage, which are both refreshing and nutritious.
This is unquestionably a worthy successor to the original Nilagang Baka. This is due to the fact that it makes use of a particularly succulent component to complement your excellent soup. It's also ideal for family meals.
You can also make slow cooker Nilagang Baka and have a hearty meal for a large family or cook enough to have meal prepped food for the rest of the week.
How to store Nilagang Baka
Leftover Nilagang can be stored in the fridge in an airtight container for up to 3 days.
Alternatively, you can also freeze the soup for a maximum of 2 months.
When you want to reheat it, put the soup into a bowl and heat it on the stovetop over medium heat or at 165 F. It's also possible to re-heat the soup in the microwave in intervals of about 3 minutes but be sure to keep stirring.
Conclusion
If you're the kind of person who loves a bowl of tasty hot soup full of meat and vegetables, the Nilagang Baka is a must-try dish. It's so easy to make even beginners can tackle it without any problems.
Just imagine that tender beef with boiled corn, cabbage, green beans, and flavorful onions – it's a sure-to-please family recipe.
You can make this recipe for the whole family and all the ingredients are affordable so be sure to add the recipe to your rotation of favorites.
Nilagang Baka is great to prepare in a slow cooker like the Power Quick Pot (reviewed here)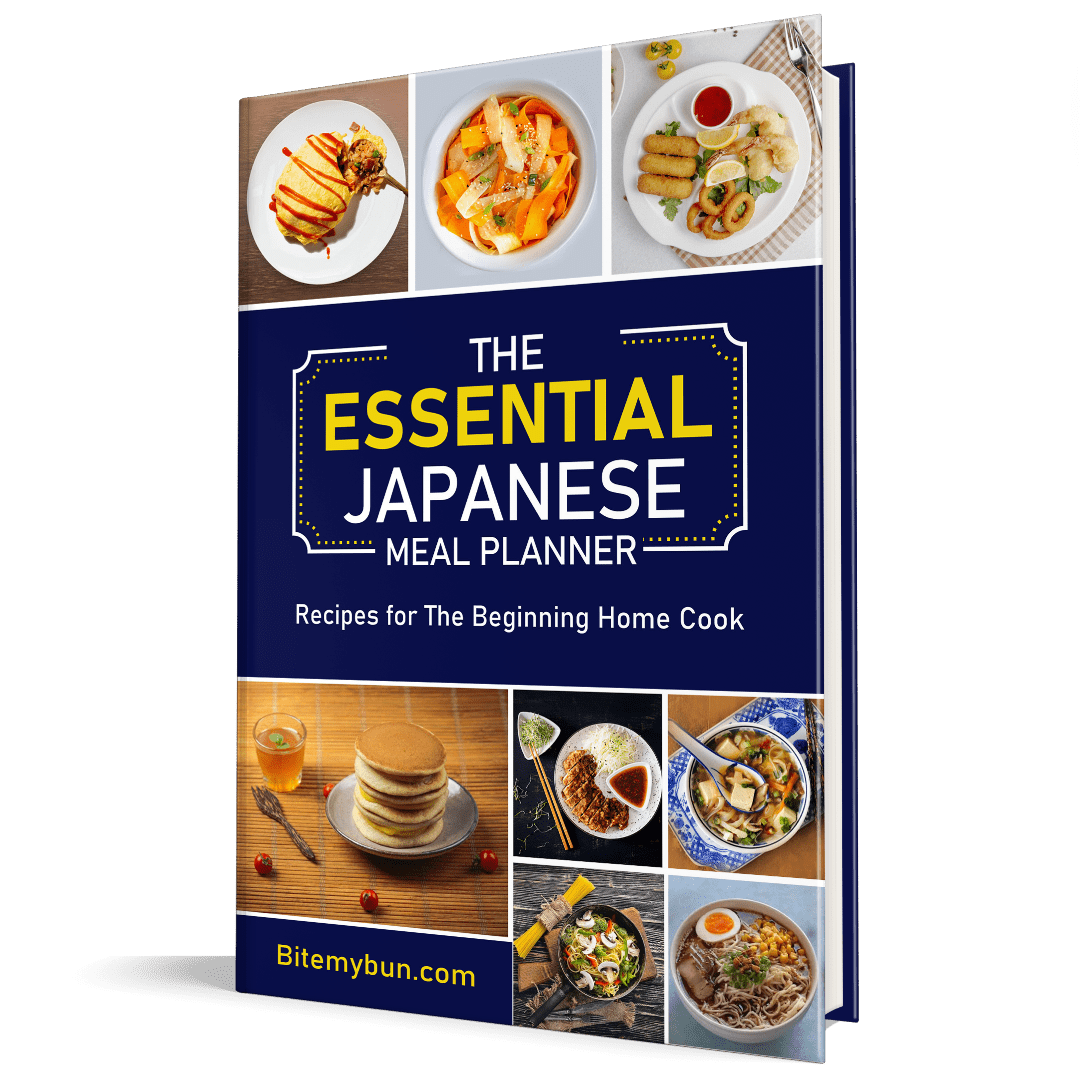 Check out our new cookbook
Bitemybun's family recipes with complete meal planner and recipe guide.
Try it out for free with Kindle Unlimited:
Read for free
Joost Nusselder, the founder of Bite My Bun is a content marketer, dad and loves trying out new food with Japanese food at the heart of his passion, and together with his team he's been creating in-depth blog articles since 2016 to help loyal readers with recipes and cooking tips.