Conveyor belt sushi (Japanese: kaitenzushi) is a type of sushi restaurant popular in Japan, also called "rotation sushi." It is also known as the sushi train in Australasia.
Kaiten-zushi is a sushi restaurant where the sushi plate is placed on a revolving conveyor belt or moat which moves through the restaurant, moving past each table, counter, and chair. Special orders can be requested by customers.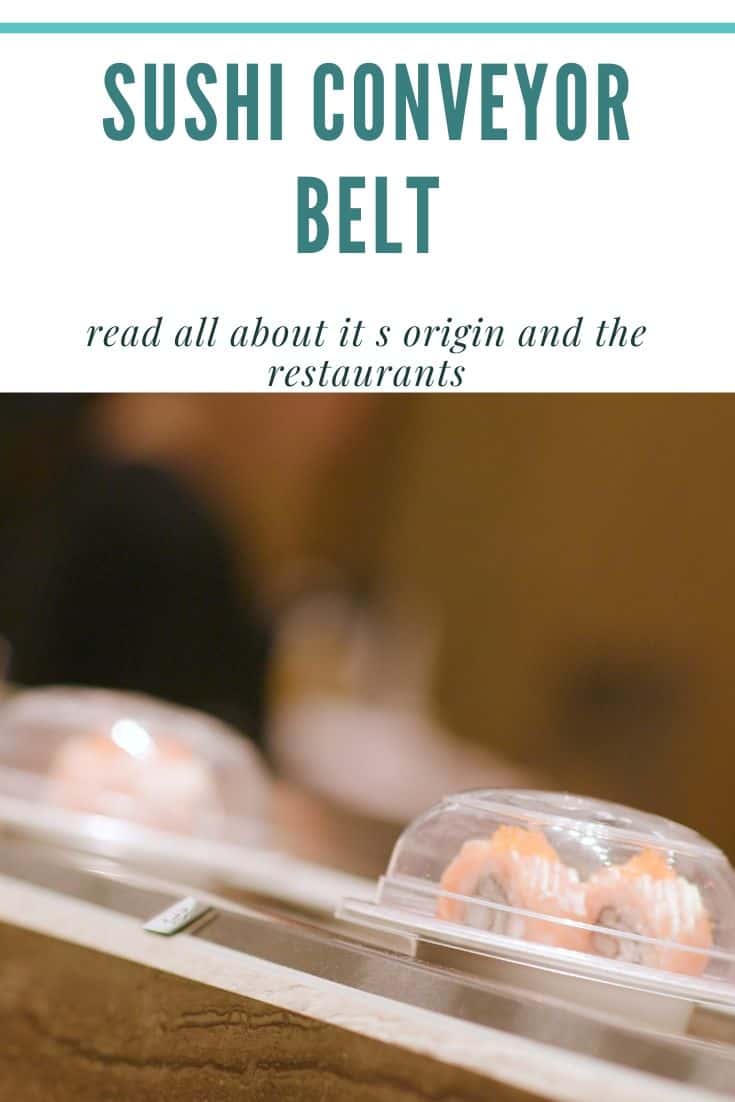 The final bill is based on the consumed sushi amount and type of dishes. Many restaurants use a fancy design like miniature wooden "sushi vessels" going along tiny canals or miniature locomotive vehicles.
The conveyor belt brings sushi plates past the diners who are able to take whatever they want. The price of the plate starts at about 100 yen. Kaitenzushi tends to be much cheaper than standard sushi-ya.
Restaurants of Kaitenzushi can be found throughout the nation. and it's even spreading to America and Europe.
In addition to standard items, you can also find different ingredients depending on the season, such as maguro (tuna), shrimp, salmon and kappamaki (cucumber roll).
Cooked foods like miso soup and chawanmushi (steamed egg custard), fried foods and desserts are also offered by many restaurants. Sushi pieces usually come filled with wasabi, though they can be ordered without it as well.
Usually, Kaitenzushi restaurants use plates of different colors and patterns to display their prices. Prices range from approximately 100 yen to 500 yen or more depending on the product, although some restaurants do maintain a flat rate for all dishes (usually 100 yen, as mentioned above).
Usually, plates come with one or two pieces of sushi each. A rundown of the plates can be found on the menu or on the signs posted around the restaurant with their corresponding prices.
Seating is usually provided by counter seats along the conveyor belt, but tables are also available in many establishments.
History of the sushi conveyor belt
Conveyor belt sushi was invented by Yoshiaki Shiraishi (1914–2001), who had issues with his small sushi restaurant and had trouble running the restaurant on his own.
While seeing beer bottles on a conveyor belt in an Asahi brewery, he had the idea of a conveyor belt sushi.
After five years of development, including conveyor belt design and operating rate, in 1958 Shiraishi opened the first conveyor belt sushi Mawaru Genroku Sushi in Higashiosaka, eventually growing to up to 250 restaurants throughout Japan.
His business, however, had only 11 restaurants by 2001. Shiraishi also invented robotic sushi that was served by robots, but there was no commercial success in this idea.
After a conveyor belt sushi restaurant served sushi at the Osaka World Expo in 1970, a conveyor belt sushi boom began. Another boom started in 1980, when it became more popular to eat out, and finally in the late 1990s when cheap restaurants became popular after the economic bubble burst.
Akindo Sushiro has recently become Japan's most famous brand in 2010.
A recent conveyor belt sushi model has a touch screen monitor at each seating area, showing a multi-fish digital aquarium.
Customers can use it to order sushi by simply pressing on the fish they want, and then it's sent to the table through the conveyor belt.
Also read: sushi 101 for beginners, a complete guide
Conveyor operation
The sushi conveyor is a thin, narrow conveyor designed to fit into a sushi restaurant's tight confines. Almost 100% of sushi conveyors made in Japan are produced in the prefecture of Ishikawa.
A specially designed plastic crescent top chain is used in a standard conveyor. In fact, the chain runs on its side (on its connecting plates), with a snap pin attaching the crescent plate to the other side plate.
It provides a very small bending radius to the chain and enables the conveyor to create the tight corners found in most conveyor belt sushi restaurants.
Furthermore, the horizontal shape ensures there is no return side of the chain, removing not only the chain sag and slipping with the roller, but also making a much shallower design.
Major chain companies are able to offer different pin materials (stainless steel is common), plate shapes, surface treatments, and so on, depending on the application.
Most consumers often turn to sushi conveyor manufacturers to go with their conveyor for custom-designed dishes.
Although Japan's sushi sales continue to grow, in order to remain competitive, restaurants have to offer more than just low prices.
The big Japanese chain Kura-Zushi, which also has stores operating under the name Kula in California, has a program for the automated return of used plates to the kitchen.
By inserting five empty plates into their table's return chute, diners may start a game on the screen, giving them a chance to win a sushi-themed toy.
The restaurants have more than just counter seats: Kura-Zushi and other outlets provide family-friendly tables with the same access to the delivery transporters.
The plates bear electronic chips in many restaurants, including Sushirō, to monitor the time they are put on the line, enabling the machinery to automatically dispose of the sushi pieces on board after a certain amount of time to preserve freshness.
Restaurants
The conveyor belt sushi's most impressive aspect is the flow of plates that wind through the restaurant. Usually, the selection is not limited to sushi; drinks, fruits, desserts, soups, and other foods may also be included.
Many restaurants have RFID tags or other systems in place to take away sushi which has been spinning for too long. Next, you'll find a list of our top five recommended kaiten-zushi restaurants.
Hamazushi (はま寿司)
Although established only in 2002, Hamazushi has quickly gained popularity, boasting more than 400 locations across the country and some of Japan's most reasonable prices: usually just 100 yen per two-plates.
Another aspect that distinguishes the chain is its foreign-oriented video guides that illustrate (in English) how to find your seat, how to order it and how to enjoy your sushi.
If you have never been to a restaurant kaitenzushi before, this guide will make you feel like a pro in no time.
Also read: these are all the different types of sushi
Kurazushi (くら寿司)
Kurazushi's restaurants were established in 1977 and are designed to look like a traditional Japanese kura or storehouse. Kurazushi focuses heavily on food safety and health, and the chain has 41 patents and 145 trademarks in its name worldwide as a result of its practices.
In their products, no artificial flavors, colors, sweeteners or preservatives are used.
The sushi plate is covered by its own patented dome bowl, which opens when the plates are taken. If you have never been to a Kurazushi before, I strongly recommend that the workers teach you how to open the dome properly — it will save you some struggles.
They also have low and no-carb sushi/sashimi options, so this is a great place for you if you're on a diet but don't want to give up carbs entirely.
Kappazushi (かっぱ寿司)
While Kappazushi may not have service in English, they have recently undergone a complete rebranding and store remodeling that over the past few years has brought them plenty of new fans.
Kappazushi was founded in 1973 and can easily be recognized because of its mascots, known as Ka-kun and Pakko-chan, their two adorable kappas (turtle-like river imp).
A unique feature of this chain is that it collaborates extensively with other famous food brands across Japan, including Halloween specials, crab special series or other seasonal food festivals. It's one of the few kaitenzushi chains you can order through UberEats as well.
Sushiro (スシロー)
Sushiro is highly featured in a number of daytime Japanese TV shows, mainly thanks to its almost constant innovations in sushi and menu updates. Opened in 1984, Sushiro came from the desire of a traditional chef to create a more casual setting to let others enjoy sushi.
It has grown since then to become one of Japan's largest and highest-selling kaitenzushi chains. Their restaurants are always lively and somehow they manage to feel really cozy and inviting even though they are chain locations.
They have menus in English, Chinese and Korean, a wide range of seasonal dishes to choose from, including some mind-blowing desserts, and 510 locations across Japan.
For just 100 yen, you can enjoy most of their sushi plates. You can also order Sushiro via UberEats.
Genki Sushi (元気寿司)
Genki Sushi is the name of a group of restaurants that serve kaitenzushi: Genki Sushi, Uobei Sushi, and Senryo, which has only two locations (one in Ibaraki and one in Tochigi).
Founded in 1968, the chain's goal is to promote and share the sushi joy with the world they accomplish by having menus in English and simplified/traditional Chinese, as well as opening locations in the United States, Hong Kong, and China.
Their prices in this list are on par with the others, and their premium offerings are quite creative — think Minced Fatty Tuna, Chicken Tempura Nigiri, Steamed Oyster, and Salmon Cutlet Lines. Genki Sushi is a spot that is constantly evolving that will never get you bored.
Special orders
When customers are unable to find their preferred sushi, special orders can be made. For this reason, speakerphones are sometimes available above the conveyor belt. If ordering a small amount of sushi, it is put on the conveyor belt but labeled so that other customers know that someone ordered this meal.
The plate with the sushi is usually placed on a marked cylindrical stand to show that this is a special order.
The attendants can also bring sushi to the customer for large orders.
Many Japanese restaurants also have touch screen panels to order different dishes that could be served either on a separate conveyor belt or by waiters.
If you need anything or don't what something is, you can call a waiter over by apologizing and thanking them at once with "sumimasen".
Equipment and condiments, such as pickled ginger, chopsticks, soy sauce, and small dishes to pour the soy sauce on, are usually found near the seats. Wasabi may be on the conveyor belt or on the seat.
Self-served tea and ice water are usually complimentary, with cups stacked on the table in a storage container above the conveyor belt and tea bags or green tea powder.
There's also a tea- making hot water faucet at the tables. Wet paper towels and plastic boxes are usually stored on the shelves to store sushi for take-out customers.
Billing
The bill is calculated by counting the number and type of plates of the sushi eaten. Plates with different colors, patterns, or shapes are priced differently, usually between 100 yen and 500 yen.
The cost of each plate is displayed in the restaurant on signs or posters. Cheap items generally come on plain plates, and the level of plate decoration is associated with the price.
The most expensive items are usually placed on gold-colored plates. It is possible to place expensive items on two plates, with the price being the sum of the individual plates' prices.
For each plate, some conveyor belt sushi restaurant chains, like Kappa Sushi or Otaru Zushi, have a fixed price of 100 yen. This is similar to the 100-yen shops phenomenon.
It is possible to use a button above the conveyor belt to request the attendants to count the plates. Many restaurants have a counting machine where the customer automatically drops the plates to be counted, or use RFID tagged plates and count each stack with a special reader at once.
How to go to Kaitenzushi
Indicate if you want to sit at the counter or at a table (if applicable) when entering the restaurant.
A bottle of soy sauce, a tub of pickled ginger, a stack of small soy sauce dishes, a box of chopsticks, a small jar of green tea powder (or tea bags), teacups and built-in hot water dispensers are available at each seat or table. Typically, tea is self-serving. To make it, put some green tea powder in the cup and add the dispenser's hot water.
Once you are seated, you can start taking food plates off the conveyor belt or directly from the sushi chef or server to order different dishes. Many establishments do provide touchpads for the digital placement of orders.
You usually receive ordered dishes directly from the sushi chef or server. In other cases, many modern facilities have automatic trains running parallel to the conveyor belt that supply customer orders. Customers usually have to press a button in such establishments after removing their train dishes for the train to return to the kitchen.
Place the empty plates at your table as you eat your sushi. Notify the server or sushi chef at the end of the meal, and the server will determine your bill based on the number of empty plates. You will then receive your bill for payment at the near-exit register.
Read more: sushi vs sashimi, what's the difference?
Joost Nusselder, the founder of Bite My Bun is a content marketer, dad and loves trying out new food with Japanese food at the heart of his passion, and together with his team he's been creating in-depth blog articles since 2016 to help loyal readers with recipes and cooking tips.