How to make sushi without seaweed | Recipe, tips & ideas
I love creating free content full of tips for my readers, you. I don't accept paid sponsorships, my opinion is my own, but if you find my recommendations helpful and you end up buying something you like through one of my links, I could earn a commission at no extra cost to you.
Learn more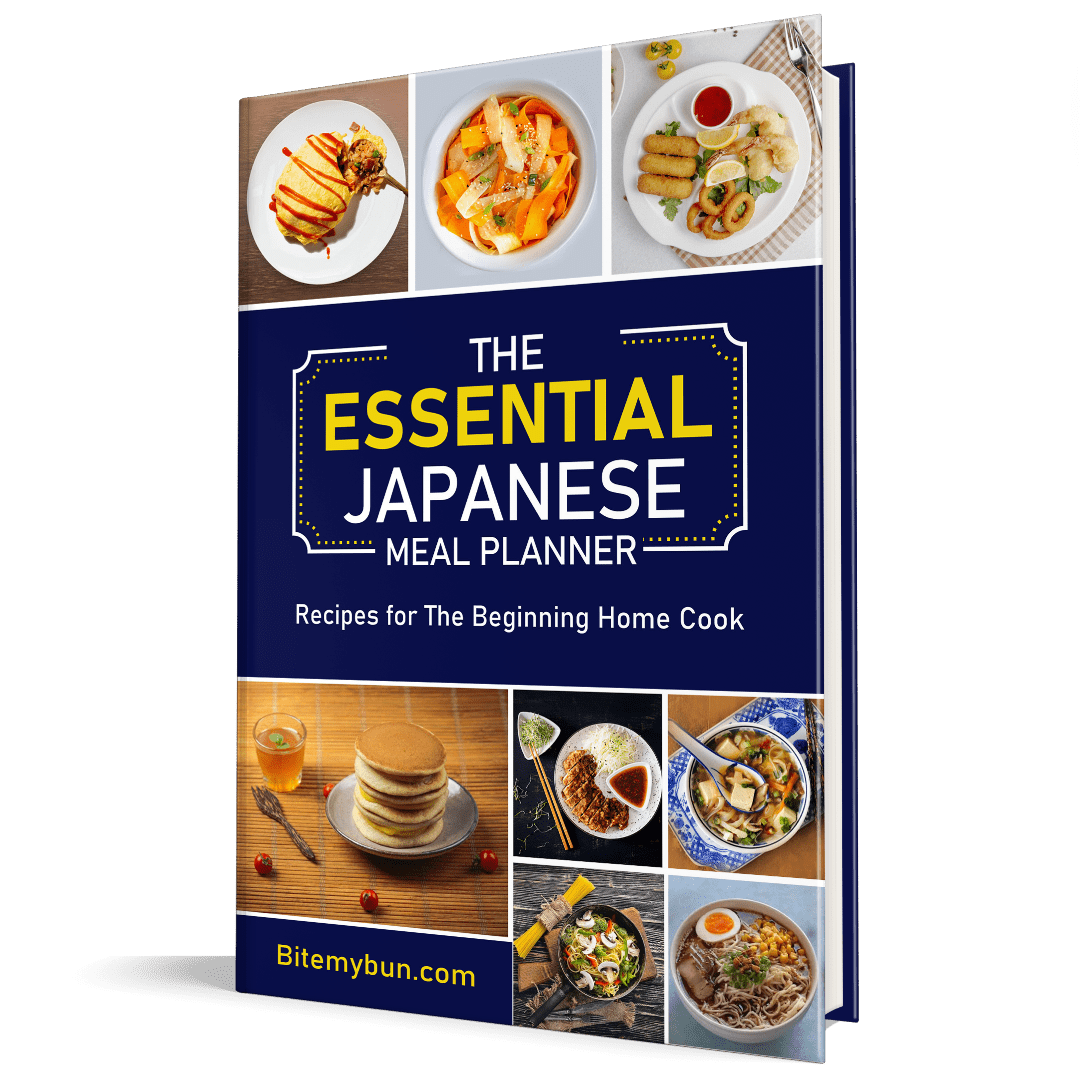 Check out our new cookbook
Bitemybun's family recipes with complete meal planner and recipe guide.
Try it out for free with Kindle Unlimited:
Read for free
Seaweed, known as Nori in Japanese, is one of the most popular sushi roll ingredients. However, seaweed is an acquired taste, that is to say, it isn't for everyone.
Do you need seaweed to make sushi? No. Can we find or make at home a sushi roll without seaweed? Of course!
There are plenty of sushi rolls without seaweed, and they are super delicious. If you don't like Nori, you can use substitute ingredients like cucumber, thin omelet, rice paper, tofu skin, and soy sheets to wrap the rolls. Or if you want to skip the substitutes too, you can always do that and opt for a wrapper-free sushi rice roll.
Today, I'm sharing the substitutes and Nori-free sushi options with you, along with my favorite sushi without seaweed recipe, which includes delicious crab and avocado.
Rather have Sushi without fish or seafood? Find delicious tofu recipe & more fillings here!
10 Tips to Save a Bundle on Asian Ingredients!
Introducing our brand new FREE PDF guide: "Saving Secrets: Unveiling the Art of Saving Money on Asian Ingredients" It's your first newsletter email, so start saving today! 📚🧧
We'll only use your email address for our newsletter and respect your privacy
Why try no-seaweed sushi?
If you go to a Japanese restaurant and order sushi without Nori, you might get a few curious glances because Nori is traditionally associated with sushi rolls. Most Japanese diners can't imagine having this food without it.
But just because an ingredient is traditional doesn't mean you can't cook without it. You can make sushi with just vinegared rice and fillings without an internal or external Nori wrap.
You may want to substitute seaweed for several reasons. Seaweed may not be your favorite flavor or may not be readily available at your local grocery store, in which case you can look for alternatives.
Some people enjoy sushi but don't like the idea of wrapping all the goodness in Nori sheets because of the texture and color.
Whatever the reason, there are great homemade recipes for no-seaweed sushi.
You might be interested in making sushi with other wrap options that aren't as strong.
These options may not make sushi traditional, but they will still be delicious. These seaweed alternatives for sushi can be found in your kitchen or at a nearby grocery store.
Delicious sushi without seaweed recipe: Crab & avocado roll
If you love the delicious flavors of the classic California roll sushi maki, then you'll love this seaweed-free twist. Before starting the recipe, I just want to mention that Nori sheets help the roll stick together and keep its shape. So, when you don't use seaweed, you have to be more careful with rolling your sushi rolls as they tend to lose their shape faster. If you're wondering how to roll sushi without seaweed, don't worry, I'll explain it. You need to use plastic wrap and a bamboo mat. The thing about rolling sushi without seaweed is that you need to place the rice on the plastic wrap and use that as your rolling tool, then go in with the bamboo mat.
Equipment
Sushi mat

Plastic wrap (cling film)

Rice cooker
Ingredients  
For the sushi rice
1.5

cups

sushi rice

like Nishiki

2

cups

water

¼

cup

seasoned rice vinegar
For the filling
8.4

oz

canned crab meat

18

pieces

avocado

about 2-3 avocados sliced

Sesame seeds for topping
Instructions 
First, you need to prepare the sushi rice in the rice cooker. Wash the rice before cooking.

Cook the rice as you would any white rice in the cooker (about 20-25 minutes).

Once cooked, pour the seasoned rice vinegar on top of the rice. Toss gently to mix the vinegar and rice but be careful not to mush it up.

Begin by placing a piece of plastic wrap onto your counter or table. Then scoop out 1/6th of your rice and spread it out evenly into a rectangle shape on the plastic film.

Make sure to press down the rice quite firmly to make it stick well because without the seaweed, it needs to be molded into shape.

In the center of the rice place a long strip of crab meat (1/6th of the quantity).

Now add 3 slices of avocado on top of the crab. Make sure the fillings are right in the middle in a straight line so that they're easy to roll.

To roll, place your thumbs under the plastic wrap, and with your fingers press down on the ingredients inside and start to roll. Keep rolling until the end of the rice meets the rice at the other side and press down firmly.

The plastic should cover the whole roll now. If the plastic gets caught up in the rice, pull it out and give it one more roll.

The part where the rice meets should be underneath the roll now. Fix up the shape on the sides and make sure it looks nice and uniform.

It's now time to remove the plastic wrap by unrolling it carefully not to damage the rice.

Sprinkle some sesame seeds all over the roll on every side by rolling the rice slowly.

Place a new piece of plastic wrap on top of the roll and then place the sushi rolling bamboo mat on top.

Apply pressure on the bamboo makisu and use it to mold the sushi rolls. Apply plenty of pressure along the edges and at the base to ensure the roll doesn't unravel when you cut it.

Keep moving the mat and then tap the sides of the roll to "fix" them into place. After all, you want your sushi rolls to look as good as the restaurant ones.

Remove the mat, the plastic wrap, and then cut the roll into 6 equal pieces. Enjoy!
Don't have a rice cooker? Find the Best rice cookers reviewed here or learn How to cook sushi rice without a rice cooker
Sushi without seaweed recipe ideas
There are endless possibilities for homemade sushi. Basically, add any of your favorite meats, seafood, or vegetable fillings instead of crab meat and avocado.
Salmon is probably the most popular filling option and it's also much cheaper to make salmon rolls at home than ordering at the restaurant.
If you want the true California roll experience, don't forget the roe and cucumbers. Or, if you prefer something crunchier, try shrimp or crispy chicken.
The cucumber-wrapped vegan rolls are another great option and you can skip the crab and swap it for peppers, tofu, cucumber, and avocado for a healthy sushi roll.
Another seaweed-free sushi option is nigiri so you can just place some of your favorite raw fish like salmon on top of vinegared sushi rice.
This is the perfect way to enjoy the umami flavors of sushi if you're a fan of raw fish.
Types of sushi without seaweed
There are several types of sushi maki and also other types of sushi that don't contain seaweed. So, you're probably asking, what's sushi without seaweed named? Is there one specific name for this kind of sushi?
There is no specific name for sushi without seaweed. However, sashimi and nigiri are two types of sushi (not rolls) that are made without nori.
Sashimi refers to fish or shellfish that's served alone without any rice or Nori, and it's usually raw.
Nigiri refers to vinegared sushi rice served with a topping of fish (usually raw).
Best Nori substitutes
If you don't like the taste of the sushi rice without a bit of crunch, there are some very tasty Nori substitutes you can use. Check them out here!
Cucumber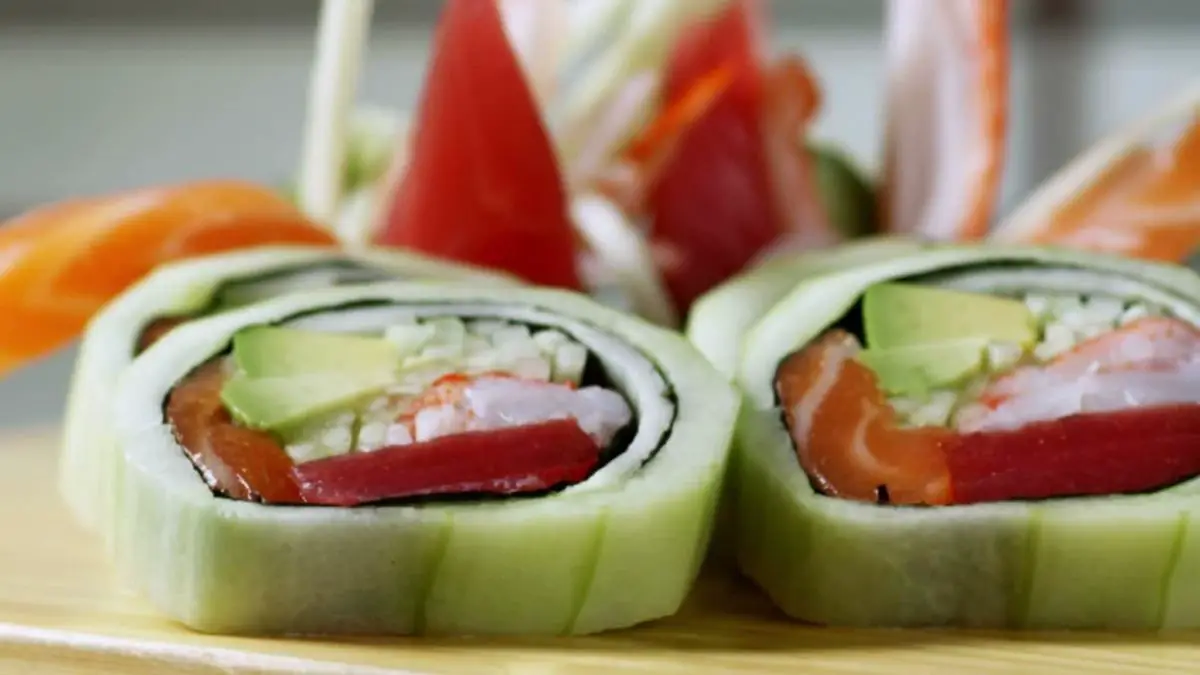 Cucumber is such a great healthy option because it doesn't have an overpowering flavor. It's light, healthy, and affordable, plus it's also nutritious, although not at all like seaweed.
You need to get a long fresh cucumber for the task. First, take a vegetable peeler (like one of these top choices) and remove the skin. Now wash the cucumber with cold water and remove the ends.
When cutting, place the cucumber on a firm surface to avoid slipping. With a sharp knife, cut a very thin layer by gliding into the cucumber.
Insert your knife ¼ inch into the cucumber and slowly slide it along and cut thin layers. Keep cutting up these layers until your reach the center part where the seeds are.
Throw those away, and don't use that to roll the sushi. You have to separately roll each piece of sushi in a layer of cucumber, and it will have a nice green exterior.
Rice paper
Another good wrapper instead of nori is rice paper. It's a flavorless food and adds a Vietnamese twist to regular sushi.
These alternative sushi wraps are available at most Asian grocery stores or you can find them here on Amazon. You can roll it easier than nori actually because it's softer, so you don't need to use a bamboo mat.
First, you have to dip the rice paper in lukewarm water to soften it, and then it becomes easy to roll. Only soak for a short time (30 minutes).
The best rice paper to use is the one made of pure rice or a combination of rice and tapioca. But, avoid rice paper made of tapioca only as it has a bad texture for rolling.
Soy wrappers (Mamenori)
If you really hate the smell of seaweed, seafood, and that classic sea smell, you'll be glad you can use soy wrappers instead of nori.
The soy wrap is a healthy and gluten-free option for your rolls. If you're making vegan rolls, you can use these too.
The wraps have a white or off-white color and can already have sesame seeds on them, but it depends where you buy them. Luckily, the texture is quite similar to nori and is easy to rip and chew.
Also, the Japanese use this type of paper for making kawaii sushi. It is thin, very flexible, and pretty tasteless.
But the main advantage is that the soy wrappers are low in calories but high in protein and very nutritious, much like seaweed.
Tofu skin (yuba)
Do you like the taste of tofu? If so, you'll enjoy this crunchy tofu skin wrapper for your sushi rolls.
In Japan, this type of sushi is known as inari sushi. It's sold at most Asian grocery shops and you can usually find it frozen or fresh.
The yuba is made from bean curds and while it's not quite real tofu, the flavor and texture are quite similar.
To use it for sushi wraps, you need to use moist hands to mold the sushi rice into small balls, then place it into the tofu pouch. So, it's not really a sushi roll but rather a tofu pocket stuffed with sushi.
This is called inari sushi.
Egg (omelet)
This is called Fukusa sushi omelet. It refers to sushi that's wrapped into a thin omelet, and it looks like a small package.
It's a great alternative to seaweed for people who really like eggs. It's a combination between breakfast food and delicious seafood sushi because you can use any type of sushi filling you like.
The most popular variety is sushi rolls with vegetables and fish, which are then wrapped in a very thin layer of omelets.
Simply make a few omelets and then cut them into fourths or halves (depending on how large you want the sushi). Then, wrap the pieces around your sushi rolls.
Takeaway
Since sushi is one of the most beloved Japanese foods, there are many varieties to suit all palates.
As you've probably realized, making sushi without seaweed is really simple and you can easily change up the recipe to include your favorite fillings.
Plus, if you're feeling adventurous, you can always try the nori alternatives that offer a milder and often crunchier exterior wrapping, and trust me, they're incredibly tasty!
Rather skip the rice? Find 5 Sushi without Rice Recipes for paleo and keto low carb diet here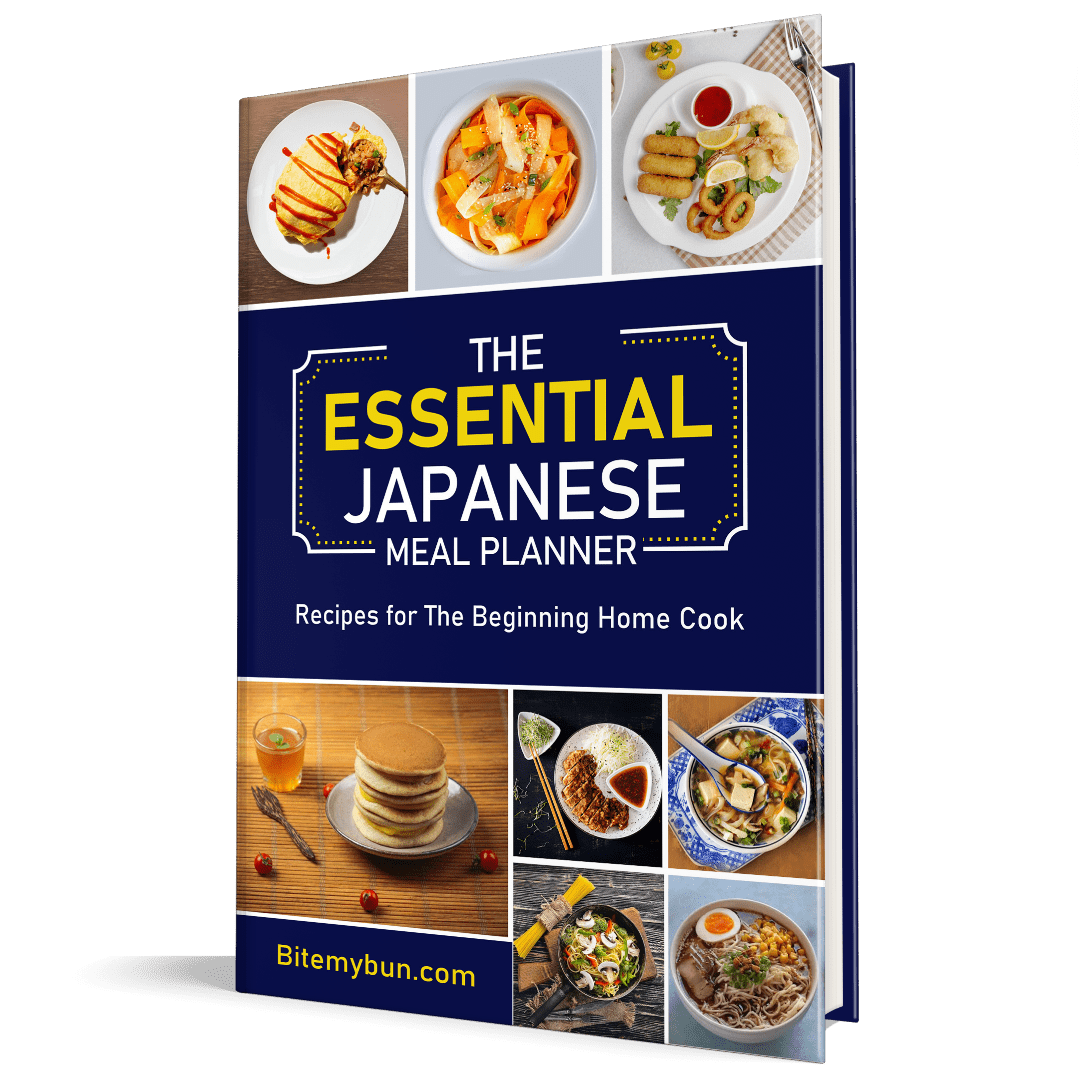 Check out our new cookbook
Bitemybun's family recipes with complete meal planner and recipe guide.
Try it out for free with Kindle Unlimited:
Read for free
Joost Nusselder, the founder of Bite My Bun is a content marketer, dad and loves trying out new food with Japanese food at the heart of his passion, and together with his team he's been creating in-depth blog articles since 2016 to help loyal readers with recipes and cooking tips.