I love creating free content full of tips for my readers, you. I don't accept paid sponsorships, my opinion is my own, but if you find my recommendations helpful and you end up buying something you like through one of my links, I could earn a commission at no extra cost to you.
Learn more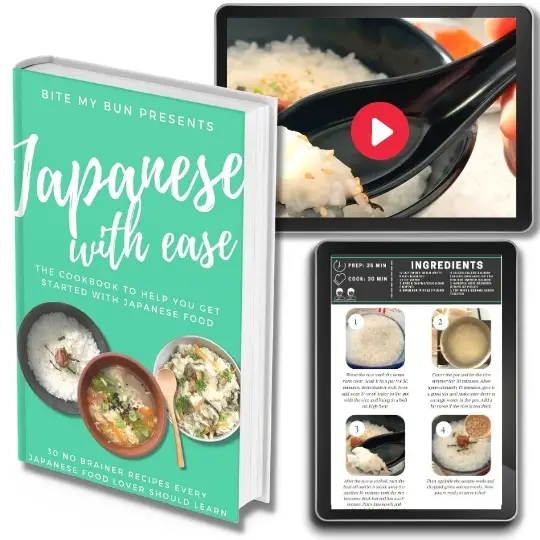 Ever had trouble finding Japanese recipes that were easy to make?
We now have "cooking Japanese with ease", our full recipe book and video course with step-by-step tutorials on your favorite recipes.
Have you ever tried a back-to-back Japanese recipe forged in the heat of the iron grill (the teppanyaki) and the traditional Japanese fire bowl (hibachi)?
Well, you're in for a double treat, because I'll be discussing the best recipes for teppanyaki hibachi noodles (including teppanyaki stir-fried rice), plus other condiments and side dishes!
Let's look at the top 4 recipes for hibachi noodles!
You can use these awesome teppanyaki tools in preparing your dish.
Top 4 recipes for hibachi noodles
1. Teppanyaki hibachi beef noodles
Amazing taste of grilled meat and vegetables, together with noodles for a full meal
Ingredients  
8

ounces

Ramen or lo mein noodles (or angel hair pasta)

½

pounds

steak or your favorite stir-fry beef cut

½

cup

soy sauce

1

tsp

ginger

grated

1

tsp

garlic powder

2

tsp

cornstarch

2

tbsp

brown sugar

3

scallions

plus more for serving if desired

3

cloves

garlic

1

large

carrot

1

tbsp

butter

1

tsp

sesame oil
Instructions 
Turn on the stove, pour 250 ml of water into a pot, put in 4 tbsp of salt, then boil the noodles. Once the noodles are tender, remove them from the pot and drain. Then set them aside for later use.

Meanwhile, cut the beef into small thin strips if using a teppan plate or a grilling pan. Leave them in larger pieces for BBQ hibachi grill style and cut them into thin strips after grilling.

Prepare a medium-sized bowl and add the brown sugar, cornstarch, garlic powder, ginger powder, and soy sauce, then whisk them to mix. Toss beef strips into the soy sauce mixture and use tongs to coat the meat strips. Leave the beef strips in the bowl and allow to marinate for 20 – 30 minutes.

Shred the carrots, mince the garlic, and chop scallions into small rounds.

Turn on the stove and set to high heat. Place the teppan plate (or skillet) on the stove and heat 1/3 of the butter and sesame oil. Or you can also use an electric teppanyaki plate.

Once the oil is hot enough, use the tongs to pick up the beef strips and place it in the skillet (or teppan plate) to fry or place them on the hibachi grill. Cook beef strips until they get a brown color (do not stir or turn over).

Flip the strips to cook the raw parts once the other sides become brown.

Toss in the noodles, remaining butter, garlic, scallions, and carrots in the skillet or on the teppan. Then stir until all ingredients are thoroughly mixed. Pour in the marinade and allow the noodles to absorb it until they also get a brown color. When grilling the meat hibachi style, this is the time to remove them from the grill. Cut them into thin slices and add them to the noodles.

Transfer them to a clean plate or bowl and put more scallions on top of the noodles. Now you have your beef hibachi noodle dish!
Nutrition
For the beef recipe, you should have a sharp Hibachi knife like the one I've reviewed here. You'd be amazed at how cheap a good one is, but I also have some top choices for you.
As an alternative to beef cooked with noodles, you can try this great teppanyaki sirloin steak with garlic butter.
Nutritional Facts
Serving size: 1 cup
Amount per serving
Calories 264 (Calories from fat 78)
Daily Value in (%)
Total Fat 8.69 g 13%
Saturated Fat 2.48g 12%
Polyunsaturated Fat 1.232g
Monounsaturated Fat 3.534g
Cholesterol 78mg 26%
Sodium 666mg 28%
Potassium 324mg
Total Carbohydrate 20.86g 7%
Dietary Fiber 0.9g 4%
Sugars 0.33g
Protein 23.99g
Vitamin A 2%
Vitamin C 0%
Calcium 1%
Iron 17%
If you weren't planning on making a hibachi noodle recipe yet, just watch this adorable video of a kid (Aubrey London) talking about making it:
2. Plain hibachi noodles

Ingredients:
• 1 lb linguine or noodles of your choice, cooked al dente
• 3 tablespoons butter
• 1 tablespoon garlic, minced
• 3 tablespoons sugar
• 4 tablespoons soy sauce
• 1 tablespoon teriyaki sauce
• Salt and pepper to taste
• 1 tablespoon sesame oil
• 1 tablespoon sesame seeds
Directions:
1. Turn on the stove and set to medium heat. Melt butter in a wok.
2. Put the minced garlic into the wok and saute until you can smell its cooked fragrance.
3. Add the noodles and mix them as you stir thoroughly.
4. Pour in the teriyaki sauce, soy sauce, and sugar, then continue stirring to combine the ingredients.
5. Sprinkle with salt and pepper to taste.
6. Remove the wok and the hibachi noodles from heat and pour sesame oil in small amounts (I recommend you drizzle the oil). Toss the noodles several times to complete the mixing process.
7. Sprinkle the hibachi noodles with sesame seeds before you serve and make sure to serve it while it's hot.
Nutritional Facts
Serving size: 161 g
Amount per serving
Calories 495 (calories from fat 142)
The daily value in (%)
Total Fat 15.8 g 24%
Saturated Fat 6.5 g 32%
Trans Fat 0.0 g 0%
Cholesterol 106 mg 35%
Sodium 1166 mg 49%
Potassium 270 mg 8%
Total Carbohydrates 74.2 g 25%
Sugars 9.9 g
Protein 14.7 g
Vitamin A 6%
Vitamin C 1%
Calcium 5%
Iron 25%
3. Hibachi noodles with mushrooms and zucchini
Ingredients:
• 12 ounces udon noodles or chow mein noodles
• 4 tablespoons olive oil
• 4 tablespoons butter
• 2 minced garlic cloves
• 1 tablespoon basil paste or 2 tablespoons dried basil
• 1 1⁄2 lbs mushrooms, pre-washed & sliced
• 2 zucchinis, sliced and chopped
• 1 tablespoon Cavender's all-purpose Greek seasoning
• 4 tablespoons soy sauce
• 2 tablespoons Worcestershire sauce
For the sauce:
• 1/3 cup soy sauce
• 1/3 cup Thai ginger broth
• 1 1/2 tablespoons brown sugar
Directions:
Turn on the stove and set to medium heat. Place a pot of water on top and pour in 4 – 6 cups of water. Toss in the noodles and allow to boil for about 8 minutes or until the noodles become soft and tender, then rinse several times with cold water. Leave the noodles soaked in cold water until it's time to saute them (drain when ready).
Replace the pot with a frying pan and turn the dial up a notch to high heat. Saute the olive oil, butter, garlic, and basil for approximately 2 minutes.
Toss in the zucchinis and mushrooms and pour 4 tbsp (per seasoning) of Cavender's seasoning, Worcestershire sauce, and soy sauce. Then saute for 6 minutes or until the tenderness of the vegetables are at your desired level.
In a separate dish, add the soy sauce, Thai ginger broth, and brown sugar. Mix the ingredients until the sugar is dissolved.
Drain the noodles and add it to the vegetable mix in the frying pan. Pour the sauce over the mix and stir well until cooked, then serve.
Nutritional Facts
Serving size: 1 cup
Amount Per Serving
Calories 45 (Calories from Fat 25)
A daily value in (%)
Total Fat 2.82g 4%
Saturated Fat 1.215g 6%
Polyunsaturated Fat 0.271g
Monounsaturated Fat 1.212g
Cholesterol 7mg 2%
Sodium 1175mg 49%
Potassium 164mg
Total Carbohydrate 4.02g 1%
Dietary Fiber 0.7g 3%
Sugars 1.24g
Protein 1.45g
Vitamin A 4%
Vitamin C 14%
Calcium 3%
Iron 2%
4. Teppanyaki-style fried rice
You really must try this recipe for frying rice, as it's great to pair with any hibachi noodle recipe!
Although some Asians (particularly the Chinese) don't eat rice together with noodles since that would be too many carbohydrates in one plate or bowl, hibachi noodles enhance the taste of the fried rice, which makes this pairing very ideal.
Eating hibachi noodles with stir-fried rice in small amounts should only give you acceptable amounts of carbs, which can easily be burned through your exercise routine. So it's not really that bad, unless you consider it a taboo of sorts.
Ingredients:
• 3 to 3 ½ cups cooked rice
• 2 eggs (scrambled)
• ½ onion
• 1 package pancetta (found in the deli aisle; however, regular bacon will do)
• 2 to 3 tablespoons butter/margarine
• ½ cup frozen peas & carrots
• 2 tablespoons garlic powder
• 1 tablespoon sesame seeds
• 4 to 5 tablespoons soy sauce
• 1 to 2 tablespoons thinly sliced scallions/green onions (for garnish)
• 2 drops sesame oil (optional)
Directions:
Turn on the stove and cook scrambled eggs in a skillet, then set aside for later use (set temperature to medium).
After removing the eggs, toss the onions into the same skillet and cook until they become translucent. Remove from pan and place in a small bowl, then set aside for later use.
For cleaner and easier slicing, it's recommended that you freeze the pancetta or bacon. Now slice the pancetta into small strips of meat and fry until crisp. Once cooked, set aside in a clean plate for later use.
Put the temperature dial to low and toss the soy sauce, carrots, peas, garlic powder, butter, and rice into the skillet, then stir the mixture.
Add the items that you've set aside earlier into the skillet, including the onions, eggs, and pancetta, along with the soy sauce mixture. Add sesame oil as well, then stir thoroughly.
Add sesame seeds and green onions for garnish.
What are hibachi noodles?
As you may already have guessed, "hibachi noodles" is a general term. But while the ingredients may vary in recipes, the cooking method is the same, and they all go through the hibachi before they're served.
Origin of noodles
Noodles originated in China. According to ancient records, the earliest mention of noodles is in the Eastern Han period.
It was during the period between 206 BCE – 220 CE during the Han Dynasty that noodles (which are made from wheat dough) became one of the most important foods in China. 
At the Laija archaeological site, Chinese scientists were stunned to find an earthenware bowl that contained ancient noodles in it! When the radiocarbon dating came back, it showed that the noodles were 4,000 years old. They are the oldest known noodles to date.
By the 9th century AD, noodle making had spread to Japan, which is only logical as the country is China's next-door neighbor. Then the Chinese brought noodles to Persia in the 13th century AD via the Silk Road.
Noodles made from buckwheat (naengmyeon, which is quite healthy) were also developed in the Joseon Dynasty of Korea between 1392 – 1897.
Then in 1958, the Japanese inventor Momofuku Ando created the popular instant noodles, which are still a staple food for just about any country in the world today.
Asian noodles are easy to cook
Versatility is one of the best and most unique advantages of Asian noodles.
It can be cooked in many ways and paired with meat, poultry, fish, vegetables, fruits, side dishes, and condiments in whatever way the recipe prefers it to be. You could even come up with your own noodle recipe if you're clever enough!
Side dishes and condiments to pair hibachi noodles with
As we've already hinted above, Asian noodles are notoriously flexible when it comes to food pairing. You can practically pair them with any food that's listed on recipes sites!
You can eat them with chicken, vegetables, salads, beef or pork steak, lamb chops, shrimp, fish, eggs, etc. They'll taste good every time, just as long as the ingredients are properly mixed and cooked on the fire for the perfect amount of time.
Condiments such as fried lotus with pork, kabocha pork stir-fry, and inari sushi are also great to pair with hibachi noodles.
You can use either soy sauce based seasonings mixed with other spices or a tomato sauce based chili seasoning for added flavor.
FAQs
I'm sure you're now curious and want to learn more about hibachi noodles. I'll answer some common questions below!
What kind of noodles are used in hibachi?
Ramen
Made from wheat-based flour, kansui, and saltwater, ramen is usually thin and pale yellow in color and has a firm and elastic texture.
The technique to make ramen noodles was imported from China during the Meiji era (1868 – 1912) and one distinct feature of ramen is that before the dough is rolled, pulled, and stretched, it's first risen with yeast.
The noodles may vary in shape, width, and length, and are usually served in a broth. Curry, tonkotsu, miso, shio, and shōyu are examples of ramen noodles.
Shirataki
This type of noodle is transparent and has a rubbery texture to it. It's made from konnyaku and is chewy when you eat it. Shirataki goes well with Japanese cuisines like oden and sukiyaki.
Soba
This noodle is made from wheat flour and buckwheat, and usually has a pale yellow or beige color. Soba noodles are available dried or fresh and they come with a versatile serving method that can either be hot (as a noodle with broth) or cold with dipping sauce.
If you've ever tried tororo, kitsune, tempura, kake, or chilled zaru soba, then you've sampled some Japanese soba noodles!
One soba dish that shouldn't belong to this category is yakisoba noodles because it's actually made with Chinese-style noodles (chūkamen) and is not entirely a "soba."
Somen
Somen is another wheat-based noodle. But instead of the usual thick and pale yellow form, this one is thick and white in color.
Although it can be used in soups and other hot dishes, it's usually served cold or chilled. It's especially done in the summer months to help the Japanese remain cool.
Somen noodles are very similar to hiyamugi and udon noodles, except they're very thin at 1.3 mm in width, whereas other noodles are slightly thicker. When somen noodles are made, an important ingredient to success is oil.
Hiyamugi
Hiyamugi is also made from wheat and is similar to udon and somen noodles. Its thickness is roughly between the two noodles mentioned previously and is also served very much like udon and somen noodles.
You'll often see hiyamugi noodle strands as white, but there some cases where they're bundled with brown or pinkish hued strands.
Udon
The thickest Japanese noodles you'll find is udon. They're bright white strands of wheat-based noodles and can be as thick as 4 to 6mm.
You can eat udon in one of 2 ways, and as with many Japanese dishes, it's a very seasonal food:
Eat them cold with a nice sauce to dip them in and slurp them up. They're eaten cold in the summer.
Eat them in warm recipes and soups, which you'll want to do in winter and fall months when it's much colder outside.
You'll find udon in dishes like:
Kitsune udon
Yaki udon
Nabeyaki udon
Curry udon
You might think that every dish with "udon" in its name would have these same noodles in the recipe, but there's one anomaly with Sara udon, which is made using a crispy noodle.
Harusame
Harusame is quite a bit different and is a type of glass noodle. They're the only known noodle that's made using potato starch.
Tokoroten
This Japanese noodle is the strangest of all noodles, but I kind of like it because of that! It's made out of a type of agar and has a gelatin-like substance.
It's actually not agar but another kind of red seaweed that's specifically grown for making these noodles! You can read more in this post I've written about tokoroten.
Even the way the noodle is cut is also weird, as it has the shape of thin rectangular jelly-like slices.
What's the difference between hibachi noodles and lo mein?
There's actually almost no difference between hibachi noodles and lo mein, except that the latter comes from China and the former is made in Japan.
The Japanese also have 8 different kinds of noodles and are so named based on the raw materials that they come from. While in China, noodle names are more or less conventional because they're made from wheat and are either mixed with eggs or just plain wheat flour.
As stated above, there's actually no such thing as hibachi noodles and they're only called that way because they're cooked on the hibachi.
What's the sauce used in hibachi?
If you've been to restaurants like Benihana Japanese Steakhouse, then you might've noticed that the chefs use special sauces in their teppanyaki hibachi noodles.
The two most popular sauces used are ginger sauce and yum yum sauce! The former is made with ginger, tamari, and rice vinegar, and the latter consists of mayonnaise, ketchup, mirin, rice vinegar, and spices.
Are hibachi noodles healthy?
Hibachi noodles can be healthy if you cook them right. Homemade noodles are better since you can control the salt and oil that go into your dish, as well as the ingredients.
If you stick to healthier proteins like chicken, hibachi noodles can be healthy!
Enjoy hibachi noodles fresh from the grill
If you've been wanting to try a new type of noodle, hibachi noodles are a great place to start. Considering how versatile they are, hibachi noodles are sure to keep your taste buds busy!
Look at our buying guide for a more complete look of the essential tools and grills you can get.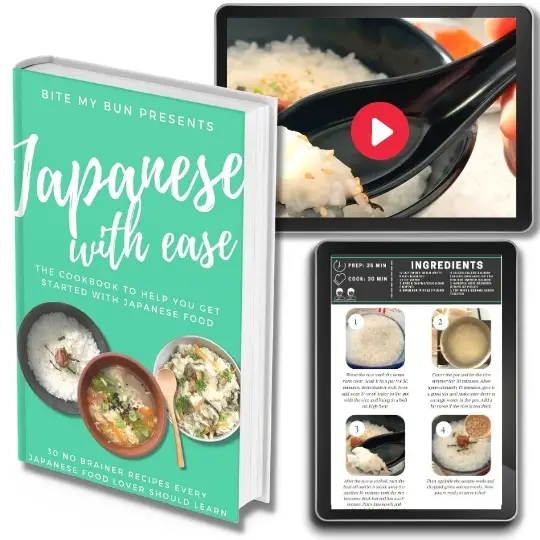 Ever had trouble finding Japanese recipes that were easy to make?
We now have "cooking Japanese with ease", our full recipe book and video course with step-by-step tutorials on your favorite recipes.
Joost Nusselder, the founder of Bite My Bun is a content marketer, dad and loves trying out new food with Japanese food at the heart of his passion, and together with his team he's been creating in-depth blog articles since 2016 to help loyal readers with recipes and cooking tips.