The tools you need for teppanyaki: THE 17 essential accessories
I love creating free content full of tips for my readers, you. I don't accept paid sponsorships, my opinion is my own, but if you find my recommendations helpful and you end up buying something you like through one of my links, I could earn a commission at no extra cost to you.
Learn more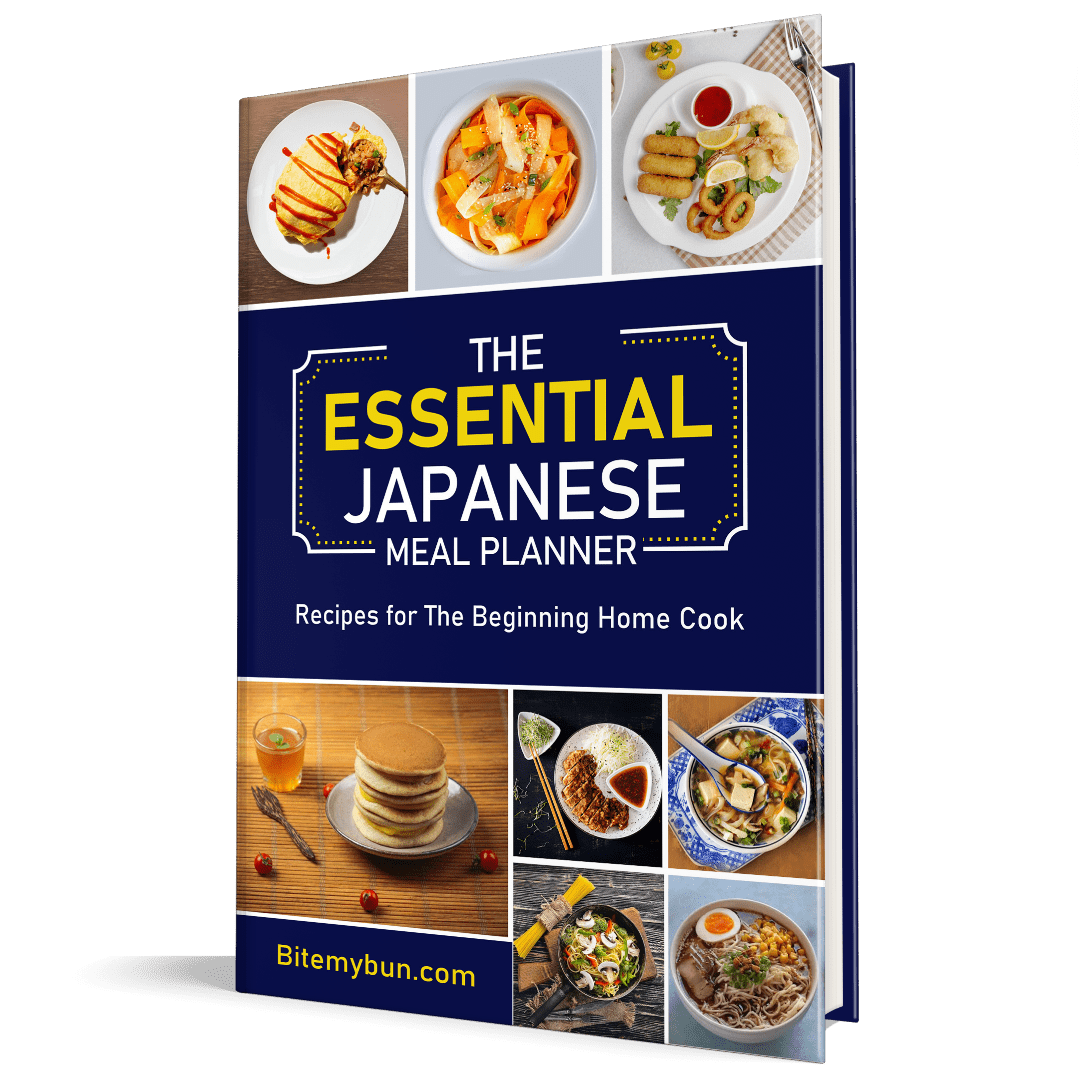 Check out our new cookbook
Bitemybun's family recipes with complete meal planner and recipe guide.
Try it out for free with Kindle Unlimited:
Read for free
Teppanyaki is a Japanese term that means "grilling on an iron plate." 
In a conventional Japanese cooking style, meats like seafood and steak and dough-based foods such as yakisoba or fried noodles and rice are integrated into the cuisine.
If you are on the lookout for excellent tools to use with your grill, you're on the right page.
The following are some of the tools that will enable you to cook in your teppanyaki grill with ease.
Let's take a quick look at the essentials, after that, I'll guide you through each of my top choices:
10 Tips to Save a Bundle on Asian Ingredients!
Introducing our brand new FREE PDF guide: "Saving Secrets: Unveiling the Art of Saving Money on Asian Ingredients" It's your first newsletter email, so start saving today! 📚🧧
We'll only use your email address for our newsletter and respect your privacy
Best Teppanyaki Tools to buy
I've reviewed the top teppanyaki grills in my post here so you should check that out as well if you haven't purchased one yet, but in this post, I'd like to focus on the essential tools needed for your teppanyaki.
Also check out these top gas teppanyaki grills we've reviewed here
Heavy-duty tongs: Black kitchen locking tongs
Tongs are a type of kitchen tool that is specifically designed to lift or grip ingredients or food items rather than holding those with bare hands.
There are several kinds of tongs that are made according to their specified usage. Some are simply like nippers or pincers, but most of the tongs fall into these types:
Tongs that have long-arm structures, have small flat circular ends, and are pivoted to a joint near the handle are specifically used to hold delicate food items or objects. The usual fire tongs, which are used for handling coal pieces and putting them over the fire without getting your hands dirty or burning them, belong to this type. Tongs that are used for grilling and serving spaghetti or salad belong to the same class. These types are designed in such a way that the user can conveniently turn, rotate, or move the food in a delicate manner. This also allows users to fetch a full serving in just a single grab.
Tongs that are made up of a single metal band that is bent around or those that have one or two bends that are joined together at the head through a spring are called sugar tongs or asparagus tongs. These usually come in silver color and have claw-shaped or spoon-shaped ends. These are specifically used to serve lump sugar and the like.
There are also tongs that have a joint or pivot that is located near the gripping ends. These are used to hold heavy and hard objects. Tongs of this type include blacksmith's tongs, crucible tongs, and driller's round tongs.
My absolute favorite for Teppanyaki is these Black Kitchen Tongs, and they're just not that expensive.
Stainless Steel and easy to use:
2-Tine Pot Fork: Henckels Professional
A 2-tine pot fork is used for holding or picking up meat. This fork has the same shape as the regular fork, but it is a bit bigger and has tines that curve outwardly.
This gallery is comprised of the original work meats (2) by Janine, K i n g s o f T e p p a n y a k i by J a s o n B o l d e r o and teppanyaki christmas eve by Fredrik Rubensson on Flickr under cc.
Since you'll be using these a lot with cooking Teppanyaki style, I'd recommend stainless steel ones, like the J.A. Henckels International Classic ones. 
The curves are specifically made to pierce thin beef slices. A two-pronged fork is also used to steadily hold the meat while carving it.
The Cangshan actually has a patented ergonomic design so they're great if you're going to be cooking a lot.
A pot fork is a must-have tool for both home and commercial kitchens. It is not only used for dishing up beef but it can also be used to hold chicken or turkey in place.
Pot forks are usually made up of stainless steel with a riveted wooden handle. This utensil is durable and very practical to have in your kitchen.
Turner: Anmako spatula set
The turner is usually referred to by many people as a spatula. When looking for a turner in a shop, most kitchen shop employees direct you to spatulas, which is a bit frustrating.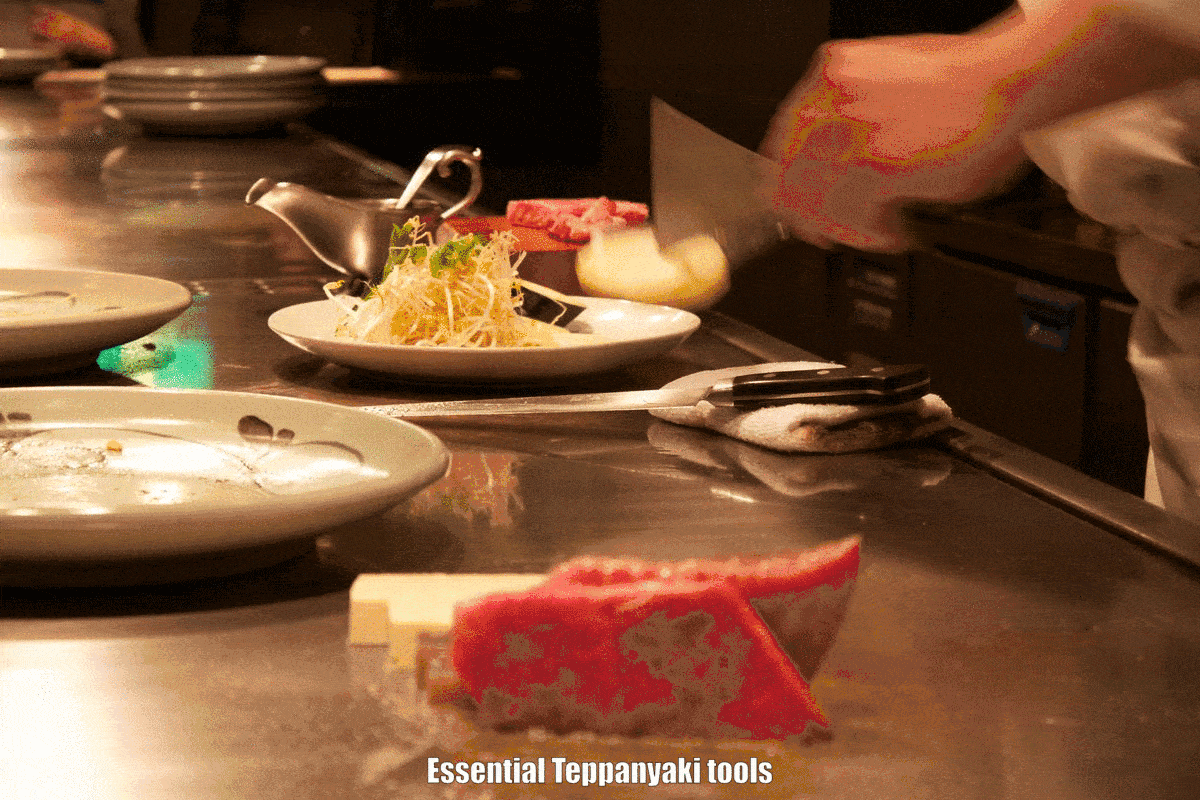 This is an animated gif of the original work by jit bag on Flickr under cc. Thanks for sharing the delicious Teppanyaki meal you had!
This is sometimes called a pancake-turner. It's just not the same. As its name suggests, this tool is specifically used to turn food for it to be cooked on the other side.
This is also used for lifting and removing food items. These are commonly used when preparing bacon, hamburgers, fish, eggs, cookies, potatoes, and pancakes.
Turners come in a wide range of sizes and shapes and are made up of different materials.
I love this Stainless Steel Metal Spatula Set by Anmarko because they look the part and give you a few different sizes.
Inexpensive turners like these are great and still stainless steel. Those that are sold in kitchen shops are made up of silicone-covered metal or nylon.
Silicone- or nylon-made turners are excellent to be used with non-stick cookware. These tools are tempered so that they can withstand a temperature of 400 to 500°F (204 to 260°C).
As with conventional turners, the higher the temperature the turner can withstand, the more expensive it is. But please be careful not to leave the spatula in the cookware as it will cause it to warp or melt.
This gallery is comprised of the original work Teppanyaki! by petter palander and Chef preparing the course by City Foodsters on Flickr under cc.
The usual cookware surface temperatures can exceed up to 650°F (343°C), which is beyond the limits of a lot of turners.
There are turners that are designed with slots for juices and fats to drip through.
Professional stainless steel griddle cooking kit
The professional stainless steel griddle cooking kit will give you everything you need when it comes to teppanyaki grilling. This griddle set comes with 10 pieces of quality products that'll make teppanyaki cooking easier.
The set has 2 spatulas, 2 bottles, 2 flippers, 1 scraper, 2 egg rings, and a carrying case. This carrying case is designed to make carrying the tools easier while on the move.
Getting this professional stainless steel griddle cooking kit will be a great addition to your grilling accessories. The metal used to make these tools can withstand any heat during grilling.
Notable features:
Strong and durable stainless steel (chef-approved) – This is one of the best teppanyaki grill sets that you'll find on the market. This kit is approved by professional chefs and has been made with high-quality metal, which is ideal for all your grilling needs. The griddle set is suitable for camping, outdoor use, teppanyaki cooking, hibachi grilling, as well as restaurant use. Since this griddle set is made out of professional-grade metal, all the accessories will work perfectly on your grill.
Durability – Most people have complained about getting grilling tool sets that don't last long. However, that's not the case with the professional stainless steel griddle cooking kit. This griddle set has been designed with top-quality materials. The manufacturer wants the customers to be satisfied as they cook. Most professional chefs love this griddle set because of its quality material, as well as its durability.
This will make a great gift for your friends – The professional stainless steel griddle cooking kit is an amazing gift that can assist you with teppanyaki grilling, whether indoors or outdoors. You can go tailgating or camping with this set and you won't need any other tool. The high-quality material used to design this set is meant to last, and the tools will make every grilling experience memorable. Therefore, you can gift this professional stainless steel griddle cooking kit to your friends if they love teppanyaki grilling.
Are you doing a lot of fish on your teppanyaki plate? Check out these top fish pliers for removing your fishbones
Grill scraper: Cuisinart CCB-500
A grill scraper is a tool that is particularly used to clear up cooking grills. Cleaning the grill is done by scraping the food particles that stick to the surface.
Scrapers for flat-surfaced grills come in various designs, which range from a putty knife to a more complex tool that has a hand protector to prevent users from being burned.
The more complex variations of grill scrapers are suitable for professional cooks and chefs. There are also scrapers that are designed for wire grills, which have notches in the blade edge to fit the wires of the grill.
It sounds like a simple tool but having one that does the job like this Cuisinart makes all the difference: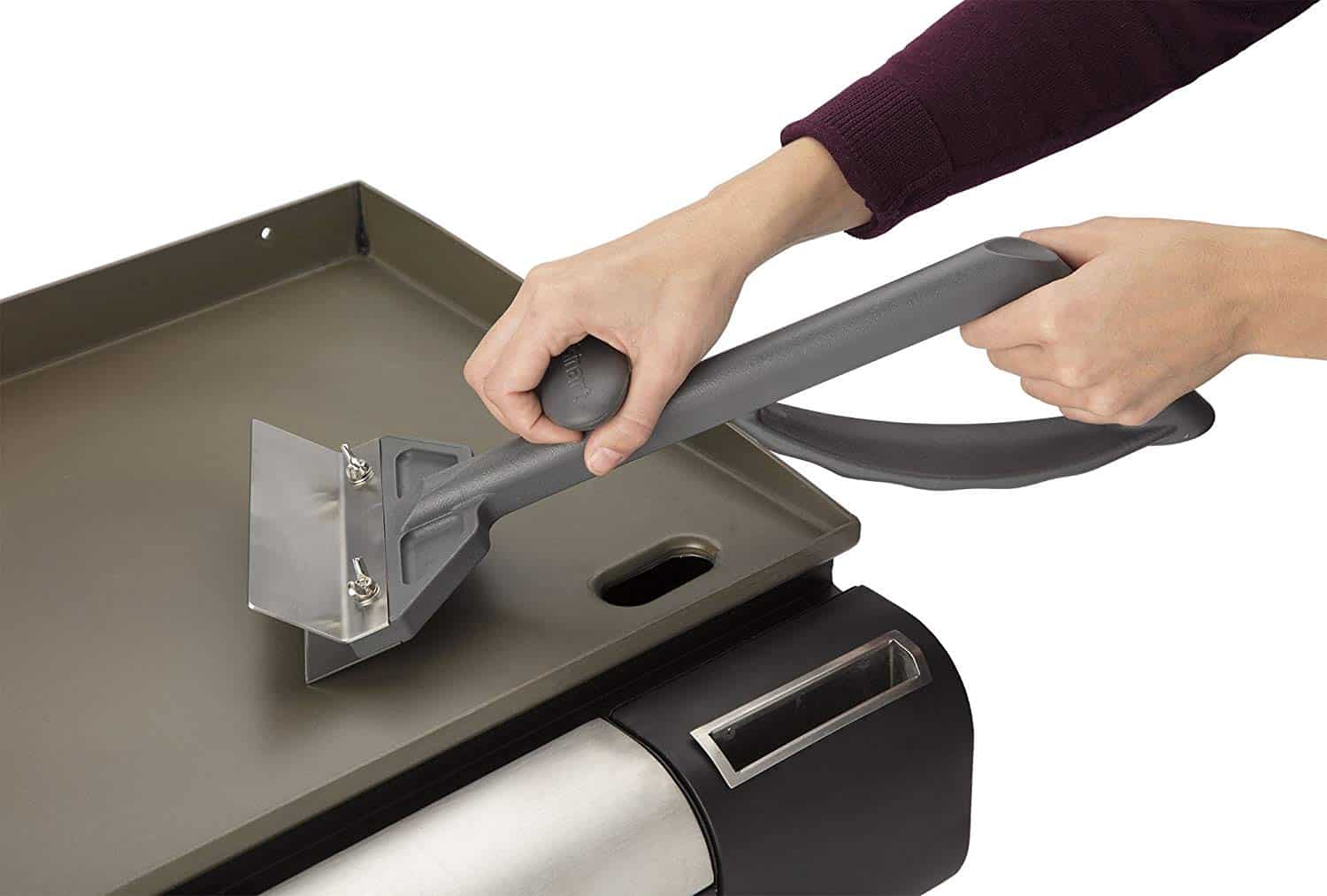 HHXRISE large organic bamboo cutting board for the kitchen
As a teppanyaki chef, you'll need a cutting board to help prepare your ingredients.
The HHXRISE large organic bamboo cutting board for the kitchen is a quality tool that'll assist you in your cooking process. This large cutting board is made out of quality wood, which ensures its durability.
Notable features:
The board is made out of organic bamboo, which is BPA free – If you're looking for a cutting board that's made out of strong wood, then you've found it. The HHXRISE large organic bamboo cutting board for the kitchen is made out of 100% natural bamboo, and it's antibacterial, antimicrobial, and BPA-free. The board has been polished to achieve smooth surfaces.
Extra thick and large to accommodate all your cooking materials – This cutting board has a measurement of 0.72 x 12 x 17 inches, and it's sturdy, thick, and big. You can use this cutting board as a chopping, cutting, or carving board, a serving tray, or even a cheese board.
A unique design with juice grooves and built-in compartments – This cutting board has a very distinct design, with 3 built-in and separated sections on its sides where you can temporarily put your ingredients before you start cooking. In addition to this, the board has a juice groove, which prevents the juice from spilling over to the counter. With this HHXRISE large organic bamboo cutting board for the kitchen, you won't mess up your kitchen again!
Versatility – This isn't just a mere cutting board. Its unique design also converts it to be a tray holder, which you can use to serve your grilled food.
Knife friendly – The material used to make this grill won't dull your knives. However, you should never use a dishwasher to clean the cutting board.
Bowl scraper: Nanahome Multifunctional Bench Scraper
Ugh! Don't you hate it when you are cooking in the kitchen and there is a bunch of residues left inside the bowl you're using to cook?
No matter how you try to get every last bit out, it is virtually impossible…unless you use your tongue. (I have been guilty of this one when cooking chocolate batter).
Well, the Japanese have come up with an ingenious invention. It's called a bowl scraper. Read on to find out more about this simple yet amazing product.
How Does a Bowl Scraper Work?
A bowl scraper has a sharp, rounded edge that picks up food residue effortlessly. Its nonporous material does not allow it to stick or snag. When using it, it feels as though the scraper is attached to the bowl.
Bowl Scraper Uses
In addition to scraping food from bowls, scrapers can also be used to cut dough. Since they are made of plastic, you don't have to worry about it ruining your surfaces when you chop food.
It's also good for clean-up. If you have shredded food like carrots or mashed potato residue on your surfaces, it works effectively to scrape counters clean.
Some even argue that scrapers can even be used as bookmarks or to give a quick massage to knotted muscles.
What are the Scraper's Characteristics?
Scrapers measure 4 ½ x 3" so they are small enough to fit them in your pocket. While you might not need to take them everywhere, it's good to know that you can!
They are typically made of a hard, nonporous but flexible porous material and they have two sharp ends. One end is sharper and rounded with an asymmetrical bevel while the other end is flat.
The sharp edge is usually used for scraping while the flat edge serves as the handle although both sides can scrape.
When looking for a scraper, it is best to find one with nonstick properties. Look out for scrapers that scrape large areas of food efficiently. Ergonomic handles are another beneficial trait.
Price
The best thing about bowl scrapers is, they're so darn cheap. Even though they are quite useful, many of them are priced just around the $2 mark.
I would recommend getting a multifunctional tool though, like the Nanahome Bench scraper to get a little more out of it than just scraping bowls.
So, if you don't like leaving excess food in your pots and pans, maybe the bowl scraper is for you. At such an affordable price, it's hard to pass up. How will you be incorporating a scraper into your culinary adventures?
Grill Spatula: Char-Broil Comfort Grip
Grill spatulas are long-handled tools that are intended to keep your hands away from the fire as you grill.
There are various models of grill spatulas, which are used to turn grilled pizza, packed hamburgers, and large swordfish steaks.
These tools are designed to provide comfort and ease for the users while grilling.
The ideal spatula, like this one from Char-Broil Grill, should be wide enough to handle broad swordfish steaks or pizzas but not too wide to be able to move around crowded burgers or meat:
Super wide spatula heads that measure around 5 inches are perfect for swordfish steaks but not suitable for crowded meats.
On the other hand, a spatula variation that has a head measurement of 3 3/8 inches is enough to manipulate crowded meats and large swordfish steaks.
Spatulas that have a head measurement of 4 inches offer both dexterity and support.
Kitchen Shears: Shun Japanese notched blade
Kitchen shears are tools that are specially designed for food preparation. These tools are more flexible than conventional cutting scissors.
Their handles are usually made up of rubber or plastic.
The handles are textured for easy gripping and cutting. The blades of kitchen shears have a notch for users to easily cut poultry joints.
Different parts of the handle have teeth that can serve as bottle or jar openers, and some have a screwdriver-like protrusion to break open lids.
The scissors have 2 sections or sides that function together to cut food items. These 2 sides are detachable so that each side can be conveniently washed or dried.
When you place the meat on the teppanyaki grill, you can actually cut it up into smaller pieces while it cooks using kitchen shears. 
The blade is durable and is composed of stainless steel or aluminum.
Choose Japanese steel shears like these from Shun if you're planning to cut a little more than just the plastic packages of pre-made food and choose those that have a medium opening, enough to cut food items but not too wide to also be able to cut small food items or ingredients:
Many shears like these are intentionally designed to cut the thin bones of chicken breasts.
Ensure that that the blades have the capacity to fully cut hard food items with ease and comfort.
Check out my review of the best Japanese kitchen shears for more inspiration. 
Grill Basting Cover: Chefmaster steaming dome
This is a text overlay image of the original work DSC06589 by Richard, enjoy my life! and Teppanyaki by  Michelle Lee on Flickr under cc.
Grill basting covers are intended to keep food warm and moist before it is served.
A grill basting cover is also used to protect your stovetops and other kitchen equipment from greasy splashes and to keep the grilling area clean.
This way, the cleanliness and functionality of your kitchen equipment is maintained.
Eggs, steaks, bacon, burgers, chicken are among the food items that cause greasy splashes on your kitchen equipment and stove.
Basting covers come in various sizes and shapes to fit stovetops and pans. Some are rectangular and some are circular.
These tools come with cool-touch handles to avoid injuries or burns while cooking.
Since these are made up of durable materials, these tools are expected to last for a long period of time.
Basting covers are excellent tools for restaurants, food trucks, cafeterias, and even at home.
I like this Chefmaster steaming dome which is made specifically for the Japanese Teppanyaki Grill.
Squeeze bottles: Oxo Good Grips
This is a text overlay image of the original work Teppanyaki chef by Kārlis Dambrāns on Flickr under cc. What a great action shot of a squeeze bottle!
Squeeze bottles are excellent kitchen tools to allow you to have control over your ingredients while cooking.
These tools enable you to be a master of your culinary specialty.
Through these, you can definitely put the precise amount of your liquid ingredient.
These are very useful especially if you are handling costly ingredients. I think you can just get a pretty cheap one like these Oxo bottles from Amazon:
This is not the item to spend loads of money on.
Griddle Stones: Upper Midland Products
Griddle stones are disposable tools that are intended to protect, clean, and maintain grill and cookware surfaces with efficiency and ease.
If you are constantly using your grill or griddle in your kitchen, definitely you need something to clean and maintain it.
These Griddle stones from Upper Midland can last a long time. These stones can evenly clean grills or griddles without leaving a sulfurous taste or odor.
Moreover, these stones have the capacity to prevent cookware and grills from rust:
These are made up of pumice stone that effectively removes stubborn cooked grease that builds up in your grill or cookware.
Chef hat: Chef Works
In recent times, chef hats are as much intended for fashion purposes as they are to keep hair from falling into the food.
In the past, chef hats or chef toques are used for designating work affiliation or signify chef rank, depending upon the height of the toque.
For instance, chefs who wear high toques are high ranking. The pleats in the hats also represent the number of recipes, specifically egg dishes, that the chef has specialized in.
However, nowadays, protecting food from falling hair is the main intention of these hats.
As the years go by, chefs have adjusted to more practical types of headwear. These days, you will likely observe that chefs are wearing a hairnet, skull cap, or baseball cap.
However, there are still culinary industries that require chefs to wear traditional hats.
It's just fun to have one on, and it might make a nice gift like this one from Chef Works: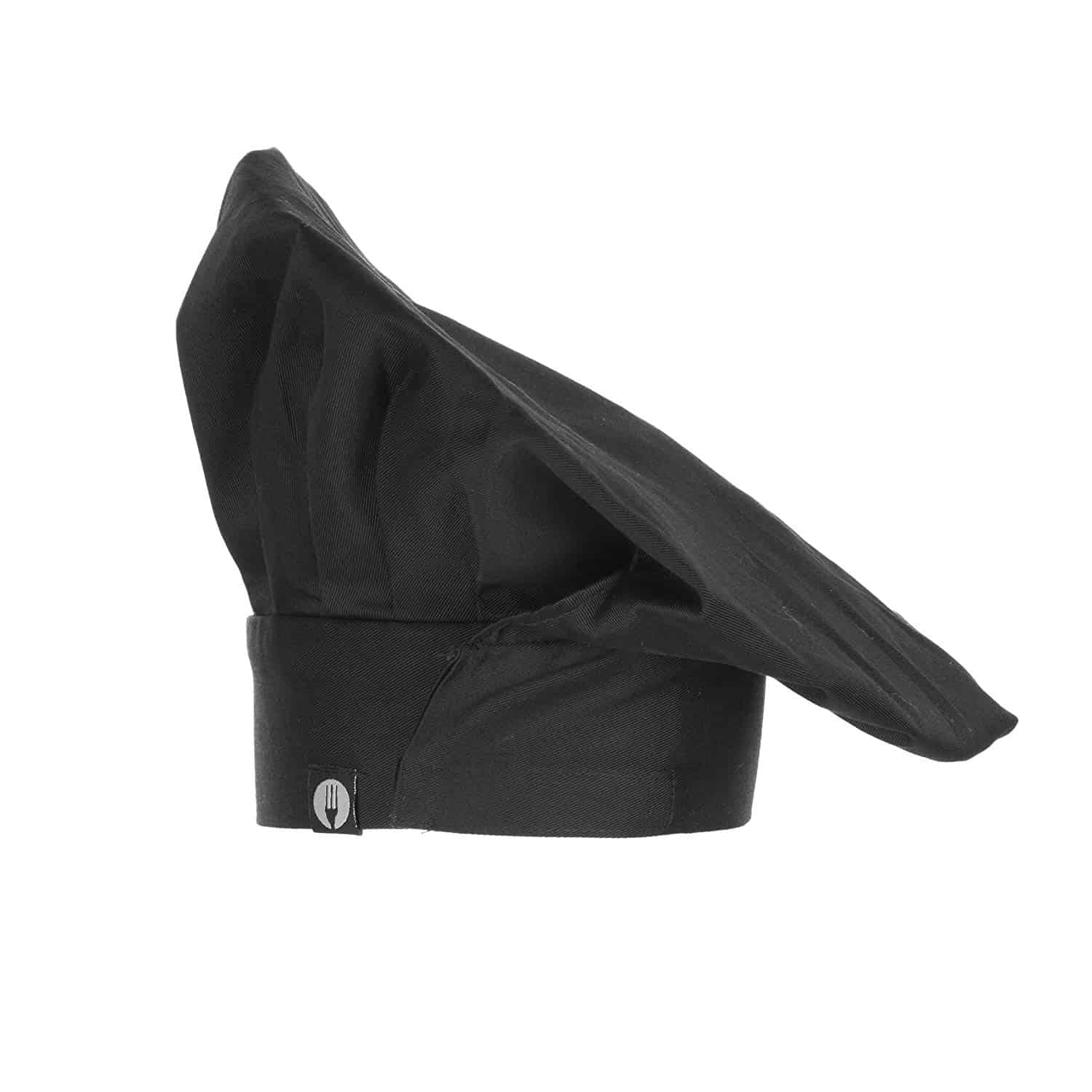 TOPTIE unisex short sleeve chef coat jacket
The TOPTIE unisex short sleeve chef coat jacket has been designed to suit all your needs as a teppanyaki chef. Getting one of these jackets will give you a professional chef look at a very great value, and you'll discover that they're perfectly suited for your work!
The jackets come in different colors, which means you can choose the color that suits you the best.
One notable thing about the TOPTIE unisex short sleeve chef coat jackets is that they're designed with 35/65 cotton/poly fabric. In addition to this, they have a double-breast, short-sleeve design with matching buttons.
Notable features:
The fabric is breathable and will allow you to enjoy good mobility
A super soft and standup mandarin collar style
Thermometer pocket that allows you to keep things like thermometers and pens close
The sizes do differ
Teppanyaki Japanese bowls: Yokohama
Also, you will need some bowls for all your sauces and marinades to dip your meat and vegetables in.
These don't have to be anything fancy, but considering you're probably going to be grilling at parties with family or friends, you might as well buy some nice bowls to serve from.
Teppanyaki bowls are often ceramic, with decorations from the region they're from.
I invested in these Japanese 8.25″ Ramen Noodle Bowls by Yokohama Gifts when I hosted the first party where we cooked Teppanyaki on the table together.
This is a traditional Japanese ramen bowl and it's a great addition to any kitchen. 
Chopsticks: Censsa wenge wood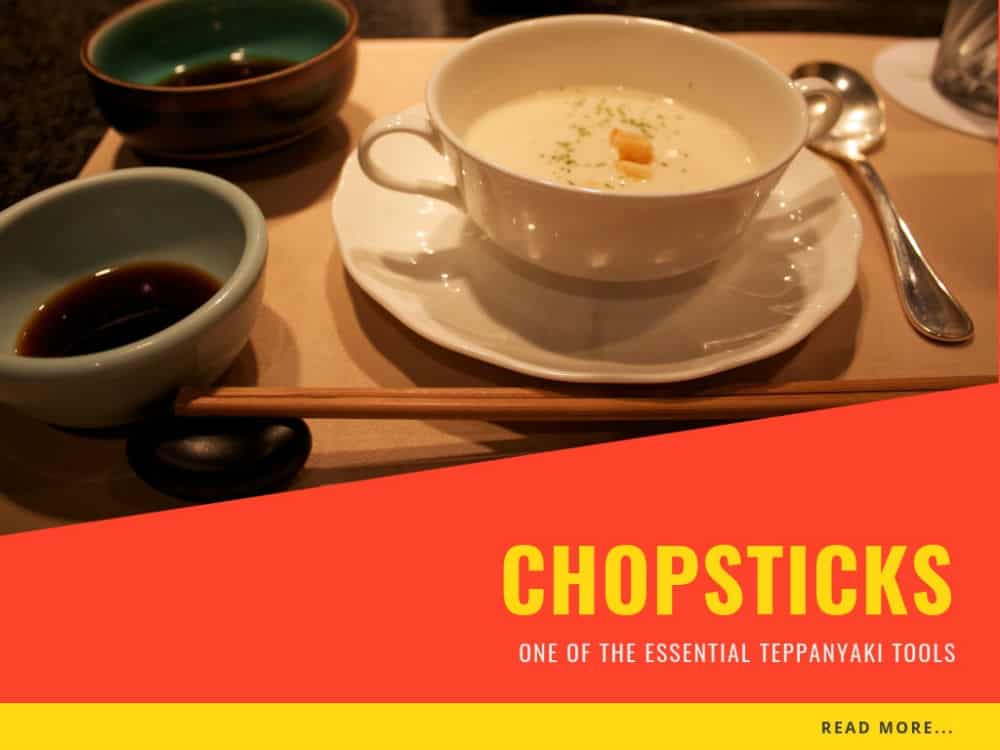 This gallery is comprised of the original work @ Teppanyaki by Elin, And we have come to the end at last. by Falchion and IMG_2870 by jit bag on Flickr under cc.
Chopsticks are an essential part of Japanese cuisine, and while you might not necessarily use them while cooking (I do though), it is a must-have when eating your cooked Teppanyaki meal.
I like my chopsticks to have a little weight to them like these Censsa wooden Japanese-style chopsticks. 
These are great reusable and dishwasher-safe chopsticks that you can use on a daily basis. They're not wasteful and they're easy to grip and use. 
Teppanyaki Cutting knives: Dalstrong Gyuto
Next to the scraper, your knife is the best tool you have for preparing the food right onto the grilling surface.
This is an animated gif of the original work by jit bag on Flickr under cc.
My go-to knife for Teppanyaki is this DALSTRONG Japanese Gyuto knife, which is really well balanced so you can use it in combination with a turner.
Plus it's really sharp for easy on-the-grill-plate cutting.
The sharper the blade, the easier it is to use. Therefore, investing in premium Japanese knives is worth it. It saves you the struggle of cutting foods. 
Ginsu Gourmet Chikara Series forged 19-piece Japanese steel knife set
The designers of this magnificent knife set have been in business for over 40 years.
They created the famous quote "but wait, there's more," and also invented the first knife that never required any sharpening. Ginsu is a company that's always pushed the innovation of knives to the limit!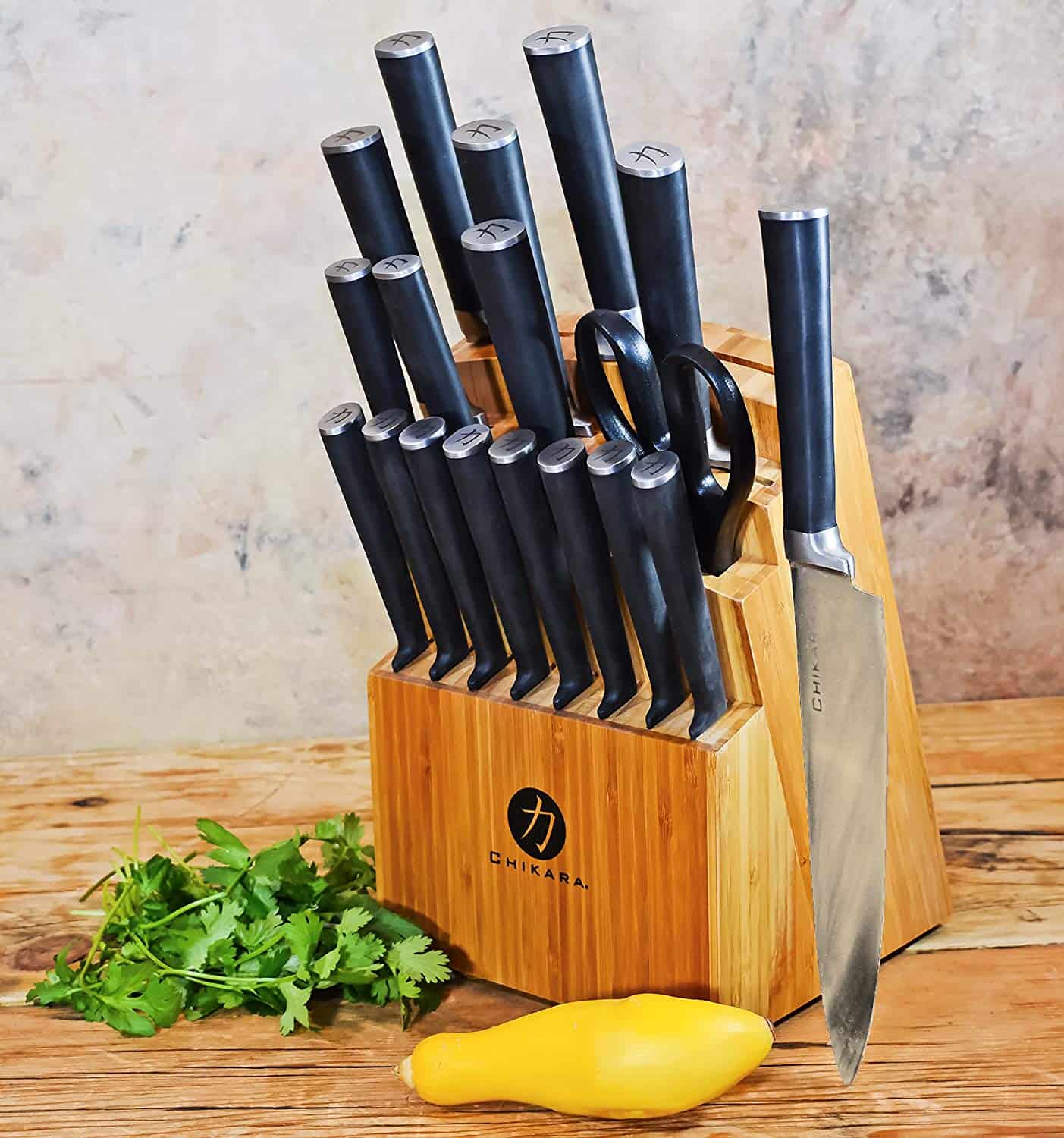 What you might not realize is that this knife's design, engineering, and assembling are done in the US. The factory has a dedicated team of engineers who work around the clock to deliver quality products.
When you look at the Ginsu Gourmet Chikara Series forged 19-piece Japanese steel knife set, you'll see that the style, color, as well as the count will perfectly blend in your kitchen.
Therefore, whatever you need, Ginsu has the right answer for you!
This knife set included everything that you need to prepare and serve your complex and delicious meal. The knives are organized in a stylish Bamboo Fish Block. They include:
8-inch chef's knife
8-inch bread knife
8-inch slicer
7-inch santoku knife
6-inch boning knife
6-inch cleaver
5-inch utility knife
3.5-inch paring knife
Kitchen shears
Honing rod
8 4.5-inch steak knives (note that the steak knives aren't forged, but are stamped)
That's why many teppanyaki chefs love this knife set since it has all the knives required in teppanyaki cooking.
So why do many chefs love this knife set?
It's maintenance-free – This knife set will arrive razor-sharp and you won't have to sharpen it, thanks to its unique scalloped sharpness. These are high-quality knives that you can depend on whenever you're preparing any meal.
Remarkable performance – Unlike other serrated knives, the Ginsu Chikara knives are usually sharp on both sides, which allows you to enjoy the performance of a fine-edged knife.
Strong and durable construction – One notable thing about the knives in this set is their full tang blades, which have a triple-rivet blade with an ergonomic design. The handle will give you a secure and comfortable cutting experience.
Designed to last – The Ginsu Chikara knives are designed from a single piece of top-quality Japanese stainless steel from their tip to tang. This means you can approach any recipe with the confidence that this knife won't fail you.
Versatility – These knives are well balanced, and this allows you to enjoy the perfect blend of control and power that you need to use even in the trickiest part of a recipe.
Manufacturer's warranty – Another interesting thing about the Ginsu Chikara knives is that they come with a lifetime limited warranty. The Consumer Report has named these knives "Best Buy" 5 times.
A sharpening stone is an essential tool for any Teppanyaki chef since you cannot afford to work with a dull knife.
The Sharp Pebble premium whetstone knife sharpening kit comes with a double-sided premium quality whetstone (#1000/#6000), a bamboo base for holding your stone, a knife-sharpening angle-guide, as well as an instruction manual.
Notable features:
Versatility – This is a durable and long-lasting sharpening stone. In addition, it can sharpen any blade, regardless of the brand (learn more on how to sharpen a Japanese knife with a whetstone here).
Easy to use – The sharpening stone is easy to assemble and use. In addition to this, the stone requires water, and you won't need to use expensive honing or sharpening oils.
Safety – Safety is paramount when it comes to handling a sharpening tool. That's the reason why this stone comes with a silicone base, which holds the stone inside the non-slip bamboo base. The setup ensures that your stone remains in one place as you sharpen it.
Premium quality – This is a simple but unmatched tool that you can use even at home. Also, you can use it to gift your friends.
These are the most basic supplies every teppanyaki chef needs, although you might see some teppanyaki chefs with other tools other than the ones we have mentioned above.
These tools will make your work as a teppanyaki chef easier, and you won't need any other tools other than these.
Planning to cut raw fish or octopus? Check out these Takohiki chefs knives to get the job done professionally.
Best oil for teppanyaki: 

Soybean Oil
Did you know that soybean oil is the best for stir-frying on a teppanyaki grill?
This type of oil is excellent for cooking meat because it mixes well with animal fats. Also, it is lighter on the stomach and doesn't absorb into your meat and vegetables. 
I recommend the Soybean Oil from Pure Soy Oil. This oil is cold-pressed and also organic, so it's chemical-free.
Sure, it's a bit more pricey, but it doesn't overtake the grilled food's natural flavors. Also, it doesn't have that classic oily taste of most vegetable oils. 
Also read: these are the top Hibachi Chefs tools you'll ever need
A simple Teppanyaki recipe to make with these essential tools
Simple Teppanyaki recipe
Now that you have identified and gathered the tools that you need in order for you to cook a teppanyaki cuisine, you may try this simple teppanyaki recipe.
Ingredients  
4

pieces

boneless and skinless chicken breasts

1

red pepper

1

green pepper

4

green onions

8

miniature corn cobs

4

ounces

bean sprouts

1

tbs

sesame oil

4

tbs

soy sauce

1

tbs

mirin
Instructions 
Gather all the tools and ingredients.

Cut the chicken breasts at about a thickness of ¼ inch at a slight angle.

Remove the seeds of the peppers. Slice the corn cobs, onions, and peppers thinly. Place the sliced ingredients on a plate together with the sliced chicken and bean sprouts.

Heat the teppanyaki grill or griddle. Then brush sesame oil on it. Put the vegetables and chicken slices by batches. Ensure that the ingredients have enough spaces in between so that they can be thoroughly cooked.

Mix together mirin, soy sauce, and ginger. This mixture serves as a sauce for the vegetables and chicken.
Notes
There you go! You can now enjoy this simple teppanyaki food!
After using your griddle, always remember to clean it after each use. You can do this by gently scraping it using a spatula and wiping it with a paper towel.
For hard-to-removed food particles, pour hot water onto the surface. Wipe with a paper towel and dry thoroughly.
For more on this, read How to Clean Your Teppanyaki Grill Plate with these 8 easy tips
Best sauces for Teppanyaki
Chicken marinade for teppanyaki: miso marinade
So, you've got the teppanyaki grill and all the accessories. Now it's time to make some tasty marinated chicken. Finding a good bottled marinade is hard and not worth the money. 
Here's how to make a tasty miso marinade for teppanyaki chicken.
For about 6 chicken thighs, you need the following ingredients to make the marinade:
Just mix all the ingredients together and put the chicken into a bowl with the marinade. Let the chicken marinate for at least 1 hour before grilling. 
You can make your own teppanyaki dipping sauce from scratch, but if you want to start eating right away, a bottled sauce is the best choice. 
This delicious sweet and spicy fusion sauce is excellent for dipping meats and vegetables. It's also a great pair for seafood. 
You can also mix this sauce with BBQ sauce to make it milder. 
Alternatively, you can use Yakiniku sauce, which is a classic Japanese BBQ sauce.
Feel like making your own though? Here are 13 popular Teppanyaki dipping sauce ingredients and 6 recipes to try
The refreshing aroma of ginger and grilled meat go well together. Japanese ginger sauce is one of the tastiest teppanyaki sauces out there. 
It's a good sauce for beef, pork, chicken, fish, and seafood. Tokyo Express makes a tasty ginger sauce and once you taste it, you'll be using it as a marinade or dipping sauce. 
Ginger sauce is usually made with oil, lots of grated and minced ginger, scallions, and salt. It has a fresh and spicy flavor and it complements all foods. 
Now that you have some sauce recommendations too, you can start cooking on your teppanyaki right away. Oh, and don't forget to use the handy tools too!
Final Thoughts
Teppanyaki is a combination of traditional cooking styles and contemporary art performances to create an amazing culinary and visual feast.
The usual ingredients used for teppanyaki cuisines are assorted vegetables, chicken, scallops, lobster, shrimp, and beef.
The most common oil that is used to cook teppanyaki ingredients is soybean.
After preparing all the ingredients, selecting and preparing the appropriate teppanyaki tools is key.
There is a wide range of teppanyaki equipment and tools, which includes those that are mentioned earlier.
Thus, it is very essential to list down all the cooking tools that you need before purchasing.
If you are on a tight budget, you probably need to prioritize the most needed tools. Other factors to consider when buying cooking tools are price and durability.
If you think you need to consult with culinary professionals, then do so. Having appropriate teppanyaki tools makes cooking faster and easier.
Are you planning to buy teppanyaki tools? Check out this site. They offer a wide range of teppanyaki griddle tools and accessories.
Also read: these are the things they do with Teppanyaki tools at Benihana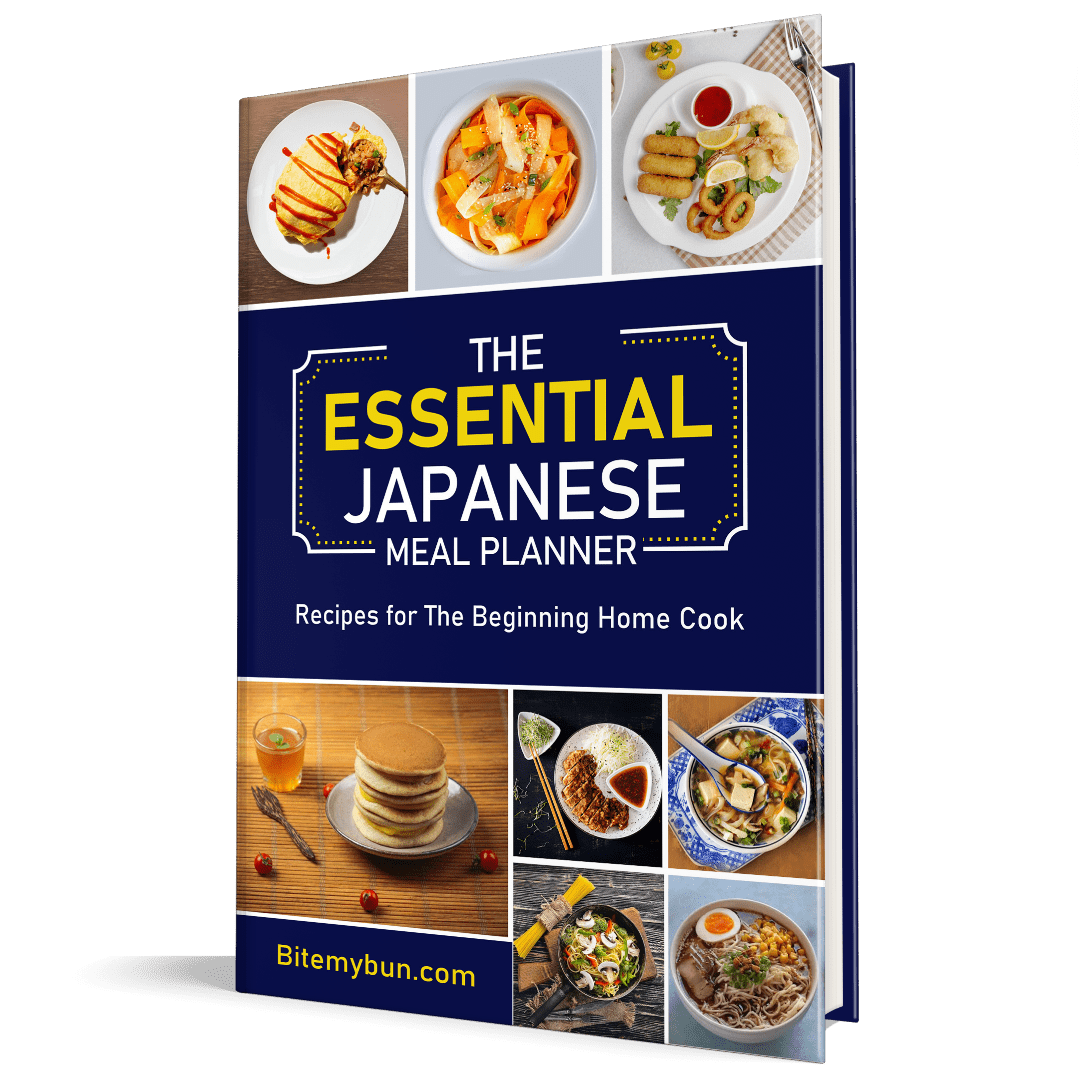 Check out our new cookbook
Bitemybun's family recipes with complete meal planner and recipe guide.
Try it out for free with Kindle Unlimited:
Read for free
Joost Nusselder, the founder of Bite My Bun is a content marketer, dad and loves trying out new food with Japanese food at the heart of his passion, and together with his team he's been creating in-depth blog articles since 2016 to help loyal readers with recipes and cooking tips.