I love creating free content full of tips for my readers, you. I don't accept paid sponsorships, my opinion is my own, but if you find my recommendations helpful and you end up buying something you like through one of my links, I could earn a commission at no extra cost to you.
Learn more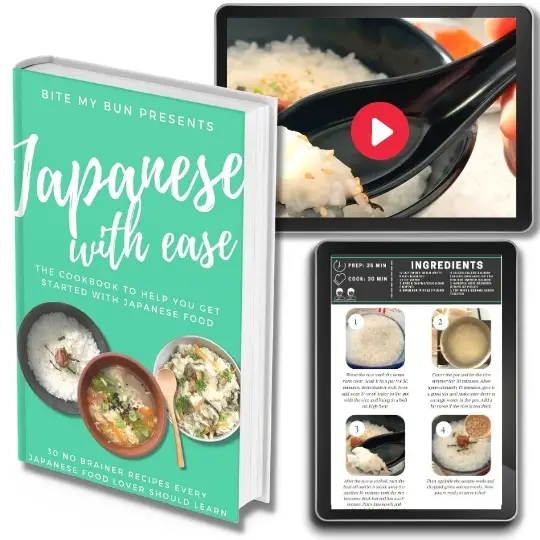 Ever had trouble finding Japanese recipes that were easy to make?
We now have "cooking Japanese with ease", our full recipe book and video course with step-by-step tutorials on your favorite recipes.
Imagine a big bowl of stir-fried udon noodles in a delicious umami sauce with ground beef and mushrooms. It sounds tasty, right?
If you like easy-to-make Japanese meals with minimal ingredients, then yaki udon is a must-try!
It's different from udon soup because the noodles are stir-fried together with meat and vegetables.
This recipe takes about 20 minutes to make, and you can use whatever type of meat and vegetables you have on hand. I'm going for a "bolognese" type of flavor and texture, so I chose ground beef and mushroom as my main ingredients.
To make this genuinely Asian-inspired though, I'm adding some bok choy (Chinese cabbage), spring onions, mirin, and dark soy sauce.
Yaki udon with ground beef recipe
This is the perfect protein-packed lunch or dinner recipe for noodle fans. What makes it so great is that anyone can cook it (yes, it's that easy!), and it's a one-pan recipe. Well, you cook the noodles separately, but then cook everything else in one pan and mix with the noodles. I'm using pre-cooked frozen vacuumed udon noodles you can buy at Asian grocery stores. I'll explain why below in the recipe.
Ingredients  
14

oz

udon noodles

2 packs

½

lb

ground beef

1.5

cups

shiitake mushrooms

sliced

1

carrot

julienne cut long strips

4

small

bok choy (or 2 large)

quartered

½

white onion

chopped

2

spring onions

or scallions

1

tbsp

vegetable oil
For the sauce:
3

tbsp

soy sauce

preferably dark

1

tbsp

mirin

2

tbsp

oyster sauce

½

tsp

rice vinegar

2

tsp

brown sugar

or 1 tsp maple syrup
Instructions 
In a pot, add water and bring to a boil. Add the udon noodles and cook according to packaging instructions. Frozen udon noodles are pre-cooked and only require a couple of minutes of boiling.

Chop all the vegetables and set them aside.

To make the sauce, grab a bowl and mix the soy sauce, mirin, oyster sauce, rice vinegar, and sugar.

Rinse the noodles under cold water to separate them and then drain.

In a large wok or saucepan, heat up the oil.

Add the ground beef and cook for 2 minutes, constantly stirring and mixing the meat to avoid clumps.

Add the onion, carrots, mushrooms, and bok choy to the pan and stir-fry for another 2 minutes.

Now add the noodles and drizzle on the sauce. Keep stir-frying for 3-4 minutes.

The dish is ready to serve. Garnish with chopped spring onion.
Notes
Note: I mentioned that I prefer dark soy sauce, and that's because, contrary to popular belief, dark soy sauce is less salty than the regular stuff. It has a thicker texture and darker black color. It adds lots of flavor, but it works just the same if you add regular or light soy sauce.
Why use frozen udon noodles?
You can use dry udon noodles, but they must cook for longer.
A disadvantage is that dry udon noodles never get as thick and chewy as frozen udon noodles, so you might not get that ideal texture you're looking for.
I prefer frozen and vacuum-sealed noodles because they're easy to use. Also, they're pre-cooked and only need about a minute or 2 of boiling.
And finally, these noodles are chewier and more slippery because they retain their shape. Frozen noodles are less likely to go all mushy and get overcooked.
After you drain the noodles, you may find that they're very sticky and clumpy. In that case, you can add a tsp of cooking oil and mix them with your hands or tongs to un-stick them.
You can store the yaki udon for up to 3 days in the fridge because the noodles make great leftovers. Simply reheat the dish, and voila! You've got a quick and satisfying meal.
What is yaki udon?
Yaki udon (焼きうどん) translates to "fried udon noodles," and it's a dish similar to yakisoba, except the udon noodles are thicker and made of wheat, not buckwheat.
It's a simple stir-fry with a protein source such as ground beef, pork, chicken, or seafood, a couple of vegetables, and an umami sauce made of soy sauce and mirin.
The reason why yaki udon is so popular is that people love slurping these thick noodles. They're especially great for stir-fries because they have a certain thick texture that clings to the sauce.
Udon is the Japanese version of spaghetti. It's just so popular, and you'll see it served everywhere at almost all street corners.
These days, you can often find street food stalls serving yaki udon alongside yakisoba and ramen. It's pretty inexpensive, but tastewise, it's definitely a culinary delight!
Is yaki udon healthy?
Udon noodles are made out of very few ingredients: wheat flour, water, and salt. So they're a source of complex carbohydrates and also fiber.
The body digests complex carbs slowly, which is better for the digestive system.
But if you're just eating the noodles with the sauce, it's not a very healthy meal or fit for dieters. So adding meaty protein and vegetables makes this dish much healthier and more nutritious!
The beef in this recipe is an excellent source of minerals and amino acids, especially L-carnitine. This helps the body burn more fat and increases cellular energy.
Bok choy is a beneficial nutritious vegetable that fights inflammation and prevents cancer. So there's no reason not to try this yummy dish!
Yaki udon variations
Yaki udon is extremely versatile. The base of the dish is the noodles and then soy & mirin sauce.
Other than that, you're free to use whatever type of protein you like, and the vegetables of your choice too!
To make vegan yaki udon, I recommend replacing the meat with stir-fried tofu, which pairs well with the umami sauce.
Of course, you can just have the noodles with extra vegetables.
Here are some great options:
Broccoli
Spinach
Carrots
Mushrooms
Bok choy
Cabbage
Snap peas
Zucchini
Bamboo shoots
Instead of oyster sauce, you can use vegan hoisin sauce.
If you're out of oyster sauce, but you're not vegan, you can use any type of fish sauce or sweet soy sauce.
Also read: 12 best soy sauce substitutes you might already have
Some people also like to add about 2 tsp of dashi to the sauce to give a bit of seafood-like flavor. However, this is optional, and I find that mirin and soy sauce is enough since the beef is quite flavorful.
Yaki udon meat/protein
Here are the top protein sources for this recipe:
Ground chicken
Chicken breast
Beef slices
Ground pork
Shrimp
Clams
Prawns
Crab
Lobster
Tofu
You might've noticed I didn't use garlic in this recipe, but you can always add grated garlic and some ginger for more complex flavors.
As well, if you want some extra crunch, add a pinch of toasted sesame seeds and some bonito flakes or dried seaweed.
How to serve yaki udon
Warm, chewy noodles taste best, and that's why yaki udon is best served hot and straight from the pan. The noodles are placed in bowls and enjoyed with a cold drink (like beer or cold sake).
In Japan, it's custom to eat yaki udon noodles with chopsticks. You slurp up the noodles and take small bites of the meat and vegetables.
Nobody will judge you for slurping the noodles up when you eat udon because they're thick and saucy.
Since yaki udon isn't a soup, it's considered to be a complete main dish.
The stir-fry combines protein, noodles, a savory sauce, and crunchy vegetables, so it's got everything you need for a satisfying lunch or dinner!
Origin of yaki udon
Udon noodles have been popular for many centuries, not only because they're tasty and wholesome, but because they're made from the ingredients that Japan has cultivated for a long time.
In the Edo period, more than 300 years ago, many udon dishes were developed, including tempura udon, which is udon with fried veggies and shrimp.
Udon is quite an old invention, but yaki udon dates to some time during the Pacific War (WWII). Since food was scarce, people got creative with rice and noodle dishes.
Since udon soup was already popular, it's only natural that noodle stir-fries became new favorites.
A restaurant called "Darumado" first introduced yaki udon because they ran out of buckwheat and yakisoba. So they replaced the soba with udon, which was easier to make and readily available.
Since ingredients were scarce, stir-fries were a great way to use minimal ingredients but still offer a filling and tasty meal.
Enjoy some yaki udon
Since yaki was developed, it's become one of Japan's favorite noodle dishes, right up there with ramen and yakisoba.
So the next time you want noodles that aren't just part of a soup, give stir-fried udon a try!
For more fried noodle recipes, check out my post on Teppanyaki Hibachi Noodle Recipes you'll love!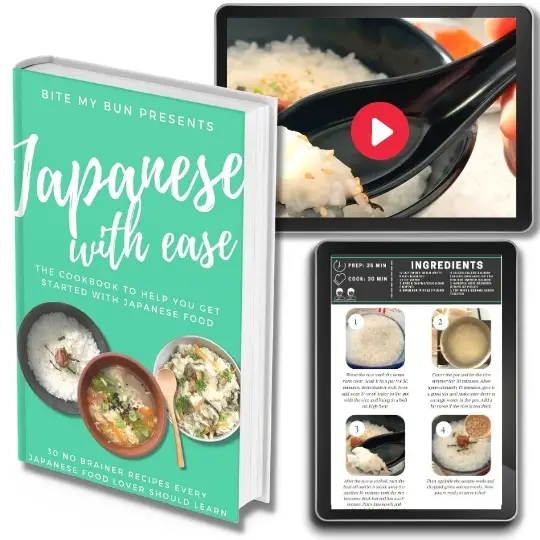 Ever had trouble finding Japanese recipes that were easy to make?
We now have "cooking Japanese with ease", our full recipe book and video course with step-by-step tutorials on your favorite recipes.
Joost Nusselder, the founder of Bite My Bun is a content marketer, dad and loves trying out new food with Japanese food at the heart of his passion, and together with his team he's been creating in-depth blog articles since 2016 to help loyal readers with recipes and cooking tips.