I love creating free content full of tips for my readers, you. I don't accept paid sponsorships, my opinion is my own, but if you find my recommendations helpful and you end up buying something you like through one of my links, I could earn a commission at no extra cost to you.
Learn more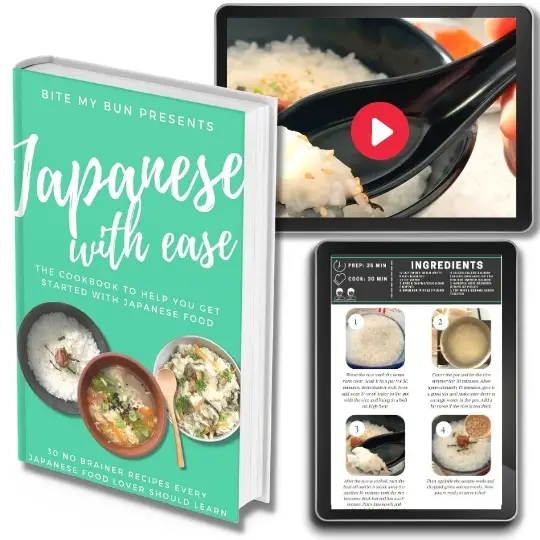 Ever had trouble finding Japanese recipes that were easy to make?
We now have "cooking Japanese with ease", our full recipe book and video course with step-by-step tutorials on your favorite recipes.
Misono is a Japanese surname dating back to the 7th century AD of the royal families of the Misono and Kasahara clans.
Later on, in 1945 the serving manner, in which a culinarian cooks steak and other delicacies on the teppanyaki iron skillet and serves them to the customers across the counter was dubbed "misono" cooking style.
The typical meat choice for this cuisine is beef and so we will talk about Beef Misono Tokyo Style recipe in this article.
Apparently Japanese and non-Japanese chefs on the other parts of the world have their own unique beef misono recipe; however, we will only tackle the most famous one of all which are commonly served in teppanyaki restaurants in Tokyo.
Different styles of beef misono
Let's take a look at the first style of cooking, the beef misono Tokyo style:
Beef misono Tokyo style recipe
The beef misono is considered one of the variations of the Gyuudon cooking style and is typical with the thin beef sukiyaki cut.
Ingredients  
2

pounds

beef

sukiyaki cut

1

cup

water

1/4

cup

kikkoman soy sauce

1/2

tbsp

mirin

1/4

cup

oyster sauce

4

drops

sesame oil

(depends on how strong you like the taste to be)

4

cups

rice

steamed

salt, pepper, sugar

to taste (add this at the last minute of cooking)

2

cloves

garlic

minced

2

medium

white onions

chopped

1/4

cup

cornstarch

1

tbsp

sesame seeds

toasted

1/2

pound

bean sprouts

1

cup

carrots

1

cup

green beans
Instructions 
Add the beef slices and let simmer for 4 – 5 minutes.

Toss chopped onions into the pot together with beef and the soy sauce mix, then allow to simmer for a few more minutes or until the onions become translucent.

Cook the rice according to directions.

Adjust taste to your liking by adding salt, pepper, and sugar.

Dissolve a portion of the cornstarch in 1/2 cup of water and add to the mix in order to have a thicker sauce. Add more if you need the sauce to be a bit thicker.

Put the rice in individual bowls (fill it to the top) and top it with the beef misono, then add the stir-fried bean sprouts mix as additional toppings.

Sprinkle with toasted sesame seeds and serve.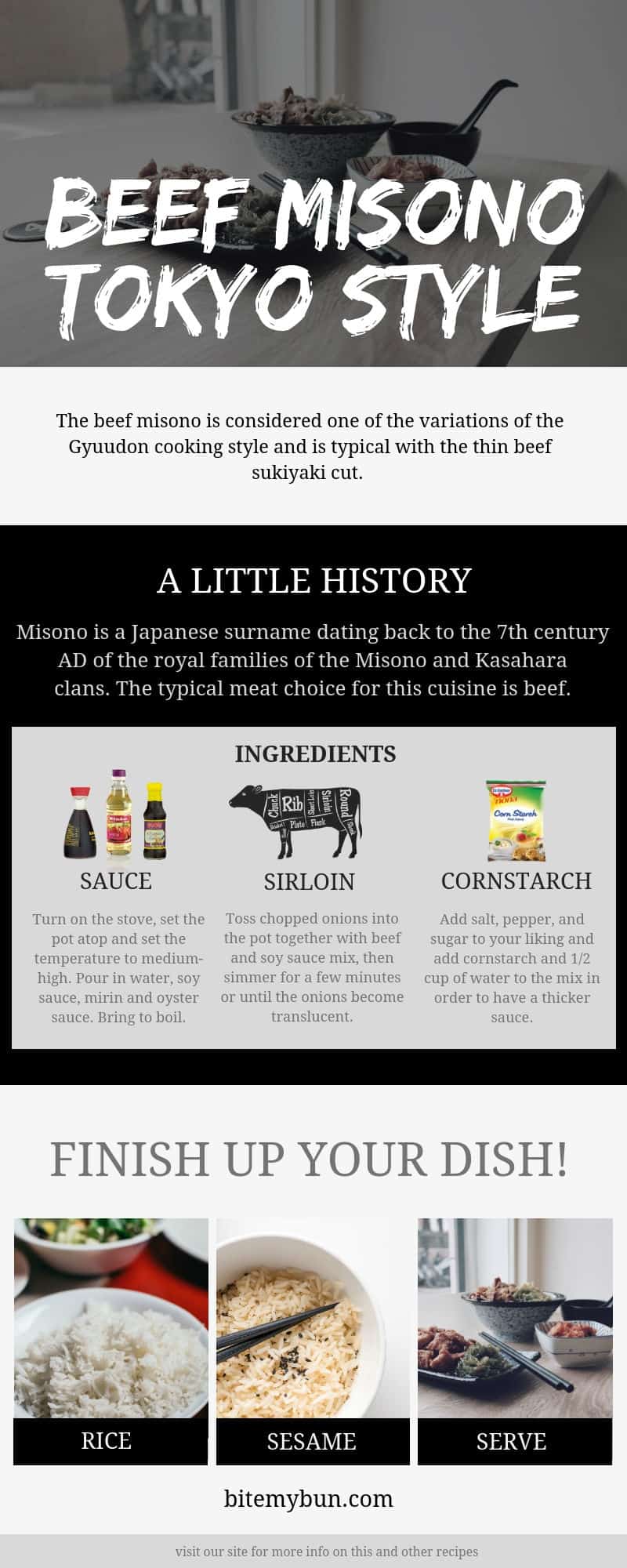 You can always add an boiled egg and some corn to the dish for an extra sweet taste and some more body using the egg.
Now in our previous articles, we've mostly talked about teppanyaki style recipes, but there are certainly other recipes to try out, especially when you talk about Japanese cuisines and cooking styles.
Beef Misono (Beef and Vegetable Stir-Fry) Recipe
Here's another beef misono variation that you should also try.
This beef misono recipe truly lives up to the title of this article, because it is indeed incredibly easy to cook and it's also Tokyo style. This recipe is easier to cook compared to those teppanyaki style foods, because…well, you don't need a teppanyaki to cook it!
You just need a frying pan and other basic kitchen utensils and that's it. You'll be on your merry way to making a Tokyo style beef misono with stir fried vegetables and serve a wonderful meal to your family and friends. So let's take a look at it's done.
Ingredients:
• 2 tablespoons soy sauce
• 1 teaspoon sugar
• 1 teaspoon sesame oil
• Pepper
• 1/2 kilo beef, (use sirloin cut), sliced sukiyaki-style
• 1 tablespoon vegetable oil
• 3 tablespoons butter
• 2 cloves garlic, minced
• 1 medium white onion, sliced thinly
• 1 medium carrot, julienned
• 1/3 cup bean sprouts (togue)
• 4 cups rice, steamed
• 4 organic egg, for topping
Cooking Directions:
1. Grab medium size mixing bowl and toss pepper, salt, sesame oil, sugar, and soy sauce into it, then mix thoroughly. Put the beef slices in it and marinate for about 20 – 25 minutes or overnight.
2. Turn on the stove and place cooking pan on top of it, then set heat to medium. Pour oil and heat the butter. Toss in the togue, carrots, and onions and stir-fry them for 2 – 3 minutes in the pan. Scrape the pan and put the vegetables to one side for a while, then increase the temperature. Add beef and sauté for 1 to 2 minutes. This time toss all of the ingredients in the pan and stir-fry the beef until it is cooked, then drizzle with salt and pepper.
3. Prepare 4 small bowls and divide the rice into them equally. Add the beef misono as toppings and add eggs while it's still hot, then serve.
Beef Misono with Bean Sprouts, Carrots and Cabbage Toppings Recipe #3
Here's another beef misono Tokyo style recipe that combines meat and vegetables evenly, so you can benefit from the nutritional value that this amazing recipe will give.
You may have noticed that the recipes have huge similarities with their ingredients; however, you can actually experiment a beef misono recipe with the side dish as well as replace the mirin with champagne or any other wine of your choice in case you want to enhance the taste of the recipe.
Instead of using bean sprouts, cabbage, togue, and carrots, you could use eggplant (make an eggplant omelette with it), bitter gourd (stir-fried with scrambled eggs) or okra with fresh or steamed eggs.
Ingredients:
1. For the Beef Misono:
• 500g beef sirloin, sliced thinly
• 2 cloves minced garlic
• 1 tbsp olive oil
• 1 tbsp mirin or white whine
• 3 tbsp sugar
• 3 tbsp butter
• 3 tbsp Kikoman soy sauce
• Salt and pepper
2. For the side dish:
• Bean sprouts
• Carrots thinly sliced
• Cabbage thinly sliced
• Bean sprouts
• 3 cloves minced garlic
• 1 minced white onion
• 2 tbsp vegetable oil
• 1 tbsp butter
• 3 tbsp water
• 2 tsp sesame oil
• Salt and pepper
Cooking Directions:
• Season beef sirloin with salt and pepper.
• Turn on the stove, put an iron skillet on top and set heat to medium-high, then heat up the olive oil and butter.
• Lay the beef slices onto the hot surface of the skillet and toss in the garlic with it too, then saute for about 5 minutes or until it becomes tender and golden brown.
• Add the Kikoman soy sauce stirring thoroughly, then turn off the stove.
• This time get a separate pan and heat oil and butter in it over the stove, then saute garlic and onion.
• Toss in the sliced cabbage, carrots and bean sprouts and stir fry for 2 – 3 minutes.
• Add water, salt, pepper and sesame oil, mix thoroughly and turn off the stove after another 2 minutes.
• Prepare 4 small bowls and fill them with rice to the top. Put the beef misono as toppings and the stir-fried vegetables, then serve.
Nutrition Facts
Servings Per Recipe: 4
Amount Per Serving
• Calories: 492.0
• Total Fat: 27.9 g
• Cholesterol: 142.7 mg
• Sodium: 1,025.9 mg
• Total Carbs: 9.3 g
• Dietary Fiber: 2.2 g
• Protein: 49.1 g
Japanese Cooking Styles
Before we go into the different beef misono recipes, their cooking directions and nutrition facts, let us first examine the different cooking styles in Japan.
While there is an endless catalog of Japanese delicacies we've discovered that there seem to be only 30 different cooking styles around the country, and we've deduced this information based on the different specialties of restaurants across Japan.
These specialties are very convenient as it gives you the option to choose what kind of food you want to eat on a particular day.
Let's say you want meaty foods on Mondays, then you go to a Yakitori or a Tonkatsu restaurant and if you also want your Tuesdays to be filled with lots of fresh vegetables, then you go to a Ramen or a Shabu – Shabu restaurant.
If you're going to be cooking Beef Misono, check out these great cooking accessories as well
Having said that let us now discover all the 30 specialty restaurants that are common in Japan.
1.) Ramen (ラーメン) Restaurants
If you'll ever dine in a ramen restaurant, you will be served with wheat-based Chinese noodles (not to confuse you, although ramen is 100% made in Japan it actually originated in China, thus the reference) served in meat, chicken or fish broth.
Additional flavoring will also be served to your table which includes miso, soy sauce or some other type of sauce. Ramen is usually topped with thin slices of pork called,"chashu" or sometimes nori or Negi.
Ramen is a Japanese national delicacy and so you can just find all sorts of unique ramen recipes served in restaurants all over Japan.
2.) Yakitori (やきとり) Restaurants
Barbecue/grilled chicken on skewers served with popular soda, beer or wine.
3.) Soba (そば) Restaurants
Serves hot or cold buckwheat-based noodles with a variety of toppings and sauces.
4.) Izakaya (居酒屋)
The Japanese equivalent of a western pub. You will find foods like sashimi, yakitori, fried chicken and edamame here plus a variety of popular drinks.
5.) Tonkatsu (とんかつ) Restaurants
It's all about the tonkatsu sauce where their main dish is the breaded pork that's been deep-fried paired with Japanese pickles, miso soup, rice and chopped cabbage.
6.) Sushi (すし) Restaurants
In Japan sushi is not that popular compared to Western countries like the US and Canada and locally made sushis are vastly different from those made in the West as well.
7.) Tempura (天ぷら) Restaurants
Tempura restaurants are plentiful in Japan and they range from street food (like these dishes) to world-class restaurants.
8.) Shabu-shabu (しゃぶしゃぶ) Restaurants
Shabu-shabu is actually a type of restaurant that allows customers to cook their own food in a large hot pot that's placed right in front of their table.
9.) Takoyaki (たこ焼き) Restaurants
Here you'll get spherical pancakes baked with octopus inside and is topped with pickled ginger and sweet sauce.
10.) Kare Raisu (カレーライス) Restaurants
The Japanese people absolutely love their chicken (or any other meat) curry-style served with rice and you can actually find restaurants that specialize in this dish.
11.) Udon (うどん) Restaurants
Thick Japanese noodles made from wheat flour with eggs and vegetables.
12.) Okonomiyaki (お好み焼き) Restaurants
Okonomiyaki means "whatever you like grilled" and much like shabu-shabu restaurants, the customers here are also free to choose the ingredients they want for their pancake (okonomiyaki was an age-old practice in Japan where people cook their left-overs so they won't have to throw it away).
Seafood, pork, noodles, vegetables, mochi, and cheese are the most common ingredients to choose from.
13.) Monjayaki (もんじゃ焼き) Restaurants
Tokyo's version of Okonomiyaki which gives customers the flexibility of a shabu-shabu restaurant, but the ingredients are finely chopped and is more liquid. You'll get a crunchier pancake as a result.
14.) Gyuudon (牛丼) Restaurants
The beef misono – the main topic of this article – is cooked gyuudon style which is stir-fried and served with rice and vegetables.
15.) Kushiage Restaurants
Skewers of all sorts of meat that's been deep fried and served with veggies.
16.) Champon (ちゃんぽん) Restaurants
A unique Japanese-Chinese dish that originated from Nagasaki which is a mix of ramen cooked in a viscous soup with vegetables, seafood, and pork.
17.) Teishoku (ていしょく) Restaurants
A restaurant that specializes in set menus which is cheap and has a variety of food selection.
18.) Hambagu Restaurants
A hamburger steak or chicken served with rice.
19.) Kaiseki (懐石) Restaurants
These types of restaurants serve at least 8 courses of traditional Japanese dishes in small, but very pleasing to the eyes and taste.
20.) Yakiniku (焼き肉) Restaurants
Again, Japanese restaurants like to give their customers the flexibility to cook their own food, and in a yakiniku restaurant, you can cook your barbecue recipe on a coal grill right on your table.
The yakiniku derived from the Korean barbecue style of cooking but has evolved to be an original Japanese barbecue cooking style.
21.) Kaisendon Restaurants
Raw seafood on a bowl of rice.
22.) Tendon Restaurants
The tendon is the cheaper version of tempura recipes in a decent restaurant and is served in a bowl of rice, seafood soup, and some side dish.
23.) Motsunabe (もつ鍋) Restaurants
This uniquely Fukuokan cuisine which is a hot pot of mixed beef or pork organs has become so famous in Japan that there are a few motsunabe restaurants across Tokyo.
24.) Teppanyaki (鉄板焼き) Restaurants
Teppanyaki restaurants originated as a theatrical cooking show for foreign tourists but have evolved into a serious culinary art which people see as an exemplary cooking technique.
25.) Shojin (精進) Restaurants
Originally shojin recipes were strictly for vegetarians because it was prepared for people who practice the Buddhist religion, but today it also incorporates meat or fish.
26.) Youshoku Restaurants
Restaurants that cook Western food in Japanese style.
27.) Tofu/Yuba
If you're a vegetarian, then this is the kind of restaurant you should go dine in.
28.) Okinawa Ryouri Restaurants
These kinds of restaurants exclusively serve Okinawan recipes which are unique from all other Japanese restaurants.
29.) Houtou Restaurant
A rare regional recipe from the Yamanashi prefecture which includes boiled vegetables in miso soup and flat udon noodles.
30.) Sukiyaki (すき焼き) Restaurants
Beef hot pot recipes are also a favorite among Japanese restaurants and the sukiyaki restaurant offers just that! You'll get a huge hot pot with a special soup that has noodles, vegetables, and thinly sliced beef in it.
You'll be given raw eggs as a dipping sauce for your beef hot pot sukiyaki dish too.
Check out our teppanyaki buying guide for home grill plates and accessories.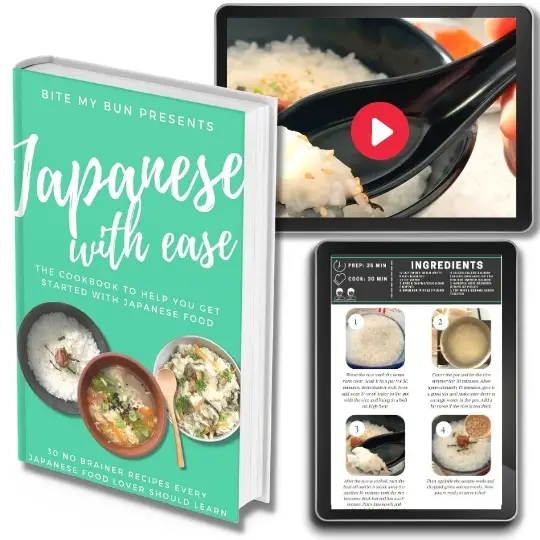 Ever had trouble finding Japanese recipes that were easy to make?
We now have "cooking Japanese with ease", our full recipe book and video course with step-by-step tutorials on your favorite recipes.
Joost Nusselder, the founder of Bite My Bun is a content marketer, dad and loves trying out new food with Japanese food at the heart of his passion, and together with his team he's been creating in-depth blog articles since 2016 to help loyal readers with recipes and cooking tips.