I love creating free content full of tips for my readers, you. I don't accept paid sponsorships, my opinion is my own, but if you find my recommendations helpful and you end up buying something you like through one of my links, I could earn a commission at no extra cost to you.
Learn more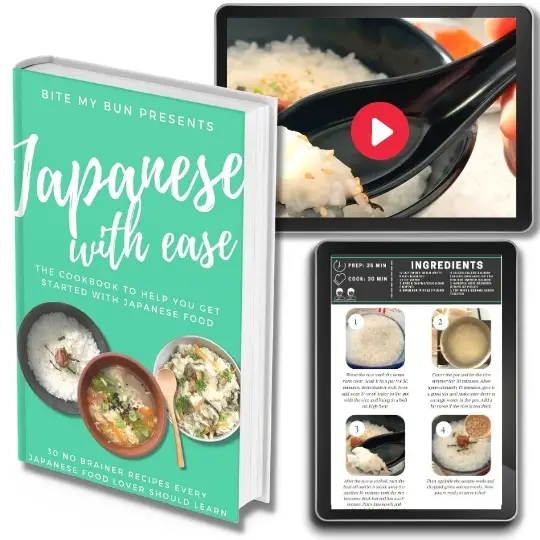 Ever had trouble finding Japanese recipes that were easy to make?
We now have "cooking Japanese with ease", our full recipe book and video course with step-by-step tutorials on your favorite recipes.
Today, cooktops are becoming very popular, and we have seen most of them appearing in different kitchens, as well as being featured in magazines.
In addition to this, recent developments in the cooktop technology have made cooktops more appealing to homeowners.
However, with this new and revolutionary technology in the cooktop industry, not everyone is aware of it.
That's the reason why this post shall focus more on the differences between induction cooktops and electric cooktops.
Even though these two cooktops resemble each other, they are completely different. So, let's look deeper at each of these cooktops, and see what makes them different.
I've got the best of both in this quick reference table, and also read more on the exact differences and in-depth reviews:
What's the difference between induction and electric cooktops?
As highlighted earlier, both electric and induction cooktops resemble each other. One of the major similarities between these two cooktops is that they both use electricity as their source of fuel.
The main difference between the electric cooktop and induction cooktop is the cooking technology. Induction cooktops function differently than electric cooktops.
The following are the major differences between these two cooktops.
Also read: induction vs gas cooktops
Electric cooktop
Cooking
Electric cooking is popular to most of us since many people have been using it for years. Electric cooktops come with a heating element that heats us the cooking pans and pots.
There are two major types of electric cooktops—coil element cooktop and ceramic glass cooktop.
Coil element cooktop – these types of electric cooktops come with an exposed heating coil, just like the conventional kitchen stoves.
Ceramic glass cooktops – these cooktops have their heating elements hidden inside the cooktop, and then covered with a glass—and this gives them a smooth surface. Ceramic glass cooktops are also known as radiant cooktops.
After the introduction of glass, electric cooktops have completely hidden the coil element on the cooktop—and this is something preferred by many consumers.
When comparing an electric coil cooktop to an induction cooktop is like comparing between an orange and an apple.
The electric coil elements heat slowly, and they can't maintain steady heat. Induction cooktops, on the other hand, heat up super-fast and even heating, with excellent control.
Induction cooktop
Cooking
Cooking with an electric cooktop is a tradition that has lasted for years until the introduction of induction cooktops, which is a symbol of cutting edge technology.
Many people consider induction cooking to be the revolution of cooking technology.
The best thing about induction cooking is that it provides safety, as well as remarkable cooking performance that cannot be compared to other cooktops, including electric.
Induction cooking used electromagnetic technology, where the electromagnetic coils under the glass surface transfer energy into the cooking vessel, thus producing heat.
In induction cooktops, heat is transferred to the cooking vessel, and the cooktop remains cool. This does not only make the induction cooktop safe while in use, but it also gives it a remarkable cooking power.
Because the pan or pot is the time that is heated, induction cooking allows higher temperatures to be reached faster.
Induction cookware
Before buying an induction cooktop, it's important to note that you need an induction compatible cookware. There is a possibility that your normal cookware will not function on these cooktops.
The cookware must be magnetic for it to be compatible with the cooktop. To check if your existing cookware is compatible with an induction cooktop, you need to see if a magnet can stick to its bottom.
If a magnet cannot stick to the cookware, then you need to buy a new set of cookware that's compatible with your induction cooktop.
Although replacing your cookware can be a challenge, the benefits that come with induction cooking will prove worth the investment.
Cleaning
Cleaning electric coil element cooktops is a big challenge. Spills and foods not only get burned on the coil elements, but they also fall down on the pans beneath the elements.
This means you have to remove the pans and coil elements if you need to clean them thoroughly—this is a big challenge for many people.
Cleaning ceramic glass electric cooktops, on the other hand, is very easy. These cooktops have a smooth and flat surface, which makes cleaning them an effortless job.
However, you need to note that since the cooktop is usually heated, foods and spill can burn, and cleaning burnt food will be a challenge to you.
Cleaning an induction cooktop is the simplest task of all. These cooktops are smooth, just like the electric glass cooktops, which makes wiping their surface very easy.
The most exciting thing about these cooktops is that their surface is not heated, which means that the chances of food getting burnt are minimal. That's the reason why cleaning induction cooktops is easy.
Read more: the best cookware sets for induction cooktops
Best electric cooktops
Best Overall Electric cooktop: GE Profile PP7036SJSS
The GE Profile PP7036SJSS 36″ electric cooktop is the best overall electric cooktop that you will find out there in the market.
This cooktop resembles an induction cooktop, apart from its control knobs, rather than the soft-touch control buttons. The GE Profile PP7036SJSS 36″ measures 36 x 20.38" x 6", and it comes in only one color—stainless steel.
This cooktop will occupy a total space of 36" on your countertop. However, you need to make sure that you maintain a good distance between the cooktop and the rest of the appliances in your kitchen.
When you buy the GE Profile PP7036SJSS 36″ electric cooktop, you will notice that it comes with 5 cooking elements, and which differ in terms of their measurement.
The heating elements measure 6, 7, 8.5, and 13.5 inches, and each element has different power requirements. The power consumption of this cooktop ranges between 1200W – 3000W.
One amazing thing about the GE Profile PP7036SJSS 36″ electric cooktop is that it comes with several features that make cooking a very easy task.
The electric cooker comes with a Keep Warm Setting, which makes it possible to keep your food warm so long as the cooktop is on.
You only need to place the pot on the cooktop, and you will find your food warm and ready for serving. In addition to this, the unit also comes with a setting for melting any food that is placed on it.
The GE Profile PP7036SJSS 36″ electric cooktop comes with two sync burners, which means they adjust automatically to fit your cookware. Moreover, it has a glass cooktop, which means you should use cast iron cooking pots and pan.
Best Budget Electric cooktop: Whirlpool W5CE3024XB
Two main things make the Whirlpool W5CE3024XB 30″ electric cooktop stand out—the design and price. When searching for an electric cooktop, you should consider getting the Whirlpool W5CE3024XB 30″because of various reasons highlighted below.
First, this cooktop has a surface area of 30"—which means it will only need a space of around 30", that is, 29.5" x 20.5". The cooktop comes with 4 heating elements, with dimensions ranging from 6" – 9".
Its power consumption is a bit lower, as it ranged between 1200W and 2500W, but this depends on the elements you are using at the moment.
Whirlpool has added another amazing feature on this cooktop—the cool-hot surface indicator light, which warns people in case the surface is hot.
This is an amazing feature that keeps users away from the cooktop whenever they are not using it.
The Whirlpool W5CE3024XB 30″ electric cooktop is budget-friendly, which makes it the ideal electric cooktop for anyone who has a tight budget. It costs a few hundred dollars and functions just ok.
But, the cooktop doesn't have so many features. Controlling the Whirlpool W5CE3024XB 30″ electric cooktop is easy—thanks to its control knobs. Many people say that it's easy to turn on the cooktop, even when wearing gloves.
Its installation is very easy—but you will need a professional to assist you in the installation. When using the Whirlpool W5CE3024XB 30″ electric cooktop, you don't need any special type of cookware, as compared to when using induction cooktop.
Lastly, its largest burner can accommodate any large pot.
Check out the latest prices here on Amazon
Best induction cooktops
Best overall Induction cooktop: Bosch FlexInduction NITP068UC
The Bosch FlexInduction NITP068UC induction cooktop is an amazing cooktop that comes equipped with a number of advanced features, as well as a design that makes it stand out from other cooktops.
It comes with four burners, with power that ranges from 1,400W to 3,300W.
Furthermore, the Bosch FlexInduction NITP068UC induction cooktop comes with another amazing feature—the Power Boost capability to its four-burner.
When you boost the power on the burners, the cooktop allows you to heat water faster than any other cooktop.
But, even though all the four burners have the power boost feature, they are divided into two groups—which means only a single element can use the power boost feature each time.
Unlike other induction cooktops that come equipped with three small burners and one big burner, the Bosch FlexInduction NITP068UC induction cooktop comes with one small burner and three large burners.
It's burner size range from 6" – 11" in diameter. Its 11-inch burner is the largest heating element that you will ever find on an induction cooktop. The design of its heating elements boosts the cooking capabilities of this induction cooktop.
2 of its circular heating elements combined with the rectangular element bridge—which gives you the space needed for a griddle.
The Bosch FlexInduction NITP068UC induction cooktop features an advanced timer—which includes separate times for each heating element.
When the time for a particular element finishes counting, the time turn off the element and leaves the others in use. This is an amazing feature that you won't find in any other induction cooktop.
The cooktop also comes with a keep food warm setting, which allows your food to remain hot until it's served.
Another interesting thing with the Bosch FlexInduction NITP068UC induction cooktop is that it comes with 17 settings, which gives your different varieties, including a setting that prevents your food from being under- or overcooked.
The induction cooktop also features amazing safety features, like the control lock, which ensures that the cooktop is off when not in use.
In addition, it also features a pan detector, which shuts off the burners whenever it detects that there is no pot or pan on the burner.
Check out the latest prices and availability here on Amazon
Best Budget Induction cooktop: True Induction TI-2B Double Burner
The True Induction TI-2B Double Burner Induction Cooktop is the ideal induction cooktop for anyone with a smaller budget as well as a smaller kitchen. This cooktop measures 24" long and comes with two 10-inch heating elements.
Unlike other budget-friendly induction cooktops, the True Induction TI-2B Double Burner Induction Cooktop is ideal for countertop use.
This means you can use it as a portable cooktop in your RV, dorm, or while traveling—you only need a standard 110V power outlet to use the cooktop. Therefore, you don't need a professional to do the installation.
One amazing thing about the True Induction TI-2B Double Burner Induction Cooktop is that it's heating elements come equipped with TrueInduction power sharing technology, and they can share up to 1,800W.
For example, one heating element can operate at the full 1,800W of power, while the other element is off. Also, one element can operate at 1,000W of power, while the other operates at 800W, or both heating elements can operate at 900W.
The True Induction TI-2B Double Burner Induction Cooktop comes with 10 different heat settings. When running at full power, this induction cooktop requires just 70 seconds to boil one cup of water.
Moreover, the cooktop has sensors, which prevent the cooktop from heating when there is no cookware on its top.
Many people love the True Induction TI-2B Double Burner Induction Cooktop since it's the best option for small spaces, heats up fast, and also cleans easily.
What to look out for in an electric cooktop
Easy cleanup – always look out for cooktops with removable knobs that are dishwasher safe, as well as an upswept rim or lip to contain possible spills. If you opt to buy an electric coil element cooktop, look out for a hinged lid, which should allow you to clean under the cooktop, as well as removable and replaceable drip trays. If you are buying a smooth top model, you might need special cleaners—but this is usually addressed in the user manual.
Size – you also need to put the size of the cooktop into consideration. The smallest cooktops come with two cooking zones—at most, while the largest electric cooktops come with either 4 or 5 cooking zones. If you want to replace your old cooktop, make sure that you check the space on your kitchen benchtop, and see if your new cooktop will fit on the table. You need to note that the sizes of electric cooktops have changed—therefore, check to see if the cooktop you want to buy is too big or small for the space you have in your kitchen.
Cooking zones – cooktops with a width of 60 cm come with 4 cooking zones, which are ideal for anyone who needs to cooking basic family meals. Wide cooktops, on the other hand, come with additional cooking zones and are ideal for people who prepare large amounts of food. Wide cooktops can easily and safely handle large pans and pots—and these cooktops are ideal for people with growing families or who need to prepare a lot of food.
What to look out for in an induction cooktop
Power management – since some cooking zones have high wattage, induction cooktops should have a power management system in place as it separates the power between the cooking zones.
Safety sensor – this plays the important role of monitoring the temperature beneath your cookware, incase an empty pan or pot is left on the cooktop when it's on. The sensor regulates the power output in order to prevent damage to the hob or cookware.
Auto switch-off – this is an essential feature that turns the element down or off in case you remove the pan or of overheating. A good induction cooktop should come with this feature.
Auto heat-up – this allows different cooking zones to heat at a higher setting, and then turn down to the preset settings after the set time. It's an important feature, especially if you are cooking rice through the absorption method, and you want the rice to boil first, and then simmer.
Booster – just like the auto heat-up feature, the cooking zones will heat up liquid of food fast when at the highest setting, and then automatically lower the heat to a preset lower setting.
Overflow protection – a good cooktop should shut down or beep an alarm in case spills overflow to the controls. This is an important feature that helps in protecting your cooktop.
Bottom Line
When it comes to choosing between induction cooktop and electric cooktop, everything boils down to preferences. However, there are some of the factors that we have highlighted above that will assist you in making the right decision.
But remember that energy efficiency should be your number one determinant since both cooktops use electricity.
Also check out these induction cooktops that are perfect for bachelors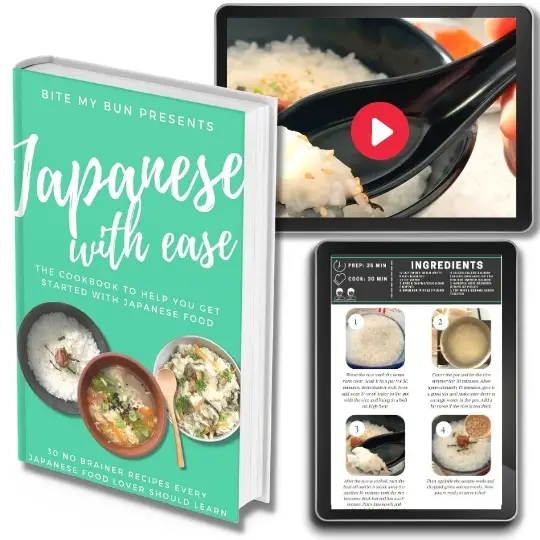 Ever had trouble finding Japanese recipes that were easy to make?
We now have "cooking Japanese with ease", our full recipe book and video course with step-by-step tutorials on your favorite recipes.
Joost Nusselder, the founder of Bite My Bun is a content marketer, dad and loves trying out new food with Japanese food at the heart of his passion, and together with his team he's been creating in-depth blog articles since 2016 to help loyal readers with recipes and cooking tips.