The complete guide to buying an induction oven & kitchen range
I love creating free content full of tips for my readers, you. I don't accept paid sponsorships, my opinion is my own, but if you find my recommendations helpful and you end up buying something you like through one of my links, I could earn a commission at no extra cost to you.
Learn more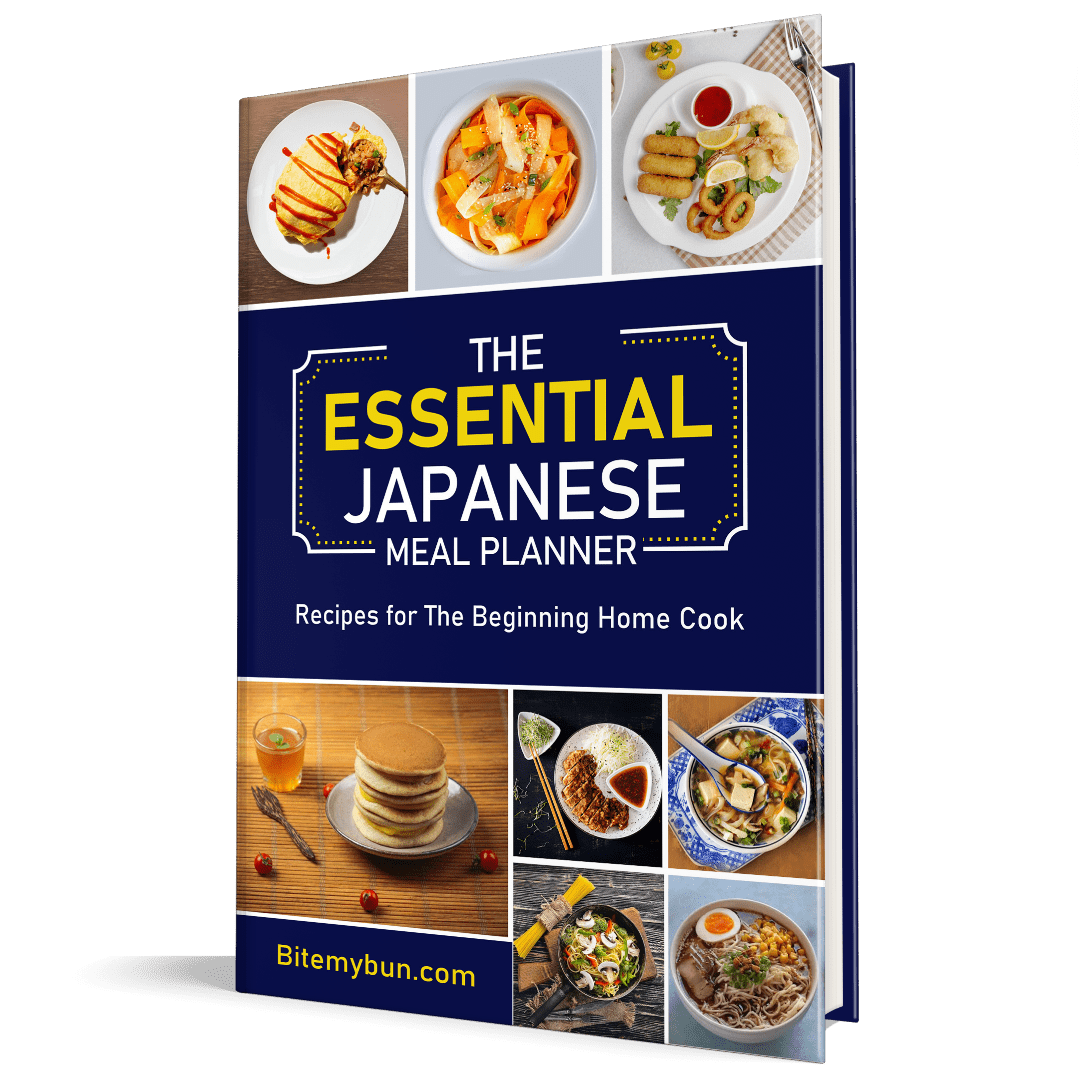 Check out our new cookbook
Bitemybun's family recipes with complete meal planner and recipe guide.
Try it out for free with Kindle Unlimited:
Read for free
Induction ovens are growing in popularity the same way an induction cooktop does.
Now we see in the market that many brands are offering their versions of induction kitchen ranges.
One of the best picks is the Frigidaire FGIH3047VF freestanding range with a spacious oven and many innovative temperature controls. It's not only very affordable, but the brand is one of the top-rated ones in the induction market and it's very easy to install and use.
If you haven't tried induction cooking, then you're missing out and wasting time with longer cook times on electric and gas stoves.
In this article, I'll take a look at what appliance to buy and what to look for in your induction oven so you can make the best decision for your home.
Let's take a quick look at all of the options first:
But before deciding which one to buy, let's get to know more about this modern cooking technology.
10 Tips to Save a Bundle on Asian Ingredients!
Introducing our brand new FREE PDF guide: "Saving Secrets: Unveiling the Art of Saving Money on Asian Ingredients" It's your first newsletter email, so start saving today! 📚🧧
We'll only use your email address for our newsletter and respect your privacy
What is a kitchen range?
A kitchen range refers to a unit of kitchen appliances that integrates both an oven and a stove.
The bottom part of the unit is the oven. The stoves are in the top area, making it a surface coverage of the unit. The combined device is popular to use in modern kitchens because it can save space without reducing its functions.
Aesthetically, a kitchen range also looks more appealing and fancy for your cooking space.
The term "range" itself originated in the early years of the 1950s when there were no such things as an integrated unit of ovens and stoves.
Back then, people usually had one or two ovens and multiple stoves. As these two appliances are vital for cooking activities, people will place them in the same area, mostly side by side.
There is the freestanding oven range and the slide-in induction range which goes between the kitchen cabinets.
Sometimes, they also stacked the stoves over the oven to save space. The pairing makes an area (or range) of cooking.
As technology moved forward, manufacturers began producing ovens and stoves in one integrated unit.
The innovation makes the combination look more aesthetically pleasing because sometimes people have a hard time finding ovens and stoves that match each other.
People also love the concept because the unit has a stronger and more stable construction than manually combining ovens and stoves.
Long before the era of induction ranges, there have been plenty of choices of both gas and electric kitchen ranges.
You can compare these prices to just cooktops here in our list of best-priced induction cooktops we wrote about earlier.
Induction technology
Conventional cooking uses gas or electricity to generate heat, which heats the cookware and the food in it.
An induction technology, on the other hand, does not feature any flames at all. Unlike a conventional oven, an induction oven will not turn hot if you turn it on.
The same goes for the stoves.
Induction technology works by utilizing electromagnetism. It requires special cookware made of magnetic materials such as cast iron.
If you use your regular pan or wok, you won't be able to cook anything at all because there will be no heat generated.
Inside an induction oven, there is a set of copper wire coils. When the oven is turned on, the coil will generate electromagnetic radiation which will be inducted into the cookware.
This induction process allows the cookware to heat itself, thus heating the food inside of it.
With induction cooktops, you cut down on the lengthy cooking process.
Benefits of using an induction range
The idea of a non-flame cooking appliance may sound interesting. But it might still leave you wondering, is it worth using?
You would have to spend some money to buy a unit, and then spend some more on the induction-ready cookware. It will only make sense if you get benefits from it.
If you are wondering what some good cookware is to use in conjunction with your stove, here's our guide on induction cookware.
Here are the advantages you might get from cooking with an induction range:
Safety
With no flame and no heat on the appliance, you can effectively reduce the risk of fire damage. If you want to teach your children how to cook, an oven and cooktop like this would be safer.
Also, one of the safety features is that only the burner/heating element that you are using gets hot and the rest remain cool. If, for example, you accidentally touch the element that's not in use, it won't burn you.
But, also when you turn off the range, it immediately cools down. So, you only heat the area under the pan and when the pan is removed, it goes cold. This feature is responsive temperature control and most induction ovens have it.
You just don't get this with a gas range. Once you turn it off it still stays scorching hot for a few minutes.
Hygiene
The induction kitchen range has flat surfaces, unlike gas ranges that have elaborate elements. Cleaning is much easier and quicker to finish. Not to mention that some of the best induction ovens feature a self-cleaning mode.
Precise control
Induction cooking allows you to set the exact temperature and duration for each session. Some units have specific cooking modes to make things even easier for you. This way you can avoid messing up the temperature.
Style
An induction kitchen range looks more chic and modern. The sleek surface creates a clean and neat look in your kitchen. What's more, most units of induction ranges have unique and stylish designs.
Types of induction kitchen ranges
Based on the design, there are three types of induction range.
Functionally, they work just the same. It is just that you need to pick one that matches your kitchen setting and interior design.
Slide-in range: unfinished sides
The slide-in range is the one you can insert between your kitchen counter, making it look like a built-in feature on your counter. This type of range gives a neat and efficient look.
If you are a clean-freak, this type of range can help you feel at ease. It won't create a gap between the range and the counter, so you don't have to worry about food falling on it.
When buying a slide-in range, make sure to put it in the middle of a counter. The unit has unfinished sides. Putting it on the end or letting it stand alone will make it look unappealing.
Freestanding range: finished sides
A free-standing range doesn't need a counter to settle in. You can put it anywhere in the kitchen and the unit would still look good. Both sides are neatly polished, making it appear sleek as a stand-alone unit.
To protect your wall from cooking splash, a freestanding range features a backguard. The control panel for both induction oven and cooktop is located at the backguard as well.
Buyer's guide: how to choose an induction range?
Now since an induction oven and cooktop sounds like a good idea, you might want to get an induction range for your kitchen.
To make sure your money is well-spent, here are some things you need to consider when choosing a unit:
The design
As mentioned above, there are two types of induction range to match your kitchen setting.
Besides the type and the overall look, you also need to make sure the measurement fits. You don't want your range to look bulky or too tiny.
Almost all of the best induction ranges come with a warming drawer that is very handy. Once one of the dishes is cooked or baked, you place it in the warming drawer and it stays warm while you make the rest of the food.
This is handy for batch baking and cooking too.
The cooktop
Most ranges have four or five burners on the cooktop. Sometimes those are in the same sizes, and sometimes they vary.
See the control panel and make sure you can adjust the setting as you expect.
There are also some versions with unique features on their cooktop, like Samsung with its Burner Bridge. This can be an additional factor to think about.
Ease of use
If you are going to use your range for simple home-style cooking, there is no need to buy a high-end commercial range. The setting will just be confusing and too complicated.
Modern kitchen ranges also offer various innovative features to provide more convenient operations such as voice control, WiFi-based control, and self-cleaning.
Review
Checking for some online reviews is vital. It helps you to see what a specification list doesn't state.
Many real users like to share their experiences and how they feel about the products they buy. Such reviews will help you determine which products can be worth trying.
Brands
The brand itself is a factor that you should never skip when buying appliances, including an induction kitchen range.
The reputation of the brand helps you to predict the quality of the product. Moreover, reputable brands usually have compelling services.
We have just discussed how important it is to choose a reputable brand for your induction kitchen range.
And when you consider brands to buy your induction range, make sure to choose the brand that has a truly good reputation for this type of appliance.
Bear in mind that a brand can be notable for one type of appliance but fails to deliver the same level of brilliance in other types of appliances.
According to surveys, the brands Jenn-Air and KitchenAid place the first and the second most reliable brands for induction range respectively.
Both are high-end brands with top-notch quality of both the product and the service. All of their ranges have stylish and sophisticated designs.
Other best brands are GE Profile, Cafe by GE, Miele, Bosch, and Samsung.
These brands cover the middle to high-end classes with various versions of the induction range at varying prices and specifications.
In a more affordable category, no other brands can deliver a satisfying quality as Frigidaire does.
The size & power of the burner
Your range should have powerful burners of at least two sizes.
The power of big burners is between 3000 and 4000 watts. Induction burners will heat faster than electric or gas, but any more than 3,500W is acceptable. 
If the burner is powerful, it means a faster heat up and cook time and this is useful, especially when boiling water. 
Dimensions and size of the oven
How often do you like to bake or roast food? Some ranges have larger ovens or even multiple ovens in one unit.
If you are a baking enthusiast, you might want to look for the best induction oven with precise cooking ability.
An oven of 5 cubic feet is the average size. Anything larger than that will work fine too and give you even more cooking space. 
An oven should be able to fit a half-sheet pan measuring 18 by 13 inches. In that case, your oven will fit a half-sheet pan, with little space on each side.
No matter what brand you are looking at make sure to verify the oven dimensions. It's amazing how many ranges come with tiny ovens. If you love baking, then the size of the oven is a top consideration. 
Special oven features
Things like convection heating, self-clean, hidden bake elements, and smooth-glide racks are some of the most popular features in an oven.
All of these options are available in the Frigidaire Induction Range Ovens, except for the programmable memory option and that's why the Frigidaire takes the top spot. 
Color
Stainless has been the predominant finish for many years. It's kind of a minimalist design and doesn't stand out too much which is something that many people appreciate. 
There are many options for appliances, including matte black (highly popular now) and black stainless.
People no longer look for kitchen appliances that match. In fact, this is considered outdated.
Although we like the increased number of finishes available, it's important to choose what you love and not what is just trendy because you want a streamlined look in your kitchen, after all, so think about your cabinets and how they match. 
Induction options
Induction ranges may also offer special features that gas and electric ranges do not.
Power booster
This feature adds extra power to the burner for lightning-fast heating. While the power available for other burners decreases when this feature is in use, you can still boil a kettle in just a few seconds.
Induction cooktops often have an increased power setting, which will allow them to run for only a short time, typically 10 minutes and you might need this option for those busy mornings when you need to boil water for porridge or make breakfast for the kids and yourself simultaneously.  
Bridge functionality
This allows you to control two burners at once, one for large or extra-long pans like griddles. On some stoves, the burners heat simultaneously and can be controlled as one unit. Bridge functionality is more common in cooktops than it is on ranges.
Honestly, this isn't really that necessary but it's more common in premium expensive ranges.
Low-end control
Although people think that induction is distinguished by its lightning speed, it is not.
Induction is able to maintain a constant temperature for extended periods of time. This is a problem that neither electric nor gas can conquer very well. They tend to overshoot the temperature if the burner is not turned on.
Induction is able to hold a temperature indefinitely, without worrying about overheating, scorching, or burning your delicate sauce, egg dish, simmering soup, desserts, etc.
Controls
Controls are probably the most important when shopping because the controls directly impact how easy or difficult it is to use the range.
Most ranges have all digital controls so you need to learn to press the buttons correctly to change settings.
Induction cooktops equipped with keypad controls may have shortcuts such as turning on the last setting or the Medium setting. To set the burner to the desired temperature, you must use both the On/Off and Up/Down keys.
However, most induction ranges and cooktops, even premium brands such as Bosch and Thermador have controls located underneath the glass. Although it is sleek, this can lead to frustrations. The settings can start to change randomly by themselves when the glass gets wet and this is very annoying. 
If you like old-school models, then you want to have the controls on a panel. These ranges should have manual controls (knobs for the cooktop) but they are becoming increasingly difficult to find.
Oven settings are less frequent and require fewer quick changes than the cooktop, so they are not as problematic. This is why some ranges have keypads to control the ovens but manual dials for controlling the cooktop.
There are many ways that manufacturers have addressed the issue of digital controls. GE, for example, has come up with a "finger-swipe" control that closely replicates turning a dial but this feature makes the oven pricier. 
You might encounter a problem with the all-digital panel control panel. There are many other things that could go wrong. Although electronic control panels are more affordable to make, they can be fragile.
Electronics are the number one reason for service calls for new appliances. If electronics are not covered by a warranty, they can be very expensive to repair. Some may even cost as much as the entire appliance replacement.
Digital controls are preferred by many people because they look modern.
You'll soon get used to the controls of your stove, whatever they may be. It may be the difference between liking or loathing your induction stove.
Best induction oven ranges reviewed
From so many brands and types of induction ranges in the market, some specific units seem to be better than most. You can take a look at these things. Maybe it can help you pick:
Best overall & best budget freestanding induction oven: 

Frigidaire FGIH3047VF 
Size: 30 inches
Material: stainless steel
Oven capacity: 5.4 cubic ft
Burners/elements: 4
If you want a precise range with a speedy induction cooktop, then the Frigidaire is the best overall model. Besides being the most budget-friendly option, it's also a trusted brand. This model comes with 10 burner settings which let you cook at the perfect temperature depending on the food.
The unit also has a sleek modern look and it is a freestanding induction range, which makes your kitchen look savvy and chic because all parts are nicely finished.
Frigidaire's freestanding induction ranges are available in stainless or black stainless. Only the slide-in model can be ordered in stainless.
One of the best features is the air-fry which users love because you can actually roast vegetables like broccoli, zucchini, and carrots in minutes – it's that fast.
The Frigidaire Induction Ranges feature a Power boost function, indicated by "P" on the digital display. After ten minutes, Power Boost returns to the default setting (shown as "H" on the display).
The power boost is important to have if you need to boil water quicker than with a microwave oven. It's the best kind of feature for busy mornings when you need to make tea, coffee, porridge and need hot water instantly. 
This model doesn't include a bridge feature but you can still use pretty large pans on the regular burner, it just won't cook as fast.
Another feature you'll like is the induction range's low setting ("L") which maintains food at a constant warm temperature between 145F and 160F.
Unfortunately, this is not enough to melt chocolate without scorching (that would be 105F), but it is great for keeping food warm, simmering, or other low temp uses like keeping soups warm before serving. 
There are no buttons because this model has all-digital controls. Each requires multiple key presses. To use a burner, for example, you need to press the On/Off button first, and then press the Up/Down Arrow keys to change the setting.
For some people, this is a bit annoying until they get used to digital buttons. It's easy to press the key twice accidentally. 
Both the Frigidaire freestanding and slide-in models have controls at the back of their ranges. However, the controls for both models are the same. Both styles have their advantages and disadvantages.
The controls at the back are more difficult to reach, especially if you have hot pots on the stovetop. However, they are safer as they cannot be accidentally changed.
Finally, I want to mention that compared to GE induction ranges which are much more expensive, this Frigidaire actually has most of the same features. It also has a self-cleaning feature, 7 rack positions for versatility, and a large size oven (5.4 cubic feet).
Check prices and availability here
Best premium induction range: 

Verona Designer Series VDFSIE365SS 36″ Induction Range Oven
Size: 36 inches
Material: stainless steel
Oven capacity: 5.0 cubic ft
Burners/elements: 5
Splurging on an expensive Italian induction range is a good investment if you want a quality product that lasts 1-15 years without having to invest in major repairs.
It is truly an impressive induction range with a powerful convection baking oven. Many people love using the true European convection oven that you can use to make tasty home-baked goods and pastries.
The Verona Designer induction cooktop and oven is one of the expensive induction ranges that is far superior to the budget Frigidaire range because there are not flimsy steel bits or unfinished design details. It is a freestanding model with beautiful stainless steel finishes that are very easy to clean so you don't end up with a stained range.
But the biggest advantage of the Verona is that it has classic control buttons for easy temperature control that is much more durable. The buttons won't turn on randomly by accident and that's a major advantage for those looking for classic features on a modern cooktop and oven.
The oven has 500 cubic ft. capacity and there are 5 powerful heating elements so you can cook lots of food at once.
You can prepare everything you need, from large meals to quick weeknight meals pretty quickly. The five sealed induction elements are arranged conveniently on the range's surface so you can even use larger pots and pans.
When it comes to the power, each element is boost-enabled so they can automatically adjust their power output to meet your cooking needs. These interesting features make the range worth the high price since you get a customizable cooking experience. 
This combination of a powerful burner set, paired with a true convection cooker provides consistent quality results.
The convection oven is really good too because it has dual interior fans and circular heating elements that heat your food evenly.
The oven is 30-inches wide and has a maximum interior volume of 5 cubic ft. It is large enough to accommodate cakes and roast meats of any size but a bit smaller than the Frigidaire.
This artisan range is elegant and will last for many years thanks to soft-close hinges, a porcelain oven interior, smooth turning knobs, and a black glass-ceramic top.
Check the latest prices and availability here
Also read: Best Copper Roasting Pans | Top 4 Roasters for your oven reviewed
Frigidaire vs Verona
The obvious difference is the price – the Verona premium range is triple the price. However, there are some comparable features between these budget-friendly and premium models.
The Verona oven has sturdy stainless steel legs with non-slip rubber padding which keeps it in place and makes cleaning under it easier.
It's a minor advantage over the Frigidaire model but that one is more compact and can fit in tighter spaces so if you don't have lots of space in your kitchen or between cabinets, it's a better option.
In terms of controls, these two are very different. The Frigidaire has touch controls only which may be sensitive and fragile. It gives the range a more modern look though.
But, the Verona has classic knob style controls and you have to manually turn them up and down to change the temperature.
This is the feature that many people appreciate because there's less chance of damage. It comes down to personal preference and how good you are at navigating touch vs knob controls.
The Verona has a more spacious induction cooktop with 5 heating elements whereas the Frigidaire has only 4, but a larger oven by 0.4 cubic ft.
If you like to cook large batches of pasta and other yummy foods, you might prefer the Verona because the element design makes cooking with extra-large cookware possible.
The bottom line is that the Frigidaire is an accessible brand for the average household, whereas the Verona is considered to be a premium brand so you might not need it if you want something affordable.
If, however, you are a chef or really love cooking, then the investment in Verona might be worth it because it performs extremely well.
Also check out my roundup of the Most Used Hibachi Chef Tools
Best induction range with self-clean: 

Frigidaire 30-inch Induction Range with Air Fry
Size: 30 inches
Material: stainless steel
Oven capacity: 5.4 cubic ft
Burners/elements: 4
Air-fryers have been around for some time but since people are spending more time at home cooking, the health-conscious consumer is looking for this feature in oven ranges too.
So, the Frigidaire GCRI series is the latest induction cooktop and oven range to include this feature.
What's great about this product is that it has the same price as the best overall model but it has this air fry and the self-clean feature which makes many people opt for this.
The air-frier is a neat feature because if you buy a good quality air-fryer separately it can cost upwards of $100 but with this oven, you already have it built-in.
Air fryers are excellent if you want to cook healthier meals because you can cook and bake without using oil.
The reason why it's not quite as good as the other Frigidaire unit though comes down to the durability and build. Although it's made of stainless steel too, the finishes are not as smooth and it feels more flimsy.
This unit features a 504 cubic ft large oven and four burners on the cooktop. All the basic features are good enough for many methods of cooking.
The oven is the best part of this unit though. It runs on a typical convection system but it's got an extra heating element. This circulates hot air faster so the oven bakes and browns food 20 to 25% faster than other ovens.
I like that the heating elements are powerful. In fact, this model can heat and boil water up to 50% faster than a regular non-induction electric cooktop.
Thus, with this model you can save energy and cooking takes up less of your time. The results are similar to a gas cooking surface except it's safer for the whole family, including kids and pets.
Also, another neat feature is that this cooker has pan detection and auto-sizing. This means that the element detects your pan or pot size and only heats that area so as not to waste energy.
Even the design is pretty nice because it doesn't look cheap. The glass touch control and elegant backdrop design make adjusting your cooking setting more convenient but also make the range look modern and well-made.
Best range & microwave set: Frigidaire

 2-Piece Stainless Steel Kitchen Package 
Size of range: 30 inches
Material: stainless steel
Oven capacity: 5.3 cu. ft
Burners/elements: 4
If you're renovating your kitchen or moving into a new place, you might want to get a matching cooker set with the Frigidaire induction cooktop and oven combo, and a stainless steel matching microwave.
With these two items, you can cook and bake pretty much anything you can think of!
It's a good budget-friendly way to get two necessary appliances in one go. The oven and cooktop are freestanding and fully finished with stain-proof stainless steel. They look modern and stylish but and also have LED lighting and digital control buttons.
The over-the-range microwave is of good quality and has 1.6 Cu. Ft capacity. It has an interior and also bottom LED lighting to light up your cooktop perfectly.
When it comes to the oven and range, the features are very similar to all the other Frigidaire products I just reviewed.
The 4 heating elements are quite powerful and offer even heating so you don't have to worry about over or undercooked food as you would with a gas cooktop.
The controls are quite easy to work but again, if you press too hard, you might mess up the settings accidentally.
To help you out, this cooktop also has true temp melt technology which just means that it can keep food warm and delivers very precise low heat for cooking delicate ingredients and making sauces.
In terms of safety features, this induction cooktop only heats up right under your cookware so if you touch the other elements, they stay cool.
This unit would be just enough to give you comfort in cooking various daily meals. Beneath the oven, there is a storage drawer where you can store some of your cooking and baking utensils. The range also has a quick self-cleaning feature for 20 minutes, just enough to get all the dirt off.
Overall, it's a very high-quality Frigidaire product with all the modern features you need without splurging.
Here's How to microwave ramen | Step by step guide +ways to make it extra yummy
Frigidaire air fry vs Frigidaire combo set
When comparing these two popular Frigidaire induction units, I want to first talk about the fact that they are similar in terms of performance, burners, and features.
The one thing that sets the Frigidaire air fry model apart is this modern and new air fry oven setting. Unlike the freestanding model in the combo set which is not a convection oven, the air fry model is much more practical if you like to cook and bake healthy, oil-free foods.
But if you're not really into the taste of air-fried foods, then you might not need this feature and opt for the microwave combo.
The set is very practical if you plan on changing your appliances and want a streamlined look since both appliances have a beautiful stainless steel finish.
Both units are the same size and have the digital control buttons located at the back, not the front like the first model I review. This makes them practical because you are less likely to touch the sensitive buttons by mistake.
The controls on the air fry model are smaller and closer together so you might prefer the spaced-out design of the Frigidaire FFMV series.
The bottom line is that both are good options but it depends on whether you need a set or not and whether you actually get use out of an air fryer.
Best slide-in induction range with WIFI: 

LG LSE4617ST
Size of range: 30 inches
Material: stainless steel
Oven capacity: 6.3 cu. ft
Burners/elements: 4 + 1 warming zone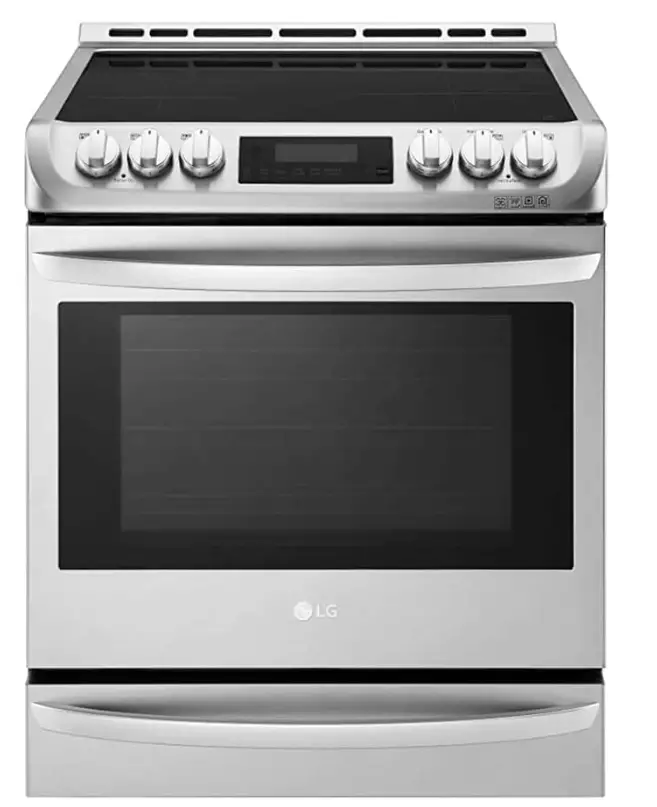 No review is complete without a slide-in induction oven and range. As more and more consumers are looking for a range that they can integrate with the kitchen cabinets, LG released their LSE4617ST model.
It is a stainless-steel slide-in range and oven with smart features like WIFI connectivity.
This LG range comes with 4 heating elements and a round warming zone where you can keep your foods like soups warm until you finish cooking everything else.
This feature is extremely useful for busy households or those occasions when you're cooking 3-course meals.
From the first glance, you can tell this stainless-steel appliance looks well-made and sturdy. The induction cooktop is durable and not too fragile-looking.
It's hard to crack this glass so you don't need to worry about being too careful when using the range.
What I also like is the sturdy knobs. If you don't like digital controls which are touch-sensitive, you'll appreciate these old-school knobs that ensure you can set everything to the right temperature.
As well, each burner has an LED indicator beneath it that shows you the power level so you don't waste energy and don't use more heat than is needed for each particular dish.
After all, if you want to boil water quickly, you don't need the other burners at maximum power too, just the one.
The burners are powerful since the cooktop has 4.0kW power so this LG range is extremely great at boiling water really fast.
The oven is also spacious and larger than the Frigidaire ones in the review. So, if you love baking and roasting, you'll appreciate that you can use larger pans. The built-in convection fan distributes the heat evenly so baked goods turn out perfect.
You also get two oven racks and a bonus gliding rack which comes out like a drawer and it makes maneuvering the hot cookware much easier and it's safer too.
The main complaint about this product is the price: it's very expensive compared to similar products from brands like Kenmore.
However, you're getting WIFI control so you can control the oven from a distance, even if you're not in the house. This means you can make sure your meatloaf or apple pie never gets burned.
Check prices and availability here
Takeaway
The best induction oven and cooktop is a must-have kitchen appliance and it is a lot better when appearing as one induction kitchen range.
Not only is it more practical and neat, but it would also be more efficient. As long as you choose the right one to buy, there is no way you can regret trying out this new technology for cooking.
Not only will you cook faster, but you can multitask by cooking and baking at the same time with precise temperature settings!
Rather have a small induction stovetop for the counter? Check out my review of the NuWave Precision Induction Cooktop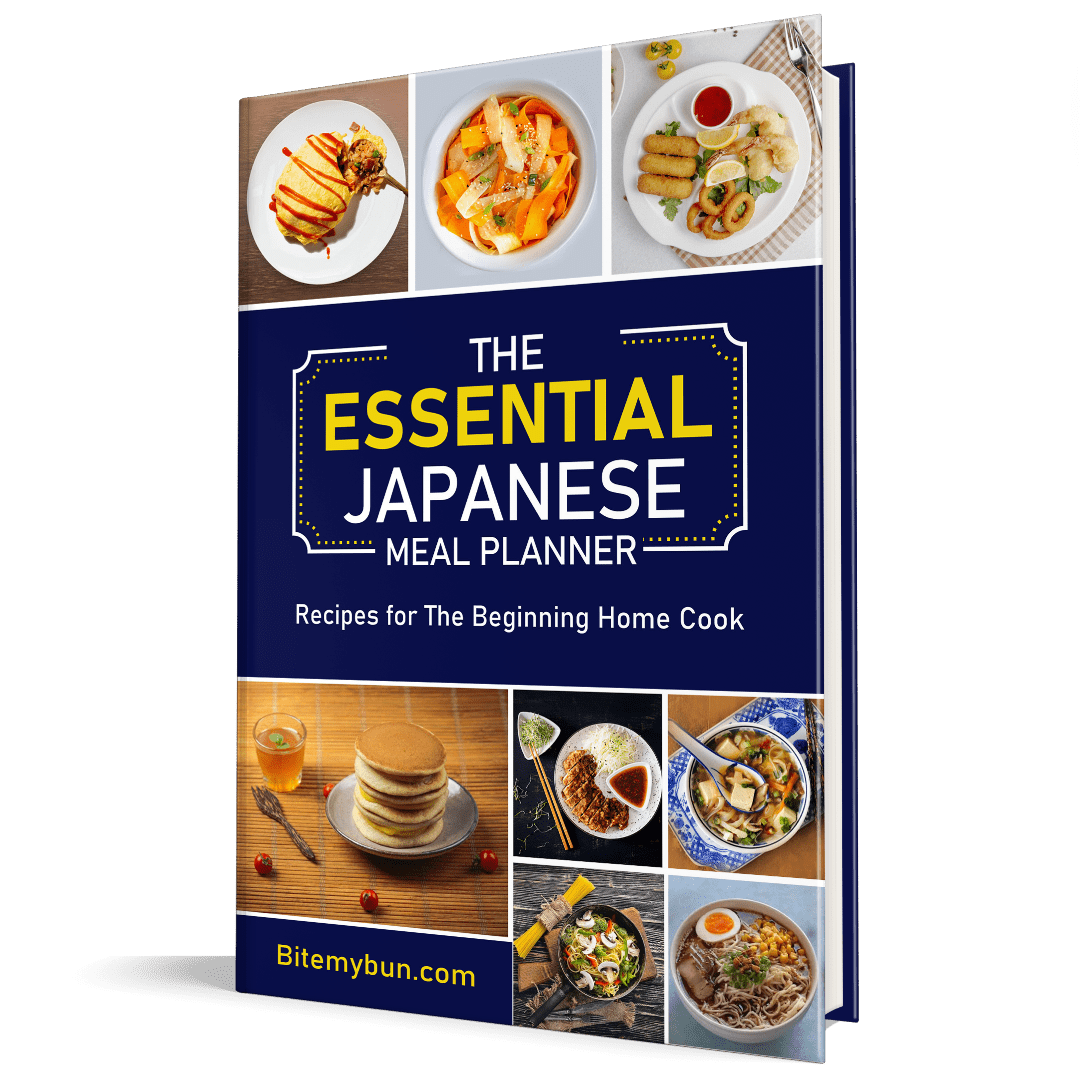 Check out our new cookbook
Bitemybun's family recipes with complete meal planner and recipe guide.
Try it out for free with Kindle Unlimited:
Read for free
Joost Nusselder, the founder of Bite My Bun is a content marketer, dad and loves trying out new food with Japanese food at the heart of his passion, and together with his team he's been creating in-depth blog articles since 2016 to help loyal readers with recipes and cooking tips.