I love creating free content full of tips for my readers, you. I don't accept paid sponsorships, my opinion is my own, but if you find my recommendations helpful and you end up buying something you like through one of my links, I could earn a commission at no extra cost to you.
Learn more
Induction ovens are growing in popularity the same way an induction cooktop does.
Now we see in the market that many brands are offering their versions of induction kitchen ranges. One of the best picks is this Freestanding Frigidaire induction oven.
It's not only very affordable, but the brand is one of the top-rated ones in the induction market and it's very easy to install and use.
In this article, I'll take a look at what appliance to buy and what to look for in your induction oven so you can make the best decision for your home.
Let's take a quick look at all of the options first:
But before deciding which one to buy, let's get to know more about this modern cooking technology.
What is a kitchen range?
A kitchen range refers to a unit of kitchen appliances which is an integration between an oven and a stove.
The bottom part of the unit is the oven. The stoves are in the top area, making it a surface coverage of the unit. The combined device is popular to use in modern kitchens because it can save space without reducing its functions.
Aesthetically, a kitchen range also looks more appealing and fancy for your cooking space.
The term "range" itself originated in the early years of the 1950s when there were no such things as an integrated unit of ovens and stoves.
Back then, people usually had one or two ovens and multiple stoves. As these two appliances are vital for cooking activities, people will place them in the same area, mostly side by side.
Sometimes, they also stacked the stoves over the oven to save space. The pairing makes an area (or range) of cooking.
As technology moved forward, manufacturers began producing ovens and stoves in one integrated unit.
The innovation makes the combination look more aesthetically pleasing because sometimes people have a hard time finding ovens and stoves that match each other.
People also love the concept because the unit has a stronger and more stable construction than manually combining ovens and stoves.
Long before the era of induction ranges, there have been plenty of choices of both gas and electric kitchen ranges.
You can compare these prices to just cooktops here in our list of best-priced induction cooktops we wrote about earlier.
Induction Technology
Conventional cooking uses gas or electricity to generate heat, which heats the cookware and the food in it.
An induction technology, on the other hand, does not feature any flames at all. Unlike a conventional oven, an induction oven will not turn hot if you turn it on.
The same goes for the stoves.
Induction technology works by utilizing electromagnetism. It requires special cookware made of magnetic materials such as cast iron.
If you use your regular pan or wok, you won't be able to cook anything at all because there will be no heat generated.
Inside an induction oven, there is a set of copper wire coils. When the oven is turned on, the coil will generate electromagnetic radiation which will be inducted to the cookware.
This induction process allows the cookware to heat itself, thus heating the food inside of it.
Benefits of Using an Induction Range
The idea of a non-flame cooking appliance may sound interesting. But it might still leave you wondering, is it worth using?
You would have to spend some money to buy a unit, and then spend some more on the induction-ready cookware. It will only make sense if you get benefits from it.
If you are wondering what some good cookware is to use in conjunction with your stove, here's our guide on induction cookware.
Here are the advantages you might get from cooking with an induction range:
Safety
With no flame and no heat on the appliance, you can effectively reduce the risk of fire damage. If you want to teach your children how to cook, an oven and cooktop like this would be safer.
Hygiene
The induction kitchen range has flat surfaces, unlike gas ranges that have elaborate elements. Cleaning is much easier and quicker to finish. Not to mention that some of the best induction ovens feature a self-cleaning mode.
Precise Control
Induction cooking allows you to set the exact temperature and duration for each session. Some units have specific cooking modes to make things even easier for you. This way you can avoid messing up the temperature.
Style
An induction kitchen range looks more chic and modern. The sleek surface creates a clean and neat look on your kitchen. What's more, most units of induction ranges have unique and stylish designs.
Types of Induction Kitchen Range
Based on the design, there are three types of induction range.
Functionally, they work just the same. It is just that you need to pick one that matches your kitchen setting and interior design.
Slide-In Range
The slide-in range is the one you can insert between your kitchen counter, making it look like a built-in feature on your counter. This type of range gives a neat and efficient look.
If you are a clean-freak, this type of range can help you feel at ease. It won't create a gap between the range and the counter, so you don't have to worry about food falling on it.
When buying a slide-in range, make sure to put it in the middle of a counter. The unit has unfinished sides. Putting it on the end or letting it stand alone will make it look unappealing.
Freestanding Range
A free-standing range doesn't need a counter to settle in. You can put it anywhere in the kitchen and the unit would still look good. Both sides are neatly polished, making it appear sleek as a stand-alone unit.
To protect your wall from cooking splash, a freestanding range features a backguard. The control panel for both induction oven and cooktop is located at the backguard as well.
How to Choose An Induction Range?
Now since an induction oven and cooktop sounds like a good idea, you might want to get an induction range for your kitchen.
To make sure your money is well-spent, here are some things you need to consider when choosing a unit:
The Design
As mentioned above, there are two types of induction range to match your kitchen setting.
Besides the type and the overall look, you also need to make sure the measurement fits. You don't want your range to look bulky or too tiny.
The Cooktop
Most ranges have four or five burners on the cooktop. Sometimes those are in the same sizes, and sometimes they vary.
See the control panel and make sure you can adjust the setting as you expect.
There are also some versions with unique features on their cooktop, like Samsung with its Burner Bridge. This can be an additional factor to think about.
The Oven
How often do you like to bake or roast food? Some ranges have larger ovens or even multiple ovens in one unit.
If you are a baking enthusiast, you might want to look for the best induction oven with precise cooking ability.
Ease of Use
If you are going to use your range for simple home-style cooking, there is no need to buy a high-end commercial range. The setting will just be confusing and too complicated.
Modern kitchen ranges also offer various innovative features to provide more convenient operations such as voice control, WiFi-based control, and self-cleaning.
Review
Checking for some online reviews is vital. It helps you to see what a specification list doesn't state.
Many real users like to share their experience and how they feel about the products they buy. Such reviews will help you determine which products can be worth trying.
Brands
The brand itself is a factor that you should never skip when buying appliances, including an induction kitchen range.
The reputation of the brand helps you to predict the quality of the product. Moreover, reputable brands usually have compelling services.
We have just discussed how important it is to choose a reputable brand for your induction kitchen range.
And when you consider brands to buy your induction range, make sure to choose the brand that has a truly good reputation for this type of appliance.
Bear in mind that a brand can be notable for one type of appliance but fails to deliver the same level of brilliance in other types of appliances.
According to surveys, the brands Jenn-Air and KitchenAid place the first and the second most reliable brands for induction range respectively.
Both are high-end brands with top-notch quality of both the product and the service. All of their ranges have stylish and sophisticated designs.
Other best brands are GE Profile, Cafe by GE, Miele, Bosch, and Samsung.
These brands cover the middle to high-end classes with various versions of the induction range in varying prices and specifications.
In a more affordable category, no other brands can deliver a satisfying quality as Frigidaire does.
Best induction oven ranges reviewed
From so many brands and types of induction ranges in the market, some specific units seem to be better than most. You can take a look at these things. Maybe it can help you pick:
Best Overall Freestanding induction oven: GE PHB920SJSS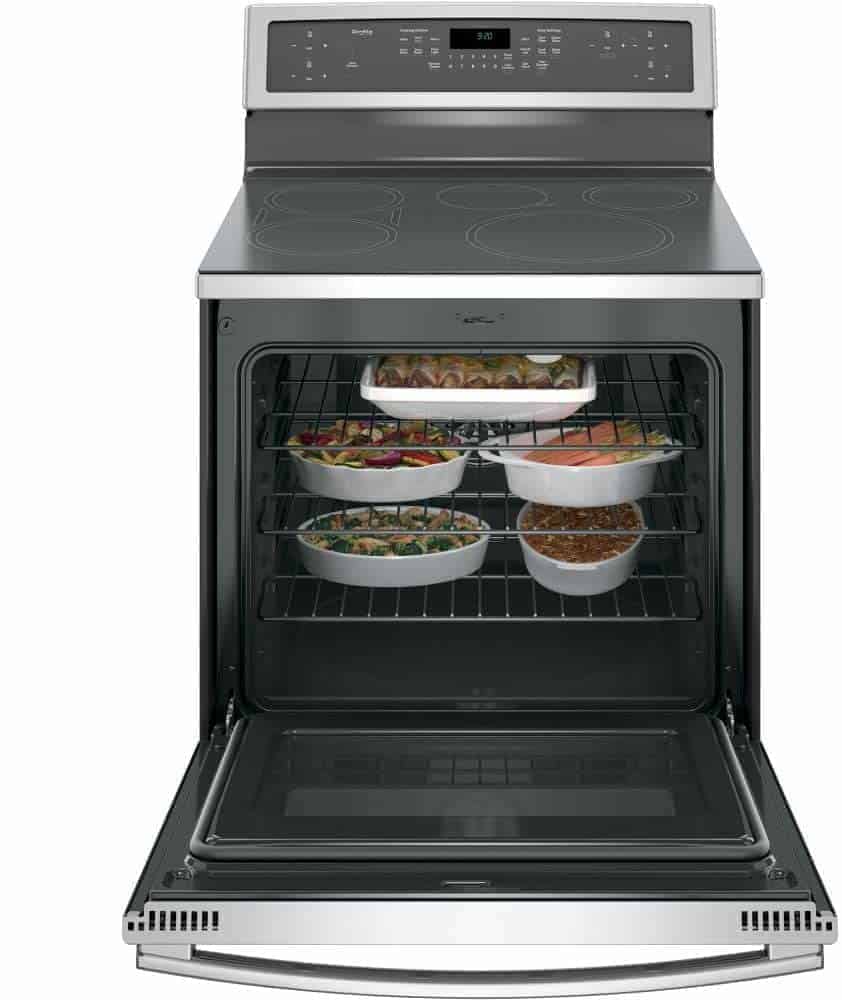 If you love a precise setting on your induction oven, then GE PHB920SJSS Electric InductionRange is the one you can take a look at. WiFi connection allows you to control your cooking as you do other things you want.
The unit also has a sleek modern look, which makes your kitchen look savvy and chic. A self-cleaning feature ensures makes things even easier. But the best thing is, this version of the appliance comes with a lifetime warranty.
Best Overall Slide-In induction range: Bosch HEI8056U
Bosch HEI8056U provides 18 cooking modes and a progress monitor to keep your cooking precise. The cooktop contains four cooking elements with a wide temperature range, allowing you to cook almost anything and deliver an outstanding result with it.
The sturdy design combined with a sleek surface makes the range look crisp between your kitchen counter. A fully digital control panel makes the unit look even more clean and contemporary. This appliance also features a warming drawer, precise oven temperature, and many others more.
Check the latest prices and availability here
Best Budget Slide-In induction range: Samsung NE58K9560WS
Having a minimum budget doesn't mean you have to settle with a low-quality product. If you need a slide-in induction range, you can try taking a look at the Samsung NE58K9560WS. This unit features a three-racked large oven and four burners on the cooktop. All the basic features are good enough for many methods of cooking.
Even the design doesn't look cheap. A virtual blue flame on the cooktop creates a unique effect of a flame-based stove, while also indicating that the food is currently undercooking. The glass touch control and wifi connectivity make adjusting your cooking setting more convenient.
Best Budget Freestanding induction oven: Frigidaire FFIF3054TS
Besides the slide-in type, Frigidaire also offers a budget-friendly induction range in freestanding type with its Frigidaire FFIF3054TS version. As usual, the brand doesn't fail to include all the basic features necessary. With a large baking capacity, this type of appliance might be the best induction oven you can get at an affordable price.
This unit would be just enough to give you comfort in cooking various daily meals. Beneath the oven, there is a storage drawer where you can store some of your cooking and baking utensils. The range also has a self-cleaning feature for 20 minutes, just enough to get all the dirt off.
Best Double Induction Oven Slide-In: GE Cafe CHS950P2MS1
At a glance, GE Cafe CHS950P2MS1 looks like a commercial-grade kitchen range. But this appliance offers more than just a heavy-duty cooking station with a double oven.
WiFi connectivity and smart technology give you the chance of cooking like a pro chef. With a gourmet cooking app, you can access hundreds of recipes from worldwide chefs with clear video guidance. You can even adjust your induction range and cooktop in precise control only by using your voice over WiFi.
Check the latest prices here on Amazon
Best Double Induction Oven Freestanding: Samsung NE59J7850WS
The Samsung NE59J7850WS comes with a useful Flex Duo Induction Oven. The two compartments can be used for cooking two different kinds of food at the same time. But you can also remove the partition and use one large compartment for grande baking.
Precise cooking is possible in this appliance with metallic knobs and a digital control panel. A warmer drawer will keep your dishes ready for a longer time. This type of freestanding range also comes with many useful features such as a self-cleaning feature, timer, and true convection system.
Takeaway
The best induction oven and cooktop would be a lot better when appearing as one induction kitchen range. Not only is it more practical and neat, but it would also be more efficient. As long as you choose the right one to buy, there is no way you can regret trying out this new technology for cooking.
Every month new cooking tips in your email?
Japanese recipes, cooking tips and more with the first email our FREE mini-recipe guide "Japanese with ease"
Joost Nusselder, the founder of Bite My Bun is a content marketer, dad and loves trying out new food with Japanese food at the heart of his passion, and together with his team he's been creating in-depth blog articles since 2016 to help loyal readers with recipes and cooking tips.