I love creating free content full of tips for my readers, you. I don't accept paid sponsorships, my opinion is my own, but if you find my recommendations helpful and you end up buying something you like through one of my links, I could earn a commission at no extra cost to you.
Learn more
If you love Asian cooking, Sukiyaki steak is a meal you will definitely want to have on your bucket list.
This dish is so popular in Japan, there was even a hit song named after it!
In this post, I'll let you in on the best steak sukiyaki recipe you'll ever taste, along with some info on the dish.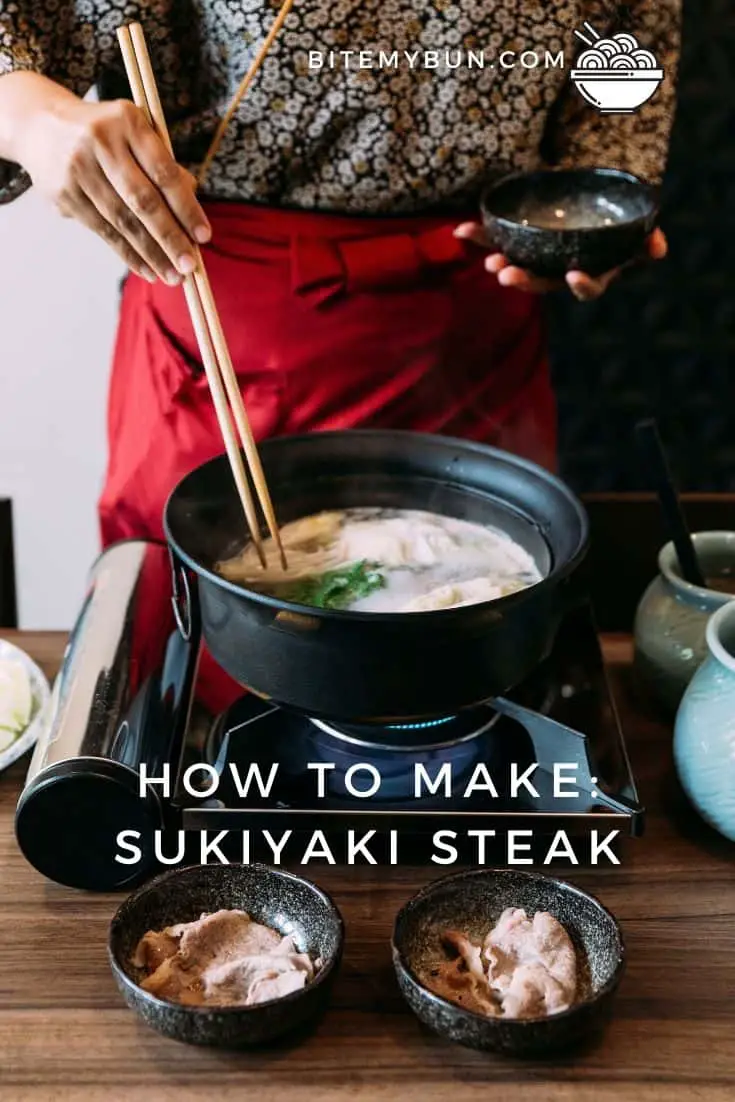 What is sukiyaki?
Sukiyaki steak is a Japanese dish that is served nabemonon style (in a hot pot).
The dish consists of meat (usually thinly sliced beef) that is cooked or simmered at the table along with vegetables and other ingredients.
It is prepared in a shallow pot in a mixture of sugar, hot sauce, and mirin, an essential condiment in Japanese cuisine similar to sake but with higher sugar content.
After the ingredients are cooked, they are usually dipped in a small bowl of raw egg and eaten.
If this dish sounds interesting to you, read on to find out more about how to make it, the story behind it, how it tastes and more.
Sukiyaki steak hot pot recipe
You can travel to Japan to get a true sukiyaki experience, but you can save a lot of money on traveling and eating out by making it in the comfort of your own. Here is a sukiyaki recipe we recommend.
Ingredients  
Ingredients for Sukiyaki Sauce:
2

tbsp

sake

¼

cup

mirin

1

tbsp

brown sugar

¼

cup

soy sauce
Ingredients for Sukiyaki:
½

block

firm tofu cut into ½" thick slices

5

dried

shiitake mushrooms rehydrated

1

package

enoki mushrooms with ends trimmed and rinsed

2

cups

napa cabbage cut into 2" pieces

2

cups

tong ho (chrysanthemum greens, washed)

2

scallions with white and green parts separated

1

bundle

dried mung bean vermicelli noodles

1

tbsp

vegetable oil

12

oz.

thinly sliced fatty beef

2

cups

dashi stock (or mushroom soaking liquid or chicken stock)

2

cups

steamed rice

2

egg yolks
Instructions 
In a pot on your stove, add 2 tbsp. sake, ¼ cup mirin, 1 tbsp. brown sugar and ¼ cup soy sauce. Bring to a boil over medium heat. Make sure all sugar is dissolved. Then turn off heat and transfer mixture to a bowl.

Prepare all sukiayaki ingredients including tofu slices, shiitake mushrooms, enoki mushrooms, napa cabbage, tong ho and scallions. Set aside on a plate. Soak dried vermicelli noodles in water for 10 minutes.

Heat 1 tbsp. vegetable oil in a pan. Fry white parts of the scallion in the oil for 10 minutes. Chop green parts of scallions finely and set aside.

Add sliced beef to the pan with the scallions. Sear the beef for 10 seconds and add a drizzle of the sukiyaki sauce. Fry the meat until it begins to brown; it should still be a little bit pink. Remove from pot and set aside.

Add the rest of the sukiyaki sauce and 2 cups stock. Bring to a boil. Add tofu, mushrooms, napa cabbage and tong ho to pot in sections. Drain vermicelli noodles and add them to the pot. Cover pot and bring to a boil. Simmer until the ingredients are cooked through 5-7 minutes.

Remove the cover, add the beef back to the pot. Sprinkle with chopped scallions and enjoy with rice and egg yolk (if desired).
Nutrition
If you can't get dashi stock or don't know how to make it, here's a list of great dashi substitutes.
Shiitake mushrooms are a great one for example but there are many more options.
Aden Films has this nice short film about high-end sukiyaki dining:
Nutritional information
Sukiyaki is full of tons of healthy ingredients. The meat and egg are rich in protein, there are lots of nutritious vegetables and mushrooms that are full of antioxidants.
When considering the nutritional information, here's the breakdown.
Calories: 750
Carbohydrates: 68g
Protein: 37g
Fat: 35g
Saturated fat: 14g
Cholesterol" 211 mg
Sodium: 1178mg
Potassium: 859mg
Fiber: 3g
Sugar: 11g
Vitamin A: 2289IU
Vitamin C: 21mg
Calcium: 262mg
Iron: 5mg
History of sukiyaki
Let's start by learning how the dish originated.
There are different theories concerning the origin of the name. However, if you split the name up, the word suki means 'spade' and yaki is a verb that means 'to grill'.
Others say it comes from the word sukimi which means 'thinly sliced meat'.
Sukiyaki became a traditional Japanese dish during the Meiji era (1868-1912). It is often eaten during year end parties called bonenkai.
When Buddhism was introduced to Japan, back in the Asuka period of 538-710, the eating of meat became frowned upon.
Buddhists worship animals and often enforce vegetarian ways.
Therefore, meat eating was reserved for times of sickness and celebration. Bonenkai is one of the rare times when the Japanese could eat meat.
In the 1860's the Japanese opened its port to trade and eggs and meat became more widely used in cooking and new cooking styles were introduced.
In 1923, the Great Kanto earthquake caused many Tokyo beef restaurants to close and many people moved to Osaka.
While there, they became accustomed to preparing their meat sukiyaki style. When they moved back to Tokyo, they brought the dish with them.
The dish has been popular ever since and it's often eaten to celebrate bonenkai.
Check out this post on teriyaki vs sukiyaki
What Does Sukiyaki Taste Like?
Sukiyaki can be described as having a sweet and salty flavor. This is due to flavorings like shoyu, sugar and mirin.
Other ingredients that contribute to its flavor profile include nagenegi (Japanese leek), shungiku green, shiitake, tofu and shirataki noodles.
What Cut of Meat Should You Use for Sukiyaki Steak?
The best cut of meat to use for sukiyaki steak is top sirloin. Tenderloin or other sirloin cuts will work as well.
These cuts will be tender and tasty and they won't have a lot of fat which can take away from the appearance of the dish.
Round beef is another possibility but it tends not to be as flavorful.
Kanto and Kansai Style Preparations
Sukiyaki is prepared in different ways. One type of preparation originates in the Kanto region and the other one comes from the Kansai region.
The Kanto preparation is based on gyunabe (beef pot) which became very popular during the Meiji period.
The dish requires a soup base called warishita which is prepared with shoyu, mirin and sake.
The meat, vegetables and other ingredient are simmered together in the premixed base.
The Kansai preparation does not use warishita. Instead, the meat is cooked first and then seasoned with sugar and soy sauce.
Vegetables are added to the pot and the liquid is boiled down. Then sake and water are added.
Both Kansai and Kanto preparations use eggs as their dipping sauce but the custom originated in Kasai.
Also read: check the most delicious sukiyaki recipe right here
How Do You Get the Meat Thinly Sliced?
One secret to getting the sukiyaki perfect is to start out with very thinly sliced meat.
In order to do that, put the meat in the freezer until it starts getting hard, but don't let it get anywhere near frozen.
Start with the parts of the meat that are partially defrosted as this will be much easier to slice neatly and thinly.
Do your best to slice evenly as well as this will make for a nicer presentation.
Similar Dishes to Sukiyaki
There are few dishes that compare to sukiyaki steak, but if you can't get the real thing, here are some similar recipes you can try:
Shabu-Shabu: Shabu-shabu is similar to sukiyaki but its taste is savory whereas sukiyaki's taste is sweeter. In shabu-shabu, meat is cooked in a simmering liquid while sukiyaki is cooked casserole style.
Thai Sukiyaki: Although the name is similar, Thai sukiyaki has almost no resemblance to its Japanese counterpart. It is a communal dish where diners dip vegetables and meat into a hot pot of sauce that is sitting at the table.
Sukiyaki in Laos: In Laos, the dish features a bowl of bean thread noodles, various vegetables, thinly sliced meats, and seafood, sukiyaki sauce and a raw egg in beef broth. The sukiyaki sauce is made of fermented tofu, coconut, peanut butter, garlic, sugar, spices, and lime.
Conclusion
Sukiyaki is a unique dish that everyone should try at least once in their lives…but it's so delicious we are sure that most will want to try it again.
Hopefully, this article has inspired you to seek out the taste, whether you travel to Japan or make it in your own kitchen.
Bon appetit!
Every month new cooking tips in your email?
Japanese recipes, cooking tips and more with the first email our FREE mini-recipe guide "Japanese with ease"
Also read: shabu-shabu vs sukiyaki, are they (almost) the same?!?
Joost Nusselder, the founder of Bite My Bun is a content marketer, dad and loves trying out new food with Japanese food at the heart of his passion, and together with his team he's been creating in-depth blog articles since 2016 to help loyal readers with recipes and cooking tips.