Guide to sukiyaki steak: recipe, cutting technique, and flavors
I love creating free content full of tips for my readers, you. I don't accept paid sponsorships, my opinion is my own, but if you find my recommendations helpful and you end up buying something you like through one of my links, I could earn a commission at no extra cost to you.
Learn more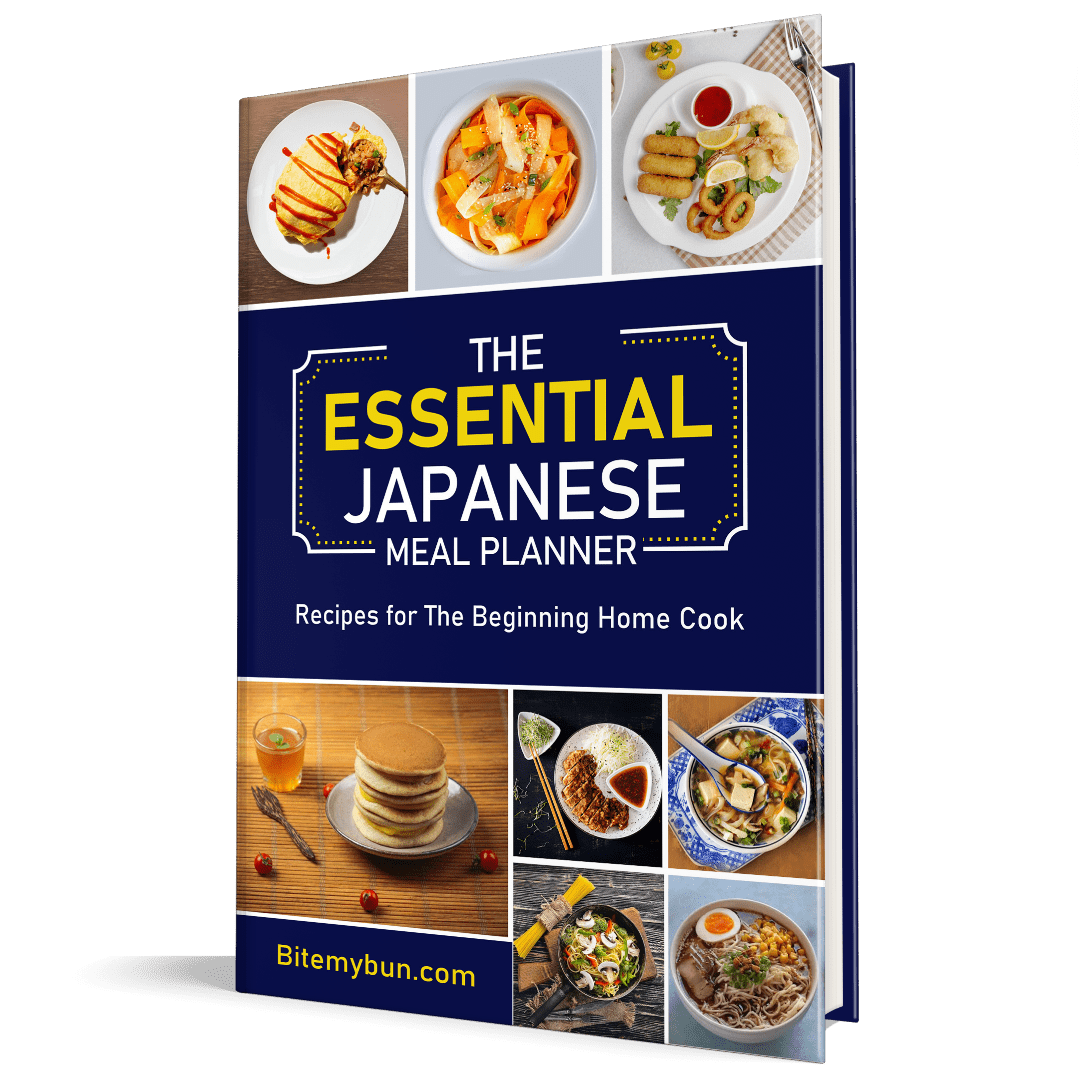 Check out our new cookbook
Bitemybun's family recipes with complete meal planner and recipe guide.
Try it out for free with Kindle Unlimited:
Read for free
If you love Asian cooking, then sukiyaki steak is a meal you'll definitely want on your bucket list. It's so popular in Japan there was even a hit song named after it!
Though you might think we're talking about classic hot pot here, sukiyaki is, in fact, another type of simmered dish but wait until you taste the sauce and seared beef!
Sukiyaki steak is a dish made by simmering fatty beef, noodles, and vegetables in a sweet sauce. This gives the steak an incredible flavor that's hard to beat.
In this post, I'll let you in on the best steak sukiyaki recipe you'll ever taste, along with some info on the dish.
10 Tips to Save a Bundle on Asian Ingredients!
Introducing our brand new FREE PDF guide: "Saving Secrets: Unveiling the Art of Saving Money on Asian Ingredients" It's your first newsletter email, so start saving today! 📚🧧
We'll only use your email address for our newsletter and respect your privacy
Make sukiyaki steak at home
The best part about making sukiyaki steak at home yourself is that you can customize it to your own liking.
You can choose how thick you want your steak to be, and how much sauce you want to add.
Plus, it's a lot cheaper than eating out at a Japanese restaurant!
Sukiyaki steak hot pot recipe
You can travel to Japan to get a true sukiyaki experience. But you can save a lot of money on traveling and eating out by making it in the comfort of your own home. Here's my sukiyaki recipe!
Ingredients  
½

block

firm tofu

cut into ½" thick slices

5

dried

shiitake mushrooms

rehydrated

1

package

enoki mushrooms

ends trimmed and rinsed

2

cups

napa cabbage cut into 2" pieces

cut into 2" pieces

2

cups

tong ho (chrysanthemum greens)

washed

2

scallions

white and green parts separated

1

bundle

dried mung bean vermicelli noodles

1

tbsp

vegetable oil

12

oz

thinly sliced fatty beef

2

cups

dashi stock

or mushroom soaking liquid or chicken stock

2

cups

steamed rice

2

egg yolks
Instructions 
Prepare all sukiayaki ingredients, including tofu slices, shiitake mushrooms, enoki mushrooms, napa cabbage, tong ho, and scallions. Set aside on a plate.

Soak dried vermicelli noodles in water for 10 minutes.

Heat vegetable oil in a pan. Fry white parts of the scallion in the oil for 10 minutes. Chop green parts of scallions finely and set aside.

Add sliced beef to the pan with the scallions. Sear the beef for 10 seconds and add a drizzle of sukiyaki sauce. Fry the meat until it begins to brown; it should still be slightly pink. Remove from pot and set aside.

Add more sukiyaki sauce and stock. Bring to a boil.

Add tofu, mushrooms, napa cabbage, and tong ho to the pot in sections. Drain vermicelli noodles and add them to the pot..

Cover pot and bring to a boil. Simmer until the ingredients are cooked through (5-7 minutes).

Remove the cover and add the beef back to the pot. Sprinkle with chopped scallions, and enjoy with rice and egg yolk (if desired).
Nutrition
Calories:
468
kcal
Carbohydrates:
38
g
Protein:
30
g
Fat:
21
g
Saturated Fat:
10
g
Polyunsaturated Fat:
3
g
Monounsaturated Fat:
8
g
Cholesterol:
150
mg
Sodium:
1373
mg
Potassium:
568
mg
Fiber:
2
g
Sugar:
8
g
Vitamin A:
555
IU
Vitamin C:
16
mg
Calcium:
166
mg
Iron:
3
mg
Aden Films has this nice short film about high-end sukiyaki dining:
Check out this post on teriyaki vs sukiyaki
Cooking tips
If you're making sukiyaki steak at home, it's important to have all of your ingredients prepped and ready to go before you start cooking.
This will help the dish come together more quickly and prevent any elements from overcooking or getting burned in the pan.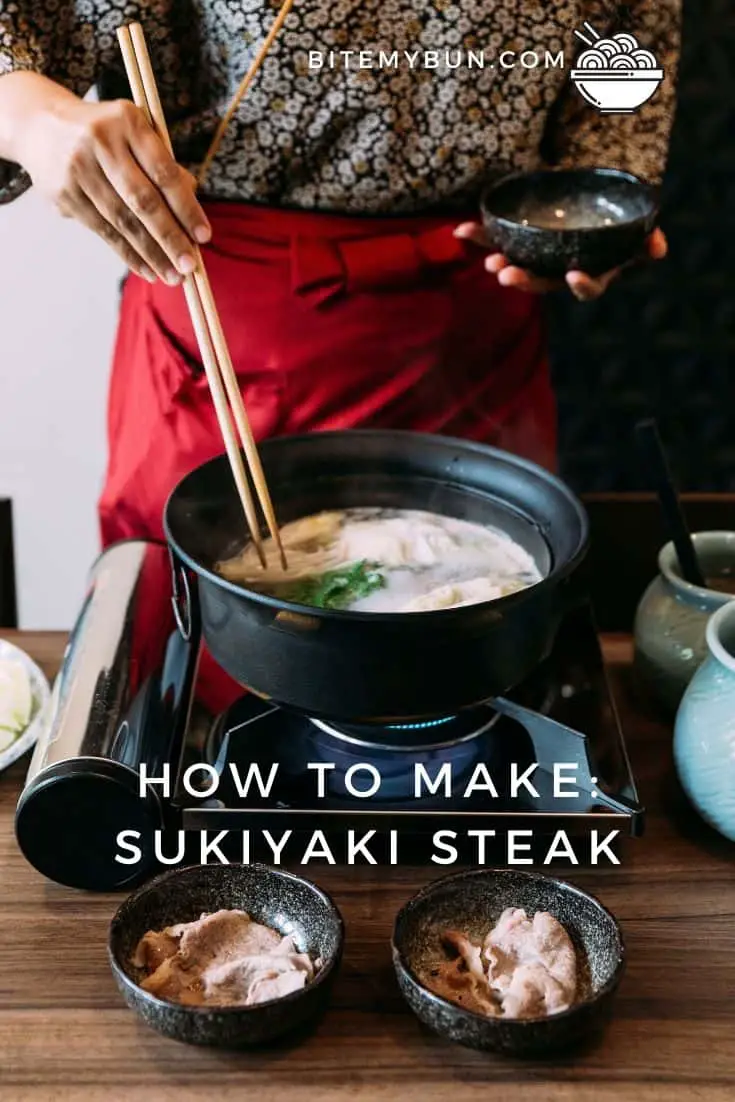 The best meat to use for this recipe is beef. It's best to use a fatty beef cut like rib-eye, filet mignon, or sirloin so that it stays moist and flavorful as you cook.
You should also cut the steak into thin strips, as this will help it cook quickly and evenly.
It's also important to let the beef sear in the pan before adding any liquid, as this will give it a nice crust and delicious flavor.
Don't overcook the vermicelli noodles, as they will get mushy and fall apart in the dish.
The sukiyaki pan
Before you go off and create this Japanese dish, I want to talk to you about this special sukiyaki pan they use in Japan.
It's a large cast iron sukiyaki pan with a wooden lid and a long thin handle, like a basket handle.
The pan has high edges to make room for lots of liquid. It's designed specifically for sukiyaki, but you can use it for most hot pot dishes.
The wooden lid helps absorb the steam and liquids much better than a metal or iron lid. Since the pan is large, it's ideal for cooking for a family of up to 5 people.
If you like to cook hot pot meals, I highly recommend grabbing an original sukiyaki pan:
If you don't have one, you can use a regular cast iron pan or any pan with a thick bottom and high edges.
Substitutions and variations
Beef is a must-have ingredient if you want authentic sukiyaki. And it should be a fatty and marbled beef that's going to add juiciness.
Of course, you can use very thin slices of pork or chicken if you don't like beef.
Some of the Japanese ingredients, like napa cabbage, are harder to find in the West.
But the good news is that you can use the leafy greens you can find at the supermarket, and the dish will have a very similar flavor!
Shungiku (crown daisy, chrysanthemum leaves), or tong ho in Chinese, is the traditional vegetable used in Japanese and Chinese hot pot dishes. It has a slightly bitter taste.
However, it's hard to find outside of Japan. You can use parsley and cilantro as a substitute.
The best vegetables to use are white cabbage, red cabbage, bok choy, spinach, and shiitake mushrooms.
The traditional recipe contains a type of green onion called Tokyo Negi. If you can't find it, use scallions, spring onions, or leeks for a similar sweet and savory flavor.
As for noodles, the recipe calls for shirataki noodles, or yam noodles. These are long white noodles made from the konjac plant.
Shirataki noodles are popular because they're considered to be a "zero-calorie" noodle.
A great substitute for these noodles is vermicelli, which has a similar glass noodle appearance and texture.
There's another variation of this dish called sukiyaki beef don, and it's a sukiyaki bowl made with the same ingredients served on a bed of rice.
Check out this guide to sukiyaki steak | recipe, cutting technique and flavors
How to serve and eat
The sukiyaki is cooked on a tabletop stove in a cast-iron pot.
Traditionally, you'll receive an individual bowl and chopsticks to eat sukiyaki. Each person can add ingredients to the pot using chopsticks.
There will also be a bigger chopstick called tori-bashi to move things from the sukiyaki pot to your bowl.
Using your own chopsticks for this purpose would be seen as disgusting and rude because you also put them in your mouth.
As soon as the ingredients start to run out, people add more to cook. It's a great dining style for groups of people because you can simultaneously cook, eat, and socialize.
In Japan, it's common to dip sukiyaki ingredients in raw eggs.
But the combination of sukiyaki sauce and raw egg will be less tasty as they turn colder.
So I'd recommend not having too many ingredients in your bowl because they'll get cold quickly.
In the West, it's prohibited to consume raw eggs at restaurants.
So an alternative is to purchase pasteurized eggs from the supermarket. But you can also just dip it into poached eggs.
Read more about this: Why do the Japanese put raw egg on rice? Is it safe?
Side dishes for sukiyaki
The most common side dish for sukiyaki is white rice. A bowl of white rice goes well with this saucy beef and veggie mixture and also helps keep you fuller for longer.
But there's a Japanese tradition where people have a bowl of udon noodles along with sukiyaki or right after they finish it.
If you're a huge noodle fan, then go for it! But since sukiyaki already contains shirataki or vermicelli noodles, you might already feel full.
The general sukiyaki etiquette is that you finish off the dish with more carbohydrates like noodles.
Broccoli and sukiyaki beef go wonderfully together because the broccoli florets cook through when cooked in a pot for 2 ½ to 3 minutes.
You can cook it right in the hot broth.
As I've mentioned, Japanese people love to dip sukiyaki ingredients into raw eggs, but if you do so, the egg must be fresh and preferably pasteurized.
How to store sukiyaki
Sukiyaki is a dish best enjoyed hot, but you can also eat it at room temperature. If you have leftovers, store it in an airtight container in the refrigerator for up to 3 days.
To reheat it, simply place it in a pot or pan over medium heat for about 5 minutes until it reaches your desired temperature.
You can also choose to freeze sukiyaki, but keep in mind that it won't taste quite as good once it's been frozen and thawed. If you do want to freeze sukiyaki, I would recommend doing so right after you've cooked it.
Read more about Japanese beef: Incredibly Easy Way to Cook Beef Misono Tokyo Style
Nutritional information: is sukiyaki healthy?
Sukiyaki is full of healthy ingredients. The meat and egg are rich in protein, and the vegetables and mushrooms are full of antioxidants.
Generally, hot pot-style recipes are healthy because only a minimal amount of oil is used for frying the beef.
Sukiyaki is a great choice for anyone looking to try out some delicious and healthy Asian cuisine.
When considering the nutritional information, here's the breakdown:
Calories: 750
Carbohydrates: 68g
Protein: 37g
Fat: 35g
Saturated fat: 14g
Cholesterol: 211 mg
Sodium: 1178mg
Potassium: 859mg
Fiber: 3g
Sugar: 11g
Vitamin A: 2289IU
Vitamin C: 21mg
Calcium: 262mg
Iron: 5mg
Similar dishes to sukiyaki
There are few dishes that compare to sukiyaki steak, but if you can't get the real thing, here are some similar recipes you can try:
Sukiyaki beef bibimbap: This Korean-inspired dish is made with thinly sliced sukiyaki beef, rice, and a variety of vegetables. It's similar to Japanese rice bowls (donburi).
Shabu-shabu: Shabu-shabu is similar to sukiyaki, but its taste is savory, whereas sukiyaki's taste is sweeter. In shabu-shabu, meat is cooked in a simmering liquid, while sukiyaki is cooked in casserole style.
Nabemono: Nabemono is also a type of hot pot dish with ingredients cooked in a dashi broth. The main difference is that sukiyaki uses beef, whereas nabemono uses a variety of ingredients, including chicken and seafood.
Yosenabe: Yosenabe is a Japanese hot pot made with any type of meat or seafood and vegetables in a sake broth.
Thai sukiyaki: Although the name is similar, Thai sukiyaki has almost no resemblance to its Japanese counterpart. It's a communal dish where diners dip vegetables and meat into a shallow iron pot of broth that's sitting at the table.
Sukiyaki in Laos: In Laos, the dish features a bowl of bean thread noodles, various vegetables, thin slices of meat, seafood, sukiyaki sauce, and a raw egg in beef broth. The sukiyaki sauce is made of fermented tofu, coconut, peanut butter, garlic, sugar, spices, and lime.
FAQ
How do you get thinly sliced sukiyaki meat?
One secret to getting the sukiyaki perfect is to start out with very thinly sliced meat.
In order to do that, put the meat in the freezer until it starts getting hard, but don't let it get anywhere near frozen.
Start with the parts of the meat that are partially defrosted, as this will be much easier to slice neatly and thinly. Do your best to slice evenly as well, as this will make for a nicer presentation.
What does beef sukiyaki taste like?
Sukiyaki can be described as having a sweet and salty flavor. This is due to flavorings like shoyu, sugar, and mirin.
Other ingredients that contribute to its flavor profile include nagenegi (Japanese leek), shungiku green, shiitake, tofu, and shirataki noodles.
What cut of meat should you use for sukiyaki steak?
The best cut of meat to use for sukiyaki steak is rib-eye, filet mignon, or top sirloin. Tenderloin or other sirloin cuts will work as well.
These cuts will be tender and tasty. Although some people prefer a lighter, less fatty beef cut, the fattiest cuts taste best because they release fatty juices, which taste very good.
Round beef is another possibility, but it tends to be not as flavorful.
For the ultimate sukiyaki experience, try Wagyu beef, which is extremely expensive but very tasty.
Sukiyaki steak vs teppanyaki hibachi steak: what's the difference?
Hibachi steak is usually thinly sliced beef that's slowly cooked or simmered at the table.
Hibachi steak also refers to a steak cooked on the hibachi grill, which is a style of cooking in which the food (i.e., vegetables and steak) are arranged around a circular grill, much like a hot pot.
On the other hand, sukiyaki steak is cooked in advance and not on the grill, and then you dip it into boiling broth at the table. Therefore, the textures and flavors of these dishes are quite different.
Sukiyaki vs hot pot: what's the difference?
While sukiyaki and hot pot are both types of Asian-influenced stews, they have important differences in terms of both flavor and preparation style.
Sukiyaki tends to have a sweeter, more savory flavor, whereas hot pot has stronger flavors from the broth and the ingredients that are cooked in it.
Sukiyaki is also typically prepared in a simmering liquid, and the meat can be seared and fried first, whereas hot pot usually implies boiled meats and veggies.
Additionally, hot pot is typically cooked at the table in a communal dish and shared by all diners.
Overall, sukiyaki and hot pot are both delicious and popular types of Asian-inspired stews, but they have distinct differences in terms of the flavor profile.
Can I use beef sukiyaki for samgyupsal?
These two dishes are unrelated since samgyupsal is a grilled pork belly dish, while sukiyaki is typically a beef dish.
However, you could try using beef sukiyaki for samgyupsal if you have some leftover beef from a previous meal. This might require adjusting the marinade or cooking method to adapt it for use with pork belly, but it could be worth a try to mix up your dinner routine.
Is sukiyaki beef spicy?
Typically, sukiyaki beef is not spicy. Instead, it is seasoned with a combination of savory and sweet flavors.
However, the level of spiciness can vary depending on the ingredients used in the sukiyaki broth. For example, some recipes may call for soy sauce or chili paste to be added to the broth, which can add some heat.
Overall, whether or not sukiyaki beef is spicy depends on the specific ingredients used and the cooking method. If you prefer a spicier dish, you can adjust the seasonings or heat level to your liking.
Takeaway
Sukiyaki is a unique dish that everyone should try at least once in their lives. But it's so delicious that I'm sure most will want to try it again!
The flavor of sukiyaki steak is complex and savory, making it a great choice for anyone looking to try something new.
Hopefully, this article has inspired you to seek out the taste, whether you travel to Japan or make it in your own kitchen.
Now, as to the sauce, here's how to make tasty warishita sukiyaki sauce (+ premade alternatives)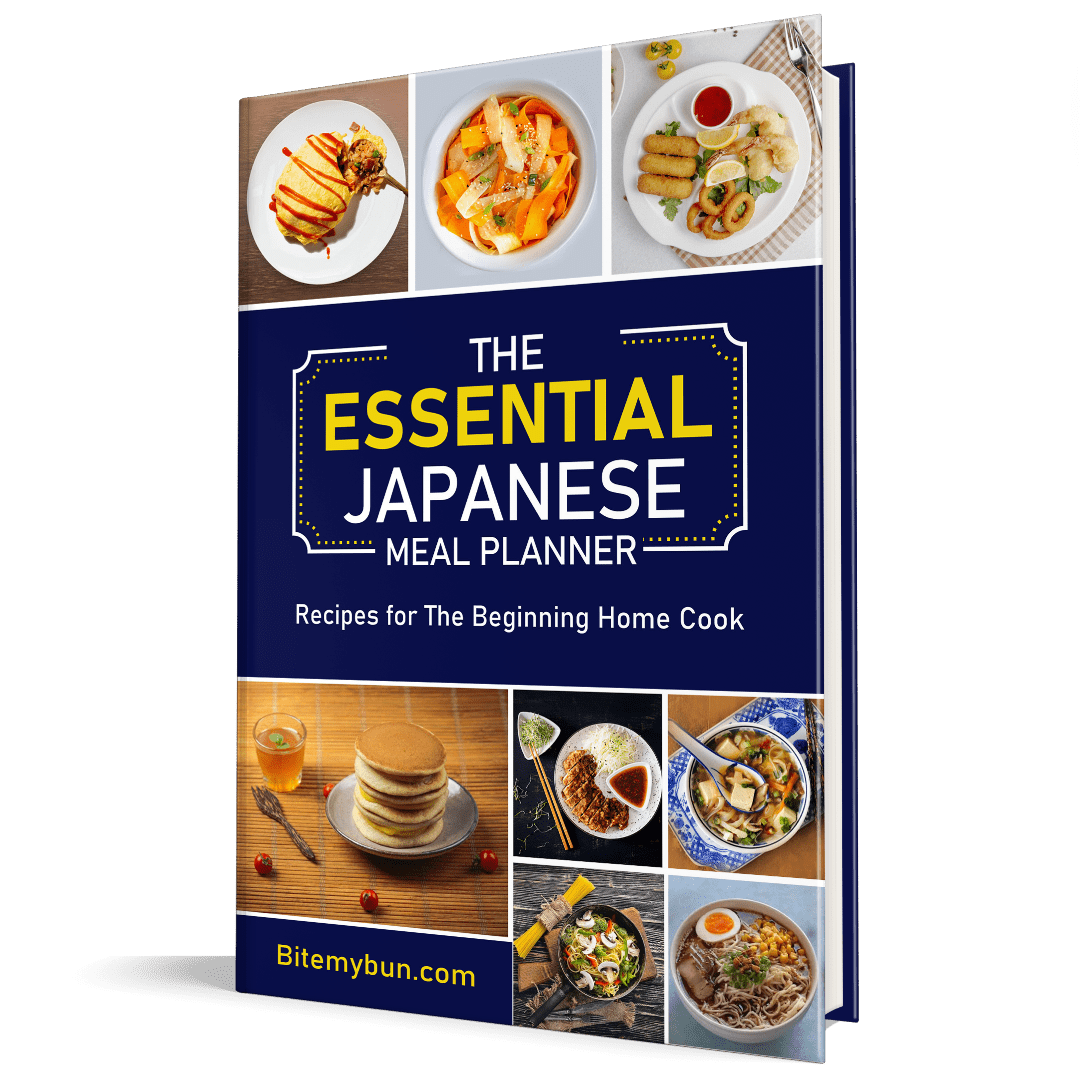 Check out our new cookbook
Bitemybun's family recipes with complete meal planner and recipe guide.
Try it out for free with Kindle Unlimited:
Read for free
Joost Nusselder, the founder of Bite My Bun is a content marketer, dad and loves trying out new food with Japanese food at the heart of his passion, and together with his team he's been creating in-depth blog articles since 2016 to help loyal readers with recipes and cooking tips.