I love creating free content full of tips for my readers, you. I don't accept paid sponsorships, my opinion is my own, but if you find my recommendations helpful and you end up buying something you like through one of my links, I could earn a commission at no extra cost to you.
Learn more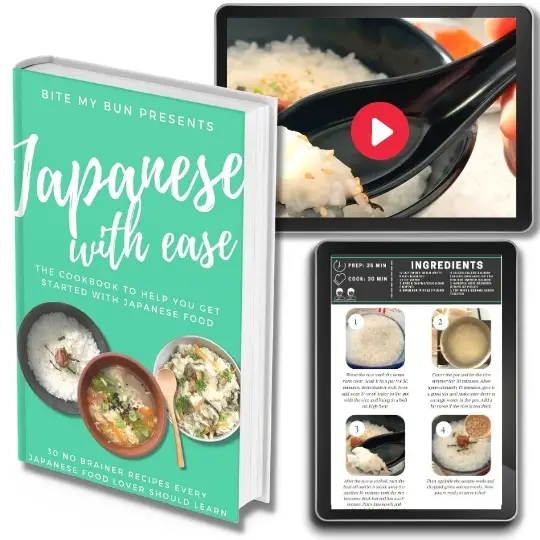 Ever had trouble finding Japanese recipes that were easy to make?
We now have "cooking Japanese with ease", our full recipe book and video course with step-by-step tutorials on your favorite recipes.
Grilling started after the domestication of fire around 500,000 years ago.
This is a process of cooking food using a significant amount of direct dry heat that is usually situated below or above your food.
Grilling is popular in several places all over the world, such as Asia, Germany, South America, Sweden, the UK, and the USA.
There are many methods of grilling; these include grid ironing, stove-top pan grilling, charbroiling, overhead grilling, two-sided grilling, whole grilling, and flattop grilling.
In this article, I'd like to talk to you about flattop grilling, as it is very popular in both Japan and Spain and is becoming increasingly popular in America as well.
There are two types of flat grills: plancha grills and teppanyaki-style grills.
I tell this all the time in my articles, and my absolute favorite is this Camp chef flat top grill. There are lots of others you could look at, of course. I just like the versatility of it.
Because of the higher backdrop, this style of flat iron grill is also found a lot in diners around America and is what the Japanese took into their cuisine.
The plancha grills are just a little bit different from the teppanyaki style ones that I mostly use:
BEST PLANCHA GRILLS REVIEWED
While I love a good Japanese style dish, I have a lot of friends who insist a plancha grill is way better, so I decided to look into it.
And there are a lot of top choices when it comes to planchas.
If you'd like to learn more about Teppanyaki, read my post on the top Teppanyaki grills here that I wrote a while back.
Let's focus this article on the best plancha grills.
Now that you have some idea what a plancha grill is and how it works, it is time to find out what are the best brands of planchas that are available in the market today.
If you're cooking requirements will include very high temperatures and fast cook times, then the plancha is the perfect kitchen tool for you.
Below are 10 of the best plancha makes and models that you should own to make your grilling experience more enjoyable:
BEST CHEAP PLANCHA GRILL: STEVEN RAICHLEN
Steven Raichlen, a popular American culinary writer, TV host, and most recently – a novelist has also created his very own product line (all related to barbecuing food) that sells anything from plancha grills to steel kabob racks.
He is featured here because of its amazing features and incredibly affordable price.
The plancha is made from cast iron and thus heats fairly quickly and also retains heat as long as fuel supply is constant.
The plancha design includes raised handles so you could easily move it around for pre-cooking and during cooking. Gives foods a crusty, smoky sear that you'll enjoy with every bite!
This grill is excellent for seafood, such as fish and shrimp, as well as for vegetables.
WEBER BBQ PLANCHA FOR GRILLS
George Stephen, the creator of Weber Grills, got the idea for the charcoal grill from making buoys.
Stephen wanted to have a family day at least one day each weekend, and he deduced that food would be the thing that would glue them all together – and he was right.
Weber went from making buoys to becoming the premiere American company that manufactures the best grills in the world!
One of their latest plancha grill models is the Glossy Enameled plancha, which has a glossy enamel coating for
It is also made from cast iron and is, therefore, a good conductor of heat, which is great for searing food fast and efficient.
Designed with an angled surface (like the original planchas in Spain) that drains away excess fat and oil but retains all the delicious flavors in your food.
BEST GAS PLANCHA GRILL: PLANCHA GRILLS GAS
Plancha Grills is an exclusive manufacturer and distributor of their only product – the Rio gas plancha. And they have created a masterpiece that you definitely should buy.
Get a load of this gas-powered plancha!
If you want a healthier and friendlier way to cook, then the Rio Plancha Griddle is the grill you get.
Enjoy grilling your favorite recipes on this plancha grill without the downsides like smoke, flare-ups, or carcinogens.
Designed for versatile cooking and it is suitable for large or small foods (i.e., vegetables, marinated fish, eggs, and many more) Economical fuel consumption and easy to clean.
Check the latest prices on Amazon
Best Stainless Steel Plancha: M.D.S Cuisine Cookwares
This stainless steel plancha from COOKMEX is perfect for a stove cooktop or open flame charcoal grill.
The heavy-duty griddle is 32 inches wide and is therefore good for cooking a variety of recipes.
Cook your burger steak or favorite teppanyaki recipes on this grill and get the best results with the perfect flavors you want for your food.
The griddle includes a grease well/channel with a drain hole and a slanted surface to remove excess fats and oils from your food yet keep all the delicious juices in them.
Check prices and availability here
Generic Stainless Steel Plancha
Portable Comal plancha features two helper handles on both sides and drain holes, which helps removes oil and grease to provide excellent taste to your food minus the excess fat.
It has an excellent commercial quality that's perfect for various events/occasions when you need to feed a crowd.
Durable and has a heavy-duty stainless steel construction that's resistant to warping and rust due to exposure to extreme heat constantly.
Cleaning this plancha is easy. Just soak it in water with detergent and scrub with a grill scrubber, and it will be clean again in no time.
Versatile and features multipurpose cooking which can accommodate tacos, skewers, hamburgers, and fish
BEST ELECTRIC PLANCHA GRILL: Presto
This electric plancha known as the Tefal Malaga allows you to cook anytime with any taste you desire.
This exotic Plancha Malaga that has a unique and cutting-edge Thermospot technology can grill food enough for 6 – 8 people at a time!
Get extra-large non-stick grilling surface and easy-to-adjust thermostat so you can adapt to any kind of recipe that brings with it certain challenges.
The plancha has a 2000-watt power capacity and can easily heat up to 400˚F in a matter of minutes.
It also includes the Thermo-Spot technology that turns the LED button solid red to indicate that the plancha has already reached its intended temperature for cooking.
It also features a juice tray (where all the fat and oil from your food go to), which is dishwasher safe as well.
Check prices and availability here
WHAT IS A PLANCHA GRILL?
Considered by historians as the first flattop grill in history, the plancha is a cooking device that originated in Spain.
This is a traditionally Aztec flattop grill of Meso-America is similar to modern griddles; however, instead of having a square or rectangular shape, it is designed with a rounded surface.
The circular shape changes the way heat is distributed by allowing it to spread out radially.
This creates a cooking surface that has a very high temperature that will sear food perfectly.
Recipes that are traditionally cooked on a round, flat metal plate are called a la plancha in Spanish.
Nearly all plancha griddles are created with chrome-plated overlay, and the reason for this is to ensure that there would be zero harmful chemical reactions between the food and the metal surface where it is being cooked.
The plancha can easily reach 550°F-700°F (some even tap out at 800°F where most griddles max out at around 550°F- 575°F), which makes it the perfect choice for restaurants to sear and finish proteins, vegetables and more as it provides high heat continuously.
Alternatively, you could also use the plancha's incredible heat indirectly where you use pans and do conduction heating to sauté or stir-fry food.
While most griddles are controlled by a thermostat (an electronic sensor that controls the grill's temperature), most traditional planchas are controlled manually, where a person decides whether he wants to raise or lower the temperature. Therefore, the person can allow the plancha to reach very high temperatures.
The plancha's surface is typically made of steel, but sometimes it is also made of cast iron or chrome, and its thickness is around 5/8 – 3/4 of an inch, which is a fraction thinner when compared to other griddles that have an inch thick plate.
But cast iron requires more upkeep than steel; it can rust and needs seasoning.
Chrome, on the other hand, is great for sanitary cooking. Still, it isn't as strong as steel is when exposed to extreme temperatures, and it will eventually deteriorate after prolonged use in grilling.
When you see a plancha top for the first time, it will look like a medieval castle (except it doesn't have the castle but rather just the platform) that sits on 3 or 4 sides by a grease "moat" or trough.
The newer style of plancha comes with a distinctive 12 or 14-inch side-by-side wide zones that are available on popular grill manufacturers' websites.
These wide zones operate independently from each other, they maintain a uniform temperature throughout the zone's surface, and the patented thermal breaks between the zones and the plancha ensure that only minimal heat transfer will take place.
So, you could have three separate zones with varying temperatures and cook your food according to each required heat setting.
FLATTOP GRILLING
Grilled food can be prepared using a flat pan or flattop grill, which is also known as plancha or teppanyaki grill. When cooking food, oil or butter can be applied over the pan or grill.
A flattop grill uses a heating technology that produces extreme heat that radially spreads through the surface.
This cooking device offers a unique sort of crust and sear, which you can't obtain with straight grilling.
This is also a choice for many seafood restaurants since it can be conveniently set to a consistent and flexible temperature.
So, the differences are minute, and often people use these two as synonyms.
A Plancha grill came from Spain, the teppanyaki one from Japan. But they have similar cooking styles.
Here's Camp Chef explaining how to grill on a flat top griddle:
The Spaniards use the word "plancha" to refer to any type of flat heated surface, which may include even the hot irons that are used to press and smooth out garments (although the use of this term in this context is not relevant to cooking griddles in any way).
In culinary terms, "plancha" can be equated to iron griddles that are used for cooking, grilling, and/or barbecuing food.
Today there are thousands of custom-built models available for you to choose from.
The plancha is heated via charcoal fuel to an extreme temperature reaching as high as 350°C (662°F) similarly as those griddles used in fast food joints that sear hamburger patties.
The plancha differs from standard iron griddles in terms of its heating distribution across the grill's surface as with the standard griddles requires a thermostat to control the temperature.
In contrast, the plancha has a uniform heat distribution that emanates from its center.
Most planchas are also coated with a layer of non-reactive chrome metal to minimize flavor changes and make cleanup easier.
These days people now have the option to choose between a fully modernized plancha that has all the technological capabilities (i.e., gas for fuel and control knobs) to cook any food they want efficiently, or the most basic and robust rectangular metal sheet that requires a lot of manual labor and monitoring to cook food in the precise cooking direction that it demands.
The thin sheet steel plates that make up the traditional planchas were quite conducive for grilling and cooking food.
The reason behind it is because they have the unique ability to warp the temperature in and around the grill plate with the bulge design on the center of the grill, so that heat is distributed evenly across the cooking surface.
An amazing benefit that goes with the plancha's design is that it creates a hump (of heat) that drains the excess grease from mostly the meat being cooked, yet it does not dry the food altogether compared to regular barbecue grills.
Most planchas of today still bears this center bulge (or a slight slope) design to imitate the same effect when grilling food.
PLANCHA VS. GRIDDLE
| | |
| --- | --- |
| Plancha | Griddle |
| Requires higher preheating time | Requires shorter preheating time |
| Max temperature range of about 570-750˚F | Max temperature range of about 500-570˚F |
| Even distribution of heat throughout the grill plate with the highest concentration on the center and least on the edges | Controls temperature automatically |
| With portable heat sources, you can easily modify the temperature across the grill plate | The grill plate is perfectly flat |
| Gives you the ability to control the temperature manually | Sears food slower |
| Center bulge has many benefits | Not very energy efficient |
| Able to quickly sear food | Expensive price range causes fewer purchases |
| Better energy efficiency | |
WHERE'S PLANCHA FROM?
Flattop grills were first introduced in Spain, which the term plancha was derived. Plancha is a Spanish word, which means "metal plate."
Cuisines that are cooked a la plancha refer to foods that are grilled using a metal plate.
For instance, grilled beef fillets are known as "filetes à la plancha" in Spanish.
Planchas are plated with chrome to prevent the food from reacting with the metal, which can create a subtle flavor to the food.
AND WHAT ABOUT TEPPANYAKI?
As regards the term teppanyaki, this word comes from the Japanese words "teppan," which means iron plate, and "yaki," meaning broiled, pan-fried, or grilled.
Teppanyaki is a Japanese-style cuisine that utilizes a flattop grill or metal griddle, known as teppan, to prepare food.
This style of cooking was first introduced by Shigeji Fujioka of Misono, a Japanese chain restaurant.
Japanese teppanyaki cuisines include yakisoba or cabbage with seafood or meat that is cooked using animal fat or vegetable oil or both.
These cuisines became popular not only in Japan, but these have also influenced Western society.
Some ingredients that are used in Western-style teppanyaki include mixed veggies, beef, shrimps, scallops, chicken, and lobsters, which are commonly cooked using soybean oil.
Thus, those are the reasons why both the terms teppanyaki and plancha are highly associated with flat pan or flattop grill.
These terms are commonly used interchangeably in a sentence.
THE VERSATILITY OF PLANCHA OR TEPPANYAKI GRILL
Apart from grilling, a plancha or teppanyaki grill is a flexible cooking device that can also be used in other various cooking techniques as follows.
Take note that pans or pots can be placed directly over the cooking surface of the grill.
Sautéing – This refers to "tossing while cooking." This method involves the use of a little amount of oil or fat applied to an extremely heated pan or flattop grill.
Toasting– This is a method of browning bread through the use of radiant heat. The brown color of the bread is a result of the Maillard reaction that makes it firmer and palatable.
Simmering– This technique utilizes hot liquids (below water boiling point) to cook food. Simmering is a gentler method than boiling, thereby avoiding the breaking up or toughening of food.
Shallow frying– This method is usually utilized for cooking small-sized cuts of meat, fish, vegetables, or patties. The food is partly submerged in oil.
Stir-frying– This is a Chinese cooking technique that involves the use of a small amount of hot oil. The ingredients are being stirred in a round-bottomed cooking vessel known as a wok.
Pan-frying– This technique uses a little amount of oil, which is much lesser than the oil or fat used in shallow frying. The oil is only used to lubricate the pan.
Browning– This process refers to the initial cooking of the meat surface to eliminate excess fat. This will give the meat a brown color flavor and crust.
Blackening– Popularized by Chef Paul Prudhomme, this method is used in preparing Cajun cuisines. The food is then soaked in a mixture of spices and herbs and melted butter. It is then cooked in a very hot cast-iron frypan.
Those are some of the cooking methods wherein you can use the teppanyaki or plancha grill. Because of its versatility, you can cook almost any food on this appliance.
Also read:the steamed pork buns that the Japanese are famous for
HOW TO CARE FOR YOUR PLANCHA GRILL
Just like any other appliances, you also need to care for your grill to maintain its efficiency and durability.
So here are some of the ways that you can do to keep your grill clean and in good condition:
Before utilizing your new grill, it is best to clean it with warm soapy water. You can also use a plastic scrubber or brush to eliminate any dirt or factory grease.
Dry thoroughly. Then evenly wipe the two sides with shortening or vegetable oil.
Set up your plancha for indirect grilling or set it up in a 300-degree oven till the oil is absorbed by the plancha metal pores. Do this for 30 to 60 minutes.
Let it cool and wipe with paper towels. Then you can now use your plancha grill.
Similar to other cooking devices, it is also essential to thoroughly clean your plancha after using it. Splash a cup of water over the cooking surface while the plancha is still hot. As the water evaporates, brush your grill. Repeat this process as needed until the plancha is thoroughly clean.
Then, sprinkle 1-2 tablespoons of vegetable oil on the plancha while it is still hot. Wipe it using a folded paper well attached to the end of your tongs.
Keep your plancha on a dry surface. Repeat the above steps as necessary.
You can also use these grill stones to care for your teppanyaki grill just as you would with a normal grill.
Also read: the best instant dashi you can buy
PLANCHA GRILL BUYER'S GUIDE
Now that you have seen a few great plancha grill options for home and your outdoor kitchen let's take a closer look at what you should consider before making your purchase.
MAIN PLANCHA GRILL CHARACTERISTICS
Plancha grills have been designed to sear meats and vegetables with high heats. They have a cooking plate, adjustable knobs, burners, and frames.
If you want a higher quality plancha, look for a cast iron cooking plate or a stainless steel frame. More burners will also equate to faster heating times.
CHOOSING MATERIALS
Enamel or stainless steel is ideal because they are very resistant to wear and tear and damage and gives you a nice finish for your plancha grill.
Cast iron allows for more even heat distribution and higher thermal conductivity. Chrome plating is another good option, but it can be quite costly.
However, it does offer good cooking quality.
Stainless steel can withstand the higher temperatures, has good heat conductivity, and is easy to maintain.
You just won't find as high a level of conductivity as you would cast-iron models.
Carbon steel falls in the middle of the materials you can choose from for your plancha grill. It is a much more cost-effective option and is highly scratch resistant.
However, over time, the protective coating can begin to wear off, and this allows corrosion. Therefore, this option requires more maintenance.
Finally, enameled steel is abrasion-resistant and is incredibly easy to clean. Just take some care not to damage the enamel coating.
When choosing which material you want for your plancha grill, consider how often you will be using it, your budget, and how much maintenance you are willing to follow through with.
ADDITIONAL ACCESSORIES
Now let's talk accessories! Once you nail down which plancha grill you want, you can then decide what additional accessories you would like to have.
For example, grease trays are pretty standard when it comes to these grills; however, there are different designs you can choose from.
Drip trays will help make the cleaning and maintenance of your grill much easier.
Tilting cooking plates also increase the grease flow when cooking. Also, if you plan on moving your grill around a lot, then you may want to consider a plancha trolley.
This is a practical item that makes mobility easier.
Origami plancha BBQ trolley
This plancha trolley comes with two wheels and a handle and makes it easy to transport your plancha grill from one location to another.
It also features a small spice dispenser at the front of the trolley, so you can keep everything you need in arm's reach when you are cooking and entertaining.
The bottom rack makes the perfect storage area for any cooking utensils you may need.
Click here for price and availability
CONCLUSION
Flattop grill, also called plancha or teppanyaki grill, is well known in many places around the world.
This cooking device can be used to cook a wide variety of food and ingredients because of its capacity to be set flexible and constant temperature.
PLANCHA GRILL FAQ
WHAT IS A PLANCHA USED FOR?
A plancha is a flat iron surface that is used in Spanish cuisine to grill vegetables, seafood, and meat at very high temperatures. It provides an easy flat surface to toss around the grilled food, so each side receives equal heat.
WHAT IS A LA PLANCHA COOKING?
The plancha is a Spanish flat iron grill surface, so "a la plancha" cooking means: "cooking on a flat iron grill" or more literally "cooked in the flat iron grill style." Recipes that are a la Plancha are grilled on a round flat metal surface.
WHAT IS AN ELECTRIC PLANCHA?
An electric plancha grill is a standalone cooking device where the round metal surface is heated through electricity. Plancha comes from a "round flat cooking surface" and is usually used on a stovetop. The electric version is used separately from the stovetop, and you need to plug it in to be able to use it.
WHAT IS A PLANCHA BURGER?
Plancha refers to the style of cooking used to prepare the burger. Instead of being grilled on a grill rack, it is grilled on a flat iron surface on top of a heat source, most often charcoal flames. Because of using the flat surface, the burger can be loosely packed, and the juices are preserved inside the meat better.
WHAT IS SALMON A LA PLANCHA?
Salmon prepared on a round flattop grill instead of a grill rack is called "salmon a la plancha," where plancha is the flat grilling surface. The plancha is Spanish, so salmon a la plancha is best prepared in a Spanish style with parsley, dill, coriander, chives, and lemon zest.
WHAT'S BETTER? A FLAT TOP GRILL VS REGULAR GRILL
When you have a flat top grill, you can set different temperatures for all of your different items. Regular grills don't have specific temperatures. Flat top grills can also prove to be much easier to use and offers more even heat distribution. This allows the food to cook evenly and completely for more healthy cooking.
HOW DO YOU CLEAN A PLANCHA GRILL?
Cleaning a traditional plancha grill is easy. While the grill is still hot, pour a cup of water over the plancha and then scrub it with your grill brush as the water on the grill begins to evaporate. Repeat this process as many times as needed until your plancha grill is clean.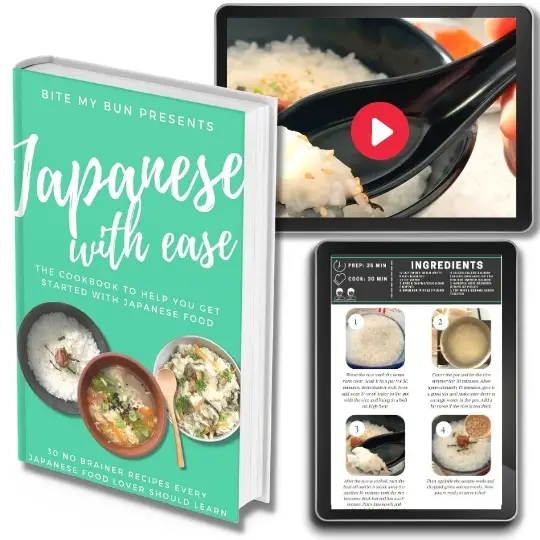 Ever had trouble finding Japanese recipes that were easy to make?
We now have "cooking Japanese with ease", our full recipe book and video course with step-by-step tutorials on your favorite recipes.
Joost Nusselder, the founder of Bite My Bun is a content marketer, dad and loves trying out new food with Japanese food at the heart of his passion, and together with his team he's been creating in-depth blog articles since 2016 to help loyal readers with recipes and cooking tips.