Pork Surf & Turf with a Japanese Teppanyaki Pork Chops Recipe
I love creating free content full of tips for my readers, you. I don't accept paid sponsorships, my opinion is my own, but if you find my recommendations helpful and you end up buying something you like through one of my links, I could earn a commission at no extra cost to you.
Learn more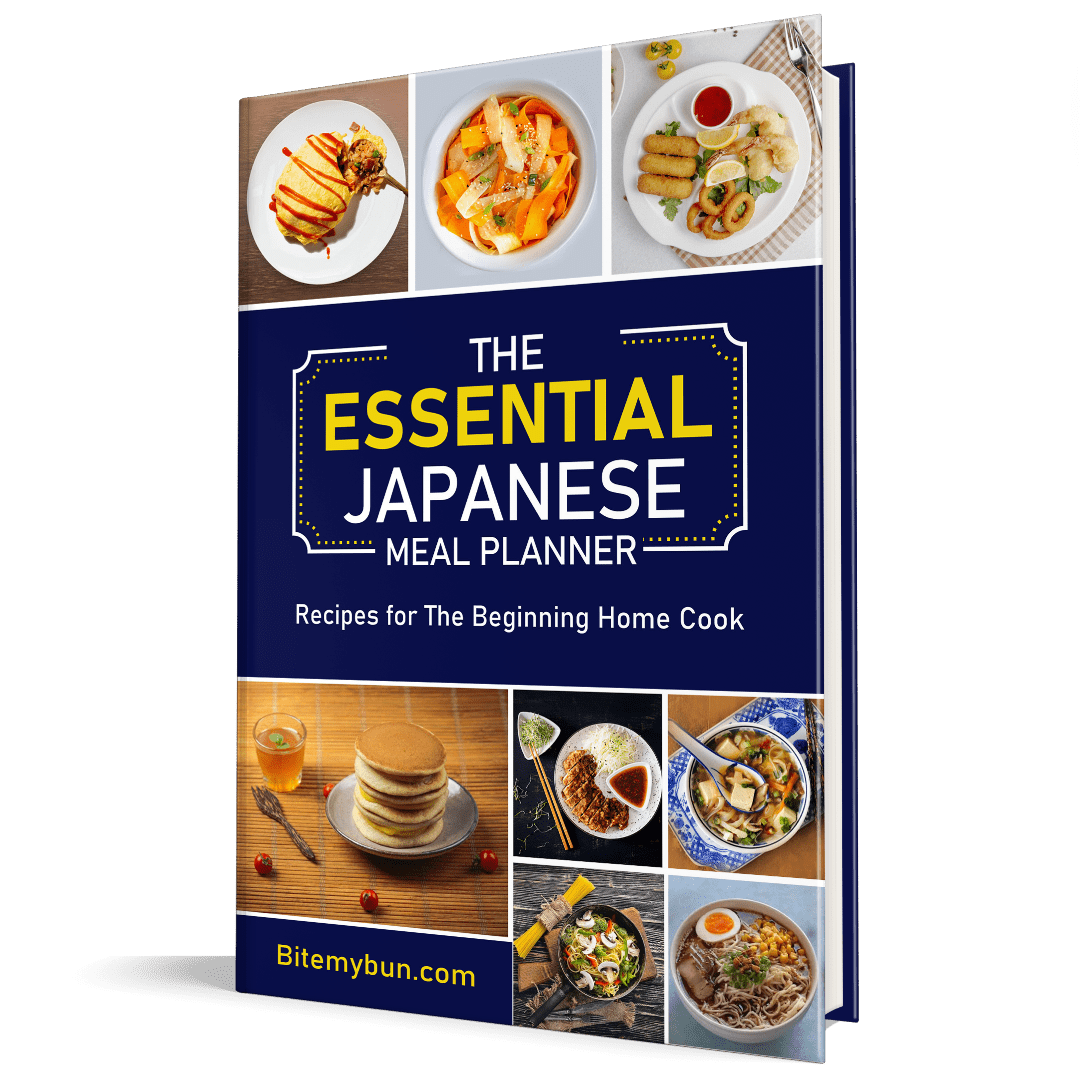 Check out our new cookbook
Bitemybun's family recipes with complete meal planner and recipe guide.
Try it out for free with Kindle Unlimited:
Read for free
Looking for a new recipe to try?
If you want a delicious and easy meal, this is the perfect dish. This teppanyaki pork tenderloin and shrimp on leaf spinach recipe will have your mouth watering before it even hits the grill.
It's best cooked on a teppanyaki, but you really don't need any special equipment to make this dish – just some leaf spinach, shrimp, and pork tenderloin!
It's so easy that anyone can do it. Plus, there are very few ingredients in this recipe which means less time cooking dinner!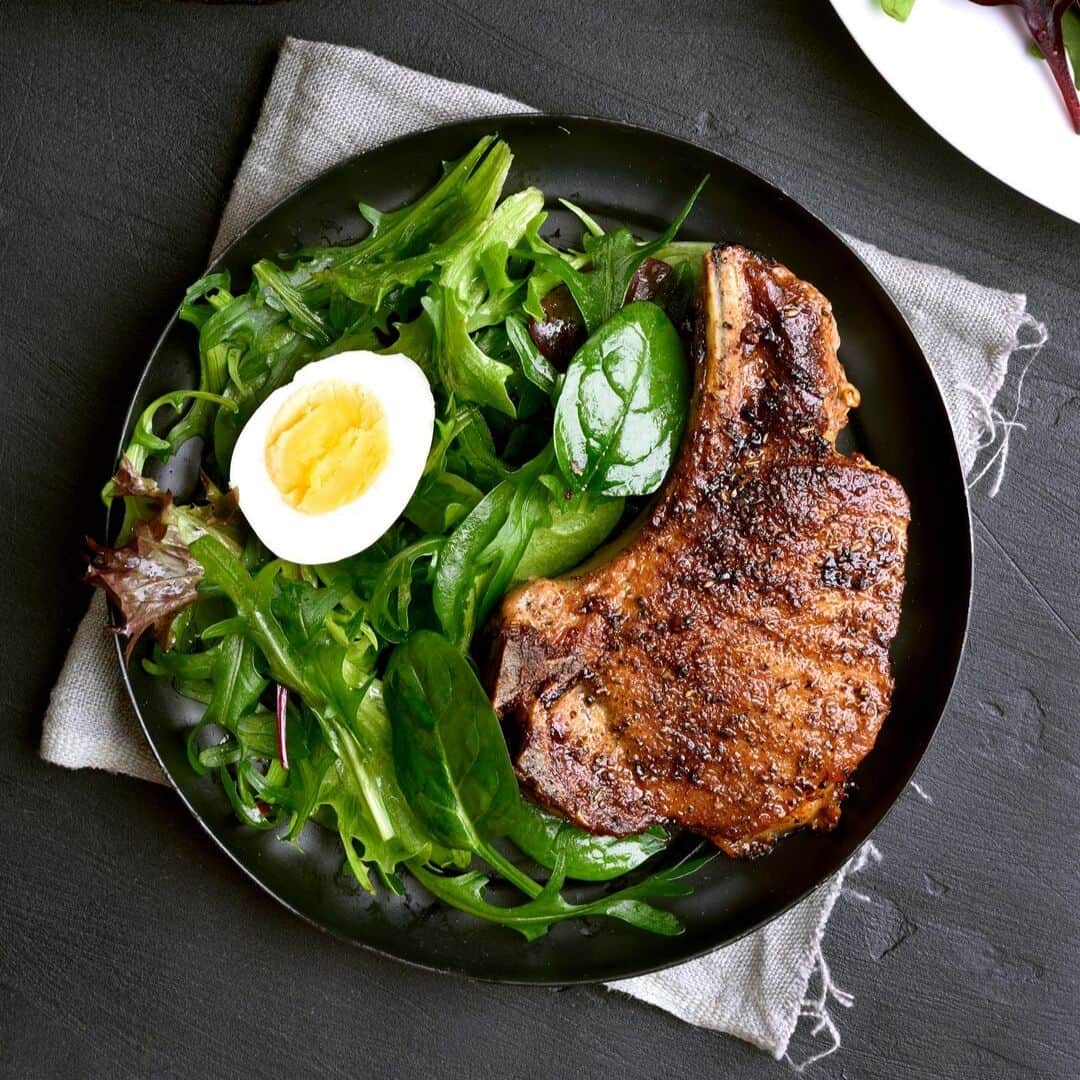 10 Tips to Save a Bundle on Asian Ingredients!
Introducing our brand new FREE PDF guide: "Saving Secrets: Unveiling the Art of Saving Money on Asian Ingredients" It's your first newsletter email, so start saving today! 📚🧧
We'll only use your email address for our newsletter and respect your privacy
Teppanyaki pork recipes you can make
Just about any teppanyaki recipe is something to crave for even before they're served to you and still sizzling in the teppanyaki grill you built into your kitchen.
Don't believe me? Just ask any foreigner who has been to Japan and they'll tell you why they came to the land of the rising sun.
It's great if you purchased your own teppanyaki grill to try this recipe at home, but just use a regular grill pan if you don't.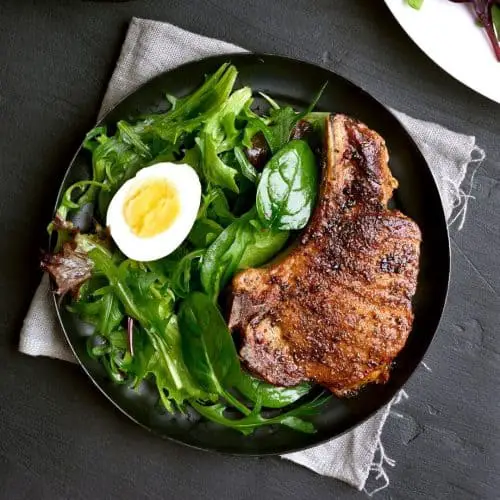 Teppanyaki pork tenderloin & shrimp on leaf spinach
Fresh and vibrant flavors from this Japanese style surf 'n turf dish cooked on a Teppanyaki plate (or just a grill if you don't have one).
Equipment
Teppanyaki plate

or: grilling pan

Cooking pot
Ingredients  
4

pork tenderloin chops, trimmed

(alternately you can also use thin pork chops)

3/4

cup

red wine

1

cup

mushrooms

sliced

2

inches

ginger

chopped

2

cloves

garlic

chopped

24

small

shrimp

6

ounce

bag of spinach
Stir fry sauce
1

tbsp

soy sauce

2

tbsp

cornstarch

3/4

cup

orange juice

preferably freshly squeezed
Instructions 
Put the cornstarch, soy sauce and orange juice in a mixing bowl and mix thoroughly, then set aside for later use.

Pre-warm the pork tenderloin in the teppanyaki girdle and set heat level to 3. When the yellow light turns off, set temperature to 7, then put the pork tenderloin onto the cooking center and fry until it turns light brown. Turn the sides and fry it to light brown as well.

Lower temperature by a notch (6) and cook pork tenderloin for another 2-3 minutes. Turn the sides and cook until it reaches a perfect medium.

Heat up the garlic and mushrooms in 1 tbsp. of oil and cook for 2-3 minutes until it turns brown. Slide mushrooms towards the warming area of the teppanyaki grill.

Roast diced ginger for 2-3 minutes on 1 tbsp. of oil.

This time add the shrimp and lower the temperature to 5, then quickly cook for about 2 minutes only. Once again push the shrimp into the warming area.

Check the pork tenderloin whether it has been cooked according to the doneness of the meat. If not satisfied, then put it back on the cooking center and cook until it becomes golden brown or brown color. Push meat back into the warming area.

Finally, toss the spinach batch by batch on the cooking center and keep tossing and turning it with a spatula or two until cooked, which should take roughly 3-4 minutes. Toss in the shrimp and mushrooms too! Then add the orange juice mix and slowly pour it over the combined ingredients. You may add wine or Sherry and keep tossing and turning the food until the seasoning starts to thicken.

Turn off the teppanyaki grill and serve.
Notes
You can serve it with an egg and I also like to add some extra lettuce and have the shrimp, mushrooms and orange juice mix almost as a dressing mixed in.
Note: If you think the orange juice mix seasoning is not enough, then you can use salt, pepper mill or additional soy sauce as an alternative seasoning.
Your home-cooked meals will never be the same again!
This is especially true if you have your own teppanyaki iron grill at home and have armed yourself with intense cooking knowledge like with what we're feeding your mind right now – this incredible teppanyaki pork tenderloin and shrimp on leaf spinach recipe.
Make sure to practice a lot when cooking teppanyaki recipes as they are among the most difficult cuisines to prepare, and then invite your friends or co-workers over perhaps once a month or so and prepare a sumptuous meal for them.
This way you will know whether or not you're improving on your cooking skills.
Do you want to take your Teppanyaki skills to the next level? Check out our essential tools guide
Why Pork Meat is a Favorite Among Asians
Asians, particularly the Chinese, are very fond of pork meat and you can bet that they've developed the technique of cooking pork with just about any delicacy.
From pork noodles to pork stew, sweet & sour pork recipe, grilled pork chops, Cider-Glazed Pork Tenderloin, Lemon-Dijon Pork Sheet-Pan Supper, and a whole bunch of other irresistible pork cuisines.
But based on the history of the Chinese it was found that pork was relatively easy to raise and costs very little to feed, therefore pork meat was widely available probably even before the Chinese dynastic rulers came to power.
People loved the pork recipes and it spread from China all the way across Asia to the point that neighboring countries developed their own unique pork recipe like the Japanese pork teppanyaki recipe, which is among the favorite of many who patronize teppanyaki restaurants.
This also brings us to another delicious pork recipe…
Pork Tenderloin with Rosemary, Red Wine, Grape Glaze
Two is always better than one and it would be audacious to say that this article may already have you salivating after the introductory paragraph, or perhaps at least has the cogs and wheels in your mind running in case your preference is overseeing the kitchen itineraries that is.
If you've been around chefs and talented cooks, then you know that they love to create recipes that have contrasting flavors, or more appropriately flavors from ingredients that are designed to stimulate your sense of taste and a bit of your sense of smell as well.
Adding the red wine, Rosemary herb and grape extracts to the pork tenderloin will make an incredible burst of flavors at the moment your tongue touches the meal.
Check out how it's done!
Ingredients:
• 1 ¼ lb pork tenderloin, trimmed (alternatively you can also cut it into thin pork chops)
• 1 ½ cups seedless red grapes, cut in half
• ¾ cup dry red wine
• 1 ½ tsp fresh rosemary, chopped fine
• ½ cup homemade or canned vegetable broth
• 4 tbsp butter, frozen*
• 2 tbsp clarified butter (Ghee) for cooking
How to Cook It:
Side Dishes: stir-fried peppers, some greens, faro, black rice or any crusty artisan bread
1. Season pork tenderloin well with salt and pepper.
2. If you plan to include vegetable side dishes, then cook it first before the main course meal and set aside but keep it warm.
3. Set the heat dial of the teppanyaki girdle to 5, then when the orange light turns off, push it up to 7.5.
4. Keep the teppanyaki grill heating at 7.5 on the dial and melt the butter, then add the pork tenderloin. Turn and cook both sides until it turns to golden brown.
5. Test the meat for doneness. You can just use your fingers and press it at the thickest part. The tenderloin should secrete juices and slightly harder to squeeze than when it was raw – this is a medium rare cook. Transfer it to a clean large plate and cover with tin foil.
6. Drop the temperature by a notch (on 6) and pour red wine over the meat. The tenderloin will be deglazed as the wine turns to steam from the hot surface of the teppanyaki iron pan.
7. Scrape off the remaining brown bits of what's left of the tenderloin on the grill and add the grapes as well as the rosemary.
8. Maintain tossing and stirring until the liquid extract turns to a syrup-like state (about 3-4 minutes on the pan). Add the broth and the meat juice which has been extracted from the resting meat and cook the sauce until the amount of fluid is cut in half via evaporation (this should take another 3-4 minutes).
9. Turn off the teppanyaki girdle.
10. Add the frozen butter to the sauce (one at a time) and stir the sauce until the butter is melted. Continue adding the butter until the sauce has thickened, then pour the sauce on top of the tenderloin chops and serve.
Pork Nutritional Facts
Like all meat, pork is mostly made up of protein. There is roughly between 26% – 89% of proteins in lean pork meat, making it one of the richest dietary sources of protein.
It can help build your muscles and give you a lean body; in fact, sports medicine experts recommend bodybuilders and athletes to eat pork and other red meat.
Post-surgical patients or other people who need to build up or repair their muscles are also advised by their doctors to eat pork and other red meat. It also contains the essential amino acids which are the building blocks of our bodies, and therefore pork should be included in your diet.
These are the main vitamins and minerals found in pork:
Thiamin
This vitamin helps keep the liver, skin, hair, and eyes healthy. They also play a role in the nervous system, and they are needed for good brain function.
Selenium
Is a powerful antioxidant, reduce the risk of cancer, helps prevents heart disease, boost the immune system and more!
Zinc
Essential for a healthy brain and immune system.
Vitamin B12
Important for blood formation and brain function. Vitamin B12 deficiency may cause anemia and damage to neurons.
Vitamin B6
Important for the formation of red blood cells.
Niacin
Helps the functions in the digestive system, skin and nervous system.
Phosphorus
Essential for body growth and maintenance.
Iron
Helps metabolize proteins and plays a role in the production of hemoglobin and red blood cells.
Other Meat Compounds
Pork also has some bioactive substances that are beneficial to our health and these are:
Creatine
Creatine is a type of bioactive substance that acts as an energy source for muscles. It helps improve muscle growth and maintenance and sports medicine experts highly recommend it to bodybuilders.
Taurine
Taurine is a naturally-occurring chemical compound in our bodies and it is important for heart and muscle function.
Glutathione
Reduces oxidative stress, improves insulin resistance in older individuals, may help fight against autoimmune disease and more!
Cholesterol
LDL and HDL lipoproteins a.k.a cholesterol plays a role in forming and maintaining cell membranes and structures, is essential for making a number of critical hormones, including the stress hormone cortisol, is also used to make the sex hormones testosterone, progesterone, and estrogen plus other health benefits.
The Art and Evolution of cooking pork
Around 230,000 – 30,000 years ago the primitive man or caveman (Neanderthals) lived in what is now modern day Iraq and the vast European lands.
It was believed that they were primarily meat eaters; however, a new discovery they ate grasses, tubers, and other plants, and that they also cooked barley grains in Iraq.
So this was a time that spans nearly a quarter million years ago and primitive men already knew some cooking skills, which only goes to show that humans' creativity for cooking meals is not only a part of our evolution but also our artistic nature.
From there to the end of the last ice age between 20,000 – 10,000 years ago came the Mesopotamian peoples and since they were mostly agricultural people, their diet consisted of farm and poultry products such as wheat, barley, lentils, beans, garlic, onions, milk, and milk products.
They also made bread and beer from grains and their primary source of meat was from sheep or goats. In one occasion in the Bible in the Book of Daniel 1:8 it seems that the Babylonians were already well versed in roasting pigs or cook pork meat, which is a step further than what the previous kingdoms have accomplished in Mesopotamia.
Meanwhile, on the other side of the world, the Chinese were also experimenting, developing and proliferating their delicious noodles and other exotic recipes across South East Asia.
From the Zhou Dynasty, all the way up to the Song Dynasty 2000 years' worth of Chinese delicacies have been handed down from generation to generation.
Even in places like Thailand, Vietnam, Japan, The Philippines, Malaysia, Indonesia, and Australia the Chinese have shared their amazing food ingredients and cooking methods to foreigners whom they've traded with.
And in Meso America civilizations arose from never-ending rivalries and ravaging wars, but looking at what they used to prepare on their dinner table they weren't all that different from the other kingdoms on other parts of the globe.
Basically, anyone who enjoys food is probably grateful for Earth's long history of people exchanging cultures that brought about the modern culinary world that we know today.
Conclusion
The two pork steak teppanyaki recipes presented here are quite the delight and aside from being delicious, they're very nutritious also.
I suppose the nutrition facts that were also presented here have finally busted the myth about pork meat having fewer health benefits than other meat.
Pork meat, when cooked right and especially with the Japanese teppanyaki style of cooking, can be an excellent meal choice. With all things considered remember to follow the food pyramid and eat red meat moderately to optimize the health benefits.
Find more tools, sauces and grills in our buying guide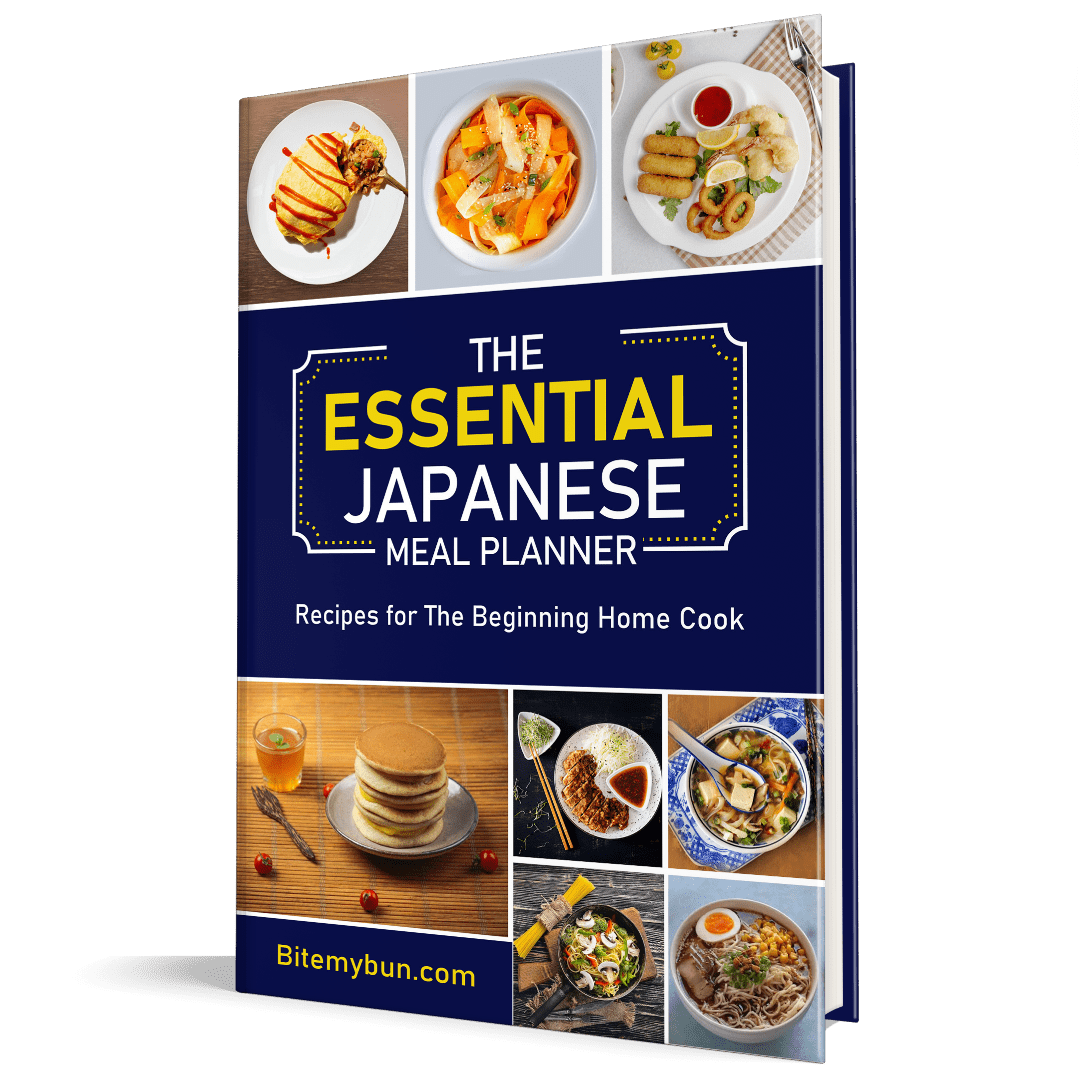 Check out our new cookbook
Bitemybun's family recipes with complete meal planner and recipe guide.
Try it out for free with Kindle Unlimited:
Read for free
Joost Nusselder, the founder of Bite My Bun is a content marketer, dad and loves trying out new food with Japanese food at the heart of his passion, and together with his team he's been creating in-depth blog articles since 2016 to help loyal readers with recipes and cooking tips.