Best brass cookware | 9 top choices reviewed from pan to plate
I love creating free content full of tips for my readers, you. I don't accept paid sponsorships, my opinion is my own, but if you find my recommendations helpful and you end up buying something you like through one of my links, I could earn a commission at no extra cost to you.
Learn more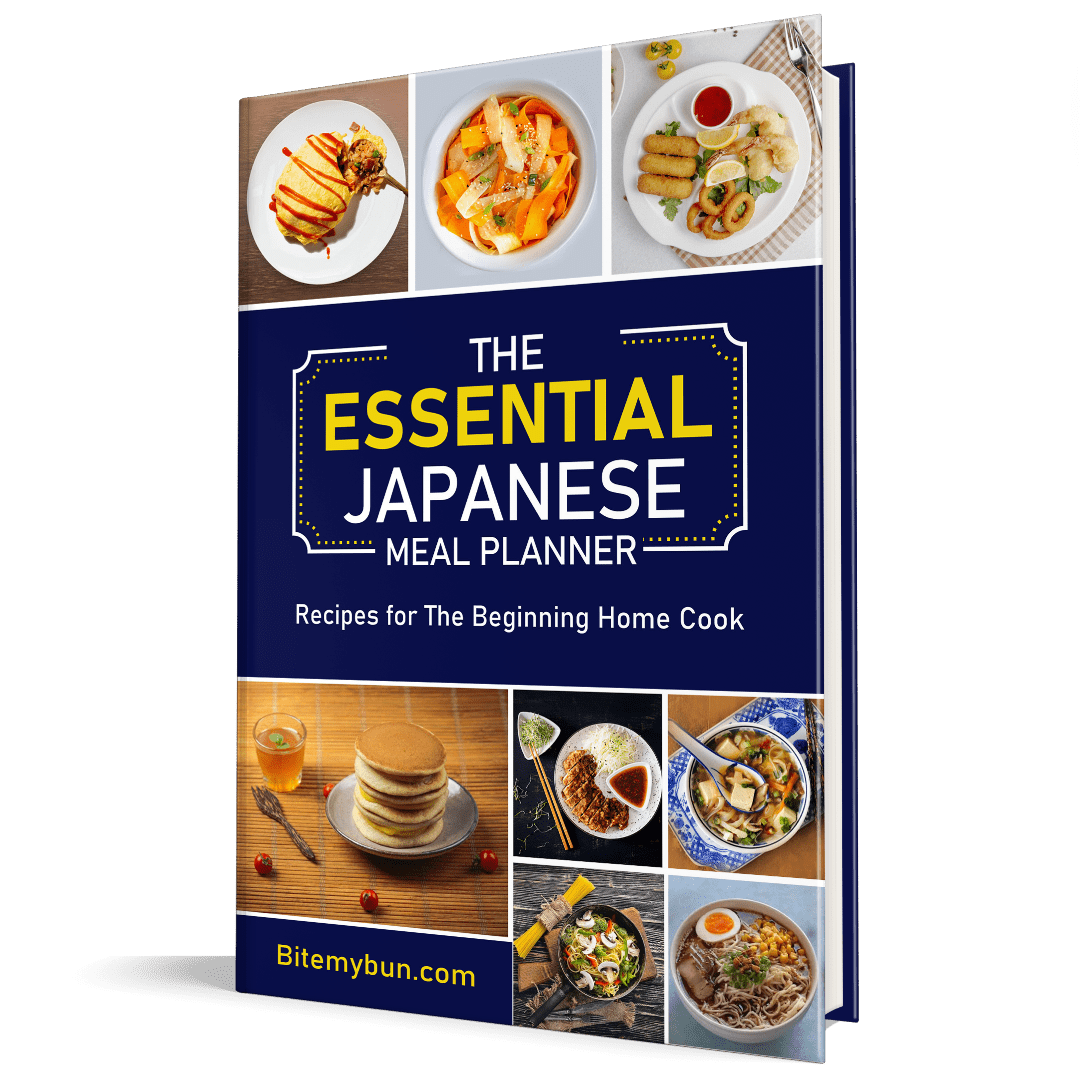 Check out our new cookbook
Bitemybun's family recipes with complete meal planner and recipe guide.
Try it out for free with Kindle Unlimited:
Read for free
Do you look for cookware that can conduct heat well and is corrosion-resistant? Then, brass shouldn't be overlooked.
Brass cookware refers to a set of utensils and culinary equipment made up of brass. You might have seen many of them in your kitchen, probably belonging to your grandparents. Brass has been used to manufacture cookware since the earliest of times.
It has been used to produce pans, pots, and vessels of various kinds for cooking as well as for eating. However, brass cookware was extensively used in ancient times and is not that common now. You can still find it somewhere between old utensils lying in your kitchen or antique shops.
If you're only going to buy one brass cookware item, you need the Oobies Standard Wok Brass Pan because you can cook all types of Asian dishes with it. It's perfect for stir-fries and deep-frying because it has high sides. 
Let's quickly look at the top brass cookware options, and then I'll go a bit deeper into the different options:
Brass cookware
Images
Best brass wok pan: Ooobies 12 inch
Best brass saucepan: Finaldealz with lid
Best traditional brass karahi: Finaldealz Kadai pot
Best brass handle: Turkish Copper Pan with Brass Handles
Best brass drinking glasses: Mygift brass toned
Best brass goblet: 

Design Toscano The King's Royal Chalice Cup

Best brass dinner plates: 

Brass Blessing

Best brass spoon: 

Bumble Bee Themed Gold-colored Brass Spoon

Best brass charger plates: Old Dutch
10 Tips to Save a Bundle on Asian Ingredients!
Introducing our brand new FREE PDF guide: "Saving Secrets: Unveiling the Art of Saving Money on Asian Ingredients" It's your first newsletter email, so start saving today! 📚🧧
We'll only use your email address for our newsletter and respect your privacy
Brass cookware buyer's Guide
Tin coating
When it comes to brass cookware, the most important thing to look for is a tin coating. If you want to cook or eat out of brass cookware and plates, you need to make sure it has a tin-coating if you want it to be very versatile.
If it doesn't have a tin coating, then you can't cook acidic foods like tomatoes, for example, because it causes a dangerous chemical reaction.
You can still cook in your brass cookware even if it doesn't have a tin coating but consult a list of acidic foods and avoid cooking those.
After cooking, transfer the food to stainless steel or regular plates as soon as you're done cooking, and don't let the food cool down in the brass cookware.
Handle
Most brass cookware has a brass handle too. But, you can find some like the saucepan I recommended with a plastic handle.
The advantage of a plastic handle is that it doesn't get hot so you can touch it while cooking. With brass, the handles will get hot so don't touch the handles without oven mitts.
The benefit of brass handles is that you can use your copper pot in the oven as well.
Size
Brass pots and pans come in all sizes. Woks are larger and you can cook for up to 6 people in them. They have high sides so you can also make sauces, noodle dishes, curries, and stir-fries.
Smaller saucepans are also available and they're used for making desserts, jams, sauces, and candies.
When it comes to cups, glasses, and drinkware, you can usually find wine and whisky glasses made out of brass. Or, a decorative goblet is a good gift idea.
Hammered vs non-hammered
Hand-hammered brass cookware is very popular in India. You'll find woks or karahi pans with a hammered finish which just looks like a textured surface.
Hammering adds a decorative touch to the cookware and it's there to make it more beautiful. It doesn't really have a useful role.
Non-hammered brass plates and pans have a smooth surface, much like copper. They are usually cheaper than the hammered ones.
Learn more here: Best Hammered Copper Cookware Sets | why choose hammered?
Best brass cookware
Brass can be used for almost any kind of utensil but it's ideal to have these brass items in your kitchen for a healthier life if you use them with the care needed.
Best brass wok: Ooobies 12-inch Wok Brass Pan
Brass woks are ideal for slow frying over medium heat since they allow better transmission of heat and can spread heat evenly throughout the pan.
They're lighter in weight and allow better enrichment of taste. They're widely used for cooking Thai food and Japanese or Chinese dishes.
In fact, a brass wok is ideal for making Thai desserts. It's a great type of cookware when making syrups and candies because this material doesn't conduct heat powerfully and as a result, it doesn't scorch the food.
For the most versatile cookware, you should go for a brass wok like this Ooobies 12 inch brass wok pan. It's easy to make stir-fry dishes in it because of the high sides and you can make anything from fried beef to vegetables.
You can also use the wok to make jams and preserves and because of the tall sides, your liquids won't spill out.
If you think you're going to make lots of tasty Asian-style sweets, then you need to have a brass wok in your collection.
Best Brass Saucepan: F

inaldeals Brass Saucepan Cooking Pot Cookware Pan with Lid and Handle
For a little more specific uses, like making sauces or small amounts of stock, this saucepan with a sturdy lid is the best option to choose.
With a plastic handle that doesn't heat up, you can maneuver and use the saucepan safely without the risk of burning yourself.
This pan is well made and has a beautiful finish. It's also easy to clean and since brass heats up uniformly it's ideal for making sauces, stocks, soups, and simmering.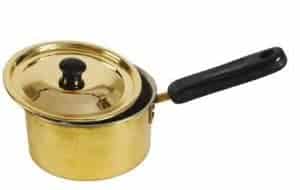 With this small saucepan, you'll surely add some beauty to your cookware collection but it's really handy to have when you're cooking smaller quantities of food.
Best Karahi Pan: Finaldeals Karahi Cooking Wok
If you love Indian food, you need to add a Karahi pan/wok to your collection. This pan looks almost like a wok but it has a hammered surface. It's used to cook delicious foods like curry.
A traditional brass karahi pan might be a good option if you like the look of it or are really searching for this type of cookware. This Finaldeals one is not only affordable, but it's also pretty versatile.
You can also use it as a wok pan for stir-fry dishes. But, you can also saute some meaty or veggie dishes in it because it heats up evenly and won't burn your food.
Don't forget that you need to season copper pans, here's how you do it
Best pan with brass handle: 

Turkish Emporium Copper Pot
If you just want the brass look, you can always opt for this Turkish pan with brass handles, which has a great look to it.
This type of copper pan is best for making Turkish-style menemen, omelets, curries, paella, stews, and fried foods. You can even make Japanese omelets and stir-fries or noodle dishes.
The pan is made of solid hammered copper with an interior tin layer and sturdy brass handles on each side.
It heats food nicely and the brass-colored handles definitely add a touch of luxury to the overall look.
So, if you're looking for an all-purpose pan that's great for Eastern and Western-style dishes, don't skip this copper pan.
Best brass glasses: 

MyGift Modern Brass Stemless Wine Glasses
Glasses made up of brass have extensively been used in ancient times especially for drinking water and milk because it is believed that having these liquids in brass can help boost the body's immune system and lower down aggression and maintain the overall health and texture of the skin as well.
Brass is also believed to have anti-bacterial and anti-viral properties due to which people in certain areas still use brass glasses to have liquids like water and milk.
Although not actual brass, these brass-toned drinking glasses are just beautifully crafted and it's quite hard to find real brass glasses these days. But these do fit the bill: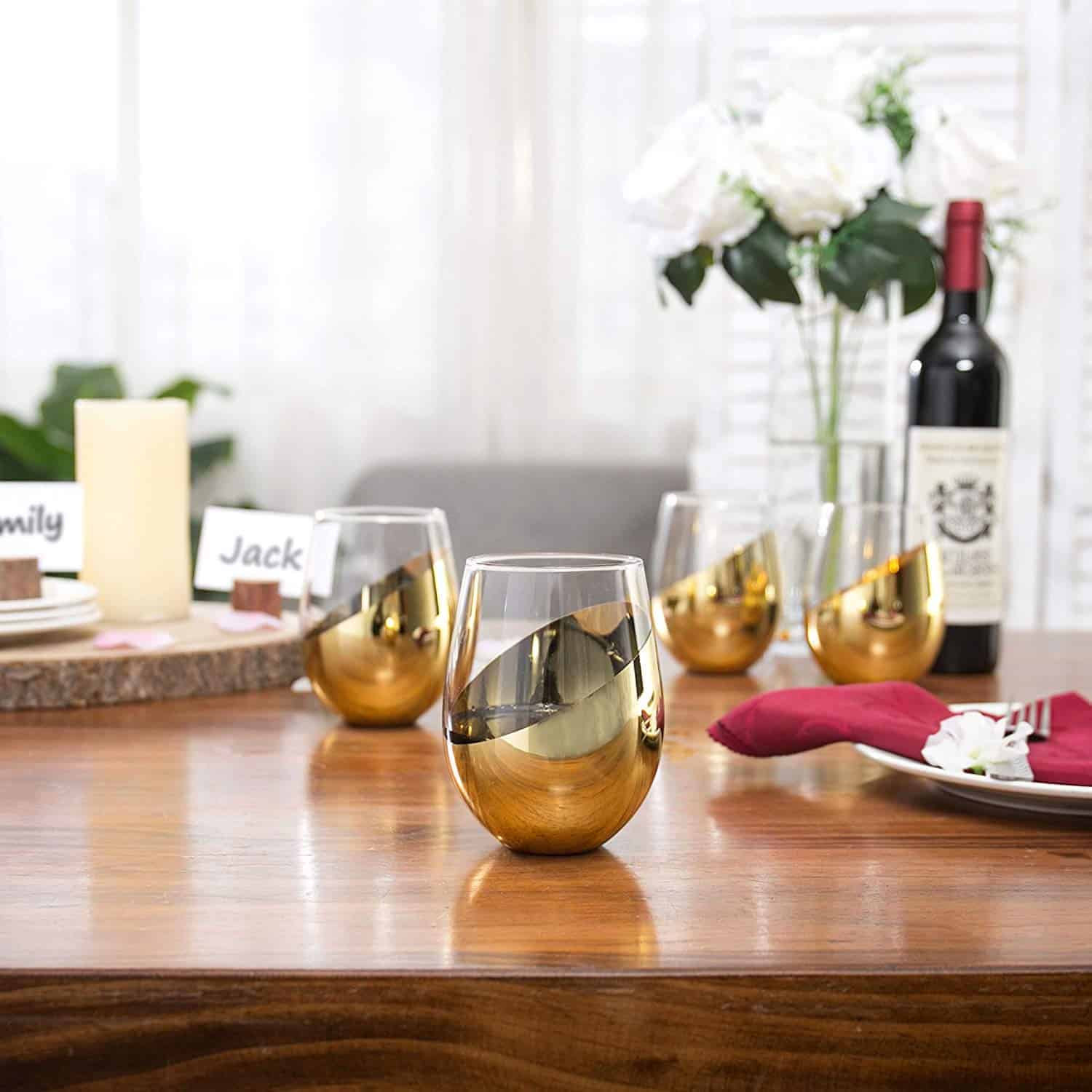 They're stemless, so not like traditional wine glasses but you can also use them to serve brandy or whisky on ice. Overall, the glasses are pretty comfy to hold.
Best Brass Goblet: Design Toscano The King's Royal Chalice
I know, a goblet makes you think of Medieval banquets but this goblet/chalice is used for wedding ceremonies. The bride and groom drink wine (or juice) from this fancy brass goblet.
It's the perfect drinkware for toasting during official ceremonies, weddings, Holy communion, and baptisms.
This goblet is hand-crafted out of brass and holds 8 ounces of liquid.
Be careful though, this chalice is hand-wash only. Keep it in your collection or gift it as a wedding or retirement present for special occasions.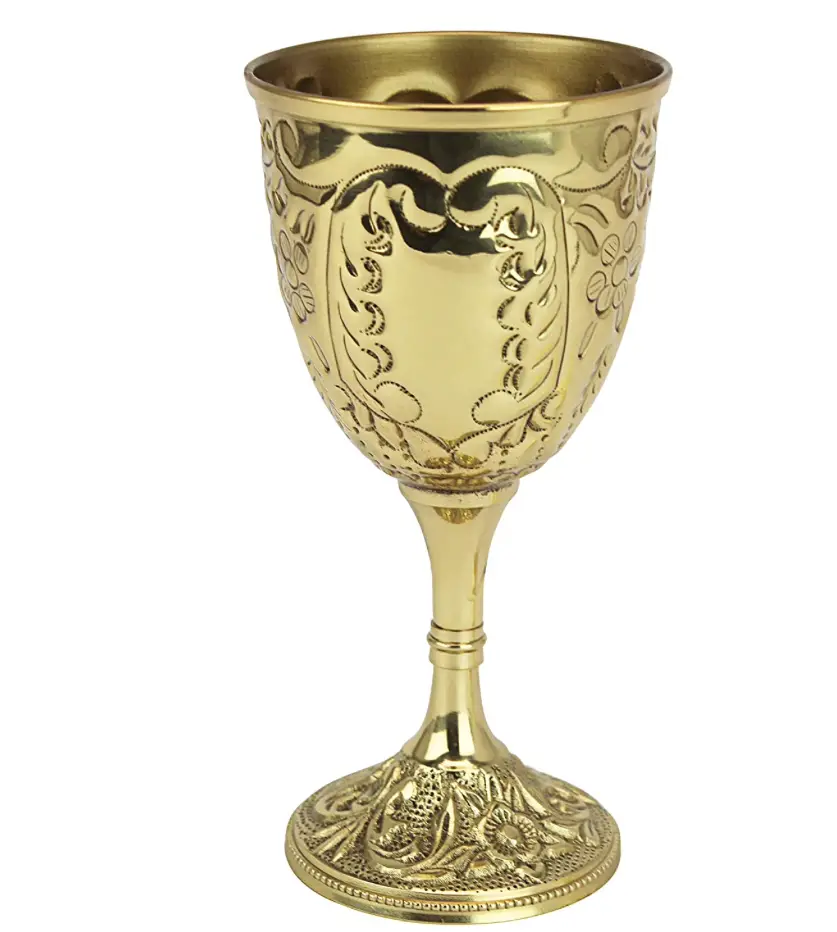 As far as fancy wine drinkware is concerned, you can't really choose something much more unique and traditional than a brass goblet, that's made for kings.
Best brass dinner plates:

Brass Blessing
Brass plates have also been used widely for many years now. They can be used in daily routines for keeping and eating food. They allow easy and durable use and convenient eating while giving off the health benefits of brass as a bonus.
The absolute most beautifully designed dinner plates are these from Brass Blessing. This Indian design is handcrafted and will look great in your design apartment or country home.
This type of smooth surface brass plate is not used for dinner on a regular basis but is usually reserved for special occasions and holidays.
The plates are rather delicate so be careful to hand wash only and dry well.
Best brass spoon: 

Bumble Bee Themed Gold-colored Brass Spoon
History says brass spoons should be kept in the kitchen because their use allows beneficial properties of brass to help the body in various ways. They are easy to use, durable, and can be used for almost all kinds of food or even kitchen decor.
This small brass spoon is a perfect coffee spoon with a cute bumble bee design. It's also a nice spoon for kids if you want them to start using cutlery. Since brass utensils aren't usually used for dining, a brass spoon is a nice alternative.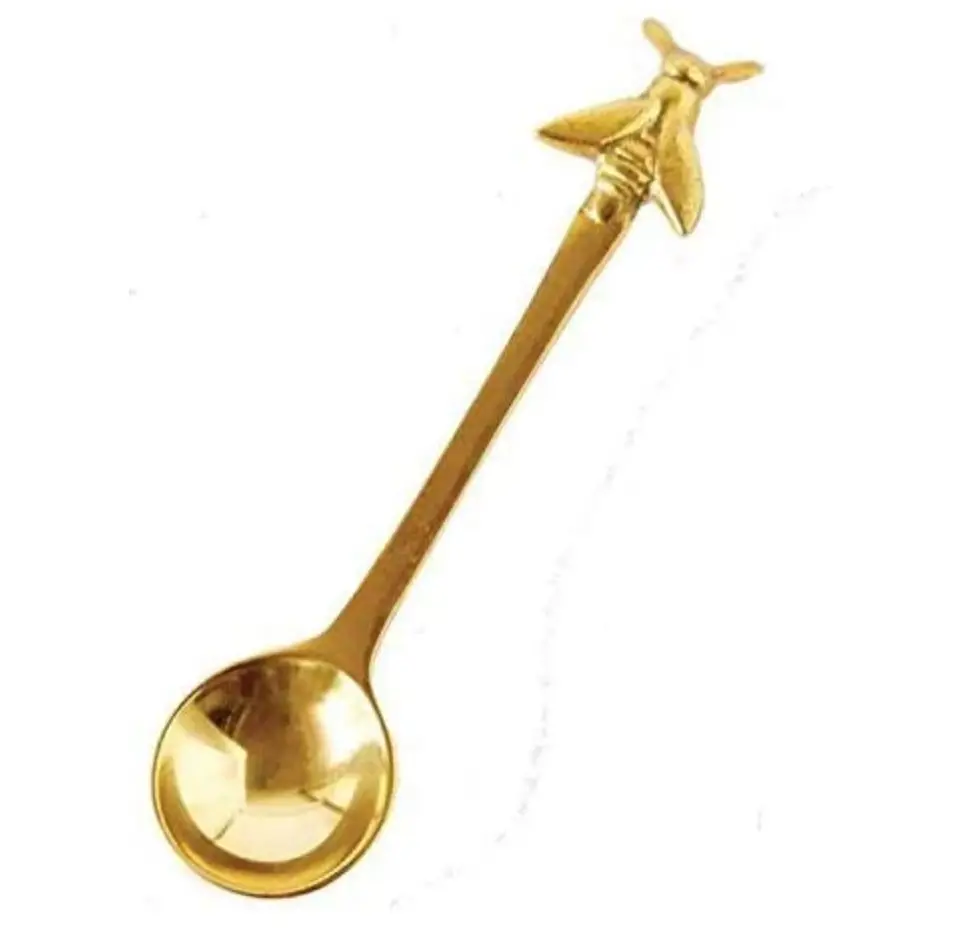 You can also use this spoon for scooping sugar for coffee and tea or as a honey spoon. It's a delicate little spoon so I recommend it for special occasions when you're ready to impress your guests with a nice table setting.
Best brass charger plates: Old Dutch
If you're looking for something a bit smaller (and more affordable) take a look at these Old Dutch charger plates. They are 13 inches in diameter.
These charger plates are hand-crafted by skilled artisans. The charger plates have a decorative role for your table setting so place your dining plates on top of a larger charger plate.
This brass design looks extremely elegant and elevates any tablescape, giving it a more luxurious feel. Since this set comes with 6 plates, you're getting a bargain, as these brass decorative plates are usually quite expensive.
The plates have a gold antique color and add a vintage touch to your table decor.
Also read: Inspiration and ideas for hanging copper pans as decoration
Why should you use brass cookware?
Where modern-day cookware has given us the chance to enjoy utensils in glass, stainless steel, and non-stick cookware, the old school cookware is widely known for its healthy and therapeutic properties as well.
Known for its golden looks and polished finishing, brass cookware is one the oldest known cookware that has been famous for its malleable and beneficial properties. It is still used in small towns and villages where people believe it is healthy for their overall health to eat and cook in brass cookware.
Besides being durable and long-lasting, some other benefits of brass cookware you can count on while cooking in it are that it increases the overall strength and immunity of the body.
It also helps in reducing aggression and burning sensations and increases the hemoglobin count of the body which reduces the risk of anemia. It also improves the condition and texture of skin making it look much healthier. Other than these health benefits, brass cookware heats up faster and cools down slower thus retaining heat and saving energy.
However, it is now believed that brass cookware should only be used to boil milk or water, although the fact that brass makes the taste of your food lingers in your mouth is also not denied.
What kind of brass is best for cookware?
Although there are many kinds of brass available universally, it is best to use a good quality suitable kind of brass when it comes to cookware so that the cooking experience is made convenient.
For high-performance cookware, the brass used should be ductile but a bit more solid so that it can stand the amount of heat provided and also maintain the shape. This can be achieved by varying the amount of copper, zinc, and other trace elements used in the making of brass.
The lining used for brass cookware should also be more solid so that it doesn't corrode easily upon contact with food. The number of harmful elements like lead, tin, or arsenal in the brass itself or the lining should also be carefully monitored and kept in check.
What are the disadvantages of using brass cookware?
While brass cookware gives us tones of benefits discussed earlier, it still comes with its own set of disadvantages as well. Because of its reactive properties, brass can react to acids or any such ingredient in the food. This reaction causes a chemical form that can be poisonous for human health if excessive intake happens.
However, to avoid this, brass is often lined with some other metals like tin or steel, etc. which prevents the acids in food from absorbing brass or copper in it. Therefore, brass cookware can be used for slow cooking over longer periods but isn't the best for frying acidic foods or using ingredients such as vinegar, etc.
Other than this, brass sometimes contains about 2% of lead in it to assist the cutting process and pressure tightness, which causes many health concerns. To avoid this, bismuth can be used as an alternative to lead. Bismuth has no proven health issues until now.
Because of its ductile properties and lower melting point, brass can sometimes get too hot and change its shape which is also a con of cooking in brass cookware. In addition to this, brass needs thorough and careful cleaning because it can get spots on its exterior.
It must be cleaned with a specific solution regularly and must not be air-dried to prevent spotting and color changing. It cannot be put into a dishwasher because it gets easy scratches on the outside and can look worn out. Because of all these problems, brass cookware is slowly being replaced by aluminum and stainless steel cookware.
Medicinal properties of brass cookware
Other than looking like gold and giving off a radiant shine, brass as a metal has wonderful medicinal properties which makes brass cookware very beneficial for use. The composition of brass cookware makes it ideal for cooking bland and non-acidic foods. It also has a remarkable property of retaining 95% micronutrients in the food and maintains a rich taste.
Brass helps in providing stronger and healthier hair and also provides melanin for flawless-looking skin. Not to forget that melanin is a very important component of our skin that ensures our skin is safe from all the external harm and UV rays. In short, eating and cooking in brass cookware helps our health find its way to better health and enrichment.
Brass cookware in comparison to other metal cookware: All of the metals used for cooking have unique properties that distinguish them from others.
Just like cooking and eating in copper utensils detoxify the body and provide antioxidants, silver cookware provides coolness to the body and iron utensils help reduce chances of anemia, brass has specific properties that distinguish it from other metal cookware including low melting points, easy handling, better transfer of heat and preservation of nutrients.
Despite some of the harmful aspects of brass cookware, it is still known for its medicinal and healing properties in small towns and various other areas to date.
Misconceptions between brass and bronze cookware
Since brass and bronze are both copper alloys and have similar physical properties, many people tend to confuse these two.
It is important to know the difference between brass and bronze because these two also have many differences in their chemical as well as compositional properties that affect cooking and eating experiences. Some of the key differences between brass and bronze that can help you distinguish between the two of them are:
Brass is an alloy of copper and zinc while bronze is an alloy of copper and tin.
Brass gives off a dull yellow/gold color while bronze gives off a more reddish-gold color.
Brass is more malleable and moldable while bronze is harder.
Brass has a lower melting point and bronze has a higher melting point.
Also, some of the similarities between these two metals are:
They're used in manufacturing musical instruments
They're used in the production of electrical fittings and contacts
They're used to make decorative items and drum cymbals
They're used in plumbing tools and places where friction needs to be avoided
Precautions for using brass cookware: While using brass cookware, make sure they're modern-day manufacture. Brass items manufactured a few years ago might have some traces of arsenic, tin or lead in them and these elements can leak into the food you cook in these utensils.
Both lead and arsenic are poisonous and can deposit in your body and reach dangerous levels over time while they harm the body silently.
Foods with acidic properties, vinegar, tomatoes and citrus fruits, etc. should be avoided while cooking in brass cookware. Any kind of food should not be stored for long in brass utensils. And if your brass cookware is lined with tin or lead, keep a check on any kind of damage in the lining and get it repaired as soon as possible.
Cleaning brass cookware
Brass cookware needs a thorough and careful cleaning because of its compositional properties. It doesn't corrode or layer off easily but it can if it remains in contact with food for long. Proper care is essential if you want the cookware to last for years to come.
It is important to clean and wash brass cookware immediately after use and use a mild detergent instead of a harsh one or use a professional cleaner designed especially for brass.
For a homemade cleaner, you can use a teaspoon of salt and half a cup of white vinegar mixed with flour enough to make a consistent paste. Apply the paste on the utensil and leave it for a few minutes. Wash it off with lukewarm water and do not let it air dry.
Any kind of harsh cleaners or cleaning can damage the lining of the brass utensils or the brass itself.
What is brass?
Brass is an alloy of Copper and Zinc elements. It is a substituted alloy i.e. the atoms of the two metals may replace each other within the same crystal structure. Brass is similar to Bronze except that bronze contains tin instead of zinc.
It may also contain other elements like arsenic, lead, phosphorous, or aluminum in small amounts.
Mechanical and chemical properties of brass may vary according to the amount of Copper and Zinc used which also means, by changing the amount of copper or zinc, brass can be made softer or harder accordingly.
Brass has a dull gold-like appearance for which it is extensively used for decoration purposes. It is used in making lightweight decor accessories. It is also used in making doorknobs, locks, bearings, gadget casings, and some other electrical appliances.
It is broadly used in making musical instruments and is well known for the property that it doesn't create sparks and is therefore used in materials and fittings that are easily flammable.
Brass hardware
Brass has been used in manufacturing home hardware for many years now. It is famous for home hardware because of its ductile properties due to which it can easily be molded into the desired shape or design and can be worked on easily for minor details.
Moreover, the desired finishing can be given to anything made of brass. It can be smooth, shiny, or grainy and can also be made to look like any other metal.
It is resistant to erosion from water, oils, or sweats and can extensively be used in areas with extra moisture like kitchens and bathrooms. When exposed to air, brass oxidizes which makes it even more durable over time.
Another remarkable property of brass hardware is that it has an antimicrobial property that keeps viruses and bacteria from spreading. However, brass hardware needs a little more careful use because it can easily be bent and can get dents because of its malleable properties.
Also, it needs constant cleaning so that it doesn't change its color.
Should you use brass for everyday cooking?
The truth is that no, you shouldn't use brass cookware on a daily basis for cooking. The reason is that some chemical reactions make brass unsafe. Ok, hear me out. While it's okay to use your favorite brass cookware for certain occasions, there are certain health risks to consider, mainly zinc oxide exposure.
When brass is exposed to high levels of heat, a reaction occurs and the pot or utensil releases zinc into the food as well as zinc oxide fumes. Then, a corrosive patina develops and it makes the utensil less than ideal for use.
Overexposure to zinc has a negative impact on long-term health because it acts as a toxin in the body. It reduces your body's ability to absorb the necessary iron and copper.
In extreme cases, if you're too exposed to zinc fumes you can develop something called metal fume fever and it's very unpleasant to deal with.
While it's totally fine to serve the food in brass cookware, using brass utensils, the problem is when you cook the food at high temperatures in brass pots and pans.
Brass vs aluminum cookware and copper cookware
Copper cookware is generally more expensive than aluminum cookware. Brass cookware is more expensive because it's not commonly used and there are few manufacturers still making this type of cookware.
Brass is the most conductive material and it's the best at distributing heat evenly. However, the problem of chemical reactions is pretty serious. Thus, both aluminum and copper are healthier cookware alternatives.
Aluminum is the lightest, whereas copper is the heaviest, and brass is a close second.
Takeaway
If you already have stainless steel cookware, aluminum pans, and a must-have copper frying pan, then all you need to add to your collection is something like the Oobie Brass Wok or a brass saucepan. These corrosion-resistant and sturdy pans work well on most stovetops and offer an even cooking experience.
Brass is an excellent heat conductor and it helps you cook faster. As long as you don't cook acidic foods, you can cook up delicious Asian foods the whole family will love.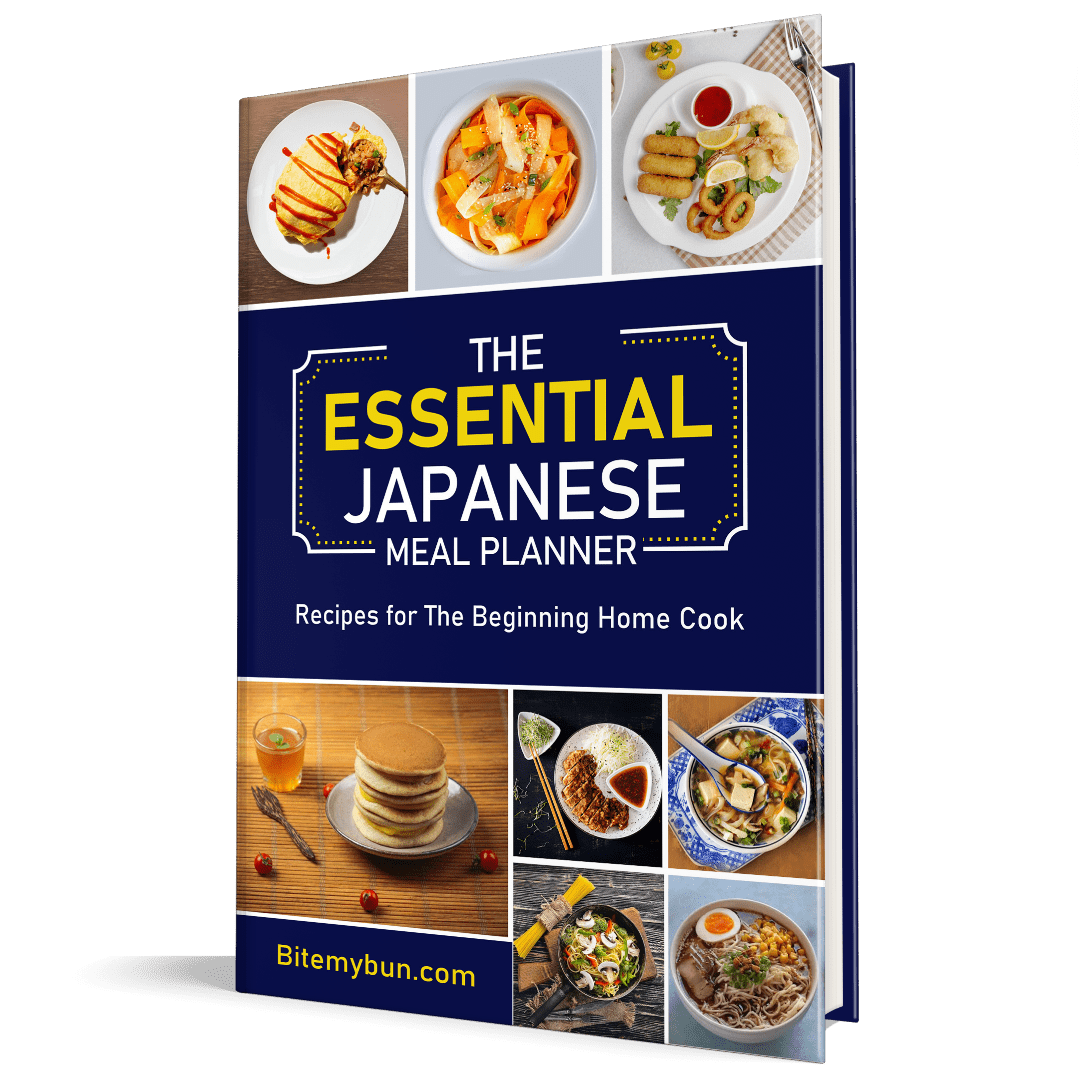 Check out our new cookbook
Bitemybun's family recipes with complete meal planner and recipe guide.
Try it out for free with Kindle Unlimited:
Read for free
Joost Nusselder, the founder of Bite My Bun is a content marketer, dad and loves trying out new food with Japanese food at the heart of his passion, and together with his team he's been creating in-depth blog articles since 2016 to help loyal readers with recipes and cooking tips.