I love creating free content full of tips for my readers, you. I don't accept paid sponsorships, my opinion is my own, but if you find my recommendations helpful and you end up buying something you like through one of my links, I could earn a commission at no extra cost to you.
Learn more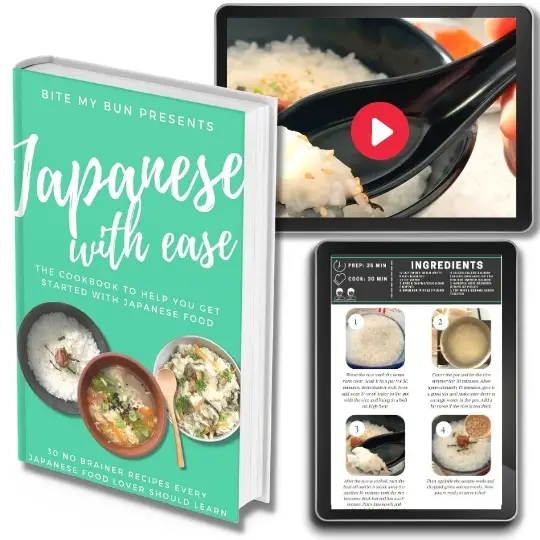 Ever had trouble finding Japanese recipes that were easy to make?
We now have "cooking Japanese with ease", our full recipe book and video course with step-by-step tutorials on your favorite recipes.
In past guides, like the chef's knife and bread knives, we've discussed the elements of many Western-style knives, and now it's time to discover some of their counterparts among the increasingly common Japanese styles.
The main distinctions between Western and Japanese blades in today's hot cutlery industry relate to the materials used in crafting them and the specialized designs for particular purposes.
However, there are also other factors. Handle shape, single or double beveled edges, and finishing details are also essential.
Before we dive in, these are my personal favorites:
I just love the Shun Dual Core (the top one) for it's traditional feature, and just look at how it cuts through:
So let's take a closer look at these lovely instruments to see precisely what the variations are and whether they will suit your culinary methods and abilities well.
You can be assured that once you comprehend their distinct natures, you'll be equipped with the understanding to discover the best for you.
Types Of Japanese Kitchen Knives
On the other hand, Japanese chef's knives are more delicate, somewhat counterintuitively due to the hardness of the steel, and they have more specialized applications. As such, there are four different styles that could be considered chef's knives – some of a general-purpose nature, with others excelling at distinct tasks.
These Eastern blades are more like a fine Arabian. They dance and prance and require some patience to use, but when you get to know them, they perform exquisitely.
Features to take into account
Hardness
One of the most important distinctions in comparing Japanese blades with their Western counterparts is the high carbon content and elevated steel quality used, resulting in very hard steel.
Why is that important? Tougher steel can be sharpened at a more acute angle, making slicing more efficient – typically around 15-20 ° for Japanese blades and 20-30 ° for Western blades.
Furthermore, hard steel will keep a sharp edge longer, so these will not need as frequently honing or sharpening. And the blade's cross-section can be produced thinner, reducing weight and enhancing agility.
The Rockwell Scale is the industry standard for hardness measurement. The greater the number, the tougher the steel will be. A one-degree rise on the scale reflects an increase in hardness of about ten percent.
A chef's knife of European origin will typically range from 52-56 HRC or C-based Rockwell Hardness. This amount is determined on the basis of scales from A to G, the most frequently used being B and C. Depending on the make and quality, this measurement may be as high as 58 for the Euro variant.
Japanese blades, by contrast, almost never measure less than 60 HRC, often as high as 64 – a drastic difference.
Learn more about sharpening Japanese knives with a whetstone here
Blade Construction and Finishes
While Eastern knives are forged using the same techniques of hot forging, stamping, and stock removal as their Western counterparts, manufacturers are not afraid to use the processes that create laminate, clad, or composite blades.
Cladding
Many traditional Japanese-style knives will have an extremely tough core of high-carbon steel which will then be covered with one or more steel overlayers.
Typically, the outer layers are made of a more ductile material that protects the inner core and the combination outcomes in a final product that combines an incredibly sharp edge with simple sharpening
Laminated
This is a forging process where two layers of stainless steel are enveloped in hard carbon steel, which is then forged together under extreme pressure and high heat.
The laminate of external stainless steel reinforces the super-hardcore like cladding. It also adds stain strength characteristics, thereby reducing maintenance. The outcome is a very sharp cutting edge that will keep its edge longer and can be re-sharpened much easier.
Composites
Two distinct steel alloys are made of a composite blade, which are then joined by brazing.
Brazing is a four-step method that binds the tool steel continuously with a carbide like tungsten, and a copper-like brazing agent. This enables the manufacturer to use for a superb cutting edge a premium grade high-carbon steel for the heart, without the cost of using it for the entire blade.
It also results in a distinctive, ornamental copper line revealed in the grinding method behind the edge.
Design
Some of the knives mentioned above, along with the higher diversity of design features, also give amazing aesthetic styling.
Processes such as hand hammering, Damascus cladding flowing grain, graffiti-etching to identify the manufacturer, and the wave-like pattern of composite blade technology make these popular kitchen instruments works of art.
And these features ' unique beauty elevates them into a world-class league–often with matching world-class rates.
Also read: is sushi really that healthy and how many calories does it have?
The best Kiritsuke chef knives reviewed
The kiritsuke is a hybrid knife intended to operate as a slicer for fish and a knife for vegetables. Long and lean, with a sheepfoot tip, it has a striking sword-like appearance and is one of only a few multi-purpose blades used in Japanese cuisine.
Traditional styles with a single beveled edge have a blade length of 10 to 12 inches and are comparatively brief in height, approximately 1.5 to 2 inches. The profile has a straight edge, and some are going to have a hint of lifting to the tip.
Westernized variants with blades as brief as 6 inches will often have a double bevel.
It is best to use kiritsukes to slice and for push cuts. On vegetables, raw fish and baked proteins, these perform well.
The tip is pretty nimble for tap cutting, and the long blade is great for thin-slicing veggies or slicing them into a pleasant brunoise or julienne.
For a graceful presentation, they are also a great option for cleaning and portioning fish, or thin slicing proteins.
Novices who are unfamiliar with a single bevel output often find traditional variants are hard to use, with prevalent complaints about wedging and twisting. But for those with less-than-masterful cutting abilities, the double-beveled version provides it more versatility.
Best traditional Japanese Kiritsuke knife: Shun Dual Core VG0017
If you're looking for a true multi-purpose knife, you should have Shun Dual Core VG0017 8-Inch Kiritsuke Knife at the top of your list. It's a knife that has even been awarded. It's the year's winner of the 2014 blade show kitchen knife.
Only traditional Japanese multi-purpose knife
VG-10 Highcarbon & VG-2 high chromium stainless steel
Super sharp
Ebony Pakkawood
This 8-inch knife is known as the Japanese master's knife. It's called the knife of the kiritsuke. Kiritsuke is a term from Japan. It means accuracy and strength to cut down.
This is a single bevel knife, meaning that only one side is edged. The Japanese are very familiar with this type of bevel.
It's a knife of dual-core. It means two different kinds of steels are being forged together. The knife is being forged with 71 VG10 and VG2 steel microlayers.
A combination of high-carbon stainless steel and high-chromium. Both steels are used from top to bottom in equal measure. There are micro-serrations.
On the edge of the blade, a beautiful pattern is seen. It's the sharpest edge of Shun's arsenal. Retention of the edge is exceptional. There is an important role here for 71 microlayers and micro serrations.
The blade is light and very thin. But as Superman, it's strong. Smoother cutting allows you to cut everything easily in your kitchen. It's called true multipurpose for something.
Looking at the handle you'll see a traditional wooden octagonal handle. Japanese always try to use the handle of wood. It feels natural and good.
The ebony handle from Pakkawood is used here. As we know, pakkawood is a combination of natural wood and resin of high grade.
Plastic resin is impregnated with the wood. A bolster of steel is visible. There's no bottom cap in the handle here.
Check the latest prices and availability here
Best modern construction Kiritsuke knife: Shun VG0014 Blue
I believe you already get that in chef knives, Shun has a lot of options. They produced several knives that are multipurpose.
If we're speaking about traditional, multi-purpose Japanese knives, then Kiritsuke is the only one. In Japan, kiritsuke knives can only be used by executive chefs.
Great workhorse
Blue steel: Carbon steel sandwiched by two layers of stainless steel
Very Sharp
Blue-gray Pakkawood
To craft a Shun VG0014 Blue 8-inch Kiritsuke Knife, the 'san mai' method is used. It implies that there are three layers.
Here a layer of carbon steel is sandwiched between two layers of stainless steel. Blue steel was used here. This fine blue carbon steel has great ability for edge retention. It enables you to sharpen the blade again.
Carbon steels are difficult at all times. Here the Rockwell scale's hardness is 61.
As I said before, three layers of steels forge the knife. Steels on the outside are steel. So the knife is undoubtedly stain-resistant.
These layers of stainless steel offer the blade a nice-looking mirror polish finish. The building technique of 'San Mai' plays a significant part here.
The blade is also double beveled, with a 16-degree angle on both sides. So you know they didn't skimp on sharpness.
Shun used an octagonal wooden handle of traditional Japanese. The handle is used in blue-gray pakkawood. Pakkawood has a reputation for resistance to moisture so you don't have to worry about slipping from your side out of the knife.
We all understand that carbon steel requires heavy maintenance, but here the carbon steel is protected by two layers of stainless steel. So there's no need for additional care.
It is suggested to wash the knife by hand. To clean the knife, use mild detergent or soap and then air-dry it. Keep your knife secure. Use knife blocks or distinct drawers.
With every Shun VG0014 Blue 8-Inch Kiritsuke Knife, Shun gives you a lovely saya cover.
Check out the latest prices here on Amazon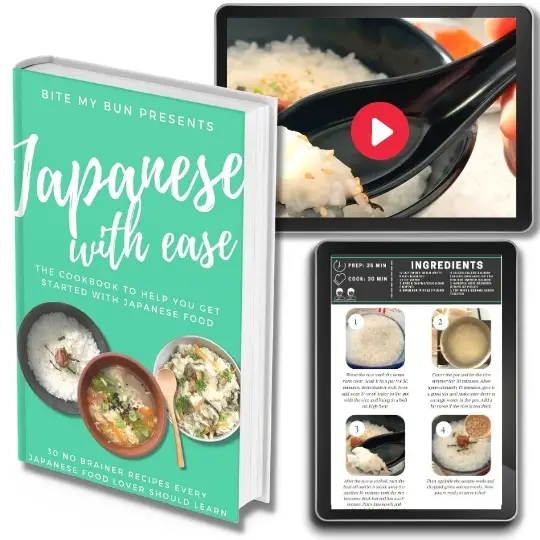 Ever had trouble finding Japanese recipes that were easy to make?
We now have "cooking Japanese with ease", our full recipe book and video course with step-by-step tutorials on your favorite recipes.
Joost Nusselder, the founder of Bite My Bun is a content marketer, dad and loves trying out new food with Japanese food at the heart of his passion, and together with his team he's been creating in-depth blog articles since 2016 to help loyal readers with recipes and cooking tips.