Best VG-10 steel knives for excellent edge retention & sharpness [top 8]
I love creating free content full of tips for my readers, you. I don't accept paid sponsorships, my opinion is my own, but if you find my recommendations helpful and you end up buying something you like through one of my links, I could earn a commission at no extra cost to you.
Learn more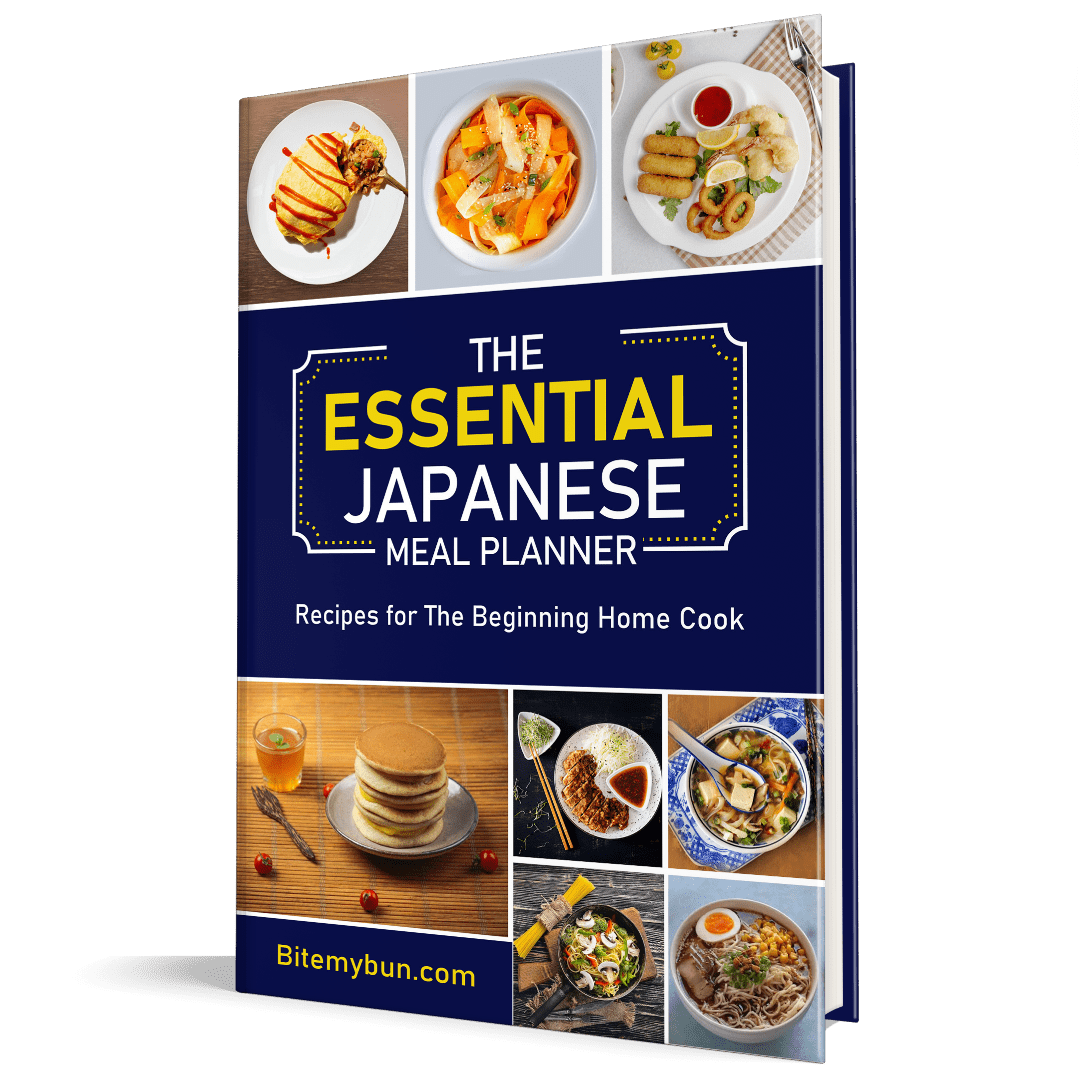 Check out our new cookbook
Bitemybun's family recipes with complete meal planner and recipe guide.
Try it out for free with Kindle Unlimited:
Read for free
If you've been using budget knives in the kitchen, you're probably sick and tired of them by now.
Every time you want to start chopping up vegetables for that stir-fry the blade is dull and you end up with rough cuts.
A high-quality Japanese VG-10 steel knife is the top choice if you want a rust-proof, sharp blade that holds its edge.
The best VG 10 knife to have in your collection is the KYOKU Chef Knife because it is ideal for cutting, chopping, slicing, and dicing all types of meat, vegetables, and fruit (& more).
Once you have a good chef's knife, you can then get all the Japanese specialty knives like the Nakiri vegetable cleaver or the Yanagiba fish knife.
There are a lot of options out there, but we're here to help you find the perfect knife.
I've put together this guide on what to look for in your next VG-10 steel knife purchase, the top knives on the market, and how to care for them so that they last you a lifetime.
17 Easy Recipes Anyone Can Make
All the tips you'll need to get started in Japanese cooking with, for a limited time, free as our first email: The Complete Japanese With Ease Cookbook.
We'll only use your email address for our newsletter and respect your privacy
Buying guide
When looking for a set of VG-10 steel knives, there are a few things you should keep in mind.
First, make sure that the knives are made with 100% VG-10 steel. This will ensure that you're getting quality blades.
Type
There are many types of Japanese knives so you have to see which one you need. For example, you can get a chef's knife called gyuto which is suitable for many types of cutting tasks.
Alternatively, you can get specialty knives like nakiri or usuba which is a vegetable cleaver.
There are also many types of meat, fish, and boning knives. In this review, I'm sharing one of each of the most important Japanese knives with a VG 10 steel blade.
Blade length
Most Japanese knives are between 5 to 11 inches long. It also depends on the type of knife.
A paring knife, for example, has a shorter length of about 5 or 6 inches because it's used to make precise cuts in smaller food items.
A gyuto chef knife has a longer 8-10″ blade because it's used for all kinds of cutting tasks.
Bevel
The "bevel" refers to the angle at which a knife is held.
European knives have a double-bevel, which means the blade is honed on both sides.
Traditional Japanese knives, on the other hand, are single-bevel, meaning one side of the blade has a sharpened edge (typically the right side) and the other is completely straight.
Single bevel knives are better suited to expert cooks because they are designed for high precision cuts and can be used for highly specific tasks (for example, sushi knives/yanagi).
These knives need a lot of practice to master and are usually only built for right-handed users (left-handle single bevels are rare and expensive).
This is why many Japanese knives have a double bevel, which is a blade that is more novice-friendly and easier to use.
If you're just trying VG-10 knives for the first time, I recommend purchasing a double-bevel blade. It's a good knife for the average home cook.
They're not only easy to handle, but they're also not too difficult to sharpen with some experience.
Also, make sure that the blades are sharpened correctly. A set of dull knives is no good to anyone, so be sure to inspect the blades before you buy them.
Once it's time to resharpen your knives, do it the traditional way with a Japanese whetstone
Grip & balance
What is the sensation of the grip when you hold it? Is it too thick or thin that the tips of your fingers collide when you grab the handle or is it too big that your hands get lost in it?
Is the blade too hefty or too light for you? Assume you'll be holding the knife for 10-15 minutes; would the weight fatigue your hands and arm? Do you prefer a knife with a bit of heft to it?
In addition, it's important to find knives that are properly balanced and feel comfortable in your hand. You don't want knives that are too heavy or too light, so it's important to try them out before you buy them.
Handle
Handles that are too big or too tiny for your hands will make you uncomfortable and make controlling the knife difficult.
This is why it's crucial to test the handle to see if it's comfortable to hold for longer periods.
Japanese knives are available with either a Western or a Japanese handle. Western-style handles are heavier, feel sturdier, and are better suited to cutting jobs that need physical force.
Japanese handles are octagonal, lighter, and always made of wood in the traditional sense. The knife feels lighter and more nimble in your hand thanks to the traditional design.
Learn more about traditional Japanese knife making here
A fine wooden handle is long-lasting, elegant, and adds a lot of aesthetic value to a knife.
But a plastic handle also has its advantages. Plastic handles or pakkawood handles are comfy to hold and hygienic because bacteria and mold don't stick to these materials.
You can also get great fiberglass-like handles called G-10 and these are strong, lightweight, and ergonomic.
However, some cheaper handles can be slippery and you might find them hard to hold.
Finish
Remember to think about the blade's finish. The most typical finishes are hammered and Damascus.
If the gyuto has a smooth surface, it is most likely a less expensive knife that was not produced using traditional Japanese techniques. A smooth finish is easy to sharpen at home though.
The hammered finish is really attractive, and it simply means that the steel has little ridges or pockets. These keep food from clinging to the blade's edge, and you don't have to stop cutting to get rid of stuck-on food.
A Damascus finish is very appealing to the eye. Because the blade is produced by folding and stacking the steel over and over to create a wave pattern, this finish is highly durable. It also ensures that food does not adhere to the blade.
Also learn about hammered copper cookware here (and why you would go for a hammered finish)
Budget
Finally, consider your budget.
VG-10 steel knives can be a little more expensive than other types of knives, but they're definitely worth the price. They're made of better steel and the craftsmanship is superior.
Extensive reviews of the best VG-10 steel knives
Now you know what to look out for in a VG-10 steel knife. Armed with that knowledge, let's look at some of the best knives on the market together.
Best VG-10 steel knife overall: KYOKU Chef Knife 8″ Shogun Series
type: gyuto (chef's knife)
blade length: 8 inches
handle material: G-10 epoxy resin
finish: Damascus
bevel: double
The gyuto is the Japanese equivalent of the chef's knife and it is an essential knife in any kitchen.
Before pulling out the other knives, a Japanese home cook usually uses the gyuto for most cutting tasks. It's suitable for chopping, slicing, dicing all foods.
The excellent VG-10 Japanese steel used in the KYOKU Daimyo Series Chef Knife is extremely strong, sturdy, and rust-resistant.
Furthermore, the blade is encased in 67 layers of Damascus steel, making it tougher, more resistant to damage, and more attractive.
This KYOKU knife is best known for its extreme sharpness. It cuts through harder root vegetables, carrots with ease. Compared to many German steel knives, this one cuts so much more smoothly.
Also, it cuts through paper incredibly. Once you sharpen the knife, it retains its edge much better.
This blade has a Rockwell hardness of 60, making it one of the most durable Kyoku kitchen knives.
Compared to the competition like the Enowo knife, it cuts better and users are more pleased with how well-balanced it is and how comfy it is to use.
The slightly curved plain edge of this blade may appeal to you because it can be used for all types of Japanese knife techniques, allowing you to work with meat, veggies, cheese, and anything in between.
This is a double-bevel blade with a sharpening angle of 8 to 12 degrees on each side. Also, this knife has a Damascus finish which means food bits don't stick to the blade.
At 8 inches, it's the ideal size for a chef's knife because it's large enough for most duties but not too big to be difficult to use.
It's not the lightest knife at 1.3 pounds, but you know there's a lot of material onboard (for durability), and the full tang design makes it very well balanced for ease of usage.
The ergonomic handle, which is composed of G10 military-grade fiberglass, may also be appreciated.
The material is durable, waterproof, and comfortable to grasp; nevertheless, when wet, the handle might become quite slippery so be careful.
Some users note that this knife is not completely rust-proof as stated and it is a bit harder to clean since it's not dishwasher safe.
Also, it's a bit heavier than the competition i.e. Wüsthof knives.
Best budget VG-10 steel knife: FANTECK Kitchen Knife VG10 Damascus
type: gyuto (chef's knife)
blade length: 8 inches
handle material: pakkawood
finish: Damascus
bevel: double
It's hard to find a true "budget" VG-10 knife because this type of steel is expensive to manufacture. But, Fanteck has created a high-quality gyuto knife that is quite similar to Kyoku.
Again, this is a double bevel knife, sharpened 10-15° per side. It's not quite as sharp as some of the more expensive models but it's still the best in its class when it comes to budget-friendly vg10 steel knives.
This knife can be used by lefties and righties alike and the handle design ensures even people with small hands can use it safely.
Customers really like that you get a lot of value for your buck with this product.
Each knife comes with a sharpener so you can always have a razor-sharp blade on hand when cooking.
Like other VG10 knives, this one is also mostly rust and corrosion-resistant. The Damascus swirl design kind of hides any rusty spots, stains, and imperfections.
This knife has a pakkawood handle. This wood composite material is excellent because it's durable, easy to clean, and hygienic.
It fits in your hand comfortably and doesn't tend to slip, even if you're cutting watery ingredients like cucumbers. Users are saying it's very stable in the hand, even when wet.
At such a bargain, this knife cuts very well and the blade is quite strong and durable. It doesn't break or chip like non VG10 high carbon blades.
If you're looking for a knife that is easy to use, don't hesitate to try this Fanteck one because it's very balanced. A well-balanced piece of cutlery makes it easier for amateurs to slice and dice safely.
Also, although this blade is only 8 inches long, it's a good size to slice foods into thin strips or rapidly chop up veggies and meat for dinner.
The main criticism for this knife is that it's not as sharp as it should be right out of the box. You need to sharpen it or else it's too dull to make a clean cut through paper.
Overall, if you're not sure you want to invest in VG10 steel blades, this is a great starter knife known for its good balance and durable handle.
KYOKU vs FANTECK
Kyoku and Fanteck are both great 8″ gyuto chef's knife options. In terms of cutting power, these blades are similar.
However, the KYOKU is sharper so it's even easier to cut through food. The reason for this difference is that the edges are sharpened at different angles.
In terms of the finish and design details, you can tell the Fanteck is a cheaper knife but still, the Damascus layering is well-executed.
I prefer the Fanteck when it comes to ease of use because it's not as hefty so most beginners can use it. It's a strong knife so you don't have to worry about damaging it and causing chips in the steel blade.
By design, the KYOKU is a more sensitive gyuto so it's best for experienced home cooks and chefs.
The final difference between these products is the handle. The KYOKU has an amazing G10 handle which is a kind of fiberglass. Thus it's super resistant, comfy to hold, and stays clean.
Fanteck's handle is made of pakkawood which is also an excellent material, even if your hand is slightly wet because it is non-slip.
Both products are great chef's knives but it comes down to what you need.
If you're just cooking at home, you can get the cheaper knife but if you're in a busy restaurant kitchen the quality of KYOKU is noticeable.
These are the most important Japanese knife skills & techniques to learn
Best santoku all-purpose VG-10 steel knife: JOURMET 7″ Damascus Santoku
type: santoku (general purpose)
blade length: 7 inches
handle material: pakkawood
finish: Damascus with Granton edge
bevel: double
A santoku knife is a type of kitchen knife that is designed to be versatile and efficient.
The blade is typically 7 inches long and has a straighter edge than a chef's knife, making it better suited for slicing vegetables.
Thus, if you're looking for a smaller knife, the Jourmet 7″ is the perfect multi-purpose knife.
This one has a Granton edge which just means the dimples at the bottom of the blade create air pockets to prevent food bits from sticking to the knife.
Therefore, this knife is very easy to use when fine chopping herbs and vegetables for something like Japanese cucumber salad.
The knife has a nice Damascus layered steel design with the Granton dimples and it looks much more expensive than it actually is.
The handle is made of pakkawood and doesn't slip from your hands.
Since the knife is well-balanced, it doesn't cause wrist tension when you're chopping up food for a long time. Therefore, this Jourmet knife is ideal for meal prep and large cutting tasks.
One criticism I have is that the knife is quite heavy considering it's a smaller Santoku. Therefore, if you have small hands you might feel it's a bit too hefty.
Users are saying it's excellent for cutting up meat because it makes clean, precise cuts.
The edges of the food (especially meat) won't end up looking rough. However, if you need to cut hard root vegetables, a vegetable cleaver will be a time saver.
Overall though, for basic cooking tasks, this knife is perfect because it slices through most ingredients with ease.
It stays sharp for about a month after it is sharpened so it's not a high maintenance knife like the more expensive Japanese ones.
Compared to KYOKU's santoku knife this one is much cheaper (half the price) and surprisingly, it doesn't chip as quickly!
This is just proof that the VG10 steel they used as well as the manufacturing process is better than most budget knives.
Best VG-10 steel nakiri for vegetables: Enso HD Series Hammered Damascus
type: nakiri (for vegetables)
blade length: 6.5 inches
handle material: micarta
finish: hammered
bevel: double
Many home cooks falsely assume that you can use the gyuto and santoku for all the vegetable cutting tasks.
However, if you want to be efficient and make perfect cuts, you need a nakiri vegetable cleaver. It has a much wider blade and cuts right through the veggies in one single motion.
Enso is one of the best Japanese brands known for its handmade knives. Their Nakiri cleaver is made in Seki City and it's the type of cleaver that can last a lifetime when cared for properly.
Although it's sold at a premium price, you're really getting a lot of value for your money. The 37 layer steel is hammered using the tsuchime method to ensure this blade makes a smooth cut.
Also, the blade is sharpened at 12 degrees on both sides so you know it's razor-sharp. Both lefties and righties can use this knife with ease.
Unlike the other knives from this list, this one has a special oval micarta handle. This material is made from layering linen or paper with epoxy resin.
It is used for strong grips on knives and other tools because it is highly durable and provides a good grip even when wet.
Micarta handles are also very attractive and come in a variety of colors. This one has a smaller handle but it's comfy to use with a pinch grip.
Users who've been using this knife for years are impressed by the fact that this knife holds its edge like no other.
The problem with vegetable cleavers like nakiri and usuba is that they tend to get dull quickly. But, that's not the case with Enso knives.
That's why it's worth investing in a high-quality veggie cleaver. These wide blade knives are hard to sharpen at home because of their shape so it's best to get one with excellent edge retention.
But, with proper care and honing, this knife will make light work of any vegetable you need to chop.
Check prices and availability here
Santoku vs nakiri
Some people think that you can get away with using a santoku knife instead of a nakiri vegetable cleaver. And yes, you can, in most cases at least.
But, if you're a vegetarian or vegan, you're better off investing in a nakiri or usuba vegetable cleaver because it can cut through harder veggies too.
The santoku knife is a versatile all-rounder that can handle most kitchen tasks. But, it doesn't have the same precision as a Nakiri when cutting vegetables.
The blade is also shorter which means you need to apply more pressure when cutting through hard veggies.
A nakiri vegetable cleaver, on the other hand, has a much wider blade that makes light work of slicing and dicing.
It's also the perfect size for smaller hands. The downside is that it can't handle big chunks of meat as well as a santoku can.
The Enso knife is of better quality and has a great micarta handle – this material is strong and durable. Also, it's very hygienic and nonslip.
The Jourmet knife is good too, and it has an ergonomic pakkawood handle.
In terms of size, these knives have a similar blade length but the blade shape is so different.
Best VG-10 steel yanagiba for sushi: KEEMAKE Japanese 9.5 inch Yanagiba Knife
type: yanagi (for sushi and sashimi)
blade length: 9.5 inches
handle material: rosewood
finish: smooth
bevel: single
When you want to make sushi rolls or sashimi, you need a razor-sharp blade that can make very precise cuts, decorative cuts, and thin slices. The only knife up for the task is a single bevel Yanagi like the KEEMAKE.
This knife has a long (9.5″) smooth finish blade which makes it easy to slice and fillet the fish for the sushi and sashimi. Since it's a single-edged blade, it's even sharper than your usual Japanese knives.
But, with great power comes great responsibility. You need to be extra careful when using this knife and always cut away from your body.
With this sharp blade, you can slice and fillet any fish in without tearing or ripping the flesh. Thus, you end up with restaurant-grade sushi.
The handle is made of rosewood and it has an oval handle so it's comfortable to hold and maneuver. It's also smooth in the hand so you need to be careful not to hold it with wet hands to prevent slippage.
Some users with smaller hands find this knife is a bit too long to slice the fish for sashimi because it's hard to make those very precise smaller cuts for decorative purposes.
However, as a home cook, you might not need to make artistic sushi.
As a sushi chef, you already know how to maneuver a yanagiba knife so the blade quality is the key. This blade is pretty resistant to wear and doesn't crack or chip easily.
People are using this knife to break down larger fish from the West Coast as well as the classic salmon and mackerel (or any of the other types of fish used for sushi).
The knife's thick spine makes it very sturdy and doesn't fall apart on you.
It's a good alternative for a deba knife if you're not planning on butchering whole fish and are more interested in filleting.
This knife is a good value purchase because it's much better quality than a Mercer yanagiba knife, for example, yet not as expensive as a Shun.
Overall, the VG10 blade is well executed and it's the perfect sushi knife for all skill levels.
Best VG-10 steel boning knife: KYOKU Boning Knife 7″ Shogun Series
type: boning knife
blade length: 7 inches
handle material: G10 epoxy resin
finish: Damascus
bevel: double
If you like to prep your meals from scratch, you need a good boning knife to break down the meat and fish.
This KYOKU 7″ boning knife is perfect for de-boning fish and poultry, filleting, trimming fat, skinning, and even butterflying most types of flesh.
The KYOKU boning knife is a great value for the money. It's much cheaper than similar knives from Shun and Global but it performs just as well.
The blade is made of VG10 Japanese steel and it has a Damascus finish. It is very sharp and can handle all types of meat with ease.
The bevel is double-edged so it's razor-sharp and can make precision cuts. Therefore, righties and lefties can all use this knife and maneuver it with ease.
The G10 epoxy resin handle is ergonomically designed with a finger groove for a comfortable grip. It's also lightweight and easy to clean. Also, it won't slip from your fingers when your hands are damp.
Since this boning knife has a bit of a thinner and narrower blade than some others it's the best option for thin slices and precision cuts.
The Damascus finish makes this knife look very premium and the fact that it's full tang adds to the appeal and overall durability long-term.
Even if you're working at a restaurant de-boning dozens of chickens a day, you can be sure the blade retains its edge very well so it doesn't need frequent sharpening.
The VG10 steel blade has just the right amount of flex to prevent chipping and cracking.
However, the one minor disadvantage is that some customers receive a duller than expected product in the box. You might have to do some whetstone sharpening before the first use.
Also, the sheath that comes with the knife isn't the best and doesn't fit properly.
You can compare this KYOKU knife with the Victorinox boning knife but the steel is different. This one has a true VG10 steel composition which ensures it is more durable.
Protect your new Japanese knife with a traditional saya (knife sheath) to keep it sharp
Sushi knife vs boning knife
A sushi knife and a boning knife have different purposes.
A sushi knife is meant for slicing fish into thin pieces for sushi, while a boning knife is meant for breaking down meat and fish into smaller pieces.
A sushi knife has a thinner blade than a boning knife so that it can make more precise cuts. Sushi knives are typically longer and hold their edge better.
A boning knife has a thicker blade than a sushi knife so that it can handle tougher cuts of meat. It is also often made of softer steel so that it is more flexible and less likely to chip.
You can expect great quality from the KYOKU boning knife. But, if you're looking for a traditional design Japanese knife, the KEEMAKE sushi knife is the one.
It is single-bevel so it's sharper and perfect for more precise cutting than the double edge Kyoku boning knife.
Best VG-10 steel survival/pocket knife: Tunafire Damascus Pocket Knife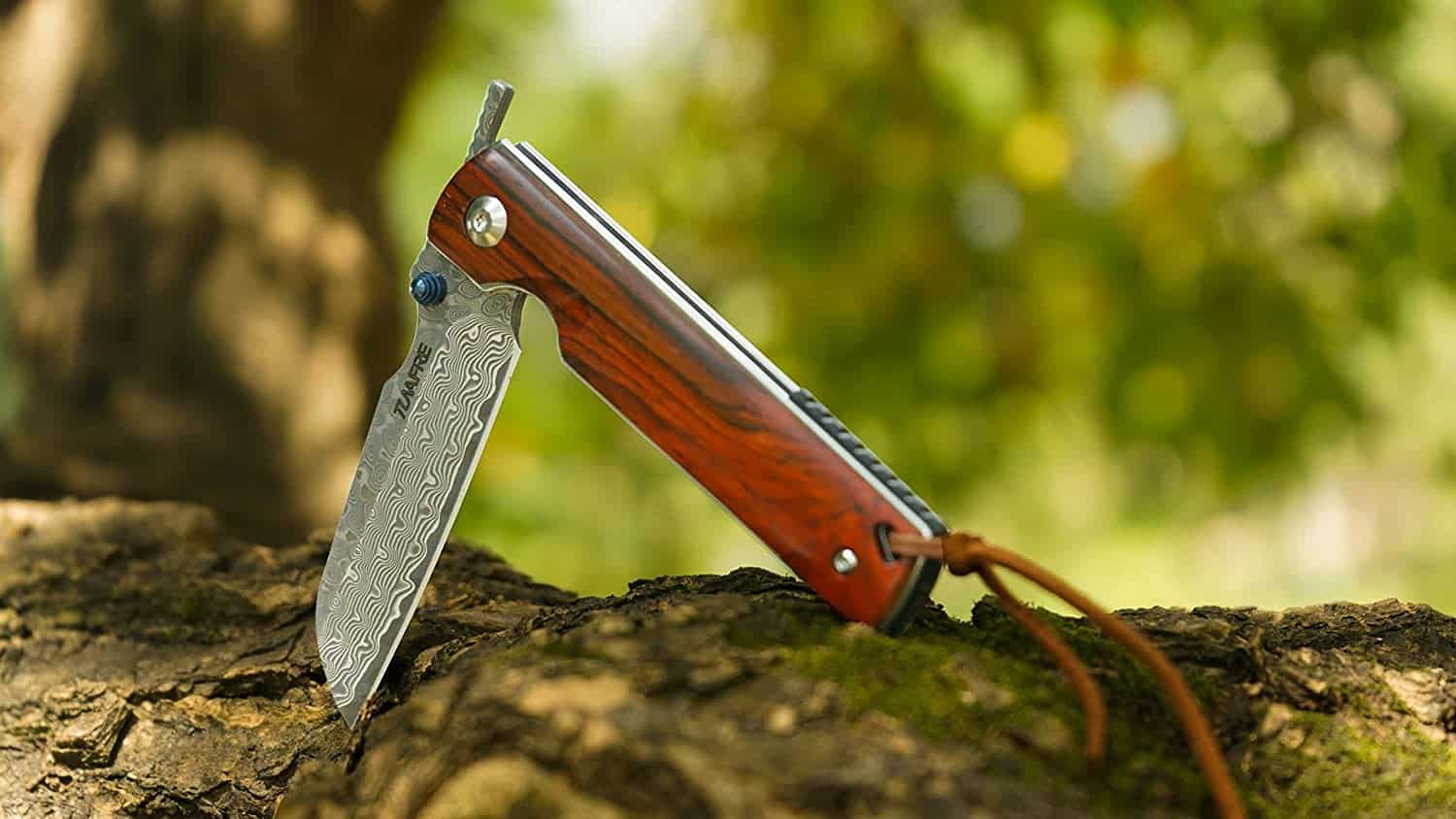 type: pocket knife for camping
blade length: 3 inches
handle material: ebony wood
finish: Damascus
bevel: double
If you can't imagine camping, hiking, or hunting without a trusty Damascus VG10 knife, the Tunafire pocket knife is the one to take with you.
The handle of the Damascus Folding Knife is made of lightweight Ebony Wood. The ergonomic handle provides a more comfortable grip and reduces effort.
It is suitable for camping or other outdoor activities because it is equipped with a lanyard and pocket clip design that makes it easy to carry.
The steel blade has been heat-treated to a hardness of 58-59 HRC, assuring maximum functionality and durability.
This isn't the kind of cheap pocket knife that breaks after a few uses – you can actually count on the blade.
While you can use it to peel some fruit, you can also sharpen things like small wood pieces and twigs.
The liner lock flipper knife with ball bearings in the pivot ensures the safety of the user.
This knife has an easy blade opening and closing, making it ideal for camping, hunting, and other outdoor activities. Because it's so light and compact, it can be concealed in your clothing.
The Damascus steel pocket knife with a thumb stud allows you to overcome torsion bar resistance by applying physical pressure to the thumb stud with a small push on the Damascus Steel Folding knife blade.
The blade opens smoothly and locks into position for confident handling without premature closure.
Overall, if you want a better and cheaper alternative to BIGCAT, Tunafire is a good brand to try.
Best VG-10 steel knife set: JUNYUJIANGCHEN 8 Piece Chefs Knife Set
number of knives: 8
wooden knife block included
handle material: solid wood
If you're convinced you need a complete set of VG-10 knives for your collection, the best way to save money is to get a whole 8-piece set with all the essential knives a home cook needs.
This set comes with a nice wooden knife block so you can store all the knives vertically and avoid damaging or dulling the blade.
The set contains the following knives that most households need:
8″ chef's knife
6″ nakiri vegetable knife
7″ slicing knife
7″ santoku for all types of cutting needs
5″ utility knife
6″ boning knife for de-boning meat and fish
8″ bread knife
All the knives are handmade – this includes handcrafted wooden handles and hand-sharpened vg10 steel blades. The high carbon steel they use is comparable to high-end Enso knives.
All the knives can be used by amateur home cooks or professional chefs too because they are super sharp and easy to maneuver.
To ensure durability the knives are full tang with a sloped bolster. Also, the blade is nitrogen cooled to prevent chipping.
You also get a mix of knives for all types of cutting tasks. The utility knife is useful because it can do everything from slicing cheese to cutting vegetables.
The bread knife is great for, well, bread but also slicing cake or other desserts.
If you have a big family or you entertain often, this set will come in handy because it covers all your needs and more. It's always better to have too many options than too few.
Then you have the classic Japanese gyuto for fine slicing and the nakiri for chopping all the veggies for salads and stir-fries.
My main criticism is that the knife block isn't sturdy or heavy enough so if you're not careful when you put in or pull out your knife, it can tip over.
I would secure it to the countertop to ensure the knives don't fall out.
When it comes to sharpness though, these knives are ALL super sharp so you don't need to worry about ripping or tearing the edges of the food.
Setting up a charcuterie board will be quick and easy with this handy set.
Check prices and availability here
FAQs
Who should buy a VG-10 knife?
Anyone who is looking for a high-quality, durable, and sharp knife should consider buying a VG-10 steel knife. This type of steel is perfect for anyone who wants a knife that will last a lifetime.
The great thing about VG-10 knives is that they can be used for a variety of purposes. Whether you're a professional chef or just need a knife for everyday tasks, a VG-10 blade is up for the job.
When it comes to knives, VG-10 steel is a popular option because of its many benefits. Some of the key benefits of VG-10 steel knives include:
They are extremely sharp and can hold their edge well.
They are durable and can withstand a lot of wear and tear.
They are resistant to rust and corrosion.
They are easy to care for and don't require a lot of maintenance.
Which knife brand makes the best VG-10 steel knives?
There is no definitive answer to this question.
However, many people believe that the best VG-10 steel knives come from Japanese brands, such as Shun and Kai. However, in North America, these are a bit hard to get a hold of.
Knives from brands like Enso, Dalstrong, Toshiro, KYOKU, and Fanteck are just as good and the Damascus steel finish makes them look beautiful.
Takeaway
VG-10 steel knives are a top choice for anyone who needs high-quality knives. They have higher corrosion resistance, even if you don't clean them regularly.
VG-10 steel is also softer than other types of stainless steel like D2 because it's not as tough so it holds its edge better and stays sharper.
It's no wonder Japanese chefs prefer to use this vg10 steel knife as opposed to other blade materials. My top pick for an all-purpose kitchen knife is the KYOKU 8″ Chef Knife because it cuts through meat and vegetables like butter.
If you're looking for a set of knives that will make your cooking experience easier and more enjoyable, then you should consider buying a set made with VG-10 steel.
Read next: Carry your knife collection safely like a pro with the best Japanese knife rolls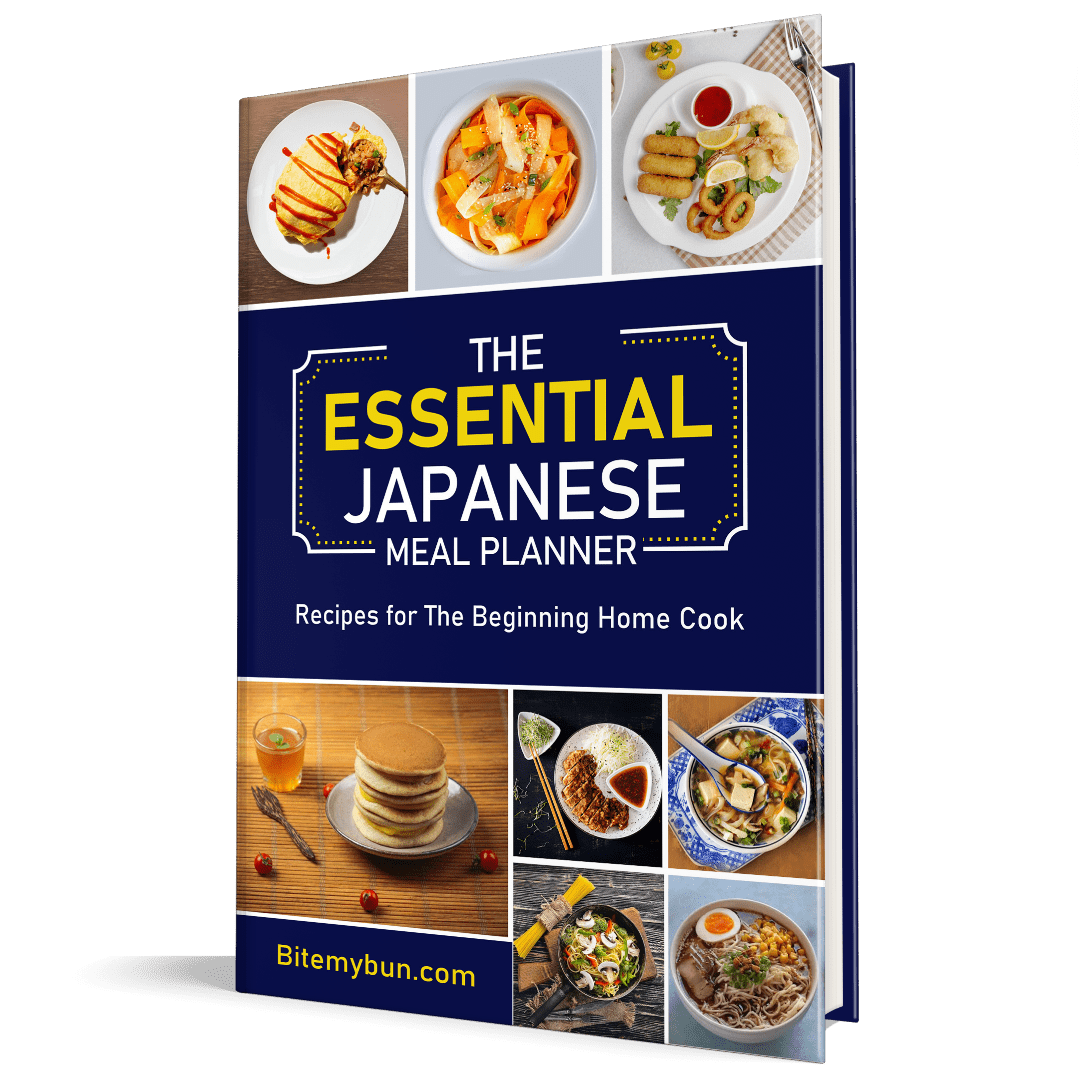 Check out our new cookbook
Bitemybun's family recipes with complete meal planner and recipe guide.
Try it out for free with Kindle Unlimited:
Read for free
Joost Nusselder, the founder of Bite My Bun is a content marketer, dad and loves trying out new food with Japanese food at the heart of his passion, and together with his team he's been creating in-depth blog articles since 2016 to help loyal readers with recipes and cooking tips.